Making The Long Walk in Laos
Cinematographer Matthew Macar learns to "use what you've got" on the set of Mattie Do's Laotian ghost story.
Iain Marcks
Cinematographer Matthew Macar learns to "use what you've got" on the set of Mattie Do's Laotian ghost story.
Photographed by Matthew Macar and directed by Laotian filmmaker Mattie Do, The Long Walk tells the story of an Old Man (Yannawoutthi Chanthalungsy) who lives in a futuristic rural society where the rusty components of yesterday's machines are harvested and traded for digital currencies accessed via subcutaneous microchips. He also speaks with spirits, and one day a young woman named Lina (Vilouna Phetmany) petitions him to use this power to find her missing mother. He knows exactly where Lina's mother is, because he assisted her suicide, as he had for other women in the past. Meanwhile, the Old Man is himself aided by the spirit of a woman (Noutnapha Soydara) whose death he witnessed as a young boy (played by Por Silasta), as he seeks to repair the trauma of his childhood, with mixed results.
Welcome to the Jungle
The film was shot in October and November of 2018 in the rural Villages of Ban Danxi and Ban Pakhaed, outside the capital city of Vientiane in Laos, where Do — whose previous films, the ghostly features Chanthaly (2012) and Dearest Sister (2016), gave Laos not only its first female director, but its first horror films — lives with her husband and frequent collaborating screenwriter, Christopher Larsen. (Larsen was also the 1st assistant director on The Long Walk.)
"Even though our location was only 45 minutes from the city, the landscape is completely different, with lush, thick jungle and big open sky," Do describes in an email.
Macar previously studied computer animation at the University of Central Florida, but in his final year, he developed an interest in cinematography. "It's fun, it's tactile and it's immediate, and that called to me," he says. Macar graduated with a degree in Digital Media, "then I moved to Los Angeles to work as a freelancer in postproduction — editorial, motion graphics and visual effects — while I climbed the cinematography ladder, shooting a lot of stuff for free, doing anything that would put a camera in my hand."
In the commercial realm, Macar had done work for Aaron Moorhead and Justin Benson, directors of 2014's Spring and 2017's The Endless. ("Aaron's a great cinematographer in his own right," Macar remarks.) Do and Mahnert approached Moorhead — among a handful of other genre directors — for cinematographer recommendations, and he suggested Macar.
"Mattie and I synchronized pretty quickly in terms of our ideas about the visual language, like how to create a tone through camera movement and use different camera styles to reflect different periods in time," says Macar. "In terms of our lighting philosophy, we were guided by the use of practicals, and since we didn't have a lot of resources, we had to rely on a naturalistic approach."
"The most important thing I look for in a cinematographer is an instinct for where to place the camera, especially in hand-held shots."
— director Mattie Do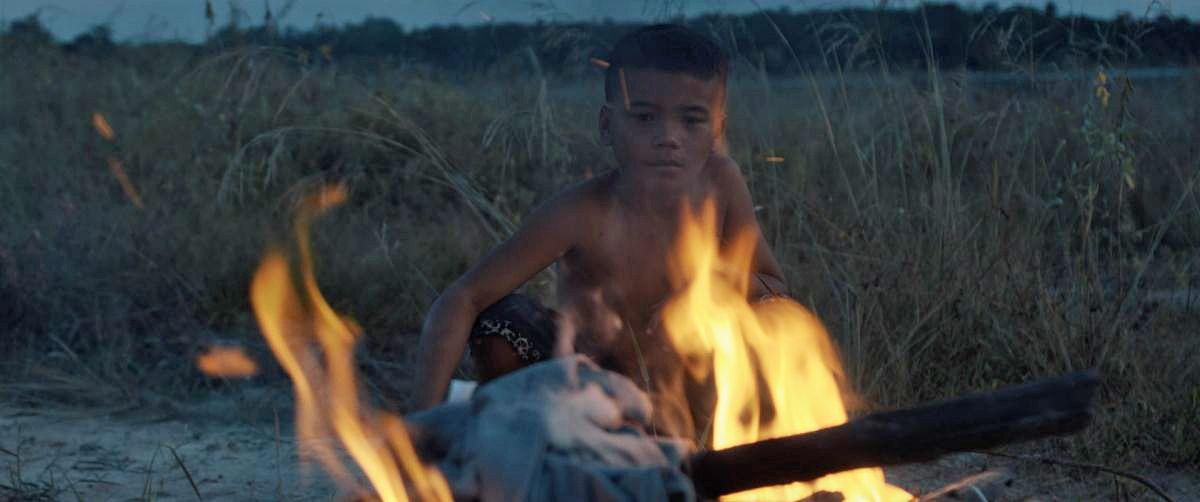 "The most important thing I look for in a cinematographer is an instinct for where to place the camera, especially in hand-held shots. It's so beautiful when a DoP can organically catch something that wasn't necessarily planned," Do writes. "This is something that Matt is incredibly talented at."
Do was also looking for a flexible DoP who could problem-solve, "especially while working in a developing country like we were." Macar's time in the indie-film trenches taught him how to work fast and get the most out of what little he had to work with, but at the time, Laos didn't even have a camera rental house to service the film. (According to Do, Covid restrictions in the country have necessarily stalled production infrastructure development, though permit and censorship laws have since relaxed.)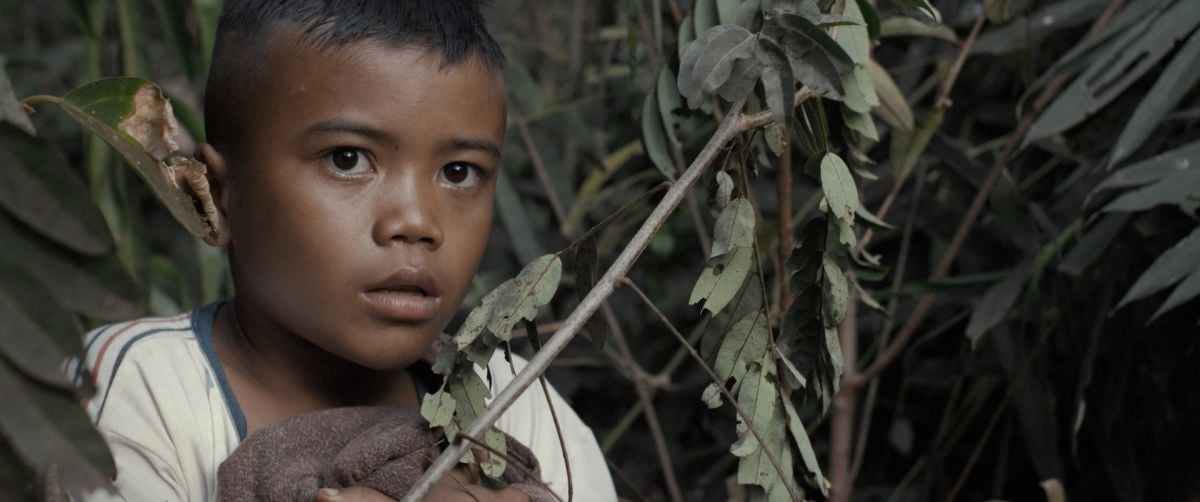 A Dancer's Eye
Macar had recently tested the Panasonic AU-EVA1, a compact 5.7K Super 35mm digital cinema camera, and was pleased with the results.

"The image quality is right on par with the bigger, more professional cinema cameras, but with a smaller price tag," he notes. "I said to Mattie and the producers, 'I can build a kit in Los Angeles and leave it with you when we're done, then you'll have a great cinema camera for future projects."
The setup was rounded out with a DJI Ronin M camera gimbal, Small Rig camera support cages and handles, a Tilta Nucleus-M wireless focus system and Atomos Shogun Inferno monitors. Macar supplied his own set of nine manual Nikon AI-S still lenses modified for EF-mount cameras like the EVA1.
The Ronin and a Dana Dolly were used to create the film's restless, seeking compositions. In moments of tension or uncertainty, the filmmakers chose the relative instability of handheld operation.
"The camera was moving more often than not," Macar points out. "Mattie's a dancer, so she understands movement and what it conveys."
"Almost every shot I determine plays out like how a ballet story would unwind in my head," Do elaborates. For a dancer, "the emotional-, movement- and micro-gesture-based communication we share on stage is something that ballet audiences cannot catch from their seats. But in film, I can not only show the audience what we as dancers see on the stage, but how we see it: the camera stumbles, glides, turns and follows. It can even hesitate and breathe like a dancer."
"Our philosophy was 'You can't fight a wave, so you might as well surf it.'"
— cinematographer Matthew Macar
A Novel Approach
Lao Art Media — the production company behind Do's films — provided local crew, logistics and basic lighting grip equipment for The Long Walk, including a 1.2k HMI and some tungsten units. Specialized equipment needed to be sourced out of its neighbor, Thailand, and driven across the border, a long and complicated customs process that was avoided whenever possible. Fortunately, English sound mixer Alex Boyesen drove his own truck of equipment in from Chiang Mai, in Thailand.
Says Macar, "Every time we needed a little something extra, he'd say, 'I've got it,' like these small but powerful Aputure [120d Mk II] lights."

Much of the daytime production was planned around the position of the sun, or what the weather was going to be like. "We relied a lot on direct sunlight and reflecting it off bounce boards from underneath for a bit of fill, or to wrap it around the actors," says Macar.
"The shoots I had previously done with the EVA1 were outdoors, in natural light, so I had a decent sense of where to set the exposure and keep all the detail," he continues, "In post, I wanted to dial down the contrast in the shadows — which can get super crunchy in the jungle — and make the color a little bit more luscious."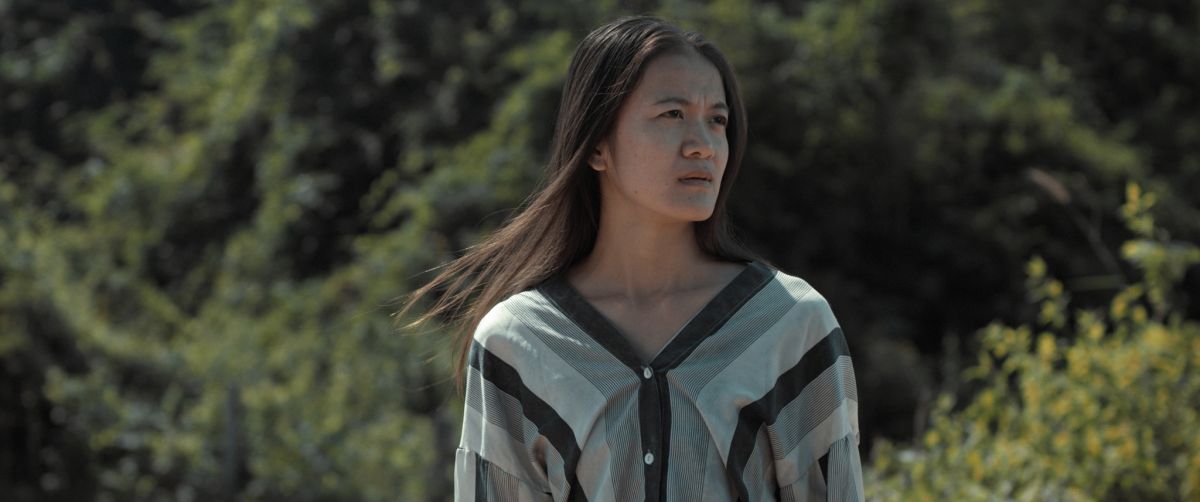 Macar brought his first assistant Aaron Mager from Los Angeles, but the rest of the crew was local to Laos or Thailand, and sometimes took a novel approach to addressing the routine challenges of low-budget filmmaking: burning coconut husks in metal buckets for a smoky haze in the jungle; using opaque or textured drop screens in windows or on the patios of people's homes to knock down the exterior exposure behind an actor; or at night, stacking a gobo arm holding a foam bounce board on top of a C-stand on top of a junior stand to reflect "moonlight" from a 120d through the thatched roof of a two-story home.
"Those guys taught me a lot about using what you've got," says Macar.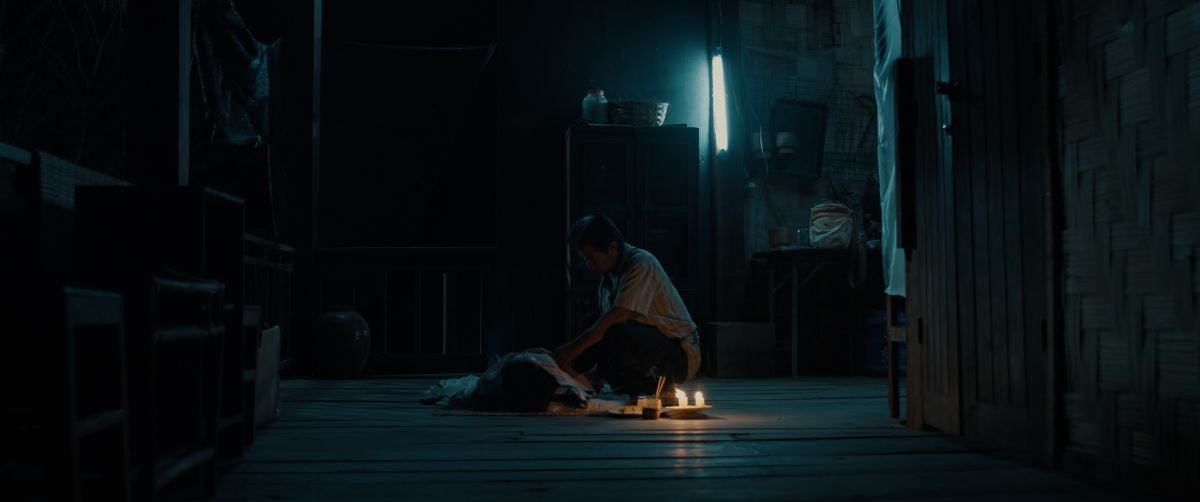 The nights in rural Laos are as dark as the days are bright, even in The Long Walk's future, and Macar wanted to convey this by relying solely on practicals — often a single fluorescent tube, handheld LED torch or candle-lit source — to motivate and even sometimes provide the light for his exposure. In the scene where Lina asks the Old Man to help find her mother, gaffer Lar Phommasom adorned the underside of a patio roof with generic bi-color LED ribbon, where they provided a cool, soft and even top light while serving as the scene's motivating practical.

What the production lacked in tools, it made up for in time. "They gave us something like 33 shooting days, which is a lot for such a small movie," Macar reveals. "It wasn't consecutive days, either. We were doing three, four on, then one off. The producers basically said 'We can't give you all the trucks full of equipment, but we're gonna have fun, we're gonna take our time and we're gonna have some really good food. Our philosophy was 'You can't fight a wave, so you might as well surf it.'"
---
The Long Walk was released in the United States in March 2022 by Yellow Veil Pictures.