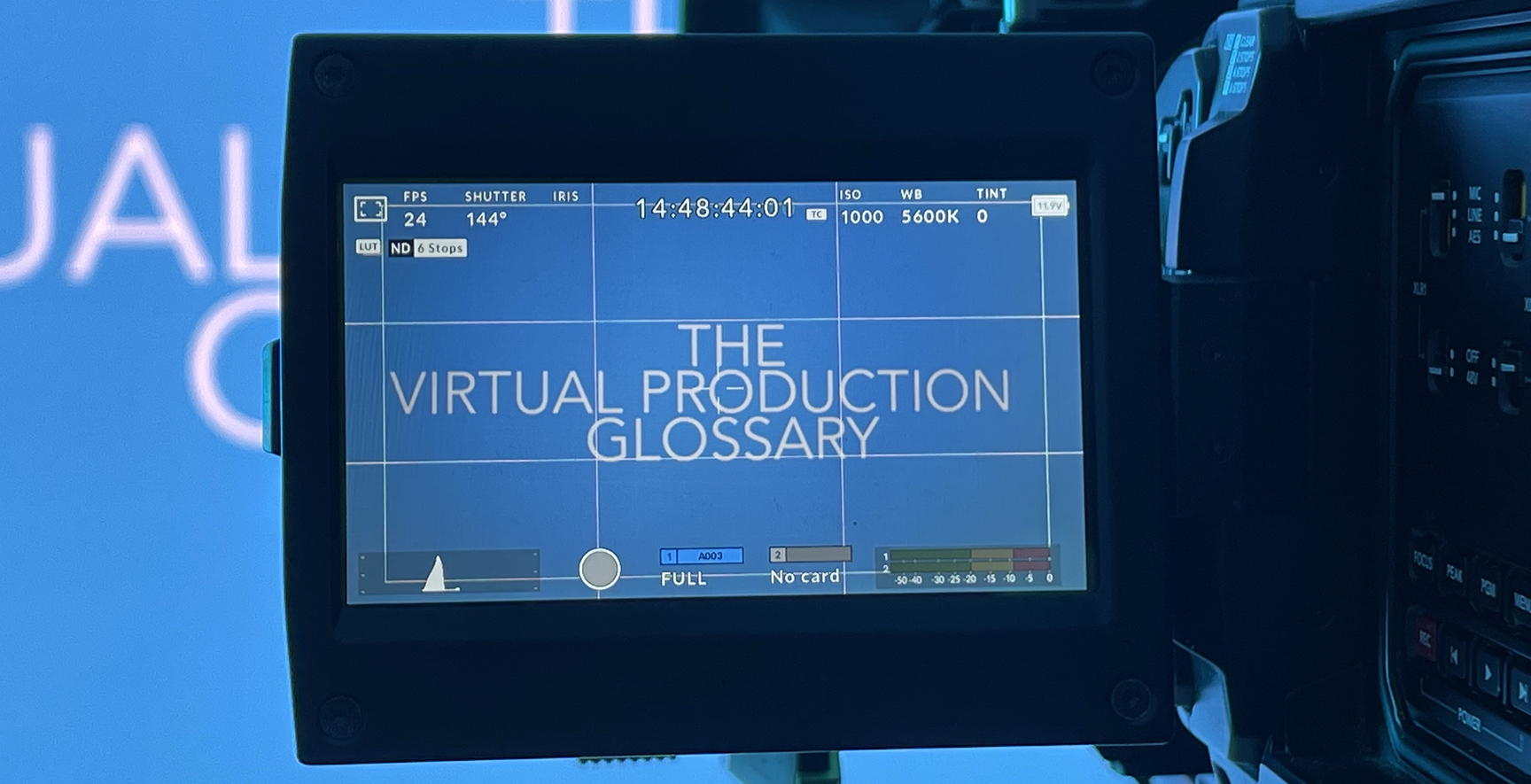 Virtual Production Glossary Debuts at VPGlossary.com
New resource designed to help entertainment industry pioneers find common terminology.
ASC Staff
New resource designed to help entertainment industry pioneers find common terminology.
The Virtual Production Glossary has launched as part of an industry-wide effort to establish common vocabulary across professionals working in virtual production.
The database was established through a collaboration between the Visual Effects Society (VES), the American Society of Cinematographers (ASC), and a host of industry experts, with support from Epic Games and Netflix. Given the evolving nature of virtual production, the glossary is intended to be a dynamic, industry-propelled effort rather than a static document. Suggestions for new terms and updates to existing terms are encouraged via the website and the Virtual Production Glossary Discord community.
The multidisciplinary nature of virtual production requires a common language between departments whose work has traditionally been siloed across phases of production. As defined in the glossary, virtual production "uses technology to join the digital world with the physical world in real-time. It enables filmmakers to interact with the digital process in the same ways they interact with live-action production." Virtual production processes — whether in the art department, visualization, cinematography, in-camera visual effects, remote collaboration, or real-time compositing — are empowering teams to work together in new ways.
VPGlossary.com contributor Ben Grossmann, co-founder of Magnopus explains, "Virtual production unites two different worlds in film production that have been running separately for the last couple decades. Physical and digital production can now happen together, creating a better experience for the filmmakers. Similarly, The Virtual Production Glossary brings the terminology of those two worlds together, shines a light on the meanings and clarifies the differences with context, so that the physical and digital crews can work together seamlessly on the same stage."
Three-time Academy Award-winning visual effects supervisor Rob Legato, ASC also contributed to the Glossary: "The pandemic has sped up the demand to work together while not under the same roof. Simple creative questions can be answered easily and visually using shared screens via video conference, and the interactivity that virtual production can afford speeds up the creative decision-making process. Having the Virtual Production Glossary as a resource will help minimize miscommunications associated with the terms that define many of these newly emerging processes and technologies."
Christina Caspers, managing director of Dark Bay, a virtual production stage based at Studio Babelsberg in Germany that recently wrapped shooting the upcoming Netflix series 1899, is looking forward to this new resource: "Virtual Production enhances workflows and responsibilities and therefore all kinds of communication between departments across a production — from prep, to principal photography to post. It's a form of production and not a technical tool. That's why creatives can use virtual production to expand their imaginary worlds and storytelling processes. This glossary helps us all speak the same language when working in virtual production."
The initial version of the content was written and edited by frequent AC contributor Noah Kadner; Addison Bath; Michael Keegan; David Morin; Miles Perkins; Ben Schneider and Sebastian Sylwan, VES.
The many industry professionals who generously provided their time and input for this glossary also include Casey Schatz; Girish Balakrishnan; Matt Rank; Adam Davis; Brittany Montero; Curtis Clark, ASC; Stephen Rosenbaum; Dane Smith; John Refoua, ACE; Kim Richards; Matt Madden; Michael Goi, ASC; Phil Galler; Susan Zwerman, VES; Wyatt Bartel; Fae Corrigan and Vlad Bina.
The database of virtual production terms contained in the glossary is made available under the Creative Commons CC-BY-4.0 license.
For more information visit VPGlossary.com.