A Whole New Ballgame
Broadcasters adopt the tools and visual language of cinema — marrying movies and the major sports in dynamic ways.
Carl Mrozek
Broadcasters adopt the tools and visual language of cinema — marrying movies and the major sports in dynamic ways.
Fox Sports made history on Aug. 12, 2021, by broadcasting the first modern Major League Baseball game from Iowa — specifically, from a certain famed cornfield with a diamond built into it. This was also the first regular-season game to be shot with the programming division's new gimbal-mounted cine-style camera rigs for a live broadcast. A key goal of the game was to commemorate the classic 1989 movie Field of Dreams, and to make this cornfield a hardball heaven again, at least for one night.
If You Build It
Upon its release, Field of Dreams — directed by Phil Alden Robinson and shot by John Lindley, ASC (now the President of ICG Local 600) — re-engaged millions of American fans with their national pastime. The Fox Sports "Field of Dreams" broadcast aimed to bolster that same connection to baseball during the current UHD era, which may now be on the cusp of regularly incorporating the "film look" into other televised major-league sports as well — including football, basketball, golf and hockey. The "Field of Dreams" broadcast was the culmination of two years of planning and preparation, delayed by more than a year due to the Covid-19 pandemic.
Fox Sports has been at the vanguard of the budding marriage between sportscasting and moviemaking since at least late 2020. "We've been talking quite a bit about using cine tools to inject cinematic elements into our broadcast commemorating one of the best baseball movies ever," says Mike Davies, senior vice president of field and technical operations at Fox Sports.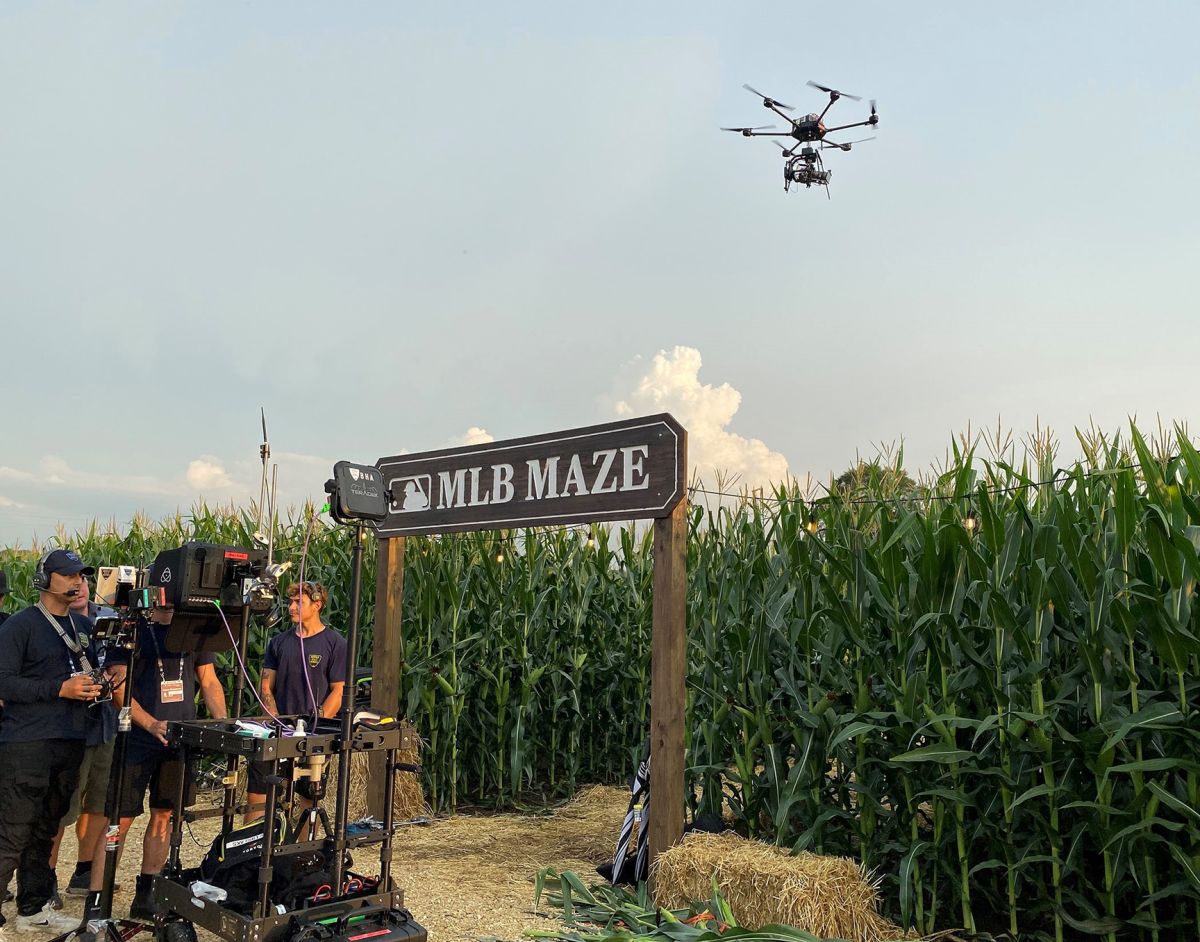 To achieve this goal, in addition to deploying their normal complement of Sony HDC-4300L ⅔" 3-chip 4K cameras and other broadcast models, Fox strategically enlisted various specialty units, including several drones, with at least two in the air at all times. One of the drones was equipped with a Red Komodo, which captured imagery of Iowa's rolling cornfields and local community — in particular, shots of the mythical major-league diamond nestled in the heart of this bucolic landscape.

To further achieve the "film look," with its distinctly shallow depth of field, Fox employed a pair of cine-camera packages designed for live game coverage by Jarrod Ligrani, technical director of Fox NFL. Dubbed the "Megalodon," the rig comprises a Sony a7R IV camera — from the company's Alpha line — mounted on a DJI Ronin-S gimbal, with a 6" field monitor, plus a backpack for external batteries and a 1080p wireless transmitter.
The a7R IV features a full-frame 61.0 MP CMOS sensor, with an ISO from 100-32,000. Most critical for sports use is the sensor's 567-point autofocus matrix and the ability to shoot 1080p at up to 240 fps.

For baseball and football, Fox Sports mainly pairs the a7R IV with a Sony FE 24-70mm f/2.8 GM lens, offering flexibility by making it feasible to fill the frame with a player from 20' away as well as from 6'. "In sports, the action can escalate suddenly, which makes it difficult to coordinate with a focus puller," Davies says. "With a DOF of less than 2 feet, there isn't much margin for error, but the Alpha's autofocus has proven reliable and it's become our go-to cinematic camera. We had two of them in action in the 'Field of Dreams' game."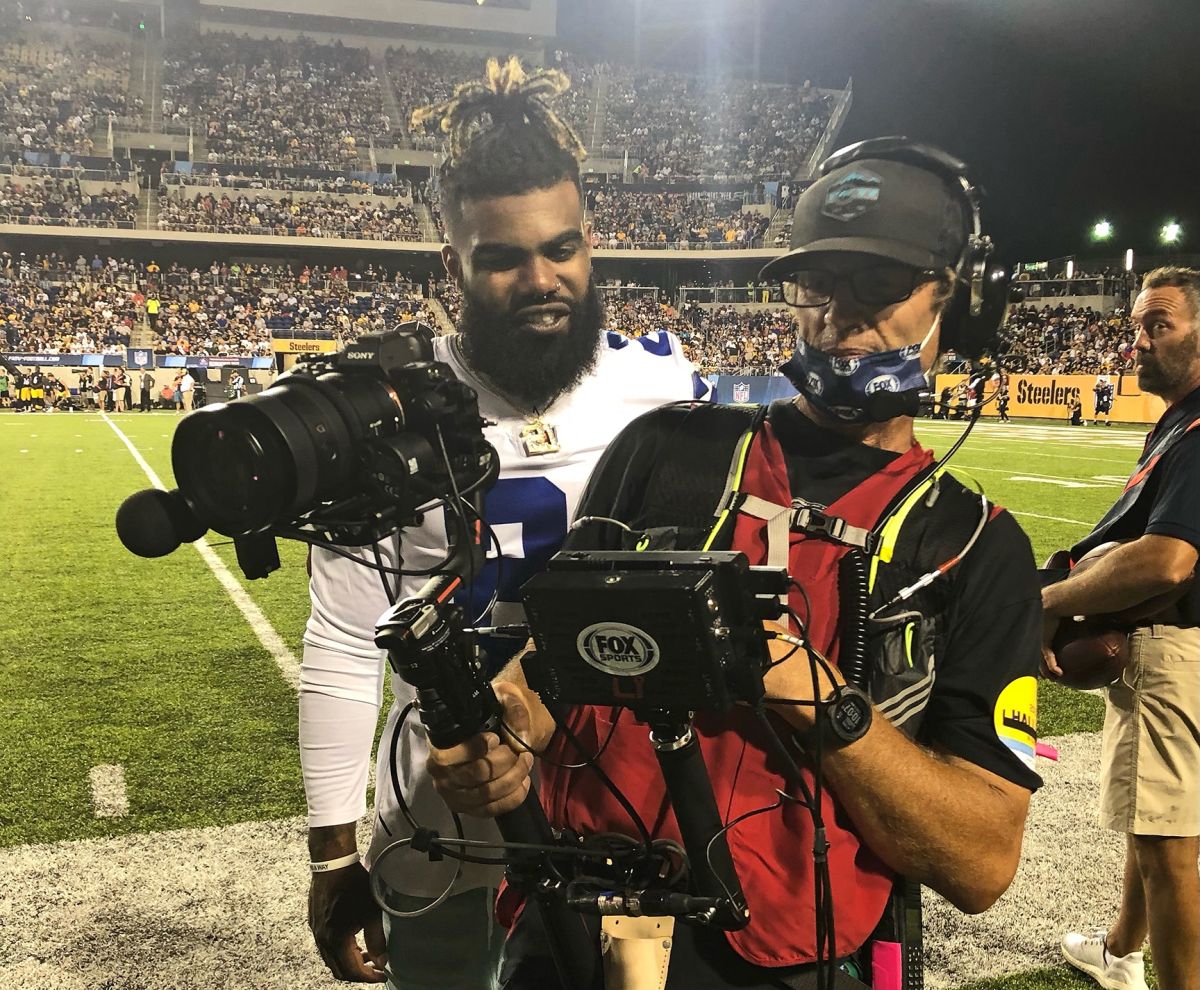 During the unique event, Fox Sports also used a compact Sony HDC-P50 compact ⅔" 3-chip camera paired with Freestyle's Movi gimbal as a handheld camera. All three mobile cameras were in action during the pre- and postgame programs, and during most of the game. "We used Megalodons for the [shots] of both teams [walking] from the cornfield onto the ballfield, and for the player introductions," Davies describes. "During the game, we used them inside the dugouts, for [shots of players walking off the field] after home runs, and for baserunning from third to home, including the game-ending home-run trot and the celebration right after the game ended." He adds that this was the first time Fox Sports deployed the Megalodons in a regular-season baseball game, after previously using them in the 2021 All-Star game, as well as during late-season NFL games, the Big East Conference basketball tournament, NASCAR races, the Premier Boxing Champions matches, and even the Westminster Kennel Club Dog Show.
Catching On
Other sportscasters have embraced the Megalodon as well, notably the Marquee Network of the Chicago Cubs. Mike Fox, the network's director, says, "We loved the Megalodon as soon as Jarrod demonstrated it — I offered to rent it for the season. With Megalodon's shallow DOF, the central image is crystal clear and really pops out at you. TV is mostly a 2D world, and I get pretty jazzed any time we can make it look more three-dimensional."
Much as in the "Field of Dreams" game, where Megalodons played a key role in making the ballfield-in-a-cornfield the star of the show, Fox uses the setup to make the Cubs' Wrigley Field a lead character in each ballgame's broadcast. "I'll use wide sweeping shots of the ballpark, often including the thick ivy on the outfield walls and huge pillars behind home plate," he says. "I love to incorporate the huge manual scoreboard, topped with a great old clock, with fans in the foreground. Sometimes they're playing catch, or taking selfies, or lining up to get into the park, but with Wrigley's classic scoreboard behind them."

Fox also deploys the Megalodon specifically to weave fans into the game broadcast. "We love shooting fans singing the national anthem, during the 7th-inning stretch, eating and drinking in the food court and in the stands, or talking to the players around the dugout, catching foul balls, and all sorts of B-roll," he says. "The strong RF signal enables us to shoot anywhere in and around the stadium. Most of all, I love how easy [the Megalodon] makes it to spotlight players by isolating them from everything else, making them stars for at least a moment."
Ligrani was at the forefront in recognizing the potential of the mirrorless a7R IV for live sports broadcasts. "We had been using Alphas in a limited capacity for NFL game coverage, but not live," he says. "Shooters had to keep running to the truck to download selected shots throughout the game. That changed when we found a Belgian company that made a compact, efficient RF transmitter which would easily fit into a small backpack."
Ligrani also solved other challenges, including a powering issue and an overheating problem, by creating an external power supply utilizing Anton/Bauer Gold Mount or V-Mount hot-swappable batteries. "Overheating can be a problem with Alphas, especially at higher frame rates," he says. "Getting the batteries out of the camera helped." He adds that "a Sunbrella also helps when shooting in the sun for hours at a time."
Expanding the Field
Larger cine cameras have also found their way onto the playing field. CBS tested several in late 2020 during the NFL season. "We leaned on [Sony's CineAlta] Venice [on a Steadicam] during the final games of the 2020 NFL season, and continued throughout the playoffs," says Josh Cohen, editorial consultant at CBS Sports, who credits Mike Arnold, lead game director of the NFL on CBS Sports, for the effort.
Fan feedback was intense on social media, during and after the games. "Fans noticed the difference right away, flooding us with comments like, 'It looked like a movie,'" says Arnold. "That spurred us on to keep experimenting with these shallow-DOF cameras."
In NFL games, cine cams have already filled key niches, such as highlighting touchdown celebrations — which have become increasingly showy and creative — as well as shots of players walking on and off the field at halftime and after the game. Inevitably, the shallow DOF created challenges in a fast-paced environment. Arnold explains, "Sometimes, the shallow DOF was problematic in autofocus mode by keying on the crowd in the background instead of the player in the foreground, if not full frame, or by focusing on the wrong player in a scrum."
Arnold notes that CBS didn't actually give the smaller Alpha package a tryout until the biggest game of the season. "For the Super Bowl, we decided to add a second cine camera package, a [Sony] Alpha IV on a Movi gimbal rig, to complement our Venice/Steadicam package," he says. "We were quickly impressed with how well the Alpha's autofocus performed, and with its great image quality. We had to run it through a color corrector, but it helped [that it was] a Sony camera to start with, in terms of color-matching it with the Venice and with our Sony broadcast cameras."
CBS also deployed the Alpha package for pro golf tournaments and major car races. "We replaced an ENG camera with the Alpha package on a Movi for the PGA [Tour] and during the SRX [extreme auto] races. We were also pleased with the performance of Canon's [EOS] C300 in the races. Each of the digital cine cameras we've tested has had its strengths that make it a better choice for some sports applications than another model, and vice versa," says Jason Cohen, vice president of remote technical operations for CBS Sports.
After road-testing different models of cine cameras in several sports, says Cohen, CBS still plans to keep its options open, going into the 2021-'22 NFL season. "What we know for sure is that we are going to keep the shallow DOF relevant in our top NFL game every week," he says. "However, we're still in the process of determining what's going to be the system and which models we're using from week to week. It's still a fluid conversation."
Jeff Silverman — founder and president of specialty-camera company Inertia Unlimited — has been consulting with sportscasters, including CBS, on a variety of camera challenges for nearly a decade. Lately, many of them are related to cine-style cameras. "For the Super Bowl, a key challenge was how to integrate the look of a few cine-style cameras with 122 other cameras [covering the event], especially with the workhorse Sony [HDC-]4300s, which dominate sports broadcasts in the U.S.," he says. Silverman adds that he feels the native colorimetry of Sony's Venice and Alpha cameras were able to match the "Sony look" of the HDC-4300s relatively easily, and preferred them for this application. "For huge productions like the Super Bowl, you don't have time for meticulous color matching [with] different makes [of] cameras that don't organically operate in the same color space. Plus, Alphas have the best autofocus system available, which is critical in action sports like football. Slower sports, like golf, have less need to rely on autofocus when push comes to shove. Golf is very predictable — players typically walk in a measured pace and in more-or-less straight lines. That simplifies manual focusing with or without an AC."
Broadcast trucks are responding to the demand for cine-style cameras by sportscasters. CP Communications, based in New York and Florida, collaborated with Ligrani on the Megalodon starting in 2018. "We aim to provide our clients with the latest gear they might want," explains CEO Kurt Heitmann. "If we don't have it, we'll buy or build it. We built several Megalodon camera packages for Fox Sports, to their specs. We routinely swap out cameras or support systems as clients' needs change for particular events. It's still early days for cine-style cameras in sports, but our job is to stay ahead of the demand with ample options."
Forward Progress
According to Heitmann, while camera resolution and capability are rapidly evolving, bandwidth is currently a technological limitation. "Many of our broadcast cameras are rated 8K, 6K and 4K, but our current [4K] pipeline restricts us to [dual] 1080p 60 output, which enables us to transmit HDR at 1080p," he says. "But 5G is around the corner and will enable us to work in 4K. Our challenge is gearing up for 5G, while satisfying rapidly evolving demands today."
Bandwidth issues aside, will cinematic cameras grab an ever-increasing slice of the overall camera coverage of major sportscasts in the coming years? Perhaps on the margins, but they're unlikely to change the balance of power any time soon in the broadcast world of big-league sports. "We've actually had discussions about doing an entire game mostly with cine-style cameras, just to see what a game could look like," Davies says. "But there are tradeoffs. Although we have some control of the output of cine cameras, it's not as much nor as easy as [it is] with our Sony and Grass Valley broadcast cameras, and [the] super telephoto lenses that we need to cover entire football and baseball fields from a fixed position. They're our meat and potatoes. Cine cameras are on the margin, but they do help us expand the story by capturing more of the drama and spirit in all of these games with images that move you and that, hopefully, you'll remember long after the game is over."
---
This is an expended version of the story that appears in AC October 2021.