ASC Celebrates Centennial in Spectacular Style
The Society enters its second 100 years by christening a new building, thanking legacy sponsors and hosting a splashy gala at its venerable Clubhouse in Hollywood.
Stephen Pizzello
The Society enters its second 100 years by christening a new building, thanking legacy sponsors and hosting a splashy gala at its venerable Clubhouse in Hollywood.
Photos by Hector Cruz Sandoval, Stephen Pizzello, Willie T and Bill Bennett, ASC
The American Society of Cinematographers "went big" in celebrating its centennial, hosting a full slate of events on Sept. 28 to fete a memorable 100 years of its history while also looking forward to a very promising future.
The festivities began at 4:30 p.m. with a ribbon-cutting ceremony to officially christen the new ASC Arri Education Center. The brand-new facility, designed by architect Lincoln Lighthill, will serve as the new home for the ASC's flagship publication, American Cinematographer, while also providing resources for researchers, students and anyone else studying the history of motion imaging. The stylish, modern building boasts many "green" features; a spacious, open floor plan ringed with glass-walled offices; and a skylight that introduces an abundance of light. Interior decorator Lisan Cooper adding elegant finishing touches in the weeks prior to the ribbon-cutting, which was adroitly executed by ASC president Kees van Oostrum, Arri Executive Board Member Dr. Joerg Pohlman and Arri owner Christoph Stahl.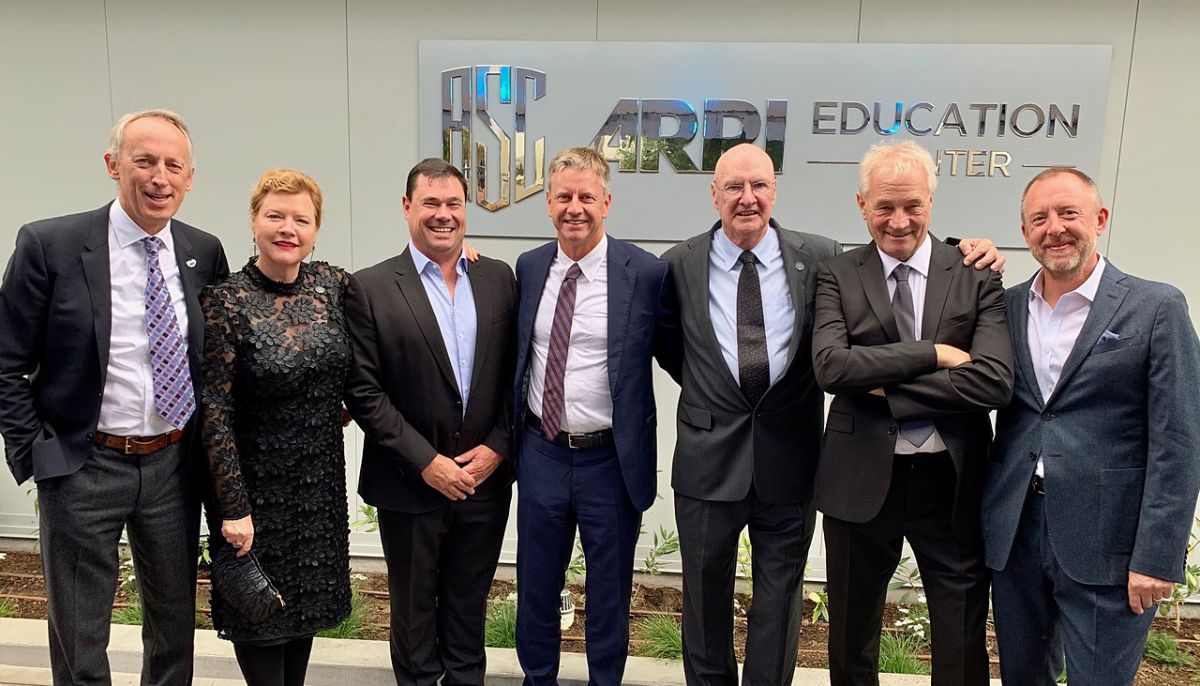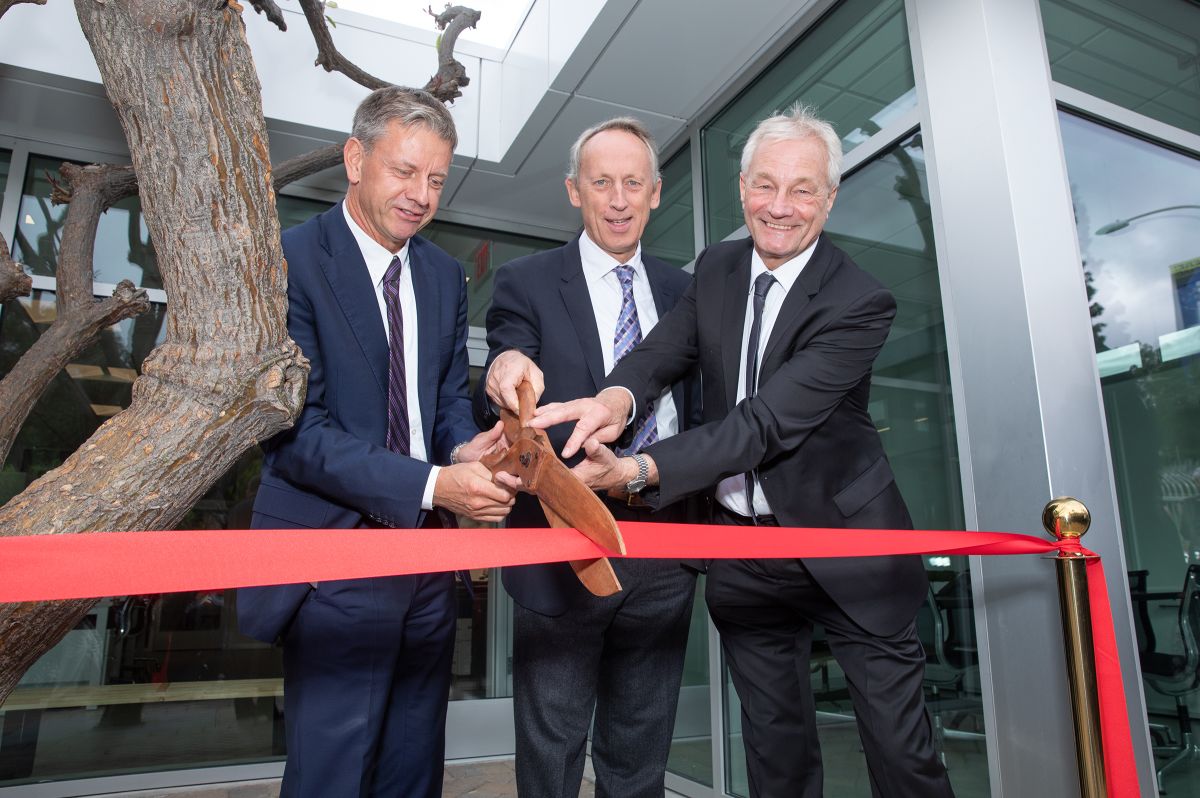 "It's a great honor and pleasure to be with you today to dedicate this new building." — Dr. Joerg Pohlman
The ceremony was conducted in front of a plumeria tree placed at the front entrance to honor late Clubhouse caretaker Ben Toguchi, who lovingly tended to both the tree and the ASC's property for decades.
Following the ribbon-cutting, van Oostrum, Pohlman, Stahl, Arri president and CEO Glenn Kennel and Arri Executive Board member Markus Zeiler led guests into the space for a champagne toast and a tour. Noting that cinematography aficionados throughout the world identify the ASC with its historical Clubhouse, van Oostrum added, "Now there is a new Education Center, graciously supported by Arri and designed by Lincoln Lighthill — a modern building that personifies the future and our next 100 years. It has already thrown us into an expanded and magnificent presence; scholars are knocking on the door to use the facility and to develop archival assets, all concerning cinematography. Of course, this is not all digital — we also have a print library named after Isidore Mankofsky, ASC.
"We are very grateful to Arri," van Oostrum reiterated, "for their unrelenting support, specifically from Christoph Stahl and Dr. Joerg Pohlman, but also from many others at Arri who have supported this project."
Quoting the Chinese philosopher Confucius, van Oostrum concluded, "If you think in terms of a year, plant a seed; if in terms of 10 years, plant trees; if in terms of 100 years, teach the people."
Speaking on behalf of Arri, Pohlman thanked van Oostrum and said, "It's a great honor and pleasure to be with you today to dedicate this new building. You seeded this idea a few years ago, you found a few collaborators, and it's a great moment to be here right now. Both the ASC and Arri have been around now for 100 years, and I just would like to remind you that we had our 100-year party, our centennial, two years ago here. It was such a nice event, and now you're following suit. It is thus fitting to start the next 100 years with a joint effort to advance the art and science of making movies with this Education Center."
Citing the many technological changes that have swept through the industry in recent years, Pohlman noted, "This is why I think education and continuing education — for the beginners starting in the industry, but also for those who are experienced professionals — is so important. The value of education cannot be underestimated. It will eventually empower those who take advantage to excel in their art."
Following the building tour, many of the organization's legacy sponsors — its most ardently supportive corporate partners within the industry — assembled in the Clubhouse's Great Room, where van Oostrum and his fellow ASC member Richard Crudo, Chairman of the Society's 100th Anniversary Committee, took to the podium to individually thank representatives of each company and present them with an award for their stalwart efforts on behalf of the organization.

The companies honored during the ceremony were Deluxe (represented by Al Cleland and Joachim "J.Z." Zell), Eastman Kodak (Steve Bellamy), FotoKem (Michael Broderson and Dana Ross), Fujifilm (Tom Fletcher), J.L. Fisher (Jimmy Fisher and Frank Kay), Kino Flo (Frieder Hochheim), Ernst Leitz Wetzlar GmbH (whose representative, Rainer Hercher, was unable to attend), Mole-Richardson (Michael and Larry Parker), Panavision (Kim Snyder), Sim (Steve Demeter), Technicolor (Josh Pines), Tiffen (Andrew Tiffen) and Zeiss (Snehal Patel).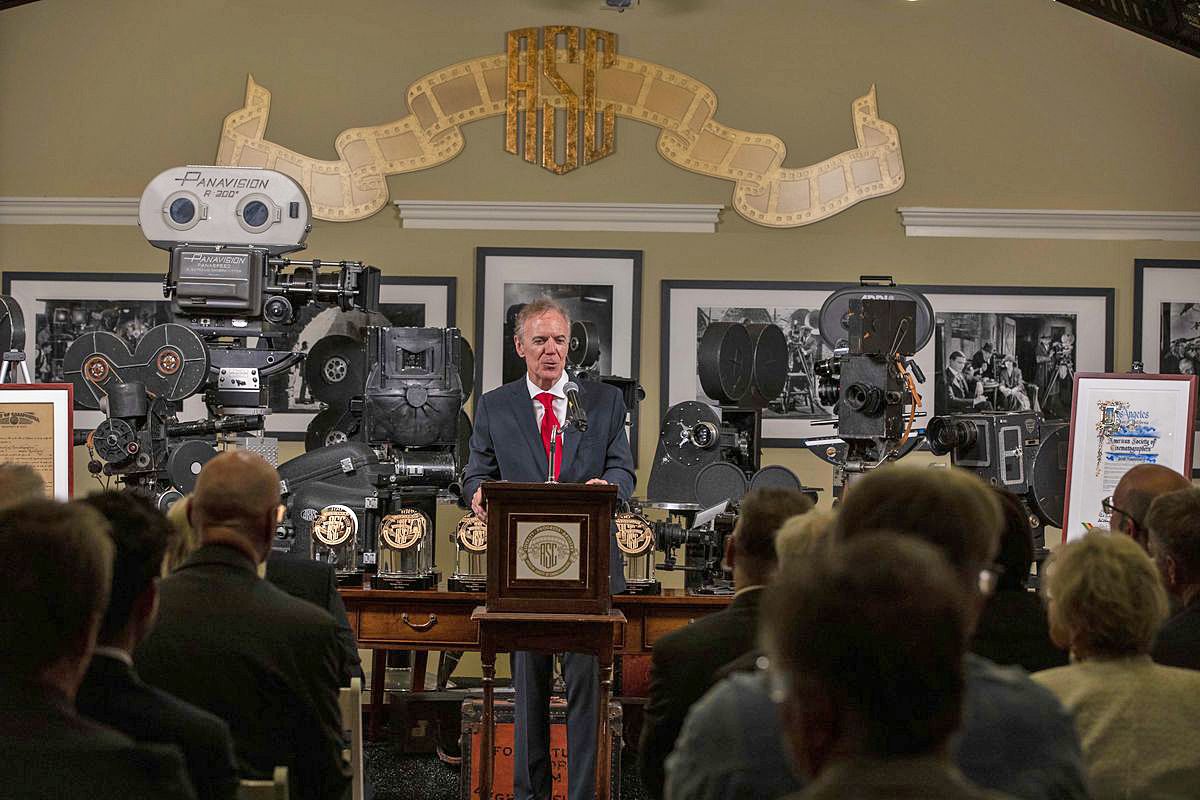 Van Oostrum introduced the ceremony by stating, "This is a very special part of today's celebration, with our closest friends. We feel that in celebrating the ASC's birthday of 100 years, we could not have gotten here without many of you in this room. The companies gathered here have shown unwavering support — not only financially, but by supporting our membership programs and, most importantly, the Master Class program and the Society's educational outreach." That help, he asserted, has helped the ASC "function as a beacon in our industry, both locally and globally."
Acknowledging the ASC's global leadership and collegial relationships with other cinematography societies from around the world, Joseph Sunday, Chair of the Board of Directors of the Canadian Society of Cinematographers, presented van Oostrum with an indigenous sculpture of two bears.
Calling the ASC's centennial "monumental," Sunday said, "It's not easy to be a professional organization of cinematographers, [and] even more astounding to progress over a century. It took the rest of us several more decades just to create one suited to our own country and members. The next in time seem to have been Britain's BSC in 1949, Italy's AIC in 1950, Canada's CSC in 1957, and Australia's ACS in 1958.

"I'm sure that every society of cinematographers is very proud when one of our members has been invited to join the ASC, the ultimate acknowledgement of accomplishment and stature. The CSC now counts 17 active members who are both CSC and ASC. Several will be here tonight.
"This year, we wanted to contribute meaningfully as part of the ASC anniversary, to go beyond the obvious commemoration of age. We wanted a tangible tribute to remain with the ASC, proclaiming our belief that the ASC has the distinction of being the principal organization upholding the interests of professional cinematographers, not just in the United States but across this continent and globally.
"Over the years, we've eagerly awaited each issue of American Cinematographer to keep us in the know. Significant enhancements in cinematography have usually been a collaboration involving the ASC Motion Imaging Technology Council and its predecessors, in conjunction with many technology partners and groups. We have also applauded pioneering initiatives, such as the ASC Vision Committee, for taking a proactive approach to broaden fulfilling opportunities.
"This is not just cinematography as an occupation — this is leadership, and it affects all of us, right around the world."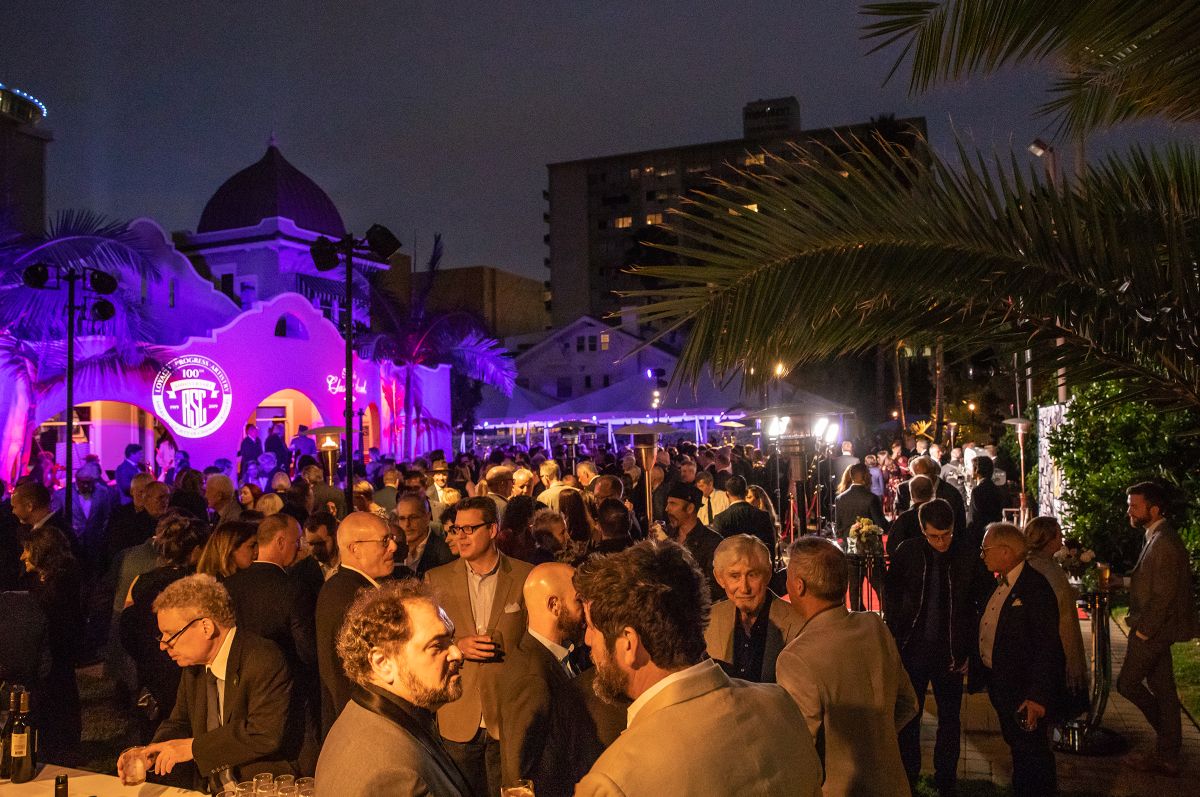 Following the Legacy Sponsors' ceremony, all of the evening's guests assembled for cocktails and socializing in the ASC's front courtyard and under large tents that wrapped around the building. A trio of string musicians provided music on the front porch of the Clubhouse, while others on a separate stage entertained guests as they enjoyed dinner under the stars. After dinner, many guests lingered in Billy's Bar, while others tore up the dance floor till the wee hours.
Julio Macat, ASC called the event "first class" and "flawless," while Denis Lenois, ASC, AFC described the evening as "an incredible experience" that was "a blast from start to finish."
An impressive roster of Society members, associates and industry friends from around the world made the pilgrimage to Hollywood to attend the event, but the most special guests of all were Bill Butler, ASC — who, at age 98, is the Society's oldest member — and Allen Daviau, ASC, whose return to the Clubhouse elicited a parade of well-wishers. Among them was ASC member Steven Shaw, who worked in the camera department on E.T. the Extra-Terrestrial and cites Daviau as a key mentor.
Shaw recalled phoning Daviau from a distant location early in his career as a cinematographer to seek advice on lighting his first large exterior scene. Daviau told his protégé, "Relax. You have a natural eye for composition. Light through the lens and trust your instincts. You know more than you think you do, but be careful not to use too much fill light." With a laugh, Daviau added, "Oh, and remember: you have to put the first light somewhere!"

Memories like Shaw's, and a series of similarly emotional encounters, underscored the deep connections between everyone who attended the gala. Summing up the experience, Crudo enthused, "It was perhaps the greatest night in the history of the Clubhouse — I really do believe that. The overwhelming, widespread feeling of family and tradition, as well as the ASC's core values and everything we treasure, were on display for all to see."