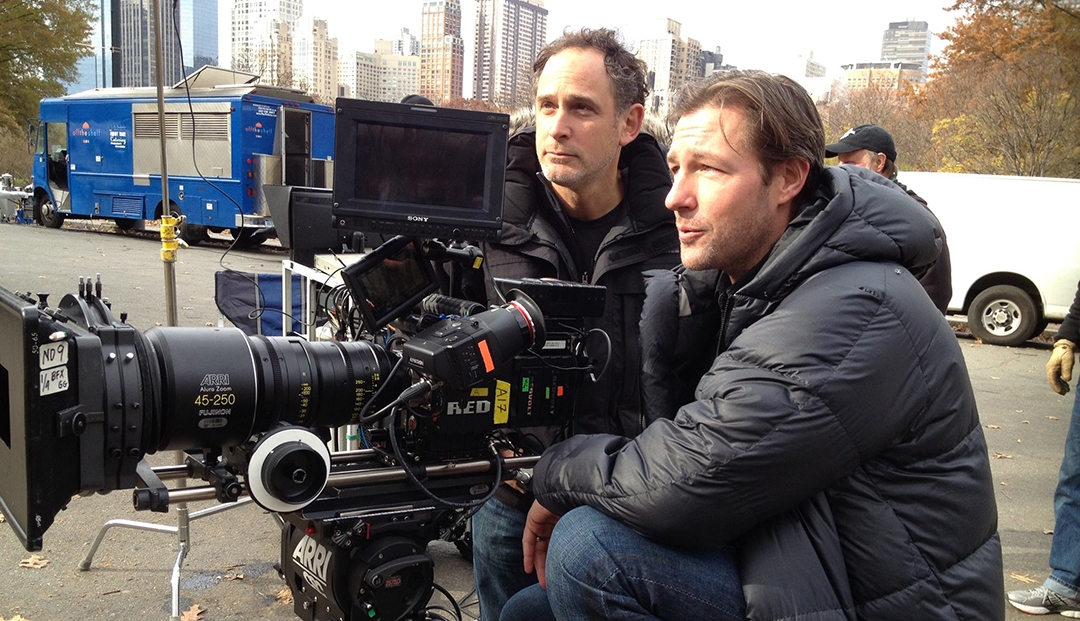 Rexer (left) with frequent collaborator Edward Burns, for whom he has shot eight features.
ASC Confirms William Rexer II as New Society Member
The cinematographer's most recent work includes the series The Crowded Room, Halston, Hunters and The Loudest Voice.
David E. Williams
New ASC member William Rexer II grew up backstage with two parents working in theatre. His father was a producer for acts including Cab Calloway, Chubby Checker and Earth Wind & Fire. His mother ran a regional theatre. In college, he did lighting design and shot student films while also studying neuroscience — intending to go into academia. In college, Rexer had the opportunity to assist programming the Telluride Film Festival and that experience shifted his focus to filmmaking.
His first work was as a camera assistant for National Geographic Films. Earning a living and learning the craft, he shot numerous social-issue documentaries to help launch his career as a cinematographer.
Rexer's most recent television work includes The Crowded Room, starring Tom Holland; Ryan Murphy's Halston, starring Ewan McGregor; episodes of Jordan Peele's series Hunters, starring Al Pacino; and Showtime's The Loudest Voice, starring Russell Crowe, Siena Miller and Naomi Watts.
His feature films include Under Blue Suburban Skies, Friends with Kids, Ceremony, The Accidental Husband, I Think I Love My Wife, Prime, Fierce People and Newlyweds.
His documentary credits Joan Didion: The Center Will Not Hold, The Promise, and the Grammy Award-winning Wings for Wheels: The Making of "Born to Run." He shared an Emmy nomination for his contributions to the doc The Trials of Darryl Hunt.
Rexer has also shot music videos for artists including Beyoncé, Bruce Springsteen, Bob Dylan and Moby. He earned a Best Music Video nomination at Camerimage for the OK Go video "The Writing's on the Wall."
You'll find his agency site here.
---