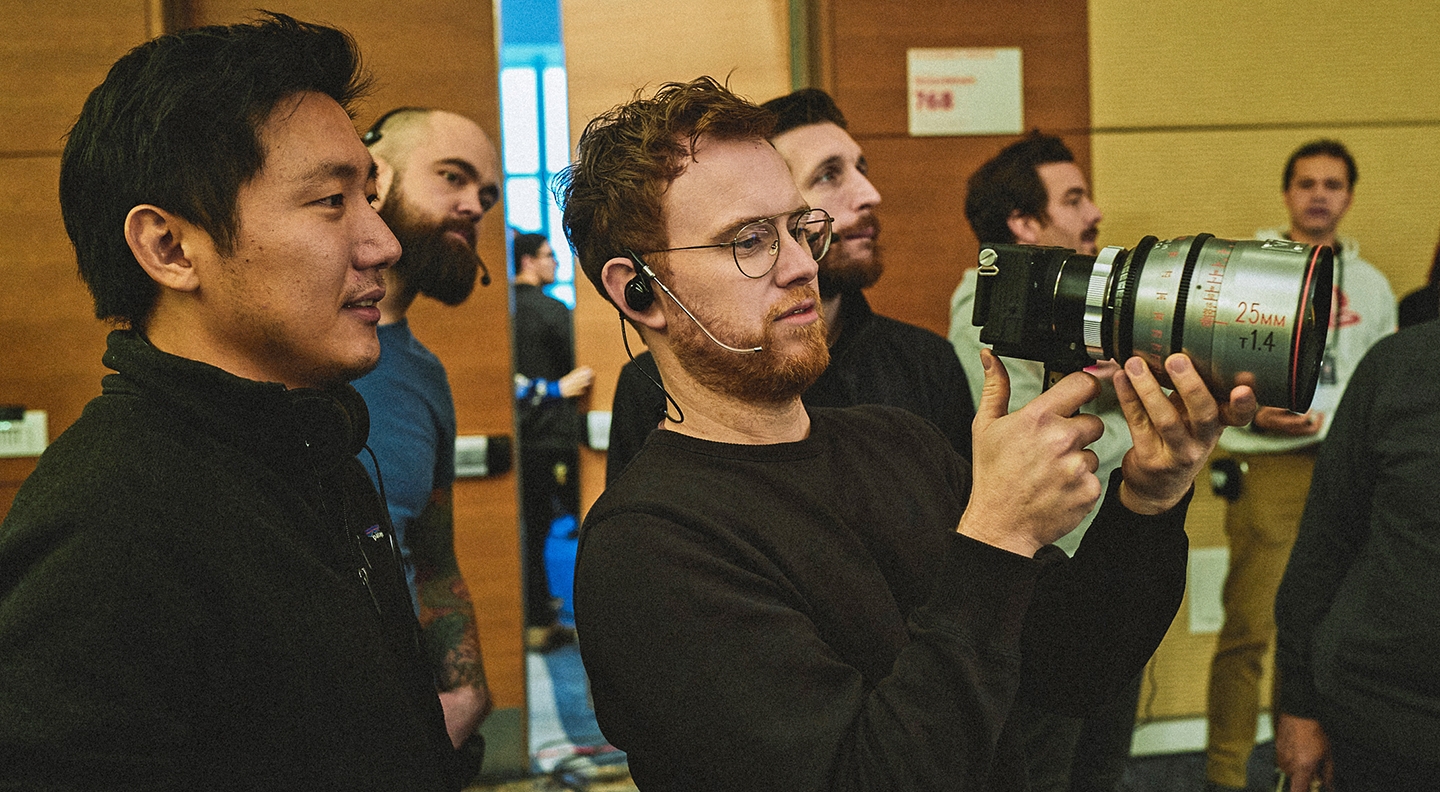 From left, director Hiro Murai and Christian Sprenger, ASC. (Photo by Parrish Lewis)
Christian Sprenger Welcomed Into ASC Membership
The cinematographer has earned two Emmy Awards for his work in the series Atlanta, and nominations for GLOW and Station Eleven.
David E. Williams
New ASC member Christian Sprenger is a frequent collaborator with director Hiro Murai. Their working relationship has included such eclectic projects as FX's Atlanta, HBOMax's limited series Station Eleven and Amazon Studios' musical film Guava Island. Sprenger's camerawork has also become closely associated with other filmmakers in both television and commercials, including Donald Glover, Taika Waititi and Wayne McClammy.
At a young age, the Chicago native became fascinated with filmmaking while watching a VHS copy of Star Wars in his cousin's basement. After receiving a bachelor's degree in film at Columbia College Chicago, Sprenger relocated to Los Angeles, where he quickly began working as a cinematographer on commercials and music videos — collaborating on the latter with artists including The Black Keys, Skrillex and Tenacious D.
This eventually led to longform narrative work, and in 2018 Sprenger was awarded the Emmy Award for Outstanding Cinematography for a Single-Camera Series (Half-Hour) for the "Teddy Perkins" episode of Atlanta. That same year, he was also nominated in the same category for the pilot for the series GLOW. In 2022, he earned the Emmy for Outstanding Cinematography for a Single-Camera Series (Half-Hour) for the "Three Slaps" episode of Atlanta, also earning a nomination for Station Eleven in the category Outstanding Cinematography for a Limited or Anthology Series or Movie. His other series credits include What We Do in the Shadows, Baskets, The Last Man on Earth and Reservation Dogs.
When he's not working, Sprenger enjoys spending his time with his wife and daughter in the great outdoors.
You'll find his personal site here.


---