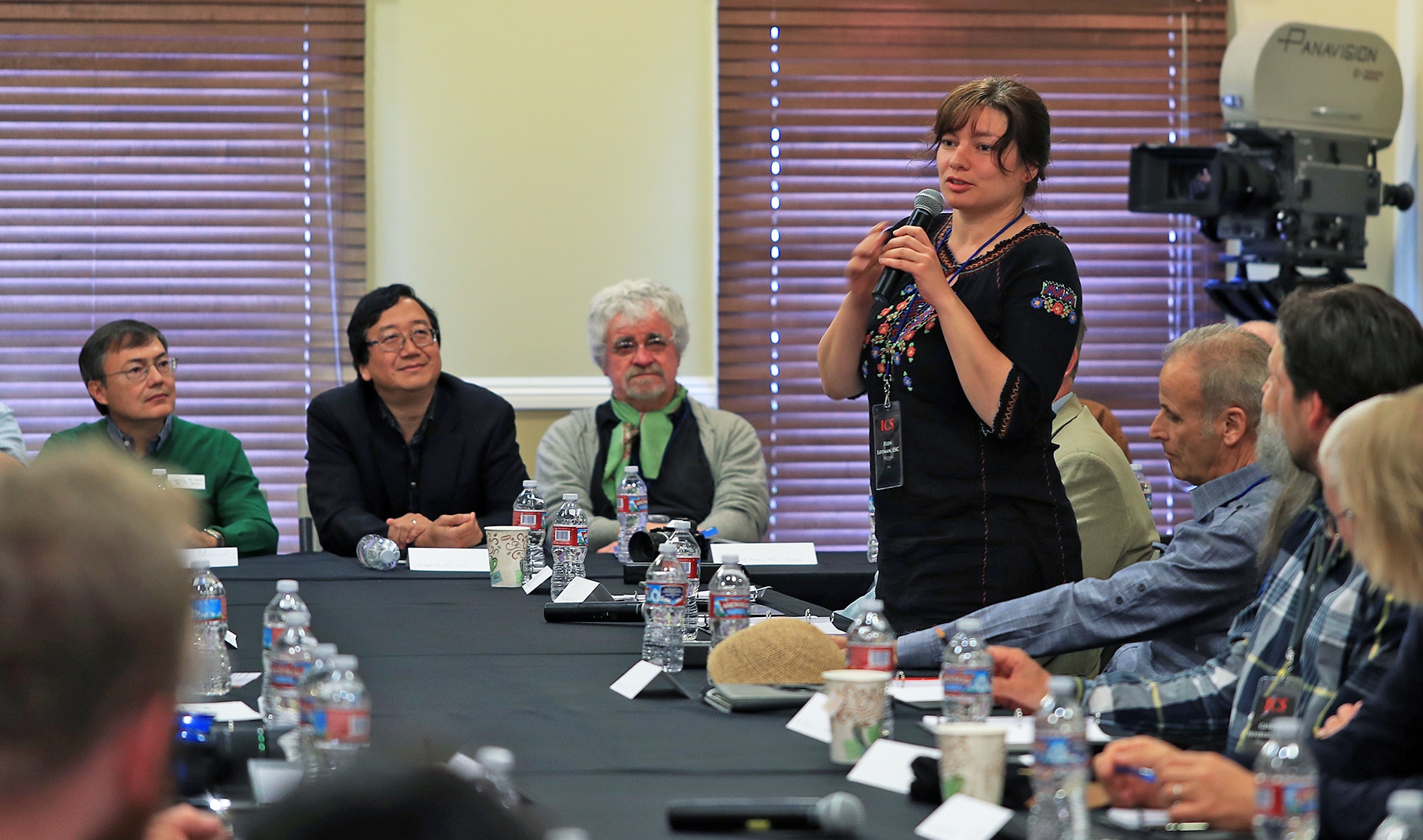 With M. David Mullen, ASC, Michael Goi, ASC and Richard Aubry, AFC at the head of the table, Elen Lotman, ESC of Estonia addresses the 2016 ICS assembly. (Photo by James Neihouse, ASC)
International Cinematography Summit Launches at ASC
From virtual production to film restoration to diversity and inclusion, the ICS will engage in issues faced by today's motion-picture professionals.
ASC Staff
Delegates representing more than 30 cinematographer societies from around the world will meet at the ASC Clubhouse in Hollywood on June 5-9 for the 2023 International Cinematography Summit — a work week of discussion, demos and discovery. With generous support from Angénieux, the event will also take participants to facilities in the Los Angeles area for exclusive opportunities to experience the latest technology, tools and techniques, including virtual production methodologies.
Hosted by the ASC, the ICS was organized by the Society's International committee, co-chaired by Suki Medenčević, ASC, ASBiH, SAS and Nate Goodman, ASC.
In addition to the U.S., represented countries include Argentina, Armenia, Australia, Brazil, Canada, Chile, China, Columbia, Czech Republic, Denmark, Estonia, Finland, France, Germany, Iceland, Italy, Kenya, Macedonia, Mexico, New Zealand, Norway, Philippines, Poland, Portugal, Slovakia, South Korea, Sweden, The Netherlands, Sweden, Turkey, Uganda, the United Kingdom and Venezuela.
The ICS is not open for the public, but aspects of the event will appear in upcoming issues of American Cinematographer.
AC recently visited the Angénieux factory in Saint-Héand, located in central France near Lyon.