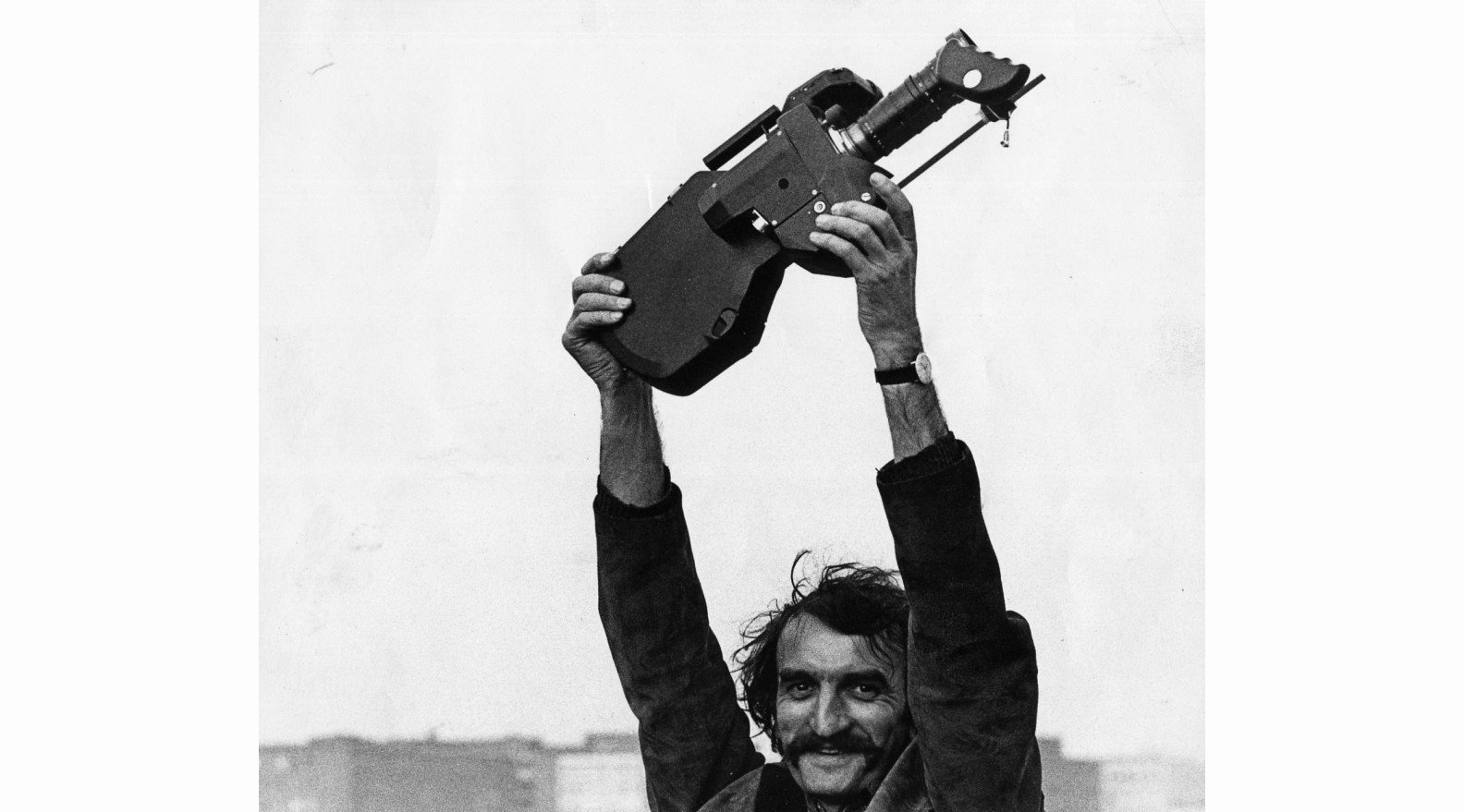 Jean-Pierre Beauviala Honored by the ASC

The esteemed inventor, engineer and filmmaker is acknowledged for his unique and invaluable contributions to the art and craft of cinematography. Update: He died at the age of 81 on April 8, 2019.
Benjamin B
Editor's Note: Jean-Pierre Beauviala died on April 8, 2019, at the age of 81. He left behind a rich legacy of innovation, and the ASC's presentation of its Certificate of Recognition to him in 2018 — detailed below — was a small effort to let him know how grateful cinematographers are for his contributions.
On Wednesday November 7, I attended a gathering in Paris with a group of leading French cinematographers to witness ASC President Kees van Oostrum present a special ASC Certificate of Recognition to Jean-Pierre Beauviala "for outstanding contributions in the field of cinematography." He also presented the honoree with a booklet honoring "this esteemed inventor, engineer and filmmaker" and "acknowledging his unique and invaluable contributions to the art and craft of cinematography," followed by pages of testimonials "from ASC members, associates and supporters who wish him well and offer personal insights on his enduring influence and lasting accomplishments."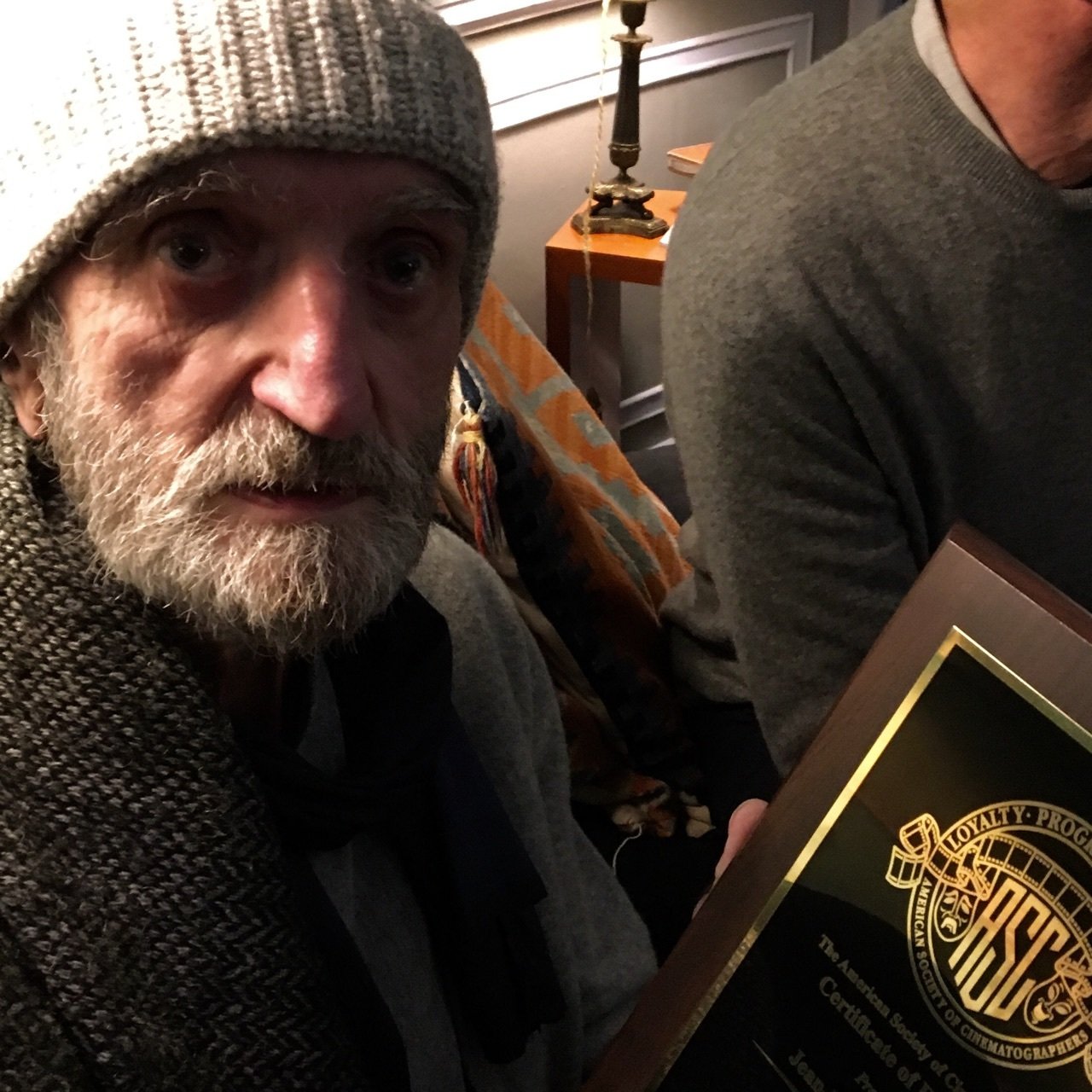 Beauviala has been a key player in cinema technology for the past half-century. He is an extraordinary technologist, designer, inventor, and the founder of the camera manufacturer Aaton. He holds some 50 patents in film, video and audio technology.
Beauviala was born in 1937 in Alès, and grew up in the Cévennes region in southern France. In the 1960s, he studied electronics at the University of Grenoble, where he also managed the film society. He went on to teach electronics at the university for seven years, and began preparing a doctoral thesis on an electronic and informational analysis of human speech.
In 1967, Beauviala developed the first quartz-controlled motor, which enabled cameras and audio recorders to operate in synch without a cable. This patented invention involved an innovative early use of diodes and integrated circuits. In 1968, he submitted another pioneering patent for the use of diodes to write time code on film.

Beauviala then started working for French 16mm camera manufacturer Eclair, and developed a quartz-controlled motor for its Eclair 16 camera. He also invented and patented a system for recording single-system audio in Eclair cameras. After Eclair was sold and moved its factories to the UK, Beauviala and some co-workers left the company to create their own camera.
In 1971, Beauviala founded the Aaton company with Jacques Lecoeur and François Weulersse, among others. Over the next three years the company developed and showed prototypes of the Aaton 7 camera, which was released to the general public in 1974.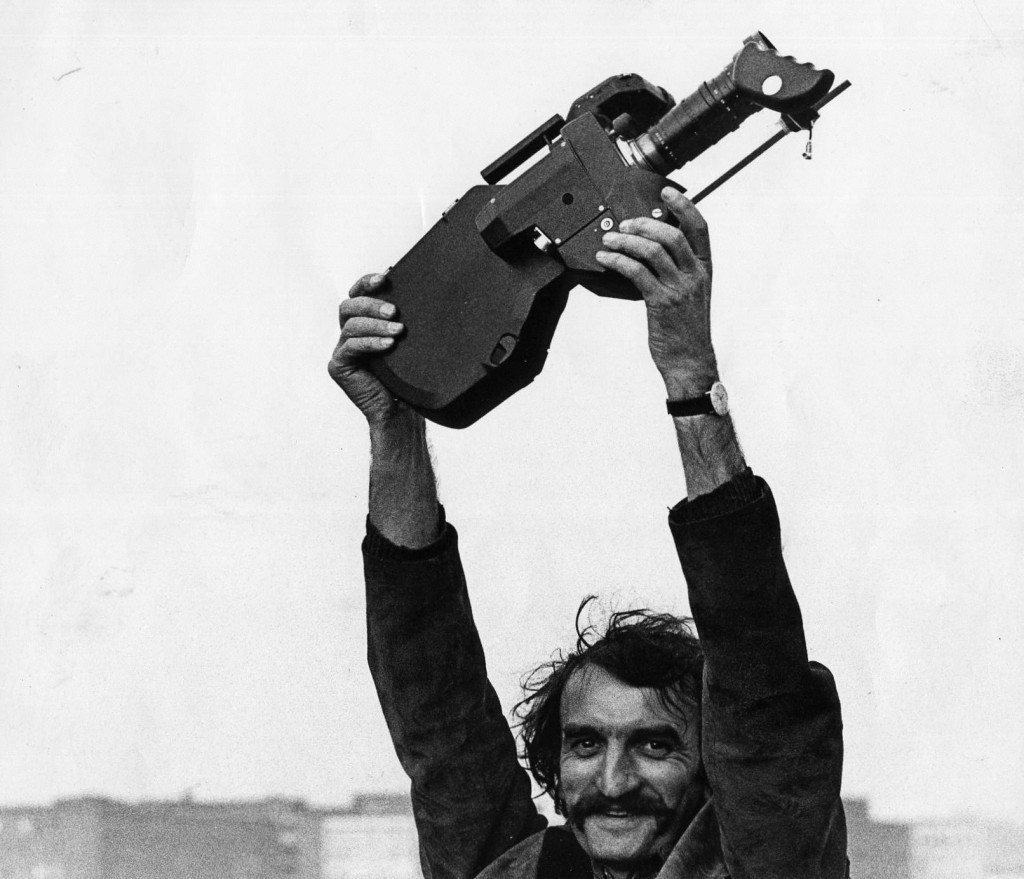 The Aaton 16mm camera was distinguished from the start by four pioneering features:

1 - Ground-breaking ergonomic design for handheld operating, achieved with a shoulder-shaped camera body curve, optics to move the viewfinder position forward, and a well-positioned wooden hand grip.
2 - Time code written on the film with diodes in the gate, accompanied by the development of tools for a synchronization workflow. This evolved to include both human-readable and machine-readable code, with devices like the Keylink to read the code in post, as well as a new video time code VITC standard.
3 - Integrated video assist using the latest video technology, which also led to a side product, the miniature Paluche, a hand-sized tubular camera linked to its electronics via cable.

4 - A commitment to the Super 16 format, allowing filmmakers a larger area with a 1.78:1 aspect ratio. Aaton was designed to make the switch of the optical center from 16mm to Super 16 a simple process.


For many filmmakers — and documentarians in particular — the Aaton was the best 16mm camera for handheld operating. Its design meant that the camera operator now had the bulk of the camera beside his face instead of in front of it, so that he could comfortably support the camera with his shoulder instead of holding it up with his arms. This newfound comfort is represented by Aaton's trademark motto: the cat on the shoulder.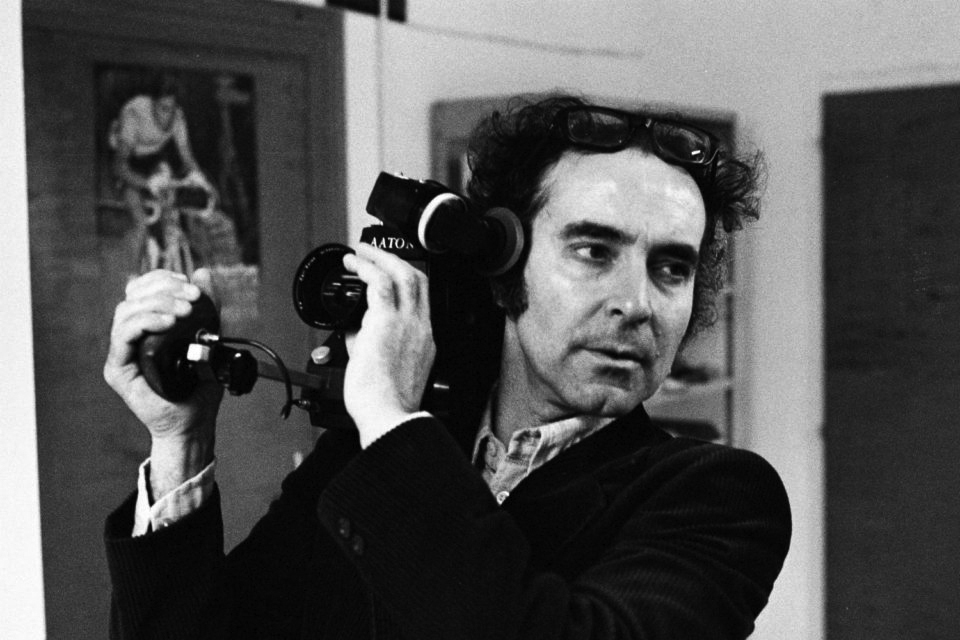 Over the years, the Aaton 16mm camera evolved from the Aaton 7, to the Aaton LTR, the Aaton XTR and Aaton XTR Prod. One very elegant improvement was the development of magnets to drive the film magazines without mechanical contact.

In 1987, Beauviala and his team introduced the Aaton 35 camera, which was considerably lighter and smaller than existing 35mm cameras, with a similar ease of use for handheld shooting. The Aaton 35 evolved into the Aaton 35-III.

The Aaton 35 also featured an elegant displacement magazine design: as the film rolls the decreasing feed platter shifts position to make room for the increasing take-up platter, resulting in a smaller magazine.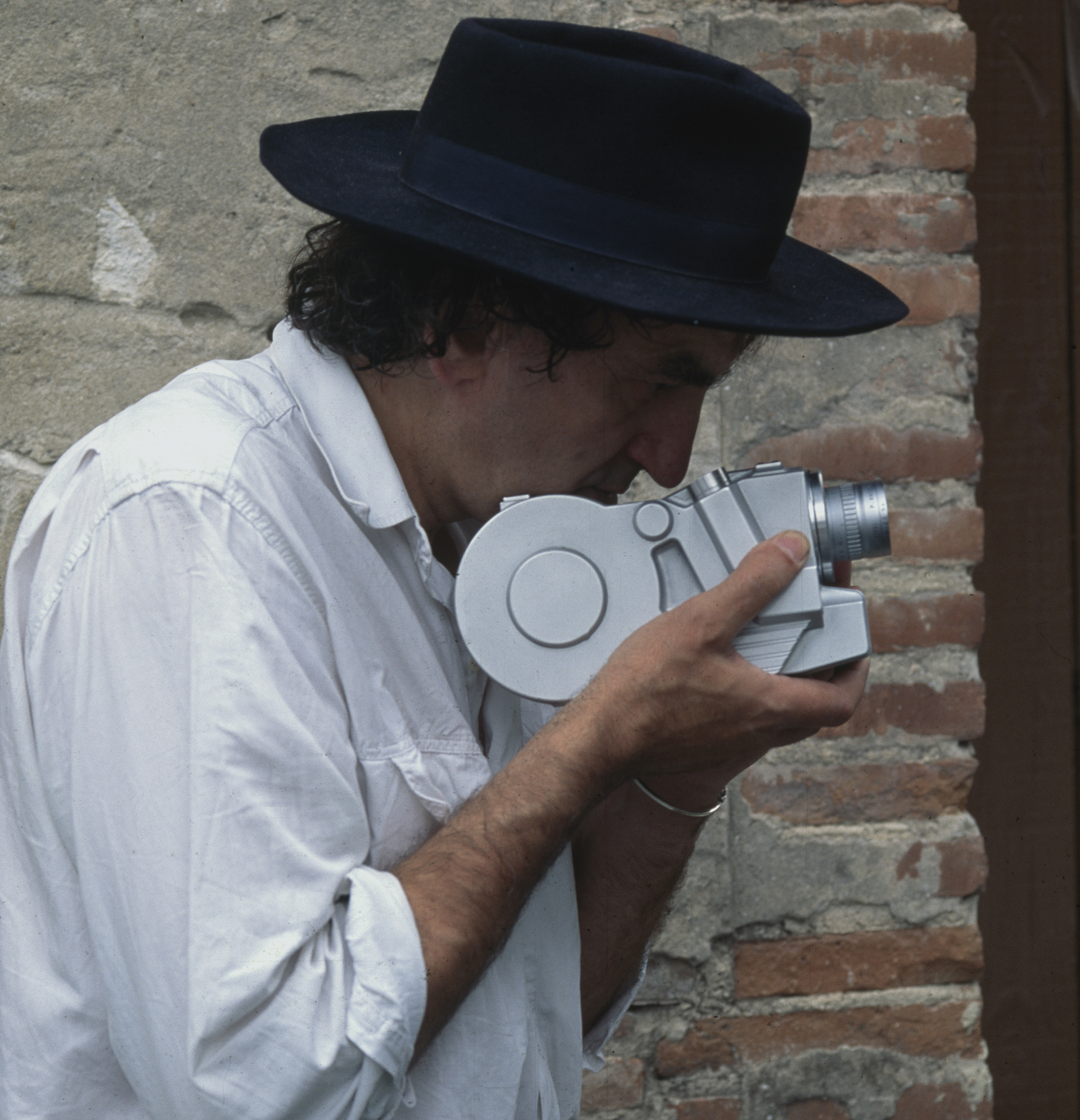 In 1999, Beauviala presented the A-Minima, a tiny Super 16 camera that was under 10" long and weighed 2 kilograms. The A-Minima was equipped with a fiber-optic DistantEye viewfinder which allowed the operator to move his eye away from the eyecup without fogging the film, thanks to a patented cone-shaped shutter. The A-Minima's size and viewfinder invited a different kind of filmmaking gesture.

In 2002, Beauviala and his team demonstrated a prototype of the AatonCorder, later renamed the Cantar, a pioneering digital audio location mixer and recorder that displays the trademark Aaton elegance of design.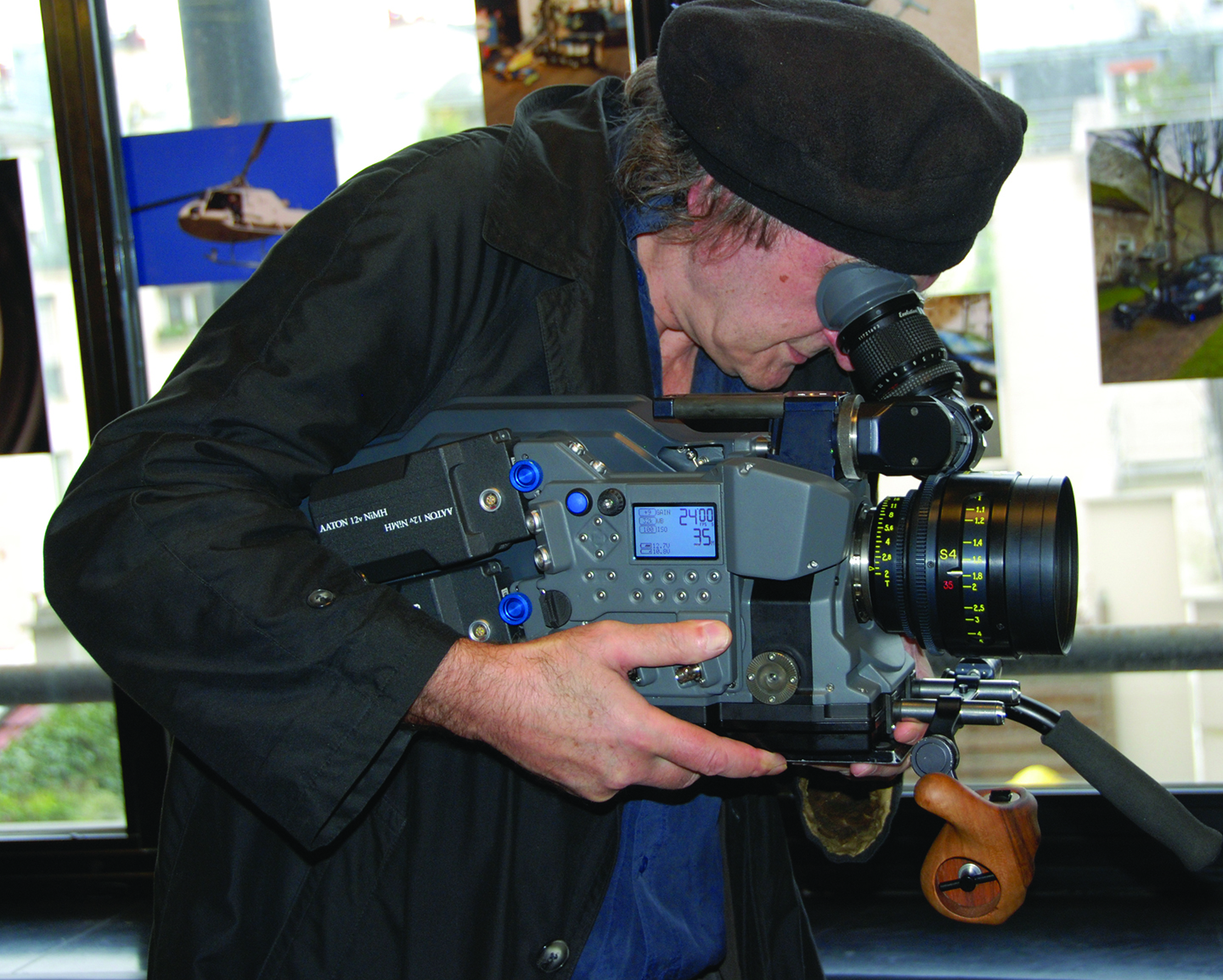 In 2008, Beauviala released the Penelope 35mm camera, a new design with reduced noise that involved an innovative system of separate drive motors. The Penelope was available in 3-perf and 2-perf configurations, making for cheaper (and quieter) production for widescreen shooting.

In 2011, Beauviala showed prototypes of a Penelope Delta digital camera, built by replacing the film magazine with a digital backing. This 4K camera offered an optical viewfinder, with simultaneous in-camera recording of uncompressed RAW and DNxHD proxies. The Penelope Delta offered dual ISO settings, by means of an ingenious dual shutter blade design with and without holes. The camera used a version of the Dalsa CCD, but, in the end, was not released due to manufacturing issues.

In 2013, Beauviala left Aaton, which was taken over by Jacques Delacoux of Transvideo, and renamed Aaton Digital. The company continues to develop and sell new models of the Cantar.

Beauviala is currently working on a new small camera, code-named Libéllule (Dragonfly).

+++
With thanks to Caroline Champetier and Pierre Michoud.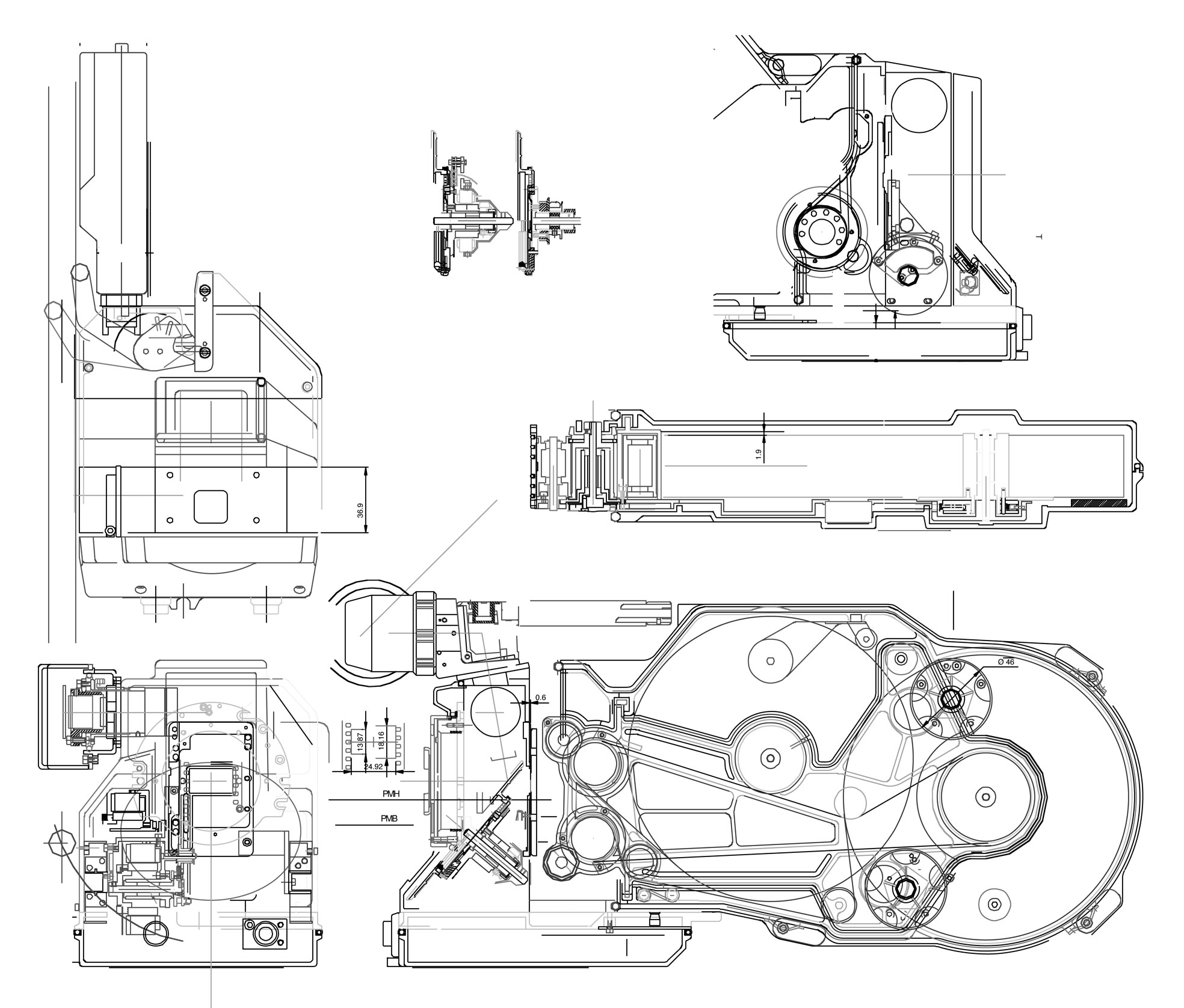 +++
What follows are the tributes to Beauviala by ASC members, associates and friends:
Jean-Pierre,
Your Aaton camera became my best partner in shooting documentaries and features on Super 16. However, to this day, I am still wondering where you found the inspirational black cat that would sit on your shoulder, holding on to its two front legs!
Kees van Oostrum
ASC President
I met JP many years ago in Paris and then again in Italy while I was living there. We were in contact through the recent years by email. He is a brilliant man with great ideas. We spoke a lot about the design aspect of motion picture cameras and how to improve them. I told him that I owned an LTR 7 and think it was still the best design of any camera for handheld work, bar none. He asked me to submit some design ideas for a future digital Aaton and we spoke back and forth about how cameras should be responsive to the human form and operator's needs. He is generous in his sharing of ideas and thoughts with me and excited about the possibilities that lay ahead. He is always open to hearing from me my visions for the camera designs.
We met a few times in Europe and maybe once or twice in the U.S. and I loved to be around his innocent boundless energy and love for the cinema. I was saddened when the Penelope Delta camera was scuttled due to the sensor not being available anymore because that was a brilliant design that only the mind of JP could have come up with.
In a sense, JP will always be the "cat" who sits on our shoulders, the design master of handheld cameras.
Roberto Schaefer, ASC, AIC, IMAGO
Jean-Pierre revolutionized everything regarding camera design and the support technology. Before his earnest efforts, postproduction and camera happily sustained an archaic system. Through his relentless innovation, he moved us into the future. In order to survive, camera manufacturers embraced his technology and even his cameras — the most beautifully designed cameras and operator-friendly ergonomics that we would ever have.
I always looked forward to using his cameras.
It has been an honor to be a disciple of your ideas and technology.
God bless your continued journey. I'm hoping you have other ideas that might move us properly in the right direction for the future.
Roy H. Wagner, ASC, FRPS
Jean-Pierre,
Merci beaucoup pour le camera avec laquelle Je photographier mon premier film de longs métrages Parting Glances.
Le camera que commencez mon ajournez comme le cinematographer aux États-Unis. Se camera êtes pour moi com ma chère Petite Amie.
Jacek Laskus, ASC, PSC
Dear Jean-Pierre,
With gratitude and appreciation for all you have shared in friendship and helping me with creating images in my life through cinema.
I grew and learned through my relationship with your camera in which I still own as prized possessions — my LTR #424 and #429, which still work.
Your cameras and innovations helped me learn how to feel and respond to the images around me to tell our stories in cinematic language.
I'm so pleased you are being honored by the ASC, without question you are so deserving in how much you have given to all our creative lives as cinematographers.
It was a great honor for me to have you in the audience at the Micro Salon when I was there, and spend some time with you again, and be inspired by you.
You've been the black cat on my shoulder stealthily capturing fragment moments in our lives, hopefully, sometimes poetically.
With warmest regards and love,
Ed Lachman, ASC
Dear Jean-Pierre,
Right out of high school, I purchased a 16mm Aaton. I loved it. It was so electronic and able to do so many things and with a better viewfinder than I had used previously.
Thanks for all your great cinema efforts throughout your life.
Congratulations on this award from the ASC.
Sincerely,
T.C. Christensen, ASC
Congratulations on your special award from the ASC. It's well-deserved. I fondly remember the receptions at your Los Angeles offices when Marianne, Dorna, Pascale and Martine were working for you and we had a glass or two of Veuve Clicquot. À votre santé, Jean-Pierre.
All my best,
Angie Gollman
American Cinemtographer
Dearest Jean-Pierre,
My first soulmate was my Aaton LTR 16mm camera. I had one of the very first produced and carried her all over the world. Together, we dodged bullets, climbed mountains, filmed grieving mothers and she never let me down. I lovingly repaired her with a Swiss Army knife and the magazine of a Galil rifle in the mountains of Guatemala. I changed her magazine while marching in demonstrations in Mississippi. All of this because of the genius of Jean-Pierre Beauviala. Then came the Aaton Edge Code, and I was free of microphone taps while out in the field. What joy!
Jean-Pierre, your playful inventiveness and rogue spirit inspired me in my early days more than you'll ever know. It was the handcrafted, owner-operator camera that embodied the spirit of the independent movie scene I was first involved with. I will forever remember visiting the factory in Grenoble when I was traveling with Haskell Wexler. You gave me my first extended viewfinder so I could shoot backwards when I needed to be discrete. You encouraged me to make the camera my own by customizing it to my heart's content. I'm sure you thought my final result was a bit of an abomination. But then you did advertise your camera with a cat on the shoulder.
My 16mm sweetheart may be long gone, but my 35mm Aaton lives with me to this day. The Rolling Stones were its latest victim, and I will lovingly care for her until the day she is enshrined in the Cinematography Hall Of Fame.
No one deserves this award more than you. Please cherish the great love we all have for your brilliant designs.
Thinking of you fondly,
Newton Thomas Sigel, ASC
Aaton was the rebel innovator of the day: in-camera time code, video assist, Super 16 — they really were out there, pushing technology in order to give doc filmmakers greater intimacy with their subjects. There was a certain personality type among the early Aaton adopters, like Al Maysles, Ricky Leacock, D.A. Pennebaker and Haskell Wexler.
They were innovators in their own right, constantly modifying their tools, and quite willing to deal with how informal the whole relationship was with Aaton and the folks like us who supported them. They believed in Jean-Pierre Beauviala's approach to design, because, at heart, JP was an independent filmmaker just like them. He created the Aaton 7LTR for himself and his friends. It was all about the craft, all the time.
I remember sitting on a balcony with Jean-Pierre and a bottle of red wine, and he was drawing on a napkin the original design for the A-minima. He was describing his concept of how a small camera should rest against the side of your head with your neck being its stabilizing structure, rather than your shoulder.
The concepts for so many Aaton innovations were born on napkins.
Regards,
Pete Abel
President and CEO, AbelCine
Dear Jean-Pierre,
As you were an early hero of mine, I was delighted to learn that the ASC will finally recognize your great genius in our camera world.
Congratulations on this well-deserved award! I wish I could be there in Paris to honor you in person.
Warmest regards,
Garrett Brown
M. Beauviala,
When I began as a cinematographer, we coveted the opportunities to use the new lightweight handheld camera, which made possible "true" vérité filmaking. I sweated through many long hours against the eyepiece, and was proud of my expertise of loading the devilish co-axial magazines.
An "amusing" moment, occurred after my director had queered his relationship with the rental company, and we found ourselves on set with a complete set of very dead batteries. As the dolly grip and crew lined up for a complex scene with volunteer extras (which we couldn't disappoint with our incompetence) my assistant leaned in and gave me the bad news.
I whispered our predicament to the director, and he said "shoot anyway." The camera being truly silent, attracted no suspicion, and needless to say the scenes were executed with apparent flawless precision. At the end of a brilliant and shortened day, the cast was thrilled with our uncommon dispatch, and readily accepted the director's request that they return for "a few additional shots."
Many years later, I had the pleasure of holding Haskell Wexlar's NPR that he used to shoot Medium Cool, which reminded me of my first romance with film cameras, which was of course, French. Thank you.
Regards,
Thomas Barron
Director
JP,
You enticed us early on with images of a now-famous black cat sitting comfortably on a cinematographer's shoulder. One of those cats sat on my shoulder at the North Pole and on documentaries in many places around the world.
In the years that followed, you continued to invent and build cameras and products that were wonderfully ergonomic and marvels of innovative design. You seemed to me to be the only one in the business who could understandably explain time code on film in English or French.
I think my favorite camera was Penelope. Like Odysseus, you kept us waiting 20 years for this camera. When you showed the prototype in 2007 and the working model at Micro Salon, it was a beautiful, silent, amazing 35mm Aaton.
It is no exaggeration to say that you have been one of the most influential people in the cinema business.
Congratulations, félicitations,
Jon Fauer, ASC
Dear JP,
How wonderful that the ASC is giving you this tribute. I remember with pleasure our meetings and conversations and of course the cameras you imagined and brought to life. In a world where invention is increasingly the work of large groups of faceless people your passion, determination, and joie de vivre made you the visage and spirit of Aaton.
Congratulations on this well-deserved honor.
Andy Romanoff
Storyteller/Photographer
Dear Jean-Pierre,
It is my understanding that the ASC will honor you with a special award for your contributions to cinematography.
I wanted to relay to you how important and influential your camera designs have been as I came up through film school in the 1980s, and began camera assisting and shooting in the '90s.
My first introduction to your cameras was the LTR.
Simply, reliable, light and ergonomic.
I'd use your XTR later, and it was the only time we got time code on film to work.
I could roll at will and knew my shots would be synced in dailies without an issue.
Then came the Aaton 35, equally as innovative and ergonomic.
To this day, we have camera manufacturers trying to emulate that walnut handgrip, and endless DPs and camera operators wishing for that "Aaton handgrip."
Finally, I would use the A-minima, too — small and light it allowed a skateboarder to use it while making jumps on a ramp, well before GoPros and the like.
Your skills in design and engineering have left an indelible mark on cinema, as you've listened to directors and cinematographers, laboratories and film manufacturers, post houses and producers… and you've elevated the camera to an art form on its own.
I cannot think of a better person to receive such an award.
All my best,
Mark Doering-Powell, ASC
Jean-Pierre,
A well-deserved congratulations to you on receiving this special ASC award of recognition for your unwavering dedication to advancing the art of cinematography with the development of your magnificent groundbreaking Aaton cameras!
You and your talented team with Bernard Deschanel demonstrated remarkable production support for two of my films as cinematographer, The Draughtsman's Contract (1981/'82) shot with the Aaton 16mm in Super 16 mode and Triumph of the Spirit (1989), the first film to shoot with the your Aaton 35mm camera which enabled an immersive style of shooting that was vital to achieving our creative intent. The success of The Draughtsman's Contract influenced a major Super 16 revival with a legacy that still persists today! (e.g., the Academy Award-nominated Carol, photographed by Ed Lachman, ASC.)
You and your Aaton team have always been at the forefront of technology innovation designed to provide directors and cinematographers with state-of-the-art imaging tools that advance their creative vision.
With grateful thanks!
Curtis Clark, ASC
I meet Jean-Pierre Beauviala in the early 1970s, as Alan Gordon Enterprises was the first Éclair NPR 16MM camera supporter in the USA. And later importer and distributor.
Jean-Pierre's contribution was to develop the BEALA motor for the NPR camera that allowed, for the first time, the camera and sound recorder to be separated without cables and to record perfect sync sound. The new Crystal Quartz BEALA motor changed the style of documentary film making worldwide.
Jean-Pierre is an extremely talented engineer, and has the honor of having made a major contribution to filmmaking.
Grant Loucks
CEO, Alan Gordon Enterprises
Jean-Pierre Beauviala is a genius and a visionary. It's safe to say that he revolutionized documentary filmmaking.
Before the invention of Aaton camera, all the 16mm sound cameras were heavy, cumbersome and ill-suited for fast handheld shooting. The Aaton, with its iconic "cat on the shoulder" profile was cinematographer's dream come true.
I bought my first Aaton (7) fresh out of film school through the company ran by Rune Ericsson, the Swedish cinematographer who invented the Super 16 format, which arguably was made possible by Jean-Pierre's technical prowess.
Putting (my own) cat on my shoulder was probably one of the most magical moments of my
professional life, which let me immediately and conveniently forget about the astronomical amount of borrowed money I had to put down. (Yes — $20-some thousand seemed crazy astronomical back then for a new beginner with no visible prospects.)
Aaton, with its various incarnations, followed me through most of my career. It was constantly
developing, fueled by Jean-Pierre's relentless drive for perfection.
Sadly, it became one of the casualties of digital age, even though it still was a work-in-progress.
I still own an Aaton, and once in a while I take it out of the case and marvel at its elegant lines and one-of-kind walnut grip.
As a life-long Aaton enthusiast and ASC member, I'm elated that we honor one of our
industry's true giants.
Alexander Gruszynski, ASC
To honor Jean Pierre is a wonderful idea. So well deserved!!
We need, and are missing more and more, people having a VISION like him.
Very best regards,
Gerhard Baier
Managing Director, Ernst Leitz Wetzlar GmbH
Technology is one of driving forces behind art. As filmmakers, we are defined by both the capacities and the limitations of the tools we use. In order to accomplish something that has never been done, someone must first invent the tool that can do it. Sometimes, those inventions are the by-product of serendipitous conditions; accidents stumbled upon during the course of inquiry and experimentation. Other times, they are the product of visionary thinking.
Jean-Pierre Beauviala is one such visionary. The list of technological innovations created and implemented by Beauviala is mindboggling: the Beala motor for the Éclair NPR, Aaton 16mm cameras, the Aaton 35 camera, widespread implementation of Super 16, film time code, Keylink, the Cantar audio recorder. More than mere improvements to pre-existing technology, Beauviala's inventions each had a distinct way of altering the way we not only made films, but actually impacting the medium itself.
Lightweight portable sync-sound cameras (using tiny motors designed by Beauviala) enabled the explosion of direct cinema and cinéma vérité in the late 1960s. But it is with the longstanding and sometimes contentious relationship between Jean-Luc Godard and Beauviala that we get a glimpse into exactly how visionary thinking has the potential to transform and elevate art through technology. Godard wanted a professional motion picture camera that could "…fit into the glove box of a Toyota… or into basket of a bike." While Godard might not have ever been satisfied with the results of his collaboration with Beauviala, one thing is certain: the cameras that Beauviala designed and built were the ones that enabled, even necessitated, a new kind of filmmaker and new kinds of films — Nouvelle Vague, Direct Cinema, Cinéma Vérité. Films by artists. Film as art.
In my brief career at Aaton Des Autres, my understanding of cinema was irrevocably altered, indeed greatly expanded, by my contact with Beauviala, and for that I personally owe him a profound debt of gratitude. But his contribution to the art of film is so vast that it is surreal to imagine what films would not exist were it not for his distinct, and distinctly human, approach to the motion picture camera, which, if properly used, is simply an extension of the mind.
David Hollander
Dear Jean-Pierre,
I grew up in Germany and moved to the US in the 1980s. I have many fond memories of working with your Aaton.
A beautiful camera, compact and well-designed!
Thank you and my very best wishes from Hollywood, California!
Christian Sebaldt, ASC
Jean-Pierre Beauviala has for me always been an example of a free soul; he could think out-of-the-box. Crystal-controlled sync sound, the revolutionary design of the ACL Mini Éclair, and lots of other innovative inventions changed filmmaking forever.
But the real impact on the Art of Cinematography came with the development of his own brilliant design, the Aaton, unmistakably still the best sound camera ever built. Four consecutive articles in the Cahier du Cinema (1978) where dedicated to explain the philosophy behind the camera and Jean-Pierre traveled all over Europe to discuss the Aaton prototype with cinematographers for improvements.
During his Aaton introduction tour through Europe, Jean-Pierre promised me to design, at no cost, a trickle charger for my ACL Mini Éclair to be able to film Oronoque, an expedition film, isolated for 3 ½ months in the jungle without access to an electricity outlet. A few days before I had to leave, a mysterious small metal cigar box with sealed electronics arrived. It worked. The film was awarded on the expedition film festival in Trento, Italy. Thanks Jean-Pierre Beauviala.
This year, I donated my Aaton LTR, C191 (!) to the ASC Museum camera collection as an homage to Jean-Pierre's achievements in advancing the Art of Cinematography.
Since 1978, I shot 25 films with my Aaton and in 1996, the last one, Colors Straight Up, got an Oscar nomination for Best Documentary Feature.
Thanks again, Jean-Pierre Beauviala,
Theo van de Sande, ASC
Dear Mr. Beauviala,
We have met a few times at various trade fairs. You might not remember me, but I certainly remember you, and to this very day I frequently use your camera. Or should I say "my" camera. After being one of the first (or first) to use the Penelope on an American feature film (The Fighter), I ended up buying one myself, and it pleases me to tell you that it was the A-camera workhorse many years later on my last feature, coming out in March, before it went on and became the A-camera on First Man — the beautifully shot film about the first man on the moon, photographed by Linus Sandgren.
My career started loading your 16mm XTR for a Dutch feature, and, ever since, the Aaton has been close to me and my career path. I owe you a huge amount of gratitude for that. Your soulful engineering, creating machines with such a deep understanding of the art and its executioners is awe-striking.
Ending a day's work, it always brings joy to me to see the Penelope display greeting me "au revoir" — your camera has become a loyal friend and how else can I consider its creator as anything less then a good friend and a patron to my work.
It is my great pleasure to congratulate you on the ASC's award, I couldn't imagine anyone more worthy.
With love and respect,
Hoyte van Hoytema, ASC, FSF, NSC