A Brief History of the American Cinematographer Manual

With the new 11th Edition now available, here's a look back on how the "Filmmaker's Bible" came to be.
ASC Staff
With the new 11th Edition now available, here's a look back on how the "Filmmaker's Bible" came to be.
With the idea of offering professionals a concise field guide featuring pertinent technical information and charts, the American Cinematographer Hand Book and Reference Guide was first published in 1935. Author Jackson J. Rose, ASC noted in the book's introduction, "With the rapid advance and progress in the art of cinematography… the cinematographer is continually besieged with mechanical problems, which to solve under the pressure of speed, often leads to many costly errors and the loss of valuable time while on production."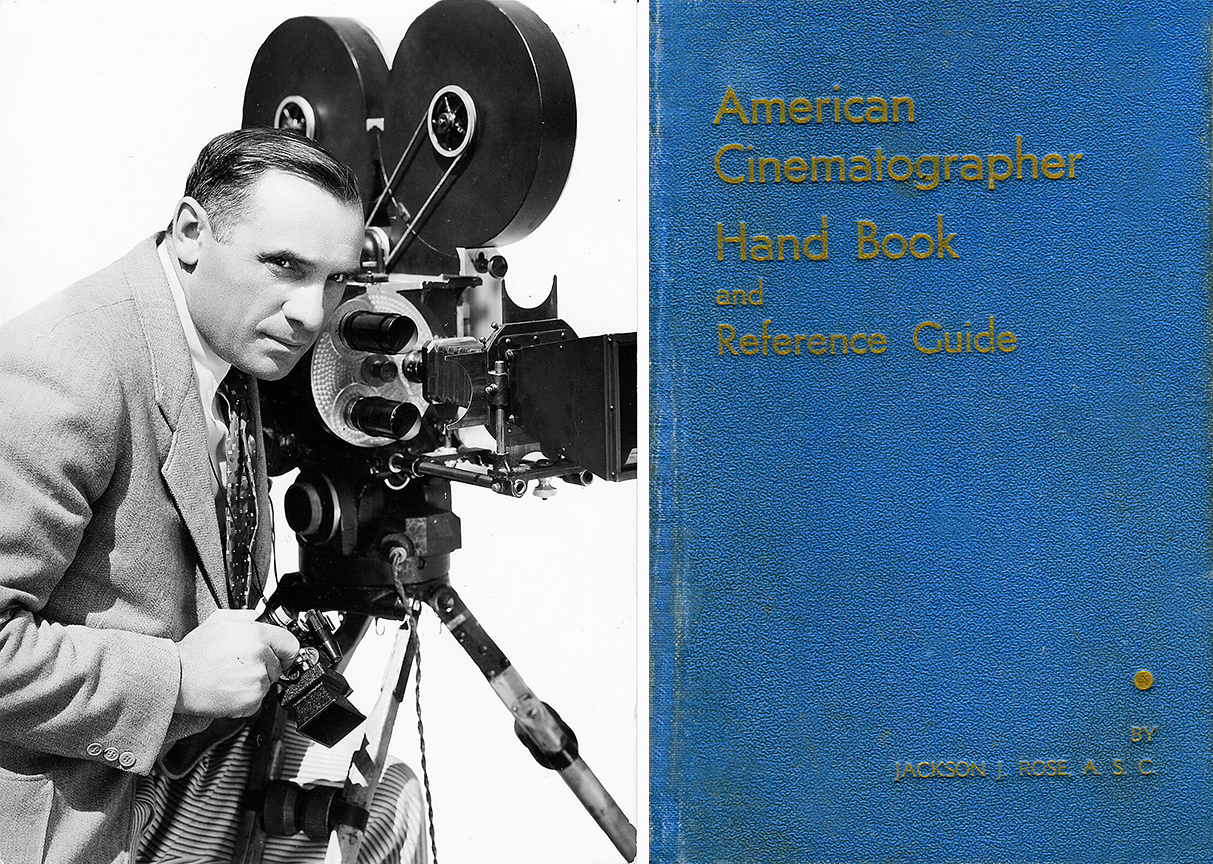 The solution? This pocket-sized 84-page tome, which was the first of its kind to offer accurate information on motion-picture film characteristics, lenses and their use, depth-of-field guides, the effects of filtration, frames-per-second camera speeds, shutter angles and their effect on exposure, and many other vital subjects.

The book sold for $3.50, which would be about $72 today when adjusted for inflation.
An instant success, the Hand Book was updated and revised through nine editions, with the project ending in 1956 following Rose's death on September 23 of that year.
In 1960, the ASC published the even more substantial American Cinematographer Manual.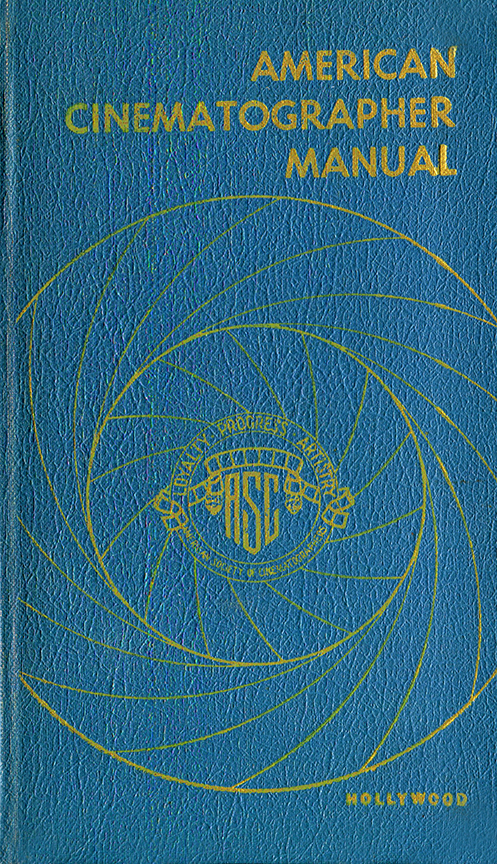 Edited by ASC member Joseph V. Mascelli, Society fellows Arthur Miller and Walter Strenge served as technical advisors and additional editors.
The first edition of the Manual offered a collection of "cinematographic production data which has never before been equaled." In many ways, the evolution of the Handbook to the Manual reflected the changing times, as cinematography had become ever-more complex, requiring a more in-depth understanding of diverse topics, calling for subjects to be broken out into individual chapters with top experts in those fields then writing on their respective subjects in detail.

In addition to topics covered in the Handbook, the 484-page Manual included informative discussion on various widescreen systems, new cameras and accessories, shooting background plates, shooting film for television, day-for-night and underwater cinematography, and even audio recording tips while using various camera systems.

Priced at $7.50 (about $72 today), the 1960 Manual was essentially a top-notch film school bound between two covers and a handy reference for solving pressing technical issues on the set.
Subsequent editions added new chapters on the evolving technology and techniques of the day, and the most recent — the 10th, published in 2013 — clocked in at a hefty 938 pages.

Editors of subsequent editions of the Manual also include Charles G, Clarke, ASC (4th Edition), Fred H. Detmers (6th Edition), Dr. Rod Ryan (7th Edition), Rob Hummel (8th Edition), Stephen H. Burum, ASC (9th Edition) and Michael Goi, ASC (10th Edition.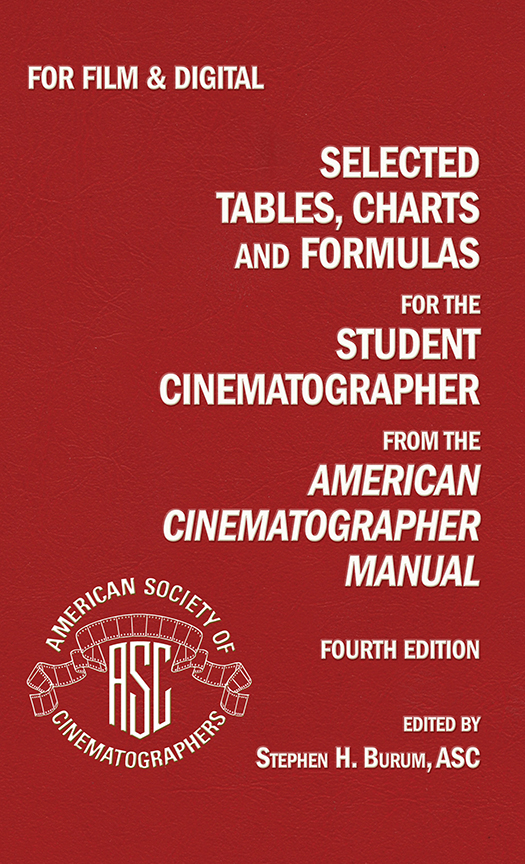 A secondary publication, Selected Tables, Charts and Formulas for the Student Cinematographer, is a handy collection of vital data curated from the Manual. Designed for the education market, it was offered at a greatly discounted price. The 4th edition of this book, itself 168 pages — was curated by Burum.

In 2002, the Academy of Motion Picture Arts & Sciences presented an Award of Commendation to the ASC for its ongoing publication of the Manual.

The 11th edition of the Manual — edited by M. David Mullen, ASC and associate member Rob Hummel and containing 686 pages — has been printed and is now available for from the ASC Store. Only 3,500 hard-back copies will be made available.
Contributors to this updated edition include Society members Bill Bennett, Christopher Chomyn, Richard Crudo, Richard Edlund, John C. Hora, Levie Isaacks, Dennis Muren, James Neihouse, Sam Nicholson, Steven Poster, Christopher Probst, Pete Romano, Roberto Schaefer and David Stump.

Here's what's inside this new version:
American Cinematographer Manual Eleventh Edition - Table of Contents
Foreward
Origins of the American Society of Cinematographers - David E. Williams
Responsibilities of the Cinematographer
Basic Digital Concepts
- Marty Ollstein
Resolution, Acuity, and Contrast Sensitivity and Their Contribution to Cinematography
- Daniel S. Rosen
Criteria for Evaluating Digital Cinema Cameras
- David Stump, ASC
Take Ownership of Your Sensor
- Richard Crudo, ASC
Exposure Meters
- Nasir Zaidi
Measuring Light
- Christopher Chomyn, ASC
Light Sources and Lighting Instruments
- Phil Rhodes with Frieder Hochheim and Tim S. Kang
Lenses
- Iain A. Neil
Anamorphic Cinematography
- John C. Hora, ASC
Depth of Field
- Rob Hummel
Compositional Considerations When Choosing Aspect Ratio & How Shooting Film vs. Digital Impacts Those Choices
- Rob Hummel
Set Safety
- Steven Poster, ASC and Michael Chambliss
Filters
- Ira Tiffen
Camera-Stabilizing Systems
- Larry McConkey, SOC
Monitor Setup for Accurate Picture Review
- Lou Levinson and Gary Mandie
16mm
- Roberto Schaefer, ASC
Imax
- James Neihouse, ASC
Aerial Cinematography
- Jon Kranhouse and David B. Nowell, ASC
Underwater Cinematography
- Pete Romano, ASC
Day-for-Night
M. David Mullen, ASC
Introduction into 3D Cinematography
- Buzz Hays
Emissive-Screen Cinematography in Virtual Production
- Noah Kadner
Photographing Displays, Past & Present
- Steve Irwin
Infrared Cinematography
- Bill Bennett, ASC
Arctic-Tropical Cinematography
- James Neihouse, ASC
Specialty Lenses
- Mako Kowai
Macro Cinematography
- Christopher Probst, ASC
Virtual Reality / 360° Cinematography
- Noah Kadner
Variable Frame Rate
- Jonathan Erland
The Cinematographer and the Laboratory
- Rob Hummel
Previsualization
- Colin Green
Digital Postproduction for Feature Films
- Sarah Priestnall
ASC Color-Decision List
- David Reisner and Joshua Pines
The Academy Color Encoding System (ACES)
- Annie Chang and Andy Maltz
Working with Greenscreens and Bluescreens
- Sam Nicholson, ASC and David Stump, ASC
Photographing Miniatures
- Dennis Muren, ASC
In-Camera Compositing of Miniatures with Full-Scale Live-Action Actors
- Dan Curry, VES
Motion-Control Cinematography
- Richard Edlund, ASC
Film Format Dimensions
Formulas
- R. Evans Wetmore, P.E.
Postproduction and VFX Glossary
Digital Glossary
- Marty Ollstein and Levie Isaacks, ASC
Tables
Further Reading
Index
About the Editors