February Issue of AC Enters Babylon
Other subjects include The Whale, Thirteen Lives, The Banshees of Inisherin, camera tracking in virtual production, and the role of the dolly grip on set.
ASC Staff
Our February 2023 edition goes behind the scenes on the features Babylon, Thirteen Lives, The Whale, 18½ and The Banshees of Inisherin, and also explores camera tracking in the virtual-production process, and the multi-faceted role of the dolly grip on set.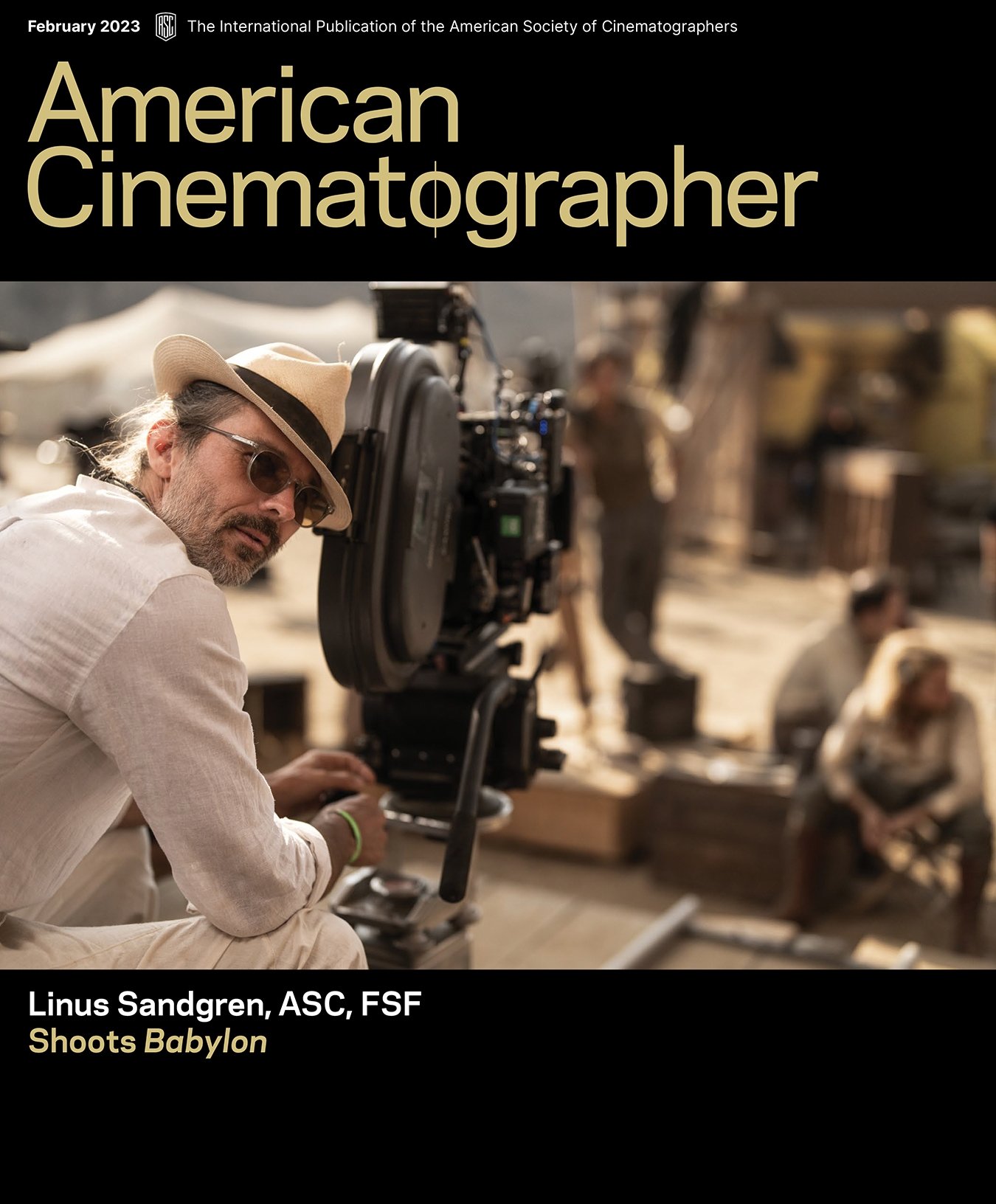 • In his monthly column, ASC President Stephen Lighthill shares a few favorite films about filmmaking.
• Linus Sandgren, ASC, FSF discusses why he and director Damien Chazelle chose an aggressive visual approach — including "a curious camera" — for Babylon, set in the early days of the American film industry. In a sidebar, Atlas Lens Co.'s president and lead designer, Forrest Schultz, details how he customized anamorphic lenses for the project.


• Cinematographer Sayombhu Mukdeeprom and director Ron Howard go deep on their approach to Thirteen Lives, which depicts the 2018 rescue of a young soccer team and their coach from Thailand's Tham Luang cave.
• Matthew Libatique, ASC, LPS strives for simplicity to tell the story of a lonely, chronically ill college professor in The Whale, directed by longtime collaborator Darren Aronofsky. In a sidebar, Aronofsky shares the creative philosophy behind their choices.
• Cinematographer Elle Schneider teams with director Dan Mirvish on the Watergate-era caper 18½, a low-budget indie shot in 15 days.
• Global Village: Ben Davis, BSC emphasizes the beauty of a storm-swept landscape for The Banshees of Inisherin, directed by Martin McDonagh.
• Shot Craft: A look at the dolly grip, a role that is almost a department unto itself, with insights from expert Ralph Scherer.
• The Virtual World: A consideration of camera-tracking methods employed in virtual production — their advantages, disadvantages and potential future applications.
• Clubhouse News: The latest bulletins from the Society feature new ASC members Jonathan Sela and Marcell Rév; the 2022 ASC MITC Technology Showcase; and Band Pro One World Open House honorees Checco Varese, ASC and Otto Nemenz, an ASC associate member.
• Wrap Shot: Singin' in the Rain, shot by Harold Rosson, ASC.

Subscribers to our print and digital editions will receive this issue soon. Not a subscriber yet? Do it today.