Directed by Ridley Scott, the grand period drama Gladiator (2000) was a surprise smash hit upon release, slaying widespread critical notions that sword-and-sandal epics would not connect with a modern audience. This success was due in no small part not only to the detail-rich scope of the production design and costuming, but a contemporary approach to the cinematography, as executed by John Mathieson, BSC.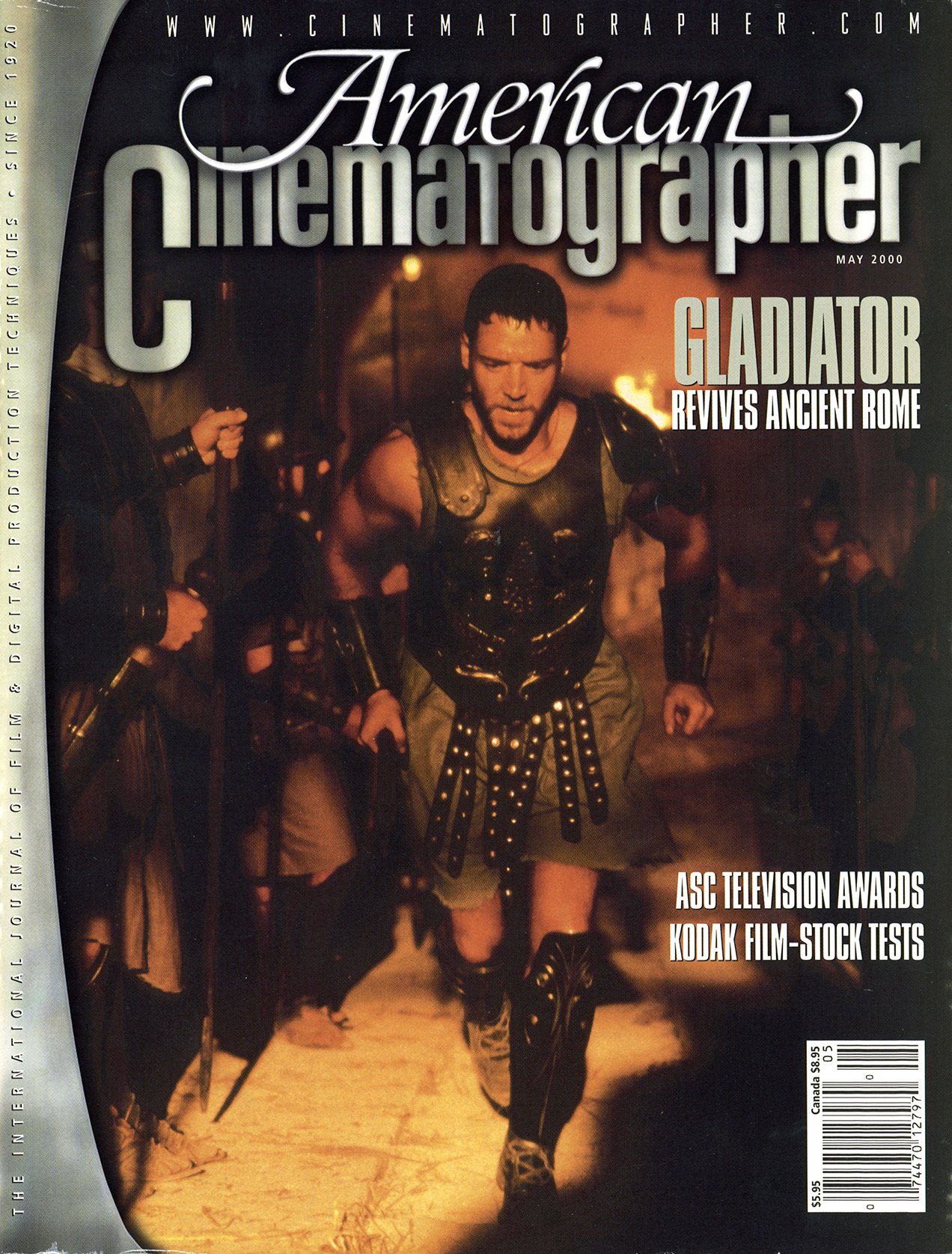 "Gladiator was a big step up for me," Mathieson told American Cinematographer for a cover story on the production, "but I've been in those situations before. Having a wonderful crew was a great plus. They worked bloody hard and they got things done quickly." He was rewarded for his efforts with a BAFTA Award and Academy and ASC award nominations, among other honors.

Scott, who earned an Academy Award nomination for his work on the picture, was also interviewed for this issue of AC. Asked what led him to choose Mathieson as the project's cinematographer, the director replied, "One of my sons, Jake, had already directed his first feature film, the 17th-century piece Plunkett and Macleane [a 1999 release that was shot by Mathieson]. Jake happened to be in London editing it at the time, and he would show me cuts of his film. I thought it looked absolutely wonderful on every count. John Mathieson and Jake had worked together a lot doing rock videos and commercials, and John had already done several movies. So I said to Jake, 'Do you mind if I ask John to do my next movie?' That's a reversal, isn't it?"
Asked what skills Mathieson brought to the table, Scott replied, "Not all cameramen are artists, but John is. He's also extremely knowledgeable technically, partly because of his background in rock videos and commercials, where he could experiment. If anything, people making rock videos expect you to experiment; otherwise, the band isn't interested. Each of these three- to four-minute pieces are essays of creativity [set] to music. John had been through a lot of that, and therefore is very inventive.
"For instance, I didn't want to just shoot the battle sequences for Gladiator in a traditional manner, so we adopted various styles, which John and I talked about, for the different stages. We used various techniques in terms of cameras and camera speeds. When you've got 2,000 soldiers in the field at any one time, and you're planning to experiment, you'd better make sure you're right, because you can't go back and reshoot it. I like the fact that John had been down those [experimental] routes, whereas others, I think, might rather play it safe. John would go for it, and mostly, thank God, he was right."
Did the film's period dictate a particular photographic style? "If anything, we shot it in a rather modern way," Scott said. " A lot of the battle scenes, of course, were done with handheld cameras. We employed a lot of techniques we learned from videos to enhance the speed and violence of certain sequences. When you're dealing with a bunch of guys wearing muddy skirts and carrying swords and spears and they're not on horseback and everything is flat it requires a lot of energy to get the footage you need; you have to use a lot of cuts to keep the action moving forward. We worked out a proper strategic battle plan in order to illustrate the formidable might of the Roman military machine. The infantry were engaged in the front, and there were war machines like catapults and arrow launchers to the rear. The arrows were really thick and would impale whoever got in their way; if you got off a really lucky shot, you could nail four blokes together, like a kabob. The Romans would also catapult Greek oil, which is basically a kind of kerosene, in these large, earthenware pots. They would saturate the ground with black oil, then fire flaming arrows that would ignite the whole battlefield. The Romans were very clever strategists."
The stills below from the AC archives were shot by unit photographer Jaap Buitendijk.
For more on Gladiator, check out AC, May 2000.