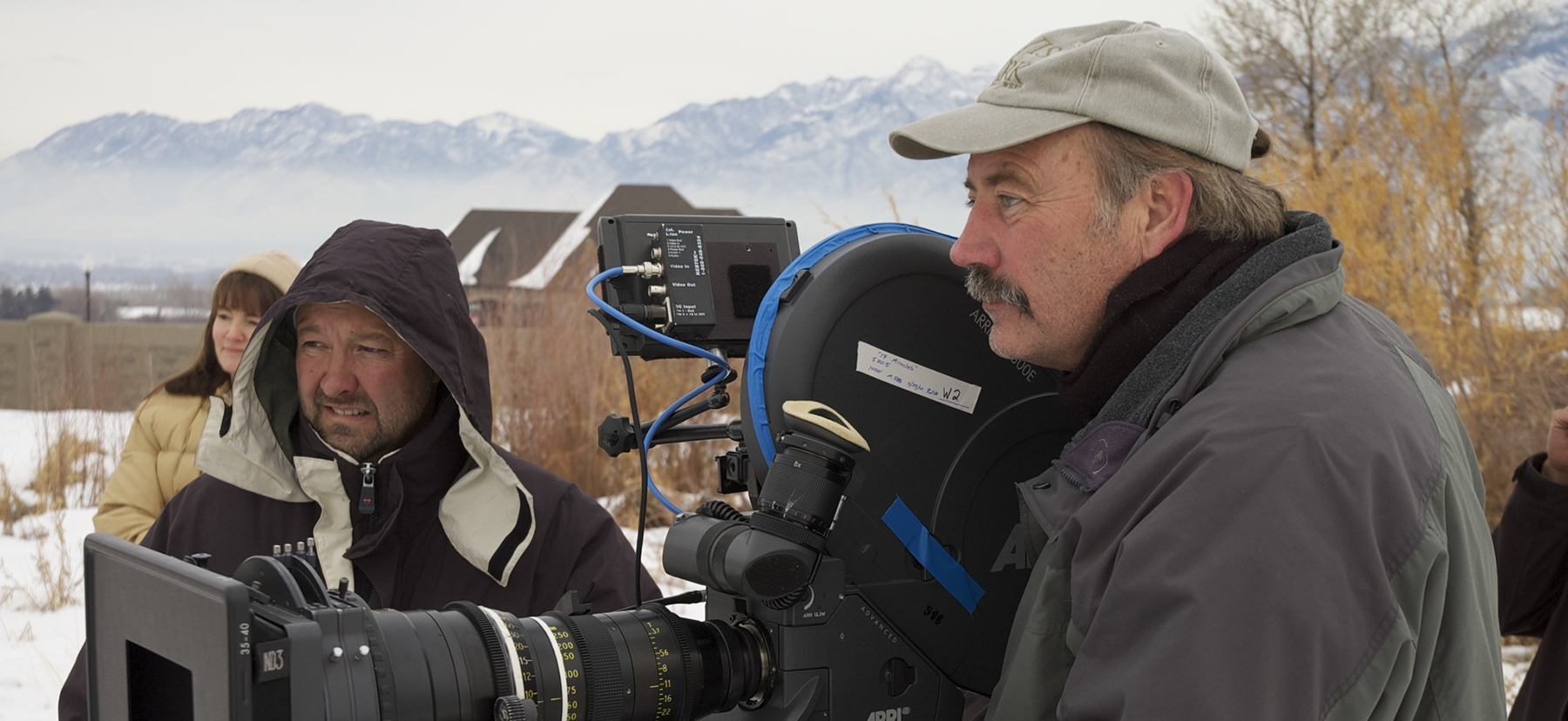 ASC Close-Up: T.C. Christensen
"As a college freshman, I went to see my advisor. He asked what I wanted to do. I told him, 'a career in film.' He took 20 minutes telling me all the reasons why I shouldn't."
ASC Staff
When you were a child, what film made the strongest impression on you?
What's Up, Doc? Amazingly funny.
Which cinematographers, past or present, do you most admire?
Many. Notably, Néstor Almendros, ASC, for introducing to me the naturalism he was able to capture. Also, the work of my friends I came up through the industry with: Reed Smoot, ASC and Gordon Lonsdale, ASC.
What sparked your interest in photography?
My dad's home movies. I was fascinated by his ability to make that little box record the dumb antics we'd do in our living room — and a few weeks later, there we were doing the same dumb things again… Magic!
Where did you train and/or study?
Brigham Young University, the University of Utah, and I began reading American Cinematographer while in high school.
Who were your early teachers or mentors?
Wally Barrus, Kieth Merrill and Reed Smoot.
What are some of your key artistic influences?
A college class by Tad Danielewski about subliminal messages in films, including what was being said through the cinematography.
How did you get your first break in the business?
I made a film in college that won several festivals. After that, people thought I knew what I was doing. I didn't (still don't), but they started hiring me. Then Reed Smoot needed a B cameraman to operate a 35mm Arri BL2 on a feature film. I thought I'd died and gone to heaven.
What has been your most satisfying moment on a project?
Watching the first dailies on my first Imax film. Imax films didn't have dailies — they had monthlies, so there was plenty of time to worry about what had been shot. I was a bit insecure about it. At that first screening, there was night-exterior work, day-interior work, and the big vista shots Imax is known for. The director, Kieth Merrill, was gushing. I done gooood.
Have you made any memorable blunders?
Twenty-five years ago, I was shooting Raquel Welch. She had a small shadow at the corner of her mouth and she didn't like it. She was very good at knowing when she looked her best and when she did not. My real blunder was that I took way too long to realize what was casting the shadow and fix it. I looked like a wienie and I was a wienie.
What is the best professional advice you've ever received?
As a college freshman, I went to see my advisor. He asked what I wanted to do. I told him, 'a career in film.' He took 20 minutes telling me all the reasons why I shouldn't. 'It's too hard. Too much competition. You'll never make it.' I walked out of there thinking, 'That guy's an idiot. I'll show him.' I don't know if I showed him, but that was almost 50 years ago and I've never had another job or worked a single day in anything other than film. Sometimes negative advice can be a great motivator. Second-best advice: Early in my career, I read an interview with Carol Burnett. In that article, she said she never made a decision about taking a job based on the money. For her, it was always based on, 'Is this project good for my career?'
What recent books, films or artworks have inspired you?
Wonder, The Greatest Showman, Won't You Be My Neighbor?
Do you have any favorite genres, or genres you would like to try?
I played in bands for many years. I'd love to do a musical.
If you weren't a cinematographer, what might you be doing instead?
My wife says if I wasn't a cinematographer, what I'd be is busy being depressed. But I think I'd probably be one of those extras on the set that is always hanging around staring at the camera and trying to start up a conversation, working in words like '85N3' and calling a 'hi hat' a 'low boy,' hoping they'd let me on their crew.
Which ASC cinematographers recommended you for membership?
I was fortunate to have been recommended and supported by three very accomplished cinematographers — Jeffrey Kimball, Bill Butler and Reed Smoot.
How has ASC membership impacted your life and career?
Every time I see my name listed with all of those great cinematographers, I about start to cry. I realize I don't deserve to be included on that list — but sorry, I'm not resigning!
You'll find much more information about Christensen here.