Blade of the Immortal: Samurai Cinematographer
Japan's Nobuyasu Kita discusses the new period swordfighting epic he has photographed for genre master Takashi Miike.
Michael Goldman
Photos courtesy of Magnet Releasing

When it comes to stylized, sophisticated and violent martial-arts films coming out of the realm of Japanese cinema, one of the long-established masters of the genre is director Takashi Miike, whose credits include Ichi the Killer, 13 Assassins and Yakuza Apocalypse. For almost a decade, his filmmaking partner in crafting visuals has been cinematographer Nobuyasu Kita, who started working with Miike on the action sequel Crows Zero II (2009). The duo's latest collaboration is the Samurai drama Blade of the Immortal, which is based on a famous Japanese manga comic book series of the same name.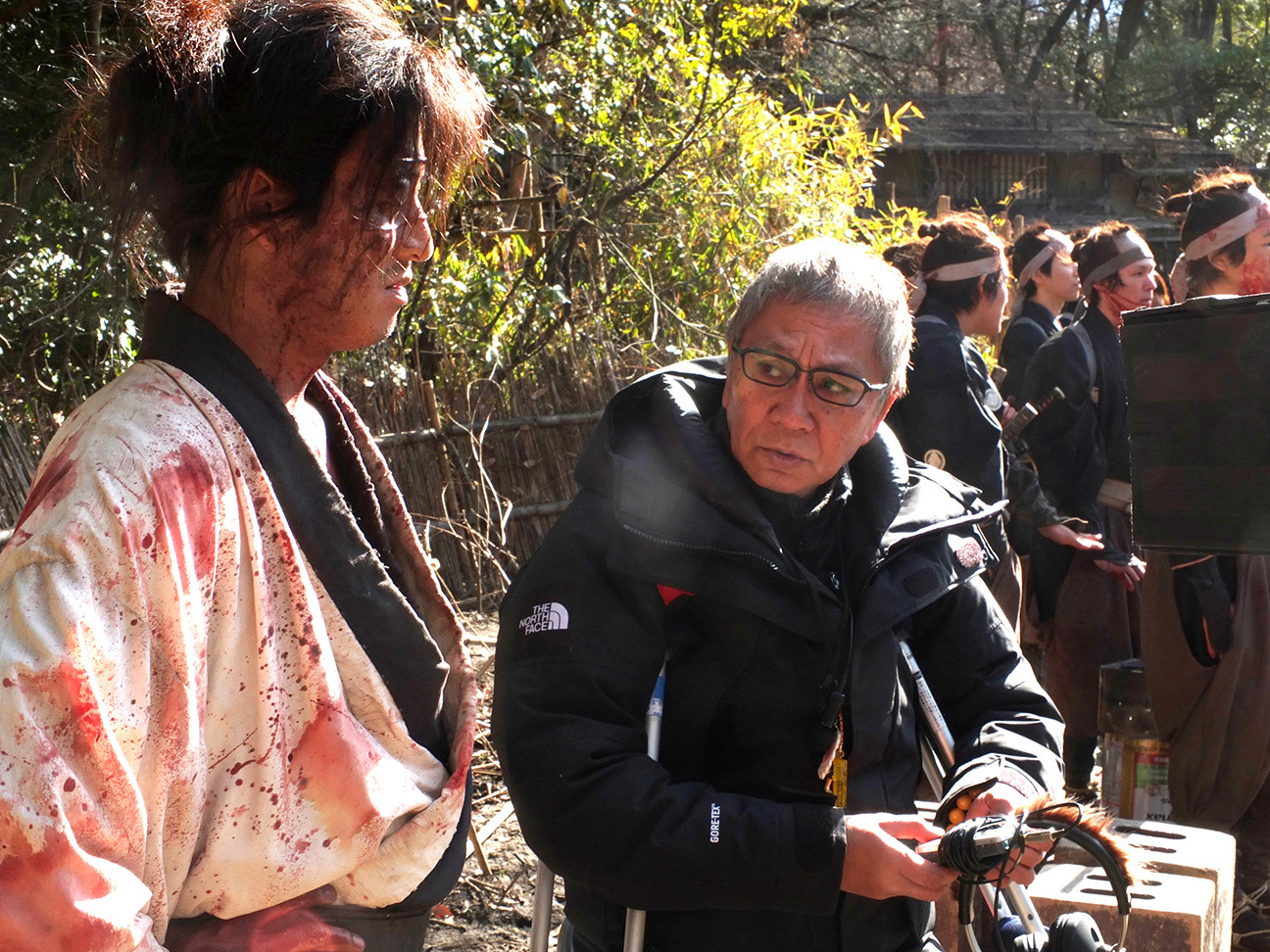 The film, which was released in Japan earlier this year and is opening in the U.S. in November, tells the story of a battle-scarred samurai, Manji (Takuya Kimura), who was given the supernatural gift — or curse, depending on your interpretation — of immortality. No matter what grievous bodily injuries he suffers, he survives to fight another day. One day, he meets a young girl — Rin (Hana Sugisaki), bent on revenge against a samurai school whose leader ordered the death of her parents — and reluctantly agrees to aid her quest for vengeance.

The movie features a stylized, black-and-white prologue, sections where frame speeds change, close-ups and incredibly complicated, choreographed battle sequences between both individuals and groups. Figuring out how to photograph the picture was a difficult job, but Kita points out that he and Miike are "on the same wavelength" at all times when they team up.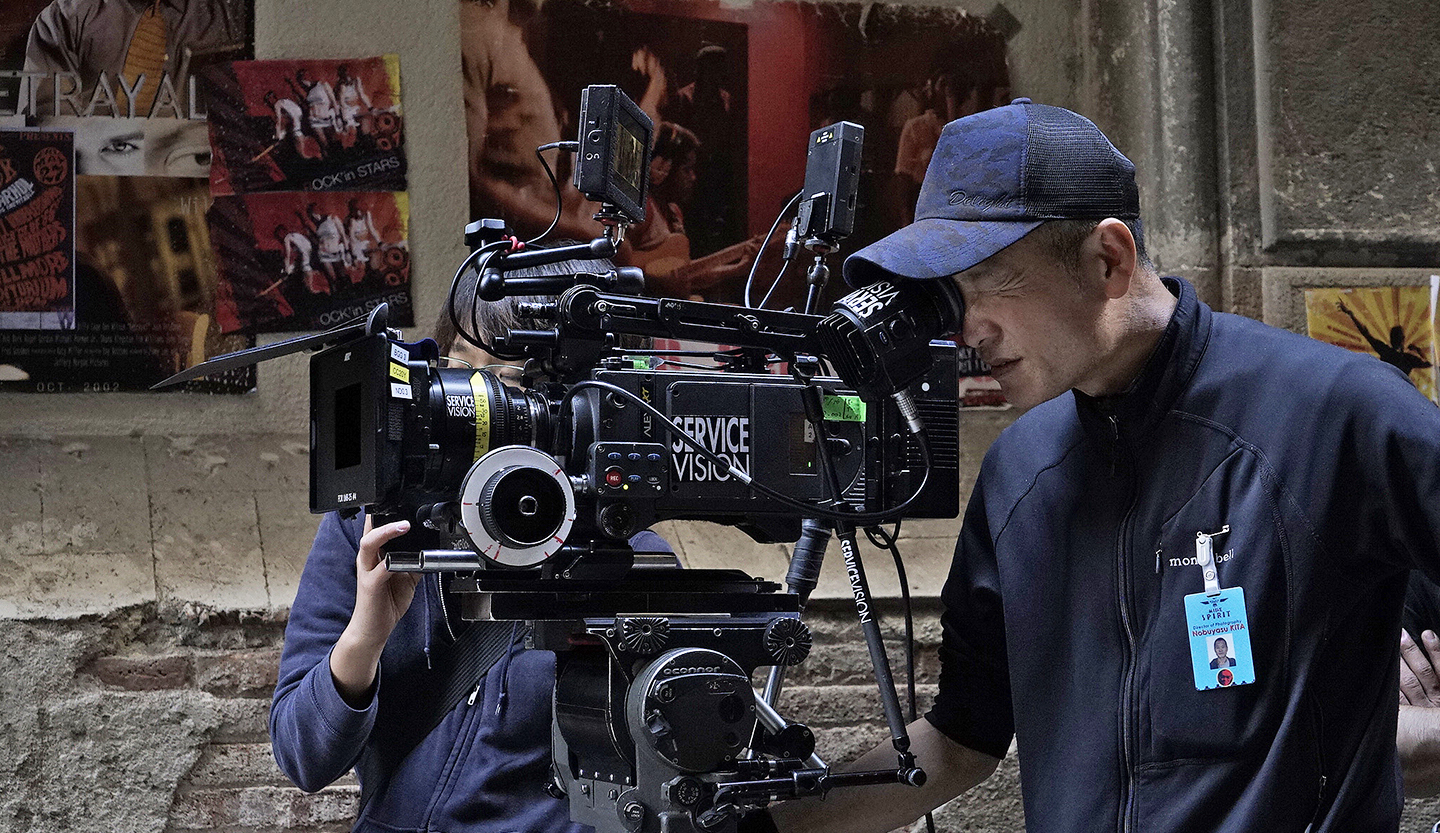 "For me, working with the Director is enjoyable, and he goes beyond imagination," Kita says. "I mean, the vision gets innovative — it's definitely rewarding. The Director allows me to be free, but gives me guidance when I make mistakes. However, first, he lets me do it on my own. The reason why I work with Miike-san as much as my schedule allows is that it is more fun than doing it with any other director. His thinking is interesting. As a performer, he is interesting, and there's a sort of people thing going on. Even if it's tough schedule-wise, it is fun. The effort put into the film is, for sure, displayed — it's not a waste. The Director recognizes the commitment of the staff and expresses it in the film. We are like a team. I don't think this enjoyment is seen in other groups."

Kita's other credits include Shinjuku Incident, Elevator Trap, The Great Magician and Everest: The Summit of the Gods.

Here, Kita details his work on Blade of the Immortal, his working relationship with Miike and his cinematography philosophies during a conversation with American Cinematographer. The following is a translation of that interview from his native Japanese.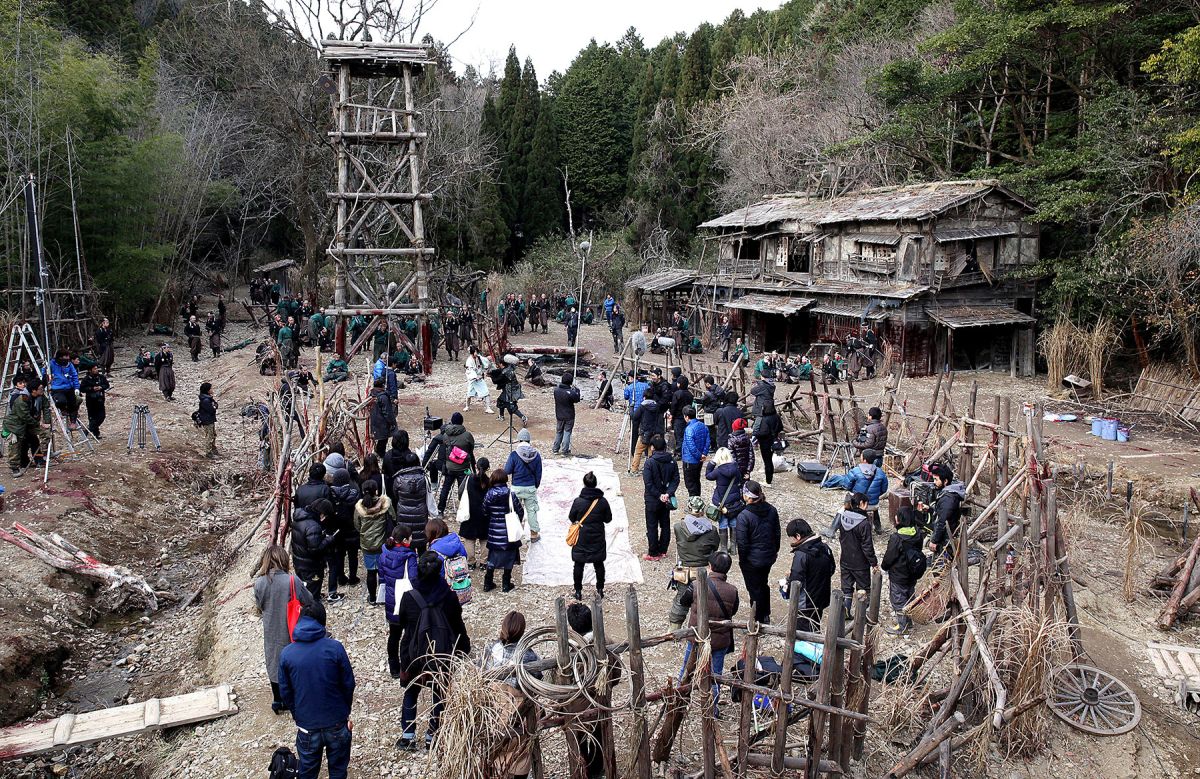 American Cinematographer: How did your past experience working with Takashi Miike prepare you for shooting Blade of the Immortal? Is there a formula you follow together in terms of shooting each scene, or is it done different ways for each film?
Nobuyasu Kita: Miike-Director has a sort of "I'm leaving it up to you" aspect. For location hunting, I approach the Director with a "How's this?" after a camera test and some discussion. "I was thinking that I want to do this." He'll respond with, "Well, I'll leave it up to you, Kita-san." Perhaps his thinking is that the look for the film is up to the cinematographer, not the director.
It could be that after working on so many pieces, the Director's vision for editing is learned. I like watching the Director edit, so even after filming is done, I go watch the editing process. The Director has a rhythm to his editing. You can tell what he is trying to convey, frame by frame. Therefore, while filming, it can be understood where he will cut the take. You can tell where a different cut will be used. This makes it easier on those of us filming. You just have to film what needs to be filmed. The Director edits while he films. This frame connects like this, and then, this happens. There are sort of unspoken guidelines. That editing point is not just one point, but has numerous ways to be done. You just have to film the cuts that would satisfy the many ways the scene could be cut. I know how to go about that. The Director doesn't use the thinking of the master shot. He will pre-determine the cuts to be filmed to his end.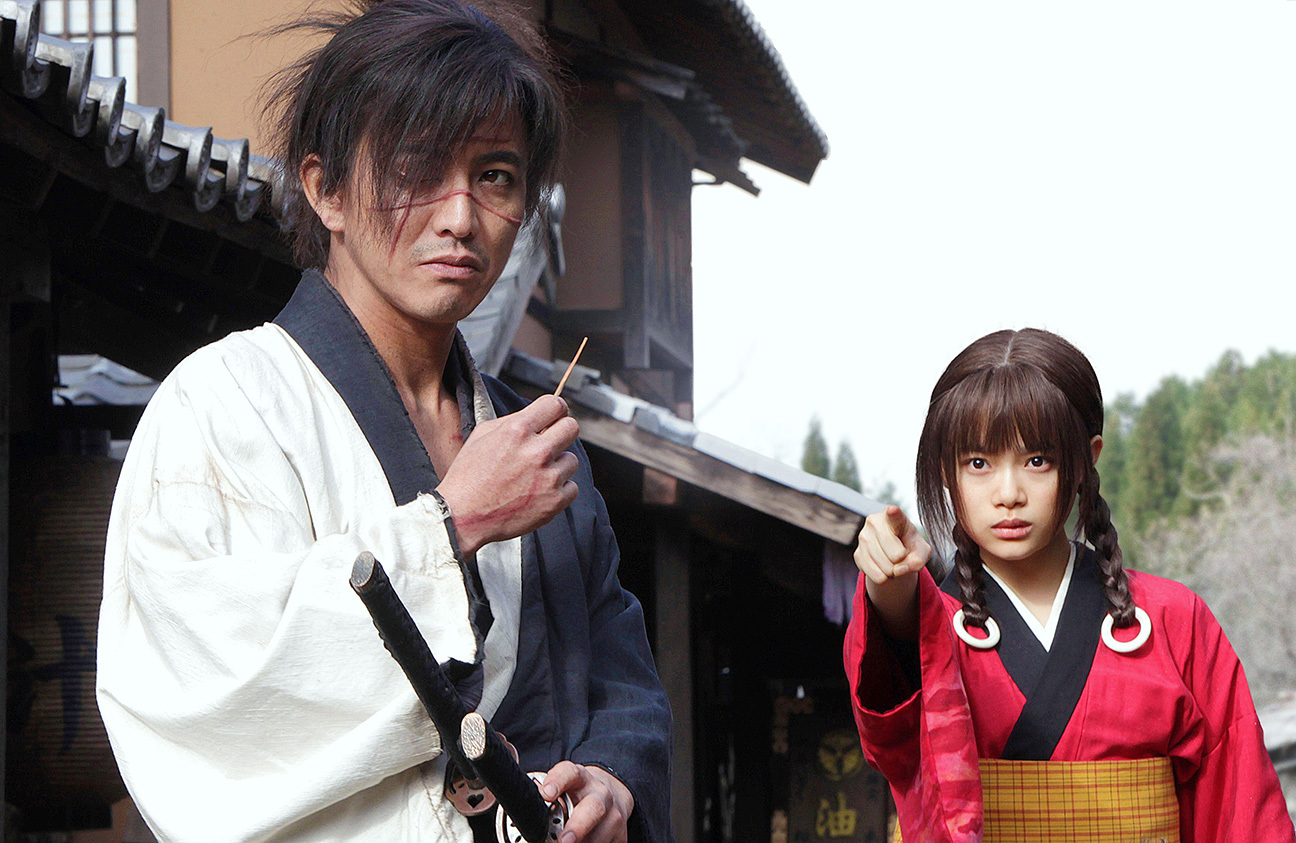 When you first got together with him to discuss this movie, what was the creative mission or the priorities he gave you in terms of the look and style?

[Lead character] Manji is portrayed as just very cool. For [the young girl] Rin, more delicate or dainty. There is no logic or reason. That is the theme of this piece. Other than that, I had a sense that the picture just let me play. If this film had a purpose above plain filming, how should one film a superstar such as Takuya Kimura [as Manji, a famous singer and actor in Japan]. Isn't that so? The Director didn't explicitly say it like that. But if Takuya Kimura is being used, then, no matter what, he must look cool. That is what I thought. There is no need for logic there. Nevertheless, you can empathize. However, it is not that we are trying to film Kimura-san in a beautiful way. If we can, let's dirty him up. I think a roughened-up look is good.
Because it is a period piece [from before the Japan's Meiji Era], the way Kimura-san carried himself was just beautiful. Furthermore, his swordsmanship was spot on. He moved with the sword in a flowing manner, so I made sure to always make that clear. There were times when Kimura-san's movements were too fast, and the camera couldn't keep up. One time I asked him, "Slow it down 0.1 seconds." Then he responded accordingly for the camera. After that, I confirmed with him, "You did just delay it 0.1 seconds right?" and he grinned. That was the moment when Takuya Kimura and I really came together in our collaboration.
He knows how to display himself and he can act as himself. It's the way the audience seeks to view him. It is so beautiful that, for example, we purposely cut out the beauty in his footwork from the frame, and leave it up to imagination. This way of portrayal is the Director's excellence. Normally, there's an urge to show all of it. But Miike-san is not like that. He layers the cuts and has the thinking that there should be a Manji that ultimately the audience can imagine.
The Director is like this in every film piece. He enters the internal part of the picture and does not show everything. He has them use their imagination. There are times when showing the whole picture spoils it. If there are 100 extras, only show 50. It's up to the audience's power of imagination. The "how about this" method isn't used. In the end, the goal is to look as if there are a lot. I think that is why there are lots of side shots.
Also, I don't shoot on the whole set. I am not interested in footage that doesn't contribute to the story. As a result of pursuing the story, I want an understanding that is like, 'Oh, I guess that character lived in this kind of place.' That is why it is enjoyable. That is why the film is not broken up. Giving it all away results in "short stops."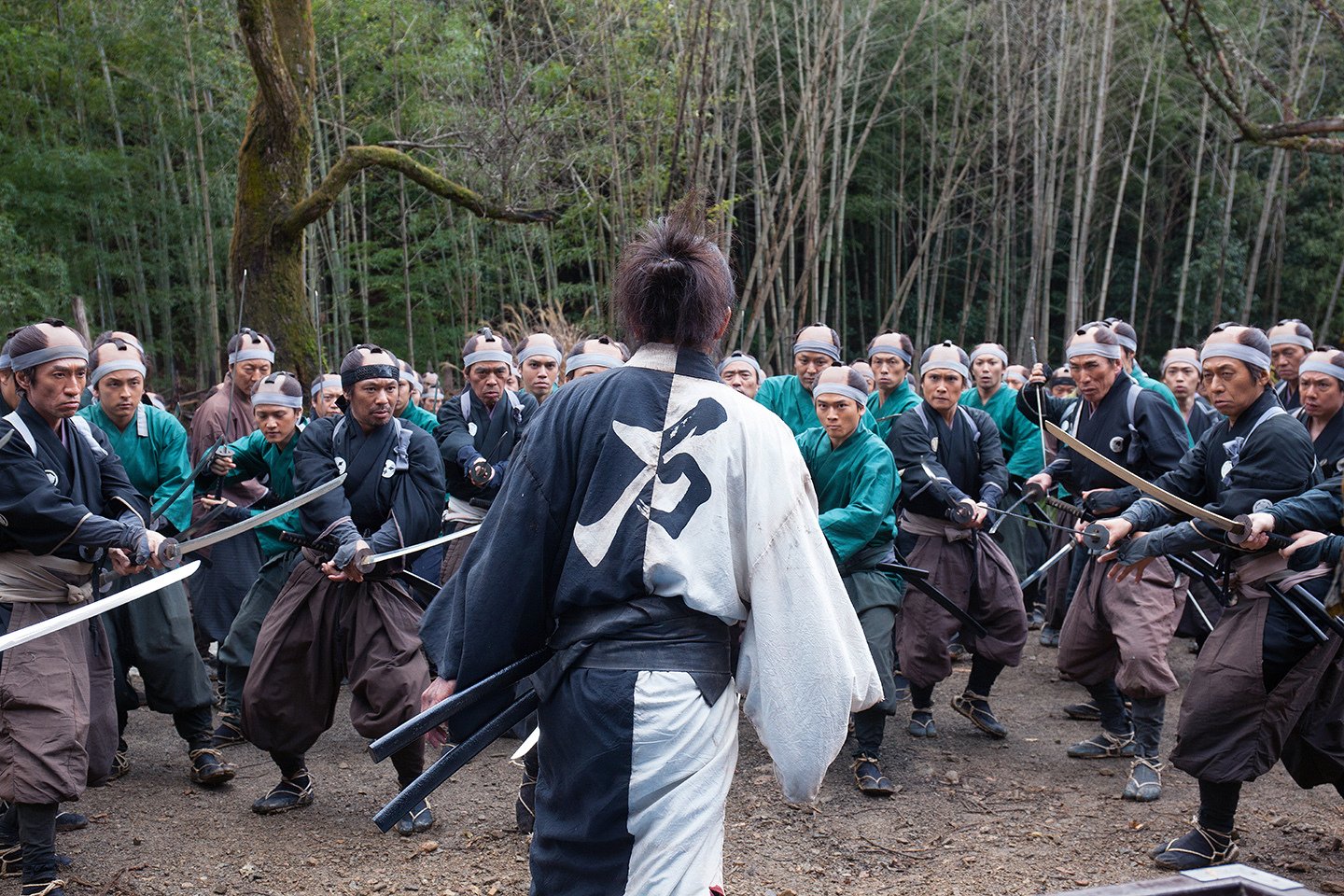 This particular story originated from a popular manga series created by Hiroaki Samura. Was any aspect of the look, style or aesthetic meant to replicate or emulate the original books?

The Director adapts manga to live action a lot, but in each piece, there is respect for the manga. However, during filming, there cannot be too much focus on the manga [laughs]. In my case, I have been making a uniquely cinematic style, in terms of the look of the film. Because like, isn't it better to have it look cool? In those cases, it ends up turning into my version of cool.
What was the camera platform or format, and why did you make those choices for this material?

We primarily shot action in a telephoto/long-focus lens. We take dialogue in close-ups. We filmed [using the] Alexa XT Plus. Filming took place from November to January, and it was mostly day-scenes as opposed to night filming. The days were short during this period in terms of hours of sunlight. Therefore, higher sensitivity was better, so with Alexa, 800 or 1600 [ISO], there were absolutely no problems. I love film itself, but considering all of the conditions, digital worked better for even the afternoons. We used digital because it is easier to adjust to the various problems.
In winter, the color temperature changes, and even if the human eye has no problems, it turns the whole thing blue. Fixing that on film is a big task. Miike's works are exclusively shot digitally now. There is no question that Alexa is a good camera. [In terms of dailies], once we finished shooting, we backed it up, put it in the lab, and from the lab, we sent it to the departments through an iPad. At that stage, it is sent without any correction/edits and we send it raw. There is no audio — just images.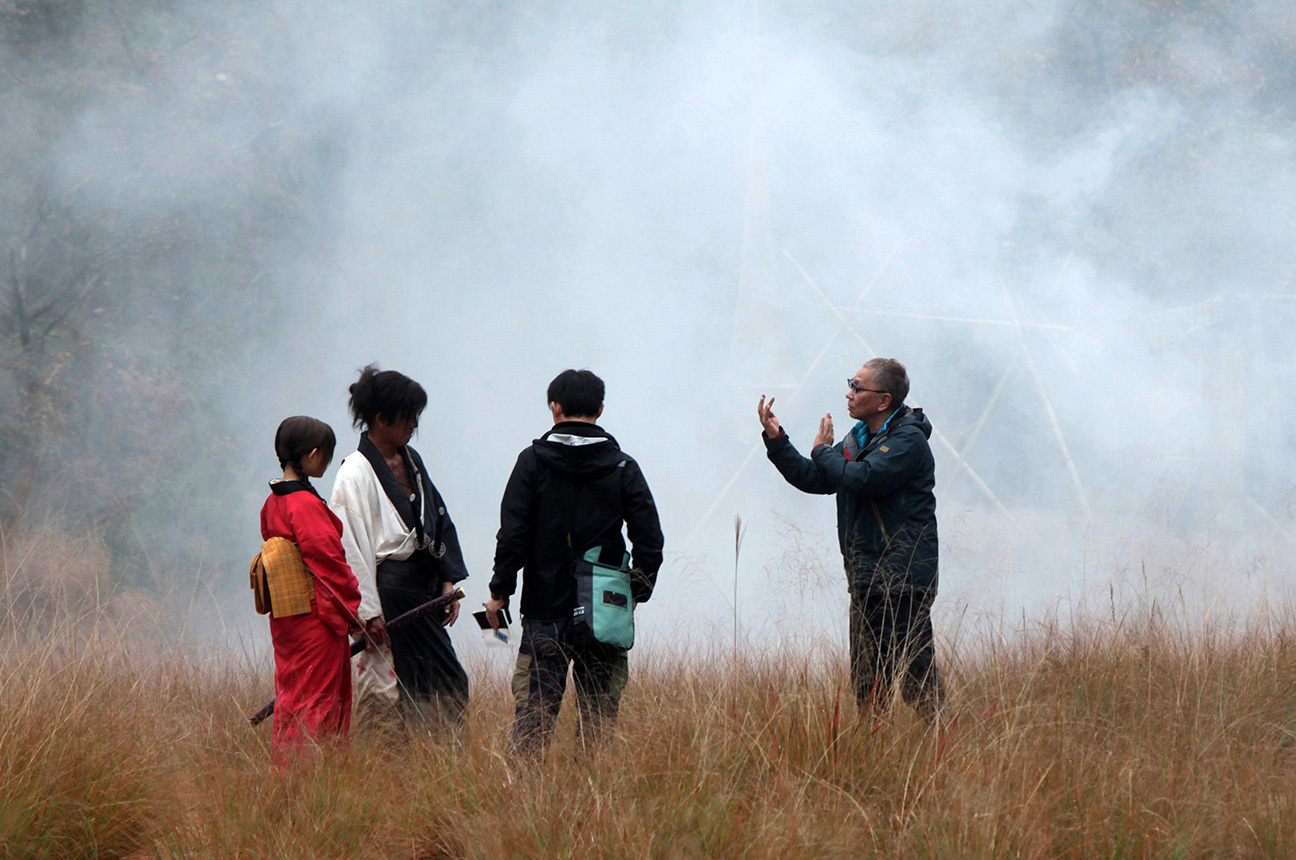 What was your approach to lenses on this picture and the tools you utilized?

In general, we use [fixed focal length] prime lenses. I just really like prime lenses, including their sharpness. We primarily use the Cooke S4 series. The lens itself has contrast and is thus a little soft. Newer lenses these days are too crisp in their pursuit of sharpness. There's no texture, there's no taste. In our job, we want to erase what we don't want to show and when the sharpness is too much, too much is seen and there is no way to erase that. There might be a trend toward sharpness right now, but I don't like those kinds of lenses. I will continue to use the Cooke S4. [They used lenses that ran from] 14mm to about 150mm. I have about 10 of those, and with that many, [any type of] shooting is covered. I think the film itself is ruined if it is too clear because we are shooting fiction. To what degree should sharpness be diminished? That is the direction of fiction. But I want [the audience] to see what cannot be seen. Our job is also to depict what is outside the frame. Even if it is not in the picture, there are things we want to convey to the audience.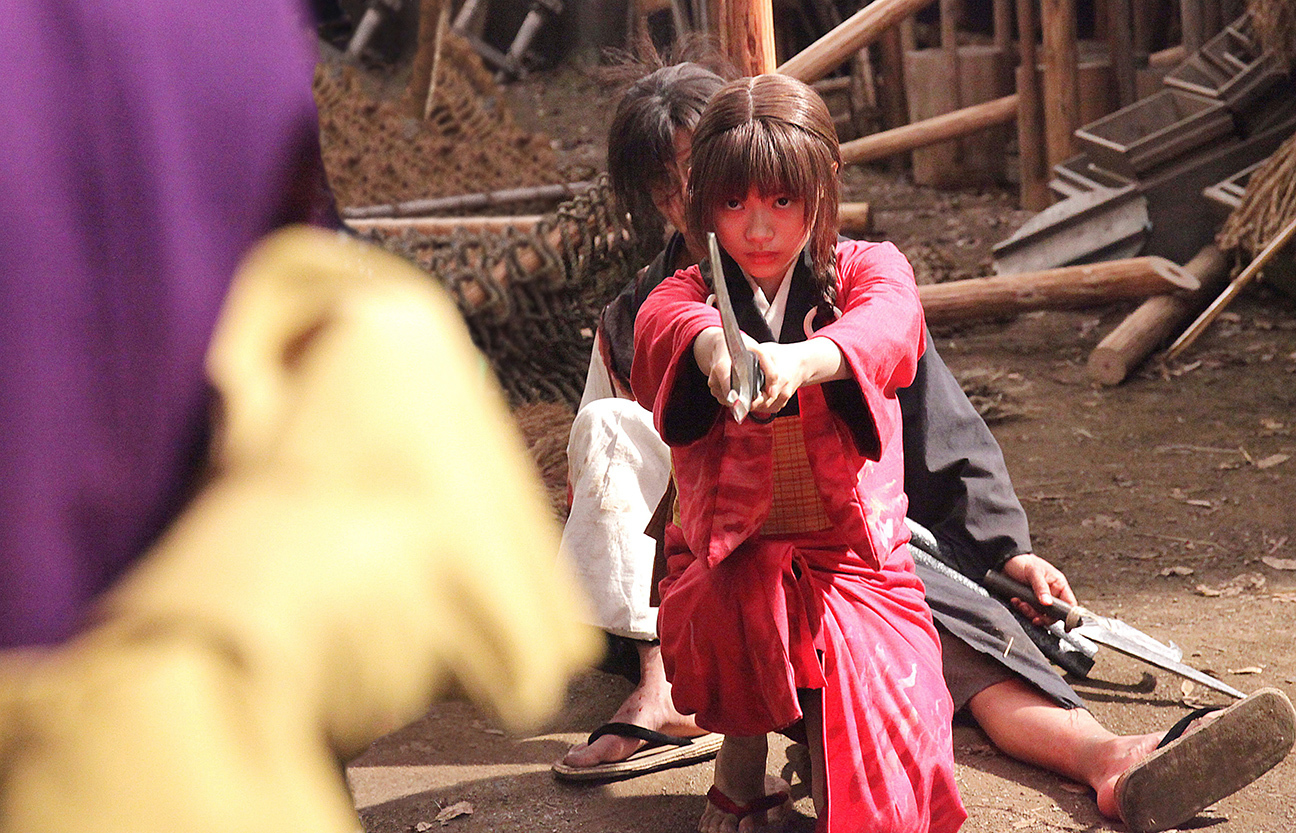 What was your lighting aesthetic for the film? It appeared to me the movie was told almost in chapters, following some of the books. Did the lighting approach and aesthetic evolve or change depending on what section of the movie we were in?

We didn't specifically seek out the [chapter-like] changes. If in the end that was what was perceived, then we appreciate that. We weren't conscious of it. In terms of light, we use angles or color according to how it should be done for that scene. We search for the best match. Maybe Miike-san uses lighting rather than linking scenes together to make the scenes funnier or cooler to make the film better.
For example, I, myself, don't think the movie flows if one scene is sunny and the next is cloudy. But it is uninteresting being tied up like that. When linking scenes, it is not about focusing on constructing the light, but rather, figuring out how to make the scene more fun for the audience — how to make it more enjoyable. I think it is better to think in that way. We are technical people, so connecting the look of the film is important. But getting caught up in that is not fun. As long as the tension of the story is connecting, weather doesn't matter.
Quite a while back, a director named Yoshimitsu Morita [who worked with Kita on the films Copycat Killer and Like Asura] told me, "Connect the story before weather." As long as the tension of the story is connected, the movie will somehow connect. Miike-san also focuses on the flow of tension.
Light and contrast is utilized to maximize the portrayal of the scene — that's it. We used HMIs, but you can ask the lighting designer about that [laughs]. I've been working with [Yoshimi Watabe], the lighting designer, for longer than [I've been working with] Miike-san. But, in general, I have a stronger desire for wanting proper contrast. As long as you create contrast, the others fall into place. In terms of light, we don't add it with the DI; we pull it out later.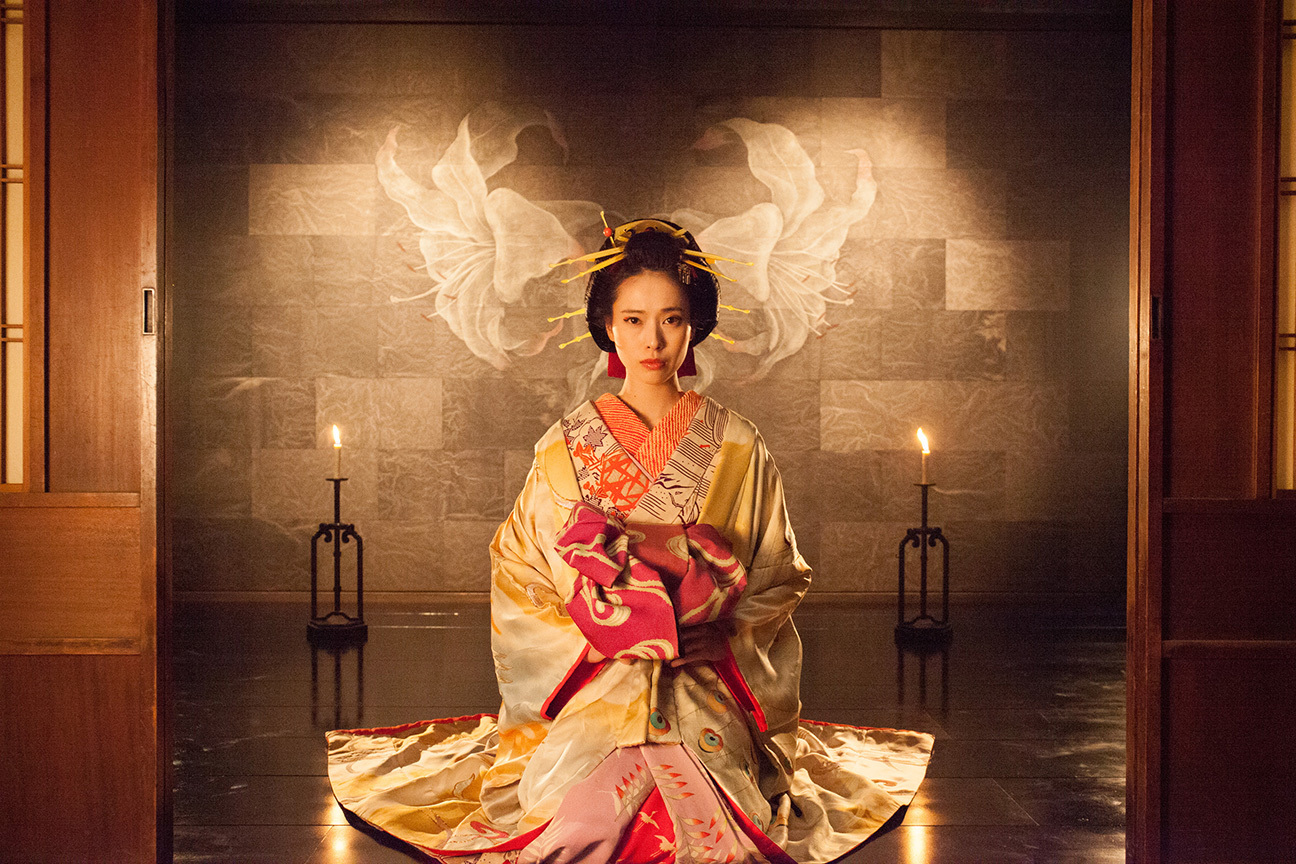 What was your primary method of moving the camera on this project, and why was that particular methodology chosen?

For the most part, we only have a camera dolly. The Director doesn't use Steadicams. We use handheld cameras or dollies. Cranes are rarely used in period films. I feel like moving the crane in a tricky way shifts the world of the film. [There is a scene where] Manji is below a bridge and [his foe] Anotsu [played by Sôta Fukushi] is above. We used a crane to show that in a frame from bottom to top, but it was only because we needed to show the scene that we used the crane. I think it is better to not shoot in the easiest way possible. It might turn into a rich scene, but is that really necessary for the scene? Isn't it more fun to film in a challenging way?
I think the Steadicam is machine-like. Handheld can allow you to be more emotional. [While operating,] reactions to the sensations are possible — I can even respond to any troubles that could occur.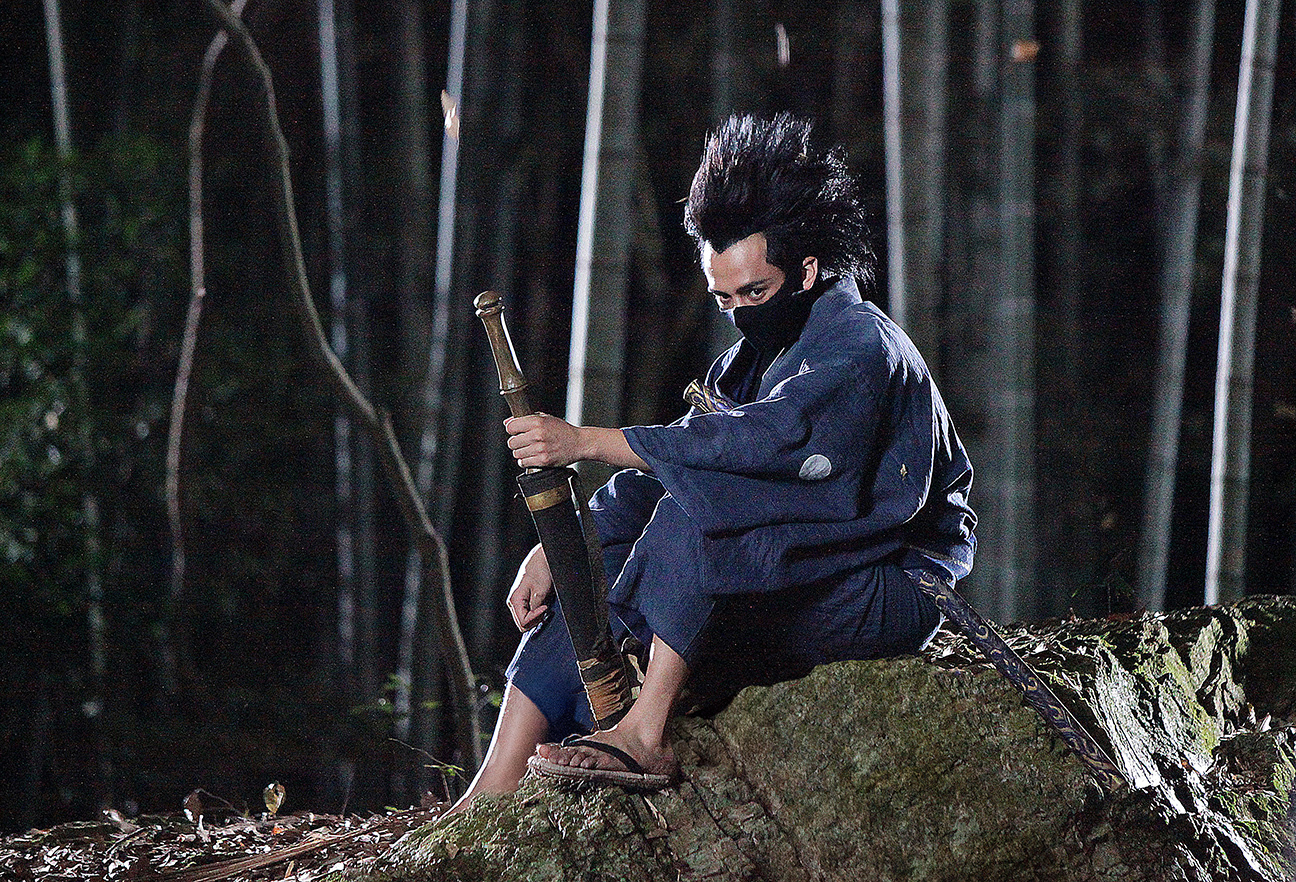 Please discuss how you shot the spectacular opening battle in black-and-white, which introduces Manji and how he became an immortal warrior. Why black-and-white there, and what was your philosophy about the use of color on this project?

At first, the Director had a sort of sepia color template in mind for the beginning scenes. If it were up to me, I thought black-and-white was definitely better. Considering the backdrop of the period piece, it always seems that low saturation is used, so green or brown. So perhaps going for black-and-white would have a bigger impact when the scene changes to color. The contrast would also stand out.
In expressing the contrast protagonist's way of life, I thought black-and-white was perhaps better. When the Director asked me, "Which is better?" upon showing me the sepia and black-and-white, I responded, "Maybe the black-and-white is better." The Director said, "In black-and-white, I want to see more of the story." With that, the editing points become later than usual.
In fact, I wanted to make the [Japan distributor Warner Bros.' logo] black-and-white as well. But, apparently, approval for that is granted to only [movies that are entirely black-and-white]. It's a shame, because if it was also monochrome, it would have been so much cooler [laughs]. The echo of the first katana [a Samurai sword] would have been different, too. We kept the monochrome rigid. Showing the dark parts dark makes it more like black-and-white. Parts you can't see don't need to be seen. For example, Clint Eastwood films have lots of parts that you can't see. But I think that is good. During 13 Assassins, I asked "Director, it's alright if we do it like [Eastwood's] Unforgiven, right? The parts we can't see can't be seen." In the parts that can't be seen, the audience's imagination is stimulated. I think that is more cinematic.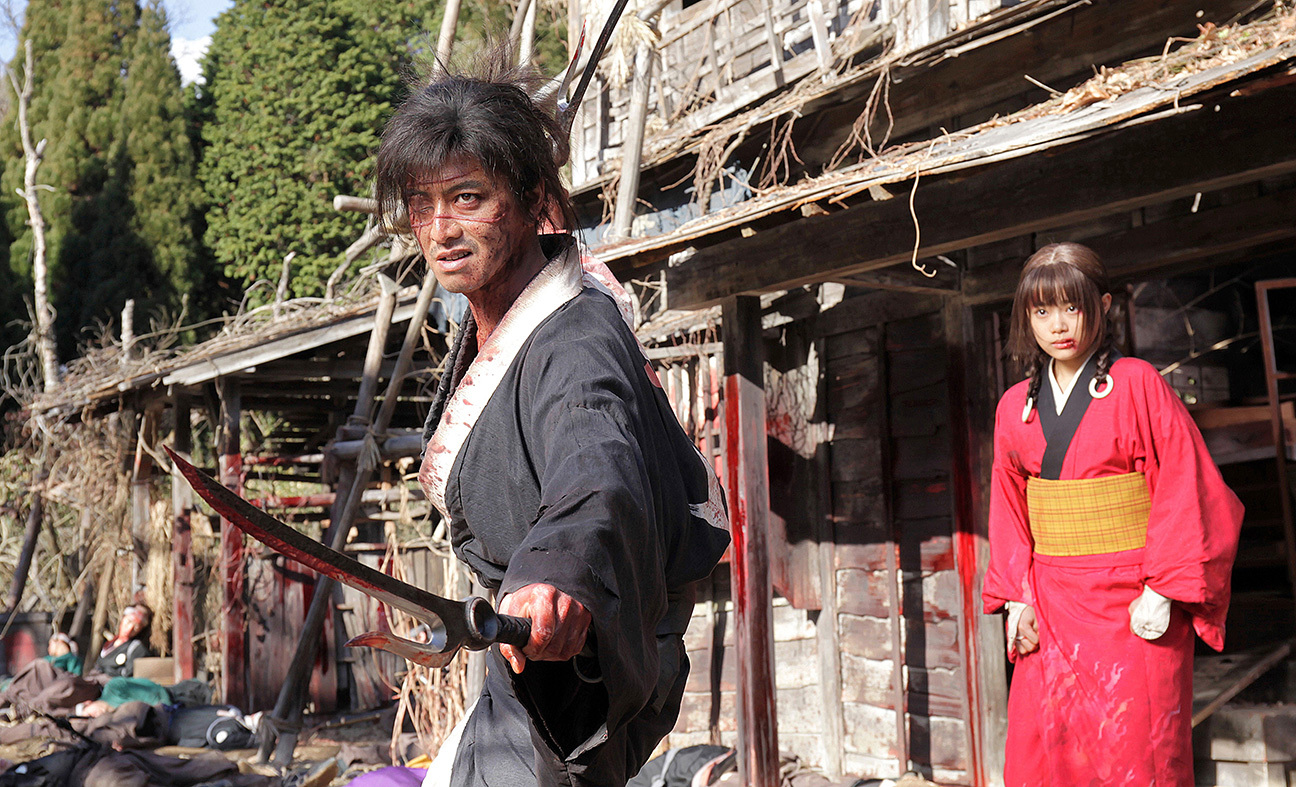 In terms of color, in general, I think color needs not to be saturated [for this type of film]. Period films rarely have backdrops that are saturated. As long as [actress Hana Sugisaki's character] Rin-chan's red costume stands out, we were good — just as long as that catches your eye. We took care to do that. Kind of like Zhang Yimou's [1999 film] The Road Home. We wanted to keep Rin lovely. We wanted a purposeful clarity with that red — very direct, a beautiful woman standing among filthy men. We calculated the color with that in mind. Other than that, we probably upped the saturation for [actress] Erika Toda's street work scene [as the character Makie]. For everything else, we lowered the saturation and we had a direction toward establishing contrast.

In general, I think there is no purpose in doing tests for action. Besides having a basic choreography for the sword fights, I don't think there should be tests. Testing lowers the actors' energy and movements during the actual shooting might be completely different. If you test, then they will try to re-create the movements, and they won't respond to the live action. Actors are nama-mono ["easily perishable foods"], especially in acting, where the timing and breathing changes the spacing and pace. That is why we shoot as if it were live.
For action, we shoot with two cameras, different angles, in-and-out. For Takuya Kimura, Manji's energy comes through the camera, so shooting was fun and uplifting. As a filmmaker, I've used my luck on him. This guy is amazing. I hope this is conveyed to the audience. While shooting, our energy rivals Kimura-san's incredible energy. I think that's [what makes it work].
For monochrome, we raised the sensitivity, played with the temperature, created contrast on the digital intermediate. It's basically like working with silver retention on film.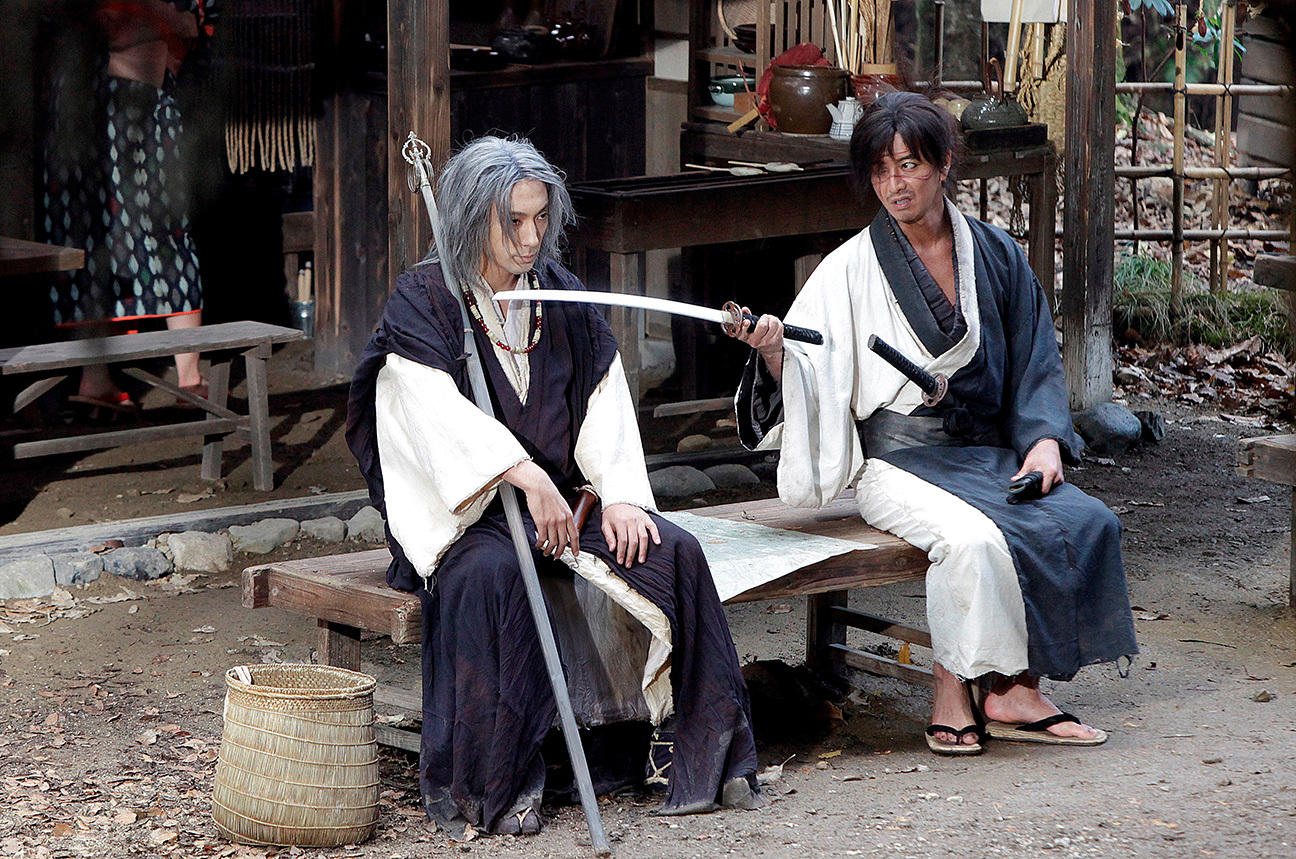 What was the role the digital intermediate process played on this film in terms of finalizing your imagery? What is your philosophy about how to use the DI on this kind of material?

After editing is finished, and once picture locking is complete, we can see and grasp the flow of the movie. That's when we decide what to do with each scene. If the cuts don't work with the settings we had estimated during pre-production, we distort the frames and put in contrast or lower saturation. We might do the opposite of adding color. The usual 800 sensitivity might be cranked up to 1600 or 3200 — it's what we call establishing a "curve." We distort the picture, little by little, using the shots taken digitally. That's allowed because we are Miike's guys. That's where he leaves it up to me. The Director does not go to the grading sessions. He has never checked it. He trusts us on that.
As to philosophy — don't overuse it, don't overdo it, toe the line. I always have a "don't-overdo reminder" for myself. Films are about flow. I keep that in mind when grading. There are good cuts and there are bad cuts. When both need to be used, you have to adjust to the bad one or else the film won't be made. If you try to adjust to the best cuts, there are parts that just don't match up. In general, with cuts with issues, you try to get everything equal or at least close. That is what I keep in mind.
The more you grade, the more the task becomes endless. At some point, you have to stop. Continuing would completely change the direction. Once you come to a certain point, you shouldn't touch it anymore. Trust your first instincts. Go back to your original intuition. Too much tampering will turn the film into a drawing. We are not shooting a drawing. We are building a story, creating flow. That is why we grade to create flow. So that is our philosophy.
I owe a lot to Imagica's colorist, Tetsuji Imashita, [for his work on this film].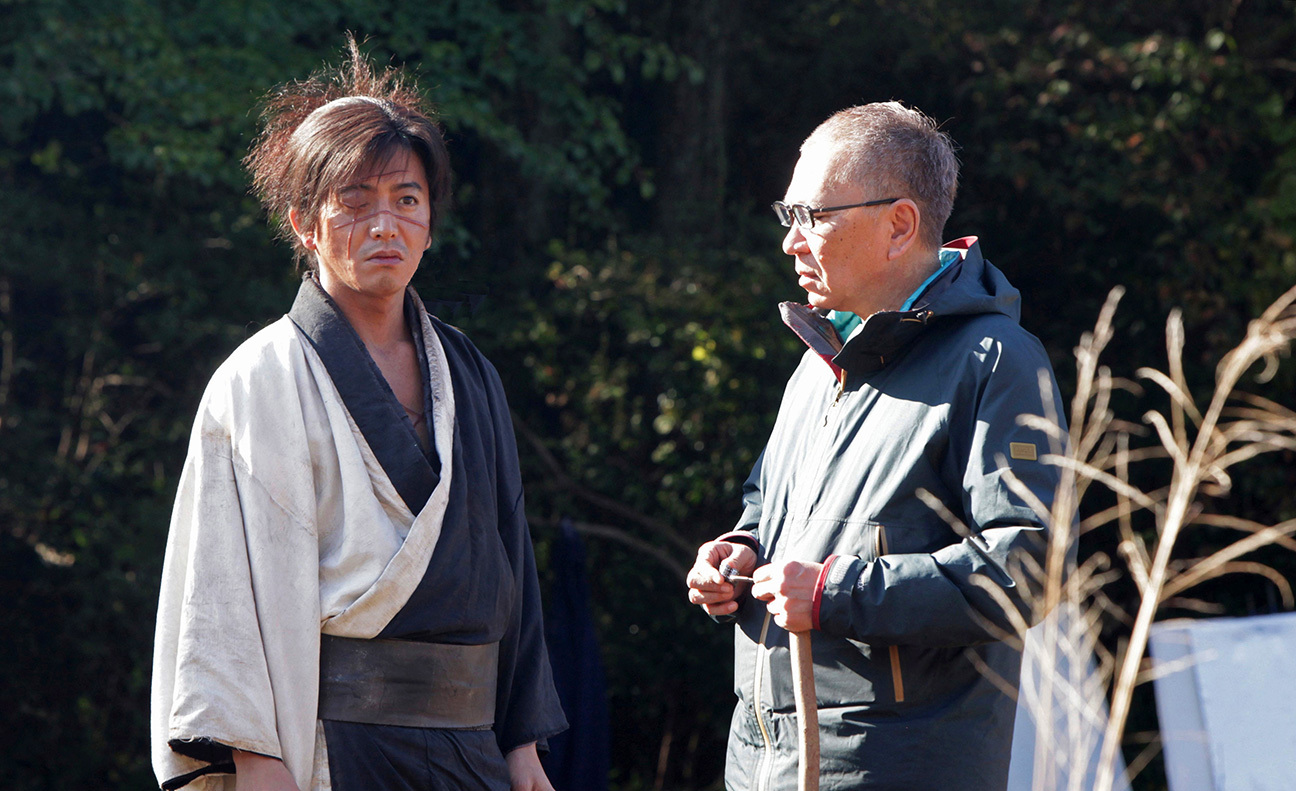 Looking back, how is the size and scope of the film different from others you have done with director Miike and, more broadly, how does it differ from most typical swordfighting movies in this genre?

Blade of the Immortal is, in some ways, entertainment. It is different from the regular sword-fighting movie. Period films are Japan's sure way of getting out into the global stage, and I have the belief that only Japan excels at period films. 13 Assassins is essentially a period film; Blade of the Immortal is period film entertainment.
Director Miike says, "It's easiest to understand when the Yakuza and period films depict humans." The human is illustrated. The Director is actually a really nice person — he only has interest in people. Perhaps [dark, violent] films are common for him because he thinks that humans are most easily depicted through period films and Yakuza. He doesn't like violence; he likes humans. The Director's root is that he just loves humans. That is a Miike-ism — an interest in the non-human. Try fighting him on that.
I'd like to create a really "shaped" [or toned] film with Miike-Director. It's not that I like action. I just happen to be filming "cutting" acting. It is just acting that happens to be cutting people with katanas. Misinterpreting that makes Miike's films uninteresting. There is meaning to the slashing. There is meaning to the punching — the punching and slashing is because it is human in that story. Shooting that as action will end up as action, when in fact it is not action; it is a story being filmed.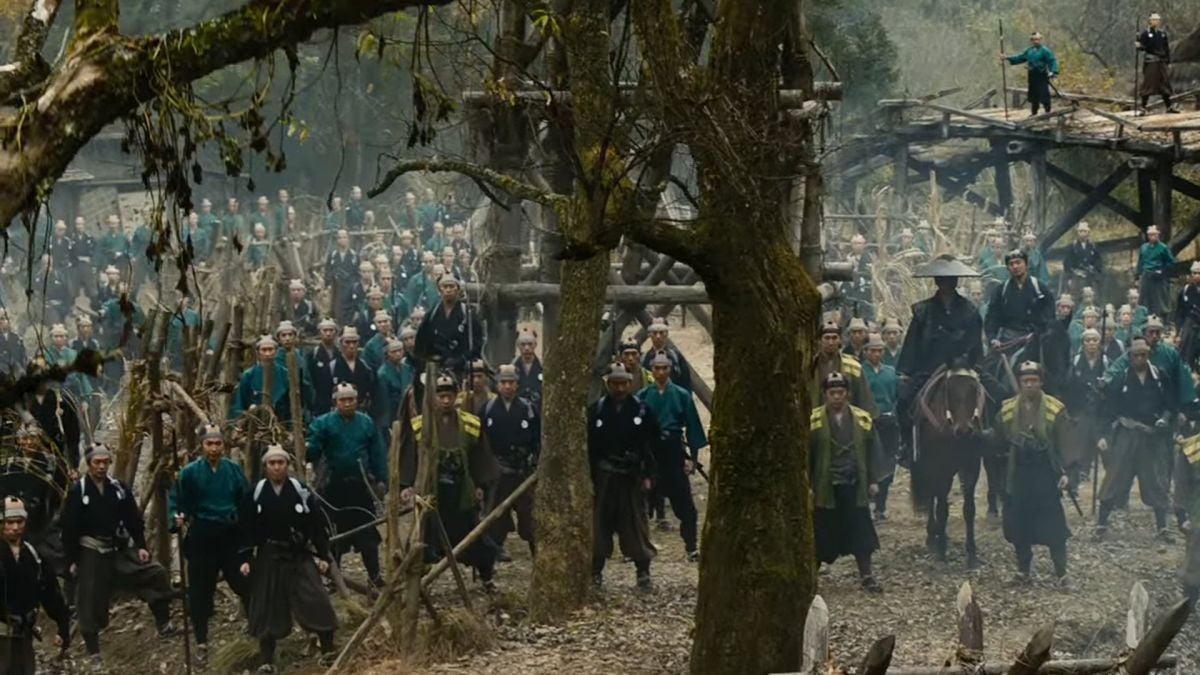 What else would you like to tell us about working with Miike-san and what you have learned about filmmaking from him over the years?

Miike-san does not shoot master shots or cover shots. It is because there is no need to. Therefore, there is no waste. On the other hand, 100% of shot cuts are used. There is meaning to each image shot.
Also, there's no empathy if it is not shot using distance fit for the drama occurring. Just because an image was captured does not mean the drama was captured. Drama can be captured using long range as well. But actually filming close up is important. There are things that are conveyed from close-ups. You can't do that being bound to master shots [because of the placement of the cameras]. That makes the film dull.
Japanese film directors have the job of "watching the drama" through looking into the camera. It becomes important to collaborate with directors who believe that the cameramen did a good job. It becomes clear what ought to be filmed. That is Miike's team. Working with Miike, your five senses need to be sharp. Or else you won't be able to keep up with the Director's vision. You have to develop a sixth sense [laughs]. The Director won't say anything; you're being tested in a way. It's like, "So what do you do know?"
Translator's Note: "In Japanese, the way one calls someone is very important due to the highly structured society. Kita's way of referencing his Japanese colleagues are kept in the original state to add to the context. For example, sometimes he uses Miike (colloquial, equal) while other times he uses 'san' (respectful) and other times he says Miike-Director (professional, respectful) and other times simply Director."
---
AC thanks the film's U.S. distributor, Magnet Releasing, for arranging translation services that made this interview possible.