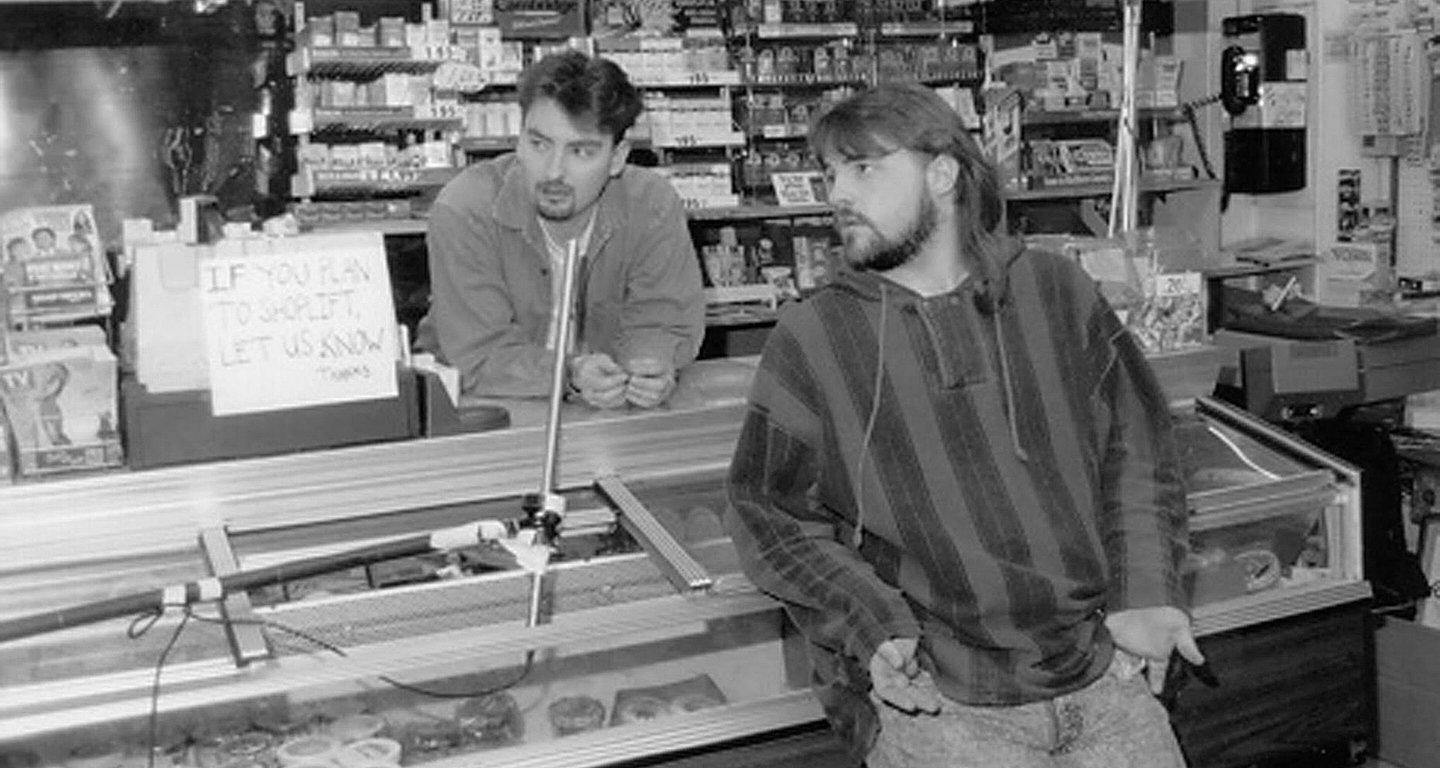 David Klein on set with writer/director Kevin Smith.
Clerks: Low-Budget Beginnings
David Klein, ASC learned on the job while shooting his first feature — but that was just the start of his education.
Tara Jenkins
David Klein, ASC learned on the job while shooting his first feature — but that was just the start of his education.

Shooting a first feature is, for many cinematographers, a major milestone in their career, one that informs their work going forward. For David Klein, ASC the runaway indie hit Clerks was a launching pad into a world that he still had much to learn about.
Filmed in just 21 days for $27,000 during off hours at the real-life convenience store in Leonardo, New Jersey, that the story was set in, Clerks was shot with a primary crew of three people: Klein, writer-director-editor Kevin Smith, and producer-editor-sound mixer Scott Mosier. The film surprised everyone, Klein included, when Miramax picked it up for theatrical distribution at the Sundance Film Festival in 1994, launching Smith's career as marking the first of many collaborations between him and the cinematographer.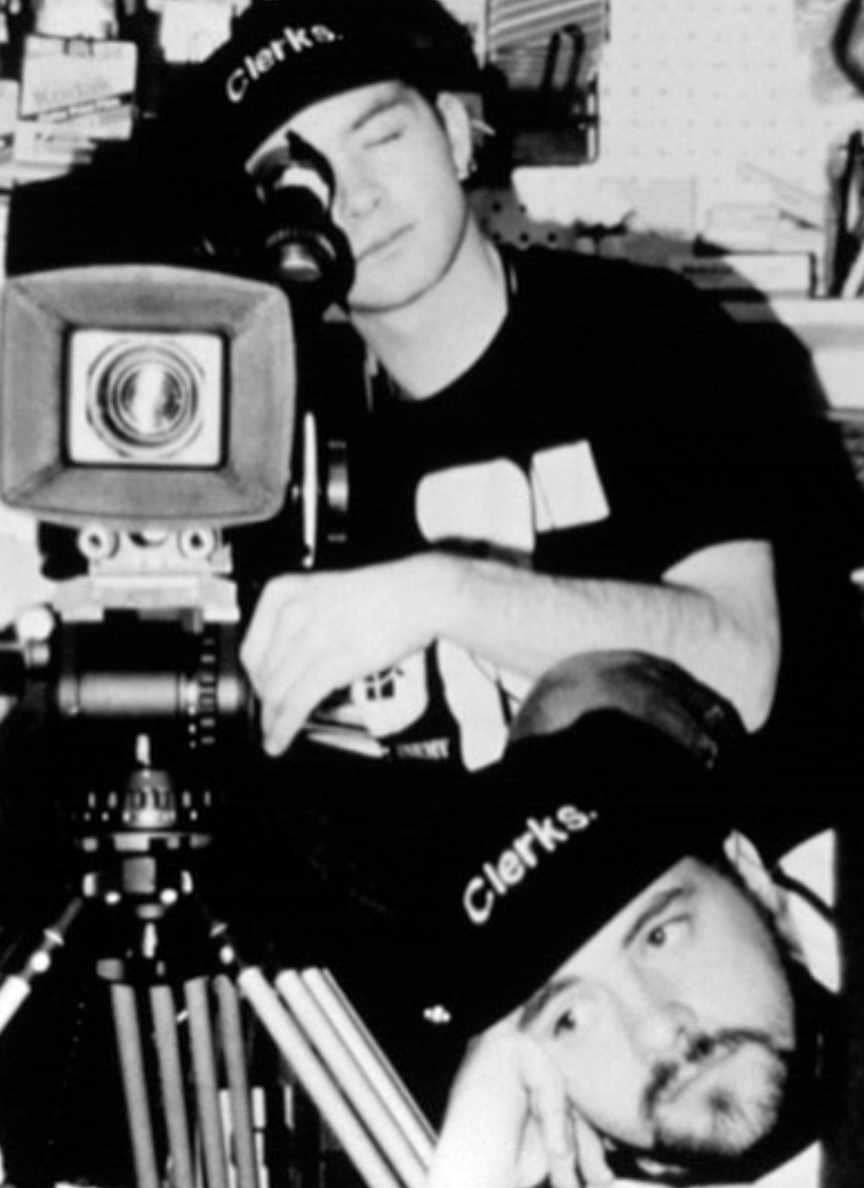 At the time of filming Clerks, Klein wasn't even a legal adult: "When we wrapped, it was a Sunday. In New Jersey, liquor stores are not open on Sunday, but you can buy off sales from bars. So when we finished, Kevin said it was still early, so go to the bar down the street, pick up a couple of six packs and we'll have a wrap party. I said, "You know, Kev, that's great; but one of you guys is going to have to come with me because I'm not old enough to buy those.'"

The 20-year-old Klein met and become friends with Smith and Mosier during his time at the Vancouver Film School. "It was right after film school [that we shot Clerks]. Kevin dropped out halfway through the program to save the rest of his tuition for the movie. Scott and I finished Maybe three or four months after we graduated, Kevin asked us to come to New Jersey and make this movie with him. I was living in Seattle, Mosier was up in Vancouver. I took all the money I had and bought a plane ticket, borrowed a friend's light meter, went to Jersey and we made a movie."
Clerks was meant to be a calling card for the three young filmmakers. Made on a shoestring budget, the hope was that the film would lead to more opportunities. Shot on 16mm with an Arri SR with a single zoom lens and high-speed Kodak black-and-white stock, the equipment choice was dictated by cost. "We scammed Kodak into giving us a 25% discount by claiming we were students," Klein remembers. "Kevin and Mosier and I went into the Kodak office and said, 'We're students.' The guy said, 'Great — show me your student ID.' Kevin goes, 'Oh, I left it in my school bag.' So we drove down to The New School in Manhattan and he signed up for a class and got an ID card. We took that back to Kodak. I think the card was still warm from the lamination machine when Kevin handed it to the guy. But we got 25% off on all of our film."
"We didn't know what we were doing.
That's why the camera never moves.
That's why you have these six- and seven-
minute scenes that are just one shot."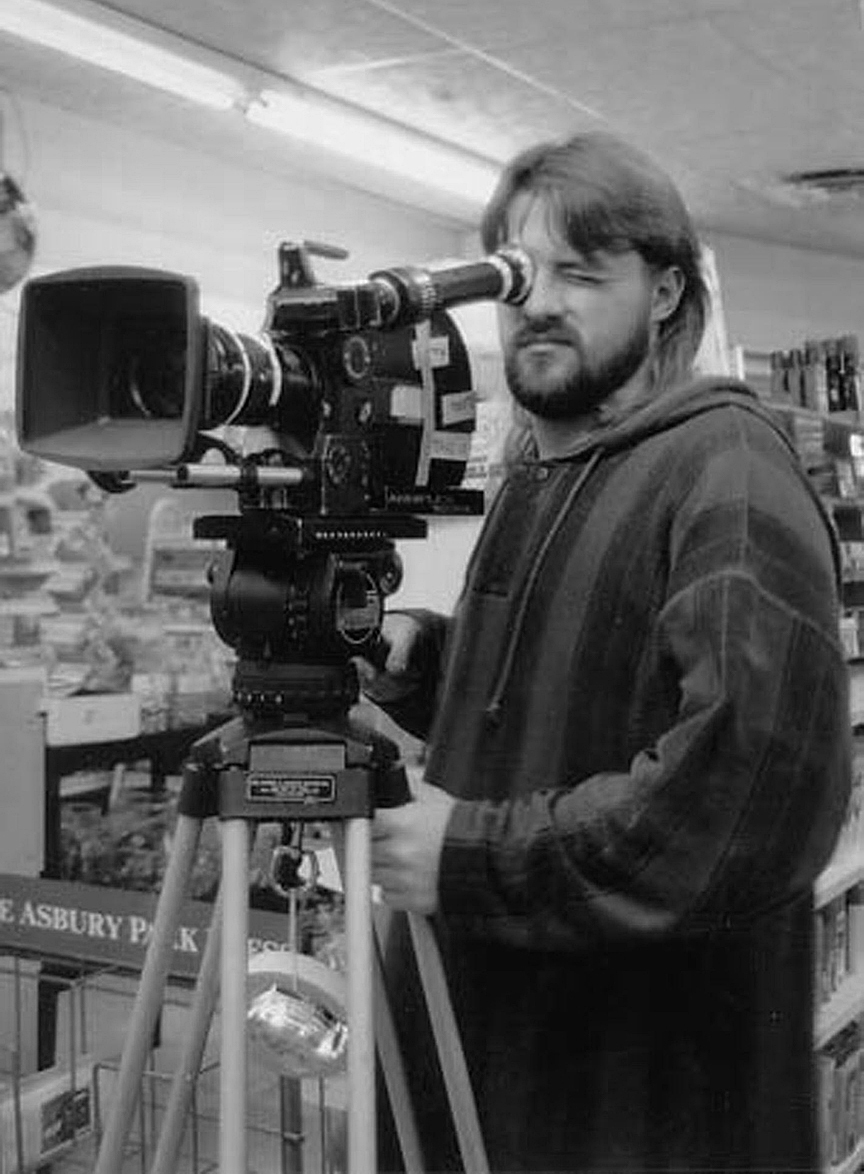 The run-and-gun nature of Clerks allowed the three budding filmmakers to create their first feature, but for Klein it also brought difficulties moving forward. "Clerks and [my third feature] Chasing Amy were popular, but they didn't look very good. So, to have a movie that's popular and doesn't look good is also a deep hole to climb out of when you're a cinematographer. They helped me, especially Chasing Amy, to get an agent, but not necessarily to get a lot of work. After that, I still had to learn the craft, because I didn't know what I was doing."

For Klein, Clerks was the beginning of a career but not necessarily the cornerstone of his on-set education: "I don't know how much I actually learned from shooting Clerks, because there were only the three core crew members, you know, myself, Kevin, and Mosier.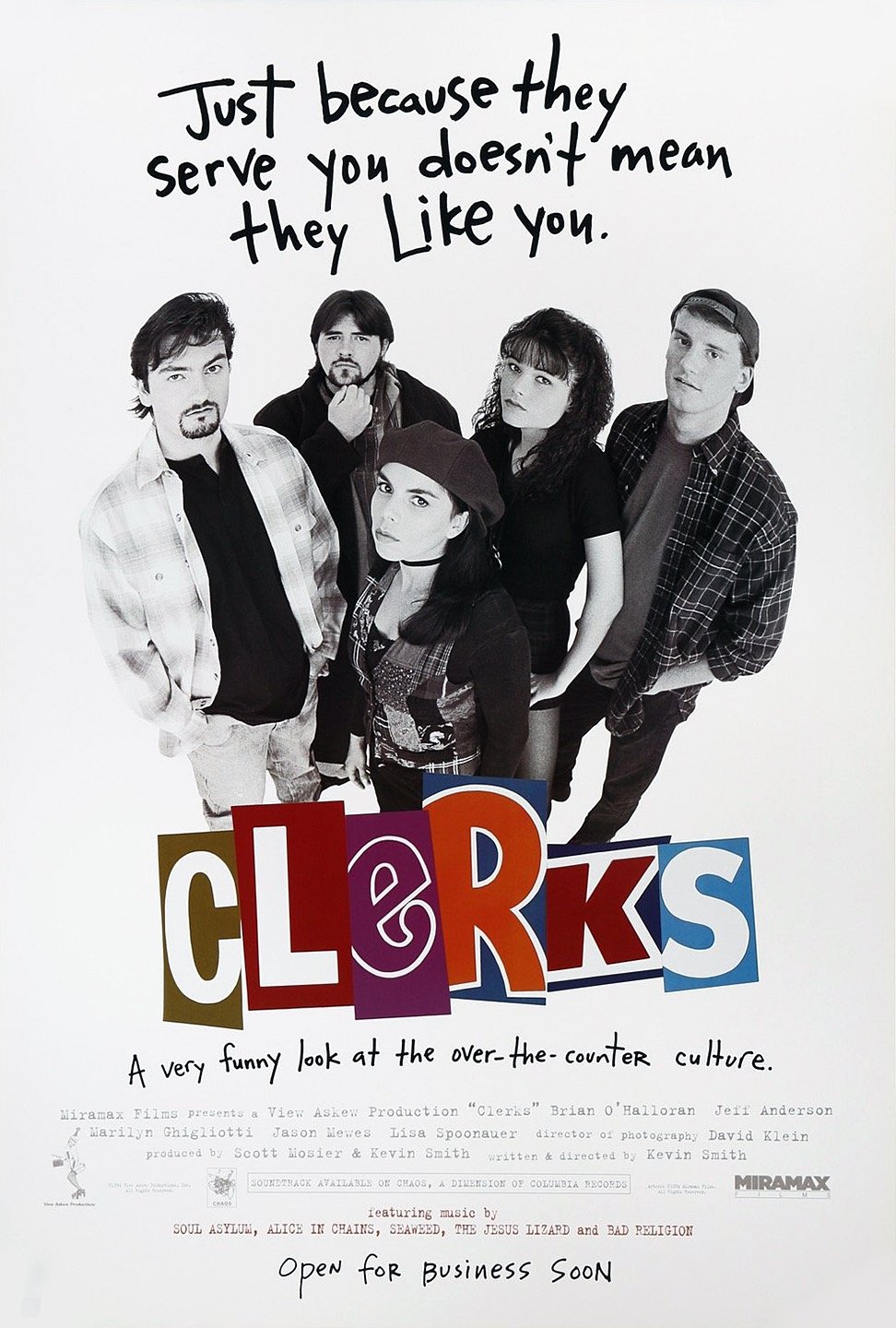 "We didn't know what we were doing. That's why the camera never moves. That's why you have these six- and seven-minute scenes that are just one shot. I remember one — the 'salsa shark scene' — in which [actors] Brian [O'Halloran] and Jeff [Anderson] were on top of an ice cooler, having a conversation, and Kevin was not happy with it at the end of the night. We decided we were going to reshoot it the next day. So I asked, 'Well, what do you want me to do with the film?' Kevin just said, 'Throw it out.' Because we didn't want to pay for the processing and printing. That's how little money we had."
Looking at today's landscape of filmmaking and television production, Klein sees the value in on-set experience over a certain mode of content. "There are a lot of young, up-and-coming cinematographers out there, men and women, who don't have a lot of feature experience, but they are talented and know how to tell a story with a camera and lighting. And that's the most important thing. You have to work on whatever you can. And if you're not shooting something, get on somebody else's set and be an operator, or whatever you can, because I learned more every day on a set than I ever did in my entire scholastic career."
Collaboration is also key: "I'm fortunate that a lot of the projects I've been on have been with a really good core group of people — different core groups for different shows. But, for the most part, I've been lucky. There has been a good group on most of my projects, and that's hugely important. Who you work with is almost as important as — maybe even more important than — the story."
One of Klein's most successful and long-lasting collaborations has been with Smith. After Clerks, they worked together on many other features, also including Mallrats, Clerks II, Cop Out and Red State. "You need to be like-minded in the stories you're telling," he suggests. "It absolutely helps to be good friends with your director or with your DP. That really helps. When you're like-minded, you'd like to tell the same stories the same way visually."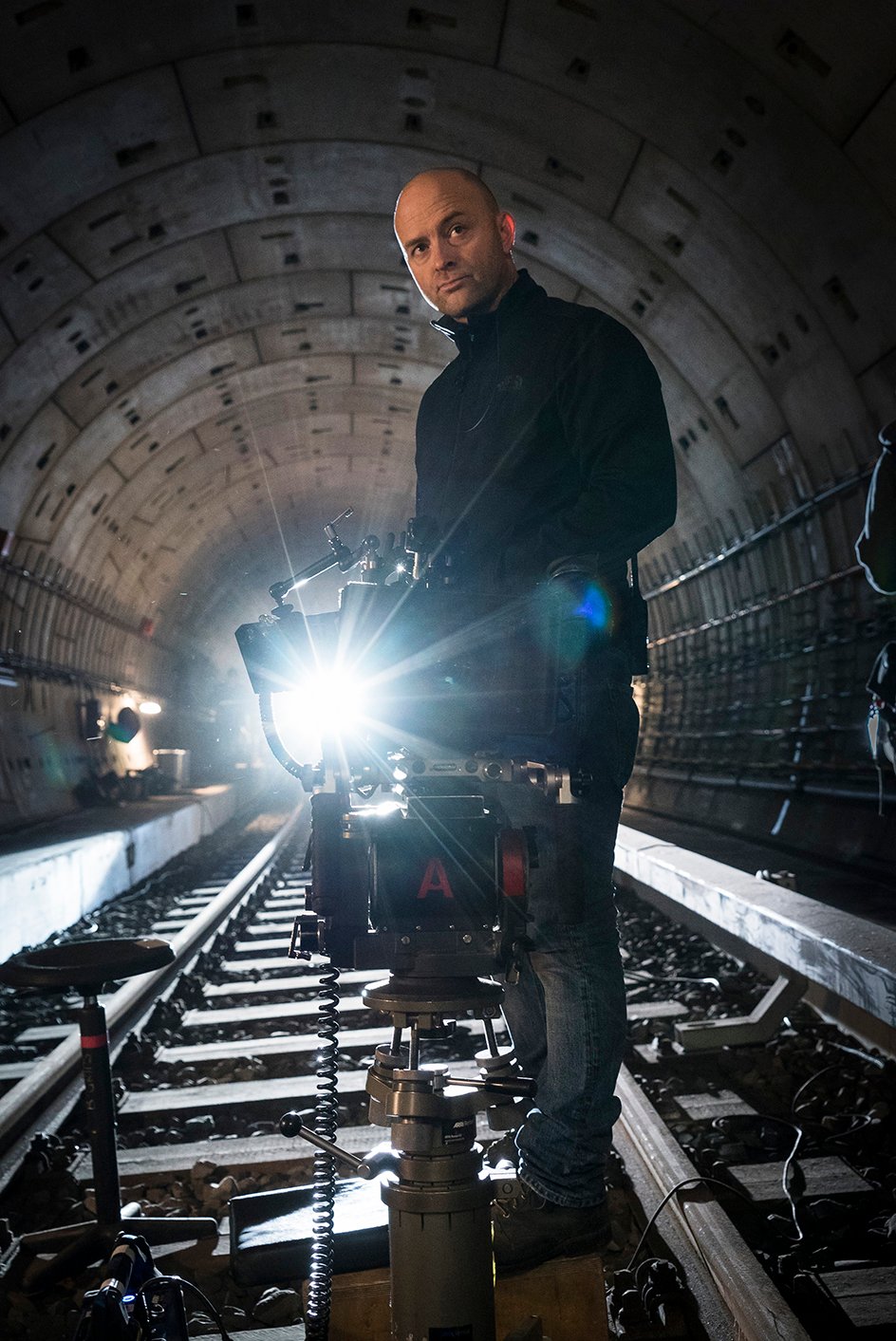 Since Clerks, Klein has earned ASC Award and Emmy nominations for his work for the action-packed series Homeland, scoring another Emmy nomination for his work on the Western drama Deadwood. More recently, he photographed episodes of the Mandalorian spin-off Star Wars show The Book of Boba Fett, which employs the same advanced virtual-production techniques as its predecessor and is set to premiere this fall.
From a young, aspiring cinematographer shooting his first feature in Leonardo, New Jersey, to one of the top artists in his field, Klein has put collaboration at the forefront of his work and has clearly achieved the goal of learning his craft.
---
Catch Klein's cameo in the Clerks trailer?
In 2019, the film was selected by the Library of Congress for inclusion in the National Film Registry, which preserves films deemed "culturally, historically or aesthetically" significant.