Color Fidelity in LED Volumes

Lighting issues explored in this test overseen by Craig Kief, ASC exist essentially across the board in LED-volume environments.
Noah Kadner
Lighting issues explored in this test overseen by Craig Kief, ASC exist essentially across the board in LED-volume environments.

Shooting in LED volumes offers filmmakers the ability to create large-scale interactive lighting derived from the screens themselves. This lighting projects onto the performers, props and physical set design, which adds additional realism to the dynamic between the real-world foreground and virtual background. However, using only the illumination from the screens to light a scene in an LED volume can present a number of issues.

Director of photography Craig Kief, ASC has concluded from his experience in the field — and from a test he and his collaborators conducted for this column — that movie lights are still very much part of a cinematographer's equation when working in a volume.

Here we speak with Kief and other industry professionals who are committed to aiding the evolution of this new realm of filmmaking.
"Full-color-spectrum lighting, or close to it, is essential to proper skin tone."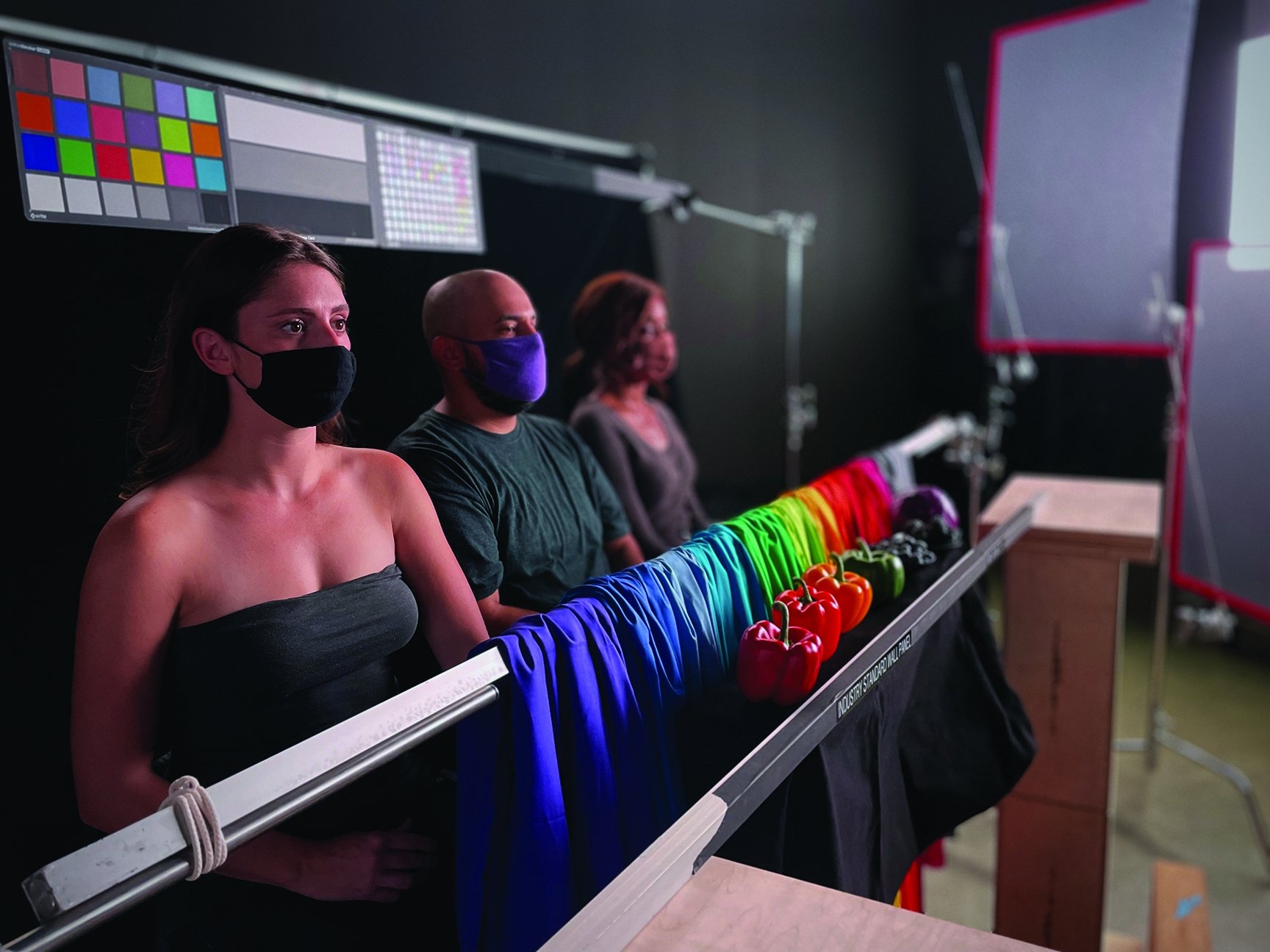 Range of Colors
One of the primary challenges when shooting in an LED volume is matching the hues of the foreground and background. The more control that filmmakers have over the lighting of the foreground elements, the better they can achieve this goal — yet because the perceived hues of a physical object are dependent upon the wavelength of the light that hits it, control over these hues is limited by the spectral bandwidth of the light source.
Kief, a self-described "color-science enthusiast," anticipated the challenge when he began shooting Muppets Haunted Mansion (AC Nov. '21) in an LED volume. "As soon as I put my spectrometer up to the LED wall we were testing, I could see the very narrow-band color it was emitting," he says. "There were peaks and valleys in the spectrum, with sharp spikes in the middle of red, green and blue, and a falloff in cyan, orange and yellow.

"Full-color-spectrum lighting, or close to it, is essential to proper skin tone, which results when light passes through to deeper tissue and blood vessels and then reflects to the camera," Kief continues. "If the full range of colors isn't there, skin tones won't render properly."
Testing Sources
To analyze the problem further, Kief recently collaborated with ASC associate member Stephan Ukas-Bradley, Arri's vice president of strategic business development and technical marketing, on a series of LED-volume tests at Arri's Creative Space in Burbank, Calif. Kief used an Arri Alexa LF camera and Signature Prime lenses, and he was assisted by fellow cinematographers Mark Doering-Powell, ASC and Tim Kang, and volume operator Andrew George.
"Arri's volume has a main 15-by-25-foot wall, with two 15-by-8-foot side walls on steel decks with rollers," Kief says. The team set up the main back wall with a 4'x25' graphical strip of white along the top of the LED panel — out of the camera's field of view — to provide a back-light on the test subjects. They then added a 4'x8' box of white on the side panel to act as key light. Kief and his collaborators found that the ideal white balance for the camera, to get the best color out of the screens, was 6,100K with minus-1 point of green.

To compare the panels' output to known sources, Kief says, "we then switched the test's backlight to overhead Arri SkyPanels, and the side source to two Arri Orbiters aimed at a 4-by-8-foot bounce card. We had measured the color temperature of the wall with a Sekonic C-800, and we dialed the Arri fixtures in so they were an exact match on the meter.

"Our results [illustrated throughout this piece] confirmed that we cinematographers still need to light inside a volume," Kief continues. "The overall ambient light on foreground subjects will automatically blend with the background, so you'll get better results than you would starting with a blank greenscreen — but you must be aware of the reduced color gamut, and manage it through a combination of adding cinema lighting (see sidebar, this page), toning down highly saturated primaries in the imagery on the off-camera panels, careful selection of colors with the art department, and color correcting in post."

Light meters such as the Sekonic C-800 and C-7000 spectrometers are very helpful in volume work, Kief adds, "especially for matching cinema light to volume light, using XY measurements." Additionally, once the full-spectrum analysis has been completed, "the readings can be helpful to predict where problems are likely to show up in skin tone and color shifts on camera."
Walls and Movie Lights
The color-fidelity issues explored in this test exist essentially across the board in LED-volume environments. This is due in large part to that fact that using LED walls as a lighting source was not an intended application when the technology was developed, as the panels that comprise these walls are designed to be viewed directly. Initially offered for concerts, billboards and large-screen presentations, the panels' most important attributes are therefore the direct-view color and spectral response. For this reason, manufacturers have been choosing LED emitters based on RGB patterns optimized for the color space of display standards, such as Rec 709, DCI-P3 and HDR.
By contrast, many professional LED instruments for movie and TV lighting are designed to reproduce the best spectral distribution across the color spectrum. Says Kief, "The white-light LEDs have improved dramatically, as the manufacturers have focused on increasing color rendition over the last decade through improved phosphor recipes in the emitters, and by adding additional emitters — such as RGB, and more recently amber, cyan, lime green and others to fill in the spectrum."
Emerging Gear

Some LED-wall-specific lighting-supplement solutions are already appearing, including Sumolight's Sumosky — a portable, adjustable LED wall for off-camera supplemental light. The unit is essentially a large sheet of translucent material backed with proportionately spaced LED bars; it can be fed pixel-mapped video signals like a standard LED wall, but it also includes white-light LED bulbs for simulated full-spectrum response up to 16 bits per channel.
Another approach is a hybrid lighting device that combines the video-playout capabilities of an LED panel with the simulated full-spectrum-color rendition of a traditional cinema light. ASC associate member and Kino Flo President Frieder Hochheim is currently develop-ing a solution that uses a less-dense pixel pitch than on-camera LED panels — but with more varied emitters for higher color fidelity.
"It's a lighting instrument built on the platform of an LED display," Hochheim says. "Instead of just RGB, it's RGB plus two white emitters. We've also written an algorithm that extrapolates that white from the RGB and addresses individual emitters. That gives you a panel that's generating a [near] full-spectrum source, but synchronized with the same pixel mapping and genlock of the rest of the volume's on-camera LED panels."
Video processors, which act as the conduit between real-time content output and LED panels, also play a key role in on-set color management within a volume. Megapixel VR's Helios video processors are used in volume installations, and the company also has a tool "that can visualize the color-gamut and color-space coverage of a variety of different manufacturers' panels," says company founder Jeremy Hochman. "It can also plot the off-axis performance of panels so you can adjust the output based on camera tracking to improve shots look-ing into the panels from different angles. It's also useful to calibrate and normalize specific panels and tune the wall better to what you want to see on camera.
"There's a good color-workflow baseline now," Hochman adds, "but there are also plenty of opportunities to improve as manufacturers work together to address this."