Adonis "Donnie" Creed (Michael B. Jordan) heads into a rematch with a former opponent at South Africa's Cape Town Stadium.
Creed III Takes Big Swings
Kramer Morgenthau, ASC and director-star Michael B. Jordan add stylistic flourishes to the popular boxing franchise.
Max Weinstein
Photo by Eli Adé. All images courtesy of Metro-Goldwyn-Mayer Pictures.

The fight scenes in Creed III are fueled by a broken bond between two men, yet first-time director — as well as star and producer — Michael B. Jordan attests that the cinematic depiction of this conflict was built upon a trusting collaboration. "I knew I was going to need a shorthand and somebody that I could trust on my directorial debut, and also somebody who would be able to teach me along the way and guide me through the process," he says. Jordan found this collaborator in director of photography Kramer Morgenthau, ASC.

Morgenthau, who had first worked with Jordan on the feature Fahrenheit 451 (AC June '18), and then on Creed II, adds, "I could tell even on Fahrenheit that his interest in the camera went far beyond just being a 'curious actor.' He was studying everything happening on the set and putting it away in his 'hard drive.' And in his heart, as a filmmaker, he had something he wanted to say. The character of Adonis Creed and his story are so personal to Mike, and it's rare to work with a director that is so intimate with the material. So, I was lucky. To have a person have that much trust in you — not just on movies, but on anything — is a once-in-a-lifetime experience.
Core Questions
In Creed III, the boxing ring is a place beyond words, and the sport of boxing itself a substitute for conversation. Though the film's central characters — friends-turned-foes Adonis "Donnie" Creed (Jordan) and Damian "Dame" Anderson (Jonathan Majors) — have led divergent lives, it is in this place, and through this primal language, where they are truly at home.

"Adonis and Damian do speak, but for the most part, they don't," says Morgenthau. Adds Jordan, "There are things between them that have pushed their relationship past the point of talking — where talking isn't going to get the job done."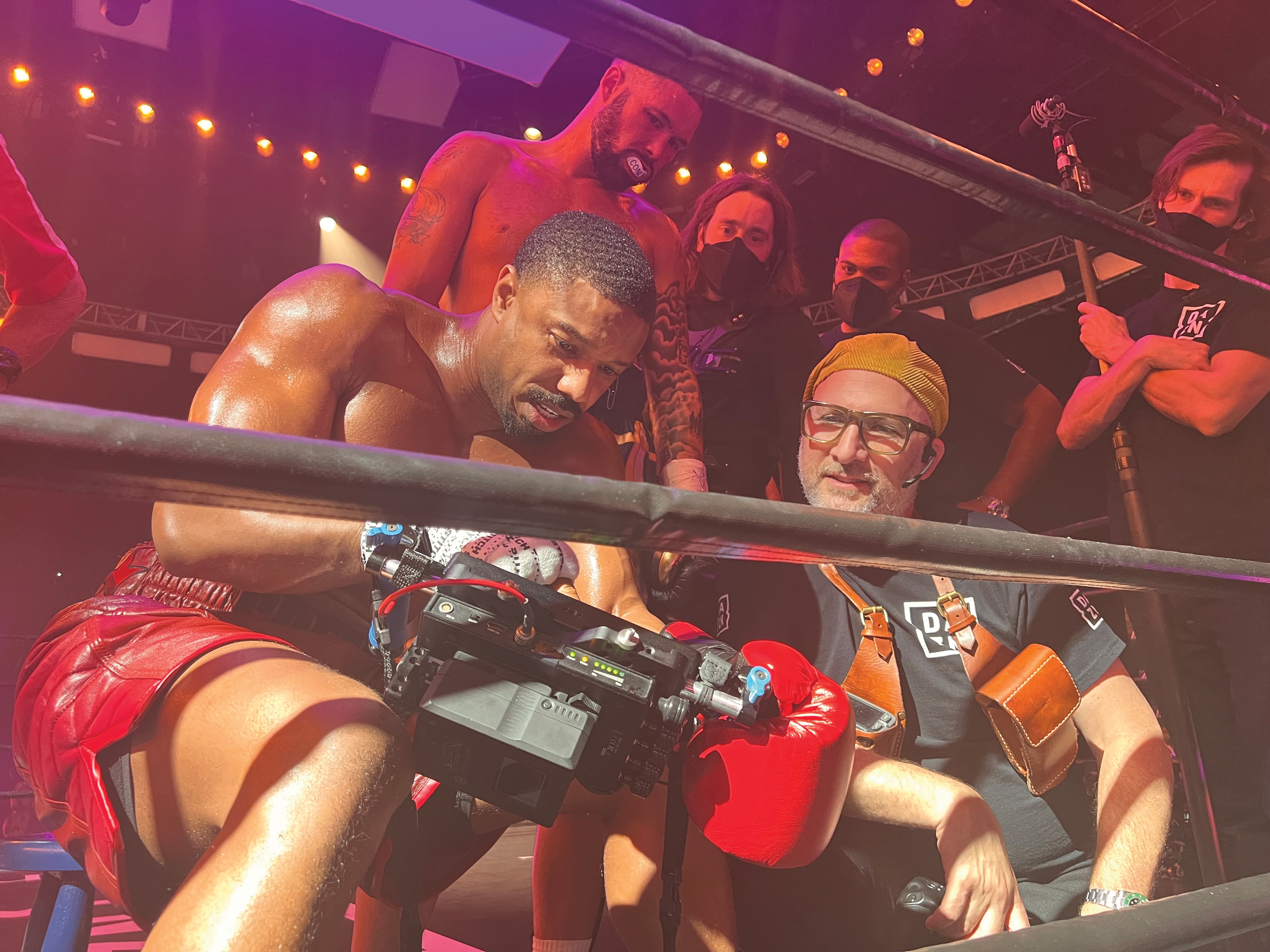 Creed III marks the ninth entry in a film franchise that began with Rocky (shot by James Crabe, ASC; AC Feb. '77), has endured for nearly five decades, and includes the Creed trilogy (the first of which was shot by Maryse Alberti; AC Dec. '15). Creed III's story poses a challenge to Donnie's contented life with the sudden reappearance of Dame — a once-close companion and promising boxing prospect who served an 18-year prison sentence for a crime that entangled the men as teens. We learn that while Donnie blossomed under the mentorship of Rocky Balboa (Sylvester Stallone) — the best friend of Donnie's late father, Apollo (Carl Weathers) — rising to the rank of world champion and building a family with his wife, Bianca (Tessa Thompson), Dame hardened while behind bars and hungered to settle their old score.
True to the timeless tradition of boxing cinema, Morgenthau and Jordan illustrate these two fighters' emotional flooding within the squared circle, where brutality and theatricality have always been uniquely intertwined. The filmmakers explore the Rocky series' core questions of legacy, identity and redemption through three main events — fights set in South Africa's Cape Town Stadium and at Los Angeles' Crypto.com Arena and Dodger Stadium. And, of course, one ritualistic training montage.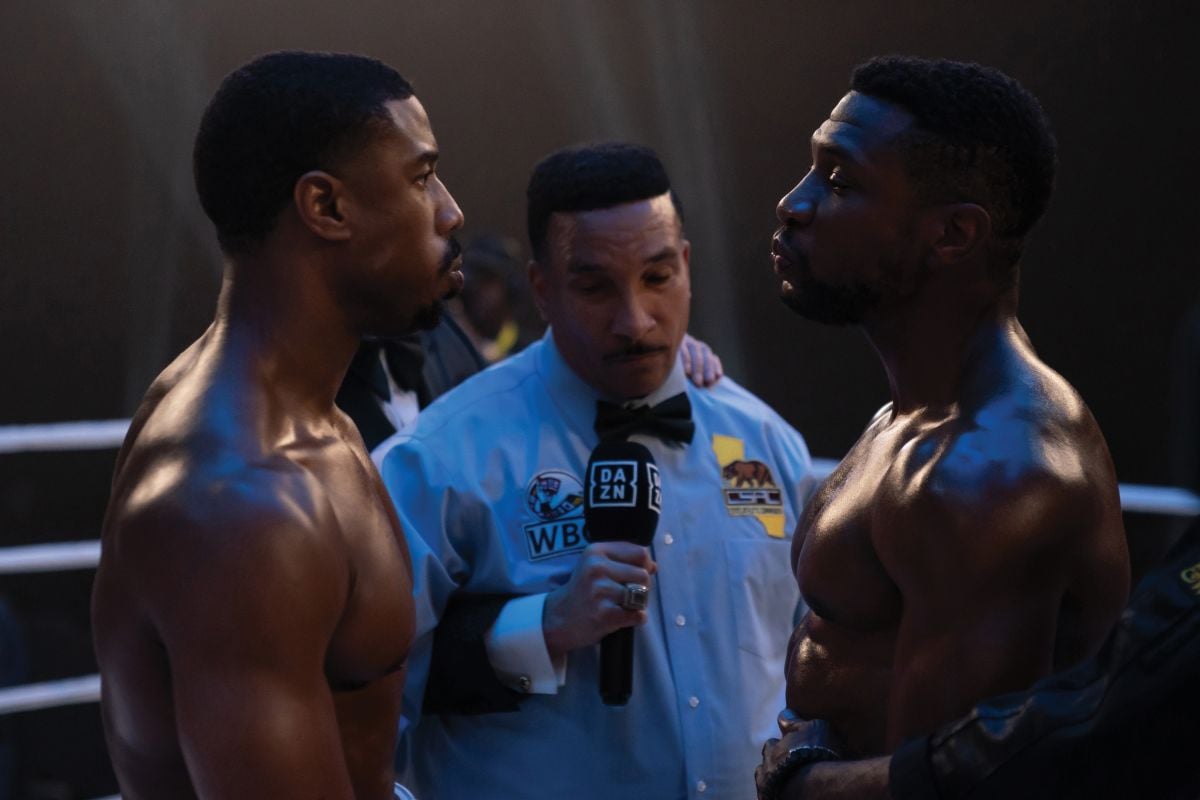 Fights at New Heights
Settling into his duties as a director, Jordan determined early in prep that he and Morgenthau would need to take two "big artistic swings" to fully engross audiences in Donnie's next chapter.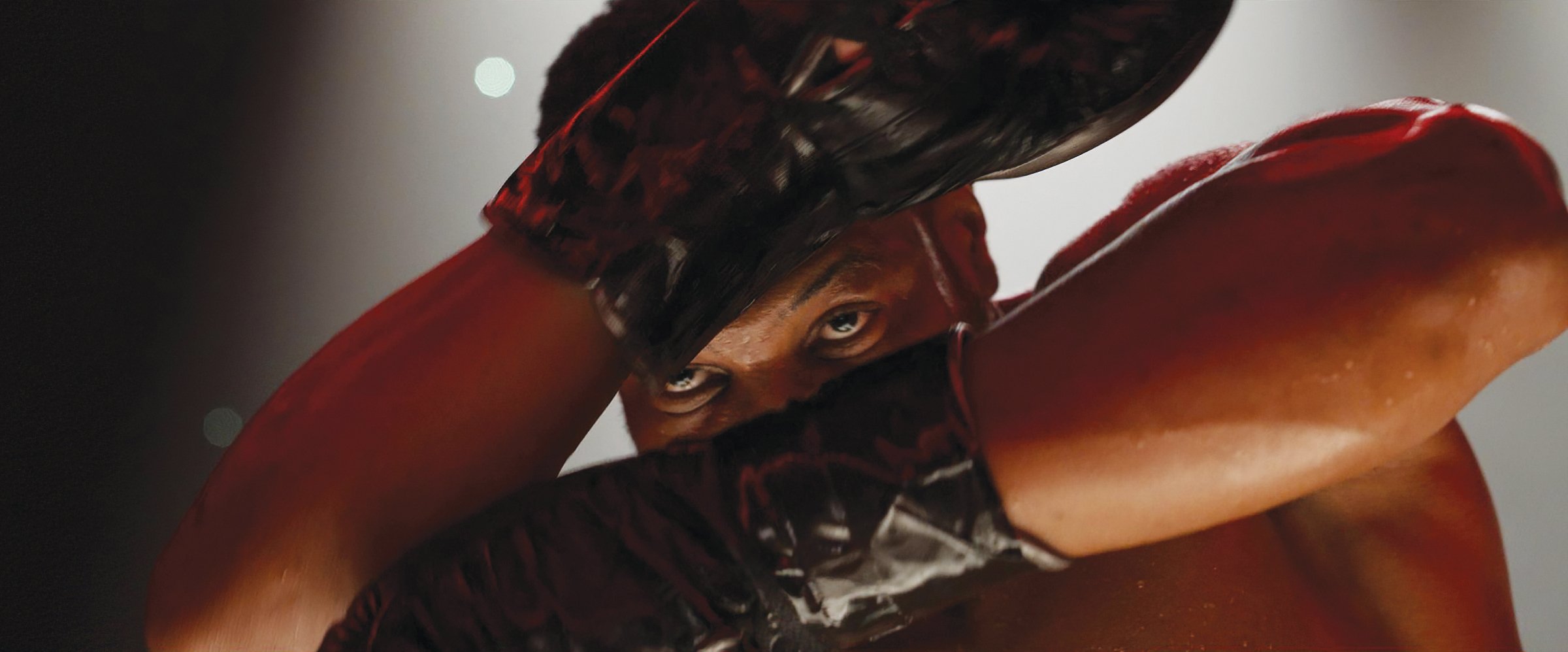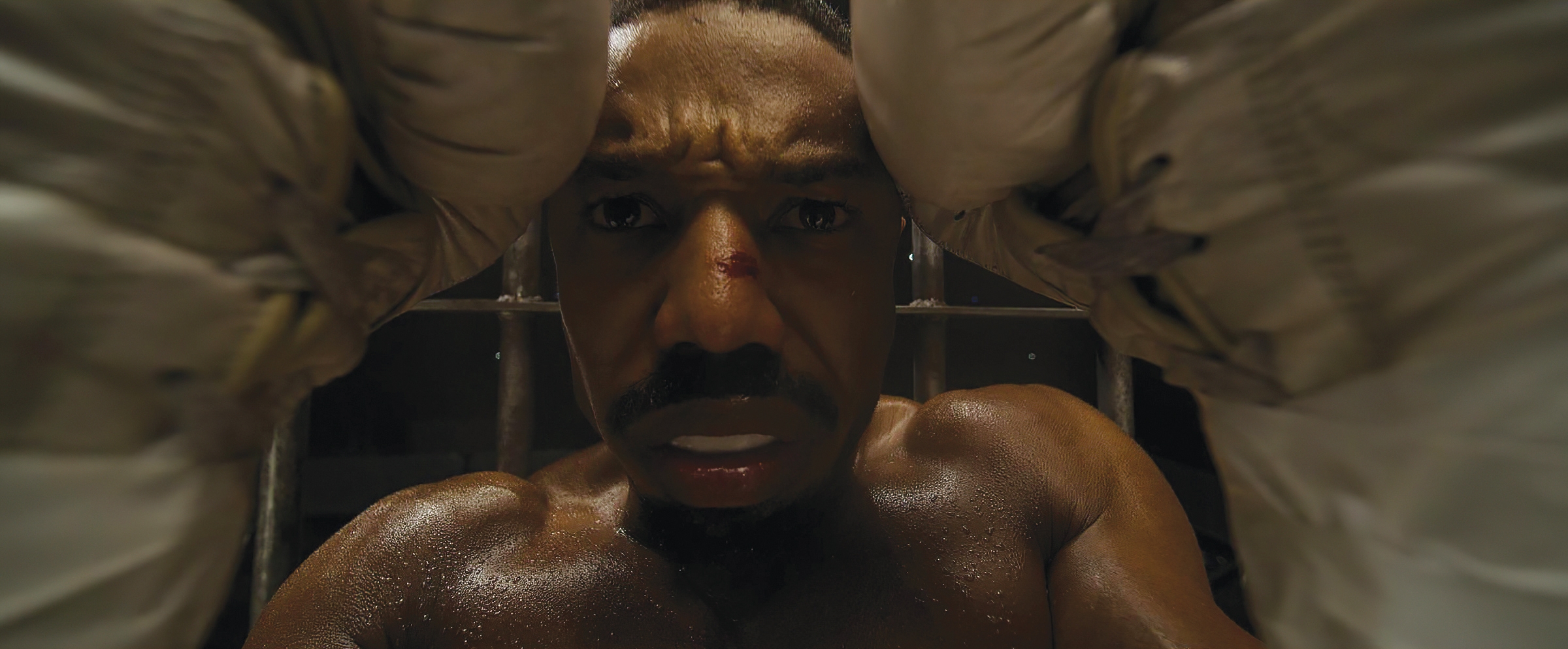 The first swing: a heightened visual style. "Michael is hugely influenced by Japanese anime — that's completely his stamp on the movie. So, he brought that into the way we cover the fights," Morgenthau says. "There's this thing we call 'Adonis Vision,' where you're seeing subjective point-of-view from Adonis as he's clocking each fight, and that plays out in an anime style, with these hyper-real close-ups." To present this perspective, the cinematographer chose to shoot certain sections of Donnie's bouts with the Phantom Flex4K, whose high-speed capabilities enabled him to create an "ultra-slow-motion analysis of some of the major moments in the fights, where we wanted to be inside the boxers' heads." Recalling how they arrived at this approach, Jordan says with a laugh, "Kramer got a full education in a lot of cartoons! In anime, exploring the inner thoughts of the protagonist and antagonist is really important. Even in a tense battle, they go to this calm place, and their emotions are somewhere else.
The second swing: a heightened aspect ratio. In the film's dramatic scenes, intimate glimpses of Donnie's and Dame's out-of-the-ring lives are framed for the 2.39:1 aspect ratio, but whenever a match is underway, the frame is expanded to 1.90:1 Imax. The filmmakers opted to shoot most footage for both aspect ratios with Sony Venice cameras certified by the "Filmed for Imax" program. "About 90 percent of the fight footage was shot with the Venice," Morgenthau notes, adding that the camera "seemed the most versatile and impressive in terms of color science, 6K, frame rates, built-in NDs and overall feel." Lenses were chosen to complement each aspect ratio: Panavision C and T Series anamorphics were assigned for the 2.39:1 footage, while Panavision VA sphericals were designated for scenes featuring Imax's frame dimensions. The VAs, Morgenthau says, helped "achieve the height of the 1.90:1 aspect ratio and have a visceral clarity and sharpness."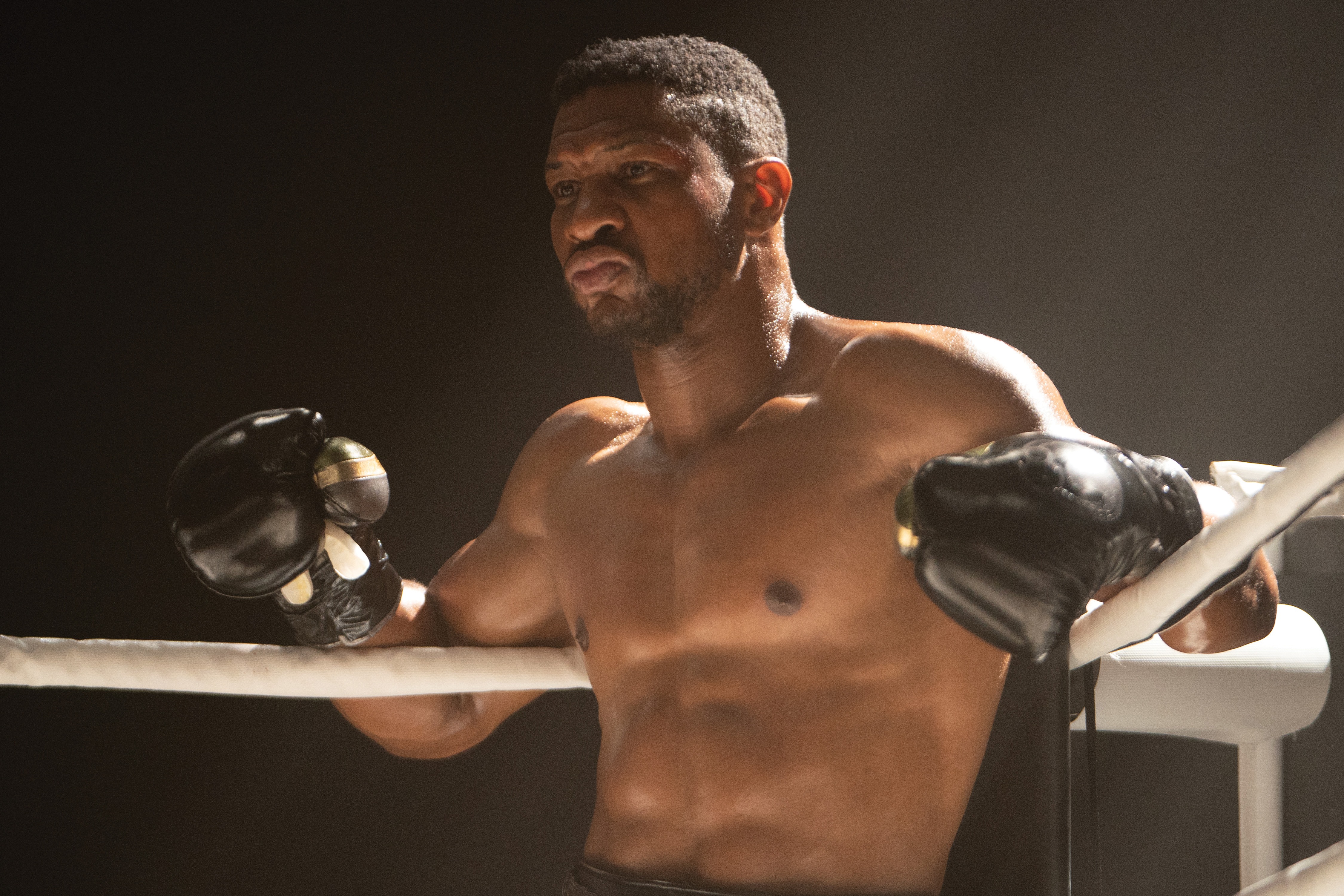 Says Jordan, "We were looking at these old photos of Muhammad Ali by Neil Leifer, and [we called] the shots that he would get of these outdoor fights 'clouds to the canvas,' where you can see everything in the frame. So, we just wanted to recapture that — get all that information up on the screen. Then, we'd ask, 'Okay, when is it going to open up? When is it going to transition into that ratio?' It was about picking those moments and balancing them."
Morgenthau cites the buildup to the film's final fight as one such moment. "Donnie has a comeback from retirement, and there's this big, beautiful Steadicam shot circling around him in Dodger Stadium to show this massive, gladiator-type world where he's made his return. He's walking down a hallway, steps out into the stadium, and the aspect ratio opens up. It's one of the great uses of the format, but not so disruptive that it distracts from the narrative. The boxing scene plays almost as a special heightened event within the movie."
Rolling With the Punches
The first fight scene of the big three on the production's schedule — and the second to appear in the film — was the only one that does not feature Donnie. "It had to happen that way," says Jordan, "because I wanted to execute our vision for the fight and not have to juggle too many things." The scene showcases a title match at Crypto.com Arena between Dame and Felix Chavez (played by real-life boxer José Benavidez Jr.) — a flamboyant world champ molded by Donnie's former trainer, Tony "Little Duke" Evers Jr. (Wood Harris) — and was devised over four weeks, early in prep, by Morgenthau, Jordan, A-camera/Steadicam operator Michael Heathcote, stunt coordinator Clayton J. Barber and fight coordinator Eric Brown.
During rehearsals for this frenetic brawl, the camera and stunt departments collaborated closely on stuntvis. Along with their boxing doubles, actors Majors and Benavidez experimented with a variety of moves, while Heathcote recorded the fights from multiple angles and incorporated the footage into the stuntvis. "The stuntvis is like shooting a piece of dance," says Morgenthau. "It's not just guys slugging each other — there's an arc to the story of what happens in the struggle of the fight, the stories unfolding in both corners, and the ringside seats with the fighters' families and fans. So, it was a matter of immersing ourselves with the performers and trying out different storytelling conditions."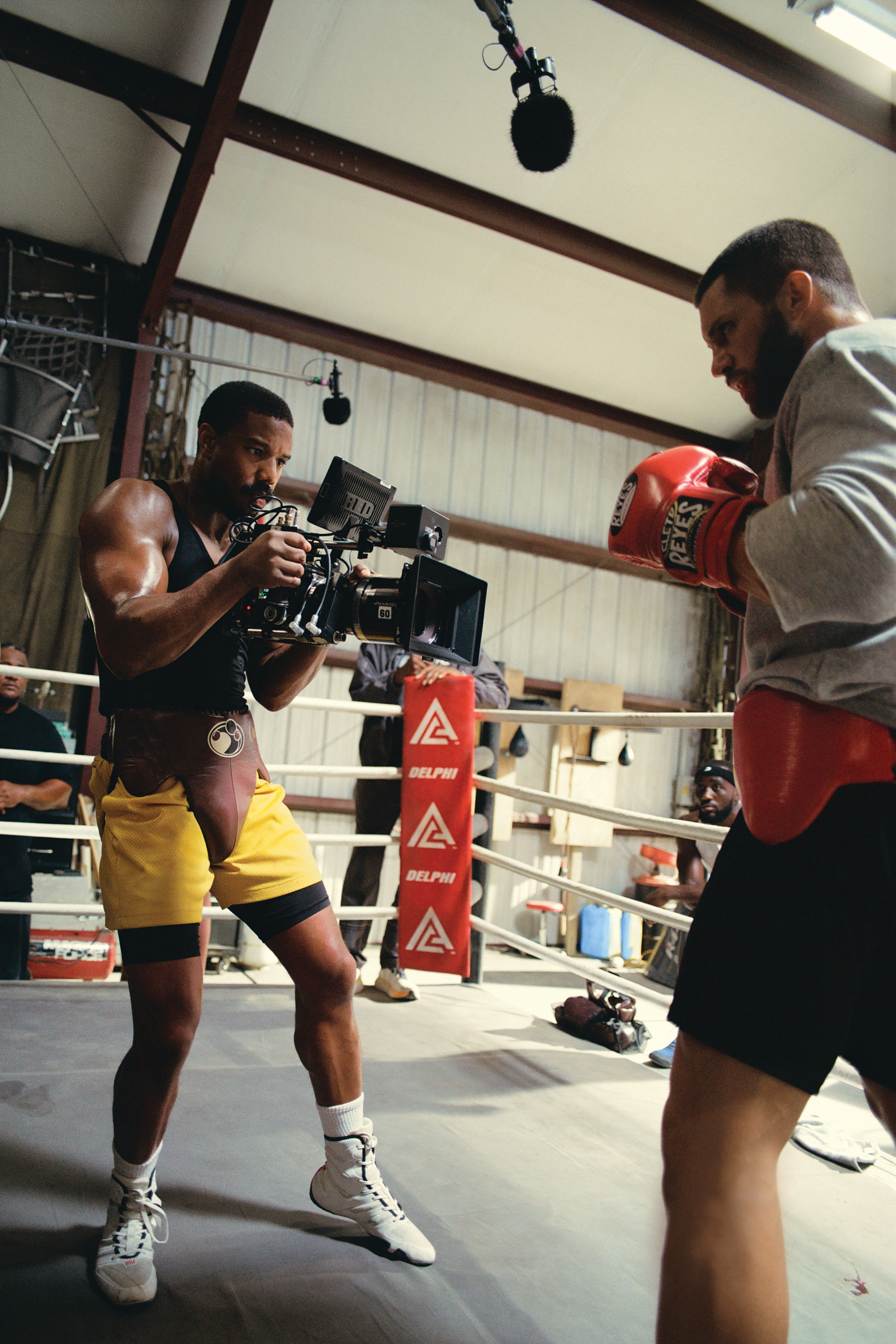 Heathcote kept the rig small in the early goings of the stuntvis process — "to save myself physically," he says — until Morgenthau and Jordan reviewed enough test footage to shot-list the fight. From there, he began filming run-throughs of the fully choreographed scene on a Steadicam, which was later paired with the Venice during production. He also employed a handheld Red V-Raptor that was stripped down by 1st AC Craig Pressgrove and 2nd AC John "Utah" Hoffler Jr., bringing the total weight of the build down to less than 10 pounds. The crew dubbed this rig "Fighter Mode."
"Michael and Kramer decided to start off the Dame vs. Felix fight more controlled and fluid, so we started on Steadicam," Heathcote continues. "The Steadicam was our main tool for the first two rounds, which gave us a stable frame and feel while still providing the freedom to whip around the ring and be right there with our actors. We also choreographed a few oners for the first round that wouldn't require us to cut to keep the audience locked in the ring. Then, as the momentum of the fight shifts in the third round, we wanted the camera to reflect this shift. For handheld, we used a combination of conventional on-the-shoulder — a Walter Klassen SlingShot Rig — and, when we wanted it to feel extra intense, our Fighter Mode setup."
Morgenthau stresses that over-the-shoulder angles were crucial in selling the punches. By exploiting the added camera height the SlingShot rig provided, the crew could better "hide or bury the contact from certain angles, without actually hitting somebody."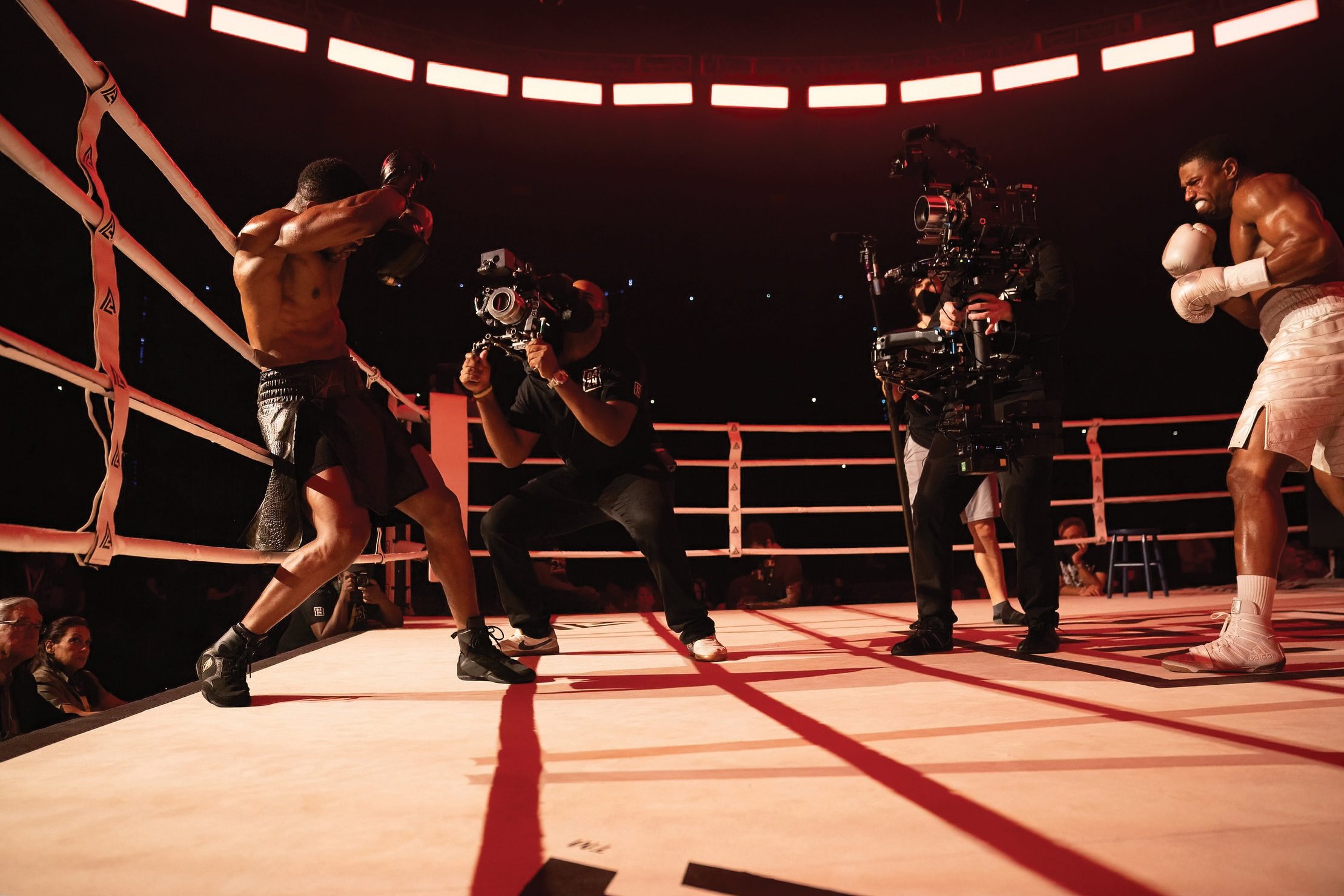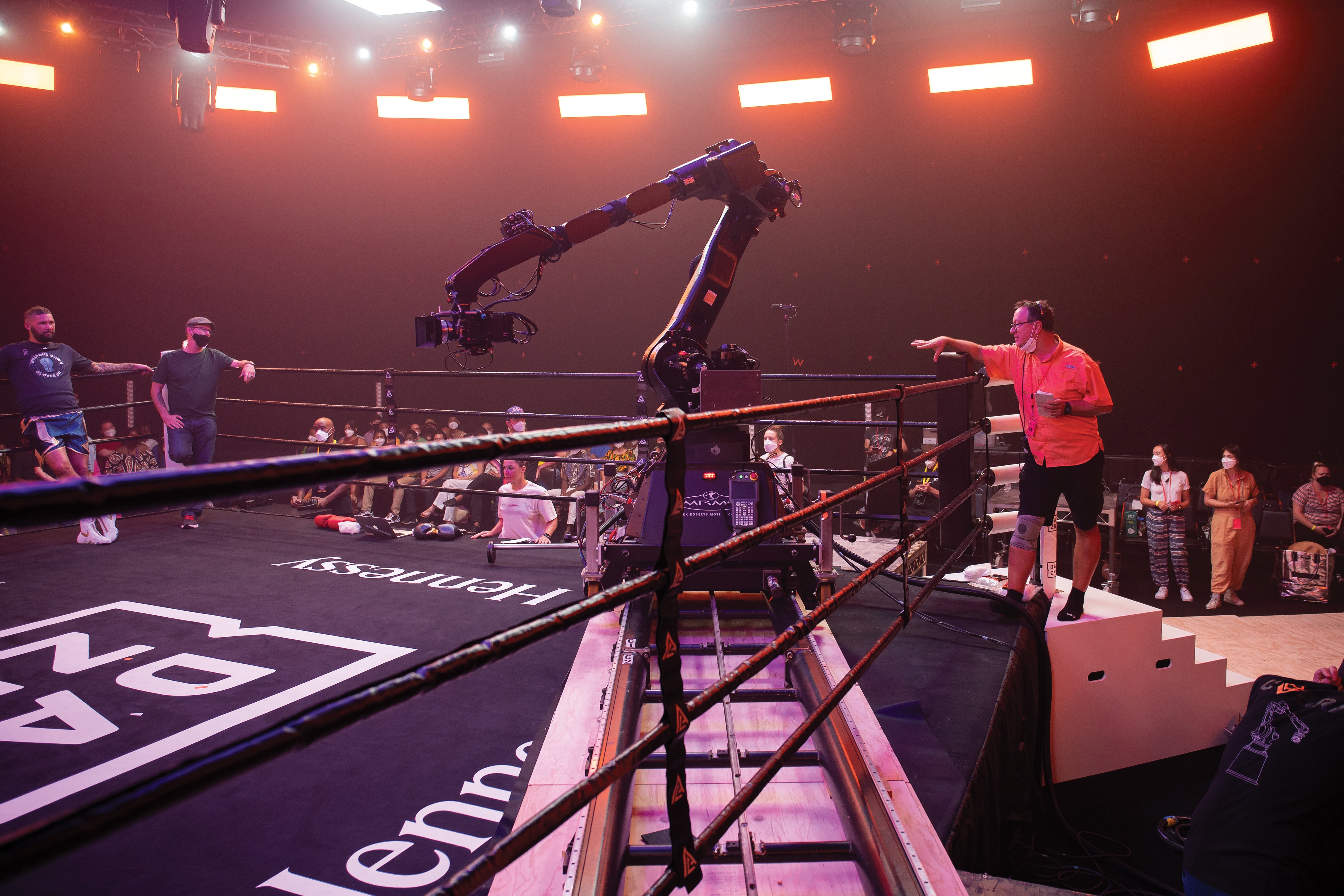 For a more "violent" method of movement, Heathcote would freehold the Fighter Mode V-Raptor out in front of him as he covered the clash between the fighters. "This really helped me keep up with the action and move the camera as physically as possible, creating a certain visceral feel that worked very well for this fight and the story Michael and Kramer wanted it to convey," Heathcote says.

Jordan readily admits that shooting the Dame vs. Felix fight came with "a lot of anxiety," but wrapping the scene signified one of the director's major breakthroughs. "Figuring out what that dance is — during [stuntvis] and even after — is crucial, because it's not just three people in the ring. Two fighters and the referee? No. It's two fighters, the ref, the camera operator, his camera assistant — a big group in the ring as we're trying to maneuver around in the right places."
Lighting With Character
If Donnie's laser-laden introduction to a jeering Moscow crowd before the final fight of Creed II is any indication, Morgenthau is firm in his belief that a boxing scene is only as immersive as its lighting.
"If you actually look at boxing on television, it's quite flat and broad-lit and not so interesting," the cinematographer says. "So, we incorporated more heightened lighting approaches to Creed II, and there are much more in III than in II.

In lighting the sites for its three big fight nights, Morgenthau and gaffer Josh Davis were careful to commit only to choices that served the story. "Our overall approach was to differentiate between separate venues," Davis explains, "but also to use character-driven attributes to motivate the lighting." Due to scheduling constraints, however, the crew was not afforded any time to re-rig the lights for each fight, which meant they would need to build something that could accommodate all three.
Their solution: Each match was shot on the same stage, at ATL Film Studios in Hiram, Ga., with one massive rig that the crew could program for their respective settings. The rig, Davis says, "consisted of an overhead softbox with Arri SkyPanel S60s that provided a base level of color and light. Moving outward, there was a center truss of Fiilex Q8 LED Fresnels and ETC SolaFrame 3000 moving lights, which was meant to be photographed and was based on fairly standard boxing-event setups. The next truss was a circle of Arri SkyPanel S120s that provided both fill and edge, depending on where the camera was. Programmer Matt Klann would adjust the intensity of these lights, as well as the Fiilex Q8s, on the fly, to keep some shape to our image. Finally, on the outer edge, we hung a bunch of Clay Paky Sharpy and ETC SolaHyBeam moving lights, and spots. These were spotlights, backlights and all-purpose bling."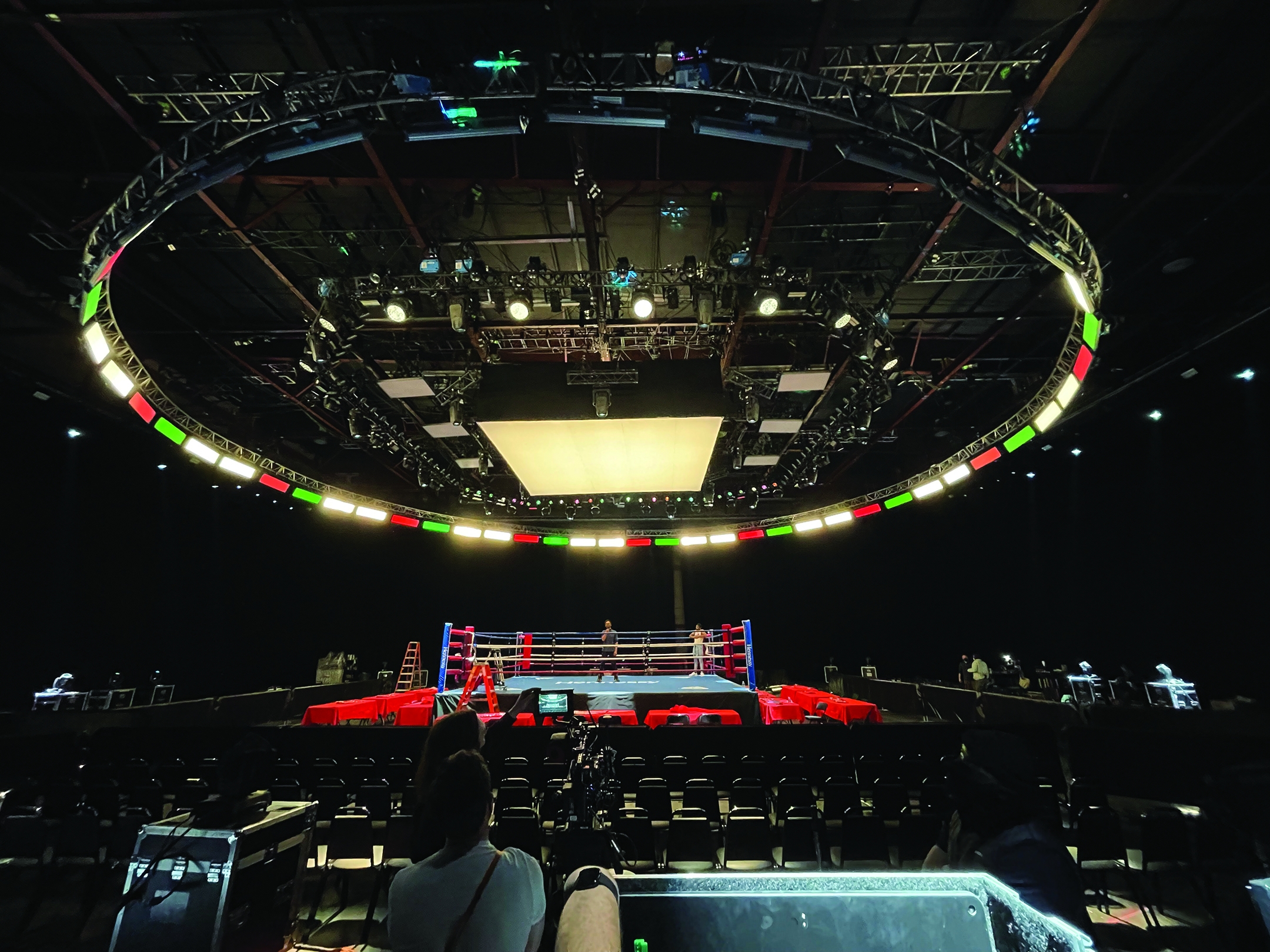 The first fight seen in the film — the rematch between Donnie and former opponent "Pretty" Ricky Conlan (Tony Bellew) held in Cape Town Stadium — takes place during the apex of the hero's career, and, accordingly, is assigned what Morgenthau describes as an "extremely warm look, almost as if the arena is lit by sodium vapors, and with some purplish fill. The warm, orange light came from the two circular trusses with the SkyPanel S120s and the inner truss with the Fiilex Q8s. The purple fill came from the overhead SkyPanel S60s, diffused through 20-by-20 Magic Cloth."

For the match at the Crypto.com Arena, Davis notes that the fighters' personalities are accentuated in the lighting of their ringside entrances: "In this fight, Dame is a menacing unknown. So, his walk-out is simple — like an early Mike Tyson, with just a towel around his shoulders and no frills — and his wardrobe was green, so we used that green as a base for our lighting. Felix is the champ, so naturally there is more flair to his entrance."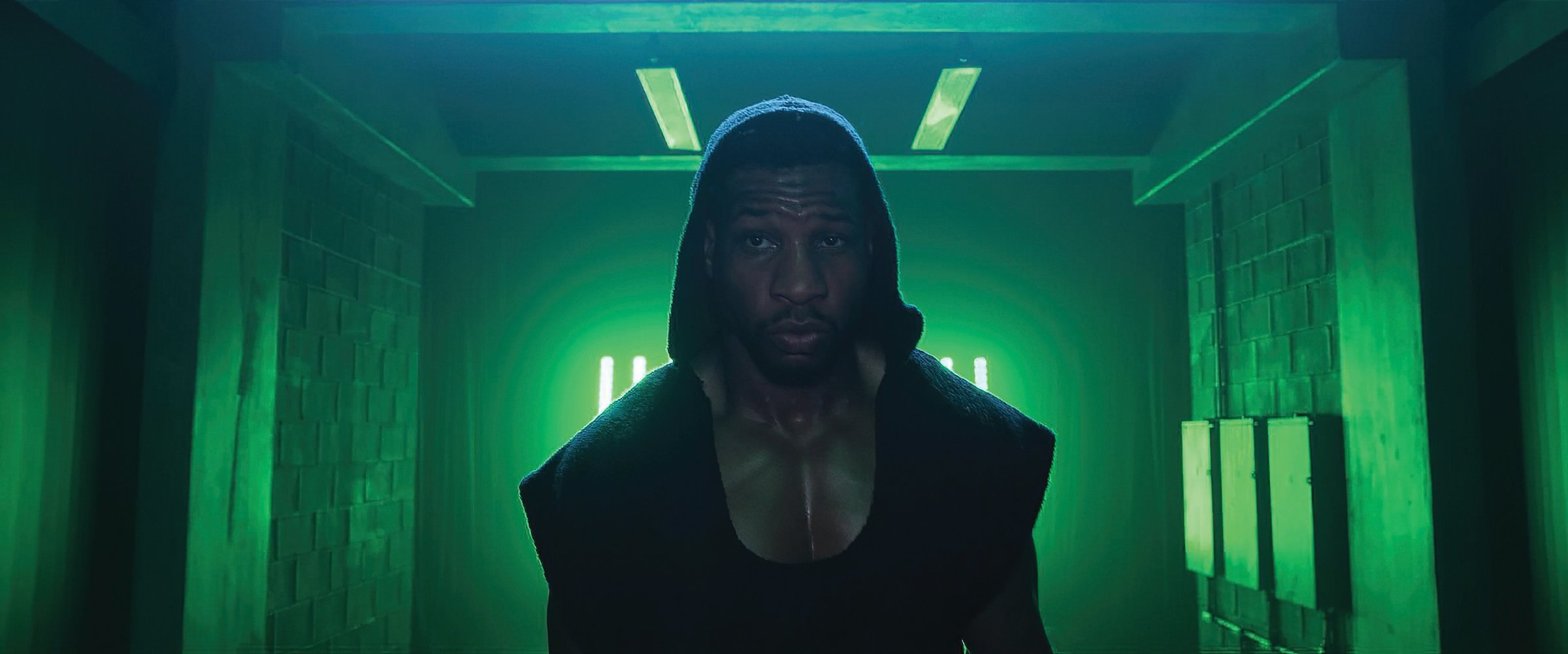 Morgenthau adds that "the walk-outs can have a theatrical quality in real life. They are almost short films unto themselves." Jordan's vision for the Felix walk-out was a rowdy reenactment of a Día de los Muertos celebration — a nod to the defending champ's Mexican heritage that enshrouds him in colored smoke as he struts toward the ring. "With Felix's walk-out, we played off of the red, white and green of the Mexican flag," the cinematographer says, "and we also tried to make it feel like the lighting from the backgrounds was reflecting on the boxers' skin."
The walk-outs at Dodger Stadium, Morgenthau notes, "incorporate the red light always seen around Donnie during his entrances, and the green light that follows Dame throughout the picture. This fight was the trickiest one to do, because there were not a lot of visual references for staging a boxing match in a baseball stadium. Our ambience vibed off of the Dodgers' blue, and all the edges were made white to imitate stadium lights."
The cinematographer made ample use of atmospheric haze in each fight, allowing various beams of theatrical light positioned around the rings to pop. The crew wrapped the stage with a black background — "different from the normal approach," Morgenthau notes, "which would be to use a blue- or greenscreen. Using black allowed the haze to be better maintained." This use of black also assisted composite work in post, with CG and plate work applied to create crowd and architectural background elements.
"Another thing we'd do in all the fights: As the Steadicam moved around the ring, we would use the dimmer board to fade out the front light coming from the truss, so that the light on the boxers had more modeling and shape to it," Morgenthau says. "We wanted the lighting to feel like it had a point of view — like it had shape and perspective."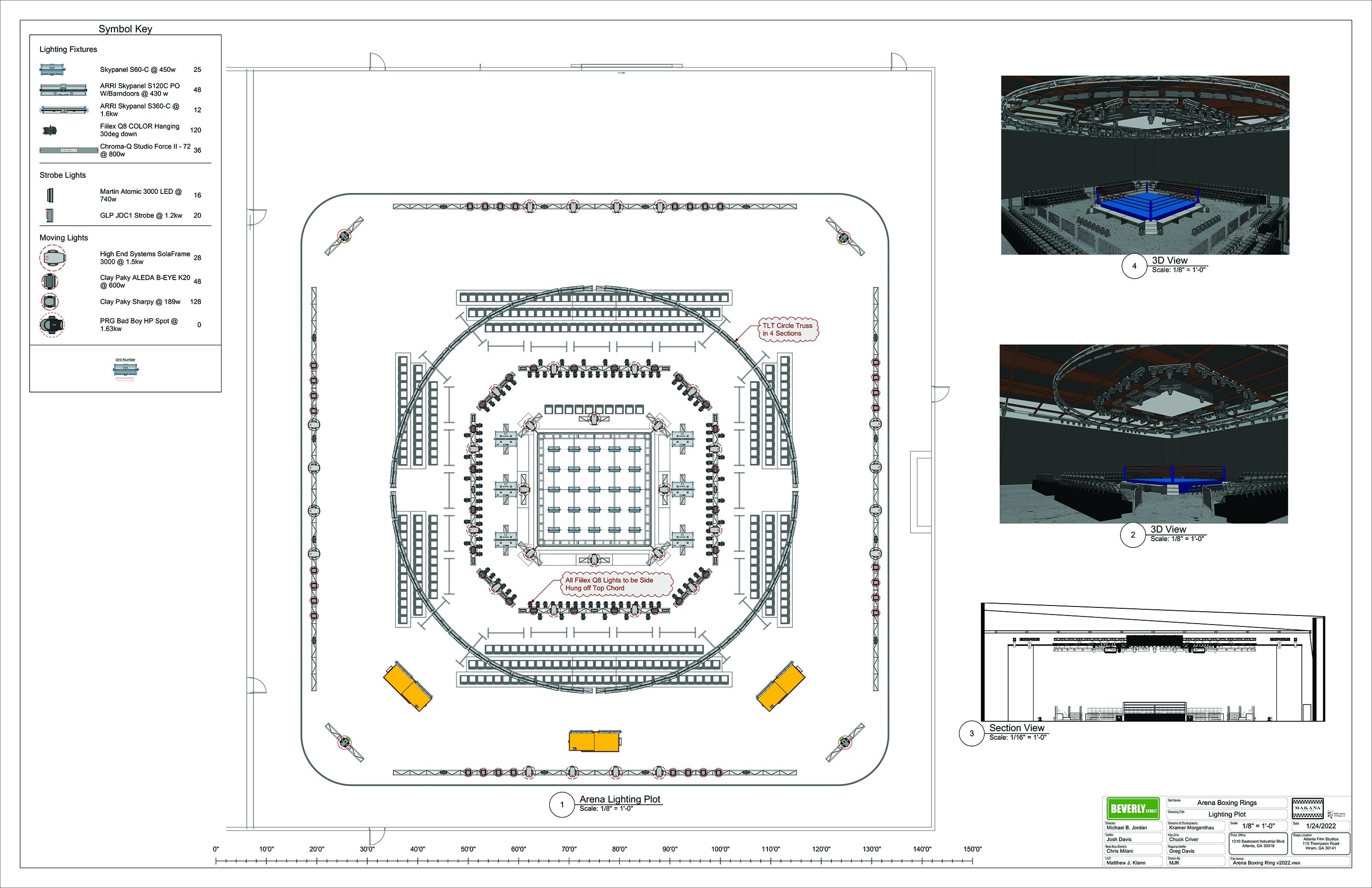 Meeting Every Obstacle
Just as the training montage in Creed III represents Donnie's deepened understanding of himself, so did its making allow Jordan to flourish as a filmmaker. "With the montage, I could really see Michael grow as a director," says Morgenthau. "We'd go back to it a few times, edit it a bit, then build more into it. It was exciting because we got to play jazz with it. Unlike other scenes where you have to cover this and that, the montage is about pure, visceral storytelling."

Morgenthau and Jordan approached the sequence as a "Battle of Los Angeles" — juxtaposing Donnie and Dame's training regimens in starkly different, yet equally iconic locations throughout L.A. to underscore the fighters' competing desires to represent their native city. "Dame and Donnie both grew up in Crenshaw as kids, but Donnie wound up at Mary Anne [Phylicia Rashad] and Apollo Creed's Beverly Hills mansion, with this charmed life. So, this was about showing a tale of two cities."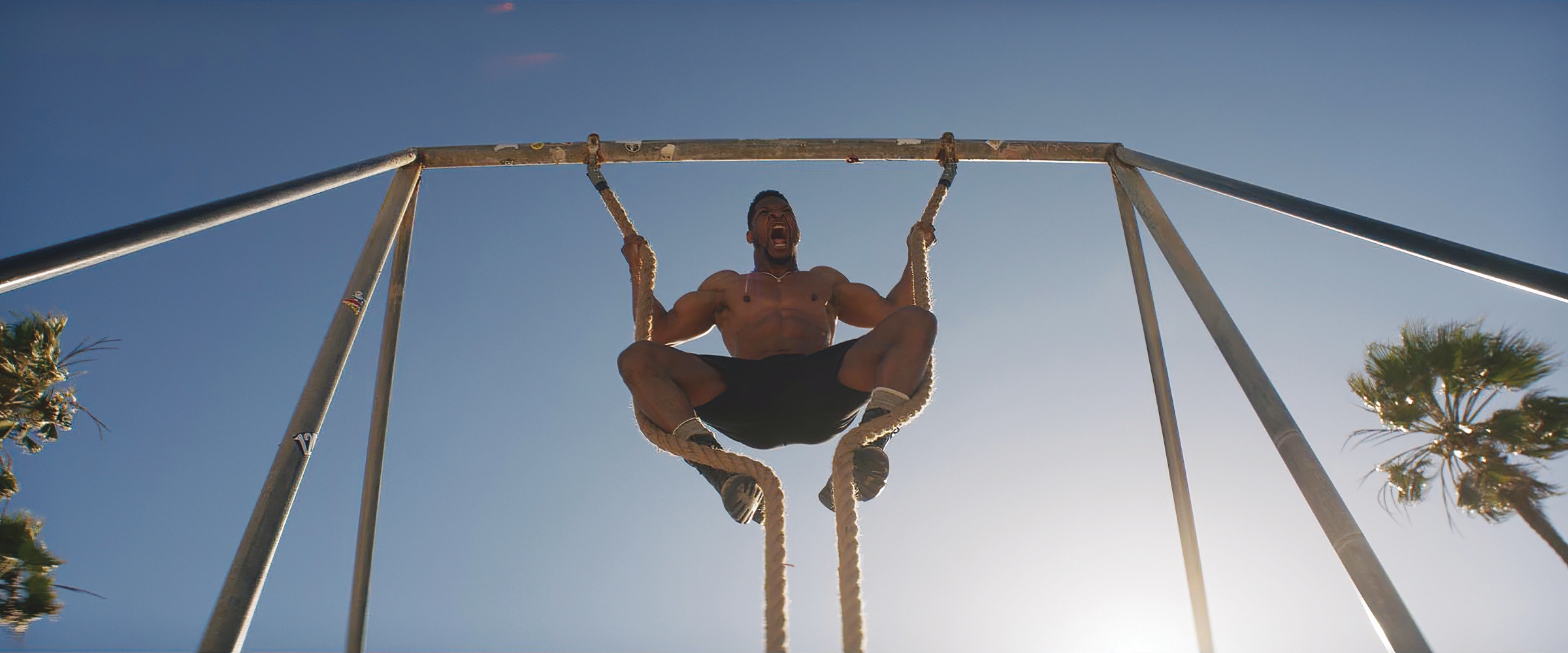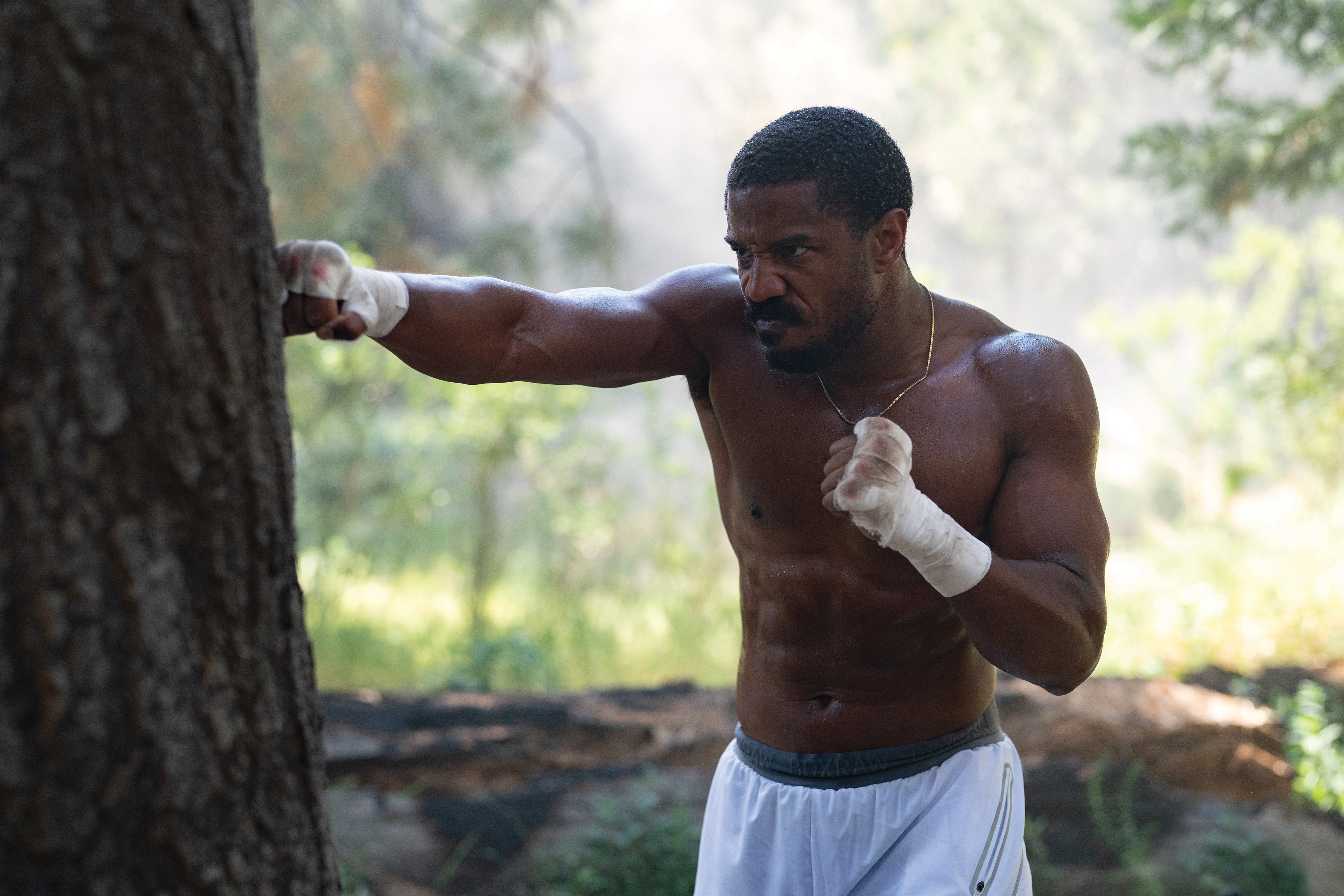 Across locations, the crew toggled through an array of camera platforms to assemble the montage's many pieces. An Edge Arm camera car aided the crew in capturing a wide tracking shot of Donnie as he footraces against a jet plane at a private airport; a Patriot electric camera car was used to track Donnie's run along the 6th Street Viaduct and Dame's along the 4th Street Bridge; handheld moves with the Venice and V-Raptor set the tone for Dame's workout at Venice Beach; and Freefly Alta and DJI Inspire 2 drones helped execute a sweeping shot overlooking Mount Lee, where the montage culminates as Donnie treks triumphantly to the Hollywood Sign that rests at its peak.

While shooting at Mount Wilson Observatory and Agua Dulce Airport, Morgenthau and Jordan zeroed in on the montage's two defining visual motifs: a gnarled tree that Donnie uses as a punching bag, and a rolling mirror that he faces when practicing his footwork. "The tree was very important to Michael," the cinematographer explains, "because Donnie and Dame used to punch it together when they were kids. It just came down to finding the right light at the right time of day. We used atmospheric haze in the woods at Mount Wilson to show the rays of light poking through the trees as he's training. And we used a 'tube of death' — an A.C.-ducting tube with holes in it that's wrapped around the outside perimeter of the set to push in fog. That way, we had haze coming in from 360 degrees, in case the wind direction changed."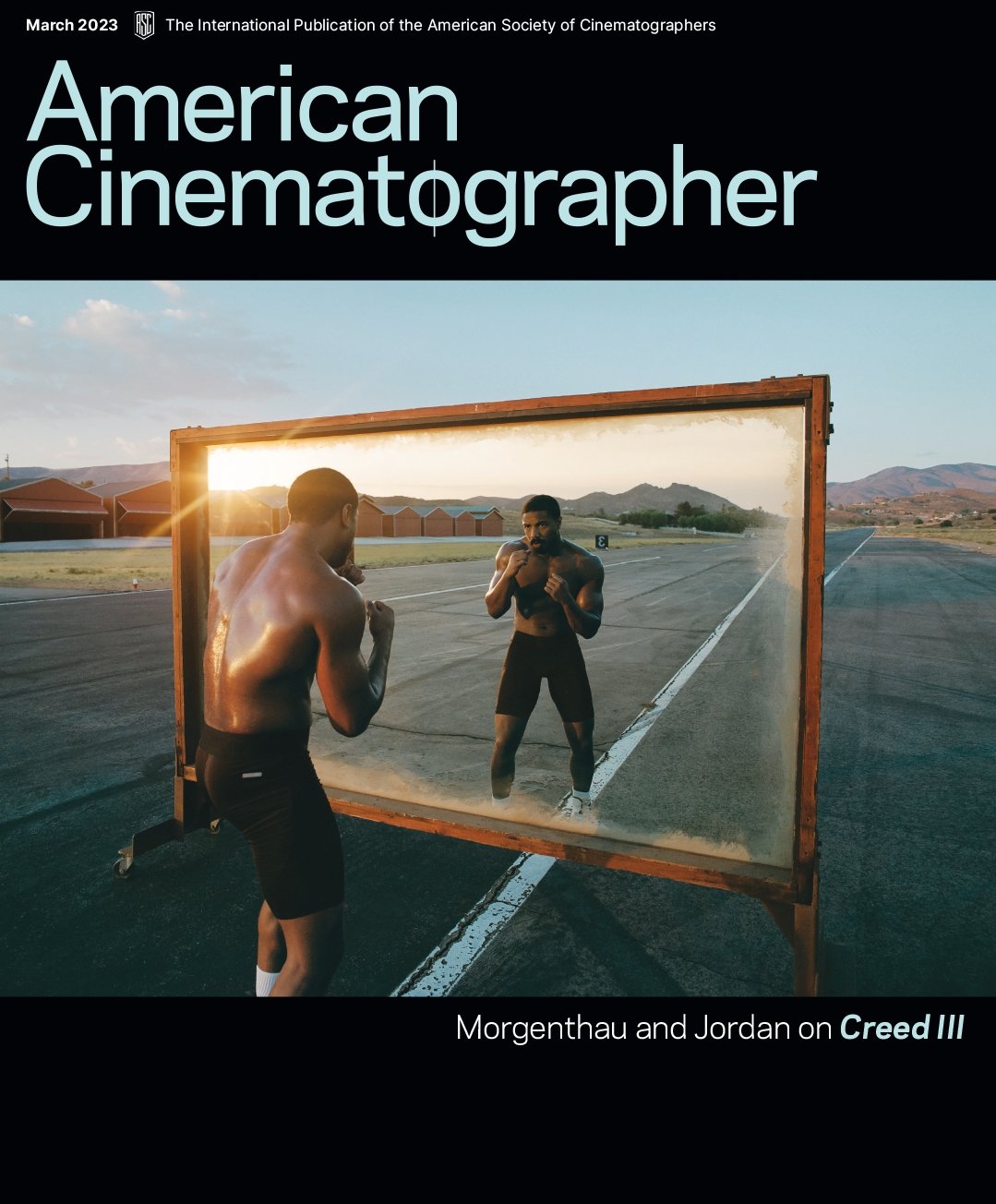 Reflecting on a wide shot of Donnie in front of the mirror at sunset, Jordan says it "pulled the montage into our theme of what it means to fight yourself." Morgenthau notes that the shot "was on a wish list, but where and how we did it was not planned. We wheeled this giant mirror out onto the airport runway in Agua Dulce, and the execution was on the fly and improvisatory. We were handheld, nimble and it was electric. We were discovering something."
As Morgenthau rightly reminds us, "every Rocky movie's montage is its pièce de résistance," and working under the pressure to deliver a memorable one was among the most edifying experiences for Jordan while making Creed III. "One of the biggest things I learned from Kramer and the team was to take my time to find the shot, and not be apologetic about finding that time," Jordan says. "Finding the shot — that discovery — is the same type of feeling as getting into character and losing yourself in a scene. Shooting a movie like this, we were given every obstacle. Obviously, nothing's gonna go as planned. But Kramer was there every step of the way, like, 'I don't know, either, but let's figure it out!' For me, that's the perfect scenario — creative bliss."
Tech Specs
2.39:1, 1.90:1
Cameras | Sony Venice, Red V-Raptor
Lenses | Panavision T Series, C Series, Primo VA
---
You'll learn much more about Morgenthau in this profile, and you can order a print edition of issue here.