The band basks in an audience's applause.
More Than a Feeling: Daisy Jones & The Six
Cinematographers Checco Varese, ASC and Jeff Cutter immerse the audience in an emotional rock 'n' roll story.
Rachael Bosley
Unit stills by Lacey Terrell, SMPSP, courtesy of Amazon Studios

Camerawork that conveys the combustible nature of creative relationships is at the heart of Daisy Jones & The Six, a 10-part series from Amazon that follows the tumultuous rise and sudden collapse of a fictional 1970s supergroup. Cinematographers Checco Varese, ASC and Jeff Cutter were tasked with capturing the story, which is steeped in the musicians' personal struggles and interpersonal conflicts — subject matter that lent itself to a close focus on emotions, even during live performances.
For Varese, the project started as a theoretical conversation over coffee in Santa Fe, N.M. "We were shooting the last episode of Them," he recalls, "and [producer] Mike Nelson started telling me about this project he'd been working on for months that had been shut down by the pandemic: Daisy Jones & The Six. I didn't know the material, but Mike described it, and we talked about how you could shoot all these concerts when you couldn't accumulate hundreds of extras in a room. I said, 'It's more about the relationships in the band; it's about their gazes,' and I made some suggestions. Six months later, Mike called and invited me to read the script and pitch.

"I thought the script was a deep analysis of human relationships," Varese continues. "These are young men and women, some with troubled pasts, who try to find in a band the family they never had. That was, to me, the key to the drama."
Co-director of photography Jeff Cutter — whose credits include the streaming series The Boys and the feature Prey — also understood the importance of maintaining intimacy for the movie's onstage concert sequences, no matter how large the venue. "Within every musical performance, there's so much emotional performance," he says. "Every song has some dramatic beat going on between the characters. When I pitched the producers, the first thing I said was, 'I wanna be up onstage with them, wider lenses closer, and feel the intimacy of it.' And that's exactly the way they saw it."
"There are six people in the band, and we had to see them all younger, older, on drugs, off drugs, famous, not famous."
— Checco Varese, ASC
In keeping with Taylor Jenkins Reid's novel, the miniseries frames the action as a collective flashback: 20 years after Daisy Jones & The Six imploded on its inaugural concert tour, bandmembers and others sit down with a documentary filmmaker to discuss why. These interviews punctuate the narrative, which begins in Los Angeles in 1961.

The shoot unfolded in two episodic blocks mostly in story order: Episodes 1-5, shot in L.A., depict the band's early days through the recording of their debut album; and Episodes 6-10, which kicked off in L.A. but were shot mainly in New Orleans, follow them on their fateful tour.
Varese worked with director James Ponsoldt on the first block, and Cutter paired with director Nzingha Stewart on most of the second. At the end of the schedule, Varese prepped and shot Episode 7, which required extensive location work in Greece, for director Will Graham.
Mission Control
Varese — who won a Primetime Emmy last year for his work on Dopesick — likens the testing for Daisy Jones to "NASA preparing for a space mission," noting that "hair and makeup alone was mammoth. There are six people in the band, and we had to see them all younger, older, on drugs, off drugs, famous, not famous. Amazon and the producers supported our request for a week of testing, as did my friends at Keslow Camera. On one side of the stage, we were shooting makeup, hair and wardrobe tests with an A camera on a tripod or dolly with a zoom lens, and on the other side, we put together three or four looks, including an intimate L.A. apartment and a 20-by-20 concert space with PAR cans, testing every color possible and every light and large-format lens available. We even used a dolly with a little arm and Talon head to test what would eventually become big Technocrane moves."
Varese decided to shoot most of Daisy Jones with the Sony Venice — capturing 6K 17:9 Full Frame cropped for a final presentation in the 2.39:1 aspect ratio — paired with Angénieux Optimo Primes and Angénieux zooms (the 22-60mm T3 EZ2, 45-135mm T3 EZ1 and 36-435mm T4.2 Ultra 12x FF). "Shooting with a large sensor gives you the ability to use very shallow focus, and I've been experimenting with that a lot," he says. "I was also fascinated by the potential of the Optimo Primes' IOP [Integrated Optical Palette] technology, which was new at the time. I used it to add 1/8 Glimmerglass to the lens for the entire first block of episodes, and to simultaneously add custom netting behind the lens for a few of those scenes that asked for a touch of nostalgia." Production also carried an unfiltered set of Optimo Primes, which were used mostly by Cutter in the second block of episodes.
A couple of Sony FX3 cameras (capturing 4.2K full frame and recording ProRes raw externally on Atomos Ninja V+ recorders), paired with Sony/Zeiss 16-35mm Vario-Tessar and Sony 24-105mm FE G OSS lenses, were used on a handful of shots in tight quarters and difficult locations, including Hydra, Greece. Cutter notes, "We used the zooms for a few specific scenes that Nzingha wanted to infuse with 1970s-style zooming, like a press conference where Daisy and Billy clash." Additionally, a Pro814 Super 8 camera was employed to create a character's home-movie footage. (The film negative was processed and scanned at 6.5K by Pro8mm for delivery to Company 3.)
Colorful and Shimmering
DIT Daniele Colombera worked with Varese and supervising colorist and ASC associate Stefan Sonnenfeld of Company 3 to define the many looks Daisy Jones required. "I don't leave home without Daniele, who is a genius, and Stefan, the third leg in the tripod," says Varese. "We develop a show LUT in prep, and Daniele and I tweak the color in every frame while on set."
Sonnenfeld's custom LUT for the show "had a slightly warmer shoulder and some cooler tones in the shadows," says Colombera. "It was neutral and well balanced, a great starting point for me to create a look for each scene with [ASC] CDL values."
Colombera adds that Varese's lookbook included "rock 'n' roll photographs that were not the usual iconic images, but candid moments captured backstage, as well as street photography of the Sunset Strip and the characters populating it in the late '60s and '70s. That showed me he intended to create a look that was colorful and shimmering, but also powerful and realistic."
On the Move
No matter which camera was in play, it was seldom at rest. "These are young people in search of their own voices in life, and [A-camera/Steadicam operator] Joseph Arena and I immediately suggested that the camera should reflect this," Varese says.
Among the techniques he favored was a Talon head on a PeeWee dolly. "Joseph and I have developed a method to create intricate camera moves that way, which we did on this show with Ace Dominguez, our wonderful dolly grip," says Varese. "Covid-19 set protocols made this technique more popular, of course, but I think it has restored some intimacy to the set. It's more like a theater stage."
The most difficult L.A. location was the Hollywood Hills house that Billy (Sam Claflin) rents for his family. "It was true to the period and to the characters, but a shoebox," Varese recalls. An Aerocrane jib arm on a dolly with risers often took the camera to the second floor, and a mix of Steadicam and handheld captured a house party that becomes a pivotal moment for Billy and Daisy when the power goes out. "Thanks to the Venice's high ISO, we basically lit that whole scene with a bit of cine moonlight— created mostly with Arri SkyPanels — and lots of candles," Varese adds.
In the second episodic block, as the band's tour progresses, a more aggressive camera conveys simmering personal grievances and drug-related chaos. Cutter explains, "Our episodes are really the collapse of the band — so, stylistically, Nzingha and I felt we could push things more. I wanted to do as much handheld as possible, but it was always based on the content of the scene and how much we wanted to push the conflict or the chaos. Sometimes you watch a scene on its feet in rehearsal and realize it doesn't need that, like if the actors are playing it much quieter than you expected. Or sometimes a scene just feels a little lifeless, so if we keep the cameras breathing, like we're present in the scene, it can help."

A Visual Arc
In approaching the band's performances, both Cutter and Varese leaned into their own early work in music videos. (Coincidentally, both were nominated for the Best Cinematography VMA in 2006: Varese for Prince's "Black Sweat" and Cutter for Ashlee Simpson's "Invisible.") "You have to put yourself in the audience and know what the audience wants to see — that's the key," Varese says.
"On a 10-hour movie like Daisy Jones, you also have to create an arc to help sustain audience interest," he continues. "Every character has their own arc within every episode, and the music, which is also a character, has an arc throughout the series. That has to be reflected in how you block and shoot."
Arena, a Society of Camera Operators member, notes that the band's evolution also shaped the visual arc. "We suggested approaching the camera with a similar level of energy," he says. "When the story begins, they're kids playing in a garage, and we see them performing in better places, step by step, till they're finally doing huge concerts. So, the camera is very settled at first — no big setups, no cranes, no oners — and we start building things up as they move forward."
The apex of this strategy is a four-minute, 360-degree Steadicam shot that travels around the stage as Billy introduces each member of the band. "There was a lot of story to tell in that shot, and not everybody was sure a oner would do it, but we were all excited by the result," Arena says.
Unique Expertise
When Cutter began prepping for New Orleans, chief lighting technician Nicholas Kaat recommended bringing in a concert-lighting specialist, Matt Ardine, to help design and build period-correct looks for the band's concerts. "We had just two weeks to prep New Orleans, which was limited considering the scale, and Nick and Matt were both critical to the success of the whole thing," Cutter says. "Matt actually contacted the lighting designer who'd done Fleetwood Mac's shows in the '70s, and he advised us about color palettes and the capability of the technology at the time.
"I didn't want the palette to become too many colors, so we decided to limit it to six, including neutral, and maintain the palette we designed for each song regardless of venue, which would've been the practice," Cutter continues. "Before we did any physical prep, Matt did some programming and created virtual diagrams showing all the PAR cans and all the band members onstage. We used hundreds of PAR cans — fortunately, they haven't changed much in 50 years — but we also tucked a few LED remote spot fixtures up in the grid so we could spot the actors at certain moments. We had PAR bars at the sides of the stage and in the wings that became set dressing and background when band members go offstage.

Cutter emphasizes that having Varese's key crew in place "gave me such a great foundation on this project. They were fantastic, and I don't know how I would have done it without them. "
"As a DP, it's always strange to follow another DP because no two of us work the same," he adds. "It's slightly intimidating, too, because someone else is starting you down this path that you're used to creating yourself. But in this case, it was great. I was so impressed by what Checco had done and the team he put together. I wasn't able to grade my episodes directly with Company 3, but they sent me links so I could see what they were doing — and I had no notes."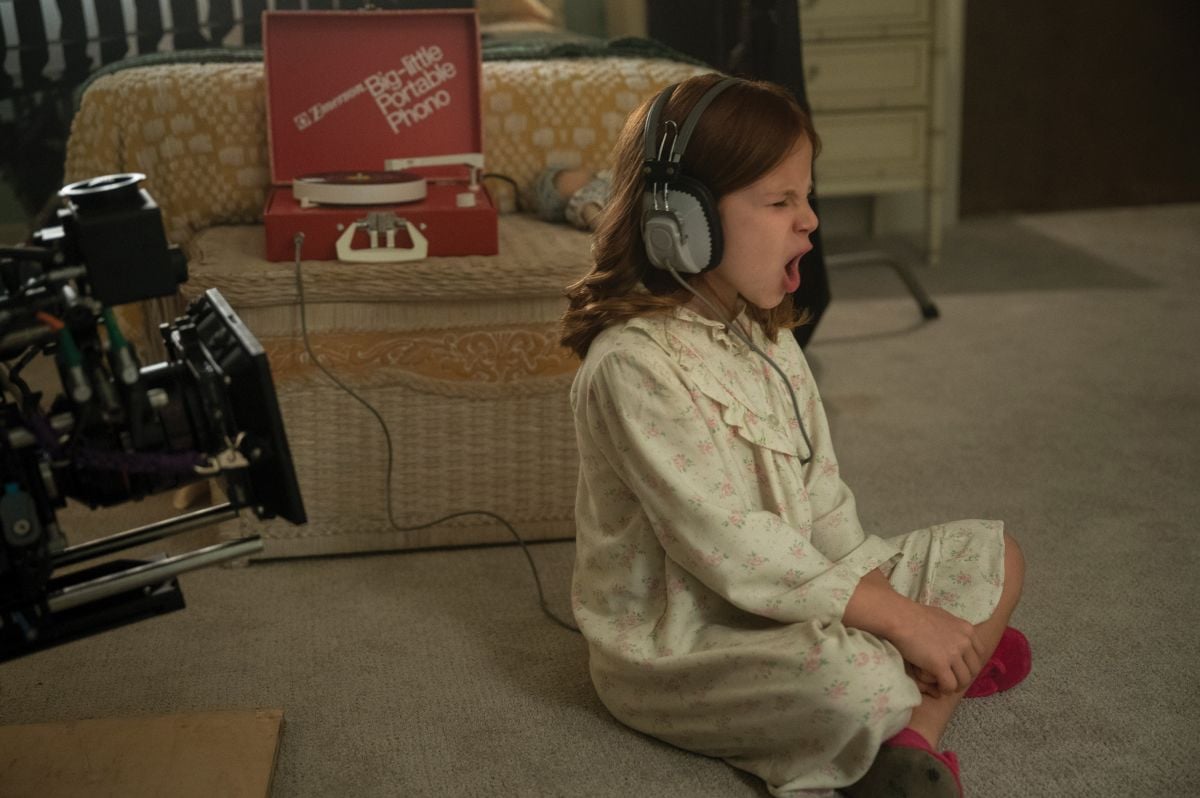 Tech Specs
2.39:1, 1:33:1
Cameras | Sony Venice, FX3; Pro814
Lenses | Angénieux Optimo Prime, Optimo, EZ zoom, Ultra 12x FF zoom; Sony/Zeiss Vario-Tessar; Sony G zoom
Film Stocks | Kodak Vision3 500T Pro8-19, 250D Pro8-07; Ektachrome 100D 7294