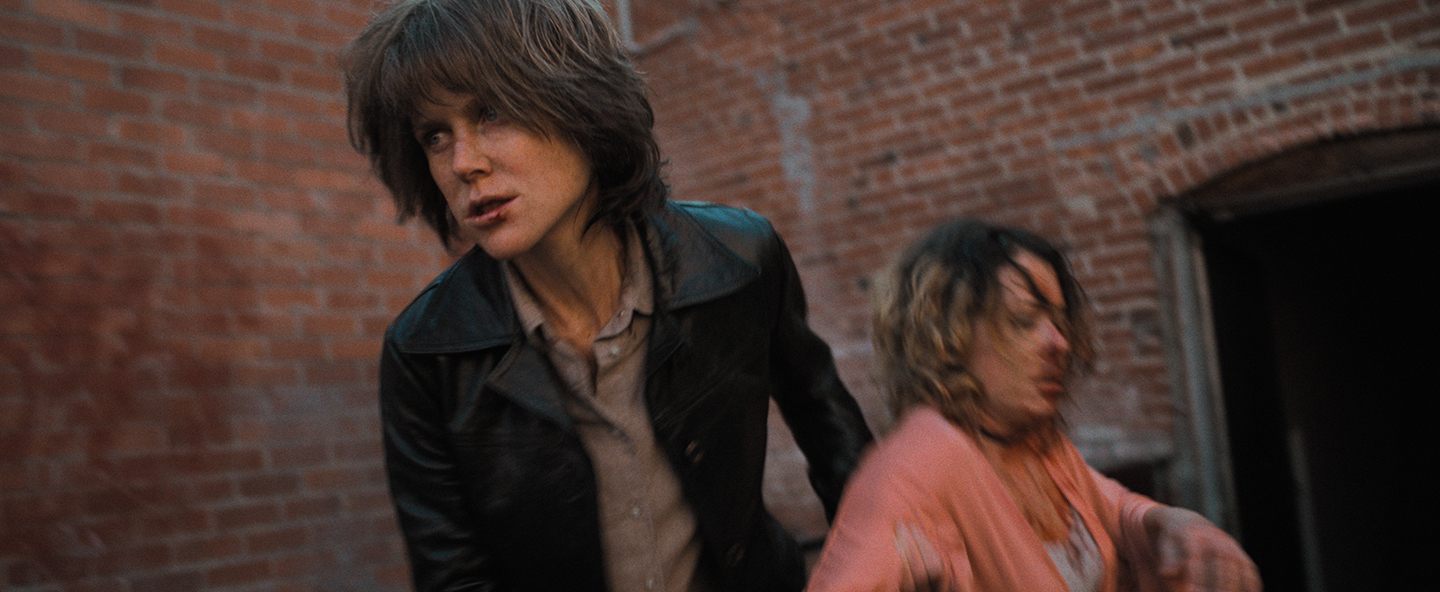 Destroyer: Sunlit Noir
Cinematographer Julie Kirkwood discusses her visual approach on this hardboiled crime drama and collaboration with director Karyn Kusama. 
Jim Hemphill
Cinematographer Julie Kirkwood discusses her visual approach on this hardboiled crime drama and collaboration with director Karyn Kusama.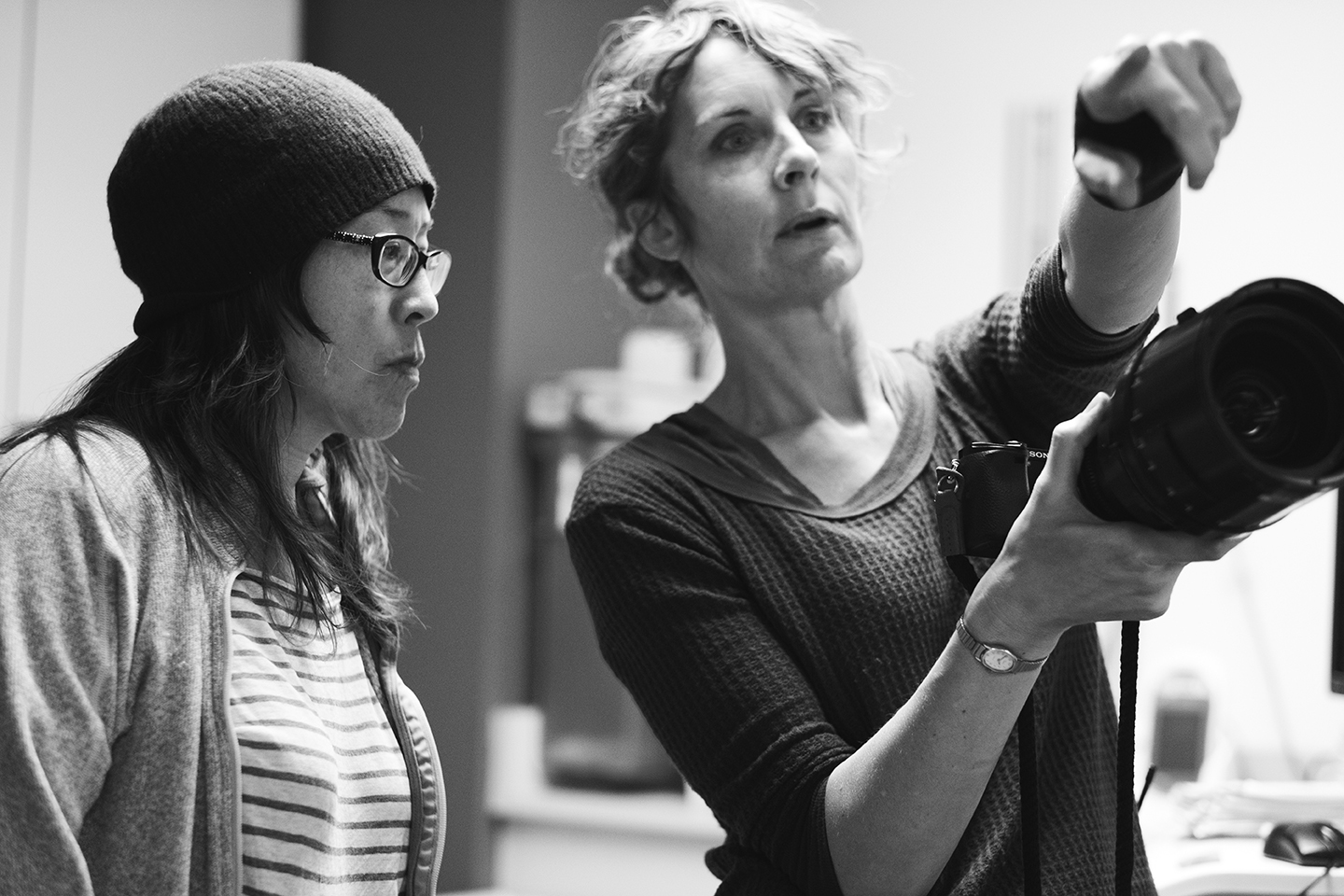 The crime thriller Destroyer is an ambitious and complex combination of character study, action film and morality play in which the visuals are linked inextricably to the point of view of protagonist Erin Bell (Nicole Kidman) — a cop with a dark past as an undercover agent involved in a sting operation went very, very wrong. Bell is haunted by guilt and loss when her old nemesis Silas (Toby Kebbell) resurfaces. This gives Bell a shot at redemption as she becomes determined to find him and right the wrongs of her violent past.
Taking their cues from such thrillers and Los Angeles-set stories of the 1970s as The Conversation and The Long Goodbye, director Karyn Kusama and cinematographer Julie Kirkwood create a riveting study of a woman in torment that is also a kinetic suspense film and a great portrait of a city in all its vibrancy and diversity.
"The combination of Karyn, the script and Nicole Kidman as Erin was a dream project for me."
American Cinematographer spoke with Kirkwood about her collaboration with Kusama, shooting the project and how she created this unique sense of "sunlit noir."
American Cinematographer: How did Destroyer first come to you, and what were your initial conversations with Karyn Kusama like?
Julie Kirkwood: I first met Karyn when she was putting together another project a few years ago. I had been a fan of her films for years and was excited about working with her, but, unfortunately, the timing didn't work out. When the financing came through for that project, I was away shooting another one. We kept in touch, and a few years later she sent me the script for Destroyer, and there was just no question in my mind. The combination of Karyn, the script and Nicole Kidman as Erin was a dream project for me.
Karyn and I are both obsessed with American films of the late '60s and early '70s. We talked about Klute, Rosemary's Baby, The Conversation, The Parallax View and The Long Goodbye. We're both collectors of still photography books, so there were a lot of books passed back and forth. I introduced her to the work of Jim Goldberg and his books Raised by Wolves and Rich and Poor. Raised by Wolves became a reference for lighting, makeup and production design. She introduced me to the work of Hannah Starkey and many others. We were sharing images all the way through prep and production. There's a book called Drive by a photographer named Andrew Bush. He took candid photos of people driving around Los Angeles freeways with, I believe, a flash on the outside of his car and a tripod in the passenger seat. When Karyn and I separately referenced that book, I knew we were on the same page.
I remember at our first meeting [as I was] looking at Karyn's first look book for Destroyer, there was a page that really stood out. It said,"Hell can be feminine." I think that's a great summary of what we were going for. Not that Erin wears frilly pink dresses in the film — not that stereotypical version of femininity — but that there is a female anger, rage and shame that we haven't seen in this genre in this way.
The movie has a very interesting visual style, a kind of "sunlit noir" look. Where did that idea come from, and what were you trying to convey about the characters and this world by shooting that way?
Erin Bell's life is not a "beautiful sunset" kind of life. She lives in the extremes, and that's the most interesting kind of story to shoot. I've done films where I've gone extremely dark, but a lot of Destroyer takes place during the day, and I wanted to continue to work at the edges of "acceptable" brightness in both the shadows and the highlights. Los Angeles lends itself to that because of its harsh desert sunlight. I wanted to accentuate the idea that it takes your eyes a moment to adjust when entering a dark space or when stepping out into the blinding sunlight. I like that kind of visual transition between all of the places Erin Bell visits as she searches for Silas. One scene that comes to mind is when she visits Toby [played by James Jordan] at his mom's house. He's in a hospital bed in his mother's living room and you can barely see a thing at first. The house feels like a dark desert space that's trying to stay cool in the heat. At first the only light inside is the television and the little bit of sunlight that peeks through the curtains. The scene preceding it shows Erin sitting in the blinding sun with the Santa Ana winds we created to move the trees. We connected this to the past in the scene featuring the desert house that the gang lived in. It was sun-drenched, bleak and hot outside and like a dark cave inside where our group of criminals hid and partied.
"We shot Destroyer with Panavision Primo spherical lenses and a 2.40:1 aspect ratio because, while it is an intimate story, we also wanted to give a weight to Erin's life and
make it feel cinematic."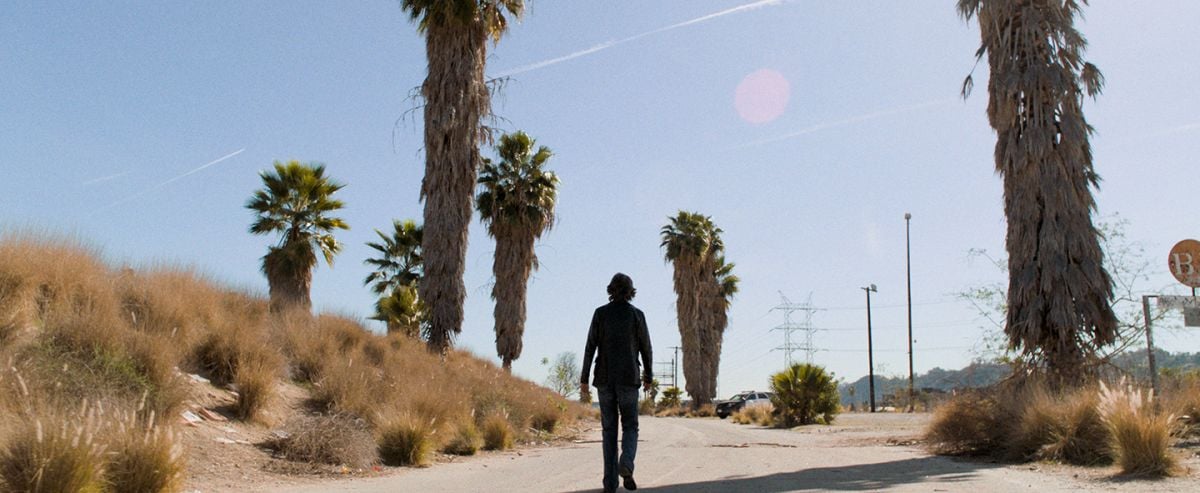 How did you choose the aspect ratio, and how precisely were the compositions planned out ahead of time — did you storyboard?

We shot Destroyer with Panavision Primo spherical lenses and a 2.40:1 aspect ratio because, while it is an intimate story, we also wanted to give a weight to Erin's life and make it feel cinematic. The only sections of the film that were storyboarded were the action sequences. During prep, we spent several hours walking through the bank heist at the location with key crew members: the writers, Phil Hay and Matt Manfredi, our art department and our stunt coordinator — everyone was playing a different character. I took stills to determine the most interesting angles, and then Karyn and I worked with our storyboard artist, Robin Richesson, to refine the sequence.
What considerations went into deciding to shoot digitally?
We briefly considered shooting on film, but when we got the budget numbers back, itcame down to the question: Would you rather put money into film stock and processingor have extra days on the shooting schedule? We wanted as much time as possible forKaryn and the actors on set because we knew the film would live or die based on the performances. Once we decided to go digital, I knew it would be the Arri Alexa Mini. I've been using the Alexa for several years now, and I like the way it handles extreme highlights and skin tones. I also knew I would spend a fair amount of time with Nicole in a car driving around L.A., so I needed a small camera body that would give me as many options as possible for camera positions. We also had one day with a Phantom for our 1,000 fps shots of skateboarders that bookend the movie.
What did your lens package consist of?
I used Panavision Primos that were de-tuned at Panavision Hollywood by Guy McVicker, [Camera Service Manager]. I wanted the quality, flares and bokeh of the Primos, but I wanted to take the edge off of the sharpness. I think sharpness has gone a little too far at this point with higher and higher resolution cameras, so I like to bring it down a notch with older or de-tuned lenses. We showed many of our characters as they changed over the span of 17 years, so the de-tuning also helped out the makeup and prosthetics.
What did your lighting package consist of? It looked like the entire film was shot on location — if so, how did that impact your approach to the lighting?
Yes, the entire film was shot on practical locations — more than 38 of them. We were constantly on the move, so we had to be pretty agile. If you have the right location at the right time of day, you can walk in the door and film a scene. Sometimes that was possible, but it was rare. Unfortunately, Nicole had the flu when it came time to shoot our first big bank robbery. Our schedule changed to allow her time to recover, and we were shooting in the short days of winter, so half of that robbery was shot at night. With 270 degrees of floor-to-ceiling windows, and a scene that required looking in every direction, my gaffer Cody Jacobs ordered seven 18K Arrimax lights, two Arri M90s and two Arri M40s along with a second generator and a substantial amount of cable so it could all be up and running at the same time. Robert Exner, our key grip, worked with Cody to match the look of the bank during the day with large bounces and diffusion.
Cody Jacobs adds these details:
"To approximate the look of the natural light at the location, we had three 18Ks pushing through 20' x 20' Light Grids along one wall of windows that never received direct sunlight. Along the other wall of windows, we positioned three 20' x 20' Ultrabounces with 18Ks bouncing into them and an additional 18K and two M90s on Avenger stands that were used to mimic the look of the hard sunlight that comes through those windows during the day. The 20' x 20's were used to create a little bit of that daylight ambiance that we lost once the sun set as well as provide white surfaces the camera could look out onto when we saw the window itself. That way we could fake time of day a bit better and justify the white as overexposure. For the most part, inside the bank, we could let the large sources from outside light things and simply bring in a unit or two for edge lights or to help wrap the key as needed, which kept the floor clear for actors and the numerous practical effects that had to take place."
Did you use any filtration?
I actually never use filtration other than NDs and Polas — I just build diffusion into the lenses by de-tuning them or using older lenses to soften the image.
"Karyn and I decided not to give the flashbacks a separate look. We wanted to feel like they were memories that were intruding on Erin's daily life. Things she experiences in the present take her mind back to the past, as if she's daydreaming."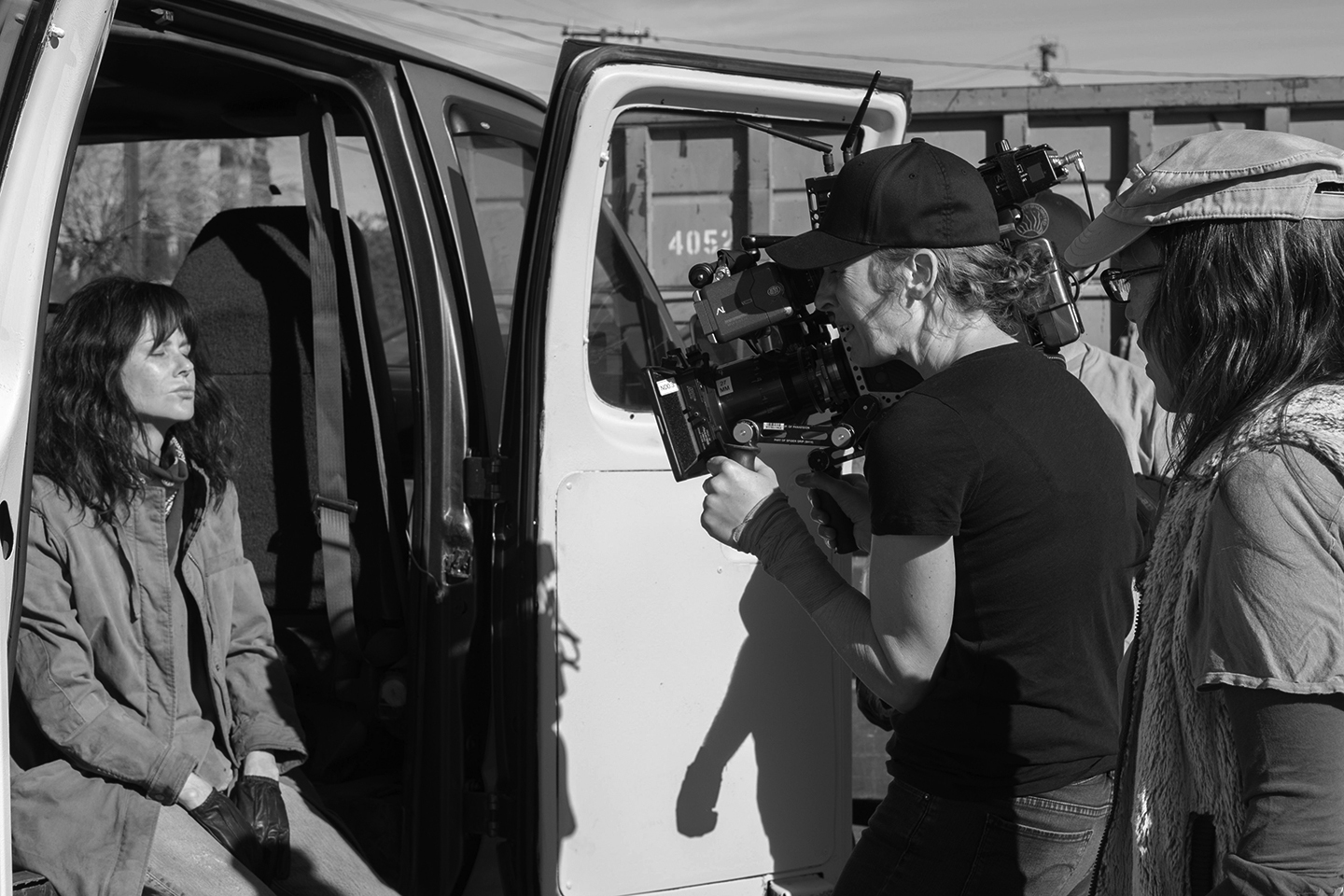 What were the biggest challenges on the film?

During our shoot we had a real struggle with California weather. On day one we had insane winds and huge fires throughout Los Angeles. The wind changed our lighting plans for about a week, as we couldn't put lights on top of buildings or use large bounces or diffusion outside. The fires disrupted our schedule as one of the neighborhoods we were shooting in was evacuated due to bad air quality. At the end of the shoot, the plan was to take a splinter unit to shoot the snow scenes wherever we could find snow within a few hours of L.A. Unfortunately, there was none. It was so warm and dry that even the ski resorts that would normally make snow were not [artificially] making it. So we had to create our snow area in Griffith Park. If you looked to the right or left of our wide shot, you would see dirt and palm trees.
I think the grip, electric and camera departments would all agree that the most difficult part of the film to shoot was the night chase sequence following Erin and Arturo from a church into Elysian Park. We shot the entire chase over one and a half nights in a fairly restrictive neighborhood. Cody, Robert and I tried to keep the lighting simple as we were lighting everything from Sunset Blvd to a steep residential street, an alley between homes, a park area and through an intense incline up a wooded hill overlooking Dodger Stadium and downtown. The whole crew had to move quickly as we first shot the stunt people and actors running the hills and finished with a dialogue scene at the top.
More from Cody Jacobs:
"To complicate matters, on the first night, we had to do a location move from a warehouse where we were using multiple large sources to balance to the existing daylight outside. This meant that we had to coordinate the logistics of our rigging crew pre-lighting and cabling the night exterior on the day of shooting due to location restrictions, as well as moving the first unit fast enough at the day interior location in order to have the truck and equipment ready to be packed and moved at lunch. Because we knew that Nicole Kidman and Zach Villa would be moving through these spaces rather quickly, and in order to maintain as much naturalism in the look as possible, we opted to keep things fairly simple on the lighting end. We were able to gain roof access to a number of buildings where we positioned several Arri SkyPanel S60-Cs that could be controlled remotely and easily matched to the color of the existing streetlight fixtures. In addition, we had several S60s on the ground that we could place in the distance and run off small putt-putts as needed for backgrounds or when the chase extended beyond the street where we had roof access. On top of that, at one end of the block, we had an 80' Condor with six Cineo C80 fixtures that were positioned to look like a bright sodium streetlight that could help to separate and silhouette the actors when we looked that direction.
On the second night, while we were shooting in the residential part of the neighborhood, we did a lot more of the same — utilizing SkyPanels and Cineo C80s on large crank stands to mimic and augment existing sodium streetlights. When the chase transitions into the wooded area around Elysian Park, we decided to place a 9 Light BeeBee — nine 6K HMI fixtures on a remote controlled, truck mounted condor — several hundred yards away as a heavy back and side light. We justified the motivation for this as the far-off lights at Dodgers Stadium, which are revealed at the end of the scene. This approach had the benefit of being extremely flexible on the day as well as giving us the opportunity to light large areas of the park at once with very minimal time lost to setting units and running cable."
What was your approach to shooting the different time frames?
Karyn and I decided not to give the flashbacks a separate look. We wanted to feel like they were memories that were intruding on Erin's daily life. Things she experiences in the present take her mind back to the past, as if she's daydreaming. The goal was that the audience wouldn't know they were seeing a flashback until they saw Nicole's face. The only time we made a point to differentiate the shooting style was in the two bankrobbery scenes. The present-day robbery — the first one the audience sees — needed to have a sense of urgency. Erin is taken by surprise and just reacts. This is the moment she's been waiting 17 years for, to finally get Silas. We storyboarded and shot it to have arealistic and shocking feel and not to glamorize the violence. Erin's life has been dramatically affected by violence in many ways, so it's definitely not a movie that romanticizes it.
There's a flashback to a bank robbery in the past, and we didn't want to shoot it in the same way. It's an unusual case of a flashback to something our main character didn't witness directly. Our idea was to see it only through security video that Erin would have seen after the robbery, and more surreal, expressionistic images as if that's how Erin imagines it in the present. We show it in pieces, rather than cut together as a standard action scene.
Where was the post work done?
The color grading was done at Light Iron with Ian Vertovec. Mainly, Ian and I worked on finding the limits of how far we could push the highlights. I shot them on the high end but knew that I would fine tune it with Ian. Sometimes I wish we had taken it even further!