Image Makers: Documenting Hollywood's Early Masters of Light

This new feature doc chronicles the life and times of key contributors to the creation of motion-picture storytelling.
Naomi Pfefferman Magid
This new feature doc chronicles the life and times of key contributors to the creation of motion-picture storytelling.
As detailed in the new documentary Image Makers: The Adventures of America's Pioneer Cinematographers, director of photography Billy Bitzer was faced with a seemingly insurmountable obstacle on the set of the classic 1916 silent epic Intolerance.
The film's director, D.W. Griffith – with whom Bitzer would go on to forge a longtime collaboration – wanted a nighttime shot of the movie's epic battle scene between the ancient Persians and Assyrians. Up until then, nocturnal sequences were traditionally photographed during the daytime, with a darker print and blue tint added later to feign darkness. Also, there literally wasn't enough electricity on the set to light the vast, ornate towers and streets of the fictional Babylon.
But Bitzer remained unfazed. He called on Hollywood pyrotechnics expert "Fireworks" Wilson to gather all of the three-minute magnesium flare torches he could find. Wilson then spent most of one afternoon climbing over the set's walls — even though he was missing an arm — situating the flares in improvised holders that Bitzer had placed to hide them from the cameras. Extras also were assigned to carry flares during the shoot.
The result was one of the most memorable scenes in silent cinema: Flames appear to blaze from the smoky towers of the cinematic Babylon:
This story is just one of numerous anecdotes featured in Image Makers, directed by Daniel Raim and presented by Turner Classic Movies (TCM) timed to the network's celebration of the 100th anniversary of the American Society of Cinematographers.
The documentary premieres on TCM today, Nov. 6, and will run on subsequent dates throughout the month (see complete schedule below). It also will screen on November 15 at the Camerimage International Film Festival of the Art of Cinematography in Torun, Poland.
Image Makers — shot by Norwegian director of photography Aasulv Wolf Austed, FNF — primarily focuses on seven groundbreaking cinematographers, including ASC members Gregg Toland, who filmed Citizen Kane; Roland Totheroh, who shot 36 movies for Charlie Chaplin, using mostly wide-angle lenses and long shots to capture the actor's athletic comedy; Charles G. Rosher, the personal cinematographer for actress-producer-studio head Mary Pickford; William H. Daniels, who lit "Swedish Siren" Greta Garbo in such a way to enhance her mysterious allure; and Chinese immigrant James Wong Howe, who braved racial prejudice even as he forged an esteemed reputation shooting films such as The Thin Man (1934) and Hud (1963).
The documentary also covers the founding of the ASC in 1919, as hand-cranking camera visionaries came together to socialize and exchange ideas.

But the advent of sound films — notably with the release of The Jazz Singer (1927) — was the death knell for silent pictures. And soon there was fear among many directors of photography: Where would they place the camera so the whirring of their machine didn't interfere with recording the dialogue?
One answer was to enclose the cinematographer and camera in a sound-proof booth. "That inhibited the kind of achievement that had been made during the silent era, when cameras were fluid," says Curtis Clark, ASC, who produced the documentary along with Raim. "Cameras were restricted in mobility by encasing them, almost putting them in tombs… so it didn't interfere with the sync sound."
Clark, an officer of the Society, co-founded the ASC Motion Imaging Technology Council (MITC) in 2002.
Karl Struss, ASC came up with a "sound" solution by the time he shot Dr. Jekyll and Mr. Hyde (1931): He placed his camera inside special housings — "blimps" — that blunted the noise. His roving camera then was able to capture such images as a chase sequence involving Hyde on London streets as well as evocative subjective shots for the characters.
While the 1994 documentary Visions of Light: The Art of Cinematography spotlights contemporary directors of photography discussing their work and paying homage to their pioneering predecessors, Raim sought a different approach for Image Makers. "I wanted to focus on how films were dramatized and lit by these early cameramen, and how they invented the art form," he explains. "I wanted to bring to life these people who pioneered the same art form that is now the biggest global cultural medium of our time."
According to Clark, "A key thing our film does is show the personalities of these early cinematographers and the determination they had to use their own innovations to achieve artistic results."

Raim, 45, an Israeli-born American director, came to filmmaking during his service in the Israel Defense Forces' documentary unit, for which he photographed civilians living in war zones, among other assignments.
While attending the American Film Institute in Los Angeles in the late 1990s, Raim bonded with Robert Boyle, then 90, Alfred Hitchcock's longtime production designer. "From [Boyle], I learned about the master craftspeople who were artists in their own right – and whose stories deserved to be told as much as those of actors or directors," Raim says.
Raim eventually profiled Boyle in a 2000 short film The Man on Lincoln's Nose, which earned an Academy Award nomination for Best Documentary Short.
Raim's fascination with cinema's unsung heroes working behind the scenes led him to make his 2015 documentary Harold and Lillian: A Hollywood Love Story; the feature-length movie spotlights famed storyboard artist Harold Michelson and his wife, Lillian, a film researcher, who worked on hundreds of movies during Hollywood's golden age (including Cecil B. DeMille's The Ten Commandments and Hitchcock's The Birds).
Image Makers came about due to Raim's "desire to better understand the contributions of the earliest cinematographers," he explains. But how did he select the subjects to profile? Raim said he decided to focus on individuals for whom ample archival material existed.
The ASC's archive of audio interviews with directors of photography proved crucial, as did permission to film subjects in the evocative milieu of the ASC's Clubhouse in Hollywood. James Wong Howe's home movies, donated to the Academy of Motion Picture Arts and Sciences' archive, also helped bring to light the personal and professional story of one of Hollywood's greatest cinematographers.
Raim's on-camera interviews include award-winning cinematographer and longtime AC blogger John Bailey, ASC; author and critic Leonard Maltin — whose 1978 book The Art of the Cinematographer is an exceptional resource — renown British film preservationist and historian Kevin Brownlow; and Rachel Morrison, ASC, whose camerawork in the period drama Mudbound made her the first woman to earn an Oscar nomination.

Gregg Toland's now 90-year-old daughter Lothian Toland-Skelton was interviewed next to her father's Mitchell BNC camera, with which he shot Citizen Kane and many other exceptional films. At one point, she even caresses the machine, which seems to become a spiritual embodiment of her father.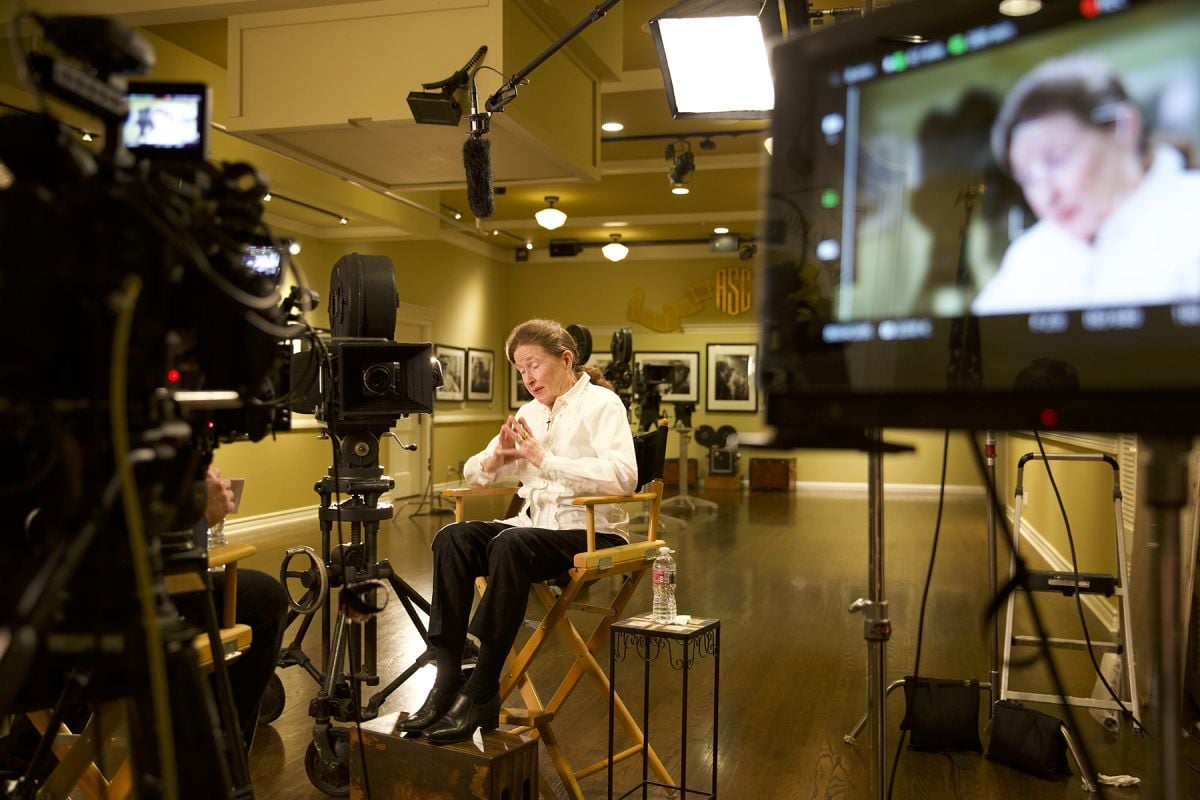 The Image Makers production took place over a six-month period starting in early 2019, employing two Canon Cinema EOS C-300 Mark II cameras – one to capture master shots and the other focused in intimate close-up with a shallow depth of field. "That way all you see are the [subjects'] faces, with the foreground and background out of focus," Raim describes. "The audience then can make very intimate connections with the characters. I didn't want them to appear just as talking heads or sound bites."

For Clark, one of the "most important things about the documentary is it shows the humanity of the people involved – and that each had to overcome certain challenges to accomplish the things that they were able to do."
Howe, for instance, was prevented by the studios from appearing in public with his wife, Sanora Babb, who was Caucasian. Before that, they were unable to marry in the U.S. due to unjust racial laws then on the books — instead tying the knot in France in 1937. Their marriage was not recognized until 1948.
In the early 1900s, with the beginning of the motion picture industry, cinematographers faced a violent obstacle. Thomas Edison's Motion Pictures Patents Company controlled everything possible to do with Edison's equipment – even the sprockets on the sides of celluloid film. "There was a very colorful period, much like the Wild West," when patent claimants fought each other – literally employed gangsters with rifles" the film's narrator, Michael McKean, describes.
Edison, for one, employed a private eye, Joseph F. "Gumshoe" McCoy, to sniff out patent irregularities on early film sets. McCoy paid thugs to infiltrate sets as extras, where they would shoot bullets at cameras perceived to violate Edison's patents. But many of the cinematographers fought back. On Western films, for example, some directors of photography hid their cameras inside wigwams or covered wagons to prevent spies from discerning the kind of equipment they were using.
"It's a little-known saga that's fairly remarkable," Clark says, "and you should imagine should only be in a movie, not in real life."
Clark hopes Image Makers will help viewers "to better understand the role that the cinematographers played in making films — and that that they were not just people who set a camera up and took directions. They in fact worked collaboratively with their directors. And they had a serious role to play in terms of fashioning and developing the vision of a film, because they were the image makers."
Image Makers premieres on TCM on Nov. 6 at 8 p.m. EST and run on various dates throughout November. Below is a complete screening schedule for the slate of 37 films TCM programmed to honor the ASC's centennial and cinematographers from around the world:
Wednesday, November 6
100th Anniversary of The American Society of Cinematographers – Day One
6:00 AM The Magnificent Ambersons (1942) Stanley Cortez, ASC
8:00 AM Casablanca (1942) Arthur Edeson, ASC
10:00 AM On the Waterfront (1954) Boris Kaufman, ASC
12:00 PM North by Northwest (1959) Robert Burks, ASC
2:30 PM The Bridge on the River Kwai (1957)
5:30 PM The Searchers (1956) Winton C. Hoch, ASC
8:00 PM The Image Makers (2019)
9:30 PM The Grapes of Wrath (1940) Gregg Toland, ASC
12:00 AM The Image Makers (2019)
1:30 AM Sunrise (1927) Charles Rosher, ASC & Karl Struss, ASC
3:15 AM Metropolis (1927) Karl Freund, ASC
Wednesday, November 13
100th Anniversary of The American Society of Cinematographers – Day Two
6:00 AM Bicycle Thieves (1948) Carlo Montuori
7:45 AM 8 ½ (1963) Gianni Di Venanzo
10:15 AM I Am Cuba (1964) Sergey Urusevsky
12:45 PM The Battle of Algiers (1966) Marcello Gatti
2:45 PM Breathless (1960) Raoul Coutard
4:30 PM The Image Makers (2019)
6:00 PM Black Narcissus (1947) Jack Cardiff, BSC
8:00 PM The Red Shoes (1948) Jack Cardiff, BSC
10:30 PM Dr. Strangelove (1964) Gilbert Taylor, BSC
12:30 AM Seven Samurai (1954) Asakazu Nakai
4:15 AM Rashomon (1950) Kazuo Miyagawa
Wednesday, November 20
100th Anniversary of The American Society of Cinematographers – Day Three
6:00 AM Doctor Zhivago (1965) Freddie Young, BSC
9:30 AM Fanny and Alexander (1982) Sven Nykvist, ASC
1:00 PM Who's Afraid of Virginia Woolf? (1966) Haskell Wexler, ASC
3:30 PM Cabaret (1972) Geoffrey Unsworth, BSC
5:30 PM Cool Hand Luke (1967) Conrad Hall, ASC
8:00 PM McCabe and Mrs. Miller (1971) Vilmos Zsigmond, ASC, HSC
10:15 PM Klute (1971) Gordon Willis, ASC
12:30 AM The Last Picture Show (1971) Robert Surtees, ASC
3:00 AM The Wild Bunch (1969) Lucien Ballard, ASC
Wednesday, November 27
100th Anniversary of The American Society of Cinematographers – Day Four
6:00 AM Three Colors: Blue (1993) Sławomir Idziak, PSC
8:00 AM Wings of Desire (1987) Henri Alekan
10:30 AM Paris, Texas (1984) Robby Müller, NSC, BVK
1:00 PM Being There (1979) Caleb Deschanel, ASC
3:30 PM Das Boot (1981) Jost Vacano, ASC
6:00 PM In the Mood for Love (2000) Christopher Doyle, HKSC & Mark Lee Ping Bin
8:00 PM Lawrence of Arabia (1962) Freddie Young, BSC
12:00 AM Citizen Kane (1941) Gregg Toland, ASC
2:15 AM The Image Makers (2019)
3:45 AM 2001: A Space Odyssey (1968) Geoffrey Unsworth, BSC