Dance partners Scott and Fran (Paul Mercurio and Tara Morice) in action.
Fancy Footwork on Strictly Ballroom
Steve Mason, ASC, ACS looks back on shooting director Baz Luhrmann' 1992 feature that would become their big break.
Tara Jenkins
When Australian cinematographer Steve Mason, ASC, ACS shot the musical romantic comedy Strictly Ballroom 30 years ago, he was one of the most experienced filmmakers on the set. With a crew whose names would be sure to herald success today, but were virtually unknown at the time, Mason photographed the picture over the course of 32 days on a tight budget. Ballroom was an immediate hit when released in Australia on August 20, 1992, becoming one of the highest-grossing domestic films of all time. The quirky independent project would soon launch the career of first-time feature director Baz Luhrmann, as well as costume and production designer Catherine Martin. For Mason, it was a turning point in his career, and he remembers today that "Strictly Ballroom really kicked me off. It brought me to America which was very exciting. It clarified a lot of things for me."
Mason knew Luhrmann well prior to this project, as the two grew up in Sydney: "I met Baz when he was 18. My father was a producer in Sydney and helped Baz, gave him a place to sleep and keys to his office at Kings Cross. During the day, people would be working there on film productions. Baz also played a role in one of my father's films, Winter of My Dreams. Baz went to NIDA [National Institute of Dramatic Art] and studied theatre directing. He loved acting and directing. Strictly Ballroom was originally a play Baz had worked on while at NIDA. Baz's parents were ballroom dancers and he grew up in that world."
Luhrmann drew from his experience in the Kings Cross area for his first collaboration with Mason — a documentary featuring both men in front of the camera and Mason directing. "We lived on the streets with children as young as 12 and did an exposé telling the stories of these runaway children" Mason explains. "Most of them had come from abusive families. It was told from the children's point of view. We did that prior to Strictly Ballroom, so Baz and I had a strong relationship. It was called Kids of the Cross [1983]. It was a special documentary that won an AFI [Australian Film Institute] Award. At the time, it was one of the most popular shows ever on Australian TV."
Several years later, Mason and Luhrmann went on to make Strictly Ballroom, and the two embarked upon a close collaboration. "Baz and I would get to set an hour early every day and walk through the scenes and talk through the story," the cinematographer remembers. "I was fortunate enough to go to acting school for some years. I really wanted to learn what the process was of acting which helped me greatly as a cinematographer. I like to know what each actor is saying in the scene and why they are saying it because it really affects the way we photograph a scene. Baz and I would get together and talk about the structure of each scene and what he wanted the scene to say."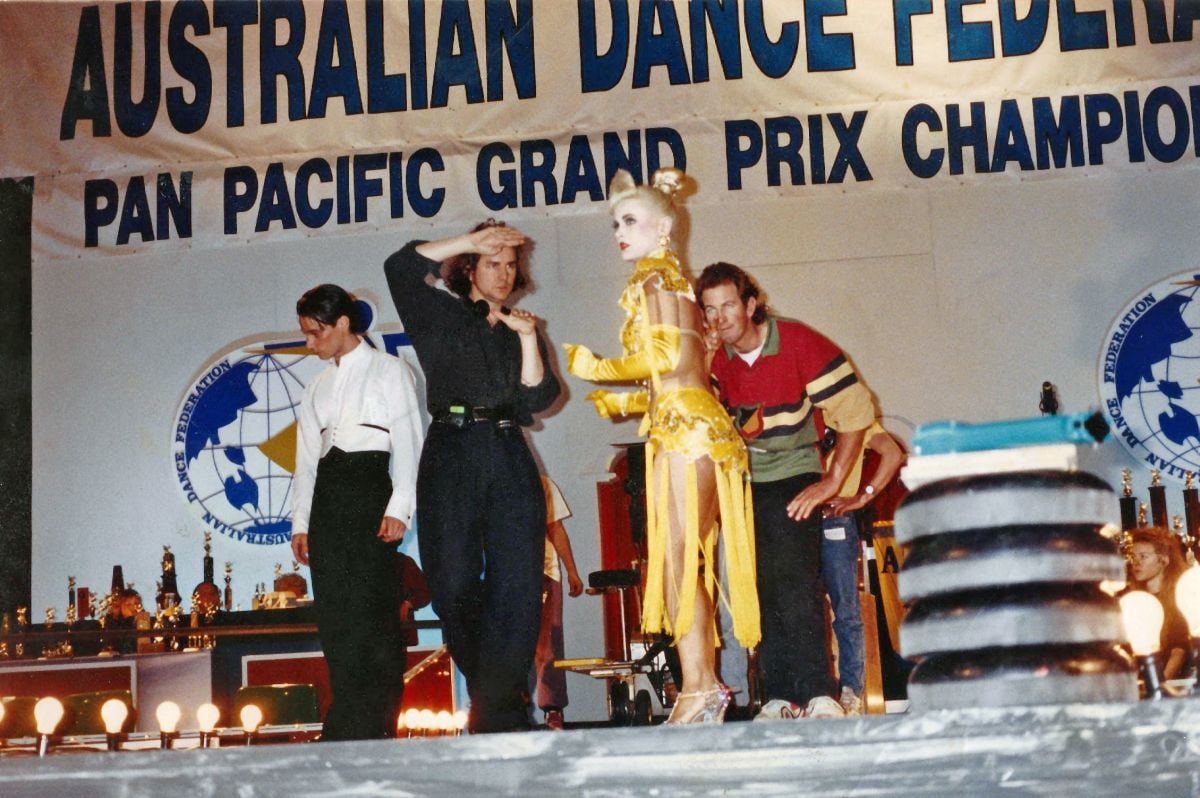 To attain the needed coverage for both emotional development and the intricate Ballroom dance numbers, production had to move quickly: "I suggested to Baz that, for the pace of film he wanted we would need a lot of coverage. We would have to do a lot of setups. We averaged 40 set ups per day. We agreed on doing just three takes per shot. It was very difficult with these complex dance moves Baz choreographed. We couldn't use Steadicam because when the dancers stopped the camera would need to come to a dead stop. With the technology at the time, the weight of a Arri BL it would have been just too unsteady and taken away from the dance and reactions of the actors."
Mason did not have extensive time or money, but he did have an exceptional crew. He solved the problem of how to cover the dance sequences by utilizing the skills of his grips. "We got a Fisher dolly and we put soft inflatable wheels on the outside so we could easily move around different dance halls on the bumpy wooden floors with an Arri geared head on a vibration isolater," he explains.
Mason leaned into creativity within constraints, utilizing what he could to create the lighting effects for the dance sequences, "We didn't have enough money to pre-light, so we had to come up with a way that was really simple," he explains. "I remember talking to John Seale [ASC, ACS] about the film and he said, 'Flare is going to be your friend.' I thought about that and I put a lot of lights on the ground. We used theatrical lights as you could see them in shot. We also played with camera speed a lot during the dance scenes."
The theatrical lights allowed Mason to flare the lens whenever he wanted. In order to emphasize the effect, he utilized a net filter that created distinct vertical flares: "I thought that it gave the image a glossy fantasy. These people were dancing to be in this glossy world when they danced because their real world was very difficult. That's how we lit it."

Looking back on the making of Strictly Ballroom, Mason is enthusiastic about what the crew achieved: "We had 32 days to shoot the film and we had a lot of locations. We had a wonderful experience doing it, which created a whole ensemble feeling and everyone felt part of it — we were all just working really hard together. We were exhausted. Baz said at the end of the shoot, 'I will never do a film at this pace again, it's too hard. And thank you. You will do my next one, thanks for your help.'"
---
Mason also recently spoke to AC about his work in the picture at the ASC Clubhouse:
Following Ballroom, Mason went on to shoot such features as Broken Highway; To Wong Foo, Thanks for Everything! Julie Newmar; That Old Feeling, Bootmen, Rollerball, Basic, Harsh Times and 13 Minutes. He won an Australian Film Institute Award as well as an Australian Cinematographers Society Award of Distinction for his work on Bootmen. His work in television includes Mad Men and Gilmore Girls: A Year in the Life.