Jody Lee Lipes on Shooting A Beautiful Day in the Neighborhood

The cinematographer discusses his visual approach, revealing a carefully designed plan to mingle Fred Rogers' imaginative realm with the project's narrative and characters.
Mark Dillon
The cinematographer discusses his visual approach to this touching drama, revealing a carefully designed plan to mingle Fred Rogers' imaginative realm with the project's narrative and characters.
Unit photography by Lacey Terrell, courtesy of Sony Pictures.
A Beautiful Day in the Neighborhood is inspired by the real-life relationship between Esquire writer Tom Junod and Fred Rogers, the iconic host of the longrunning educational program Mr. Rogers' Neighborhood. In the film — set in the late 1990s — New York journalist Lloyd Vogel (Matthew Rhys) is coming unhinged. The birth of his first child causes strains in his marriage to Andrea (Susan Kelechi Watson), and at the wedding of his sister Lorraine (Tammy Blanchard) he gets into an altercation with his father, Jerry (Chris Cooper), whom he resents for abandoning their dying mother.

Things aren't going well professionally, either, as Vogel is getting a reputation for hatchet-job articles. His editor Ellen (Christine Lahti) thinks a puff piece would be a welcome change, and assigns Vogel to fly to Pittsburgh to profile Fred Rogers (Tom Hanks). Skeptical, he is surprised to learn that Rogers' onscreen persona is genuine, and further taken aback by his subject's genuine interest in him. The TV host begins to exert a positive influence on Vogel's relationship with his father and on his outlook in general.

The drama is director Marielle Heller's follow-up to her Oscar-nominated drama Can You Ever Forgive Me? (2018) and marks her first time working with director of photography Jody Lee Lipes (Manchester by the Sea, Martha Marcy May Marlene), although the two had long been friends. Following the movie's premiere at the Toronto International Film Festival, the Brooklyn-based Lipes spoke with AC about how they finally came to collaborate, recreating the look of a show etched in the minds of millions of viewers, and working in the world of miniatures.

"Mari is very collaborative yet leaves a lot of room for the people she's working with to do their thing."
American Cinematographer: How did you end up working with Marielle Heller?

Jody Lee Lipes: Mari and I met at the Sundance Institute Directors Lab years ago and became good friends. I also know her husband, Jorma Taccone, because we both worked on the first season of HBO's Girls. He was acting and I was the DOP and directed some episodes. Mari and I both went to Sundance as directors, so I think out of respect for that she avoided asking me to work with her as DOP. We were just friends separate from work. Then my agents told me about this script and that her [usual] DOP Brandon Trost [who shot Can You Ever Forgive Me?] was busy directing his own movie. So I asked Mari if I could read it. I did, and it was one of those moments of feeling like you just had to be part of something. There was something about the family dynamic — being a young father at the time and balancing work and home life — and anger at your parents. All these things felt very personal to me, as they would to a lot of people. I really wanted to do it and Mari was interested in working together, so we started talking.

How did it work on the set between the two of you?

It was a unique relationship in that Mari is very collaborative yet leaves a lot of room for the people she's working with to do their thing. She knows when to step back and when to get involved. I could feel right away this was going to be a functional, productive and healthy relationship.

With this movie and the 2018 documentary Won't You Be My Neighbor?, the late Mr. Rogers is having a moment. Why do you think that is?

What people have been saying — and it's implied in the documentary — is that it's a time when people need something positive, a time when they need to look to media and not be overwhelmed by how negative things are.

You shot most of the film in Pittsburgh, where Mr. Rogers lived and worked. Was that for veracity?

We were initially planning to shoot in New York. The majority of the story takes place there as well, but it became too difficult financially. Pittsburgh turned out to be a blessing. We found better 1990s New York locations in Pittsburgh than we could have in New York. We would find a spot and say, "This looks like how Tribeca used to look," as there's nowhere in Tribeca that looks like that anymore. Also, we got to shoot in the actual WQED studio where Fred's show was made, and at one of the pools where he swam. There were several locations that were true to life, which was great.

You shot mostly at 1.85:1, but the Mr. Rogers' Neighborhood sequences are framed in 1.33:1, like the original show. What did you and Marielle initially discuss in terms of visuals?

We talked about whether we were going to treat it as a period film in the photography. Were we going to play up the age of the story, which is about 20 years ago? Was there a way for us to shoot the whole movie on a video format evocative of that time and/or of Mr. Rogers' Neighborhood? Would that be too distracting, or would that help transport the viewer to that time? We ultimately decided to recreate the show Mr. Rogers' Neighborhood as precisely as possible, and distinguish the show's aesthetic from the look of Lloyd's world. However, the show becomes a part of Lloyd's life and reshapes how he sees the world. So we asked ourselves, when does the show's aesthetic spill over into the look of Lloyd's world? How do we show Fred seeping into Lloyd's subconscious?

"Since we were working at the TV studio WQED in Pittsburgh, we were able to connect to people who actually worked on the show. That's how we started to understand the technology they used."
Mr. Rogers' Neighborhood aired until 2001. Did you use vintage cameras for the show sequences?

We used the PAL Ikegami 323s to capture in-studio material of Mr. Roger's Neighborhood. The model number is slightly different than what was used to shoot the actual program, but they were almost identical visually. We used the NTSC Ikegami HL-79Es for replicating the show's fieldwork, such as for the "Picture Picture" segment [in which Fred would screen a short film] or anytime they shot outside the studio. We made our own "Picture Picture" film about the printing of a magazine. Sam Ellison, our A-camera operator, shot all of that stuff with his own crew. We also used the NTSC HL-79E for a scene in which Fred is in a New York theater shooting a segment with a string quartet. At first we're inside the show, seeing it through that camera, and then we switch to the Arri Alexa Mini and we are in Lloyd's world as he visits the location and we see the quartet footage being captured on the monitors Fred's crew are using as they shoot.

How did you figure out they used Ikegami cameras, and where did you find them?

Since we were working at the TV studio WQED in Pittsburgh, we were able to connect to people who actually worked on the show. That's how we started to understand the technology they used, which many video engineers told us couldn't be right, because it was so outdated even at the time Mr. Rogers' Neighborhood was in production. We also used some of the actual operators from the show. We got the HK 323s from Golden Age Television Recreations in the U.K. They had PAL camera bodies, so those guys became our PAL body techs. They were incredible. Those were the only functional 323 cameras we could find anywhere, and they brought four. They also supplied us with a PAL HL-79E to cut with the PAL studio cameras for one particular sequence where we used a handheld subjective camera within the show. The NTSC Ikegami HL-79E field cameras came from the Museum of Broadcast Technology in Rhode Island.

Why did you choose the Alexa Mini as the movie's main camera?

We were planning to shoot the rest of the movie on film, but we were not given permission. So we wanted a digital option that didn't feel too crisp and clean and removed from the video cameras we were using for the show. We tested the Arri Alexa 65 with different lenses, including DNA lenses, but it felt too modern. Then we tested the Alexa Mini in Super 16 mode, and it felt just soft and pre-HD enough and more like film. At the time, Super 16 Mode on the Alexa captured between 720p and 1080p in the ProRes format and then did an up-res to 1080p. The other thing we liked about it was deeper depth of field. I've relied on shallow depth of field as a crutch for a long time. It lets you get away with a lot. It's easier to make things look beautiful and compose the shot when so much of it is out of focus. So I was attracted to the idea that, as with Super 16 film, the Alexa Super 16 mode would force us into a deeper depth of field using a small part of the sensor. I also closed the lens down to at least T2.8 so the depth of field was wider than what I'm used to. We only broke that T stop rule during one sequence in the film, Lloyd's dream sequence.

What kind of lenses did you use with the Alexa Mini?

We used 35mm Arri/Zeiss Master Primes and the Angénieux Optimo 24-290. We tested many lenses and it was always a balancing act of what is soft and what looks out of focus. When you shoot in Super 16 mode and you're using the lower-res image, you're basically shrinking the sensor and zooming in on it a lot. So if there's any distortion or a slight softness it's amplified. We countered that inherent softness with the cleaner 35mm Master Primes and closed them down to sharpen the image further. It was about finding a softness that wasn't distracting, and close enough to the Ikegami format.

Long zooms are a part of the movie's language.

Zooms were a big part of the TV show Mr. Rogers' Neighborhood. As Fred's world starts to affect Lloyd, I tried to incorporate visual elements from the show into Lloyd's world to make the audience feel that change. The cinematic language starts to blend together the two different worlds. The first time we integrate a zoom is the scene immediately following Lloyd's first phone call with Fred. An overhead shot of Lloyd lying in bed, the camera zooming. It feels like Fred is in Lloyd's head. The second time we use the zoom is after Lloyd's first interview with Fred, in WQED while Lloyd is watching Fred puppeteer from behind the set of the Land of Make-Believe. We zoom into Fred operating the puppets from Lloyd's perspective and then there's a reverse zoom on Lloyd watching Fred. The TV show scene Fred is puppeteering is really about Lloyd, and his anger issues. Fred is really talking to Lloyd through the puppet Daniel Tiger, and it's like the show is getting into Lloyd's subconscious for the first time. So by using the camera language of the show, the audience and Lloyd's character feel more like they are in the show, experiencing the rules and the morality of the show. It's a small, subconscious thing that makes the viewer think a bit more about what's going on during this moment of change for Lloyd.

How did you light the Mr. Rogers' Neighborhood set?

That was done by Frank Warninsky, the show's actual lighting director. The film's gaffer, Ross Dunkerley, and I gave him the freedom to light the Mr. Rogers' Neighborhood main set and the Neighborhood of Make-Believe. He used a very different style than what I would normally do — very broad, hard, and flat. It required a lot of light and the shape is different than what I'm used to, because the sensitivity of the cameras is so different. They suck up so much light, so when you'd walk into the room it would be like "Whoa!" It felt so over-lit, but it looks like the show did. The real challenge was capturing that environment with the Alexa, when we are behind the scenes with Lloyd, and finding ways to frame it so it wasn't all overlit feeling.

What kind of lights did he use?

Various tungsten sources that would have been hanging in the room back then: scoops, 1K and 2K Fresnels, Tweenies. Run-of-the-mill small tungsten stuff. We used a couple of LEDs for lighting a small part of the cyc on the stage when we are outside of the show, shooting Lloyd visiting the set. But we never used LED lighting inside the show. We didn't break any rules about the way that it looks.
"The first version of the script I read had miniatures in it. Mari and I talked a lot about how to integrate them into the film so they wouldn't be just add-ons or interstitial moments."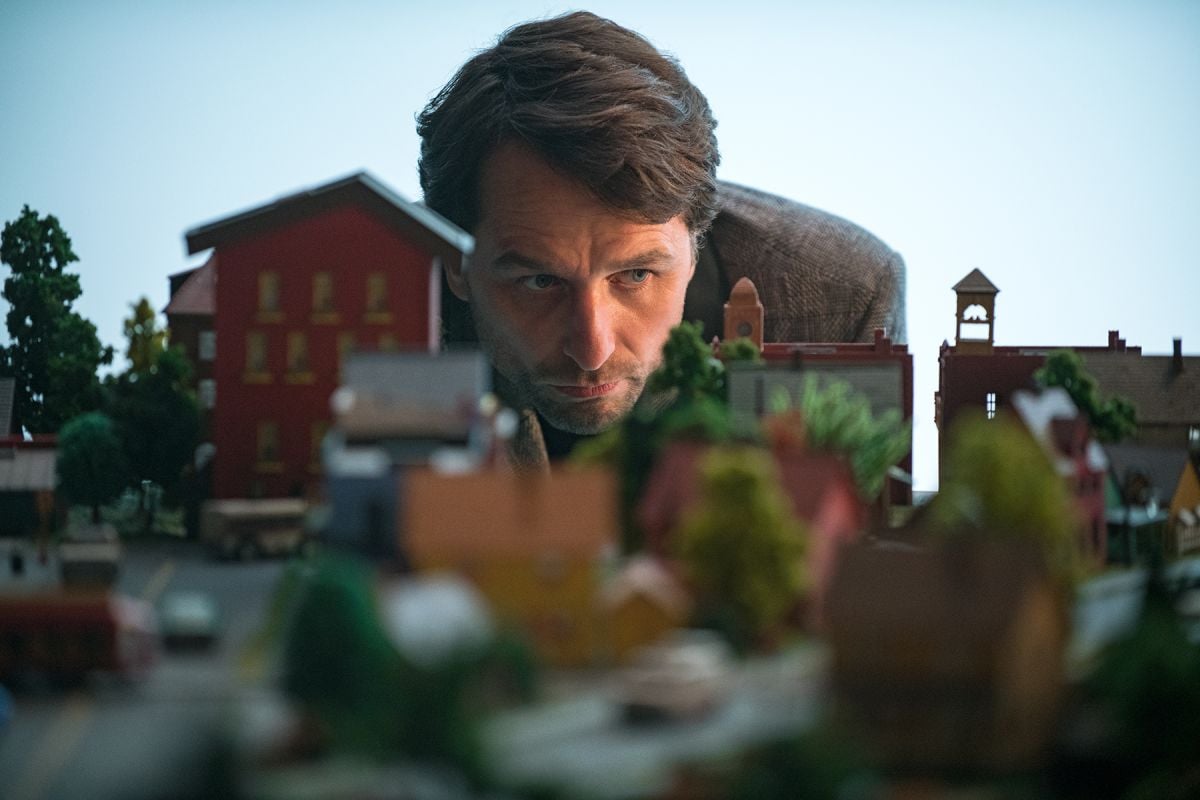 Not only do you recreate the style of Mr. Rogers' Neighborhood, but you also use miniatures in the way the show did to link dramatic scenes. For example, when a character gets on a plane, you show a miniature plane moving in the tabletop environment rather than a real plane. How did this idea evolve?

The first version of the script I read had miniatures in it. Mari and I talked a lot about how to integrate them into the film so they wouldn't be just add-ons or interstitial moments, but rather they should mean something and be attached to scenes of the TV show or to the dream sequence in which Lloyd confuses reality and the show and conflates the two. We thought we should use the miniatures when we're in the grammar of the show already, whether that be for a plane taking off or an establishing shot of a building. We tried to create an overall logic to the use of miniatures, but ultimately in the edit, things change because there are so many new factors that arise as the film is shaped. So, it's a little random when we are in miniature, and when we aren't in those in-between moments.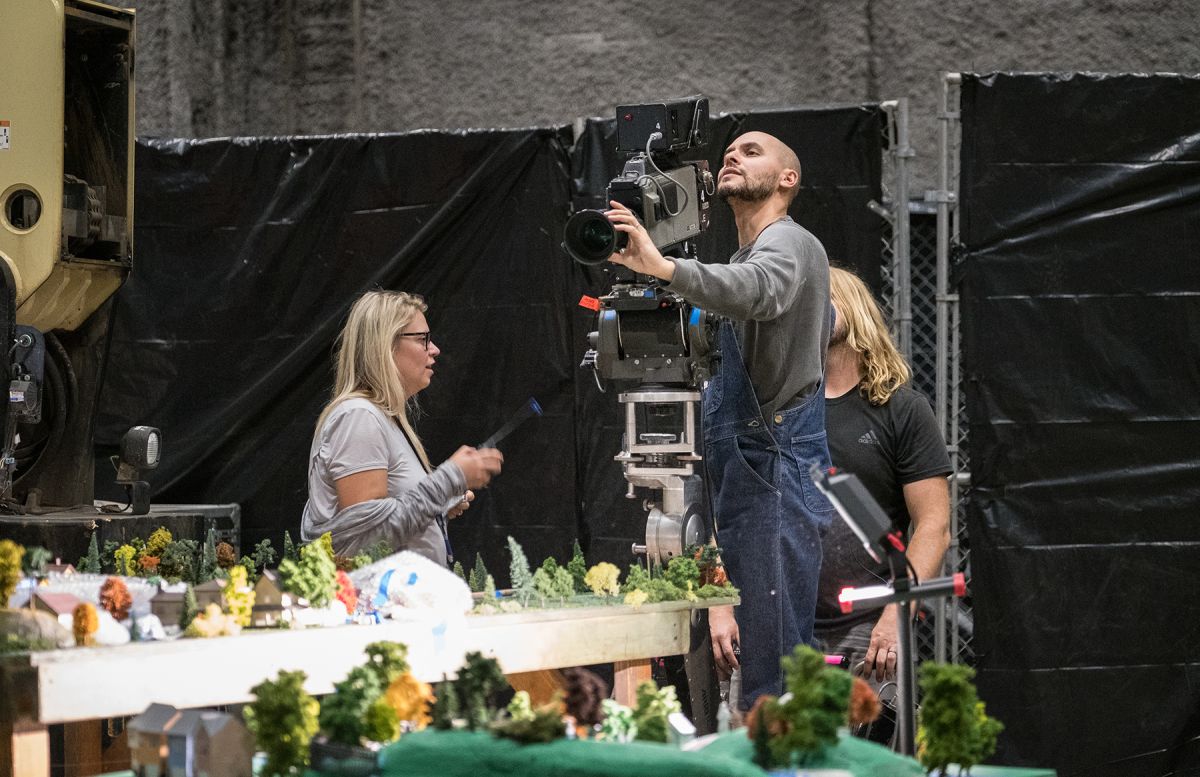 The scope of the miniatures is far more expansive than what they had on the show. At the beginning of the film, as we move from the world of the show to Lloyd's world, you track all the way from Pittsburgh to New York!
We decided to do that all in one shot so it felt like we were pulling out exactly the way they did on the show, where you would see Mr. Rogers' house and neighborhood, but then if we'd boom up the camera a little, there's Pittsburgh over the hill. It feels like it was really there all those years, you just never had the vantage point to see all of it. It's a more vast miniature for our film but it always feels situated within the show. Then we pan across a bunch of land so it feels like we're moving away from Pittsburgh, we land on Manhattan, push in and it goes from day to night, and then we [transition to the real world] and meet Lloyd. We used the smaller HL-79E for all the miniatures so we could have the camera on a crane.
Did you incorporate any other techniques to replicate the look of the show?

They did some greenscreen and low-budget visual effects that were very hand-crafted on Mr. Rogers' Neighborhood. You can see a green line around people and it looks chroma-keyed. So we approached any kind of work we needed to do the same way, like when Lloyd becomes puppet-sized in the Neighborhood of Make-Believe in his dream sequence. I looked at old episodes and showed those references to Mari and the VFX department and we decided to let the visual effects be hand-done and visible — no need for them to be flawless and perfect. For that reason, we shot all the greenscreen work of Lloyd puppet-sized with the Ikegami, rather than going to a higher-end format for the ease of seamless VFX.
What was the overall breakdown among crane, dolly, and Steadicam work?
We did five or six Steadicam setups, such as the scene in which Lloyd arrives to meet Fred and enters the stage for the first time. There really wasn't any other way of achieving that. For the most part we were either on sticks or doing subtle dolly moves. We used telescoping cranes occasionally to get fixed positions. The most obvious crane sequence — and one I thought should be a single shot from the beginning — is the final shot of the film, that shows Fred transition from performing in front of the cameras to leaving the stage to watching playback to sitting down at the piano as the crew leaves the stage and all the lights turn off and then he's left banging on the piano, alone with his thoughts.
The movie is very much about Fred Rogers' philosophy of being kind to one another. Did that sentiment carry over into the production?
Mari and the producers wanted to honor what Fred was all about during the process and incorporate his standards into the making of the film. It was important to us and it felt like it was important to the people of Pittsburgh too. He's a big part of that city, and you could walk up to anybody on the street, and either they or somebody close to them had met him. A driver bringing me to the airport told me he was a groundskeeper at a golf course and had met Fred walking alone on the golf course one night, and they ended up walking together every other night. Fred even met and befriended his young son. Those were the kinds of stories you would hear all the time. It was impossible to tell this story without being changed by it yourself, and that's what made it such a special experience.