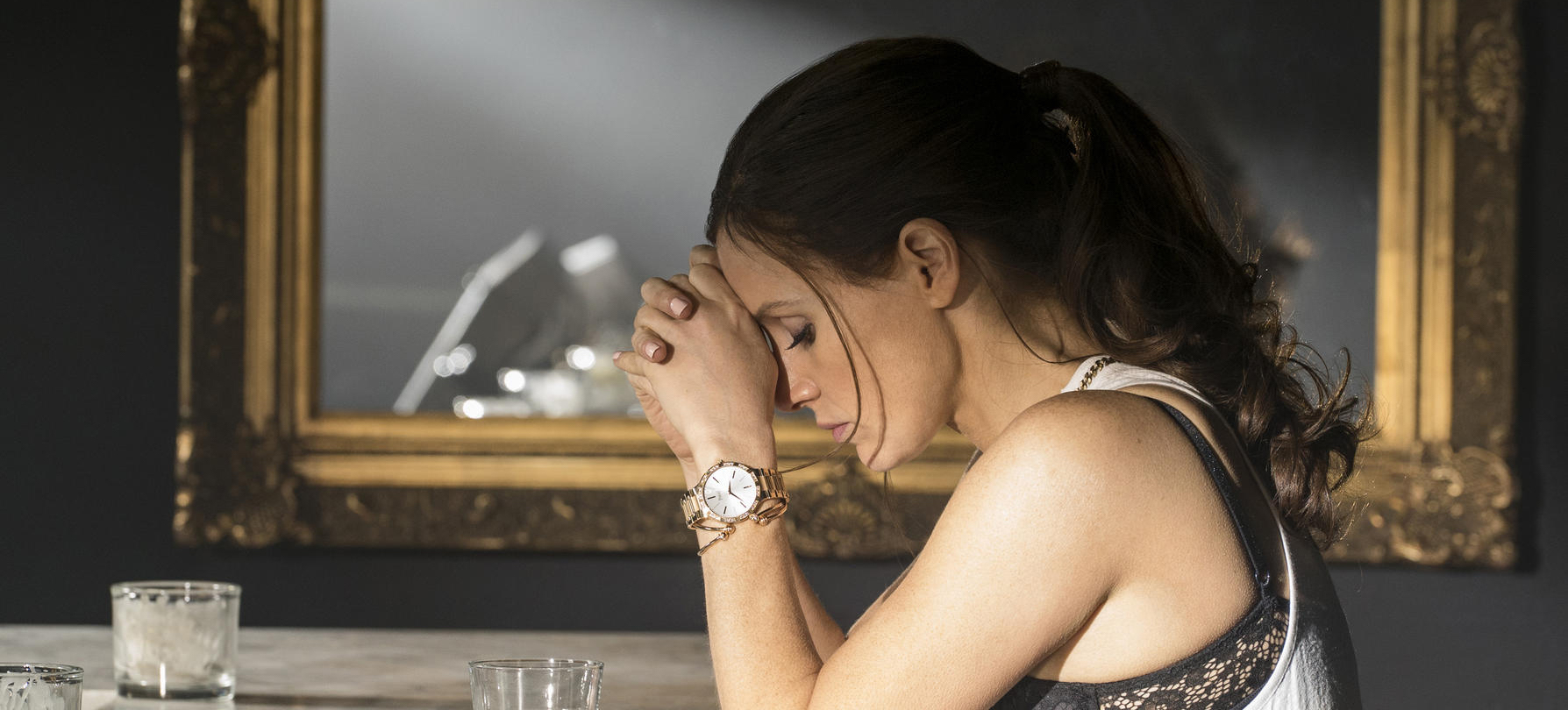 Molly's Game: High-Stakes Production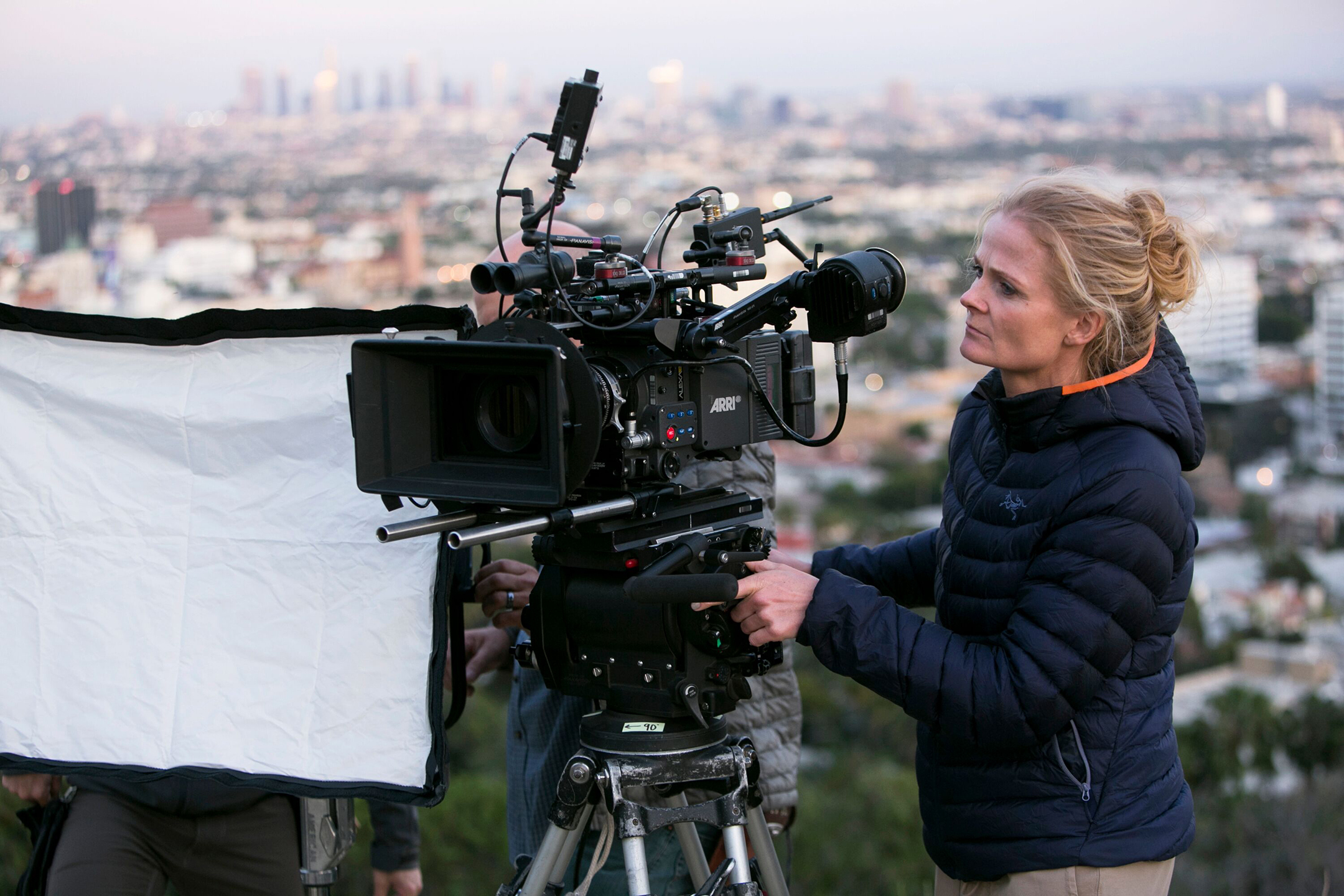 Screenwriter Aaron Sorkin entrusted cinematographer Charlotte Bruus Christensen to shoot his feature directorial debut, about a woman who flourished in the male-dominated world of poker — and ran afoul of the FBI.
Unit photography by Michael Gibson, courtesy of STX Entertainment
Molly Bloom (Jessica Chastain) sees a bright future. A downhill skier coached by her tough father Larry (Kevin Costner), she plans to compete at the Olympics before moving on to Harvard Law. But in an instant a career-ending injury dashes her dreams. Needing some time to figure things out, she heads to Los Angeles and soon takes a job as assistant to unsavoury real-estate agent Dean Keith (Jeremy Strong), whose real preoccupation is his weekly poker game frequented by Hollywood stars, pro athletes, politicians and millionaire businessmen.
A quick study, Molly soon runs the games, but her growing power threatens her boss. Tired of his abuse, she takes off with his contact list and starts her own game. But when it gets shut down by a vindictive actor known simply as Player X (Michael Cera), she launches an even higher-stakes game in New York City. She soon gets into trouble, however, by extending too much credit and getting inadvertently tied up with the Russian mob.
The FBI subsequently arrests the so-called "poker princess," whose only hope of avoiding jail lies with lawyer Charlie Jaffey (Idris Elba), who is reluctant to take her case. He ultimately agrees to go to bat for her, persuaded by her otherwise ethical behaviour. But she doesn't make it easy on herself when she refuses the feds' offer of complete immunity if she hands over the records of who sat at her tables, knowing it would ruin their lives.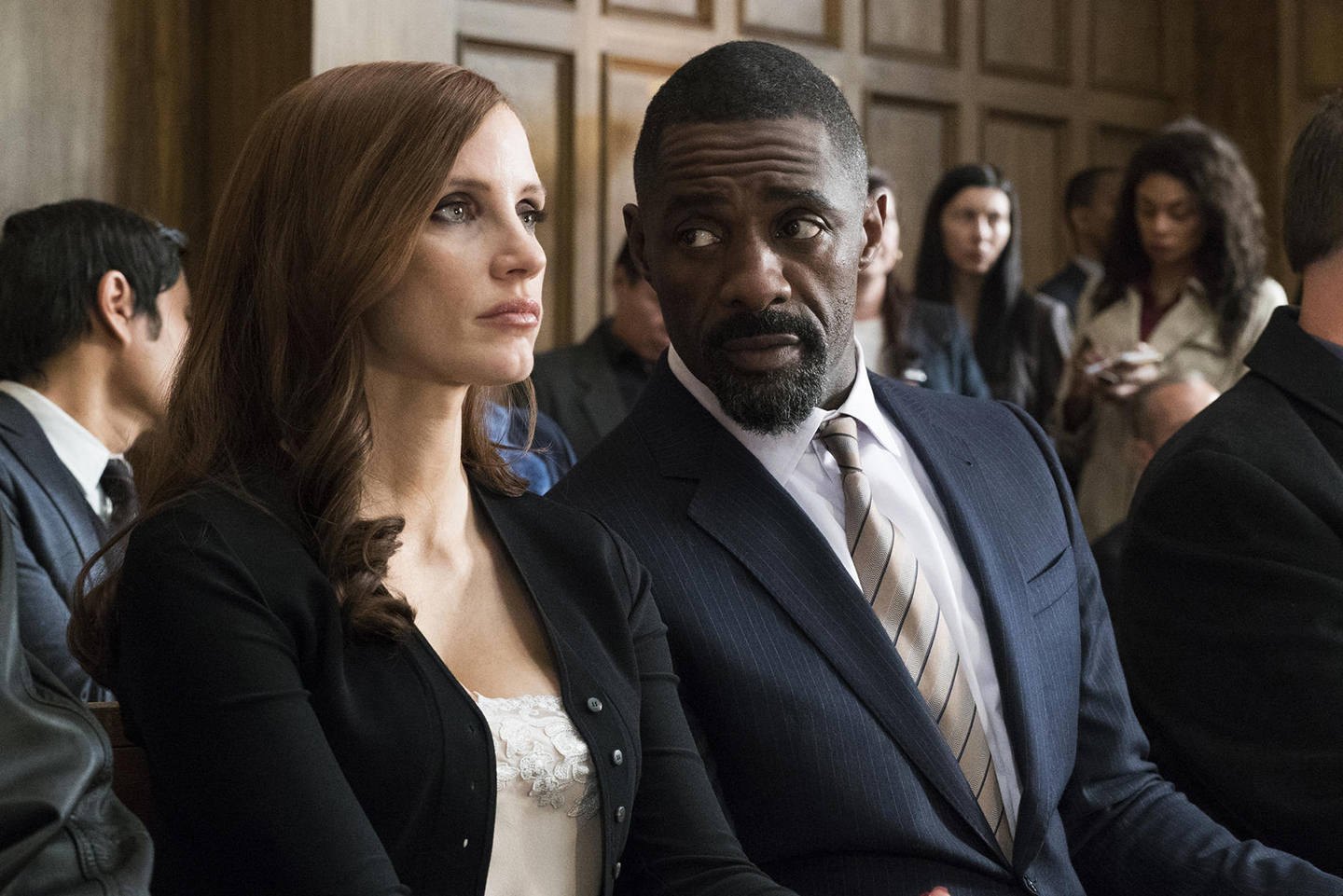 Based on a true story, Molly's Game was adapted from Bloom's memoir of the same name by screenwriter Aaron Sorkin (A Few Good Men, The West Wing). He also makes his directorial debut, which made his choice of director of photography especially important. In the end, he decided to collaborate with Charlotte Bruus Christensen, who came recommended by producer Scott Rudin, who had hired her on the Academy Award-winning Fences (2016; see AC Jan., '17).

Molly's Game shot in Toronto between November of 2016 and February of 2017 and made its world premiere at the Toronto International Film Festival in September. At a post-screening press conference, Sorkin humbly offered, "I really have no visual sensibility. I hear movies more than I can see them, so I relied heavily on Charlotte, who is a wonderful cinematographer and who was also patient with somebody who — in 25 years of [working in production] — has picked up none of the science of filmmaking."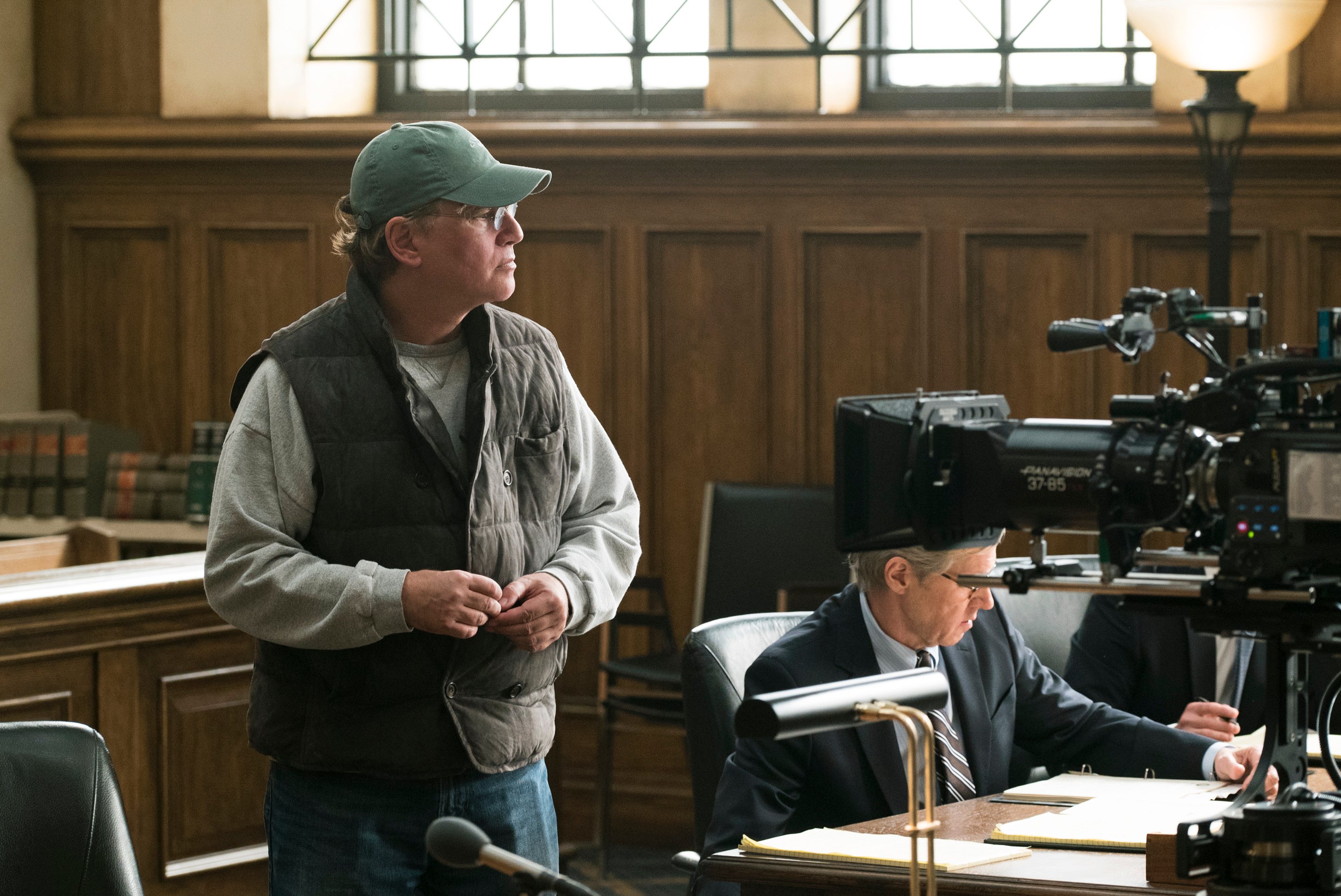 In a later interview with AC, Christensen laughs at her director's modesty. "Aaron's a very confident filmmaker," the Danish DOP says from New York, shortly after wrapping horror tale A Quiet Place with director/star John Krasinski. "He knows what he can do and has no ego in terms of trying to be everything. He gave me directions for the overall feel, and when it came to technically achieving that, he left it totally to me."

Sorkin certainly knew he wanted to shoot scenes of Molly's arrest, Jaffey's office and the courtroom differently from the flashbacks. "I told Charlotte the present-day scenes should be shot fairly conventionally," the director said. "That doesn't mean I didn't want them to look beautiful, but there's a tremendous amount of language in those scenes and we were going to be where I'm most comfortable as a writer — inside four walls. I like writing people talking in rooms and I don't want anything to distract from what the actors are doing or saying."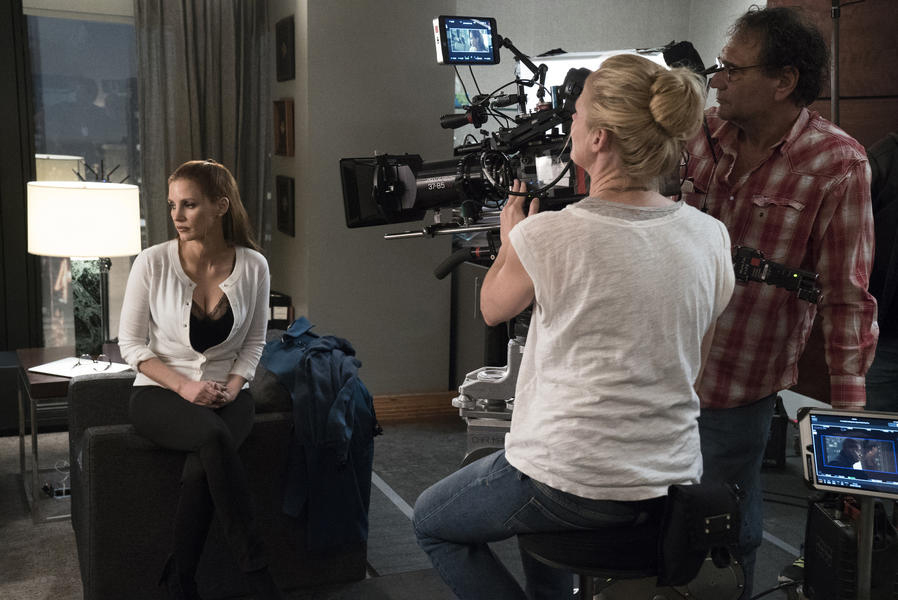 For the flashbacks — particularly the skiing scenes and various poker games — Sorkin said, "I wanted to get as much material as possible to go into the editing room and be able to cut together exciting skiing sequences. And I needed to make poker look exciting, and it's not. It's the world's worst spectator sport."

In his first conversation with Christensen, he also expressed his vision for the movie's two main locales. "He wanted the New York part to seem more ordinary and slow and the L.A. part to have more rhythm and energy," the cinematographer recalls. "It was winter in New York and cooler, misty and low-contrast. L.A. would have more color and contrast and there would be more shots and fast cuts."

Supervising digital colorist Michael Hatzer from Technicolor Los Angeles supplied a film-look base LUT. "We adjusted saturation and exposure to our needs to make a 'New York look' and a 'Los Angeles look,'" adds Toronto-based digital imaging technician Jasper Vrakking.

The production shot mostly at Pinewood Studios Toronto, with some location work in and around the city and just enough exterior pickups in the two U.S. cities to sell it, including a night exterior at a Central Park skating rink, where Molly reconciles with her father. Much of the story transpires in Jaffey's office at different times, as Molly persuades him to take her case and recounts her story, and then they hash out a game plan.

The office was built on stage with a photograph of New York City outside the windows. Christensen thought shooting on film stocks — as she did on Fences, The Girl on the Train (2016) and Far from the Madding Crowd (2015) — would render the backdrop better. "The photograph was only 10 feet from the window, so I felt I needed some of the blurriness [shooting on film provides]. I needed the elements to merge. If it was too sharp, you would see the photograph just hanging right up there," she says.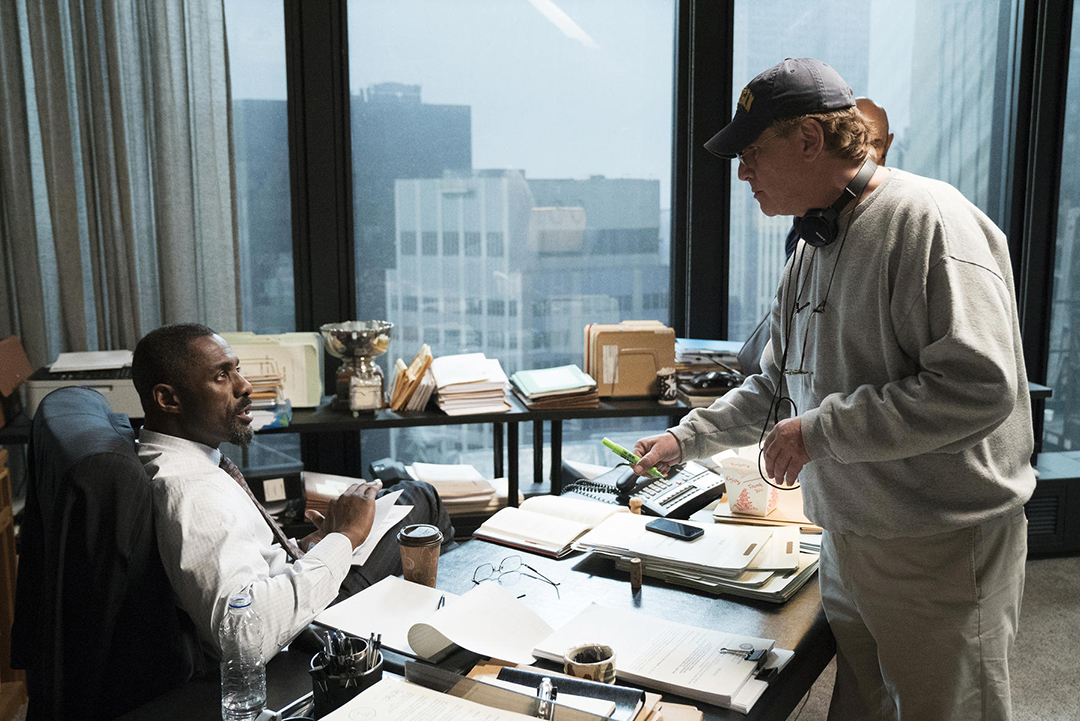 But production opted to capture digitally, primarily because of the expense of shipping exposed film negative across the border to Burbank's FotoKem for processing. The crew shot mostly with the Arri Alexa XT, Christensen operating A camera while Angelo Colavecchia handled B camera and the Arri Alexa Mini on Steadicam, which would be used to move through crowded environments. Most set-ups were for one camera, as per Sorkin's preference.

The crew captured mostly in ArriRaw 4:3 anamorphic 2.39:1, and with some wider prime lenses they shot Open Gate or at 16:9. The XT recorded to 512GB XR Capture Drives and the Mini to 256GB CFast Memory Cards. A video diary from Molly's teen years was shot on an era-appropriate, circa-1996 Sony Hi8 Camcorder.

To achieve some of the required cinematic softness, Christensen paired the Alexa XT with Panavision C Series Anamorphic Prime lenses, each customized by Dan Sasaki, Panavision VP of optical engineering in Los Angeles. "He adjusted them so that in the wide range the lenses would fall off dramatically to the backdrop," the cinematographer explains.

Also in the mix were old B Series and E Series anamorphics and a 27mm Primo Prime. She shot usually between T4 and T5.6; occasionally higher for exteriors. She also made use of a pair of zooms: the Panavision AWZ2 40-80mm and especially the ATZ 70-200mm, which she felt would best capture the drama around the poker tables.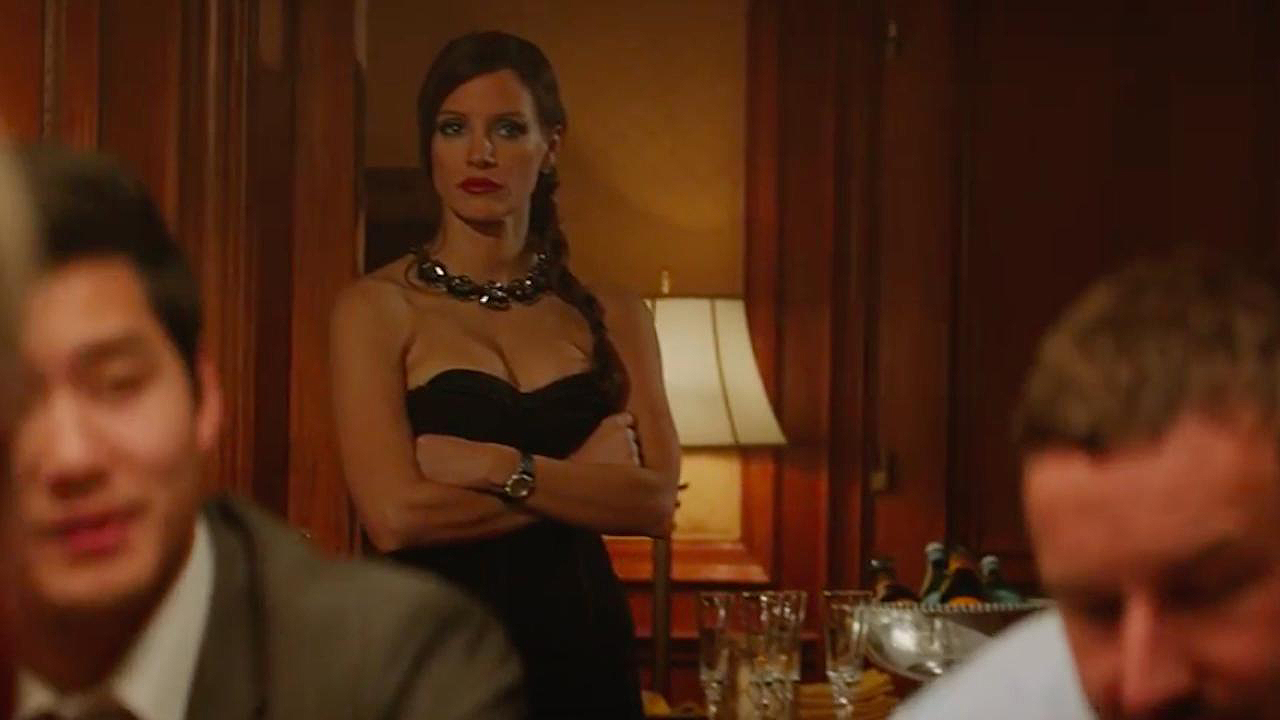 "It's 10 guys playing and Molly often standing in the corner, observing," Christensen says. "Most of the time we weren't following the game, but we still wanted to feel it in the shots that focus on her. The long zoom lens and narrow depth of field helped us compress the room and pull her into the action."

She credits her focus puller Glenn Kaplan for his delicate work. "The zoom lenses are a character on their own. You have to really know them, and focus is an issue. But it all worked out," she says.

While these scenes were shot at the longer end of the spectrum, in the cramped office set the C Series 40mm maximized the distance between characters and the expanse of the backdrop.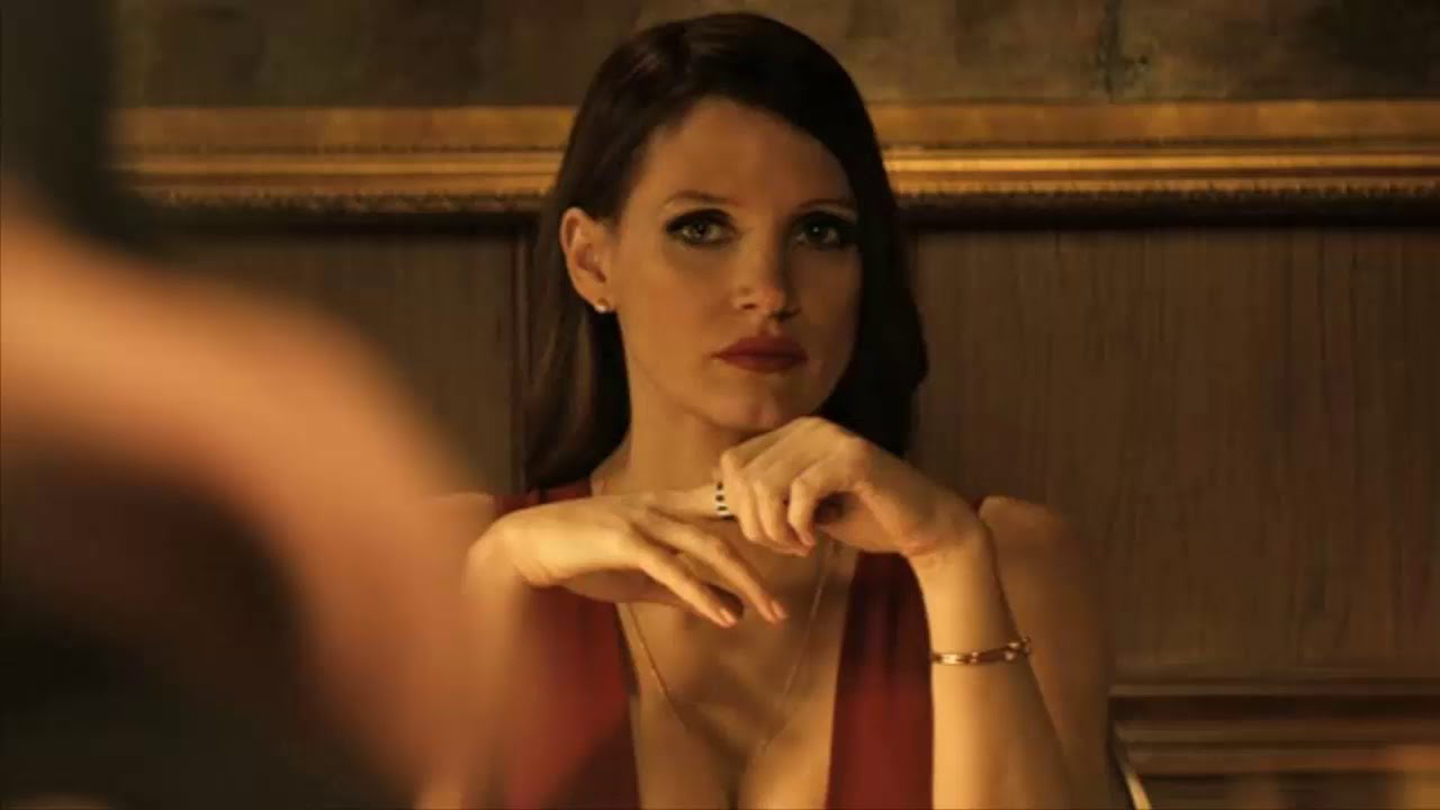 Christensen also liked the way the C Series worked with Chastain's makeup, which plays a big part in her performance. When Keith instructs Molly to look sexier for her hostess duties, she goes along, not to seduce any of the players — although a couple fall in love with her — but to make the soirées more glamorous and appealing. And there were other instances when makeup artist Linda Dowds wasn't making Molly look alluring, as in the aftermath of a brutal beating she endures at the hands of a mob thug.

"Softness makes makeup blend better. It's more truthful. And we're so close to Jessica many times," Christensen notes. Referring to Susan Lyall's costume designs, she adds, "Molly's wearing some really daring dresses, and there's something about making that soft and not in-your-face. It's a sophisticated look — not necessarily super-sexy — even though some of those dresses are over-the-top. But they have to serve the story, and beauty and softness are important in that equation."

At the press conference, Chastain expressed gratitude for the way Christensen framed her. "I respect what Aaron and Charlotte did with Molly. We listen to what she has to say," the actress offered. "Even though she is wearing this persona, the camera doesn't fetishize her. In the past, whenever we'd see a sexy movie like this, we would have shots with the camera going up [the female character's] leg. You would see [her] as her body, not as her person. In this film — because it has voiceover and we are with Molly the whole time — who she is and what she says are the most important elements."

Because they were shooting eight or more pages of Sorkin's verbose script per day and the director wanted lights out of the way, gaffer Andy Ryan and his team pre-rigged fixtures to the ceiling of the office set. The lights also had to represent varying times of day and weather conditions, as the special effects team had snow and rain falling between the windows and backdrop.

"There was never an overtly sunny day with shafts of light coming in," notes the Louisiana-based Ryan. The crew hung eight LED Arri SkyPanels — some to light the backdrop and others to push ambient light through the windows. "We slightly changed their color temperature and softness to give us different looks. We did a rain scene with bleached muslin on the SkyPanels that made it incredibly soft."

While Christensen loves tungsten light, the SkyPanels impressed her. "You can place them outside a window, dial them any color, and they can be quite punchy," she says. "You can get a daylight feel from them. We used them a lot."

A 20K HMI outside the set provided more direct light when needed. Academy Award-winning production designer David Wasco (La La Land) constructed a set with floating walls and a partial ceiling that was visible in the corners but open in the center, where the crew rigged nine JEM Balls, all enclosed by frames key grip Richard Emerson had constructed to help with control.

Various JEM Balls would be turned on or off and raised or lowered depending on actors' positions, providing a soft top light or top/side light for fill when characters were seated. Beadboard was also used to bounce fill. "I'm not a big fan of top lighting," Christensen admits, "but I knew I had to do that because how else would we achieve eight pages a day? Stands on the floor wouldn't have worked."

The crew did put JEM Balls on stands for a night scene in which Molly visits Jaffey ahead of the jury announcing her fate. These were motivated by appropriately dimmed practical lamps on desks and tables.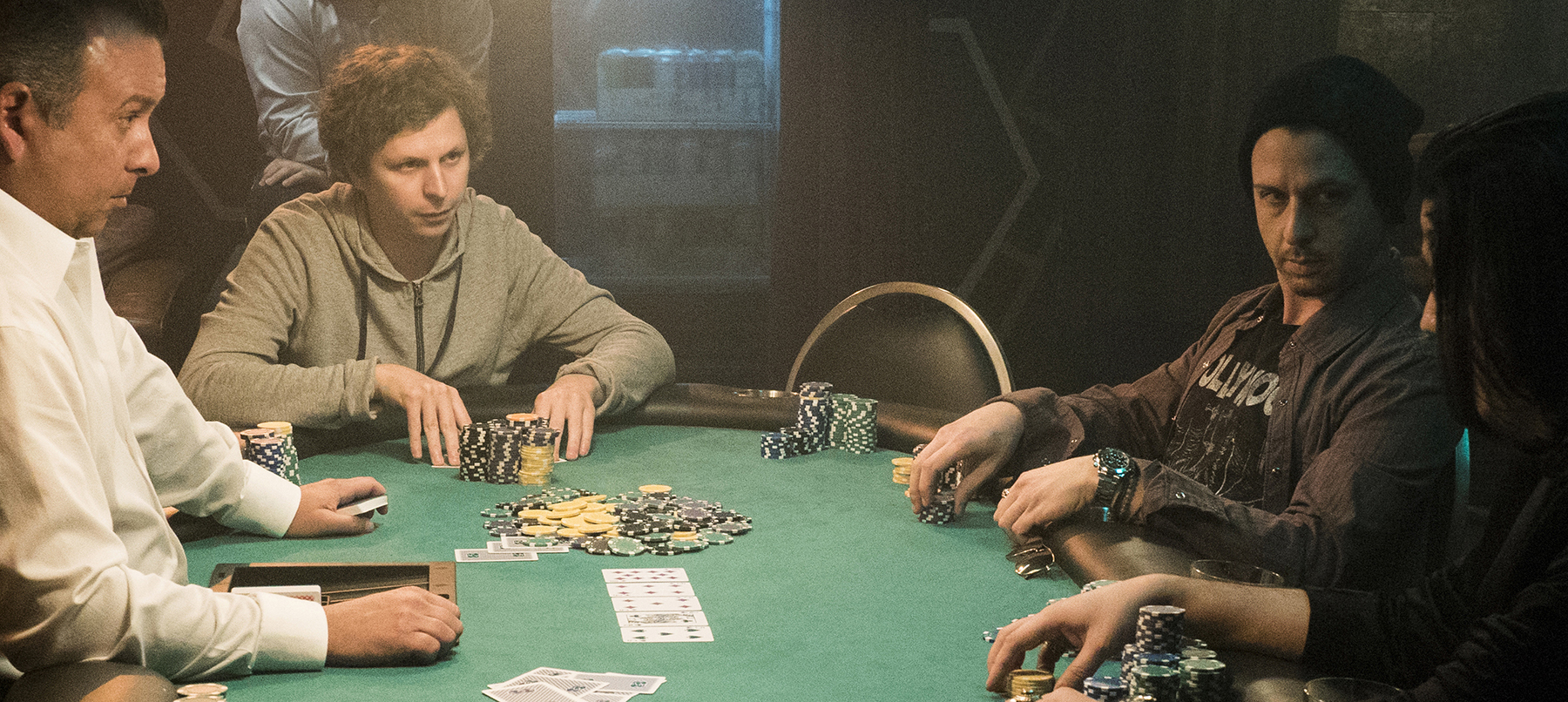 A couple of the poker rooms were also shot on stage, including the Cobra Lounge, where Keith holds his games. Wasco and his set decorator and wife Sandy Reynolds-Wasco modeled the dim, low-ceilinged club on L.A.'s legendary Viper Room.

"I wanted to make L.A. colorful and the Cobra Lounge was where I could introduce that, as the walls are black and it would really stand out," Christensen says. "When Molly's walking down the hallway the light is cyan green and dark amber."

The room was lit primarily by practicals, including floor lamps, a banker's lamp on the desk where Molly does her accounting, a pair of ceiling lights over the poker table, and multi-colored wall sconces — some emitting yellow, orange and white candy-corn hues. Smoke was added for atmosphere, and the bar's translucent green backdrop was illuminated from behind by Blonde 2Ks, casting a glow matching the card-table surface. Gelled fluorescent tubes contributed to the cyan/amber color scheme.

"If there was a table lamp, we would screw something to the ceiling to cheat it: a 650W, 1K, and the occasional 2K," Ryan adds. "There's no LED trickery involved. It was very straightforward." The crew created a soft source over one practical by hanging a "covered wagon" — a diffused light baton holding 4 x 375W practical bulbs.

For veracity the production brought in poker professionals who would sit, play and smoke in overhead shots where only their hands would be in frame as the camera floated over the table on a 10' jib arm. For seat-level shots the crew built a dance floor allowing a dolly to circle the action, going from one player to the next. Sometimes the crew had both cameras moving in succession, one with a wide lens and the other with a longer one.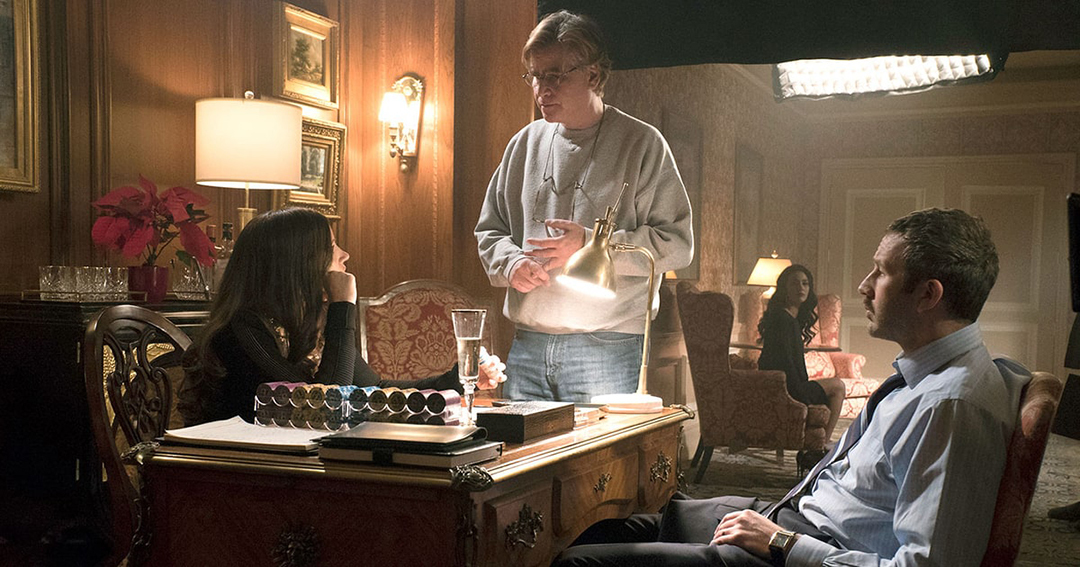 Molly moves the game to the more elegant Four Seasons Los Angeles, where the play of ace Harlan Eustice (Bill Camp) is surprisingly derailed by the inept — and thusly unpredictable — "Bad" Brad (Brian d'Arcy James). While that setting was recreated on stage, scenes at New York's Plaza Hotel, where an unwitting Molly allows the Russian mob to get in the game, were shot at Toronto's Fairmont Royal York hotel.

"A poker table is lit from above," Christensen notes. "It's not a moody, backlit area. People have to see those chips and the money. It's a workspace. The table is the center of attention and everything else can fall off. I felt it had to be truthful and not too cinematically stylized."

So, once again, overhead JEM Balls provided the main source. Sorkin wanted the Plaza to be the most glamorous setting and so the Wascos placed a practical glass chandelier over the table, which could be raised or lowered depending on the frame, as with the Jem Balls. The ornate fixture contained dimmed-down 3200K tungsten bulbs for a warm look. Additionally, Tweenies and Baby lights were scattered around the large room.

Christensen began discussions with colorist Michael Hatzer, with whom she collaborated on Fences and The Girl on the Train, as soon as she considered taking on the project.

"I love black," the cinematographer recounts. "For example, when Molly's recovering from being beaten up, she's in dark rooms and spaces. Michael makes it cinematic while not overdoing it just to make it look 'cool.' We always work that fine line of where you put the black and contrast levels. It has to work within the context of the story."

Hatzer remained conscious of Christensen's love of film stocks. "Spending the first 15 years of my career color-timing in a lab has given me a good understanding of what she values in an image," he says. "We look at images from a similar perspective and take advantage of a vocabulary that's been used by DOPs and color timers for many years."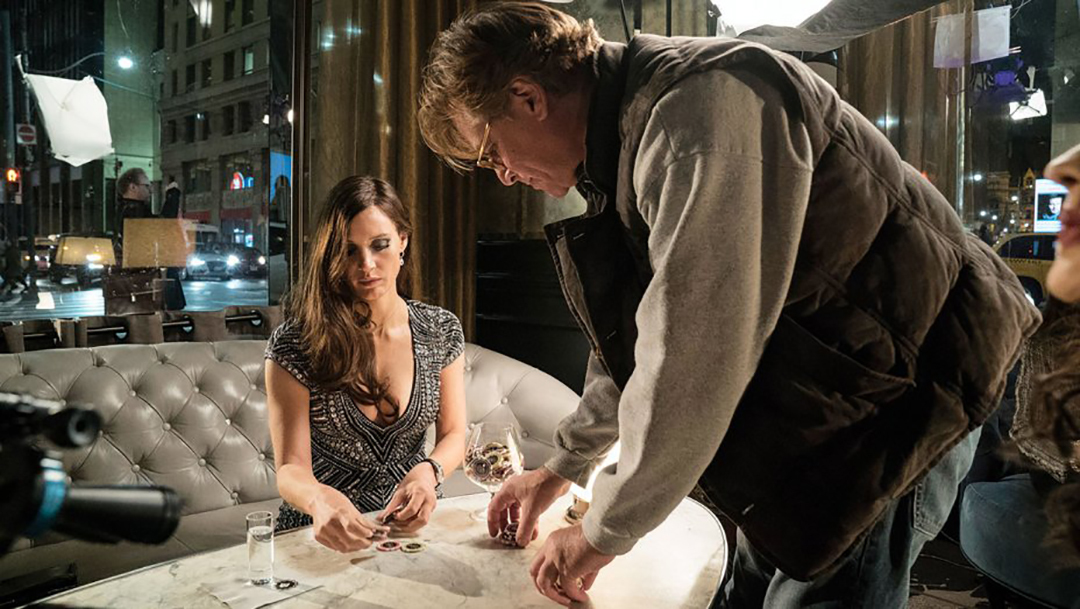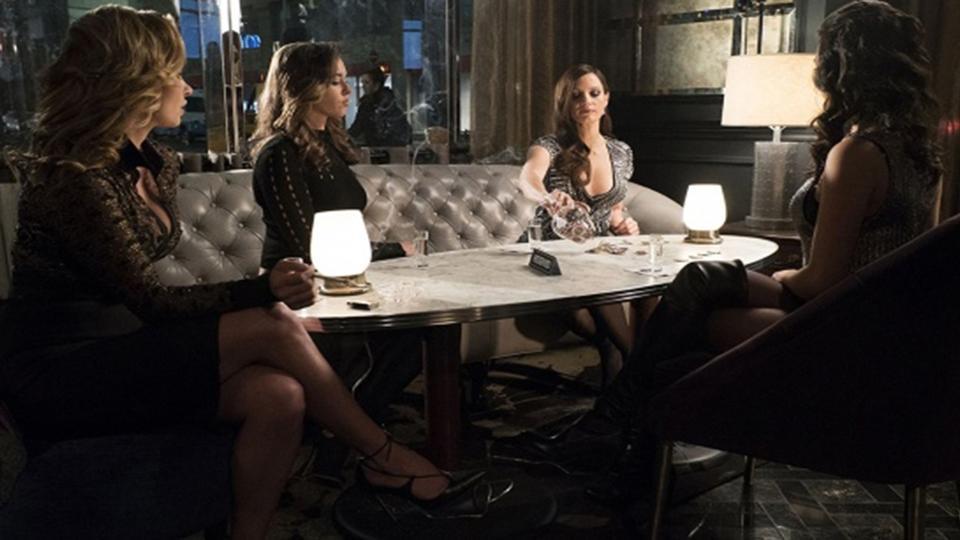 The grade took four weeks at Technicolor's Sunset Gower Studios in Hollywood, with Christensen joining Hatzer and Sorkin to set looks. She got busy shooting A Quiet Place but was able to later participate in a couple of remote sessions at Technicolor PostWorks in New York and returned to L.A. for final approval.

Hatzer worked with 10-bit 2K DPX files on Autodesk Lustre, evaluating with a Christie CP-Series DLP projector.

Christensen wanted to push a distinct look of the flashback scenes, which include Molly skiing and formative childhood events in her family home.

"Charlotte and I experimented with a few subtle looks, trying to keep from being too heavy-handed or conventional," Hatzer says. "She felt a slightly de-saturated, cyan blue, vignetted image worked well within the cut."

She may love film, but Christensen says in retrospect she is glad they shot on the Alexa XT, given the pace of production, which was accelerated by Elba's limited 10-day availability. There would have been little time to stop to change mags, which also would have interrupted the flow of the dialogue-heavy sequences.

"I pushed for film, but Panavision made digital work with their lenses," she says. "I enjoyed shooting digital and taking advantage of what that format has to offer."

Technical Specifications




Aspect Ratio


2.39:1




Sensor


Digital Capture




Cameras


Arri Alexa XT




Arri Alexa Mini




Sony Hi8 Camcorder




Lenses


Panavision C Series, B Series and E Series Anamorphic




Panavision Primo Primes




Panavision AWZ2 and ATZ zooms