My Big Fat Greek Wedding: Creative Photography Enhances a Universal Story

Jeffrey Jur, ASC looks back on shooting his 2002 indie hit, rendering a relatable tale of love and family in classical fashion.
Tara Jenkins
Jeffrey Jur, ASC looks back on shooting his 2002 indie hit, rendering a relatable tale of love and family in classical fashion.
When the indie romantic comedy My Big Fat Greek Wedding was released 20 years ago, no one suspected the massive impact it would make in the box office, grossing more than $368 million worldwide.
A passion project that adapted a one-woman stage show into a feature film, the production took a risk by casting the creator, then-little-known playwright and actor Nia Vardalos, in the lead. The gamble paid off. Made for only $5 million, Greek Wedding soon became the highest-grossing romantic comedy of all time, playing in theaters for 52 weeks, and Vardalos went on to receive an Academy Award nomination for her screenplay detailing the trials and tribulations of Fotoula "Toula" Portokalos — a daughter of Greek immigrants seeking to find love and acceptance.
Jeffrey Jur, ASC, who previously shot the period romance Dirty Dancing and neo-noir crime picture The Last Seduction, lensed Greek Wedding for director Joel Zwick, known for such comedy series as Perfect Strangers and Full House. The cinematographer recalls experiencing the cultural zeitgeist of the film: "The expectation is always just to make a good film. For it to go on and do as well as it did is amazing. I was in a restaurant when it first opened and two complete strangers were talking and recommending it to each other, saying, 'You've got to see this movie! It's really funny, and it's touching.' I felt like it reached out to people. It was thrilling."
A native of Chicago, where Greek Wedding is set, as well as an experienced romance genre cinematographer who had worked on numerous small films, Jur was the perfect fit to shoot the picture. He was drawn to the film by the authenticity of the story: "What I liked about the story was that it was so specific. It was so personal for Nia [Vardalos] and for Tom and Rita Hanks [who produced the film]. They wanted to make the story that she had told in her play and it was amazing. They hired her for the part. It was a big show of faith in her and the project and it paid off. What people respond to is how real and heartfelt it feels. It was a labor of love for a lot of people."
"I get why people loved it — the story could have been about any of our families. It wasn't necessarily only about Greek culture, but about how families mash up, especially in a marriage."
— Jeffrey Jur, ASC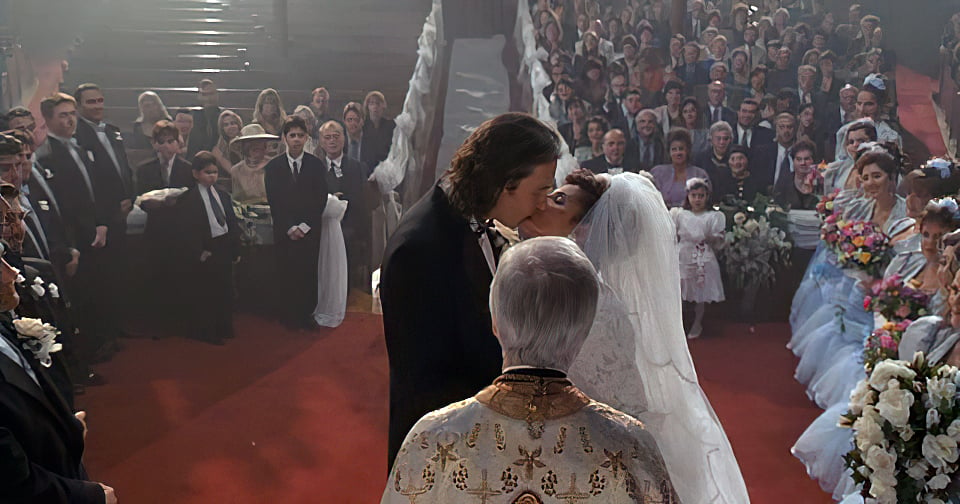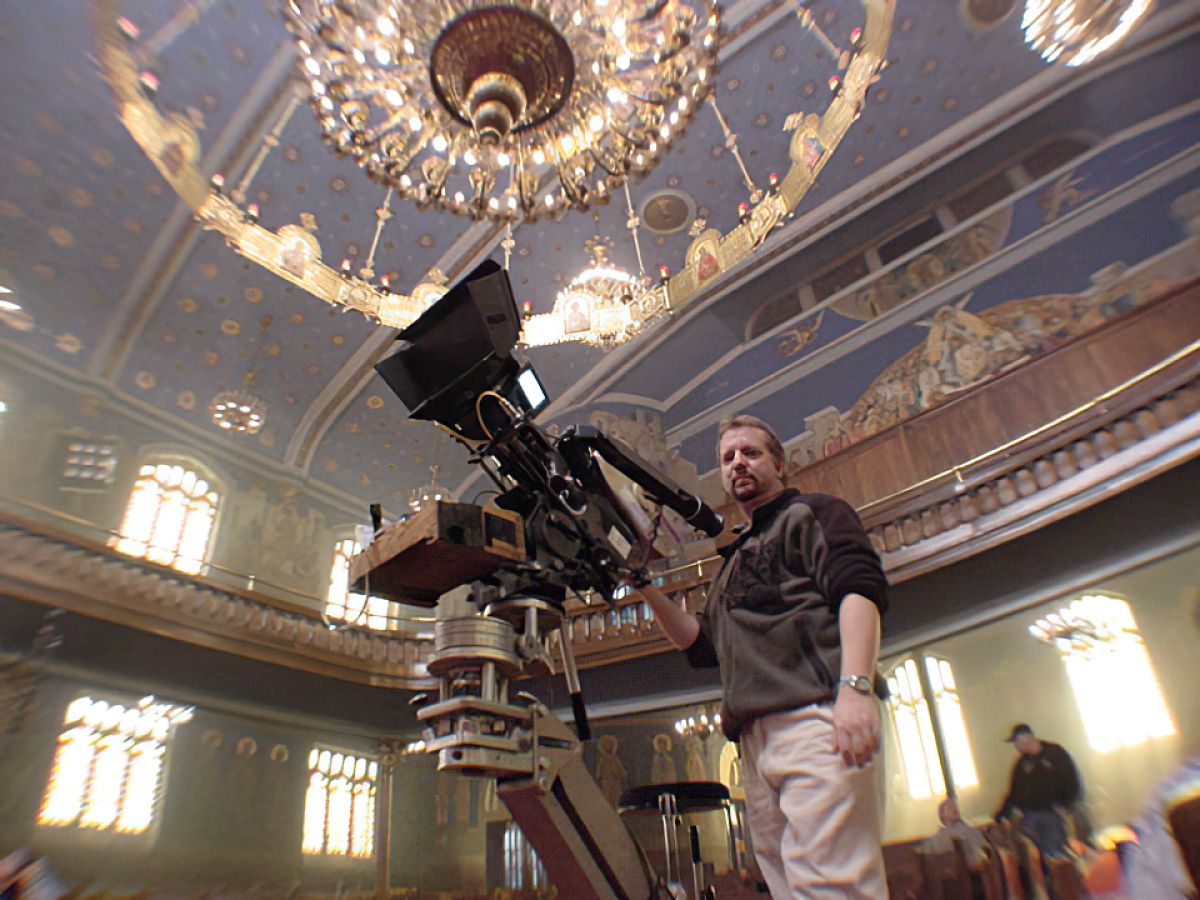 Shot in about 30 days, mostly on location in Toronto, the production moved at a rapid pace. Rigorous pre-production work with Zwick was imperative for Jur: "Joel was very willing to listen to me. We would meet almost every day in prep, go to a restaurant, and chat about the scenes and what his intent was. He wanted to be funny. Of course, he knew that better than anybody. He relied on me to design the look in terms of the photography, and it worked out great."
Jur shot the film with Panavision cameras and Primo zooms, his go-to optics at the time. In order to create a visual difference between scenes set in the present and the past, Jur employed a simple exposure technique for the flashbacks. "We doubled the speed of the fastest Kodak stock for the flashback scenes to create a lot of grain and have a different sort of look," he remembers. "We then rated the same 500-ASA stock normally for the present. In the flashbacks, we lit with a lot of backlight and blew out the highlights to create this feeling of her past as Toula is describing her childhood and how she grew up."
Another important stylistic decision was how to show the radical difference between the two main characters' families, as Toula falls for the handsome Ian Miller (played by John Corbett). "His family is very straight-laced, and pretty conservative," Jur explains. "We wanted a very clean sort of look and a very composed and symmetrical design to their world. As she goes between the two worlds, there is a disparity, as her family is very alive and busy. We had a lot of close-ups and coverage and handoffs and things to create energy — that was part of the family. We designed all that [visual language] ahead of time and tried to stay with it throughout the film. And I think we're pretty successful. You know, for a small budget movie, we did a lot of long takes, and some 'oners' that I thought were pretty successful."
One such "oner" was a creative take on how to show an intimate scene between Toula and Ian: "She's been sort of holding off, but, finally, she just jumps on him. We were talking about how to do that with shots of them going up the stairs and into the bedroom and all this stuff. Instead, we had this idea of staying outside and just seeing it happen as almost like a Jacques Tati shot, where you just watch it evolve. The camera starts outside. They get out of the car at night, going into the apartment. The camera moves up and we see him in this window going up the stairs. We see him come into the apartment, sort of framed by the windows from outside. Then she jumps on him and pushes them down. So it all played in a sort of funny frame from outside. We didn't shoot any other coverage. I love seeing events like that sort of framed in a fun, graphic way."
Thinking outside the box was a part of the creative process in front of as well as behind the camera. "Andrea Martin, who played Toula's aunt, was an improv actor from Second City and she was amazing," Jur says. "In character, she would sometimes try different lines and different reactions and make stuff up. A lot of it is in the film. Nia was the same way. There's a lot of improvisation which we had to react to. Things were not always going to be scripted, but we would shoot certain characters and let them go. It was fun to let them have that comedic freedom. I think it really makes a difference in the film."
Looking back on the film 20 years later, Jur still finds humor in the story: "It holds up. It's still funny. I mean, how many movies from 20 years ago do you watch that you still laugh at and enjoy? I get why people loved it — the story could have been about any of our families. It wasn't necessarily only about Greek culture, but about how families mash up, especially in a marriage. Two diverse cultures that come together, and how that can be difficult, but also, eventually, you see that we're all the same. That's a great story and it's pretty universal. So, I like watching it, too, and I feel we honored the reality of the story.
"You don't need all the toys in the world to make a good story and reach people. Of course, it's not that I don't like having all the toys in the world. I've worked on bigger budget things and it's a lot of fun, but each project has its own needs. The needs were pretty modest on My Big Fat Greek Wedding and I think that helped in a way to keep it more honest and more real. It's a bit of a miracle for everything to come together and shows how important the story is."
---
Jur has gone on to shoot episodes of such series as Dexter, Westworld, How to Get Away with Murder, The Marvelous Mrs. Maisel and Bridgerton. He has earned Emmys for his work in Bessie and Carnivàle, and ASC Awards for Carnivàle and Last Call.
He was honored with the ASC Career Achievement in Television Award in 2019 for his exception body of work.
You can read more on his work on Bridgerton in our July 2021 edition of AC.