Passing Time: The Card Counter
Cinematographer Alexander Dynan and director Paul Schrader reteam to further explore the transcendental style. 
Iain Marcks
Cinematographer Alexander Dynan and director Paul Schrader reteam to further explore the transcendental style.
When we first meet William Tell (Oscar Isaac), he's in a dull, gray cell at the United States Disciplinary Barracks at Fort Leavenworth, an Army installation in northeast Kansas. "I like the routine, the regimen," he says of his predicament. The camera lingers on him reclining in his bunk, reading Marcus Aurelius' Meditations. Equal attention is then paid to the basin of his stainless-steel toilet and sink, his toothbrush and tube of toothpaste, a roll of toilet paper, a folded dull-gray uniform, and slippers. We don't yet know why he's there, but what he's been doing is passing time — and learning how to count cards.

Cinematographer Alexander Dynan began working with director Paul Schrader on 2016's Dog Eat Dog, as part of the director's late-career decision to collaborate with early-career filmmakers. "When I started using Final Cut, I realized that I could have more control over my own work," Schrader says. "So, I found a crew of [younger] department heads and told them, 'I want you to spur my imagination.'"

The third collaboration between Dynan and Schrader, The Card Counter represents a further exploration of the transcendental style that began with the duo's 2017 feature First Reformed.
"By delaying edits, not moving the camera, forswearing music cues, not employing coverage, and heightening the mundane, transcendental style creates a sense of unease the viewer must resolve," Schrader writes in the introduction to his 2018 book Transcendental Style in Film: Ozu, Bresson, Dreyer — an expansion of his 1972 thesis on slow cinema. "The filmmaker assists the viewer's impulse for resolution by the use of a Decisive Moment, an unexpected image or act, which then results in a status, an acceptance of parallel reality — transcendence."
"So much of what Paul does is influenced by [Robert] Bresson," Dynan says. "When we were making First Reformed, we talked about the limited camera movement in Bresson's films. With The Card Counter, we wanted to move the camera more, but still be true to the Bressonian ethos.
Priority on Portraiture
In First Reformed, a key visual reference was painter turned writer-director Bresson's 1951 film Diary of a Country Priest, which was filmed in the 1.33:1 aspect ratio. For The Card Counter, Schrader and Dynan drew inspiration from Bresson's 1966 feature Au Hasard Balthazar, which was filmed in 1.66:1, the European widescreen standard. The filmmakers use this frame to lend a portraiture quality to their close-ups — which, along with the rest of the film, were captured with Arri Rental's DNA LF lenses on an Alexa LF in Open Gate mode — and to isolate Tell from his surroundings. "I like the look and feel of the LF in Open Gate," Dynan says. "On Paul's movies, the framing is very specific. It's about carving out our characters, and the things that they see, from the rest of the world. At a poker table, a 1.85:1 frame would have caught someone else's shoulder, or else I would have had to push [the other actors] too far away."
"Motifs are a key element of transcendental cinema. We're trying to get the viewer to lean in and explore the image."
— cinematographer Alexander Dynan
A specific shot that the filmmakers borrowed directly and precisely from Au Hasard Balthazar was dubbed "the Portrait," and was repeated throughout The Card Counter on a 35mm lens from 2½' to 4' away. "Motifs are a key element of transcendental cinema," Dynan says. "We're trying to get the viewer to lean in and explore the image."
Dynan chose the DNA LF lenses because he considers them "an evolution of Arri's 35mm-format Master Prime lenses," he says. "[DNA LFs] are lighter-weight and they're faster. They're great workhorses."
The cinematographer notes the deliberate focus work that he and Schrader did — with the aid of 1st AC Timothée Arene — in isolating Isaac from his environment when the actor leans toward the camera and blending him in with the background when he leans back. "Focus in [the larger LF format] has a shallower depth of field than what you'd see in Super 35," the cinematographer says. "At T2, the background became too impressionistic, whereas at T5.6 it was sometimes too deep. It all depends on the focal length and what feels right for the story.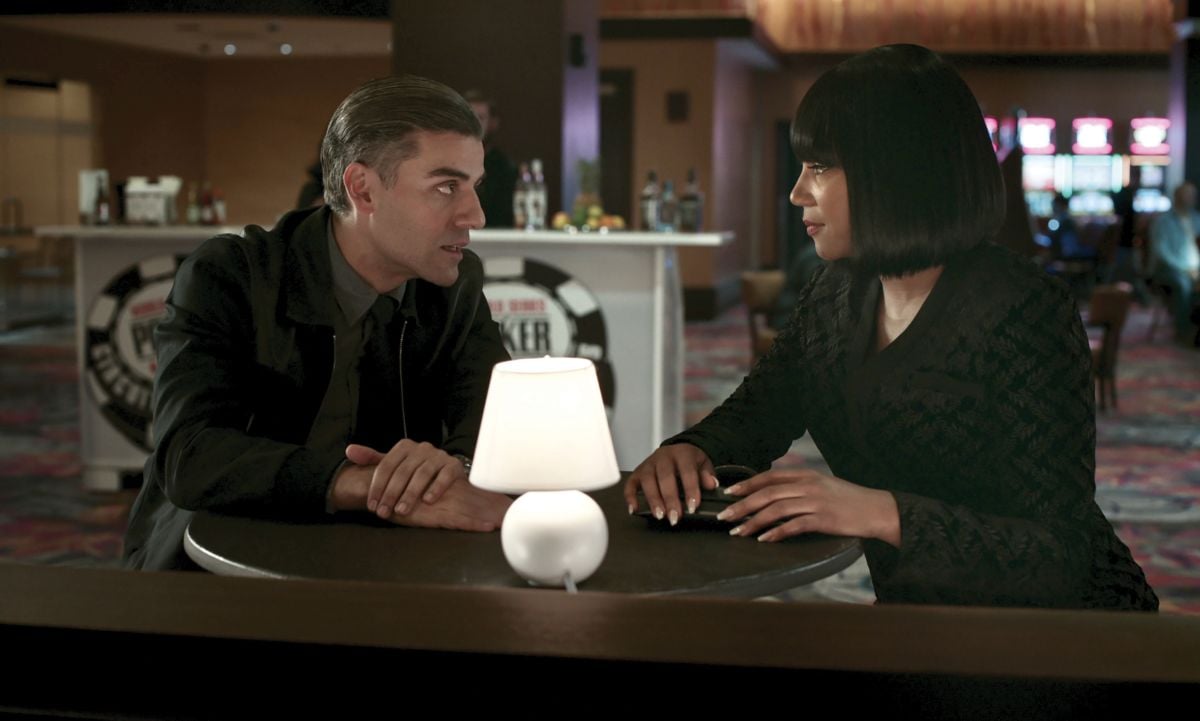 Capturing Austerity
Once he's released, and no longer within the rigid structure of the prison system, Tell finds comfort in the repetitive, austere nature of casino life — the same tables, carpet patterns, wallpaper and games wherever he goes. As when he was incarcerated, the repetition and sameness of Tell's life has an arresting effect on the passage of time. "During production, as Paul and I went from casino to casino around the South, the monotony of that world started to set in," Dynan recalls. "Paul liked the idea that Tell was floating from one non-space to another non-space, so as we shot, the use of a Steadicam started to creep into our language — using the cinematography to reflect the character's circular journey." Dynan worked with A-camera and Steadicam operator Nick Müller to design long following shots. And within still shots, Dynan notes that sometimes "we'll move the camera ever so slightly to accentuate the moments when the camera doesn't move."
The filmmakers' goal is to distort the viewer's expectation of time and compel them to "lean forward" by withholding action or information. As Schrader writes later in his introduction, "The slow-cinema director says, 'I know what you want; I know what you expect; but I'm going to do the opposite.' Why? 'Because I'm after something else and will use your expectations to get it. The filmmaker, instead of creating a film world in which the viewer needs only to surrender, creates a world which the spectator must contemplate — or reject out of hand."
In regard to color schemes, "Production designer Ashley Fenton and I talked a lot about the paint color in the motel rooms where Tell stays," Dynan says. They opted to paint the walls a very light gray, instead of solid white, so that "Tell's gray world felt consistent throughout the film."
Dynan worked with DIT Ian Edwards and colorist Tim Masick at Company 3 New York to keep the film's palette within strict tolerances.
The poker scenes are particularly effective at highlighting The Card Counter's focus on emotional austerity. For most of these sequences, the cinematographer turned to two skirted Litegear LiteMat Spectrum 4s with egg crates and Light Grid or full diffusion. Meanwhile, closeups of the players' faces reveal almost nothing; LiteMat Spectrum 2Ls were floated in as eyelights, while Dynan and Schrader illustrated Tell's "poker face" by deliberately withholding his. These sequences highlight Tell as a man with an ability to hide what he's feeling — a skill that's allowed him to survive as a card counter, a prison inmate, and as we soon find out, a soldier.
"What I like the most about working with Alex is his conscientiousness, the advanced thinking through all possibilities and references. I can bounce iffy ideas off of him and he'll process them, rather than be swept up in my flights of fancy."
— director Paul Schrader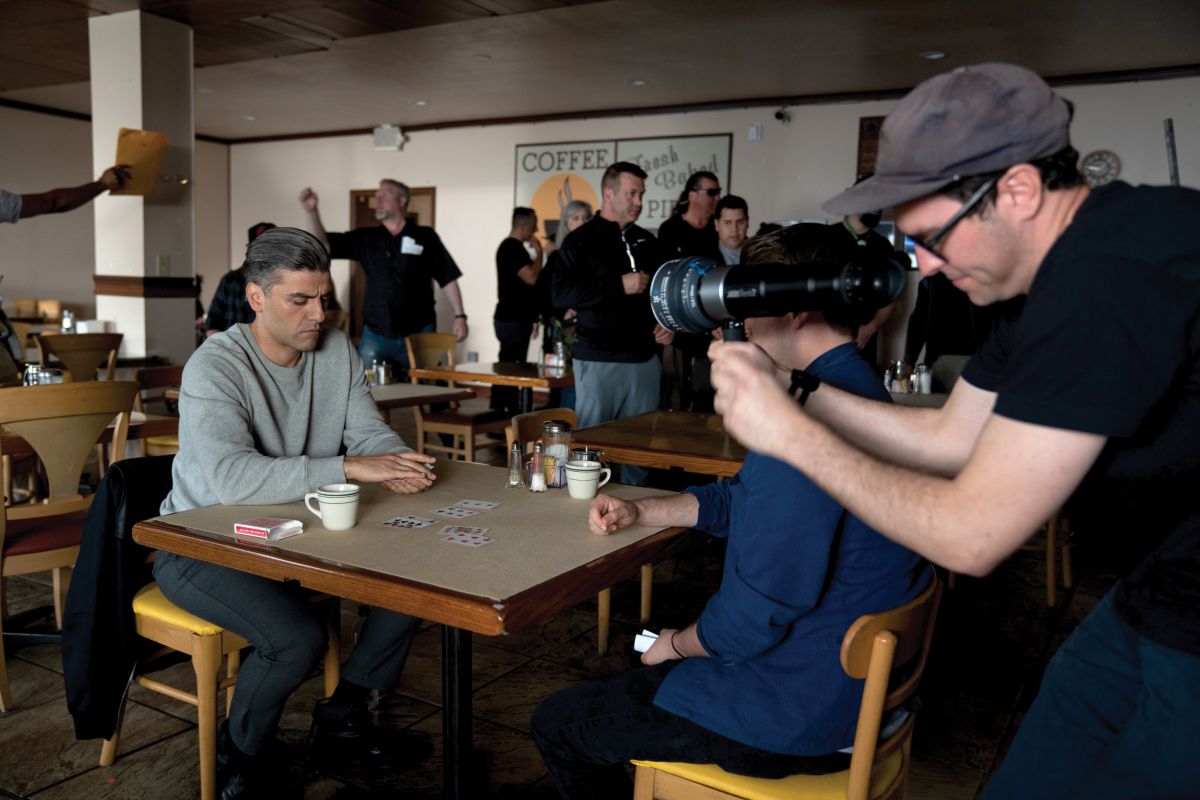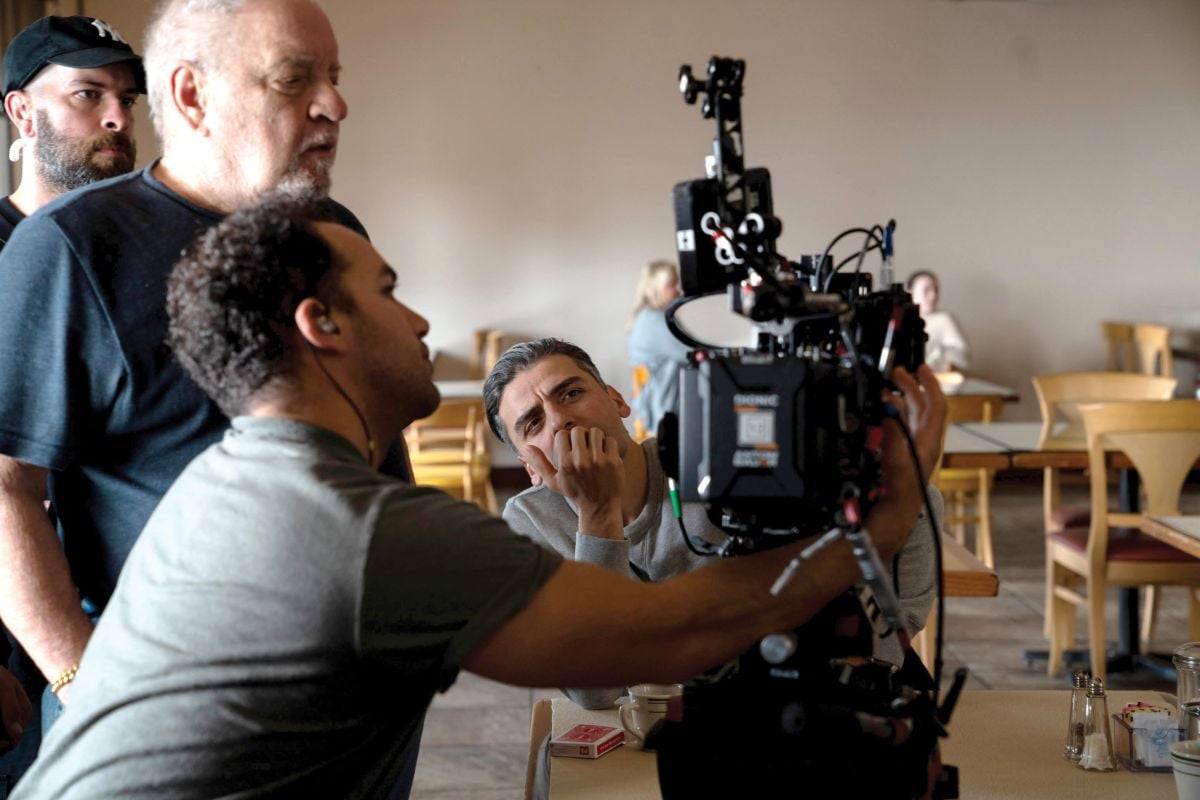 First-Person Horrors
At a casino-hosted trade-show panel for government contractors, presented by retired Major John Gordo (Willem Dafoe), Tell crosses paths with Cirk Balford (Tye Sheridan), a young man whose father was a guard at Abu Ghraib, a detention complex in Iraq used by the U.S. Army to house political prisoners during the Iraq War. Major Gordo was an officer there, and Tell was there too, as a private — and like Cirk's father, Tell was sentenced to prison for the torture and abuse of prisoners, while their superiors, like Gordo, went on to profit as experienced private citizens. Now Cirk wants revenge, and in Tell he sees "a man who might want a piece of what I'm going to do."
That night, Tell dreams of Abu Ghraib. Its hellish maze of mustard-yellow brick walls is smeared with blood and excrement. The floor, wet with urine, is lit by the garish, ugly light of practical fluorescent bulbs. Naked, sack-headed prisoners are on their knees, in fetal positions or barely standing as they're beaten, terrorized and humiliated. Their screams are drowned out by the roar of heavy-metal music pumping through the prison loudspeakers.
"Paul wanted the flashback scenes to feel like a VR experience."
— Alexander Dynan
Abuse and trauma create a physical stain on the body, Tell relates to Cirk: "Your body remembers." To that end, Dynan, Schrader and Fenton designed the Abu Ghraib cell block to be a disorienting and traumatizing space for the viewer — a seemingly indefinite loop of prison cells where each atrocity was staged and lit to stand out. Says Dynan, "We had a hard ceiling and were going to see every lighting unit, so we wired fluorescent tubes in a staggered pattern along the hallways and in the cells, so that you'd never have shadows cast from the camera. I wanted to hide the camera and camera shadow, because it was such a wide lens and we saw so much. I staggered the lighting so it could feel as seamless an observational POV as possible."

He found inspiration in James Wong Howe, ASC's expressive cinematography for John Frankenheimer's 1966 psychological thriller Seconds, which made special use of a 9.8mm Kinoptik Tegea fisheye prime lens. "What I like the most about working with Alex is his conscientiousness, the advanced thinking through all possibilities and references," says Schrader. "I can bounce iffy ideas off of him and he'll process them, rather than be swept up in my flights of fancy. I find myself thinking a little more fearlessly, knowing that whatever I come up with, he'll find a way to make it work.
Dynan and Schrader pull the audience into Tell's nightmare through the use of a floating first-person perspective — achieved with a Steadicam, operated by Müller, equipped with an Entaniya 8mm T2.9 fisheye, paired with a Red Helium camera capturing in 8K. The distortion that comes with a 220-degree angle of view flattened into a 2:1 frame — as opposed to the rest of the feature's 1.66:1 ratio — combined with Fenton's claustrophobic set design, results in an eye-straining, disorienting image. "Everything we did there was designed to make you sick," says Dynan.
The cinematographer notes his appreciation for the work of VR consultant Ben Schwartz, who was "instrumental in developing this look with me."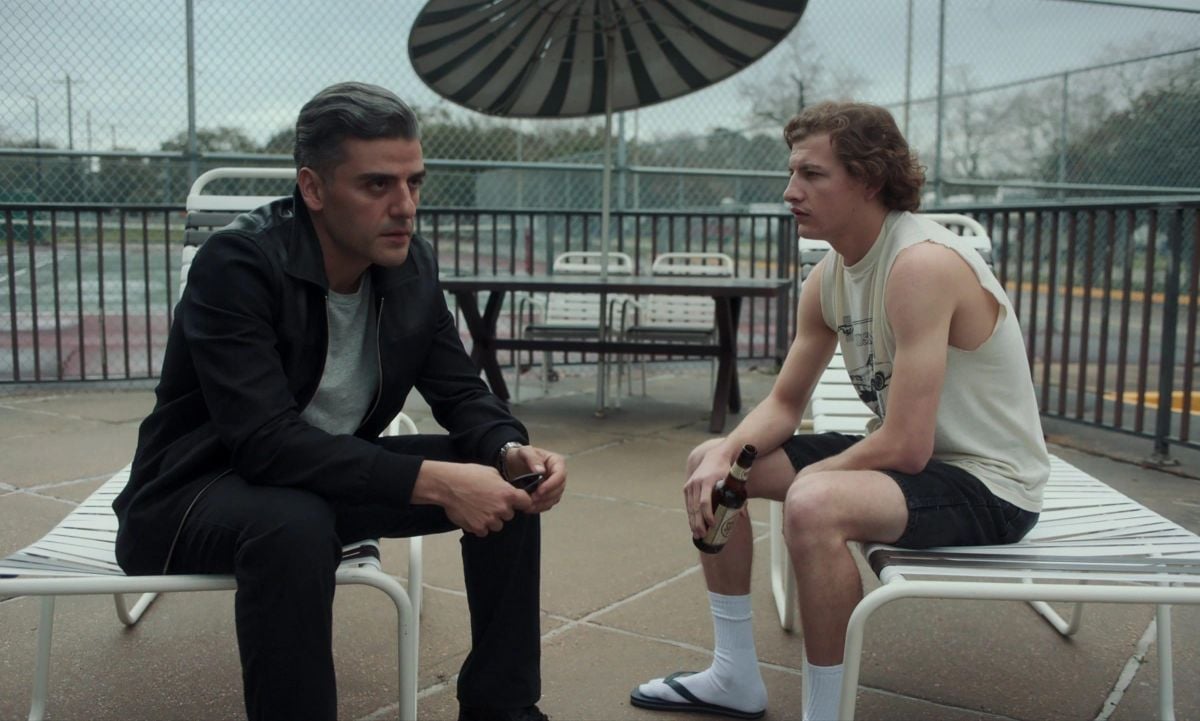 Night Lights
Day after day, Tell is content to go from one casino to the next, playing round after round of poker, winning just enough to keep him under the radar — until he's noticed by La Linda (Tiffany Haddish), a poker-player "stable" manager who convinces him to join a high-profile, high-stakes Vegas-bound tournament. The two embark on a romantic relationship.
As Tell's life is thrown into forward motion, the lighting and camerawork reflect an expansion of his environment. In a pivotal scene, La Linda takes him on an evening walk through an outdoor garden populated with towering LED sculptures. Müller follows them with a Steadicam as they stroll along, holding hands. They enter a rainbow tunnel of pulsing practical LEDs, accentuated with rows of randomized, color-matched SkyPanel S60s — the soft light and intimate setting providing a dreamy, hopeful contrast to Tell's awful nightmares. The scene ends with the camera floating over a rainbow of light in a computer-generated, God'seye view of the garden's spacious, flowing topography.
"I just took the colors from the practical LED Christmas lights and put them on the S60s," Dynan says. "Then, I had the S60 fade between the different colors, so that when [the actors] exited the tunnel, the color of the tunnel extended beyond, onto the path they continue walking on. VFX then took this shot and built the fantastical world that is created in the 'wonderland' sequence.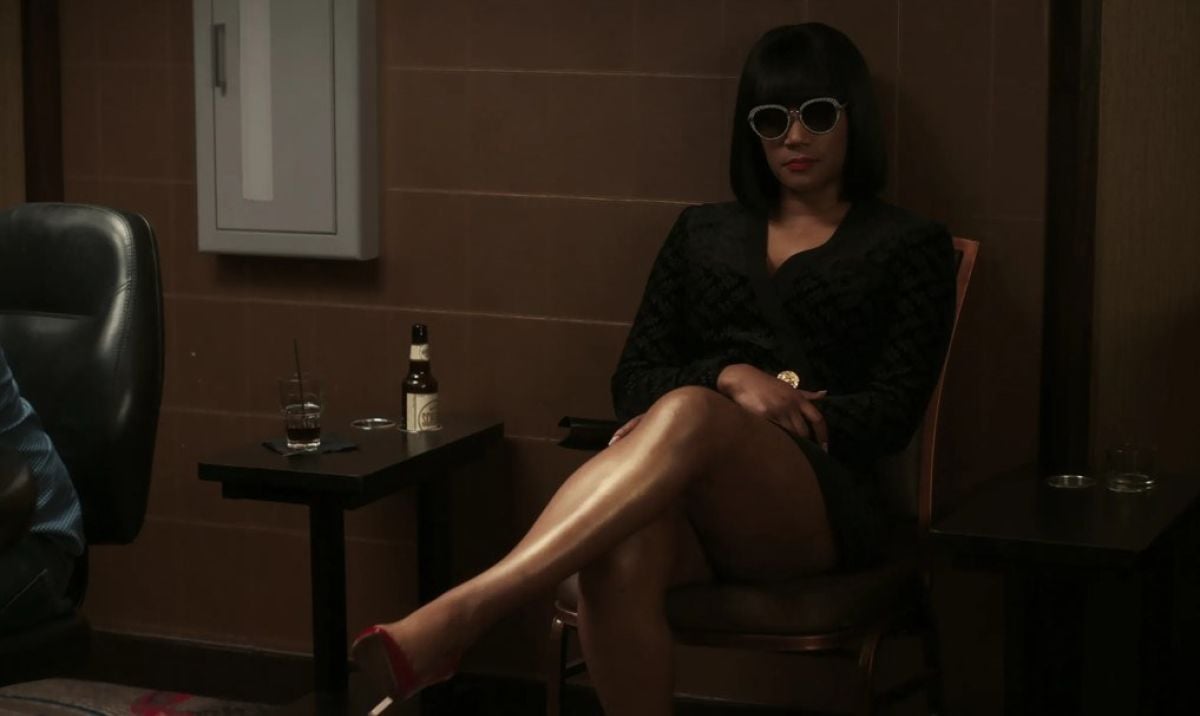 Grim Confrontation
Moments before the Vegas tournament is set to begin, Tell finds out that Cirk is going after Gordo. Tell abandons his seat at the poker table to stop Cirk, but as he drives through the night — his eyes flashing brightly with the light of oncoming cars — he knows he's already too late.
"It's a process trailer at night," Dynan says of the driving scene. "We used a series of Astera Titan tubes on a chase to add additional motivated light into Tell's eyes, and combined it with what was naturally occurring."
Gordo enters his house to find Tell seated in a high-backed chair in the living room, gun in hand, waiting among furniture meticulously covered in off-white sheets.
The rest of the scene plays out in a single, long take: Tell stands, a bag of torture devices in hand, his gun leveled at Gordo. Gordo, resigned, crosses frame right to a hallway off the living room, toward another part of the house. Tell follows. The camera pans with them but doesn't leave the room. Sounds of pain and suffering are soon heard offscreen. Beat. Then, in the same shot, the camera pans slightly left, then slowly dollies back toward the foyer. The light cross-fades in-camera from night to day. The camera rolls to a stop, and Tell re-enters the living room — bloody, battered, drenched in sweat.
"When you don't move the camera to see something horrific, it compels the viewer to generate the horror themselves, and that's more effective than anything we could show," says Dynan. The dolly move was performed by dolly grip Balz Biellmann, who timed it with a steady click track fed from the sound cart to his headset.
The lighting transition was accomplished with the assistance of gaffer T.J. Alston, key grip Bill Hilferty and their teams. The scene was shot at night, with the cameras color-balanced to 3,200K. All the lamps were controlled through Alston's tablet.
An exterior Arri SkyPanel S360 dialed to 5,000K was bounced off an 8'x8' UltraBounce, providing soft, cool moonlight through the living-room windows. Two interior SkyPanel S60s, also set at 5,000K, were affixed with Chimeras with Light Grid and 40-degree egg crates, and set up as a cross-key for the seated positions. An additional S60 was bounced into the ceiling for base room-tone. During the time shift, the LED lamps' color temperatures were shifted to 3,200K to turn the cool moonlight into neutral white.
After the shift, three Arri Fresnels — two T12s and a T5, all located outside — were used to simulate direct morning sunlight coming into the house, while the background outside the house was lit by three additional T5s. Inside, a skip-bounced ETC Source Four ellipsoidal spot provided additional slashes of light across the room.
Full Circle
Tell finds himself back in prison, where the film started, and where the reintroduction of routine and strict regimentation has once again seemed to stall the passage of time. He's summoned to see an unexpected visitor — La Linda. They see each other, smile, and reach out toward each other, fingertips meeting, but separated by a barrier of tempered security glass in what Schrader called an "expression of love by an unfeeling man within an unfeeling environment" — when writing about a scene that appears in Bresson's 1959 film Pickpocket, which this scene in The Card Counter was designed to echo.
Schrader maintains that there is no universal formula for how the transcendent is conveyed in the film medium. "It depends on your material, and how much you feel you need to withdraw from the audience. You have to find your own mechanism to get the viewer to lean forward, but it's a delicate dance. You don't want them to get up and walk out."
---
Tech Specs
1.66:1, 2:1
Cameras: Arri Alexa LF, Red Helium
Lenses: Arri DNA LF, Entaniya fisheye