A House to Die For: Filming The Girl Before
Eben Bolter, BSC details his creative approach to lighting and photographing a murderous flat with a mind of its own.
Iain Marcks
Eben Bolter, BSC details his creative approach to lighting and photographing a murderous flat with a mind of its own.
Photographed by Eben Bolter, BSC (Avenue 5) and directed by Lisa Brühlmann (Killing Eve) The Girl Before is a four-part television thriller created by J.P. Delaney for BBC One and HBO Max, based on Delaney's eponymous 2016 novel.
In it, Gugu Mbatha-Raw plays Jane, a young PR executive who finds the flat of her dreams at 1 Folgate Street — a minimalist puzzle box of a home that comes with all the modern conveniences, some strict rules and a few dark secrets. After Jane becomes involved with the house's eccentric designer (David Oyelowo), she learns that one of the previous tenants (Jessica Plummer) died there — or did she? — and starts to suspect her fate may follow that of... the girl before.
AC's conversation with Bolter centers around his approach to lighting and photographing the house at 1 Folgate Street, the interiors of which were constructed entirely on stages at Bottle Yard Studios in Bristol. A full-sized facade was built on location in Redland, Bristol.

American Cinematographer: One Folgate reminds me of a kind of Brutalist version of the house in the original Ladykillers [shot by Otto Heller, BSC]. Ben Hardy, who plays the boyfriend of the deceased woman, describes it as "like an art gallery," and although it has a kitchen and a bedroom and a bathroom and even some green space, it's hard to imagine anyone actually living there. How you begin to photograph a place like that?

Eben Bolter, BSC: A big part of the design conversation between myself and [production designer] Jon Henson was, "how extreme do we go? How Brutalist, how big, how exposed, how dangerous? In terms of photographing it, how do we ground it?" This is a fantasy house, a set, but we wanted it to feel like it could conceivably have been built and lived in.

But then you have this architect who wants to eradicate everything unnecessary or imperfect.

Which is totally surreal. But I was never really worried about wide shots where you can see the three-dimensional geometry of the set, where I could use light and shadow and angles in a very graphic way. But when we get into coverage and the close-ups, are we going to be dealing with gray backgrounds the whole time?
We started to think about how we could use moving lights. How we could bring the outside in. Jon was exploring the idea of making little indoor gardens with trees and such, so we said, "great, let's make them open to the elements." We can use [set rain and] fans to make it looks like the tree is blowing in a storm, which motivates the use of dappled light inside. All of the windows had a practical greens department tree outside with a fan blowing on it, just so that there's something alive around the house.
What lights did you use around the house?

I had Arri SkyPanel S60s with DoPchoice Snapbags hanging above the two open-air atriums. We had full color control over these, from daylight to moonlight or whatever we wanted. If it's a morning scene, we'd rate the camera for 3200K then have Arri T24 20K tungsten Fresnels warmed up with 1/4 Straw skimming across the set. For scenes set later in the day, we'd dim the window lights down 75 percent for a burnt orange look. Scene by scene, we didn't really care about where the sun was relative to planet earth. If we're doing wide shots, we just made sure the angle of light was the same through all the windows. Our approach was based on reality, but pushing the limits of reality to make it interesting.
What does that look like?

There was one blank wall in the living room that I was particularly concerned about, which is where this idea of a "water wall" comes in. I was thinking about Blade Runner 2049 and what Roger Deakins [ASC, BSC] did with reflections of rippling water on the walls of certain rooms. The art department built a little water tank 1' deep, with a submerged 90-degree angled mirror and motors to ripple the water's surface. Then maybe 2' away, underneath the floor of the set, we something like seven 2K Tungsten lights bouncing through the side of the water tank, onto the mirror and up the wall. My gaffer, Mark Holownia, and I spent quite a lot of time playing with the angle of the effect, playing with the size and the amount of ripples to try and find a rhythmic structure of light that would bring this wall to life.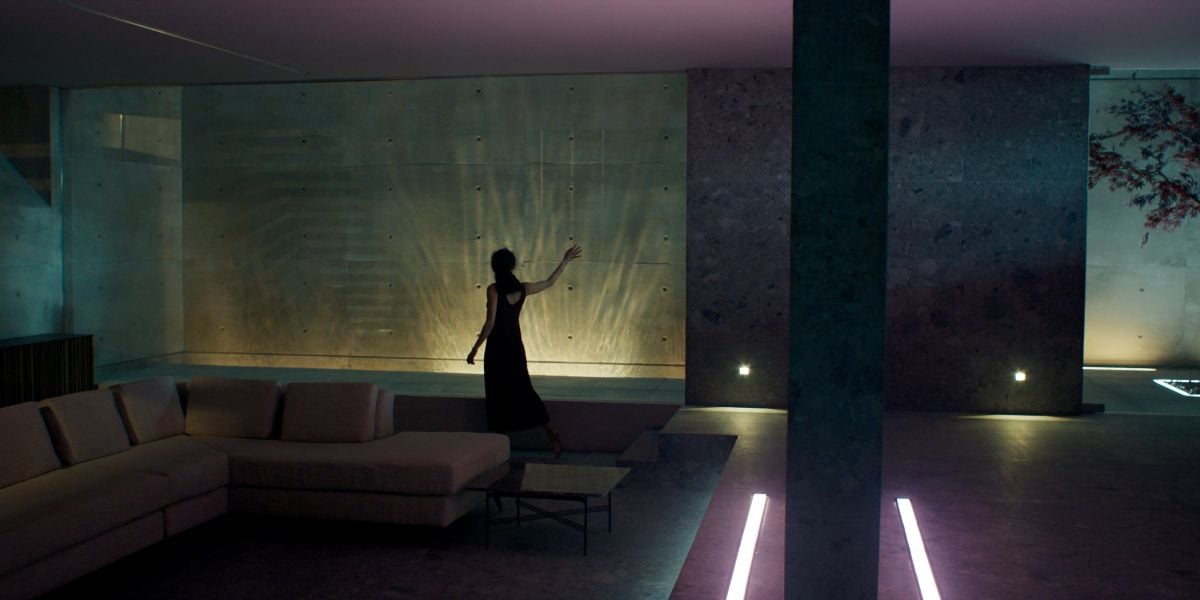 Can you elaborate on your collaboration with the production designer?
We had to do all of our prep virtually, because this was during high COVID times in the UK. I was working on Avenue 5 Season Two when it was shut down in January of 2021 after only a week of production, then I got this job a week later. Luckily, Jon was well-set up for virtual design. He built the whole house in SketchUp so Lisa and I could step in and take a look around.
Jon had it all sorted out in terms of functionality and the basic architecture. Where I could add value was in talking about light. Our best collaborative breakthrough was related to practical units. I wanted to use Astera LED tubes, but Jon didn't want them to look like fluorescent units, so we had square housings built around them.

There's this really long one on the ground floor, suspended over the big flat table just as you enter the dining area. It's roughly 32' long with a flat, diffused bottom and holds four 8' Asteras end-to-end. On screen, it looks like a long, thin, laser beam of light. We did the same with kicker lights up and down walls, from recesses in the floor and ceiling, hiding the LED tubes with a bit of frosted Perspex over the top to flatten out the surface.

The house, which is run by a computer program, expresses its "moods" through lighting. How did you approach this?

Every light needed to be completely wireless-controlled, and I needed the ability to make any light any color. It became a matter of going through the script and picking out scenes. If it's a party or an extreme situation, we'd see how far out we could go, but it still needed to feel appropriate for the mood.
I had one full day of pre-lighting on the set, getting templates into the [lighting] desk with Mark and desk operator Katie Davies. We would start with variations on generic evening looks, something relaxing; a party where we went for a teal look, using candles and warm fixtures for contrast. I don't know if we ever used the word "sexy," but there are some sexy scenes, so we had to think about lighting those. There's emergency lighting where everything goes red. The lighting starts to glitch in later episodes, and we had fun coming up with those.


Let's talk about composition. What factors did you have to consider when choosing your lenses?
I had just shot Night Teeth and fallen in love with Caldwell Chameleon anamorphic lenses. At heart, I'm an anamorphic shooter. It's one of the things about cinematography that I first fell in love with. But in this instance, Lisa and I wanted to go back to basics. This is an interior thriller. There's a lot of psychological storytelling, but it's done simply and the filmmaking is quite still. Spherical felt right for that.
What was your capture format?

We used Arri Alexa LF in open gate 4.5K mode, capturing ARRIRAW for a 2:1 UHD deliverable.
What lenses did you use?
I didn't want to go with an ultra-modern look because the perfect Brutalism of the house plus perfect lenses might feel too sharp. I started thinking about vintage looks, and Arri Rental in London had a set of Prime DNA lenses that they wanted me to look at. In testing, I found that at the center of the image they're very sharp, with really great contrast and color reproduction, and didn't feel vintage in any way. But if I was wide open — which I believe is T1.6 to T2.8 — there's this interesting spherical bokeh effect at the edges, like a vignette.
It's not an obvious effect, it gives the image a bit of interest and I liked that it naturally draws the viewer's attention to the center of the image. Compositionally, that meant I couldn't put people's faces right at the edge of the frame, which led us to center compose a bit more than we otherwise would have, but I've always liked working around constraints, even if I didn't intentionally set them.
What were your preferred focal lengths?

For this show, I was interested in longer lenses and compressing space, whilst avoiding any distortion to the architecture. I tried to not uses lenses any wider than the 45mm Prime DNA, which gave me an approximate 32mm field of view relative to Super 35. Our hero focal length on this show was probably the 65mm DNA. We tended to stay on the longer side of things. Quite often I was able to do a wide shot from further away, and that became the aesthetic. When we needed to show more of a space, and if I was ever on something wider than then a 45mm, I would try to square-off the camera's positioning to keep the house's lines as straight as possible.
DNA LF lenses are tuneable. Did you consider customization as an option?
I've never customized a lens myself — if I like what I see I'll embrace the flaw rather than try and create the flaw. When Arri showed me the Prime DNAs, they said, "These are funky lenses. Each set is different. You'll either love them or hate them." And I love them.
Prior to this conversation, you mentioned that the second episode of this series is your favorite. Why?
In episode one, there's a lot of daytime work, a lot of meeting the characters and meeting the house. In episode two, the house literally takes a darker turn — there are more nighttime scenes and a bit more mystery and suspense. Horror and thrillers tend to call for more expressive cinematography. You're telling the story using angles and light and shadows. It's more playful. I could play harder, brighter sources, put some blue and green into the image and be theatrical.
I sensed something Hitchcockian in the way you were using color, particularly green and red. At times, it reminded me of Vertigo [shot by Robert Burks, ASC].

Vertigo is a great reference for using color and theatrical lighting to enhance story. It's not something I consciously thought about while we were making this, but that's what I was leaning into, like when two characters kiss and the interior light dims until moonlight takes over. I couldn't help but play a little bit in that magical cinematic way.
TECH SPECS
2:1 Aspect Ratio
Arri Alexa LF
Arri Rental Prime DNA Lenses
4.5K UHD Capture
(Editor's note: An earlier version of this article claimed Bolter used Arri Rental DNA LF lenses. This has been corrected.)