Wrap Shot: L.A. Confidential
Looking back at the expert cinematography by Dante Spinnoti, ASC, AIC in this hard-boiled yet contemporary take on film noir. 
David E. Williams
In the production still below, Dante Spinotti, ASC, AIC takes five while filming the period crime film L.A. Confidential (1997), directed by Curtis Hanson and based on the sprawling saga of popular crime-novelist James Ellroy. The cinematographer sought a new approach to composition on the picture: "I tried to compose shots as if I were using a still camera. I was constantly asking myself, 'Where would I be if I was holding a Leica?'"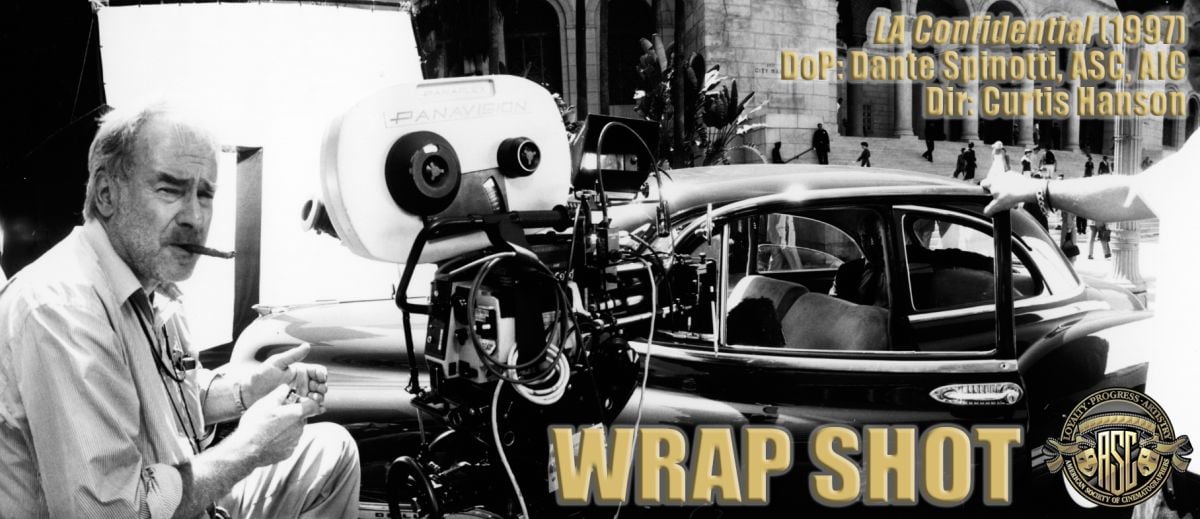 In his quest to bring L.A. Confidential to the screen, Hanson curated a series of vintage postcards, magazine clippings and stills that spelled out the texture he wanted for the film. Studio executives, actors and members of his creative team were given Hanson's vivid pitch, which pulled a noir-flavored novel out into the layered sunlight of the City of Angels.

Spinotti quickly understood Hanson wanted neither the traditional "nostalgic haze" frequently relied on in films to suggest the period nor the clichéd smoke and diffusion of film-noir visuals so often used in urban crime stories. As Hanson eloquently put it, he wanted the "Light of Los Angeles."
As the director would later explain, "The light is very much what this place is about. It's why the movies came here in the first place — to be shot in that light. There's a softness to the light that perfectly complements the palette of the desert landscape."
Rather than screening film noir classics for visual inspiration, Hanson and Spinotti pored over the work of Swiss-born still photographer Robert Frank. They were particularly intrigued by Frank's 1958 book The Americans, a collection of gritty, startling black-and-white photographs documenting American life during the mid-Fifties. Spinotti found himself moved by Frank's "strong selection of elements, his way of bringing symbols into the shots. His work is passionate, but it is passion filtered with intellect. On L.A. Confidential, I tried to compose the shots as if I had a still camera in my hand. This is one reason I suggested that we shoot in the Super 35 widescreen format; I wanted to use spherical lenses, which for me have a look and feel similar to still-photo work. We also knew we would be shooting a lot at night. With anamorphic zoom lenses, which we used on Heat, you are limited to a stop of f5.6; with spherical lenses you can open up to f2.8, 2.3 or more and still get a very sharp image. We also wanted to have the ability to move around and use Steadicam, which is easier with spherical lenses."

The director and cinematographer agreed that Robert Frank's influence resonates in almost every aspect of the film's look, from lighting and camera angles to the selection of locations. Spinotti was particularly fascinated by the photographer's inclusion of "practical" lights in his photographs, noting, "I told the production designer [Jeannine Oppewall], 'You will love this film, because what you select as practicals will be our major sources of light.' In fact, practicals were quite often our key lights on this film."
Was Spinotti concerned about the problem of practical key lights "burning out" on screen? "No," he answers. "In fact, I wish I could have burned them out more, because I like that look. As you look at Frank's photographs, you see there is often a halo around the lights. These halos are one of the things people are often struck by in his work. I think that 'burn-outs' and halos worked for us as well in L.A. Confidential, enhancing the period and mood."
Despite his departure from the classic film noir style, Spinotti did include some traditional motifs in his overall photographic approach, such as the occasional appearance of menacing, exaggerated shadows, or shadows cast on walls by venetian blinds. One of the more notable visual aspects of the picture is the cinematographer's use of darkness to surround and highlight the most important aspect of each tableau, much in the way that early filmmakers actually vignetted the edges of a scene to emphasize its vital elements. He explains, "I like to shoot dark images. I'm drawn to the mystery of darkness with brightness in the center; that's instinctive to me.'
With that in mind, Spinotti took advantage of the city's natural light and worked on interior locations and soundstages to simulate and match those natural layers, giving the film a more contemporary and realistic feel. The cinematographer's work on the picture earned him Academy and ASC Award nominations.
He was honored by the ASC with the Lifetime Achievement Award in 2012.
---
L.A. Confidential was selected as one of the ASC 100 Milestone Films in Cinematography of the 20th Century.

L.A. Confidential was covered in-depth in the October 1997 issue of American Cinematographer.