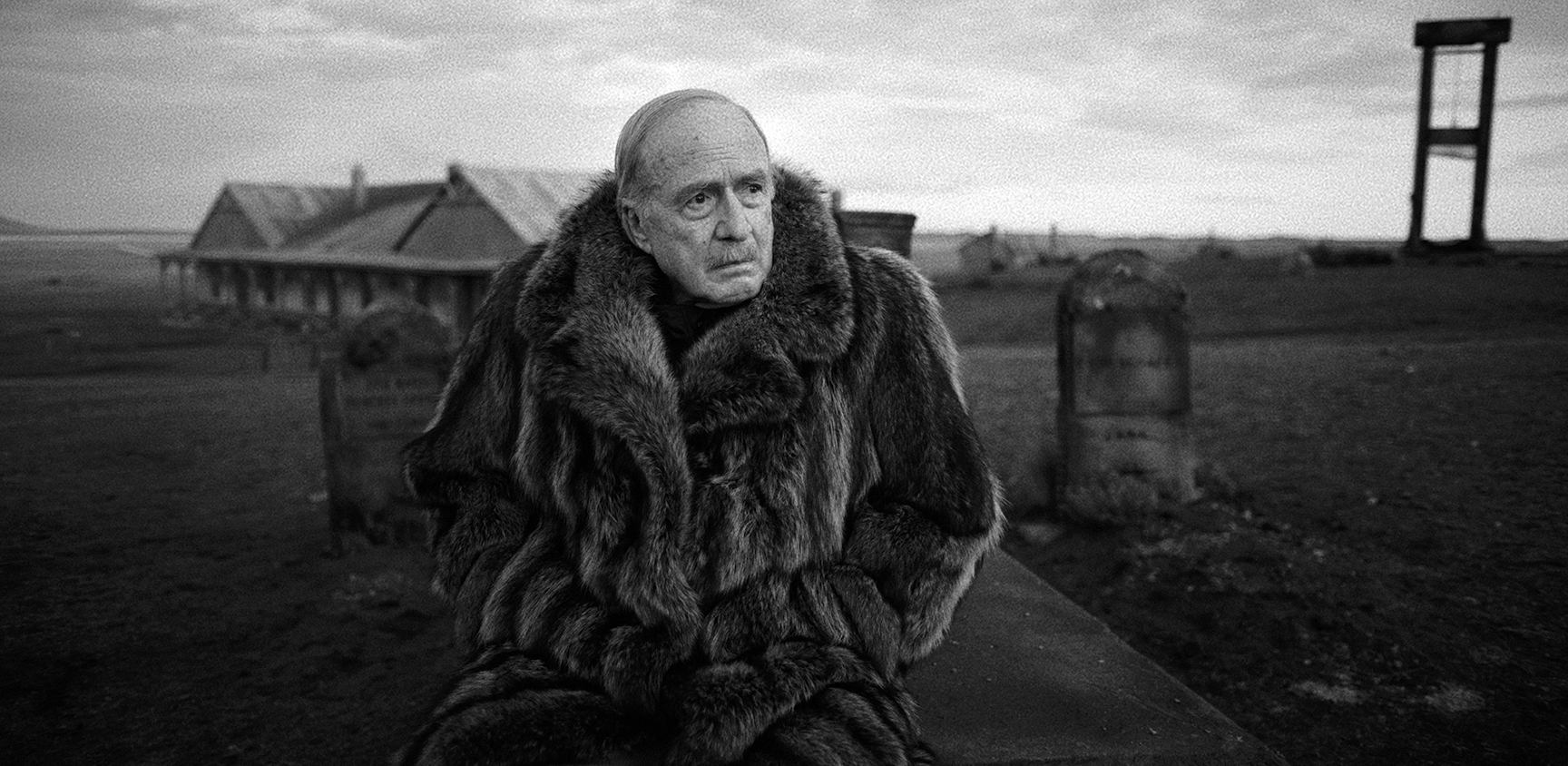 Vampire Augusto Pinochet (Jaime Vadell) ponders the burden of immortality in El Conde. (Courtesy of Netflix)
Inside November 2023 Issue of AC
New edition features coverage of El Conde, The Continental and The Creator, a look at the custom technologies developed for the Sphere; and much more.
ASC Staff
Our new issue of American Cinematographer — Vol. 104 No. 11 — has arrived and the digital edition is now available. Inside, you'll find:
President's Desk: ASC President Shelly Johnson reflects on cinematographers' ability to find the storytelling potential in new technologies.
Ed Lachman, ASC and director Pablo Larrain discuss making El Conde, a black-and-white political satire that presents notorious Chilean dictator Augusto Pinochet as a vampire.
Co-cinematographers Peter Deming, ASC and Pal Ulvik Rokseth, director Albert Hughes, and colorist Maxine Gervais explain their approach to the John Wick streaming series The Continental.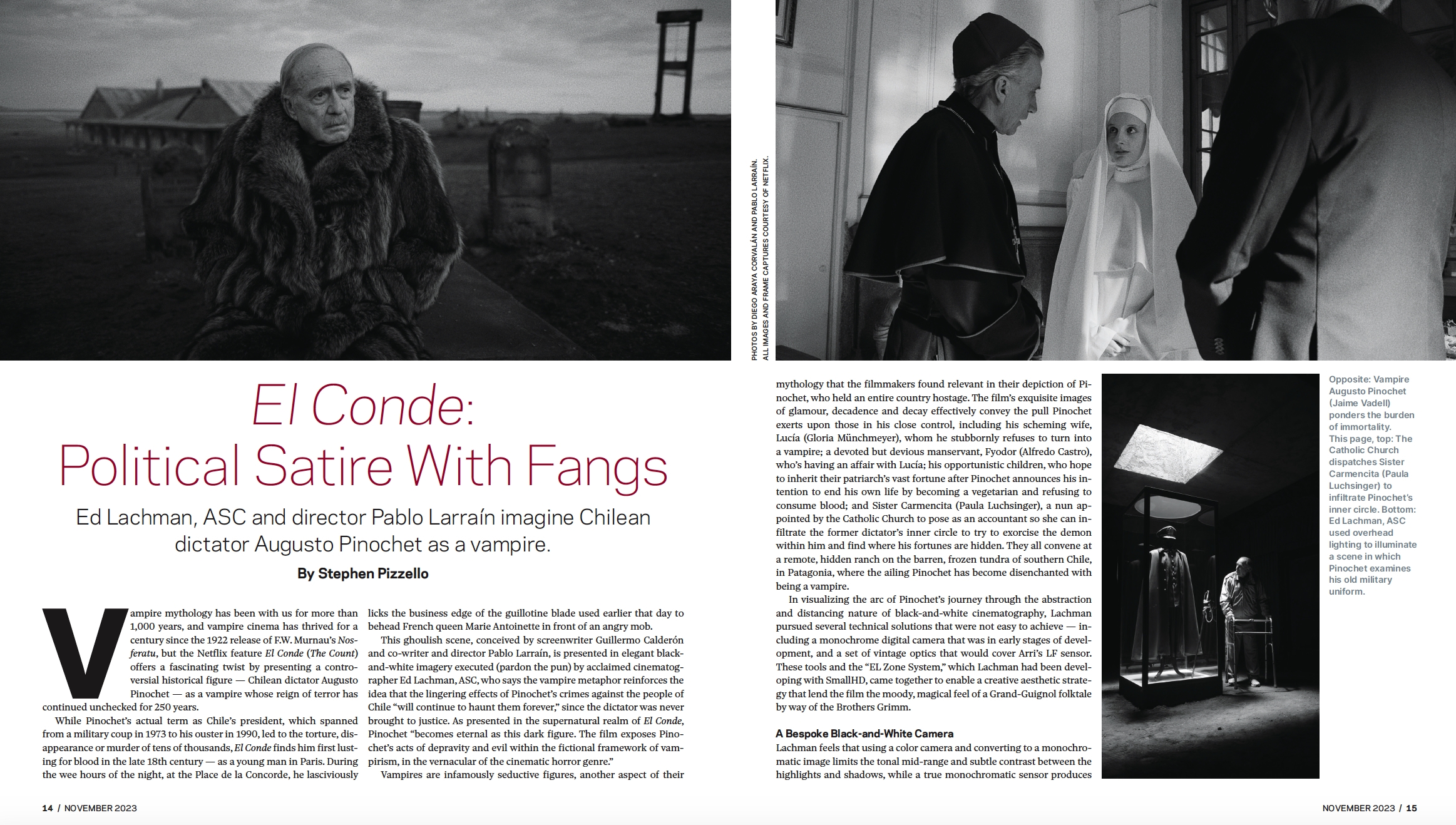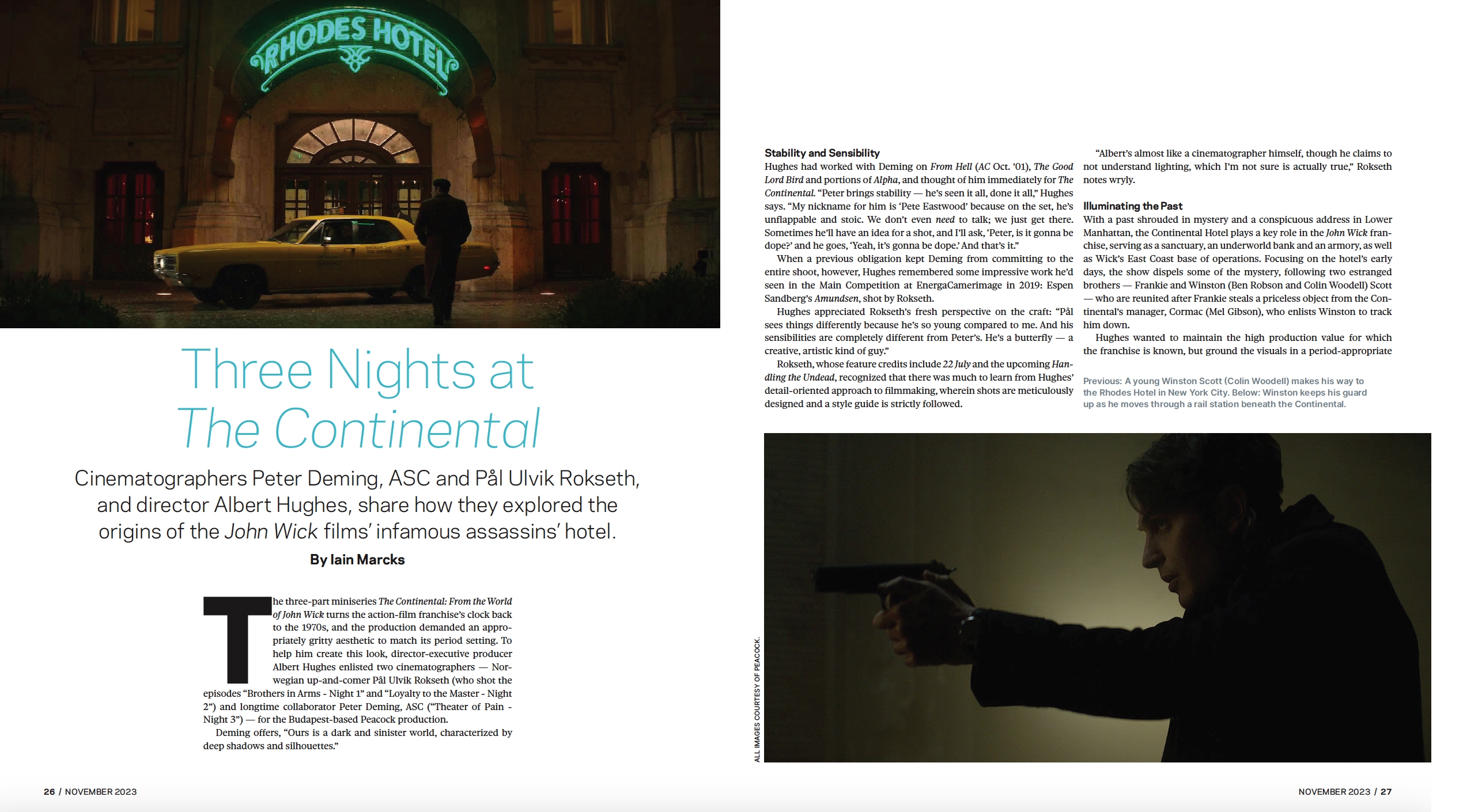 AC goes behind the scenes on the creation of the immersive entertainment venue Sphere in Las Vegas — including the design and implementation of the Big Sky camera — offering perspectives from cinematographer Andrew Shulkind and technologist Deanan DaSilva. (Read this story now.)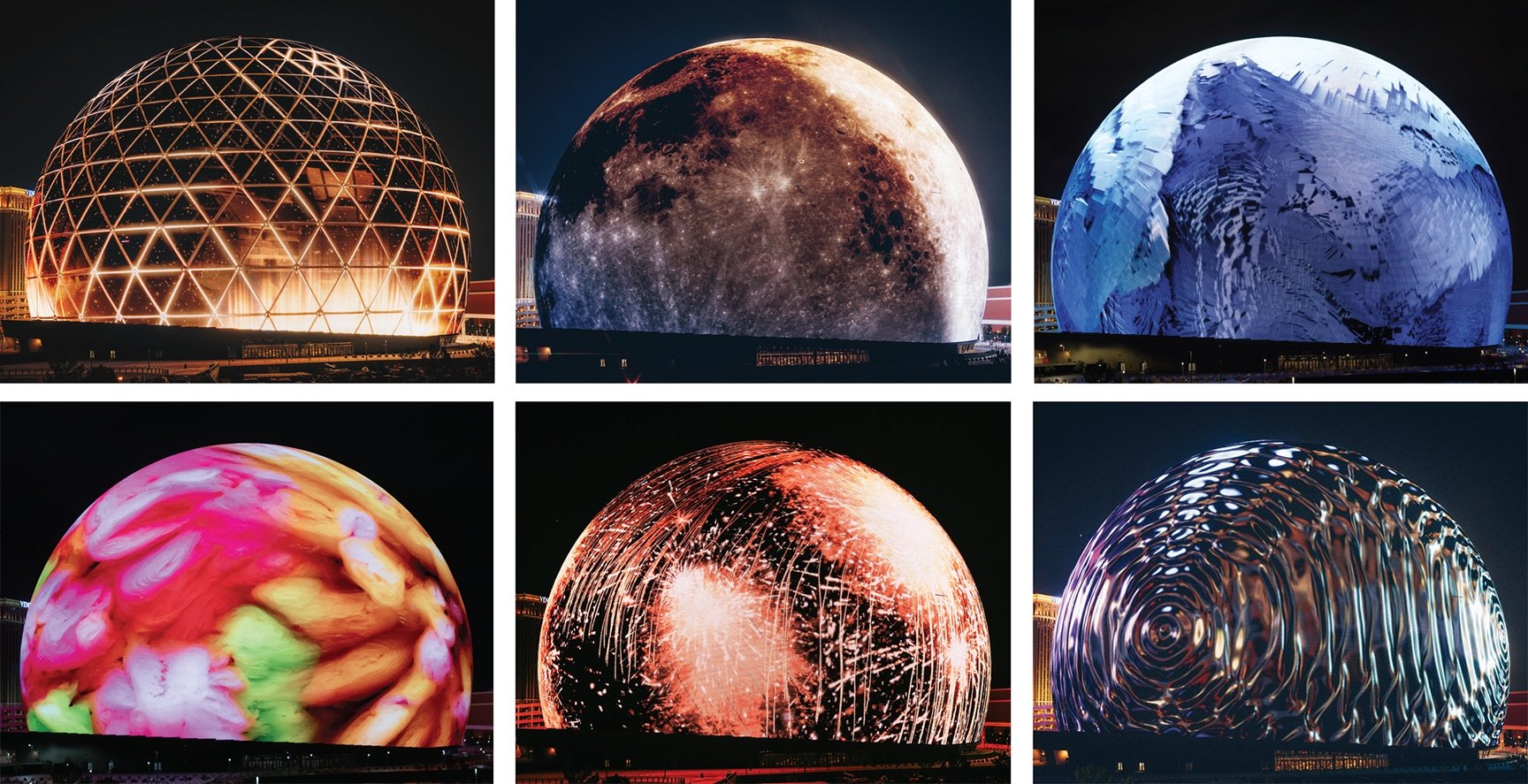 Cinematographers Greig Fraser, ASC, ACS and Oren Soffer, and director Gareth Edwards, break down their unconventional approach to the sci-fi film The Creator.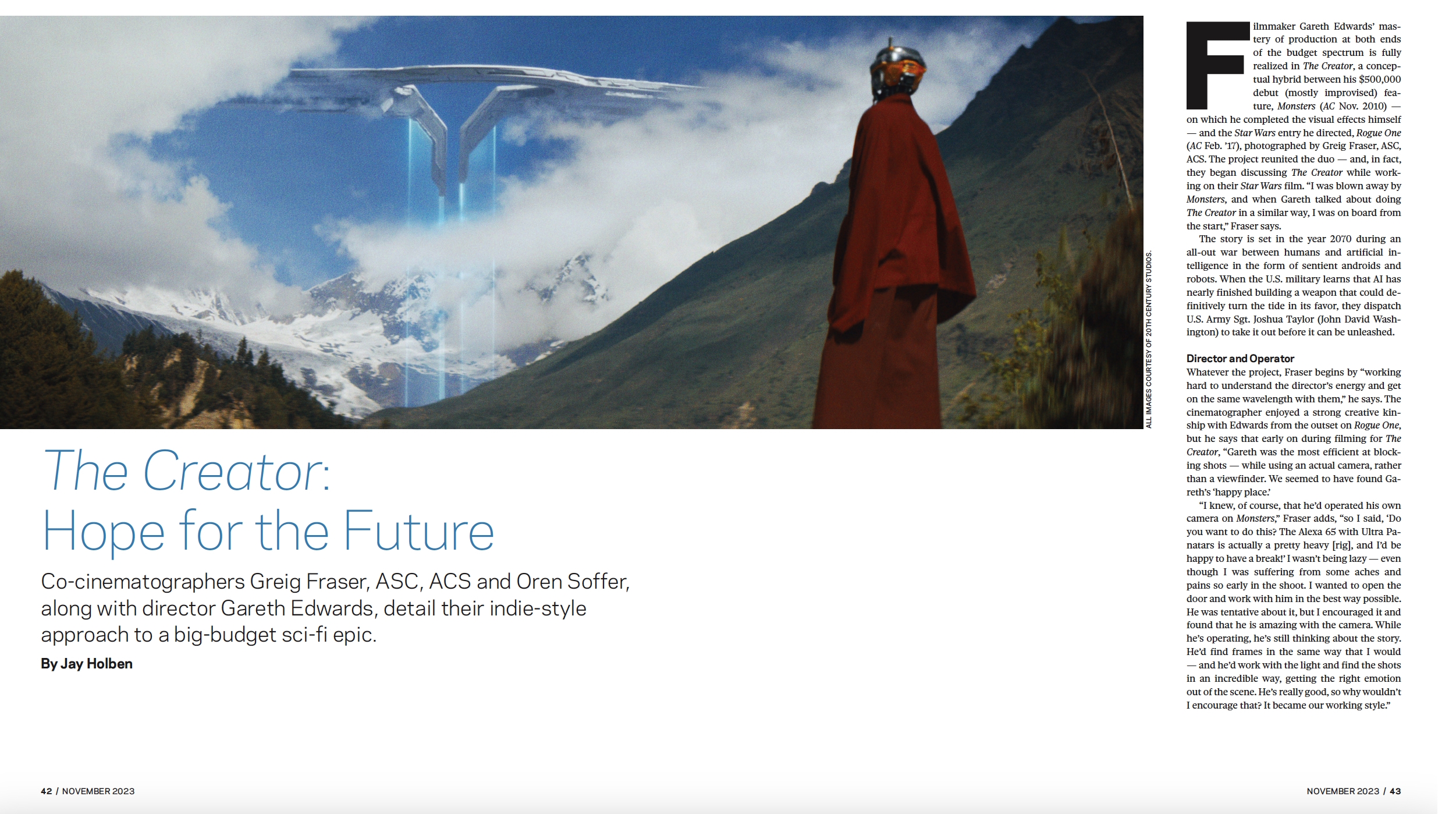 The VFX Perspective: Visual-effects supervisor Jay Cooper explains how a global team of VFX artists realized Gareth Edwards' unusual vision for The Creator.
Tech Focus: Lighting-console programmer Noah B. Shain details the extensive remote-lighting setup he developed for Oppenheimer.
Clubhouse News: The latest bulletins from the Society feature new members Vance Burberry, ASC, ACS and Chung-hoon Chung, ASC; a Master Class for Masters on HDR; the inaugural ASC Film Heritage Series presentation; optics and camera demonstrations by Arri; a memoir by ASC associate Andy Romanoff; Sony's Burano camera demo; and the second ASC Murphy Social.
Wrap Shot: Bram Stoker's Dracula, shot by Michael Ballhaus, ASC, BVK and directed by Francis Ford Coppola.
Not an AC subscriber yet? Do it today.