AC September '07 Online Articles
Links to available archived articles from AC September 2007. 
ASC Staff
Volume 88, Number 9
Bourne Again
Oliver Wood keeps the adrenaline flowing in The Bourne Ultimatum

DVD Playback
Reviews of current and upcoming DVD releases:
Points East
In Little Rock Central: 50 Years Later, documentary filmmakers Brent and Craig Renaud take a critical look at how far race relations have progressed at Central since then.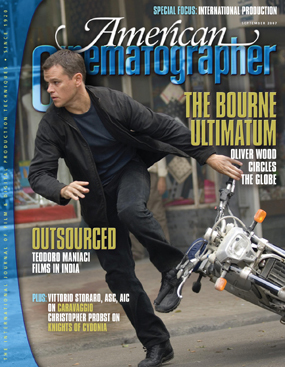 Subscribe to American Cinematographer
The September print edition also includes:
• Outsourced
• Caravaggio
• Muse Video "Knights of Cydonia"
• CSC 50th Anniversary
• Halloween
• Shoot 'Em Up
• Robert Wilson's Voom Portraits
• The Objective
Subscribe now for year-round coverage of cinematography technique and equipment delivered to your door.