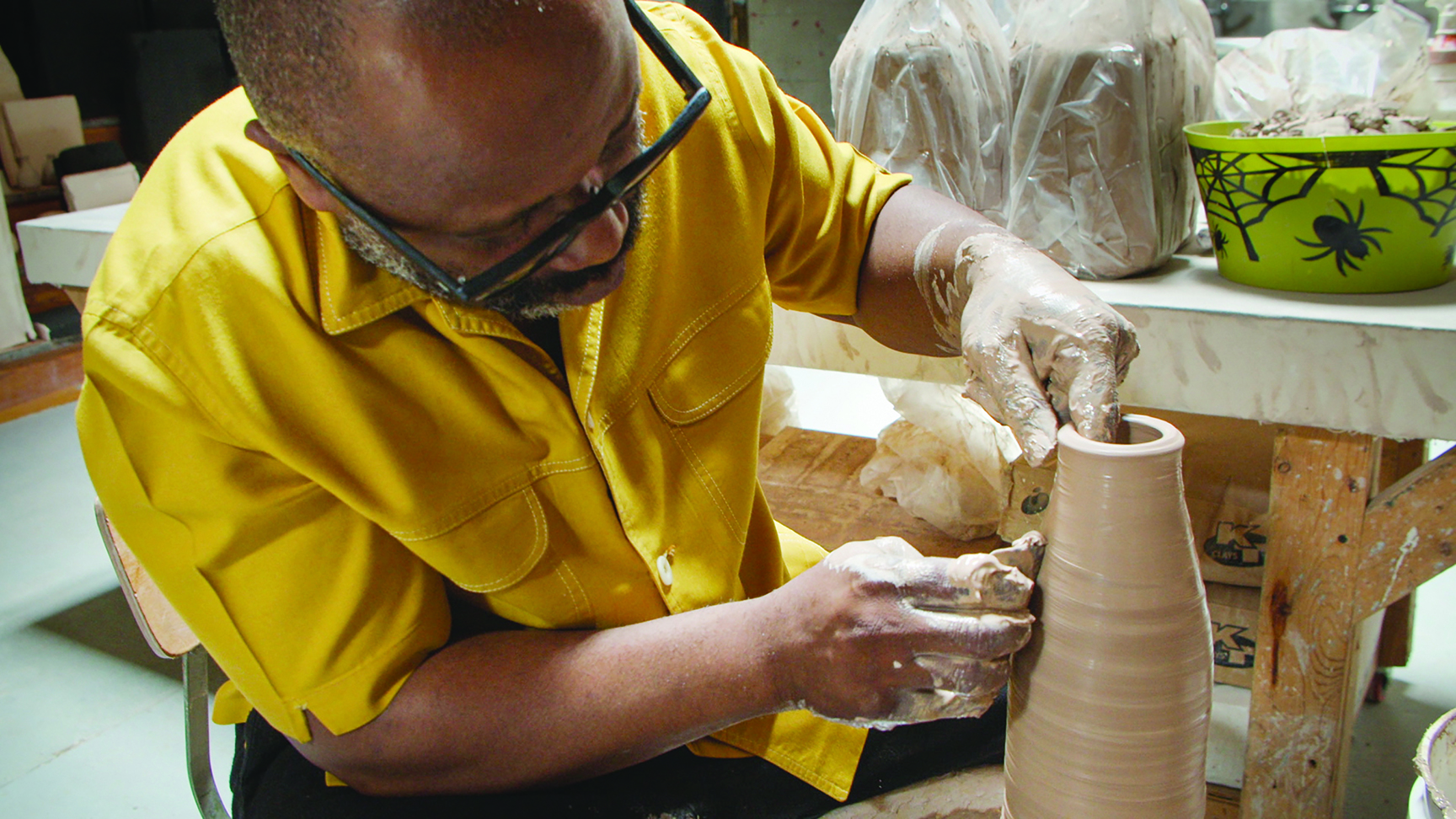 Artists as Art - Black Art: In the Absence of Light
Cinematographers John Simmons, ASC and Henry Adebonojo discuss their cross-decade collaboration.
ASC Staff
Cinematographers John Simmons, ASC and Henry Adebonojo discuss their cross-decade collaboration.

By Sarah Fensom
Cinematographers John Simmons, ASC and Henry Adebonojo have known each other a long time. They may have first met on the set of Spike Lee's 1990 Diet Coke commercial starring En Vogue, or the director's 1991 Fishbone music video for "Sunless Saturday," but neither cinematographer can say for sure. Adebonojo served as Simmons' camera assistant on several projects in the early 1990s, and the two worked with many of the same Black filmmakers in the years since. Now, the 2021 HBO documentary Black Art: In the Absence of Light has brought them together again. Simmons and Adebonojo sat down with AC for a conversation about the project — and their serendipitous mutual connection to it — which led to a discussion about their careers and how their own experiences have often mirrored the film's thesis.
A feature-length documentary directed by Sam Pollard — whose work includes the 2020 documentary MLK/FBI — Black Art showcases Black visual artists carving out their own spaces in the art world despite decades of denied recognition. The film features a multi-generational mix of names including Kerry James Marshall, Theaster Gates, Faith Ringgold, Jordan Casteel and Amy Sherald. Adebonojo, the film's cinematographer, thoughtfully captures these artists in their studios, in galleries surrounded by their work, and sometimes in the process of artmaking.
By contrast, Adebonojo creates his portraiture of the "talking heads" (in this case, scholars, collectors and curators) in front of a stately brown background. Their commentary, as well as that of the artists, is interwoven with dynamic archival footage shot by Simmons and directed by Carlton Moss.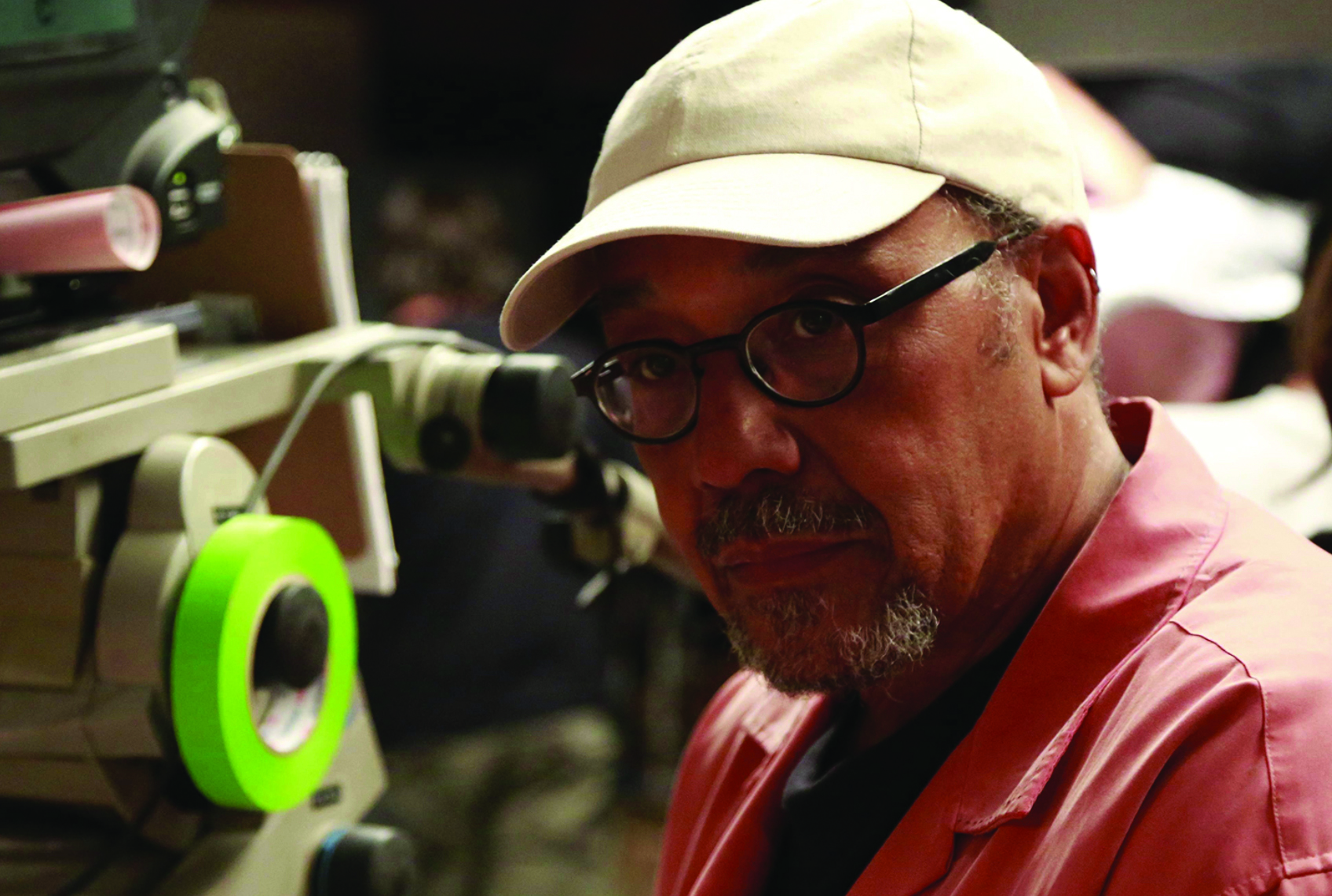 Historical Contributions
The archival footage shows the pioneering 1976 traveling museum exhibition Two Centuries of Black American Art, organized by artist, curator and scholar David Driskell for the Los Angeles County Museum of Art (LACMA). It was the first large-scale survey of Black artists to run at major American museums, and it is the central event that gives Pollard's film shape and context. Driskell appears in Black Art in various contexts — as an artist creating in his studio, as an art-history authority, and as the subject of archival interviews. As the former head of the art department at Fisk University (one of the country's oldest Historically Black Colleges and Universities), Driskell helped Simmons attain a scholarship to Fisk to study art, and the two remained close until Driskell's death in 2020. Simmons assisted Moss, who was his mentor (AC Jan. '21), in capturing footage of the groundbreaking art exhibition and its artists, which he considers to be one of the formative experiences of his burgeoning career.
"The film I shot of the exhibition is one of the adhesive elements in Black Art," Simmons says. "I was very young — I did it in the '70s straight out of film school. We had a crew of three people, but I felt like I was working with 10 — I was just so happy for the opportunity." The shoot lasted a month and took the cinematographer around the country, visiting all of the living artists featured in the exhibition and the places where others lived and died.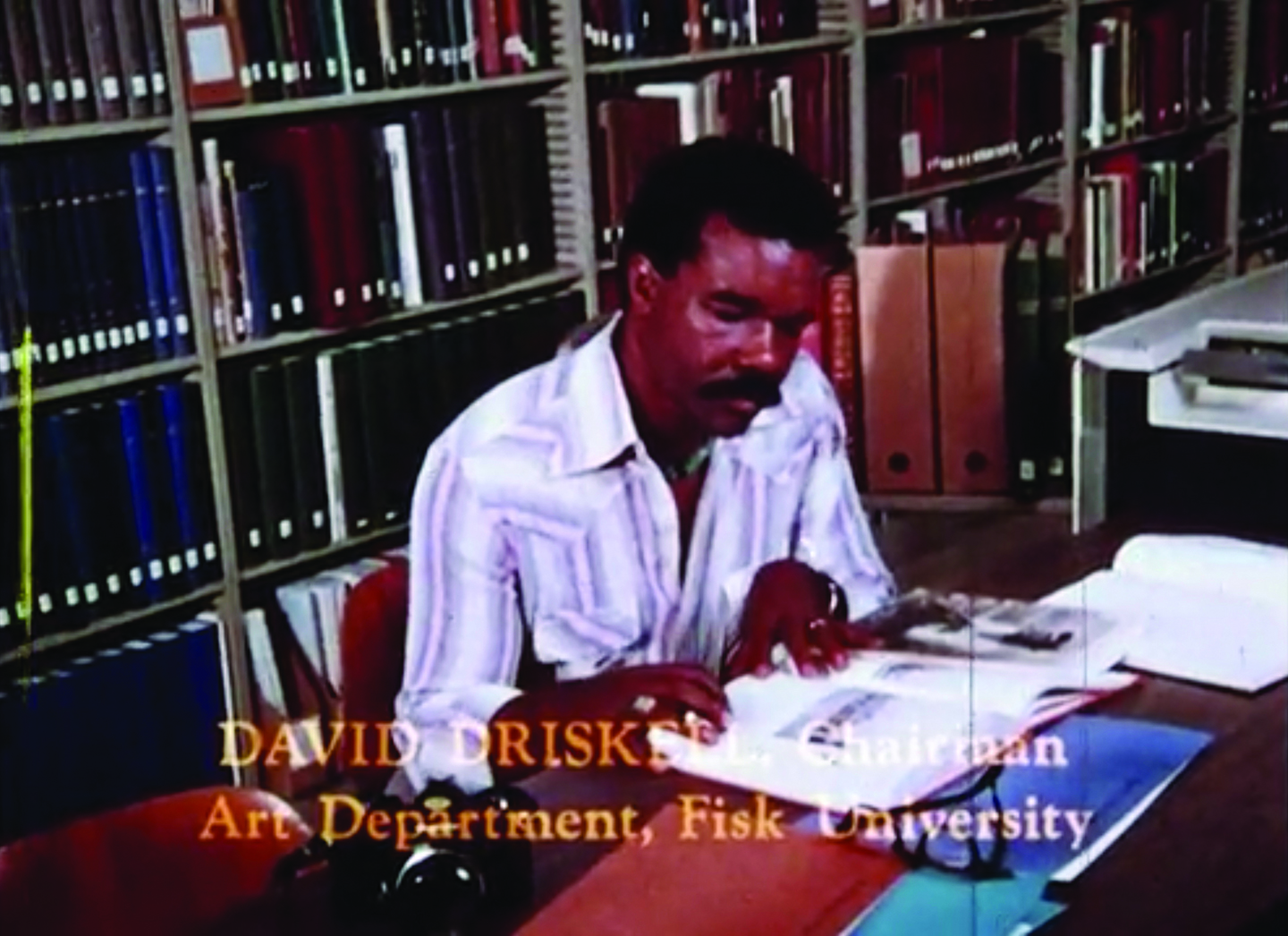 Simmons shot the footage with a 16mm Eclair camera using Kodak Ektachrome film and a minimal lighting package. "I used tungsten lighting units — open-faced — a couple of 1Ks, and Lowel lights had just come out with a collapsible 2K zip light that I had, which you could turn on one side or the other," Simmons recalls. This setup was ideal for shooting in a lot of the small apartments and living spaces the documentarians encountered. Simmons remembers shooting Alma Thomas — the celebrated Washington, D.C. painter — in her apartment on the third floor of a building with just a two-person crew of himself and the director. "When I interviewed her," he says with a laugh, "Carlton Moss and I were there by ourselves, so I lit the scene, he hit the slate and threw it underneath the chair, and we went from there."
Meeting the exhibition's artists proved an influential experience for the filmmaker. "One of the most valuable things that came out of that experience was being with those artists, talking and spending time with them — those cats and those women totally influenced the way I began to see things. Everything that came from my experience with those people became a compass that navigated the way I would see, frame and think about composition."
Simmons has had a prolific career as both a still photographer and cinematographer. His accomplishments include an Emmy for his work on Nicky, Ricky, Dicky & Dawn, two more nominations for his work on Pair of Kings, and another for Family Reunion. Some of his photographs are held in the collections of the Harvard Art Museums; the High Museum of Art; the Museum of Fine Arts, Houston; the Center for Creative Photography; and the David C. Driskell Center, University of Maryland. His artwork has also been featured in the J. Paul Getty Museum, Aziz Gallery and the Jean Deleage Art Gallery at CASA 0101.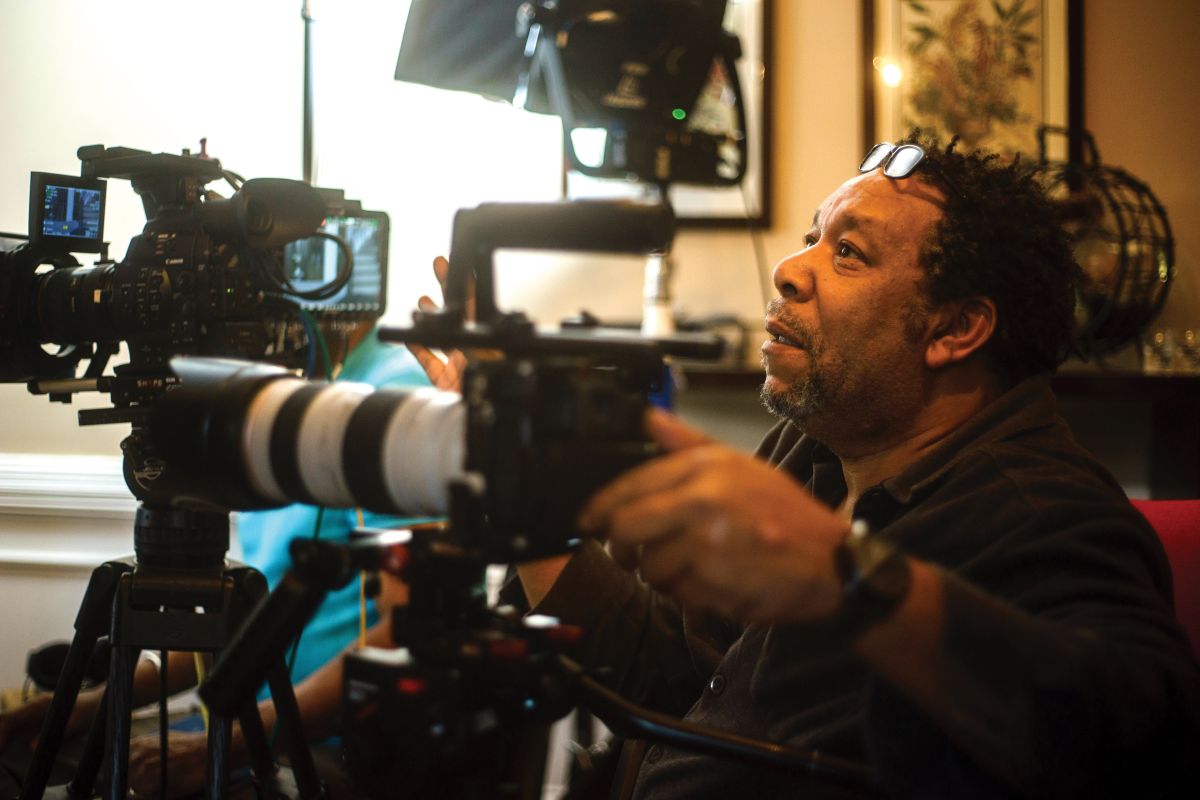 Contemporary Collaboration
Adebonojo has had a similar experience drawing inspiration from fine artists. "For me as a filmmaker, I always take strength from artists because of the courage they exhibit in doing what they do, as well as their vision — the way they see the world," he says. "I'm working with a different kind of canvas than they are, but I can take so many things from them to alter what might be an ordinary palette and turn it into something dynamic."
Just as Simmons had influential figures in his career, Adebonojo says Pollard has been an important collaborator of his. The two filmmakers met in 1990 during the making of Spike Lee's Mo' Better Blues (Pollard was the film's editor, Adebonojo a 2nd AC). Nearly a decade later, they both worked on the HBO documentary Half Past Autumn: The Life and Works of Gordon Parks, about the prolific photographer and filmmaker — a project that earned Adebonojo a shared Emmy nomination. One of three cinematographers on the film, Adebonojo sees that success as the moment Pollard thought they should work more closely together. Since then, they've worked together on projects like the documentaries Bill Traylor: Chasing Ghosts and In a Perfect World, with Pollard serving as executive producer.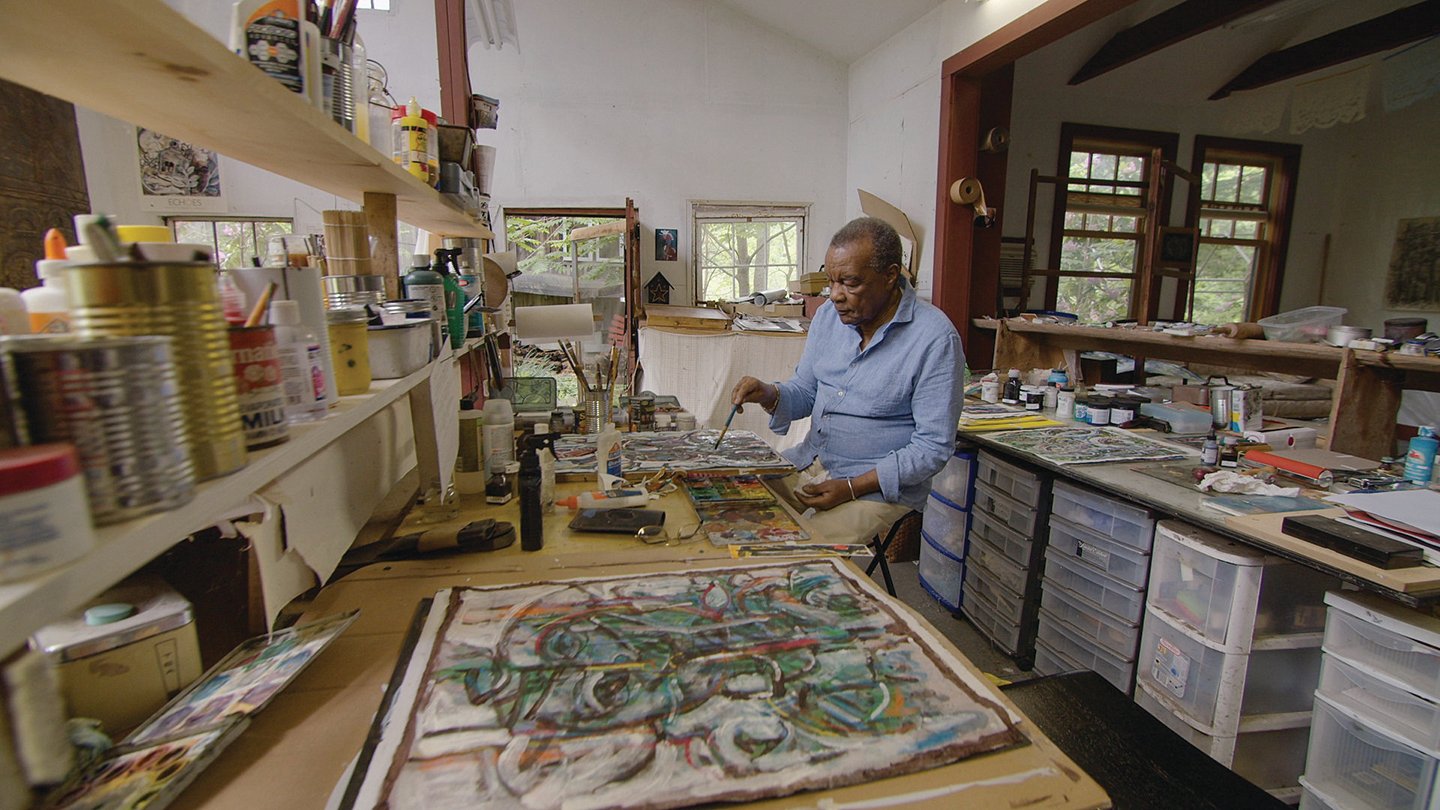 Adebonojo's credits also include the Academy Award-nominated documentary I Am Not Your Negro (on which Pollard served as consulting editor), the documentary feature Marian Anderson: The Whole World in Her Hands, and the Starz series Night Train With Wyatt Cenac.

Adebonojo says he and Pollard "realized the filmmakers we had in common that we had worked with, like Spike Lee and St. Clair Bourne, and the community that we both belonged to." The cinematographer adds that the two share a love of jazz. "Those intangibles that feed into the creative process are sometimes unspoken, but they're very important — you know, the places where you meet somebody that are beyond just what's in front of you."
Adebonojo and Pollard further elevated their relationship on Black Art. The cinematographer recalls that when the two of them began work on the documentary, Pollard told him they needed an appropriately visual strategy. The director gave Adebonojo a list of the artists who were being contacted for the film (about 90 percent ultimately participated), and the cinematographer began to devise ways to differentiate each artist visually, based on their work and discipline, while still maintaining a common, overarching aesthetic throughout the film.
"They're beautiful portraits — very painterly," Simmons says of each artist's representation in the film. "Although they're different, there is a nice flow and unity of the aesthetic. Each approach is about the artist."
Simmons' observation is exactly what the cinematographer was striving to achieve. "I was hoping to treat each subject as their own piece of art, if you will," Adebonojo says, "so I knew lighting and lenses were going to play a role."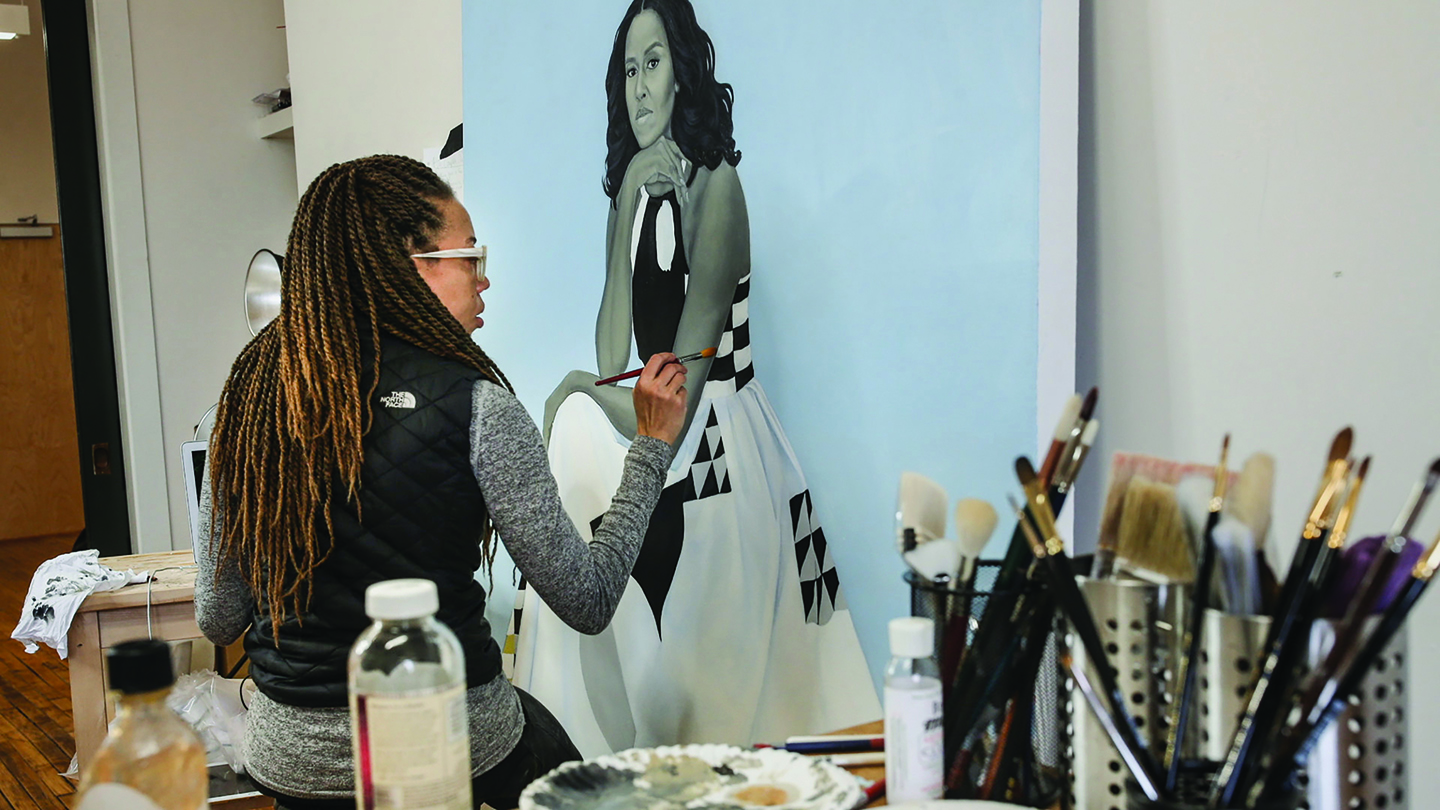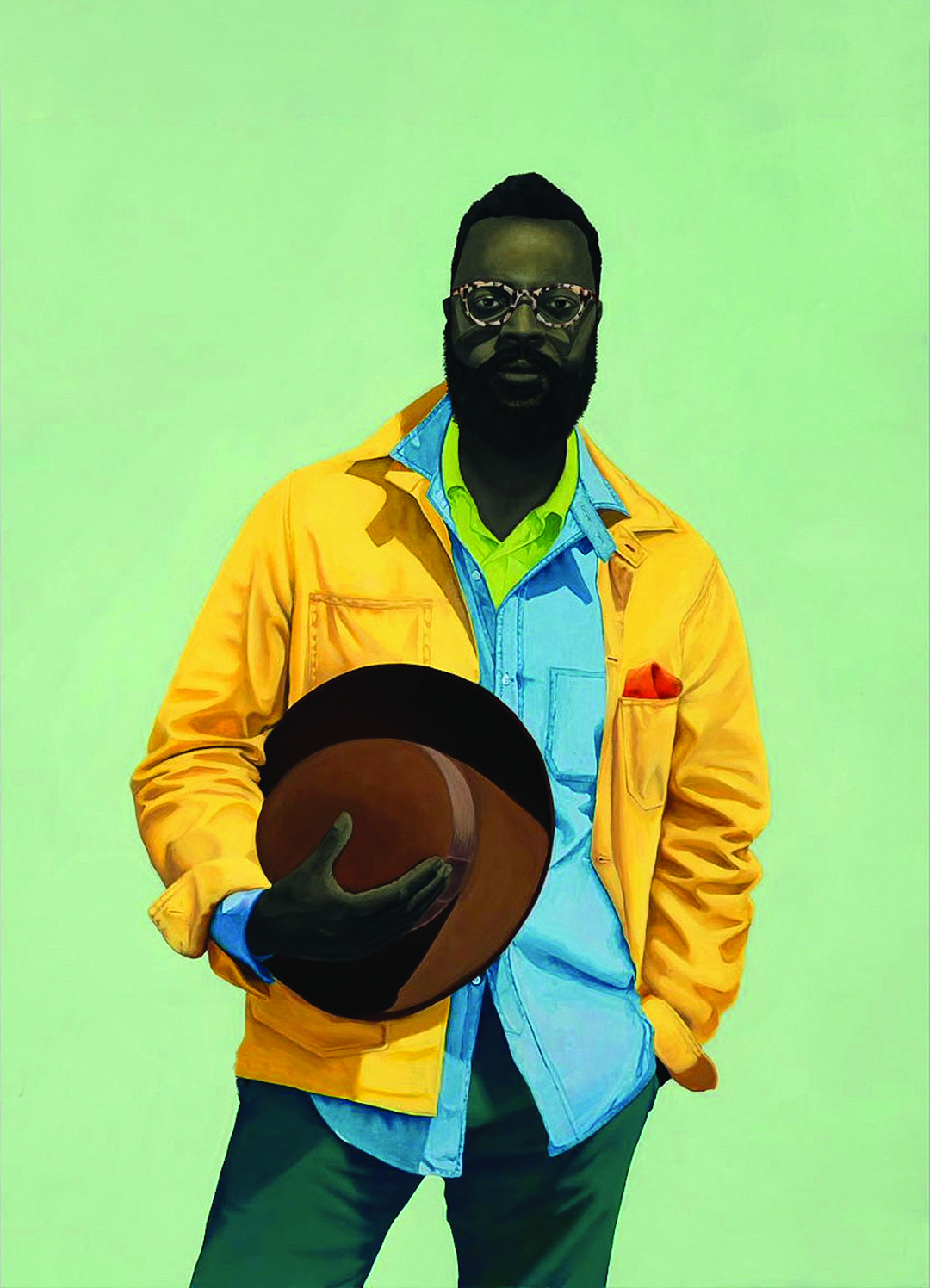 Assigning Lenses
Adebonojo began to break down the artists on the list by disciplines, and he created four discrete categories: painting, sculpture, photography and installation art. Then, he decided to look for lenses that would distinguish each of these four groups of artists. "We almost automatically ruled out using new lenses from the outset," he says. "We looked for older lenses that had different characteristics and applied those characteristics to each different group of artists."
Adebonojo contacted TCS (Technological Cinevideo Services) in New York, a rental house he's had a relationship with since his early days as a camera assistant. He had TCS pull all of the older lenses they had available, and he tested a long list, including "Bausch & Lomb Super Baltars, rehoused by TLS [True Lens Services], and Leitz Summicron-Cs — the [latter], newer lenses for potential use on the talking heads," he says. "We pulled an old-style Angénieux 25-250mm [T3.9] — they call it a Type 10x25B, from the '60s — and [Angénieux's] 25-250mm HR [T3.5] from the '90s, along with Cooke's Varotal 18-100mm T3 from the '80s. The lens that became my favorite was the Canon K-35 Macro Zoom. They call it the 'K-Zoom' — it's a 25-120mm T2.8 zoom. It's a beast of a lens."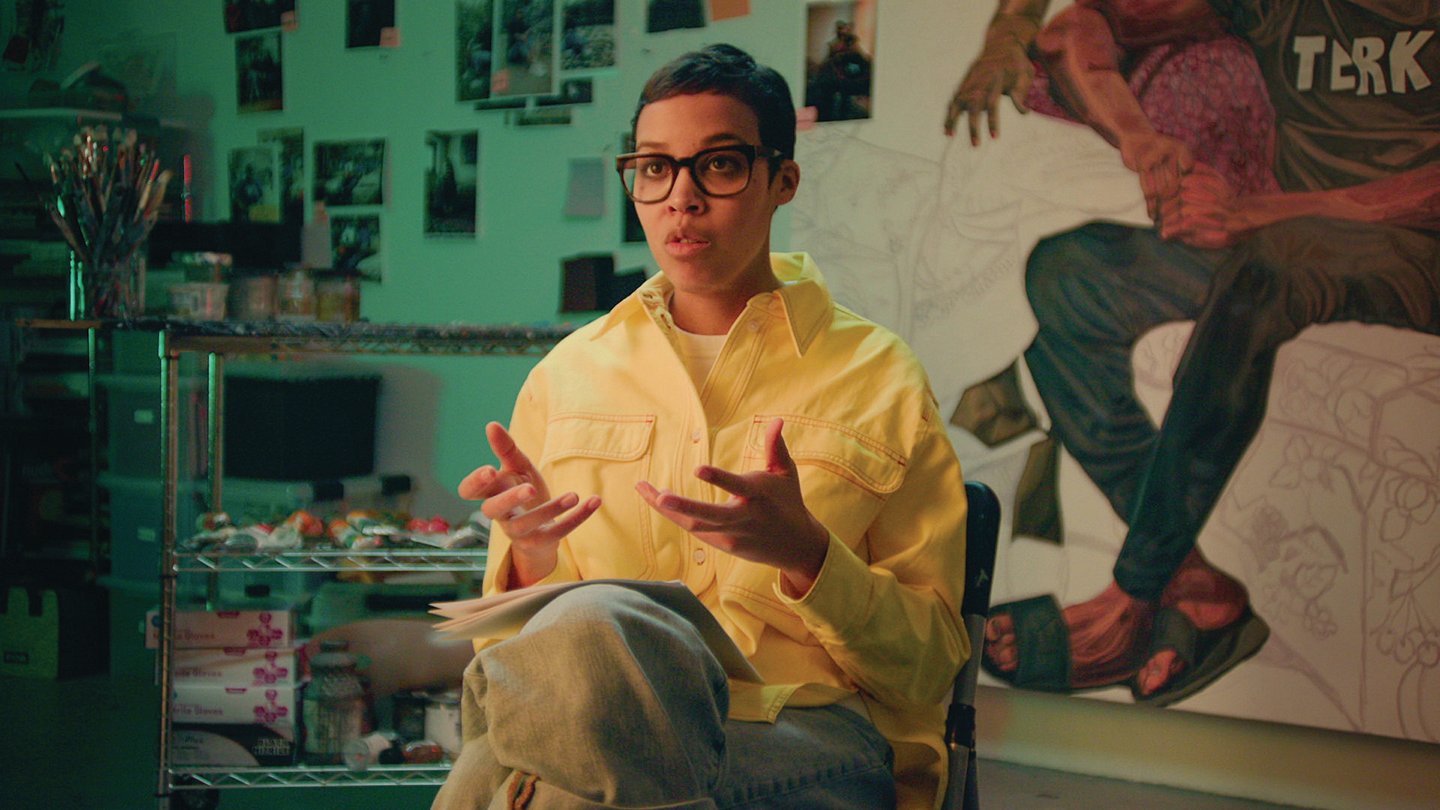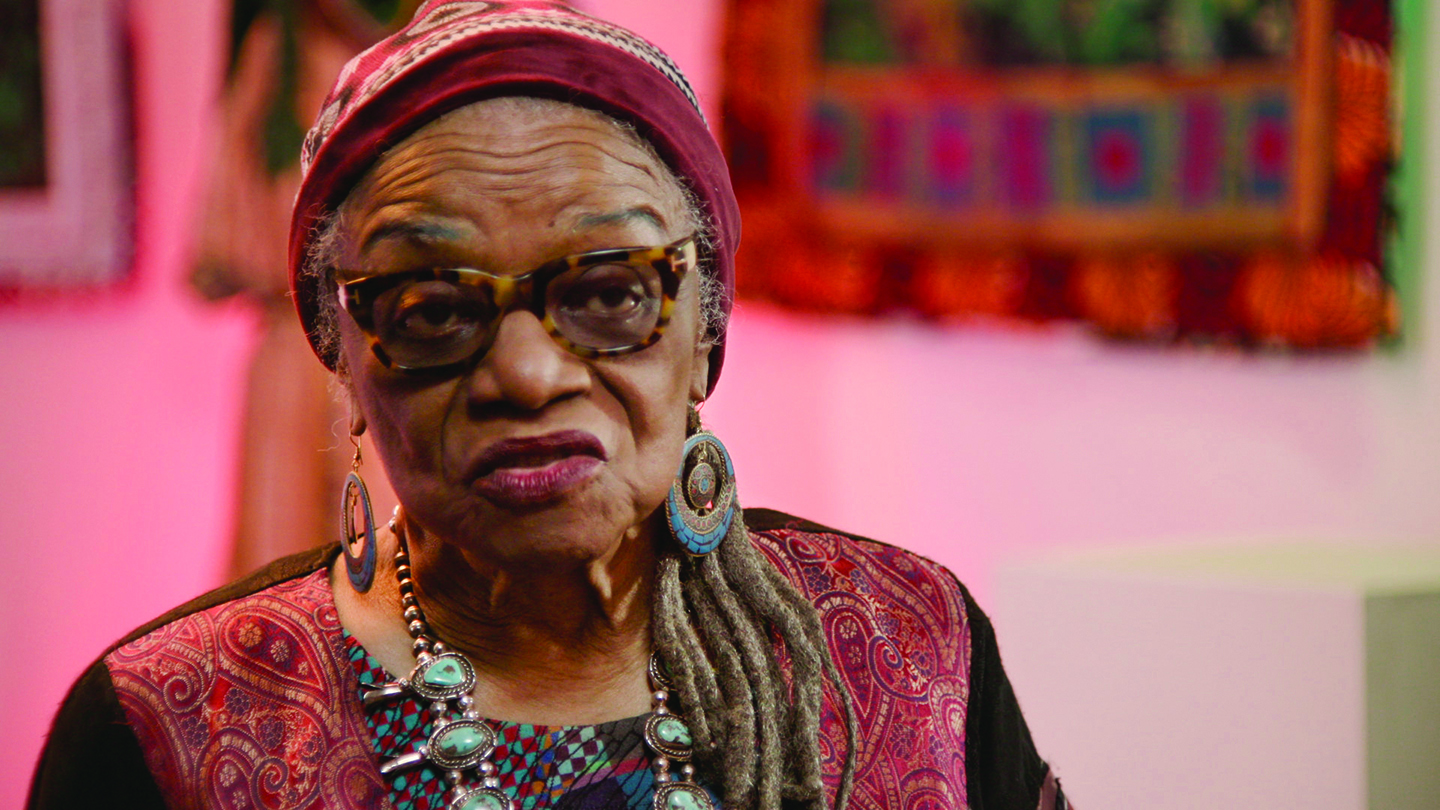 Simmons interjects, "I know that lens!" Adebonojo replies, "That lens is magic. When I screened my tests for Pollard, it was the first lens he made a definitive comment about, so I knew we were in the ballpark with that one."
After testing the lenses, Adebonojo and Pollard chose the Canon C300 Mark II— a unit he uses quite a bit — as their primary camera, as it afforded them an economical choice that could accommodate all of the lenses they wanted. He also employed Blackmagic Design's Pocket Cinema Camera 6K. (See Camera Spotlight, below.)
"Ultimately, we wound up primarily shooting with the K-Zoom," the cinematographer says. "For the people, we were going to shoot against backdrops, we used the Leitz Summicron-Cs — 35mm and 75mm, mostly — because they looked cleaner and had fewer inherent characteristics." He also chose the Super Baltars because they had what he described as a glow or a creaminess, saying, "The Baltars had that extra thing — it's kind of intangible." Simmons suggests, "It's not intangible — it's beautiful. It's so creamy. It's just really pretty."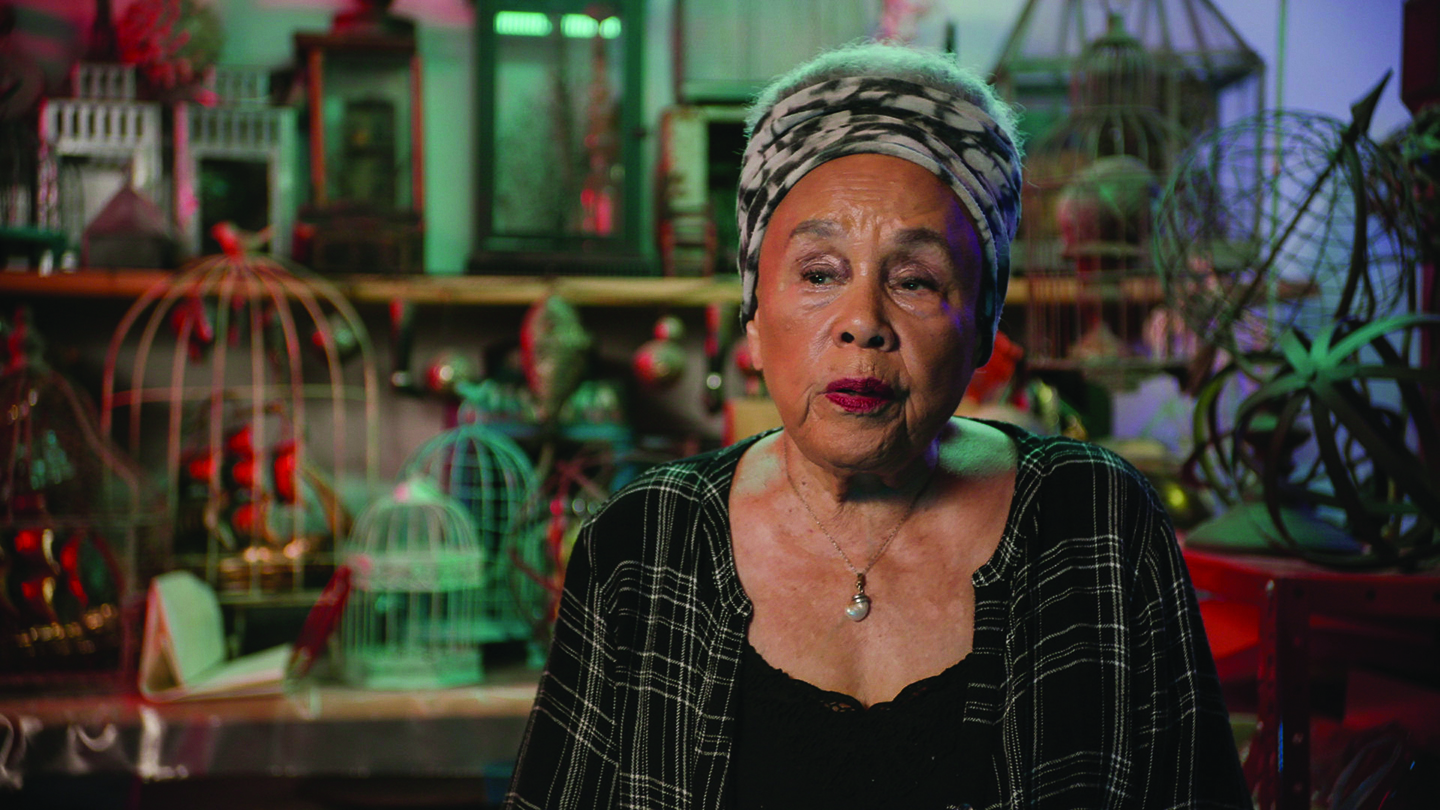 Adebonojo used the Angénieux 25-250mm T3.9 for the photographers represented in the film because it had "a vignetted quality," he says, "harkening back to older-photography aesthetic." The K-35 Macro Zoom, Adebonojo adds, had a three-dimensionality he found unusual for zooms. "I find that there's a tendency for zooms to seem more flat," he adds — so, he used those for the scenes with painters. "I found the fall-off with this lens aided the sense of three-dimensionality, which I like for the artists working primarily in a two-dimensional space. And we used the K-Zoom as a secondary lens for the photographers if we used the Angénieux with the vignette as the primary lens. Sometimes we'd also use those two in combination if the person was a multi-disciplinary artist."
Though Adebonojo had used just one camera with a zoom lens on earlier projects with Pollard, on Black Art he shot with two cameras side by side — but, he adds, "a zoom lens was always going to be in play."
Regarding the film's aspect ratio, Adebonojo says, "We shot all of our original materials in 1.89:1 on both the Canon and the Blackmagic Pocket 6K." The final presentation is 1.78:1.
Lighting to Communicate
In a similarly creative vein, Adebonojo designed his lighting to communicate specific attributes of the artists he was shooting. "The plan was to light with a softer, broader key for the painters, and then we would exaggerate the contrast with the installation artists and sculptors. The rationale had to do with the manner in which their art is presented or seen. I reasoned that installation art tends to benefit from contrast and shadow in a way that differs from paintings when on display.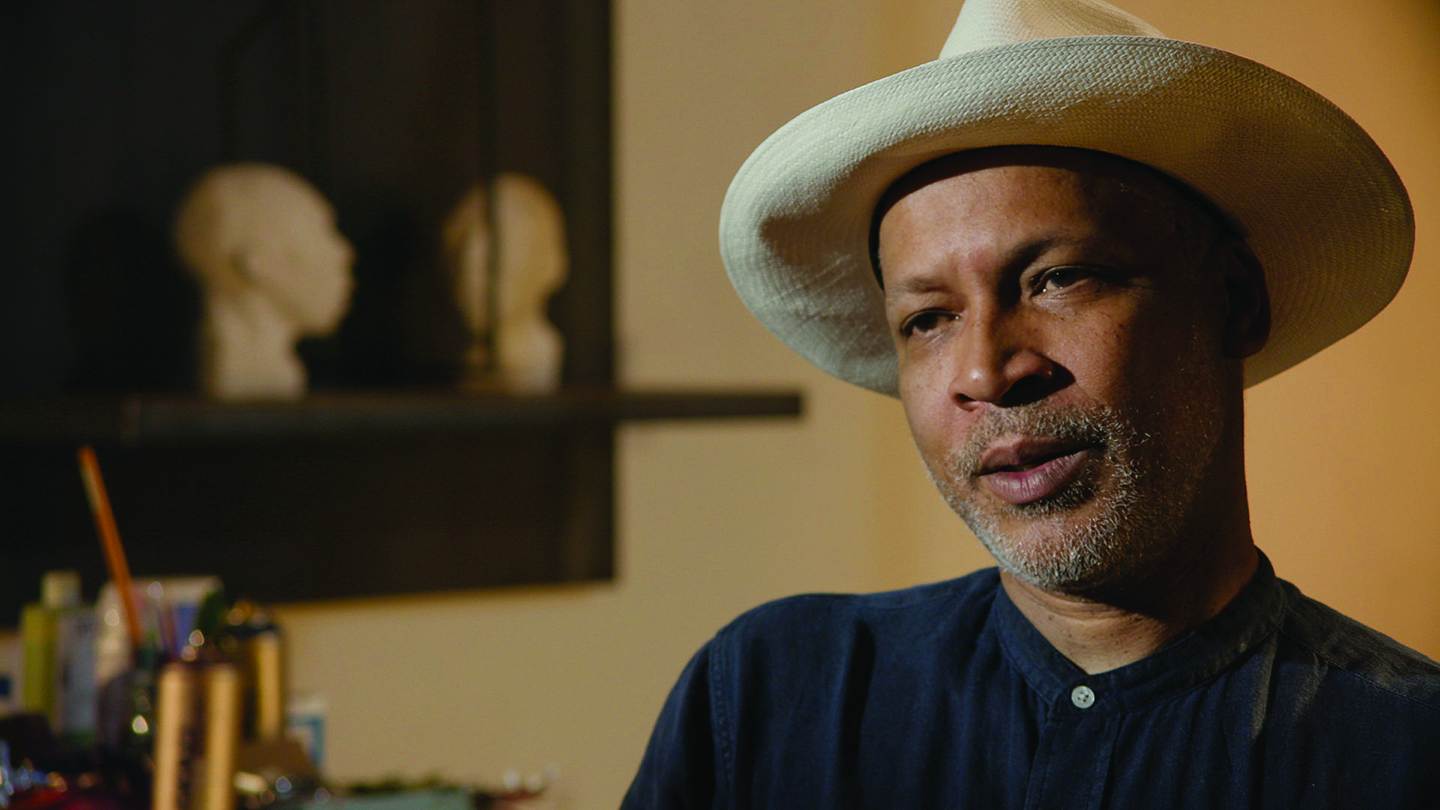 Adebonojo cites a portraiture interview with installation artist Radcliffe Bailey, for which he used harder lighting, while "for painters like Amy Sherald or Kehinde Wiley, we used softer light," he says. "The key light for the painters was often one or two [Arri] SkyPanel S60s through a Light Grid, plus secondary diffusion of 250 [Half White] or 216 White diffusion. The key light for the installation artists was typically a [K 5600] Joker 400 or 800 HMI through lighter diffusion — 250 or Opal — and more off-camera axis, close to 45 degrees."
Where possible, Adebonojo also tried to emphasize colors the artists used in their work. For example, while the filmmakers were shooting Kerry James Marshall in his studio, the painter was applying final touches to an unfinished work that would become "Car Girl 2" (2019). Lighting on the fly, Adebonojo emphasized the colors in the piece in the background of the shot, and amplified Marshall's light in the foreground. "You can see a hint of green in there, and a hint of mauve," the cinematographer says. "[The colored light was provided by] Quasar [Science] Rainbow tubes mounted behind the painting to throw on the wall behind it. [Other Rainbow tubes provided] hints of green in Kerry James Marshall's hair light, and some amber tones to the right of him in the background. The tubes were useful for adding accents of color without being overbearing or obtrusive."
"What about photographing Kara Walker?" Simmons asks, touching on one of the most controversial artists in the movie — and one of the last interview subjects Pollard secured for the production.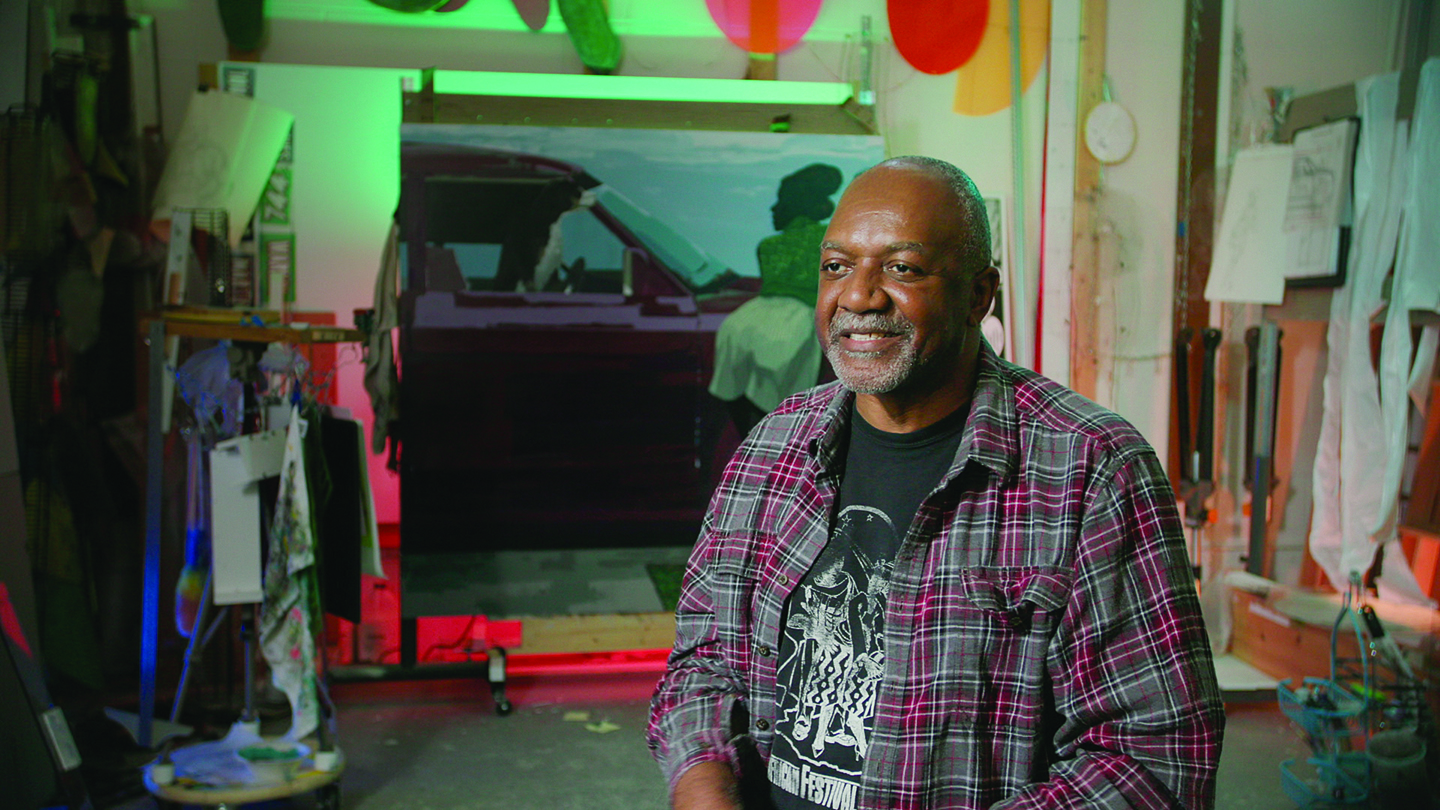 Adebonojo wanted to present Walker differently than any other artist in the film, so he lit her from above. "The idea that Kara Walker is a lightning rod in the art world is a repeated theme in the film, so the idea is that the light from above is an interrogation light, as if she were being accused of a crime by the police. We suspended a 6'x6' frame overhead and pushed a Joker 400 through it. We also added some soft fill from the front to open up her eyes a bit. We had some colored tubes working in the background to complement the colors we encountered in her studio space."
Adebonojo mostly shot with color temperature set between 5,200K and 5,600K — conditions in which he feels digital sensors respond best. He had Arri L7s and L5s on hand too, he says, "on the off chance I might want to create some sort of harshness in the background, and dial in some color as well."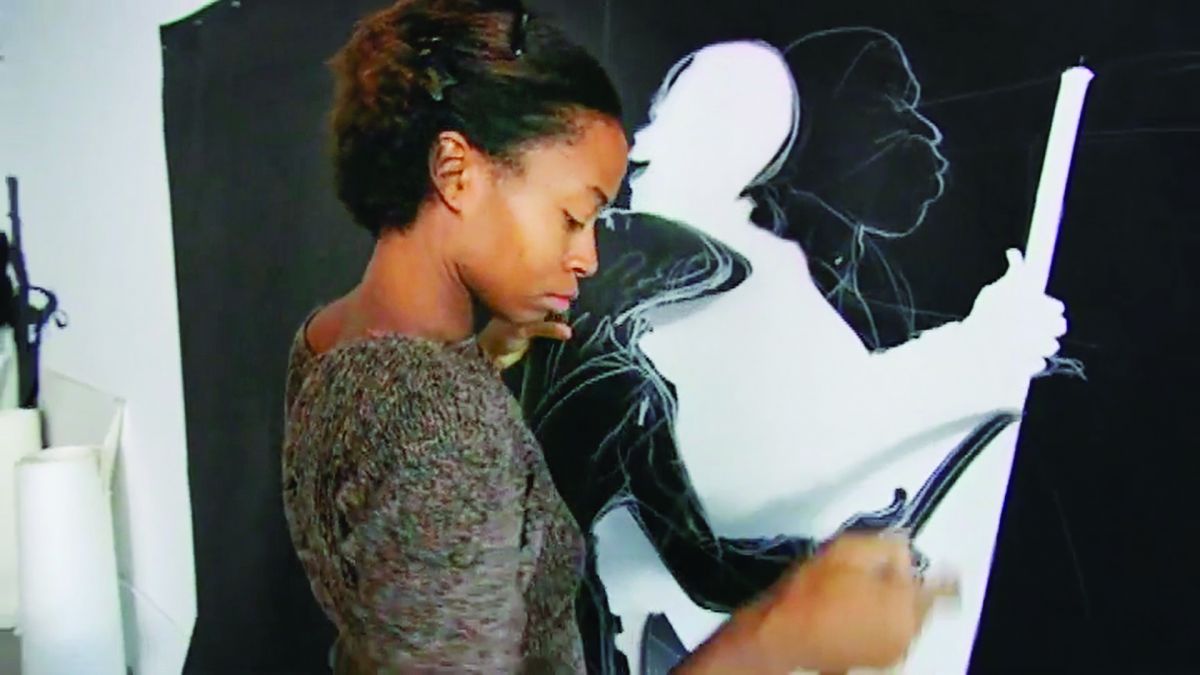 Kinship and Support
Immediately after Adebonojo signed on to shoot Black Art, he bought a copy of the exhibition catalog Driskell wrote for Two Centuries of Black American Art. "It's something that I've taken to doing in documentary work," he says. "If there's a text of some kind that I can get ahold of, I'll get it. I think it's important to embrace any reference you can, whether you're asked to or not because it makes you feel more a part of the process."
Black Art: In the Absence of Light is dedicated to celebrating, reclaiming and establishing the history of Black artists in America. Resources like Driskell's catalog are a part of that history, as are artists like Adebonojo and Simmons, who continue to work in industries that don't have a history of inclusivity. "When I started in the 1970s, it might as well have been the 1950s," Simmons says, noting the numerous challenges he faced as a Black filmmaker (a topic he expands upon in AC's Jan. '21 issue, also published online here). "Your passion has to be greater than your obstacles." He adds that, ultimately, the people who made things difficult for him at the beginning of his career in Los Angeles actually made him want to pursue his career more fervently, and stoked his desire to build diverse, welcoming film sets.
As both a cinematographer and fine-arts photographer whose path has been deeply intertwined with figures like Driskell, Simmons says he felt a real kinship with the artists featured in Black Art. "I stand on the shoulders of so many of them," he says. "I also relate to the younger artists; I really felt what they went through to get where they are."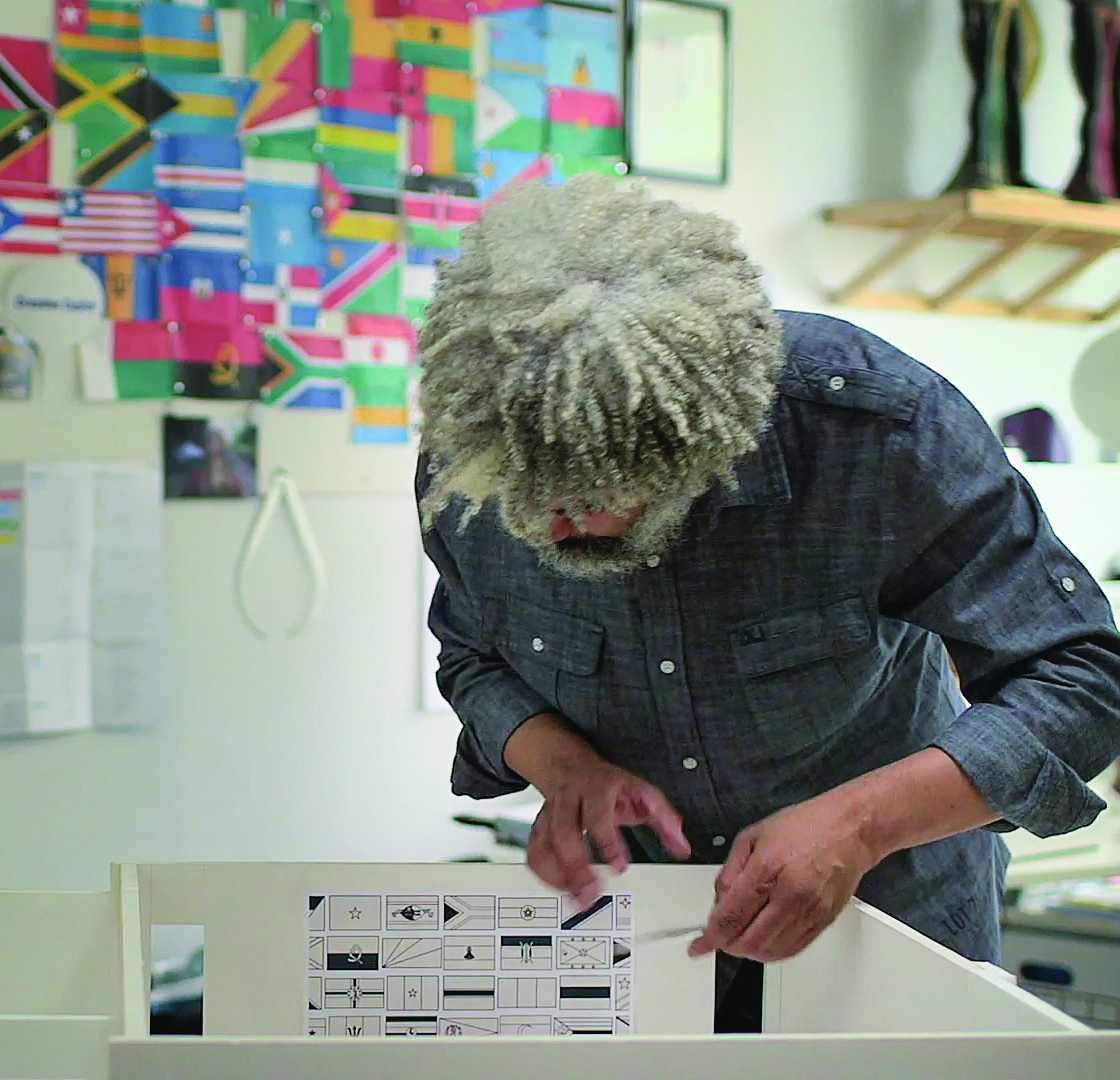 Simmons acknowledges that the atmosphere in New York, where Adebonojo is based, has been notably more welcoming to Black creators. "Whenever I worked in New York, it was a very supportive community. A lot of people of color were involved in the industry in New York — that was very different from Los Angeles."
Adebonojo, who trained initially as a lawyer, learned his craft solely on set, working as a PA, camera PA, camera assistant, and eventually as a cinematographer. The community of Black filmmakers Adebonojo encountered in New York had an outsized role in his career trajectory. "The growth I've had in the industry has come courtesy of Black filmmakers," he says, citing figures like St. Clair Bourne, Spike Lee, Stanley Nelson Jr., Raoul Peck and Pollard.
"There have been times in my career when I felt like a token," Adebonojo says. He recalled productions where he was hired because Black talent in front of the camera spoke up. On many of those projects, he says, he was praised by white producers for his work, but was not hired again. "It's a very different experience working with Black filmmakers, who understand how fleeting the opportunities can be. As long as I've delivered on my end of the bargain, they have all rewarded me with renewed opportunities."
Like many of the artists in the documentary, Adebonojo and Simmons have found that recognition has not come easily, but both are finding new opportunities to be creative. "It's been a beautiful journey, and it will continue to be," Adebonojo says, prompting Simmons to reply, "I'm so glad I got to spend some of it with you."
---
Tech Specs
1.78:1 (1.33:1 for vintage material)
Cameras: Canon C300 Mark II, Blackmagic Design Pocket Cinema Camera 6K
Lenses: Canon K-35 Macro Zoom; Leitz Summicron-C; Bausch & Lomb Super Baltar (rehoused by TLS); Angénieux zoom
---
Camera Spotlight | Canon 300 Mark II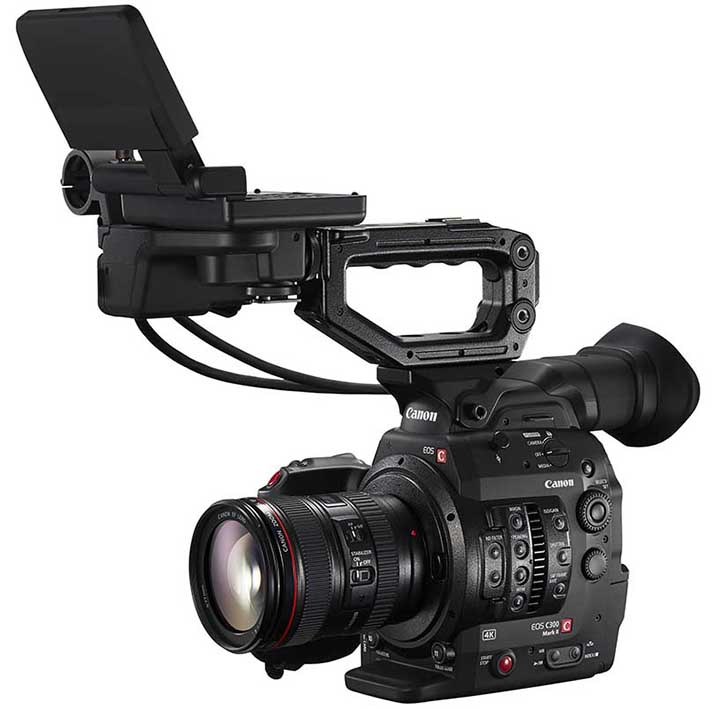 "I had been intimately familiar with the original Canon C300 and C500, which had stellar reputations for rendering skin tones, so working with the Canon 300 Mark II was a continuation of what I was already familiar with. My first true 'date' with that camera was shooting on I Am Not Your Negro, with director Raoul Peck, for a series of portraits toward the end of the film. There was a representative array of skin tones in that sequence which the camera rendered beautifully in conjunction with Canon's CN-E Prime lens series. It was also a bonus that one could record in 4K internally with a codec that was sufficiently robust without creating a data nightmare that could come with shooting a raw codec. In the documentary world, being nimble is always welcome, and that applies to data creation as well. The camera's menu is also quite user-friendly, with an easy learning curve. Shortly after using it on the shoot with Raoul, I purchased one and I've been using it to good effect ever since."
— Henry Adebonojo
---
Camera Spotlight | Blackmagic Pocket Cinema Camera 6K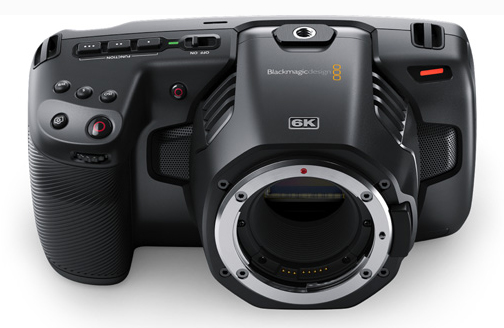 In addition to the production's primary camera, Blackmagic Design's Pocket Cinema Camera 6K also played a significant role during the shoot. "As opposed to a large camera you put on your shoulder, the Blackmagic is a camera I feel like I can dance with," Adebonojo says, "especially when the talent is moving or doing something. I can dance around them." Adebonojo used the compact camera to capture artists Jordan Casteel, Amy Sherald, Radcliffe Bailey and Theaster Gates in their respective workspaces. The cinematographer also used the camera to capture the footage that serves as the film's end credits: Casteel winding through a dense crowd at the opening of a Sherald exhibition. Says Adebonojo, "The Blackmagic camera was always on hand for shots that had any kind of movement, or any we did on the fly."
Knowing when a camera like the Blackmagic is the right tool, Simmons notes, is an essential part of the craft. "Digital technology has allowed us to go from the Sony Venice, which can photograph anything in the world, to the Blackmagic," he says. "It's the knowledge that we as cinematographers have that lets us know when that little Pocket Cinema Camera is the appropriate piece of equipment. So much of our aesthetic, and storytelling, can be based on the equipment we choose — or the equipment we get stuck with!"
— Sarah Fensom