Bold Visions: Two of Us
Cinematographer Aurélien Marra in AC's special focus on independent productions — Part II of III.
Tara Jenkins
Cinematographer Aurélien Marra in AC's special focus on independent productions — Part II of III.
Photos courtesy of Magnolia Pictures
French cinematographer Aurélien Marra is drawn to projects that tackle issues from a unique, surprising point of view. From the first time he met director Filippo Meneghetti, Marra recalls recognizing his "very specific vision" for the French-language feature Two of Us, "and when I read the script, I knew he was going to tell the story in an original way." With the duo's sensibilities in sync, Two of Us (aka Deux) went on to be chosen as France's submission for the 2020 Academy Award for Best International Feature — and Marra's work on the production earned him this year's ASC Spotlight Award.
"The main advantage of a smaller project
is the freedom."
The movie follows two lesbian senior citizens, Nina (Barbara Sukowa) and Madeleine (Martine Chevallier), who have secretly been together for decades. Madeleine's adult children aren't aware of this relationship, so when she falls ill and can no longer communicate, Nina is left unable, yet desperate, to offer love and care to her partner.

Though Marra initially interpreted the narrative as a love story, "very quickly, Filippo noted that love wasn't the main topic," the cinematographer recalls. "It's a movie about obsession, which is a darker way to perceive love. It's more about what love can make you do. So, I understood I would be going in a darker visual direction. That was very exciting — to use the script as a basis and apply to it a very strong vision that wasn't the obvious way to tackle the story. When you are shooting a classic tragedy or drama, your goal is to put the viewer in a position where they fully empathize with the characters and are touched by their journey. When you want to convey obsessional patterns, or any psychological excess, at some point you have to create distance between the viewer and the characters. The camera's point of view is more independent, often a bit wider and farther from the actors, or it moves in a way that is out of sync from the characters' moves. We aren't just in the situation — we see it with some distance, perspective and clarity. In order to achieve that goal, the 25mm lens was one of our main tools. We often used it through doorframes, creating a shady foreground that adds density and tension to the shot."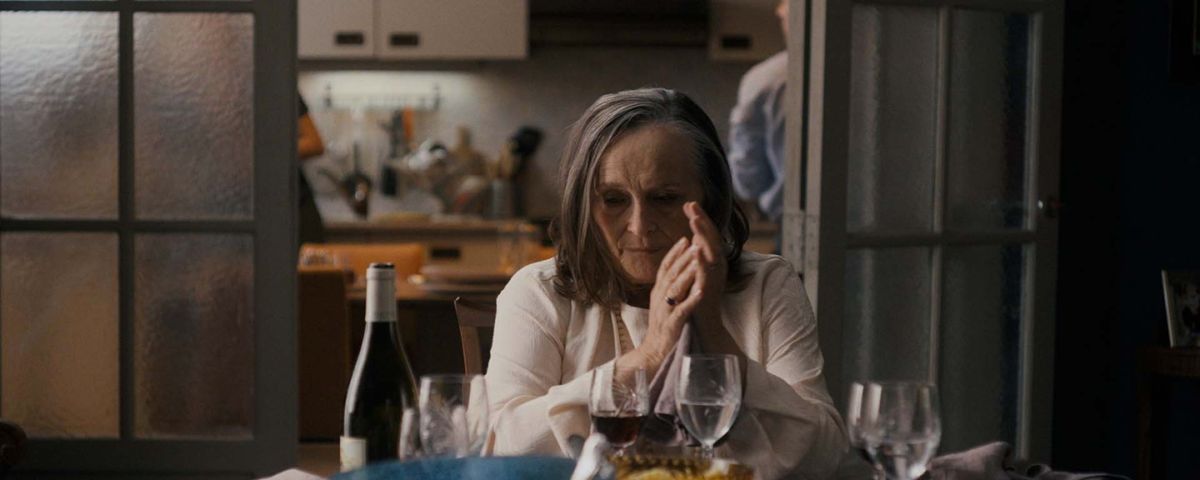 "Someone might not be able to tell whether this movie was shot last year or 10 years ago, or 20."
Marra adds that the filmmakers were "very interested in using dramatic irony" to help achieve this broader view of the story. To that end, with a combination of lens choice and frame composition, the filmmakers designed selected scenes to depict a visual dramatic irony, where the audience would have a more complete perspective of the action than individual characters. Marra cites an example: "In the scene where Nina is going into Madeleine's flat at night, trying to not be seen by the nurse, the nurse wakes up, oblivious, and drinks her water in the middle of the frame, between the two main characters hiding in Madeleine's room. If we had to be a bit more dramatic, we probably wouldn't have framed her in the middle; it's very obvious, almost comedic, and it helped to add that feeling of irony and distance. Of course, you have to balance it very carefully to avoid the comedic aspect becoming too dominant. That's why we chose to keep the main characters in a very dark [environment]. It's very much about combining paradoxical patterns in the same frame. Like in everyday life, there is always some absurdity in a dramatic situation."

Marra shot Two of Us on the Sony Venice paired with Bausch & Lomb Super Baltar lenses. He chose the camera because of its low-light capabilities — a necessity on the low-budget independent project — and the vintage optics because he wanted to give the movie an "ageless" quality. "I was happy with the idea that someone might not be able to tell whether this movie was shot last year or 10 years ago, or 20."
Marra notes that telling the story on a modest budget was occasionally stressful, but also freeing. "On a small movie like this, with an independent-production budget, you can't make any mistakes. You know that if a shot isn't good, you won't have a chance to reshoot it. It's a lot of pressure when you have a big shoot in one day with a lot of shots and characters. But the main advantage of a smaller project is the freedom. We were very free. The producers were very interested in supporting the creative process, and they were confident in us."

---
Here, Marra wins the 2020 ASC Spotlight Award:
You'll find Part I of this report — covering Edu Grau, ASC, AEC's camerawork in the period feature Passing — here.
Tech Specs
2.39:1
Camera: Sony Venice
Lenses: Bausch & Lomb Super Baltar