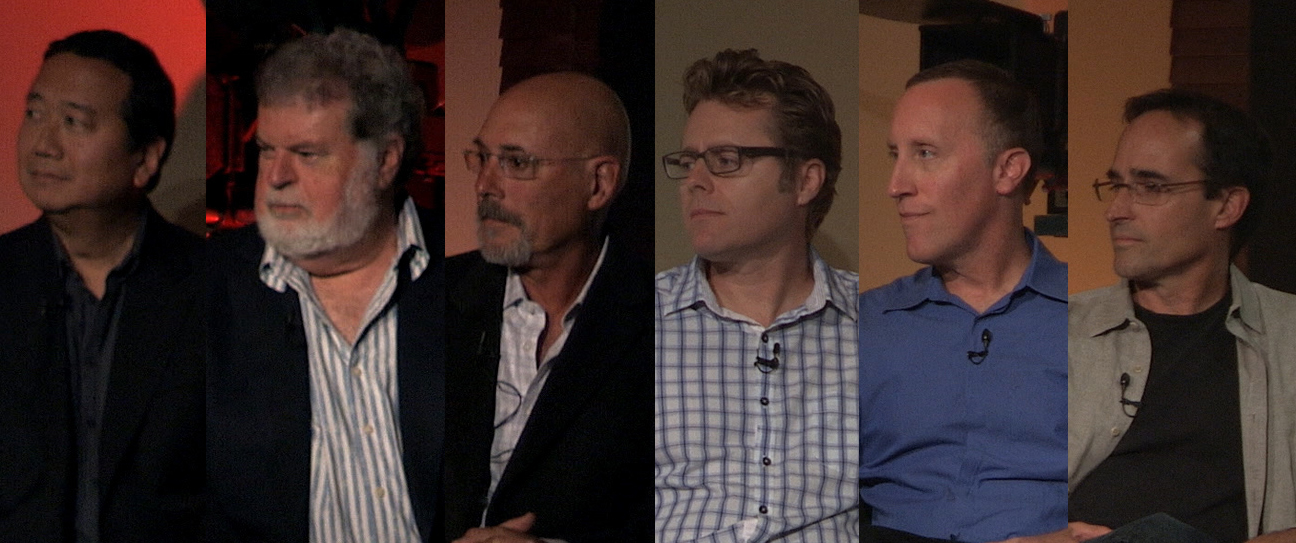 Clubhouse Conversations 2013 Video Collection
In-depth live interviews at the ASC clubhouse with ASC members Dean Cundey, Michael Goi, Daniel Pearl, Christopher Baffa, Patrick Cady and William Webb.
ASC Staff
Horror Cinematography with ASC members Dean Cundey, Michael Goi and Daniel Pearl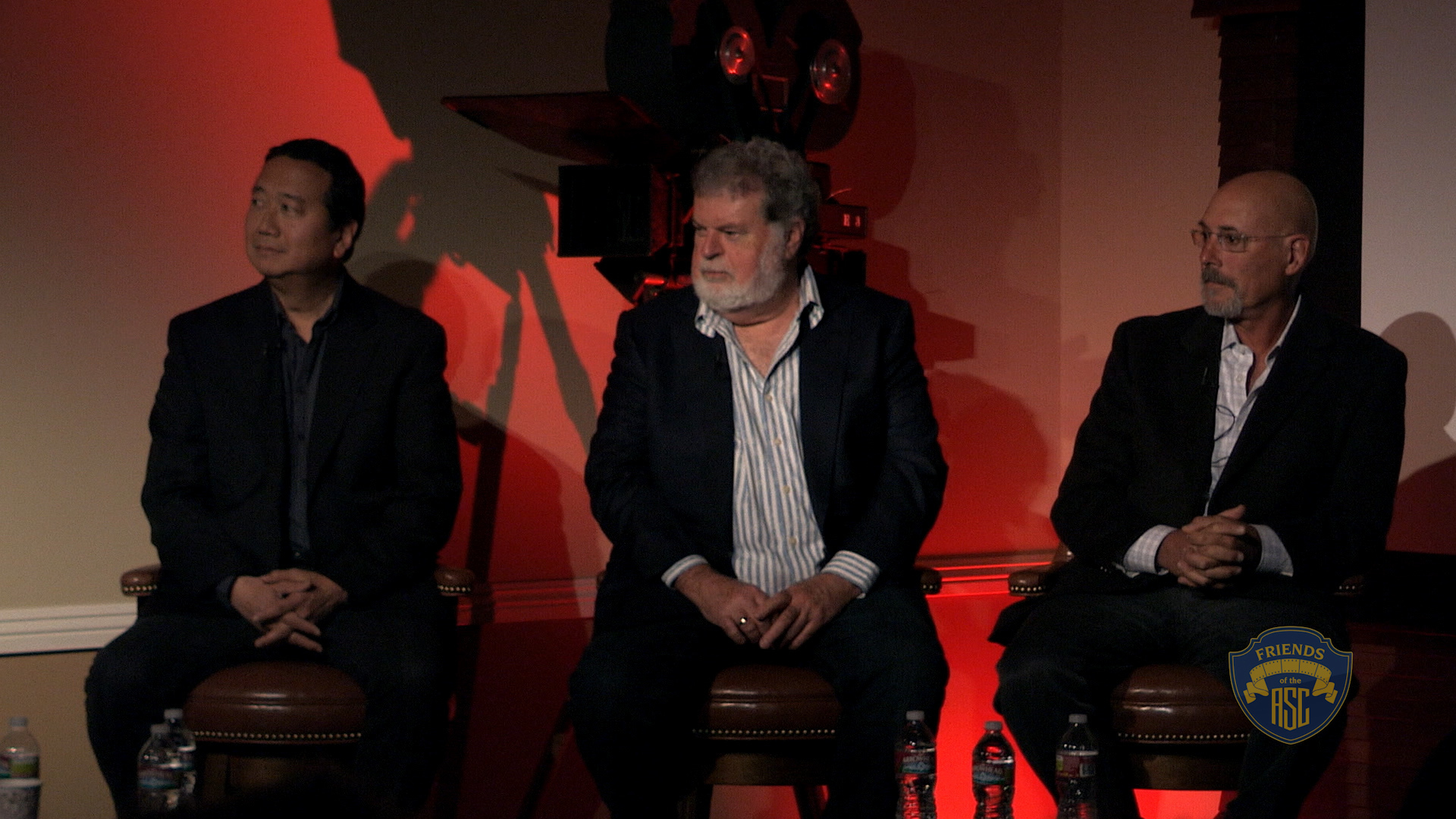 Goi, Cundey, and Pearl reflect on their early interactions with the horror genre, both as viewers and as cinematographers, and take questions from the audience.

Pearl traces the path that led to the production, which was shot in 16mm with ISO 25 film for both days and nights, and stresses the importance of camera placement. He explains how he came to shoot the remake, and breaks down how he and director Marcus Nispel sought to create a "signature shot" that would compare with the famous dolly shot from the original.
Cundey discusses collaborating with director John Carpenter and reveals the challenges faced in executing the 5-minute point-of-view shot that opens the film. He talks about using the anamorphic-widescreen frame to build tension through composition, and how long takes can immerse the audience and help create suspense.
Goi shares his motivations for making this film, which was shot in 8 ½ days with a five-person crew, and details his approach to grounding the project in an unrelenting realism. He discusses the wide array of techniques he has been able to employ on the series and shares his enthusiasm for realizing a director's most outlandish ideas.
Born and raised in Chicago, Ill., Michael Goi, ASC, ISC, earned a bachelor's degree in film from Columbia College before launching his career with documentaries such as Wrapped in Steel and Fired Up! The Story of Public Housing in Chicago. He has been the director of photography on FX's American Horror Story since 2011, and he is an Emmy nominee this year for an episode of AHS: Freak Show. His credits also include the series Salem, Glee and My Name Is Earl.
Growing up in Altadena, Calif., Dean Cundey, ASC developed an early interest in production design before deciding to pursue a career as a cinematographer. He attended film school at the University of California, Los Angeles, and he worked on several low-budget films before notching a cinematography credit on Halloween in 1978. Cundey's other credits include Big Trouble in Little China, Who Framed Roger Rabbit?, the Back to the Future trilogy, Jurassic Park and Apollo 13.
Daniel Pearl, ASC received a master's degree in communications from the University of Texas – Austin, and soon thereafter shot the iconic horror film The Texas Chain Saw Massacre (1974). His other feature credits include Invaders From Mars (1986), The Texas Chainsaw Massacre (2003) and Pathfinder. Pearl has been most active as a cinematographer for commercials and music videos; his credits in the latter arena include such classics as Michael Jackson's "Billie Jean," U2's "With or Without You" and Guns N' Roses' "November Rain."
Shooting TV with ASC members Christopher Baffa, Patrick Cady and William Webb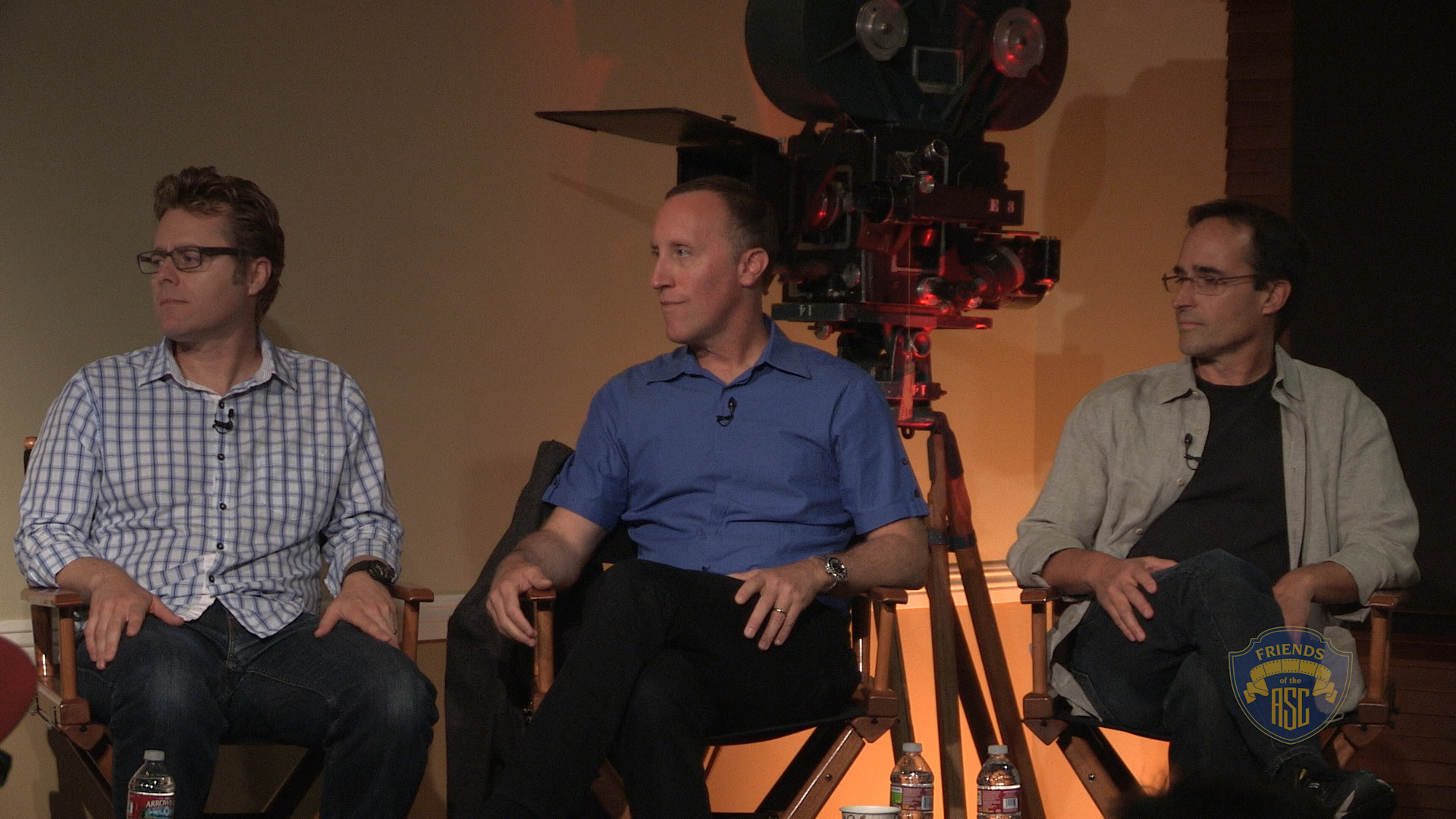 Cady, Baffa and Webb discuss the similarities and differences between shooting one-hour episodic series and feature productions, and emphasize the need for flexibility within a shooting plan. The panelists talk about incorporating individual directors' preferences for coverage and the ubiquity of multiple cameras on "single-camera" series. They share stories of trying to sell West Coast locations for other areas of the U.S., and debate the age-old question of whether or not it's important to avoid shooting palm trees. Citing examples from autopsy and surgery scenes they've shot, the panelists discuss their approaches to lighting and photographing prosthetic makeup effects. They stress the importance of location scouting while weighing the benefits and drawbacks of attending the scout themselves at the cost of missing out on a shooting day.

Webb discusses taking over the show and meeting the high standards set by its previous cinematographers while slowly integrating his own ideas into the look. He talks about distinguishing NCIS from JAG, how the series has evolved over 10 seasons, and how he finds inspiration in the script to keep things interesting.

Baffa offers his insights into making often-despicable characters in bizarre circumstances accessible to the audience, and he also discusses the importance of color and the perils of shooting with a live alligator. He underscores the importance of knowing why you employ particular photographic techniques with examples from his own work.
Cady discusses the logistics and costs involved in a television production and breaks down his approach to a large night exterior that required some quick thinking on the scout and again on the day. He details his approach to one of the show's main sets, explaining how he and his crew can quickly create a variety of time-of-day effects.

Cady, Baffa and Webb take questions from the audience about simple lighting setups, incorporating a director's new ideas into a show's established look, what they each look for from a director, and advice they received early on and thoughts on the evolving television landscape.
Patrick Cady, ASC grew up near Buffalo, N.Y., and attended Ithaca College, where he earned a bachelor's degree in still photography and motion-picture production. After working as a camera intern for Roger Deakins, ASC, BSC on Passion Fish, Cady enrolled in New York University's graduate film program. Upon completing his MFA, Cady began working as an electrician and climbed the ranks to gaffer and then cinematographer on independent productions. His work on Girlfight won him a mention on Variety's "10 Cinematographers to Watch," and he then went on to shoot Sunshine State. His credits also include the features The Stepfather and Lottery Ticket, as well as work on the series Cold Case, In Treatment and Body of Proof.
Native Californian Christopher Baffa, ASC was raised in Palos Verdes and the South Bay, where he developed an early fascination with film through his father's 8mm home movies. After graduating from the University of Southern California School of Cinema-Television, Baffa hit the ground running and began working in set lighting, where he climbed the ranks and became a gaffer. This experience, along with a stint shooting second unit for Roger Corman's Concorde Pictures, led to a job as a first-unit cinematographer on the feature film Baby Face. Since then, Baffa has notched credits on the features Suicide Kings, Idle Hands and Running with Scissors, and the series Popular, Nip/Tuck and Glee.
Born in Santa Monica, Calif., William Webb, ASC grew up around family members involved in the film industry. His father, Robert Webb, was an editor at Paramount Studios; his uncle, Alvin Sargent, was a screenwriter; and his aunt, Joan Camden, was an actress. After high school, he took as many classes in film production as he could at three separate colleges while shooting documentaries and commercials. He worked as a first and second AC before attending the American Film Institute as a cinematography fellow. Between 1992 and 2002, Webb worked as a camera operator on nine feature films, 12 telefilms and more than 16 seasons of various episodic series — using the same Steadicam he bought in 1992 on almost every project. His credits as a cinematographer include the feature Church Ball and the series JAG and NCIS.