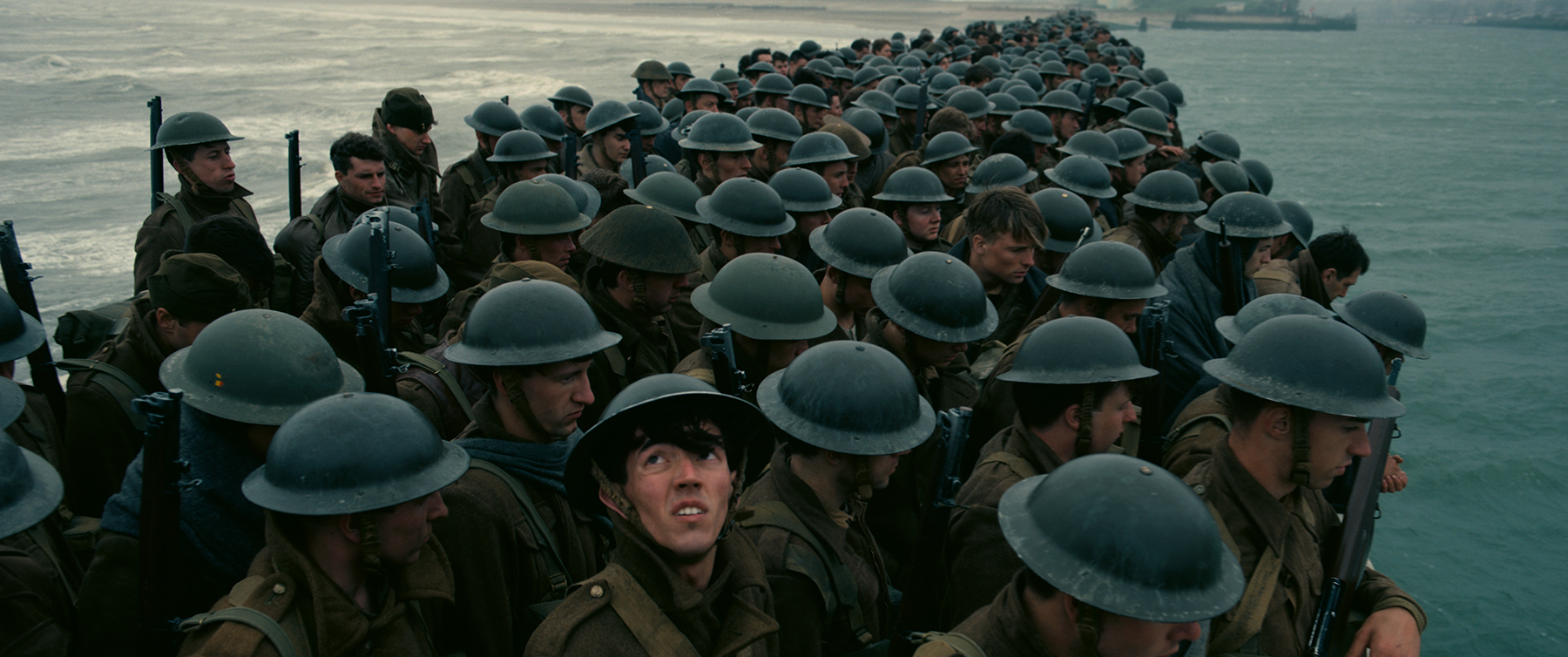 Dunkirk Showcased in AC's August Issue

The upcoming issue includes extensive coverage on the World War II drama, in addition to The Beguiled, The Last Tycoon and A Ghost Story.
ASC Staff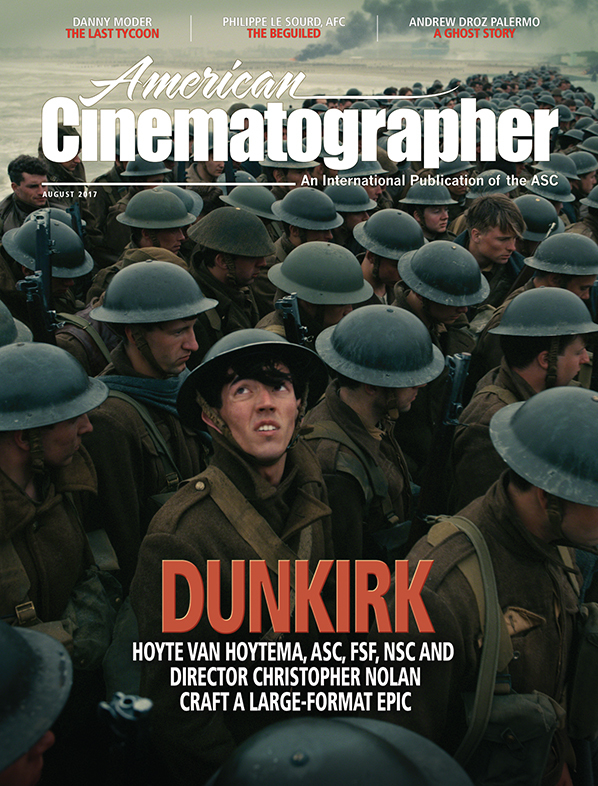 The upcoming August issue of American Cinematographer includes extensive coverage on the 65mm production and post of the World War II drama Dunkirk. The picture, which opens with 125 large-format screens on July 21 in the U.S., will have the widest 70mm theatrical film-print release of any picture in 25 years.
"In May of 2016, Dunkirk director Christopher Nolan paid a visit to the ASC Clubhouse with his wife and producer, Emma Thomas, and cinematographer Hoyte van Hoytema, ASC, FSF, NSC," notes AC editor and publisher Stephen Pizzello in the issue. "The trio mingled amiably with Society members and associates before discussing their latest project during an enthusiastic question-and-answer session. Beyond outlining strategies for the ambitious production, they made a strong case for the continued viability of film as a creative medium — a cause Nolan has supported passionately over the course of his celebrated career.
"With the release of Dunkirk, Nolan, Thomas and van Hoytema demonstrate the visual power of film with a go-big-or-go-home epic shot on a combination of 15-perf Imax 65mm and 5-perf 65mm, and finished entirely in the photochemical realm. Nolan feels that the movie can stake a claim to being 'the highest-resolution feature film that has ever been made,' while also providing ample evidence of celluloid's additional merits. Although van Hoytema concedes that the size of the 65mm cameras made his extensive use of handheld work a bit challenging, he calls the added camera weight 'an insignificant element when compared to the quality of the images we produced.'
"Shooting in these formats on such a grand scale required a number of innovative approaches, detailed by AC contributor Michael Goldman in his main article on the show."
In addition to the cover story, the Dunkirk reporting includes extensive behind-the-scenes photography by Melinda Sue Gordon, two sidebars and bonus coverage to be posted here on ascmag.com when the August issue is released.
The issue will also include feature stories on:
The Beguiled

Philippe Le Sourd, AFC frames director Sofia Coppola's Civil War-era thriller on 35mm film.

The Last Tycoon
Cinematographer Danny Moder and director-showrunner Billy Ray restate the glamor, discord and artistic innovation of the 1930s studio system.
A Ghost Story

Cinematographer Andrew Droz Palermo and director David Lowery tell a tale of a bedsheet-clad spirit anchored in a 1.33:1 frame. (This will include an extensive interview with the director available only to logged-in AC subscribers via our site.)