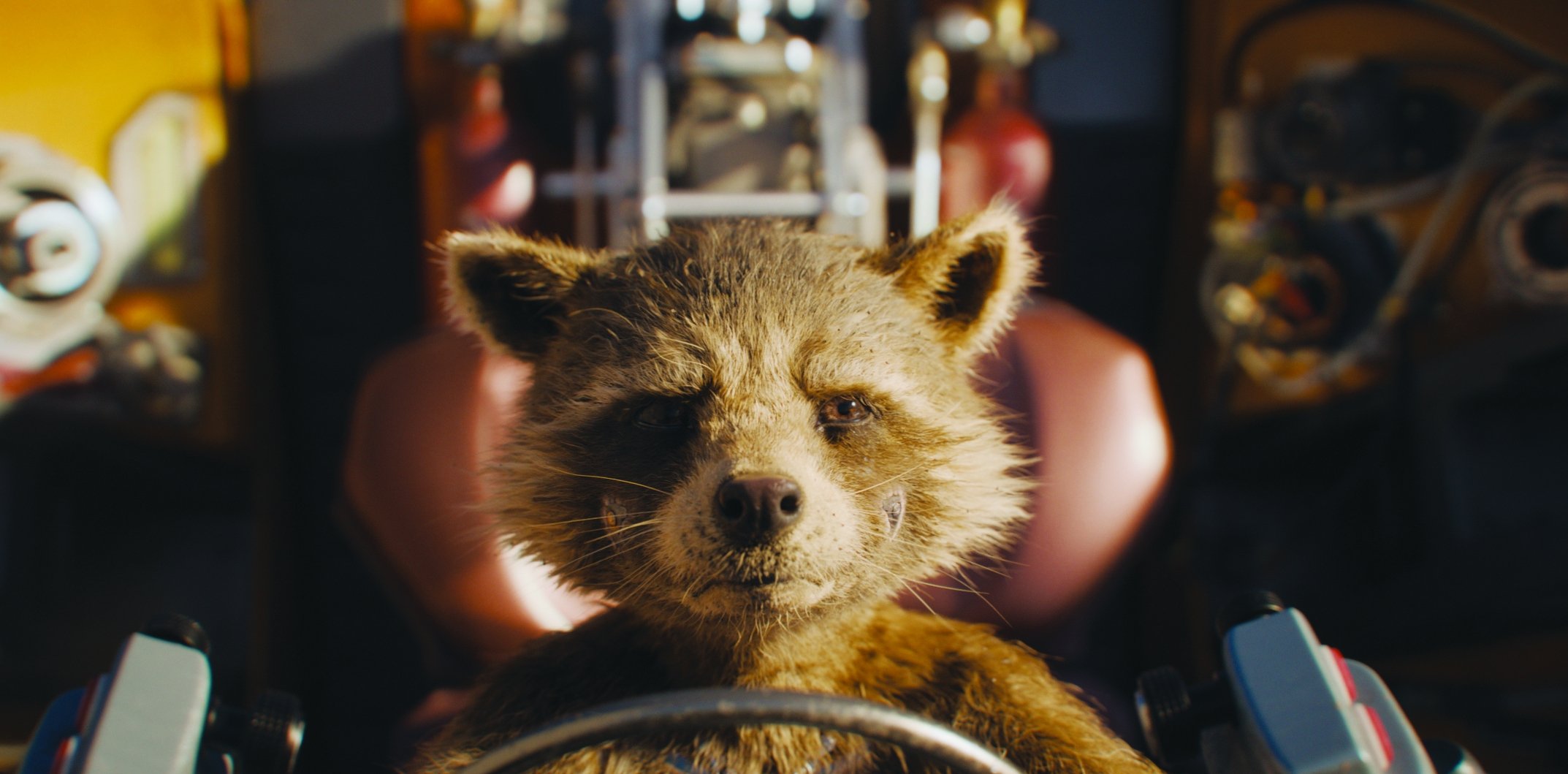 Voiced by Bradley Cooper, Rocket Raccoon is an endearing and entirely digital creature initiated by visual-effects supervisor Stéphane Ceretti and Framestore for the first Guardians of the Galaxy feature. The character has since received digital makeovers in two Guardians sequels.
The Evolution of Rocket Raccoon
The real magic, visual-effects supervisor Stéphane Ceretti contends, "is all in the writing. Rocket is one of the best characters in the Marvel Cinematic Universe."
Joe Fordham
Ten years ago, in an office at Shepperton Studios, a group of people gathered around a furry creature snarling atop its handler's shoulders. The raccoon, Oreo, and a tiny mewling "kit" were serving as references for Guardians of the Galaxy director James Gunn and the team planning to create a CGI raccoon as a lead character in the film, photographed by Ben Davis, BSC (AC Sept. '14).

Stooped and Sassy
Voiced by Bradley Cooper, Rocket Raccoon became the 3'-tall, wisecracking mechanic and pilot for Peter "Star-Lord" Quill (Chris Pratt) and his band of intergalactic misfits. The source of Rocket's sass and details of his origins were finally revealed in Guardians of the Galaxy, Vol. 3, which followed Vol. 2 (AC June '17) and the 2022 Disney Plus Guardians of the Galaxy Holiday Special, all shot by Henry Braham, BSC.
Nearly a dozen effects facilities provided VFX on Vol. 1, with Framestore in London leading the initiative on Rocket. Discussions on how to make the character realistic and relatable began with Marvel "Vis Dev" conceptual art by Charlie Wen.
The concepts were close to what James Gunn wanted," recalls visual-effects supervisor Stéphane Ceretti, who collaborated with visual-effects producer Susan Pickett on Vol. 1, the Holiday Special and Vol. 3. "James always thought Rocket would be a little hunched. We did posture tests in a pre-shoot test to cast our visual-effects vendors."
Gunn's plan was to make Rocket a CG-animated character and use a stand-in — his brother, actor Sean Gunn — to deliver the performance on set.
Reference "Stuffies"
For tactile creature interactions, Vol. 1 prosthetic-effects designer David White built "stuffy" dummies, which costume designer Alexandra Byrne outfitted with Rocket costumes. "We always used stuffies as lighting references," says Ceretti. "We did the same thing for Vol. 3, using a stuffy created by Legacy Effects, and costume designer Judianna Makovsky built Rocket's costumes.
"We also had a gray stuffy Rocket without fur for actors to hold, and for the director of photography to use in lighting," he continues. "Having the character in costume [and] lit in the right environment is so valuable. I often went back to the stuffy footage as reference."
Evolving the Character
For Vol. 2, Marvel VFX supervisor Christopher Townsend gave Rocket a makeover, adding detail to the character's fur and anatomy. For Vol. 3, Ceretti and Framestore rebuilt Rocket again.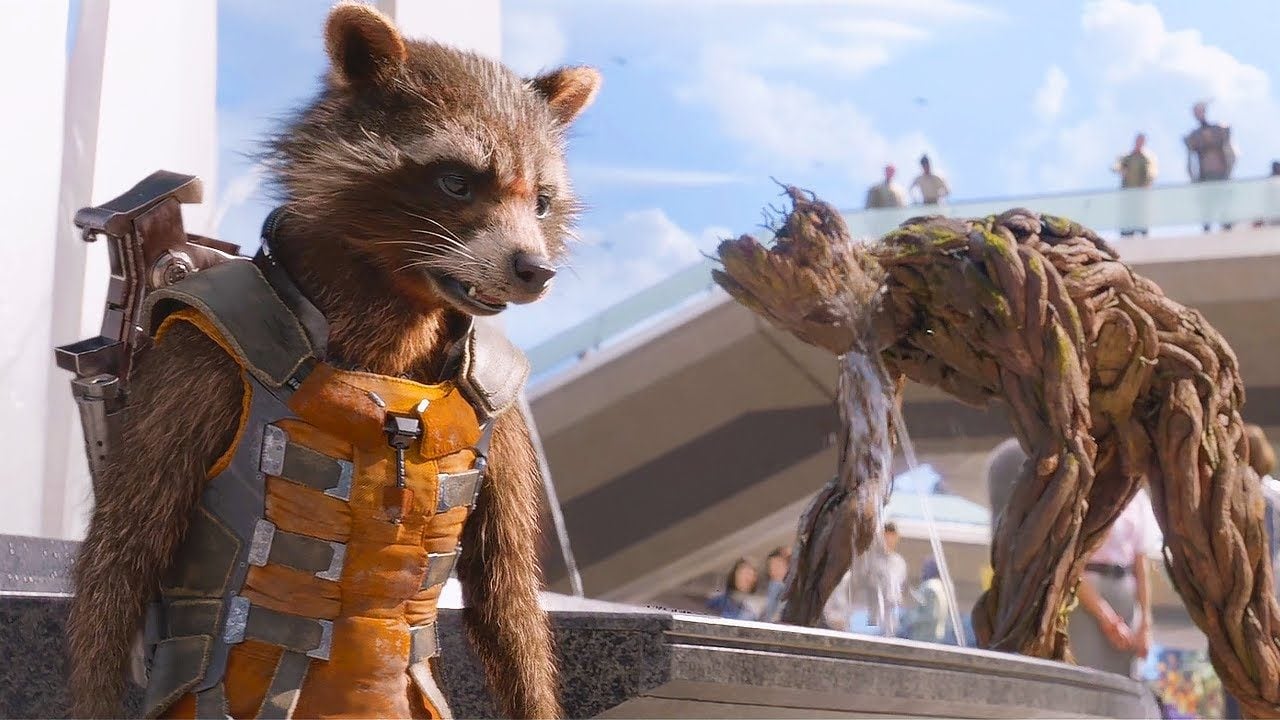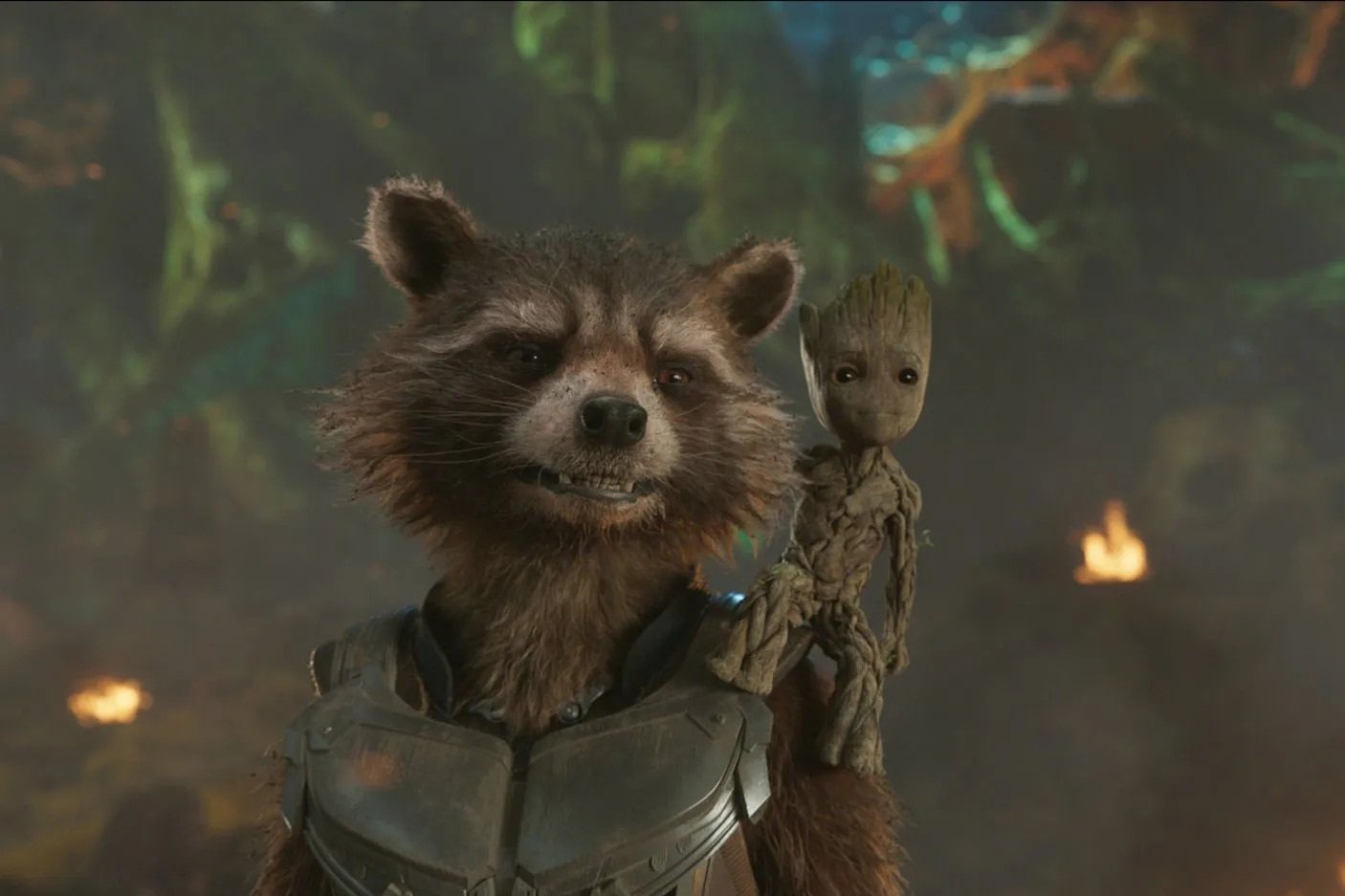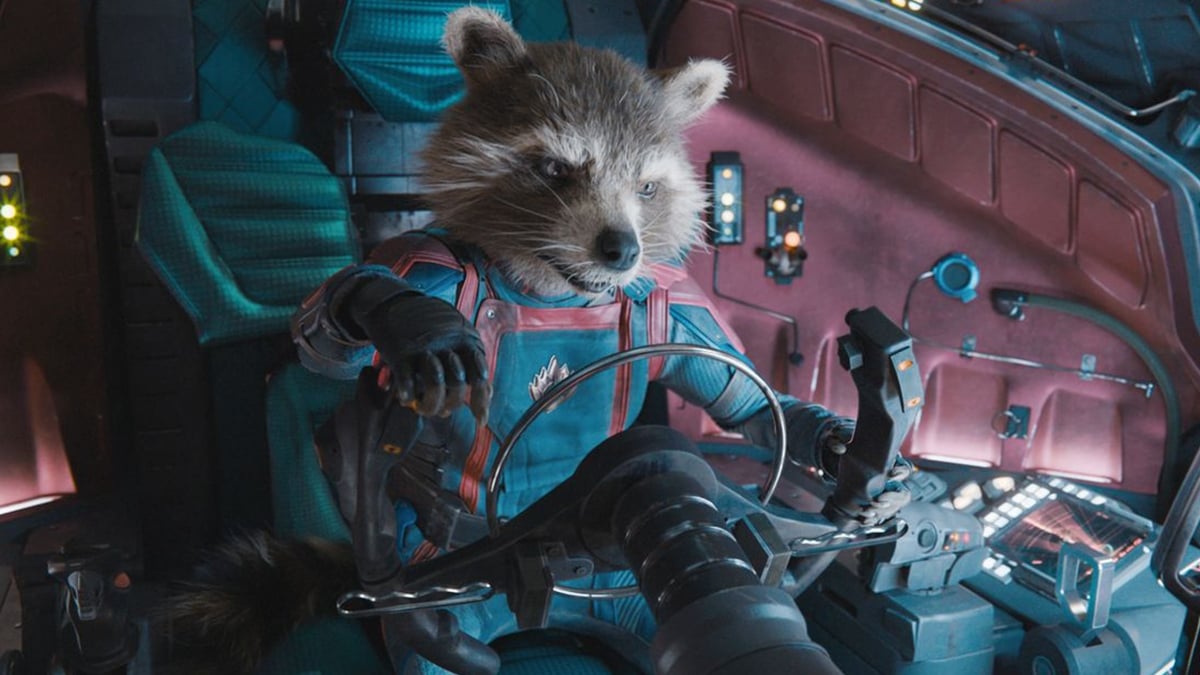 "James and I looked at turntables of Rocket from all the films," Ceretti says. "In the first film, the areas around Rocket's eyes were black, and it was harder to read his expressions. But if they showed too much white [in] the eyes, he looked more like an animated character. So, we backed away from making him too human."

Grim Beginnings
Vol. 3 opens with a flashback which reveals that Rocket was a victim of medical experiments as a newborn. The horrific procedures were designed to enhance not only his mental capacity, but also his biped gait, via metal structures built around his legs, clavicle and torso. Sean Gunn enacted Rocket's transition on set, while Noa Raskin, the daughter of editor Fred Raskin, supplied the baby raccoon's first utterance: "Hurrrrts."
For wide shots featuring young Rocket beside his captor, the High Evolutionary (Chukwudi Iwuji), Sean Gunn voiced off-camera lines and Framestore used keyframe animation to create the raccoon's teetering gait.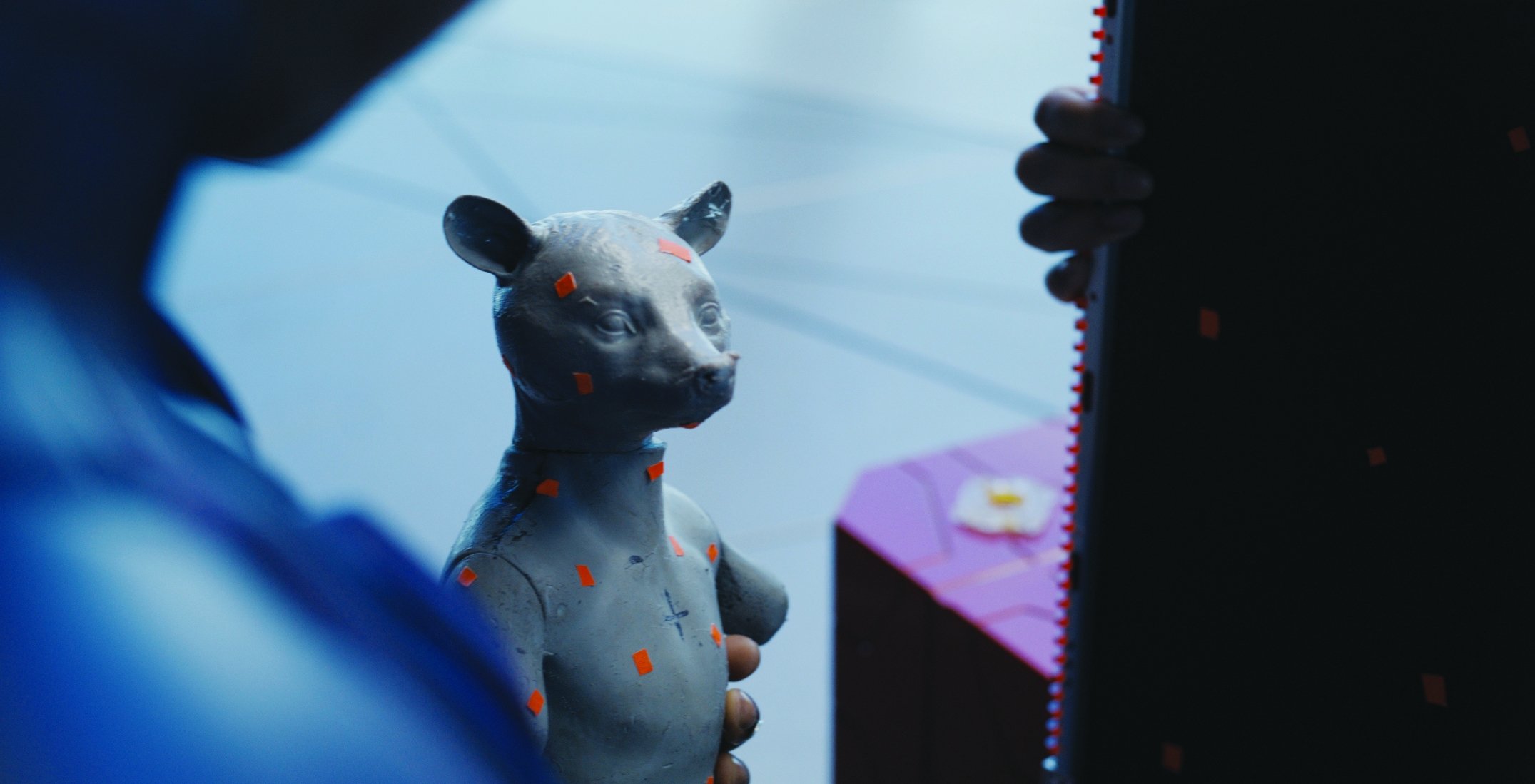 A Bold Camera
For the majority of Rocket's scenes, Gunn focused on his brother in situ. Ceretti notes, "James has become more bold in how he uses the camera. It's changed quite a bit, the way he covers everything. While he and Henry [Braham] were working on their last two films, Vol. 2 and The Suicide Squad, they [used] a Red V-Raptor in a small, stabilized rig, the Stabileye. They sometimes used a crane, but it's mostly Stabileye, handheld with wide lenses very close to the action — very fluid, almost cinema vérité."
In flashbacks featuring Rocket and three vivisected cellmates — the otter Lylla, walrus Teefs, and rabbit Floor — Sean Gunn performed with his fellow actors in a scaled-up, virtual set consisting of a floor and bars. "We fitted the Red cameras with match-move motion-capture rigs like a little tripod with small spheres," Ceretti explains. "We captured camera motion in real-time so we could take the camera moves and use them in our CG environment. For the first few days of production, we captured everything in the cage, which maximized our time animating those scenes. We shot every angle James wanted, and then Fred Raskin assembled scenes so we could turn them over to Framestore. That way, we knew all the angles and moves James wanted.
"It was a great collaboration between our team and Henry's," Ceretti adds. "Henry operates, but he has two other people working with him, and they each had tracking-marker systems on the camera. It was complicated because the cameras were so tiny, but we found a way to capture all the camera motion so that CG, virtual cinematography and real cinematography linked together. And we made sure James and Henry's shooting style was fully incorporated into our pipeline."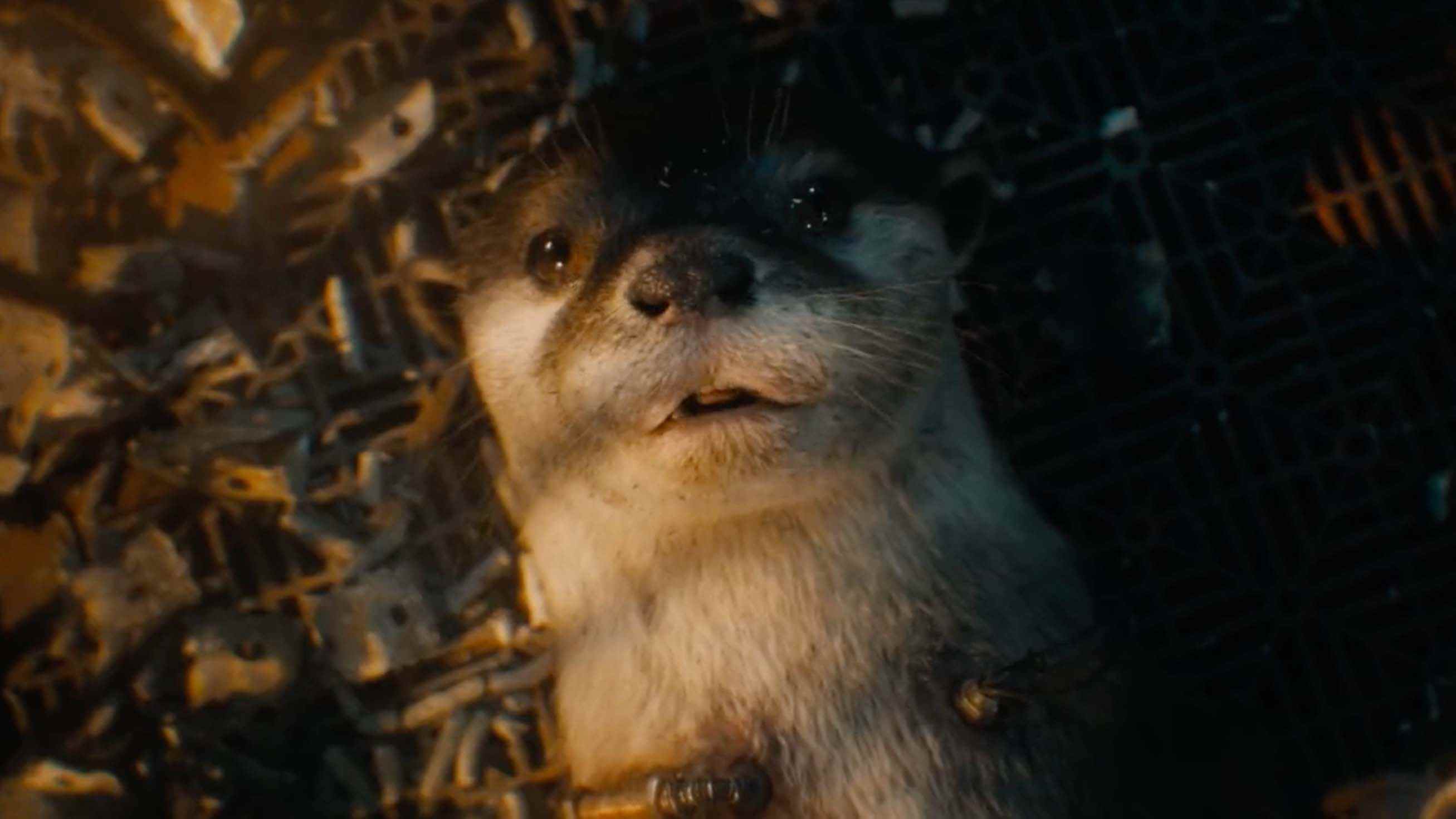 Evocative Effects
VFX emulated the chiaroscuro lighting Braham used on production designer Beth Mickle's human-scale laboratory set. "We put stuffies of the characters in the cages, and Henry lit those," says Ceretti. "Henry's lighting had neon green in the background, cooler lights up top, and, at the entrance of the cages, a lamp on an arm that was orange and yellow. Framestore then rebuilt the lab around the cages. Inside the cages, we added fill light to help see characters from multiple angles, but we wanted to create an understanding that this was the same space. We kept the intention of Henry's lighting."
No Mocap for Creatures
All digital creatures were keyframe-animated from observations of on-set performance. "We never used motion capture to animate animals in the Guardians films," Ceretti says. "We did our reference shoot with the actors; James directed the actors; James and Henry worked out the cameras; and we shot the cage interiors like theater. The key thing that approach gave us was camera motion, [which] is so ingrained in the way James shoots. That was so important. There was no guesswork. It's not motion capture — it's motion reference and acting reference. The only 'motion capture' is the camera. The reason we had the actors in motion-capture suits was to triangulate their positions so we'd know where they were in 3D space. None of that translated into animation."
Intense Interaction
Human-to-CG character interactions were crucial in scenes of characters hugging, especially a climactic moment when Quill revives Rocket from near death on an operating table. Braham lit the scene with extreme toplight. Framestore matched the lighting in its digital fur groom, blowing out the luminance of Rocket's pelt as Quill embraces his friend.
"It's a bleak scene," Ceretti observes. "Halfway through, you think Rocket's going to die. It was perfect lighting. Usually, for interactive scenes we used the naked stuffy, which is a white/ gray trunk, so the actors' fingers don't get covered by stuffy fur. For that scene, Chris Pratt asked me, 'Hey, can we do this with the stuffy that has fur and eyes? I really need that.' I agreed, and when Chris did the sequence, we were all so moved. He just needed to be able to look Rocket in the eyes. That created issues for us down the line — we had to replace the stuffy fur with CG fur and replace parts of Chris' body — but it made a difference."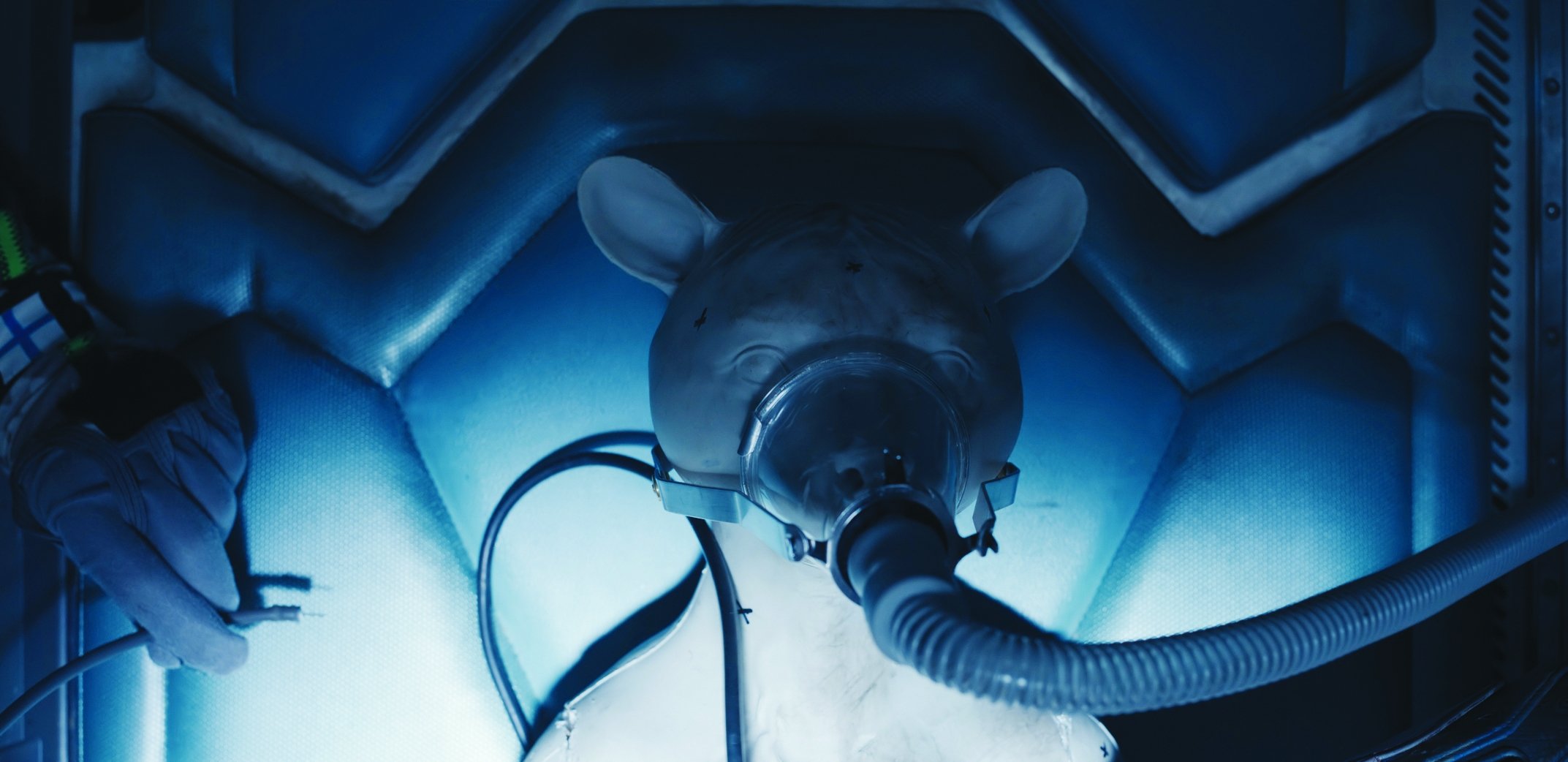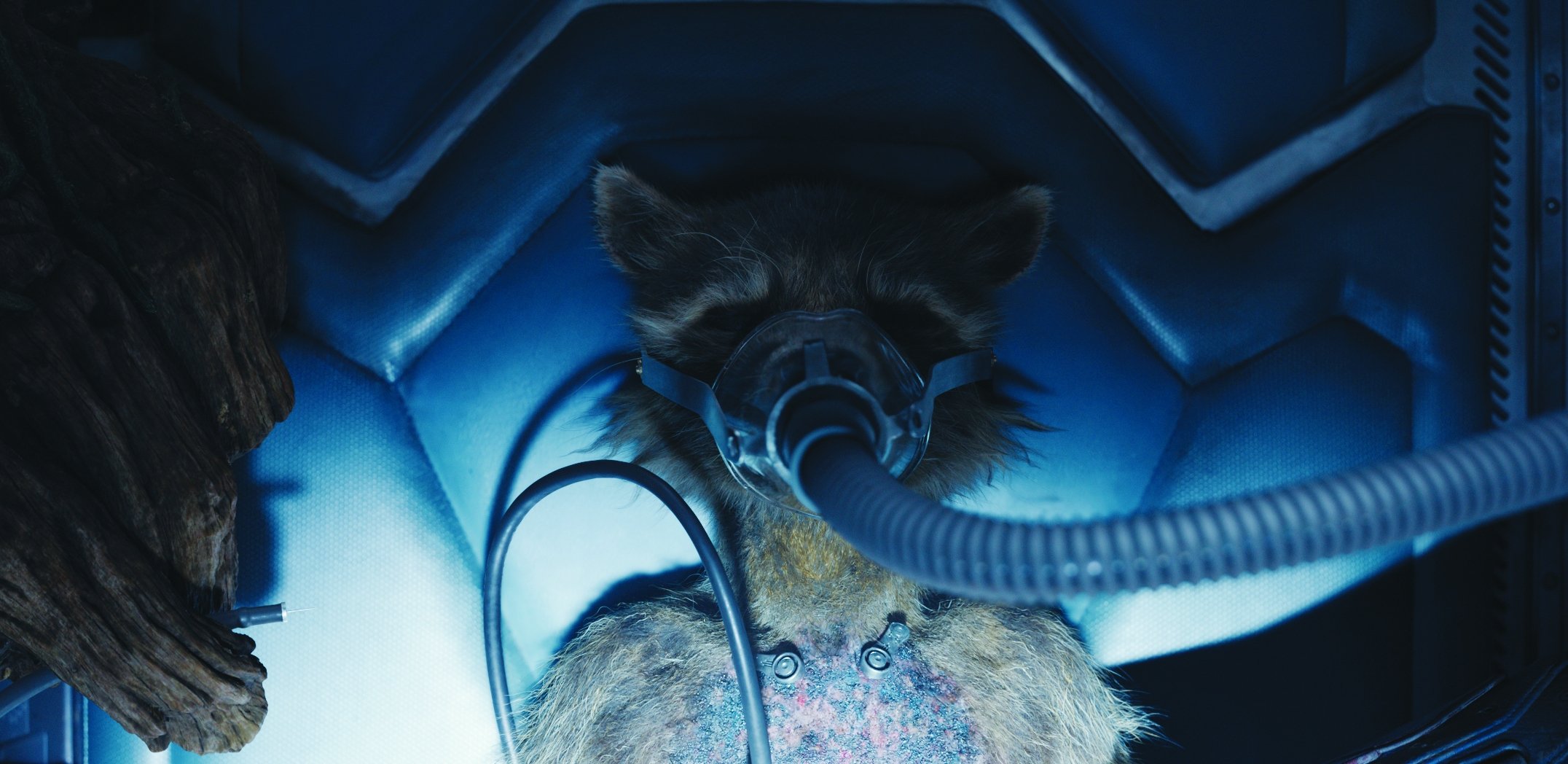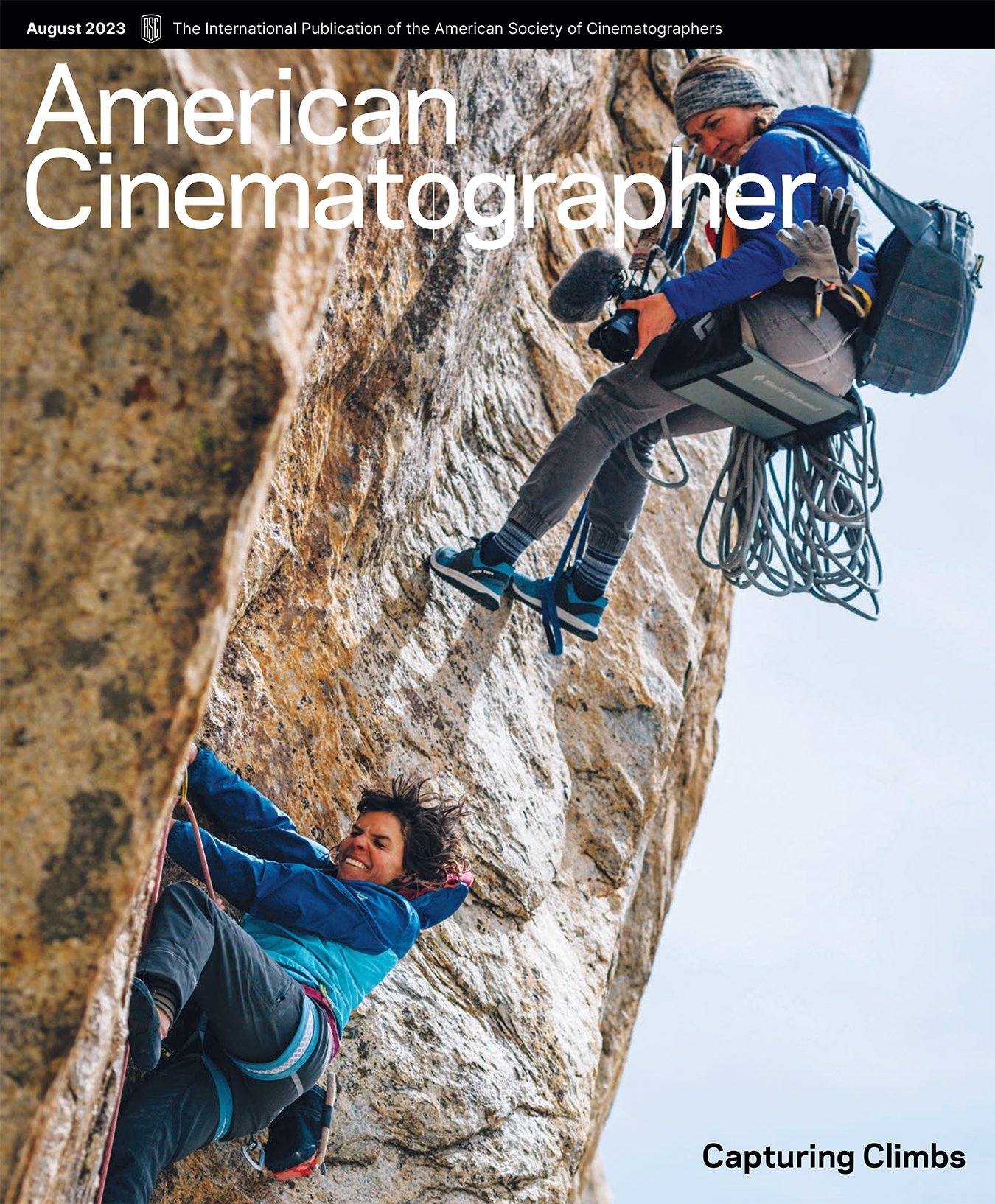 Cooper added to Rocket's performance, including a surreal moment when the raccoon receives a benediction from Lylla in a white corridor resembling their prison cell. "Bradley thought that scene was so emotional," Ceretti recalls. "He brought in the idea that Rocket's hand would go to his face, and he would cry a little more. We mostly followed what Sean had done, but Bradley understood the moment a little differently, and James allowed him to do that. We scheduled the ADR sessions early enough to give us time to revisit scenes. Rocket is Sean, then the animators, then us, with James sometimes modifying Sean, and then Bradley adding to that. It was like a sandwich."
The real magic, Ceretti contends, "is all in the writing. Rocket is one of the best characters in the Marvel Cinematic Universe. He's an animal, but he's so relatable, and now [that] we've seen his backstory we can understand so much more about his frustration and the fact that he was so broken, and how he was turned around. We fixed him."