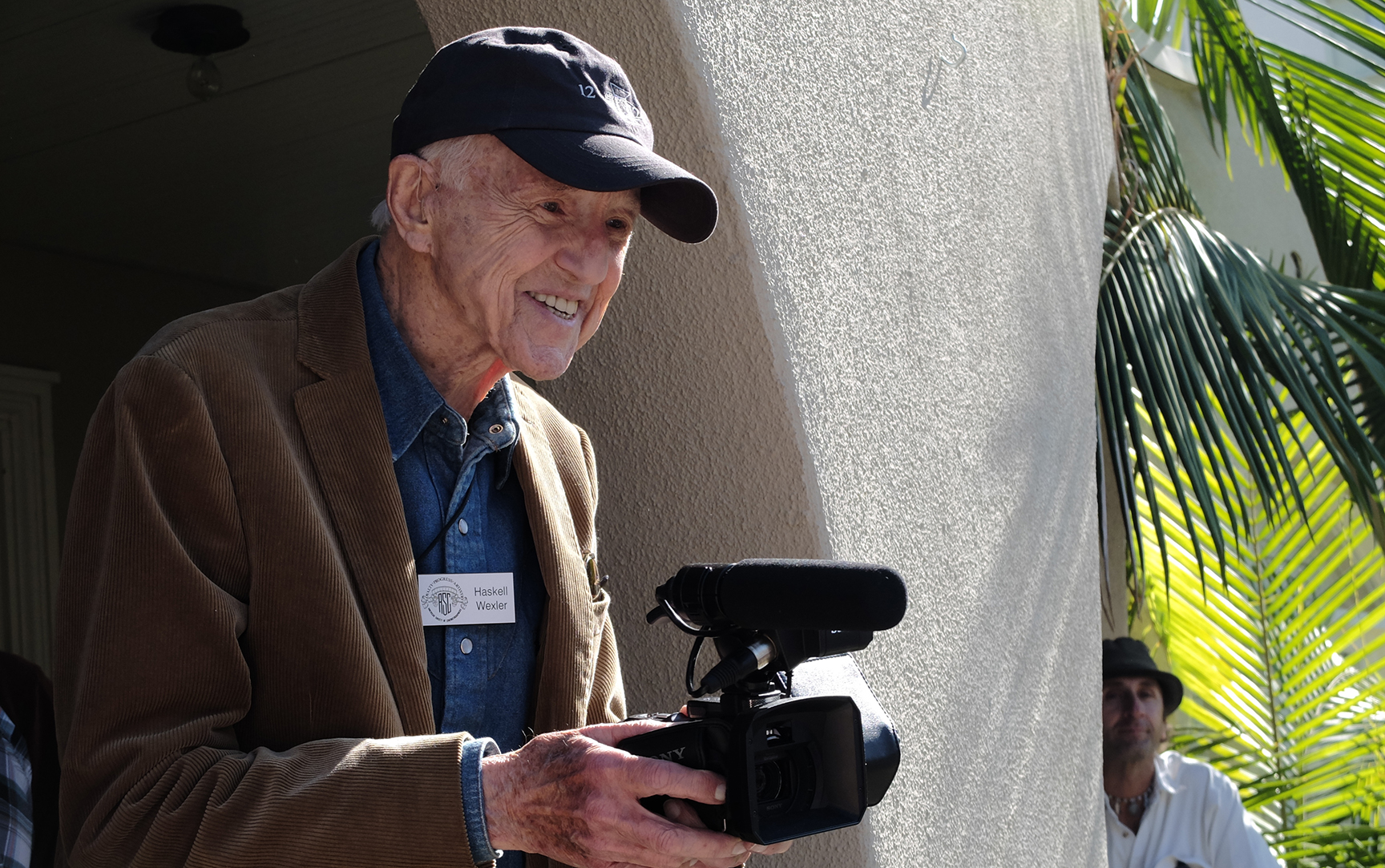 Behind the Legend: A Candid Look at Haskell Wexler, ASC in Shoot From the Heart
Joan Churchill, ASC discusses her documentary portrait of mentor, colleague and friend.
Tara Jenkins
Joan Churchill, ASC discusses her documentary portrait of mentor, colleague and friend.
When Joan Churchill, ASC and Alan Barker set out to make a film about renowned Society member Haskell Wexler, their goal was first and foremost to create a portrait of the man — a look beyond the Oscar and ASC Award winner's prolific and storied work behind the camera. "I don't think we wanted to make a film about Haskell because he was a filmmaker," Churchill says of the 25-minute short Shoot From the Heart, a title that Rita Taggart, Wexler's widow, came up with. "We were making a film about a man who was a passionate activist, who never gave up hope for the world, and who was a mentor. He was an incredibly generous person."

Churchill — the first ASC member whose invitation into the Society was based solely on documentary work — and Barker, a prolific sound recordist and mixer, served as co-directors as they documented Wexler over the last 10 years of his life. As Churchill notes, they captured Wexler "working on sets, mentoring aspiring cinematographers, fighting his own union to uphold their promise to fight against brutally long hours and for safety on the set" — and debating at dinners with such lauded creative artists as documentarian D.A. Pennebaker.
Churchill knew Wexler as a mentor, colleague and friend, having worked with him on many documentaries, "starting with No Nukes, a film Haskell Wexler and Barbara Kopple co-directed," she says. Later, she worked on "several documentaries directed by Wexler, including Bus Rider's Union, Who Needs Sleep? and From Wharf Rats to Lords of the Docks, and on documentaries directed by others — Bastards of the Party and Benny Carter: Symphony in Riffs.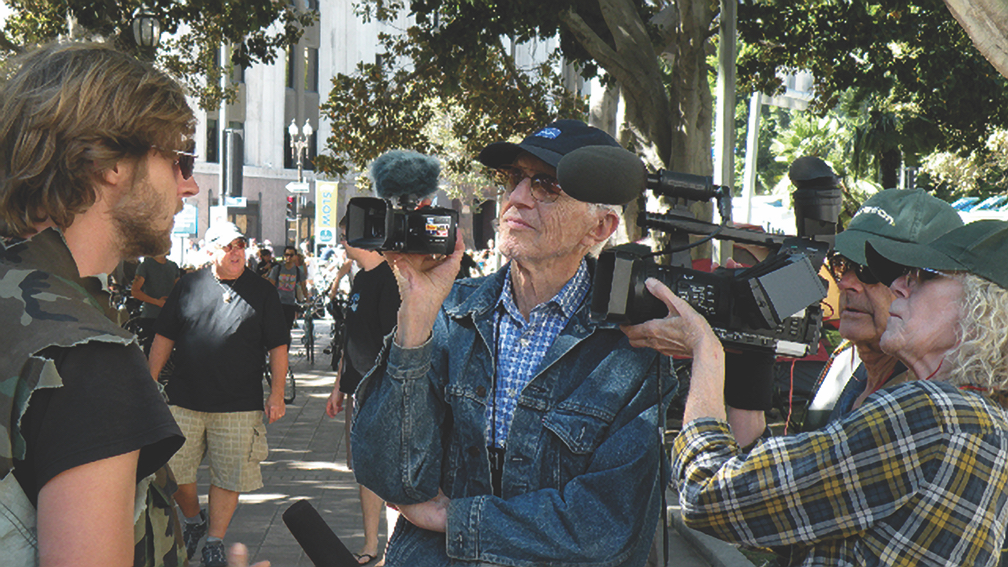 "Haskell has been in my life since I shot Punishment Park, which was my first film out of school," she says. "It was a fiction film shot as a documentary. He called me up out of the blue and offered to help," having likely heard about the project through word of mouth. "It was a small world, and pretty exceptional that a woman was going to shoot such a film." Wexler's generosity is part of what drew Churchill to turn the camera on Wexler himself — a role reversal that came with its own challenges.

From the beginning of the project, Wexler — who was awarded the ASC Lifetime Achievement Award in 1993 — was self-conscious about being in front of the camera. "Alan Barker and I wanted to make a film about Haskell, but he did not want us to make a film at all," says Churchill, whose cinematography credits include Shut Up & Sing, Last Days in Vietnam and Medicating Normal. "He was like, 'No, no — nobody wants to see a film about some old farts. My passion right now is to make an anti-war film.' This was during the Iraq War, so we worked our way around to helping him make that film — if he would let us make a film about him at the same time. That's how we slid into this project. We introduced Haskell to Jonathan Kaplan, a trauma surgeon I had met in Iraq, who has spent his life setting up dressing stations on the front lines of hot spots around the world. We shot the conversation as he vividly described what war is really like. Haskell ended up in despair, with his head in his hands."
Churchill notes that they also introduced Wexler to filmmaker Suree Towfighnia — who went on to work with him on such projects as Four Days in Chicago, and who appears in one of the Shoot From the Heart interviews as well.
"We were making a film about a man who was a passionate activist, who never gave up hope for the world."
— Joan Churchill, ASC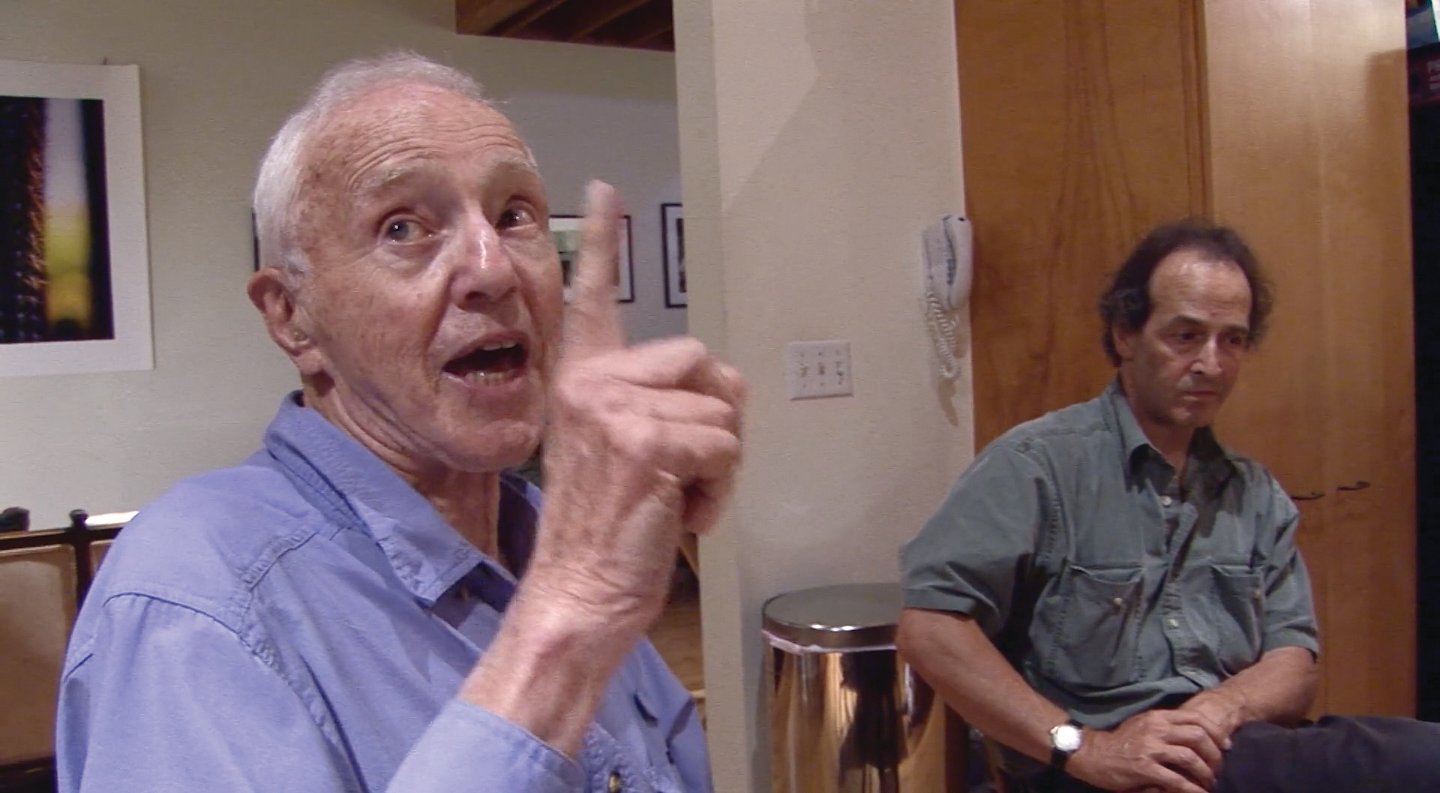 The short leans into vérité filmmaking, being present with Wexler in the moment, whether he is talking to a room full of mentees or sitting at a table with friends. Presenting Wexler in these types of situations was due in part to his aversion to being interviewed. "I tried one sit-down interview with Haskell," Churchill says with a smile, "and he ended up talking about my mother instead of himself, and it was just pointless. I just gave up trying to interview him — he was uncomfortable with formal situations involving a camera. It was only if he was engaged in something that it was okay, and he could forget about the camera. So, we started having these dinners with our documentarian friends. He loved that, and — of course — people loved to come. Since we were all filmmakers, and shooters, we would use small camcorders, very non-threatening, and kind of pass the camera around from person to person. That worked. He was okay with that."
The centerpiece of the film is one such dinner discussion with Pennebaker. "I knew the conversation [between Pennebaker and Wexler] was just gold," Churchill says. "[Husband-and-wife documentarians] Pennebaker and Chris Hegedus, and [fellow documentarian] Nick Doob, had come to town to shoot something, and they were staying with [Alan and me]." The conversation — all filmed very informally, as if from the perspective of one of the dinner guests — runs the gamut from pop-culture references to "debating about issues such as cinematic reality and what it means to be an artist." This debate ultimately serves as a through-line for the "nonlinear patchwork" of scenes from Wexler's life that comprise Shoot From the Heart.
"We used an array of Sony and Panasonic cameras," Churchill says, "starting with the Sony PD150 for the first thing we shot with Haskell — visiting Arlington West [memorial, which features] crosses representing each soldier killed in the Iraq War. We shot in natural light, sometimes very low light, but the cameras could take it."
One difficulty for Churchill was cutting down the massive amount of footage she had accumulated over the years. The documentary took on many different iterations, including a five-and-a-half-hour cut. "We shot the last 10 years of Haskell's life, and he's been gone for five years," Churchill says. "I didn't start editing until after he was gone, and I couldn't start right away after that. It was hard, emotionally. Once we decided that it was okay for the doc to be a short, that simplified things."
Churchill considers Shoot From the Heart to be the first chapter in a possible series drawn from the footage she shot of Wexler through the years. She plans on structuring other shorts around conversations that Wexler had with other artists and activists, such as filmmaker Hubert Sauper; author and filmmaker Saul Landau; journalist and author Kevin McKiernan; photojournalist Susan Meiselas; and cinematographer Jack Couffer, ASC, who authored The Concrete Wilderness, the novel upon which Wexler's acclaimed documentary/fiction hybrid Medium Cool was based.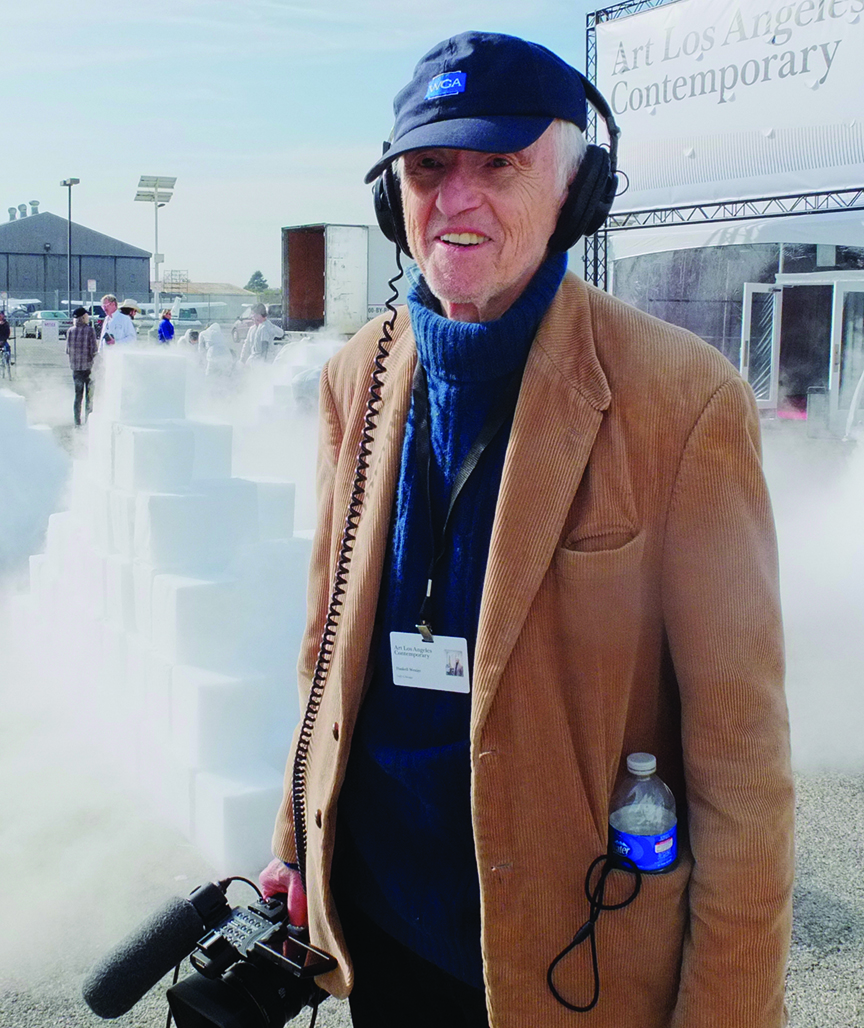 Wexler's hope and passion for a better world serve as the production's overarching theme — whether he is shooting Occupy Los Angeles activists or speaking with Latinx students about a career in filmmaking. The oldest footage in the documentary is from 2007 and follows Wexler as he and actor Jane Fonda attend a screening of the 1978 film Coming Home, which Wexler shot. After the screening, he and Fonda take the stage to speak emotionally about their antiwar activism, from Vietnam to the modern day.

In one of the production's most poignant scenes, Churchill follows Wexler to a warehouse, where he is shooting a music video for Lisbeth Scott's "Hope Is a Thing." "After suggesting to the director, Joseph Greco, that he let Lisbeth Scott sing her song in one full take," Churchill says, Wexler becomes very moved by the music — to the point of tears by the end of the song. "The song was about hope, which was what Haskell was all about — never giving up hope."
---
You'll learn much more about Churchill and her creative approach here.