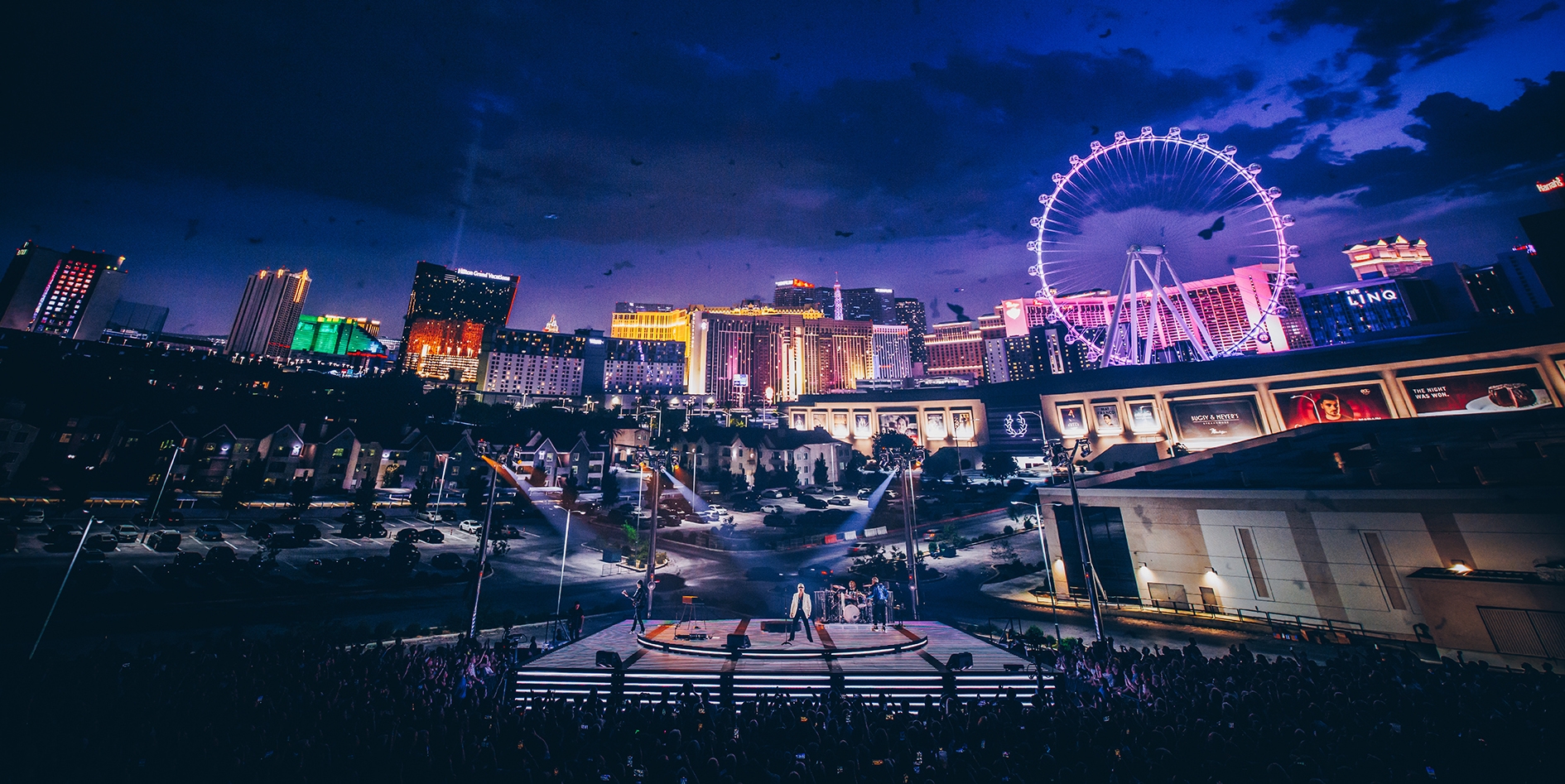 U2 performs at Sphere with the Las Vegas skyline projected behind them. (Photo by Rich Fury)
Supersized Performance — U2:UV Achtung Baby Live at Sphere
The iconic Irish rock group makes the most of this new visual venue in Las Vegas with an eye-popping backdrop of hallucinatory, head-trip imagery.
Stephen Pizzello
Photos and clips courtesy of Sphere Entertainment Co.
Click on still images to enlarge.

If you're doing a show in Las Vegas, it's "go big or go home," and U2 certainly followed this policy by staging a pair of spectacular concerts on Sept. 28 and 29 to kick off the band's 25-week residency at the new, $2.3 billion Sphere facility.
American Cinematographer was invited to attend the band's opening weekend — along with the premiere of director Darren Aronofsky's Sphere project Postcard From Earth — as we prepared a feature on the format's Big Sky camera and lens system for our Nov. 2023 issue. (This story can be found here, while an overview of the Postcard debut will be posted soon.)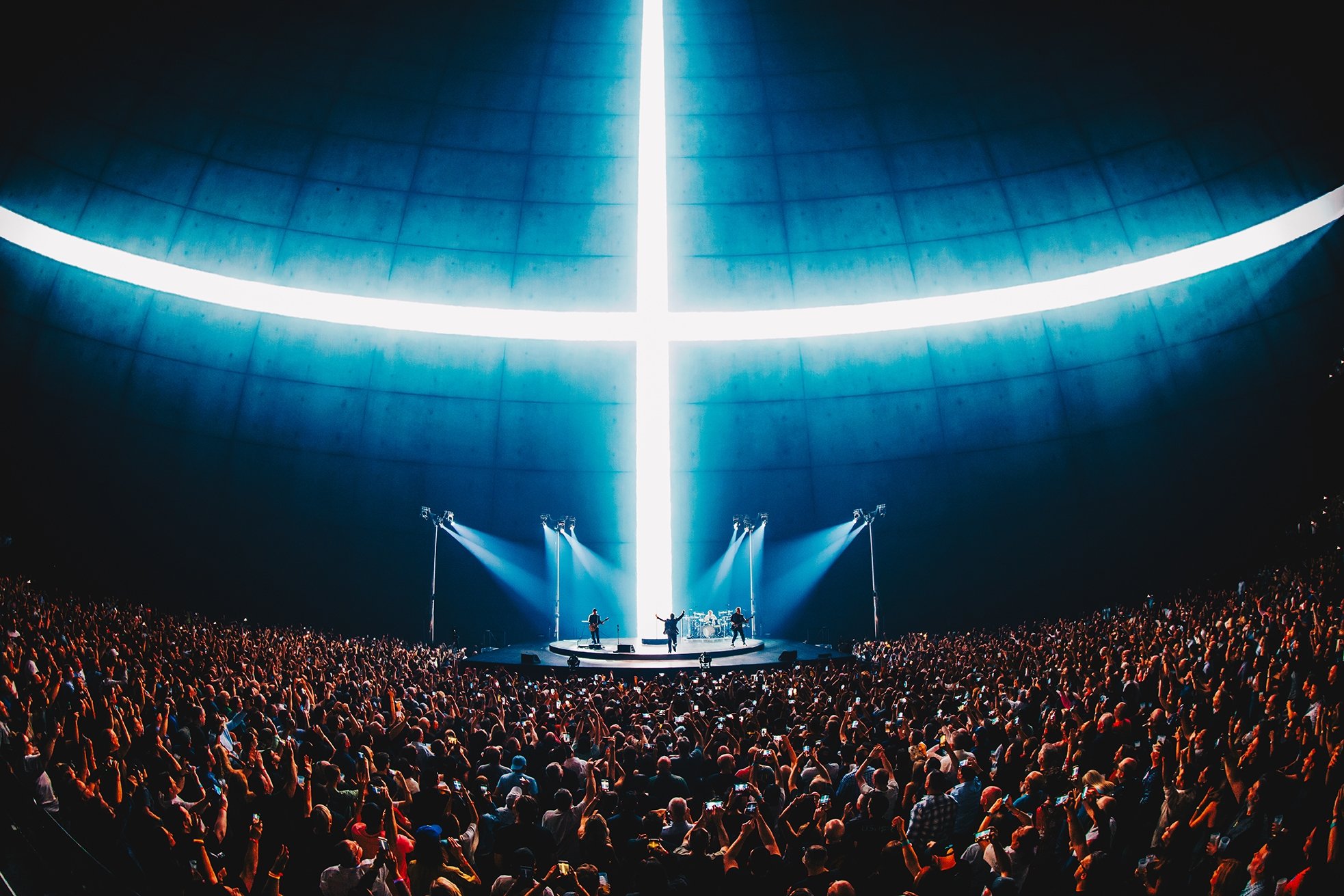 As a longtime U2 fan, I was certainly keen to see how the band — which has a tradition of employing state-of-the-art technologies for its shows — would maximize the seemingly limitless potential of Sphere's immersive potential. They did not disappoint.
At the concert I attended with my wife, Delphine — Night Two, on Sept. 29 — there was a nearly hour-long delay that initially had us fearing a technical glitch. But according to a reliable source, the lag was reportedly due to Bono leaving his stage boots behind at the band's hotel. As the singer's footwear was retrieved, a deejay cranking tunes from a motion-enabled prop automobile was forced to vamp, stretching out his set as the neon-trimmed vehicle slowly cruised on its track through fans gathered in a standing area in front of the stage. Finally, with anticipation at a high and restless level, the house lights were extinguished, inspiring the crowd to cheer in palpable relief. The buzz within the structure — which could be described as a futuristic version of a Roman amphitheater, albeit measuring 516 feet wide and 366 feet tall — was literally bouncing off the high-tech walls.
When U2 finally emerged from darkness, amid the metallic metronome beats and sliding crunch of the opening guitar riff in "Zoo Station," the screen behind the bandmembers appeared to start crumbling in spots, as if from the vibrations, before "cracking open" in the center to reveal a dramatic sliver of tall, vertical light that gradually expanded into crisscrossing ribbons — which then widened into intersecting bands of segmented screens offering various views of the musicians, interspersed with panels of "transmission static." The drama of this effect had the audience roaring with excitement.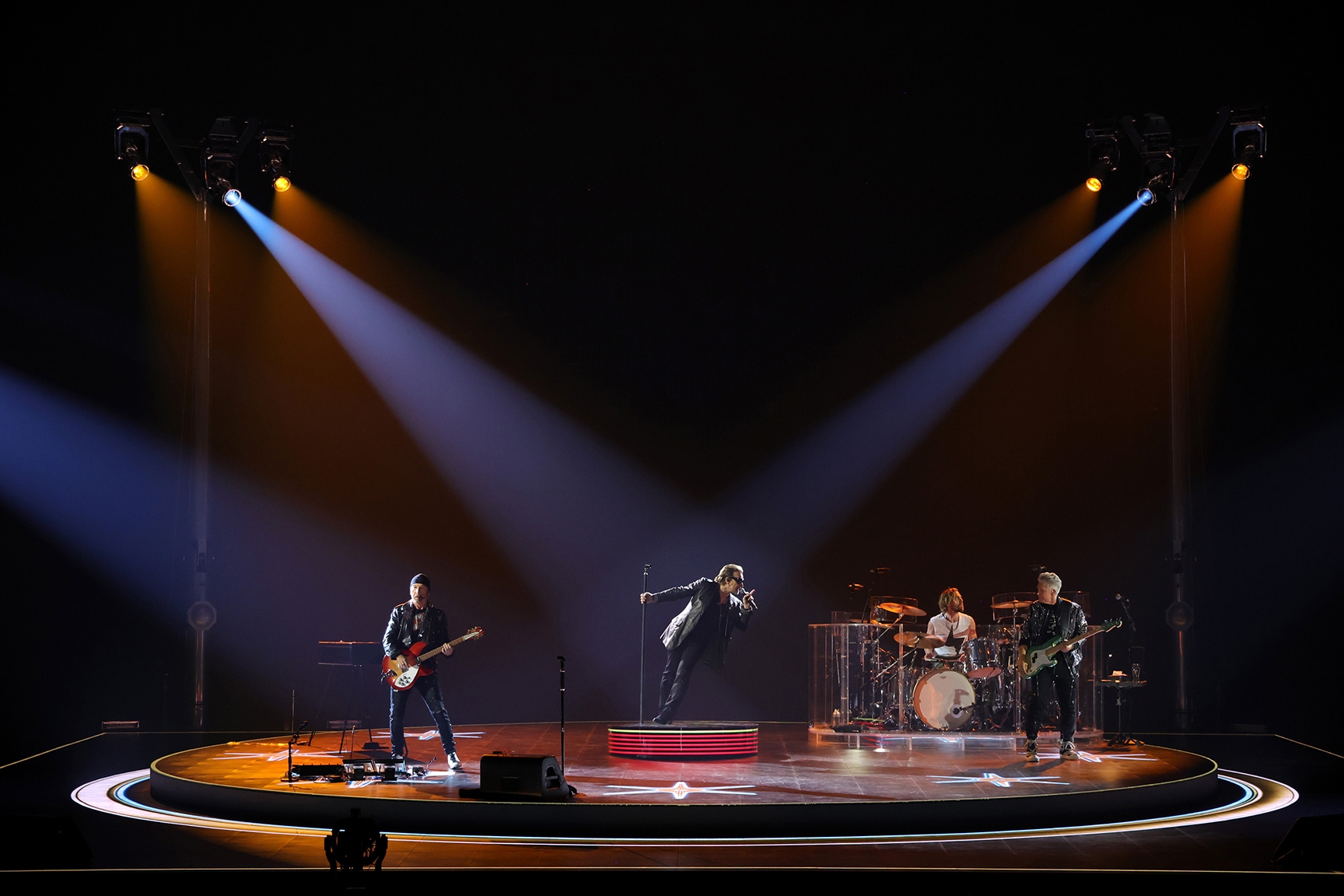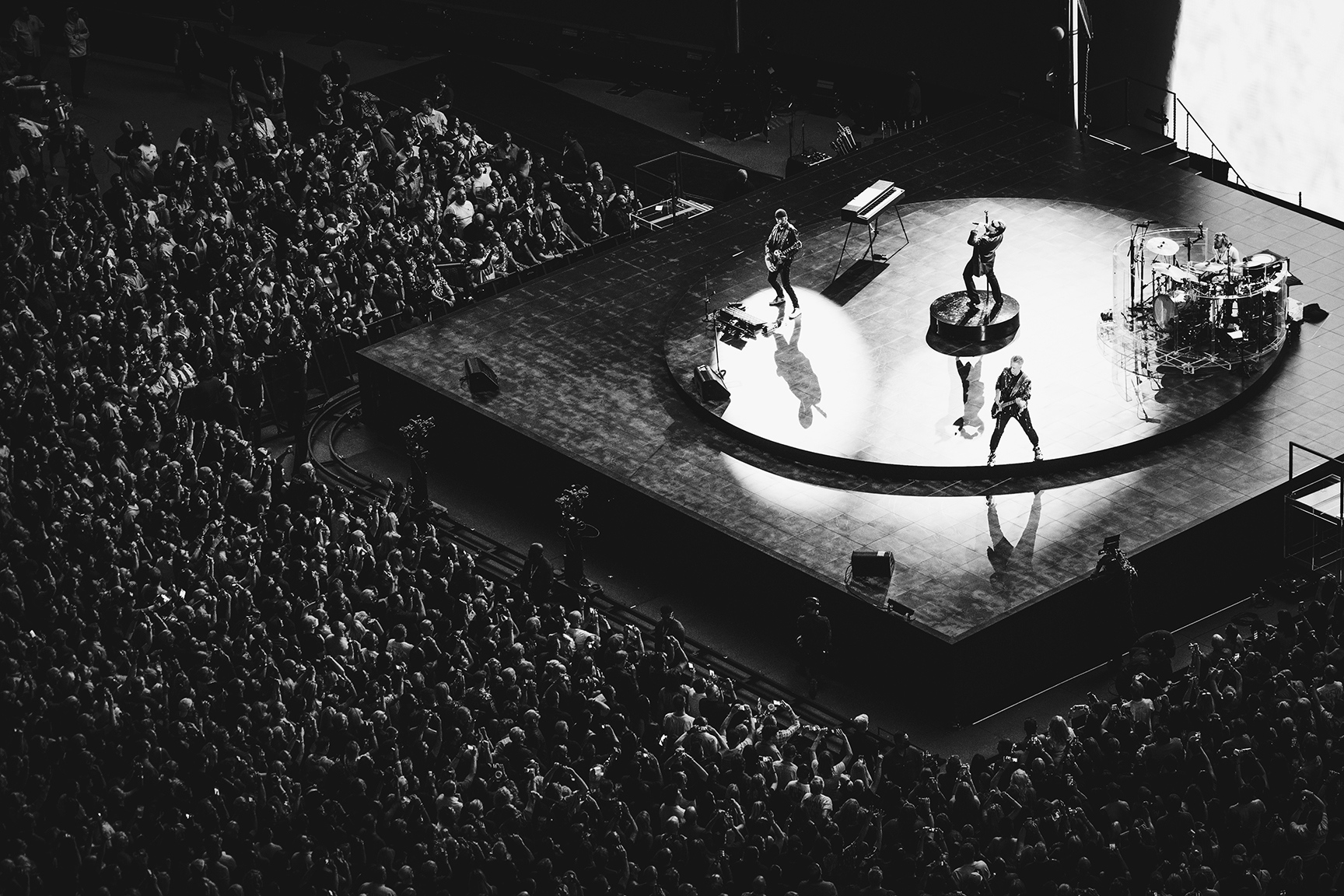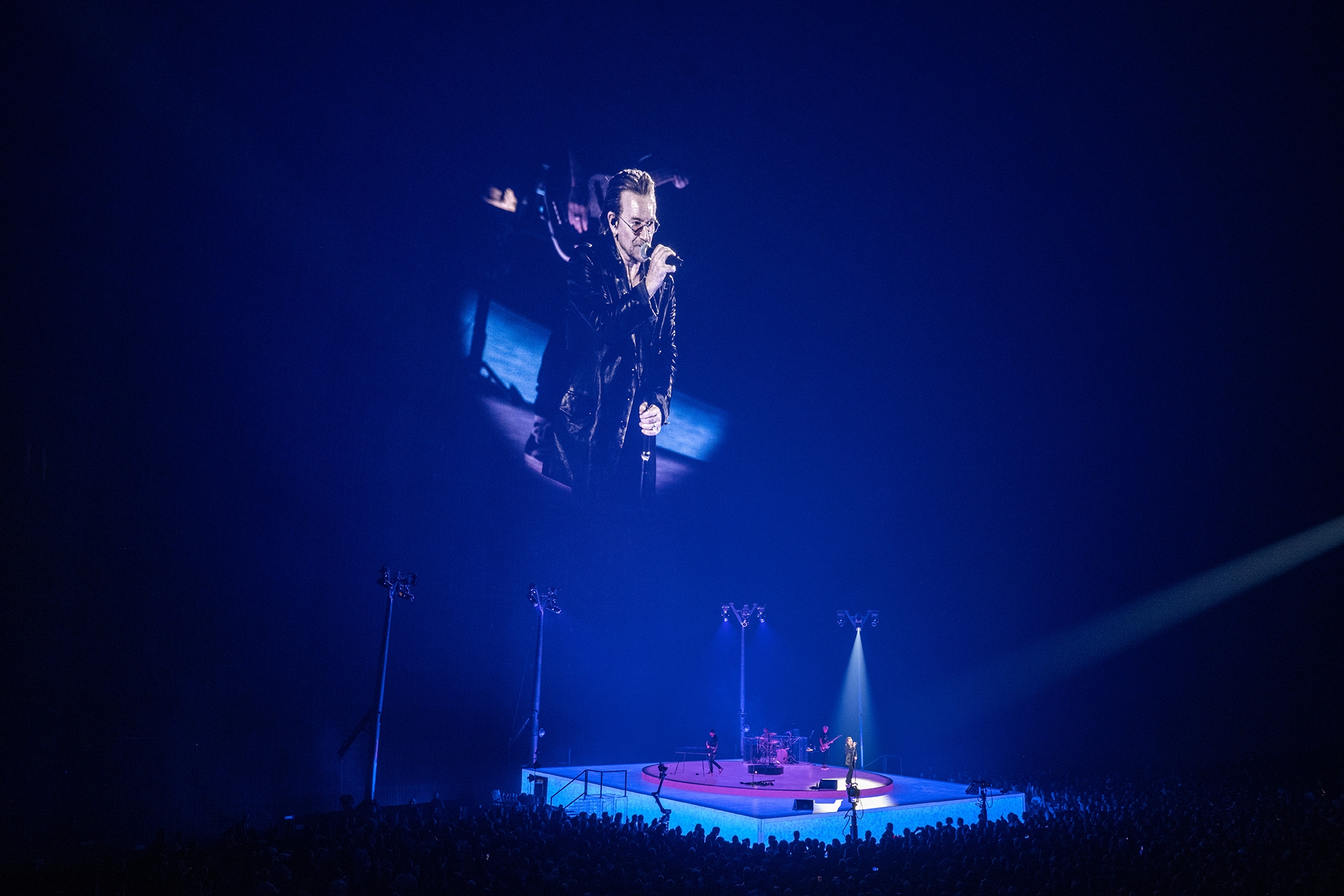 The stage itself, a jumbo-sized replica of the art piece "Turntable" by longtime U2 collaborator and producer Brian Eno, resembled a record turntable mounted on a flat, square base. The platform could be illuminated on two levels via lighting embedded in both the turntable and the base. Remote cameras roamed along the front edge and sides of the square slab, while human operators also shouldered cameras to capture the show. At the back edge of the stage, four articulated stanchions, each equipped with Robe profiles and follow spots, provided contemporary concert lighting, along with Quasar strobes strewn around the turntable and base.
The show's full lighting package includes 24 Robe Forte FS units, 24 Robe Fortes, 25 Wildfire VS-120 UVs, 119 GLP JDC1s, 30 GLP XDC1s, 60 Chauvet Strike Ones, 36 Astera Hydra Panels with wireless controllers, 6 Astera AX2 Pixel bars (50cm), 15 Hungaro Quasar Strobes and, for effects, 8 MDG The One Hazers — all controlled through a Luminex network from grandMA2 consoles.
While that arsenal may sound formidable, the minimalist design of the stage was clearly intended to allow Sphere's enormous, curved screen — which provided a high-resolution, 16Kx16K backdrop for the band — to be the show's technical star. The U2 concert utilized every portion of the 160,000-square-foot LED display in imaginative ways, providing views of the band that would not have been possible with more traditional screens or systems. Adding to the visual pageantry were images and graphics specially created by Industrial Light & Magic and artists that included Es Devlin, John Gerrard and Marco Brambilla.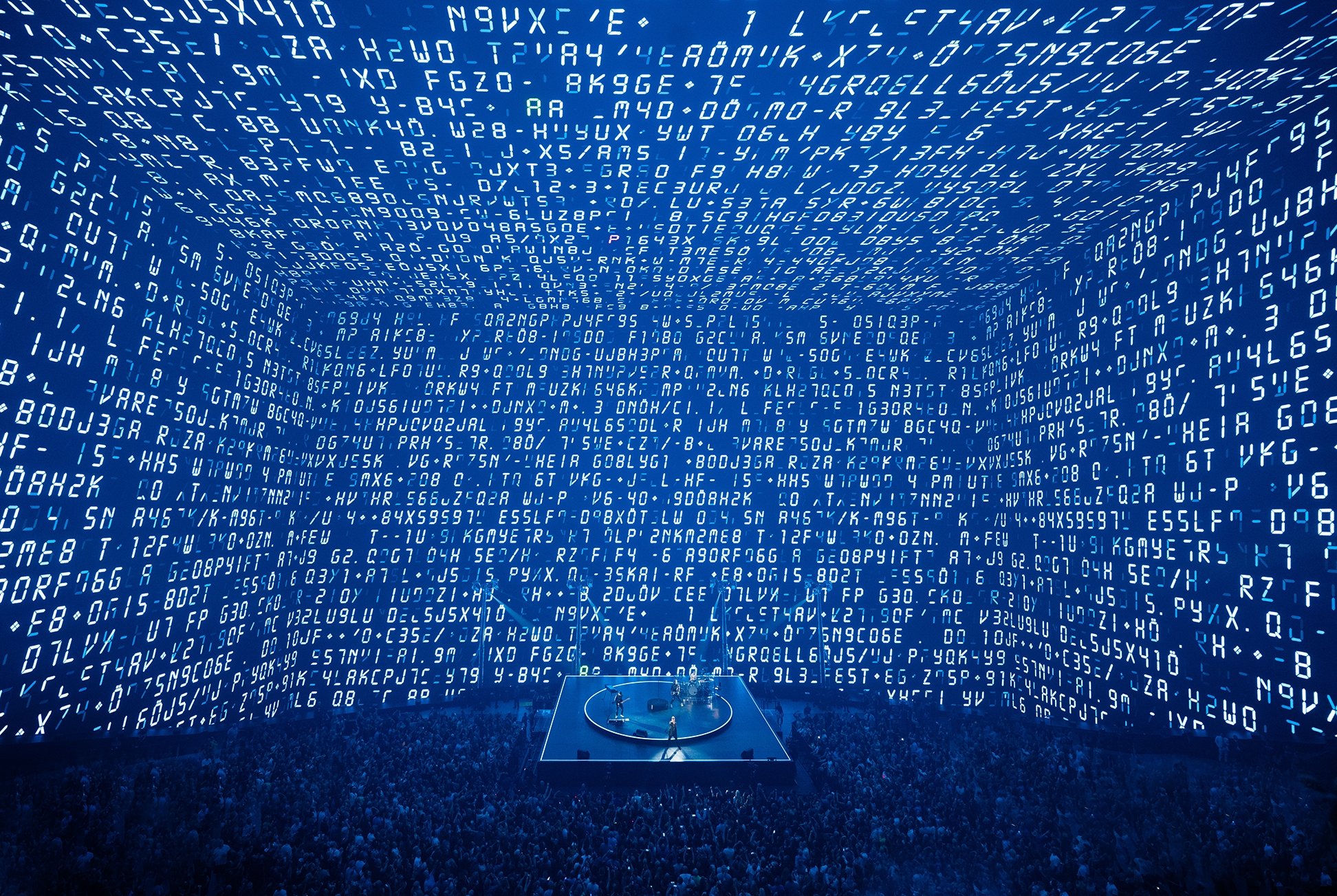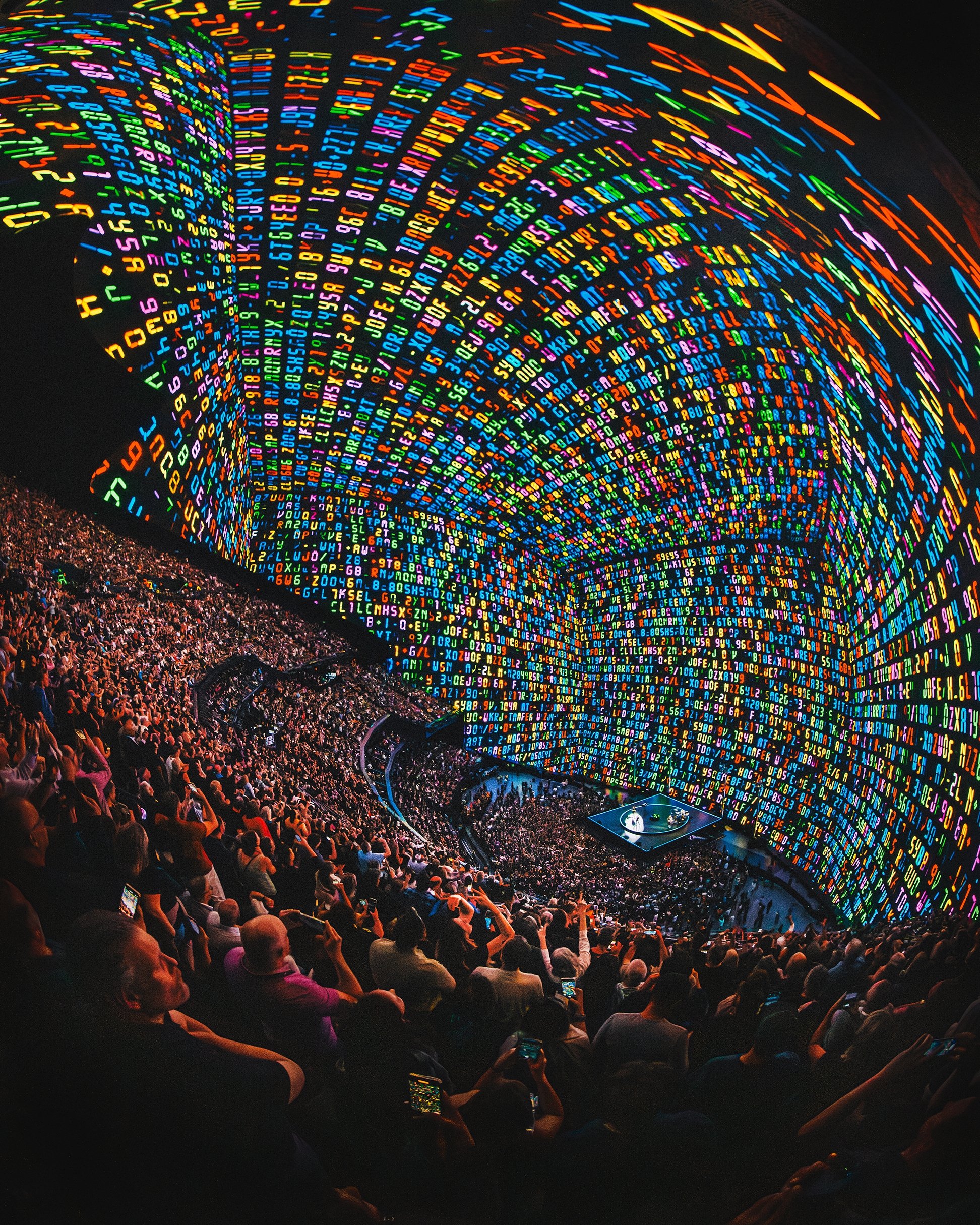 Among the show's dazzling highlights was a 3D effect during "The Fly" that made the ceiling feel as if it was dropping down on the audience as a multi-colored field of "digital code" scrolled across the screen; a kaleidoscopic vision of Las Vegas rolling downward as each band member floated in their own bubbles, wryly set to the tune of "Even Better Than the Real Thing" and featuring onscreen celebrity cameos by Johnny Depp (in his role as Hunter S. Thompson in Fear and Loathing in Las Vegas), Elizabeth Berkeley (in Showgirls mode) and Elvis Presley, among other figures; a starfield that enveloped the band and audience during "One"; fireworks raining down to accompany "Who's Gonna Ride Your Wild Horses"; a slowly growing mass of butterflies, insects and other bugs that eventually filled the entire screen to the strains of "Love Is Blindness" and "Elevation"; a tall pole with a flag spewing smoke and fire planted in a landscape of scrub brush during "Where the Streets Have No Name"; and, as the band played its brand-new song "Atomic City," a time-lapse deconstruction of the Vegas skyline, which eventually morphed back into a vast stretch of empty, unsullied desert.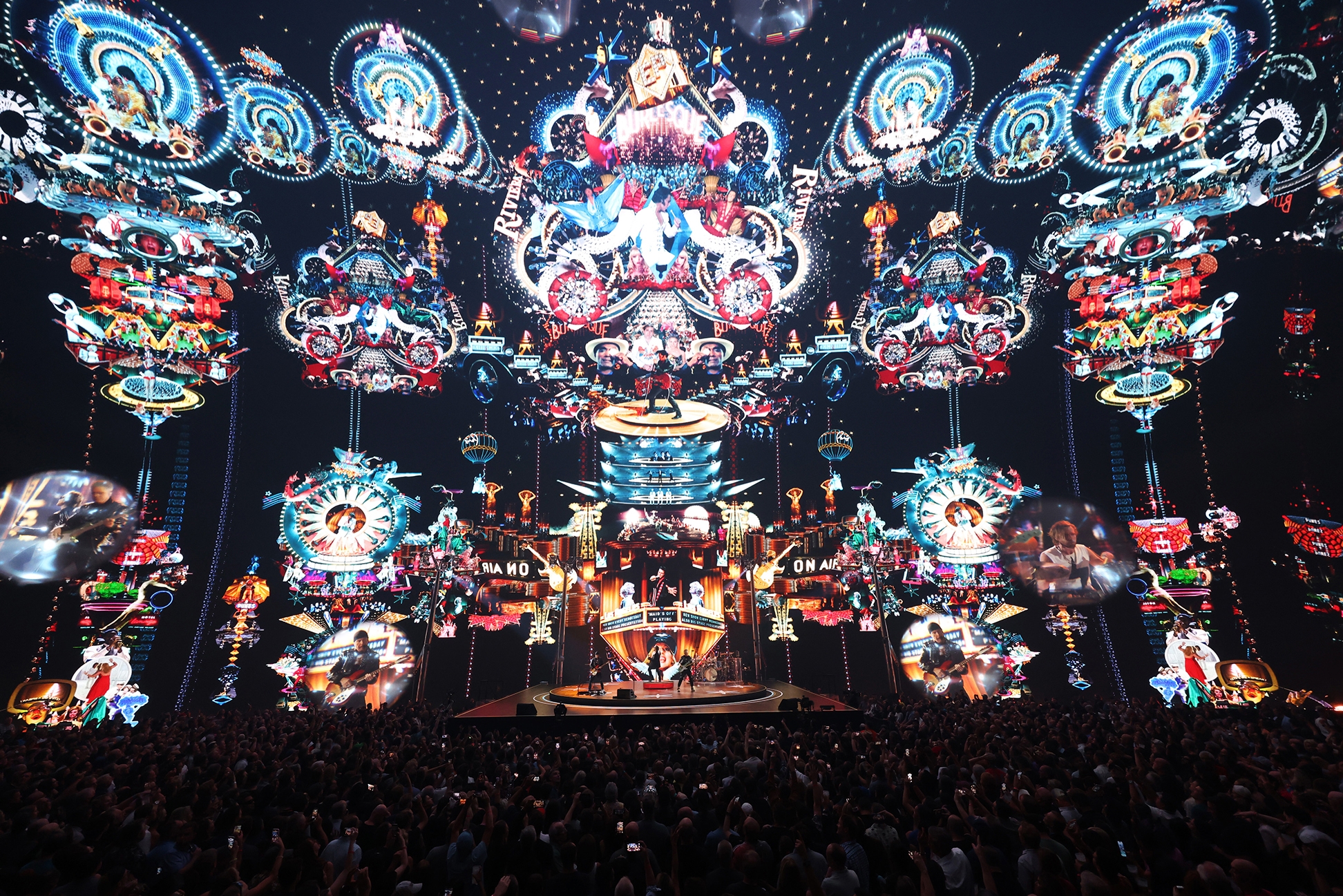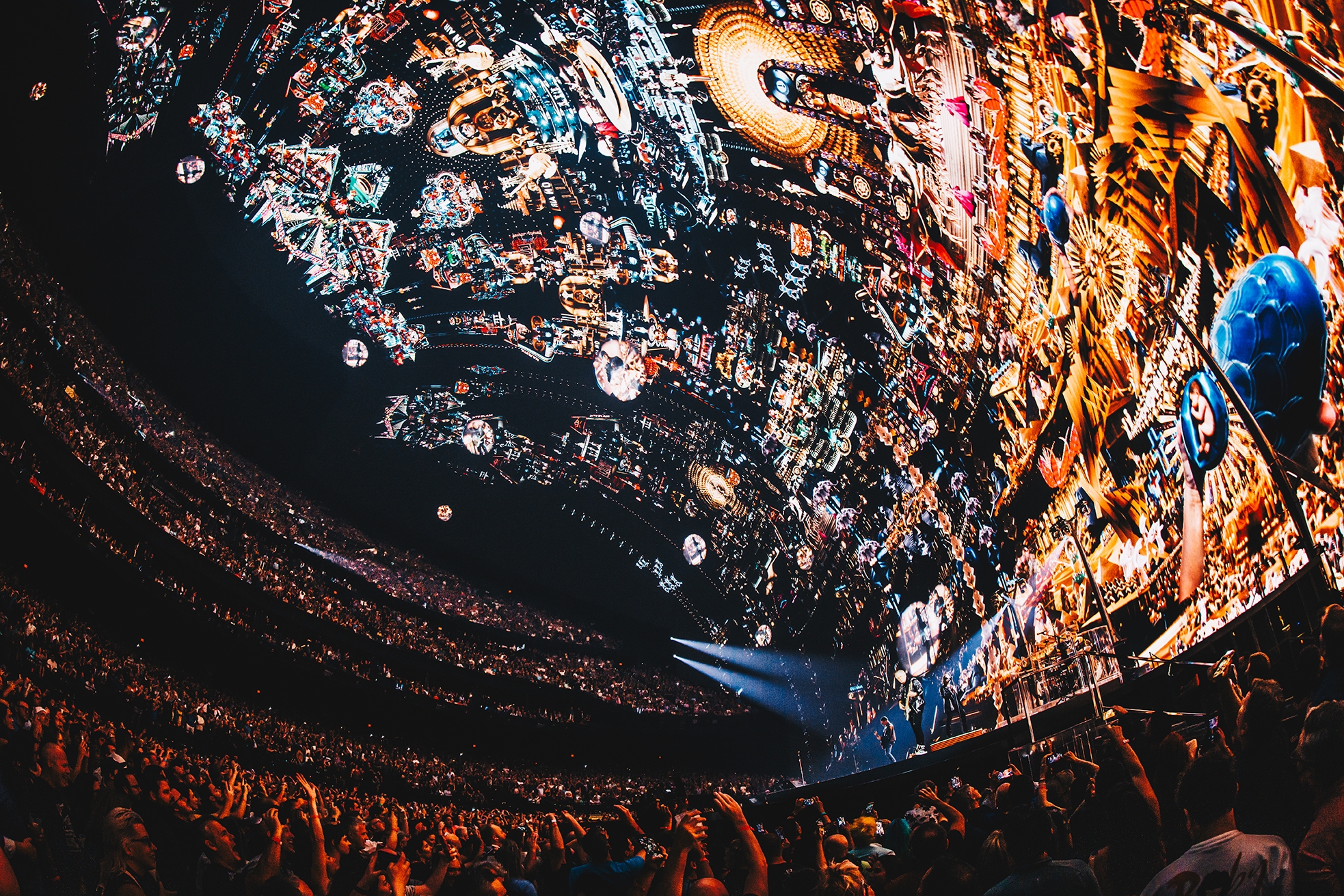 One of the more imaginative and interactive uses of the screen arrived with "Tryin' to Throw Your Arms Around the World," as Bono reached out to grab a "rope" made of bedsheets that had been rigged to sync with a lasso graphic that floated high up on the screen. As the singer strolled around the stage with the rope, the lasso followed.
Like an IMAX venue, Sphere has its sweet spot for seats, toward the auditorium's central section. For the U2 show, we were in Section 104, just a few hundred feet from both the band and the screen, with the imagery at fairly close range but also towering above us and filling our peripheral vision. The vantage point from higher seats, which I inspected a day later, provides a more god's-eye view looking down toward the screen. Seats at the edges of the auditorium are more likely to make the imagery "bend" a bit.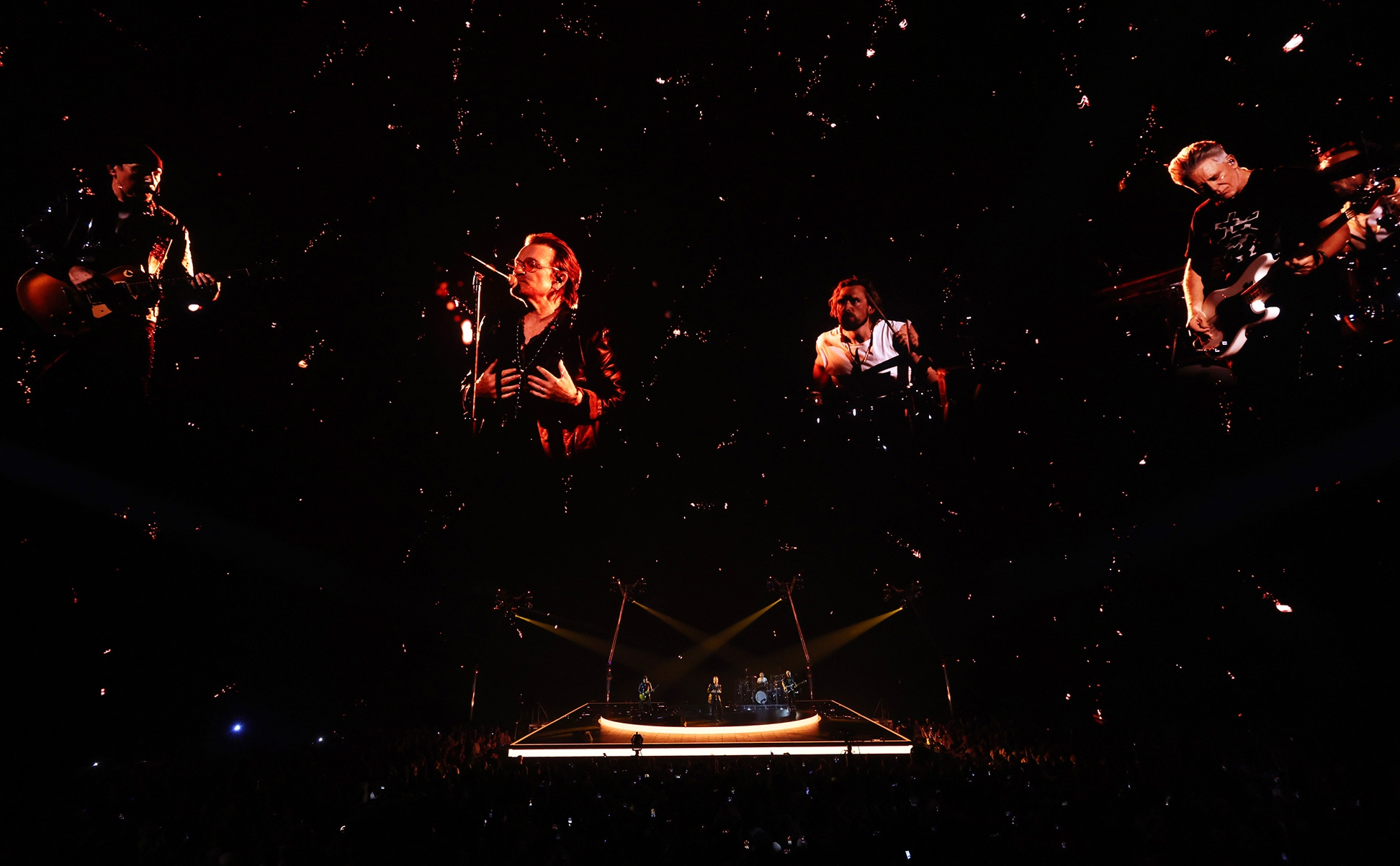 Although U2 drummer Larry Mullen Jr. was absent from both of the band's opening shows while recuperating from surgery to repair the years of performance damage his body has suffered (Bram van den Berg ably finessed the challenging job of replicating Mullen's muscular style), every nuance of the musicians' interplay was powerfully conveyed through the sophisticated sound system embedded in Sphere's superstructure. Each note and instrument could be heard with crystal clarity, highlighting an additional benefit for audiophiles who pay close attention to a band's musical performance.
According to Sphere Entertainment Co., the venue's audio system "also allows sound designers to create a virtual point of origin and place it in a precise spatial location – meaning audio can be directed to the listener so that it sounds close, even though its source is far away."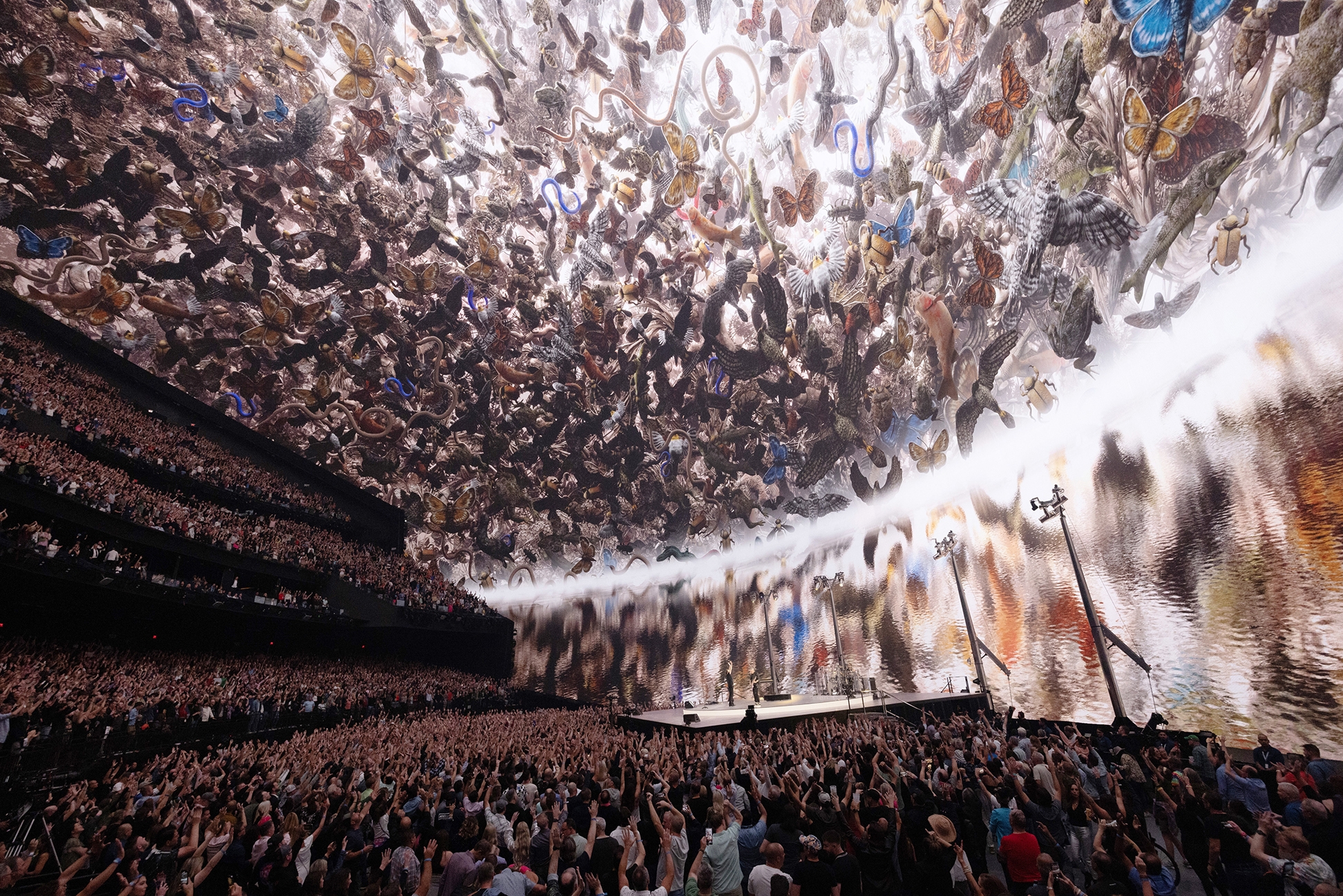 Powersoft, a global leader in energy-efficient amplification technology, contributed its know-how to the venue's immersive haptic-seat technology and amplifiers, which works in concert with the immersive sound system created by HOLOPLOT. Sphere Immersive Sound is powered by 167,000 channels of amplification provided by what Powersoft describes as its "compact, ultra-high-efficiency 16-channel amplifier solutions that are integrated into the venue's HOLOPLOT X1 audio system." Sphere Entertainment notes that its collaboration with Powersoft achieves "approximately 40-percent energy savings compared to traditional amplifiers, minimizing environmental impact without compromising sound quality." To my ears, their claim that the venue's sound system "sets a new standard" certainly seems legit.
Some 10,000 of the venue's 17,600 seats include haptic seats integrated with Powersoft's infrasound system. The company's compact transducer, called Powersoft Mover, uses haptic feedback to create "a more convincing, realistic experience, engaging the senses beyond visual and audio stimulation" via the company's patented moving-magnet technology, which "relies on an audio signal with ultra-low-frequency reproduction to make the chairs vibrate and shake as desired for each performance."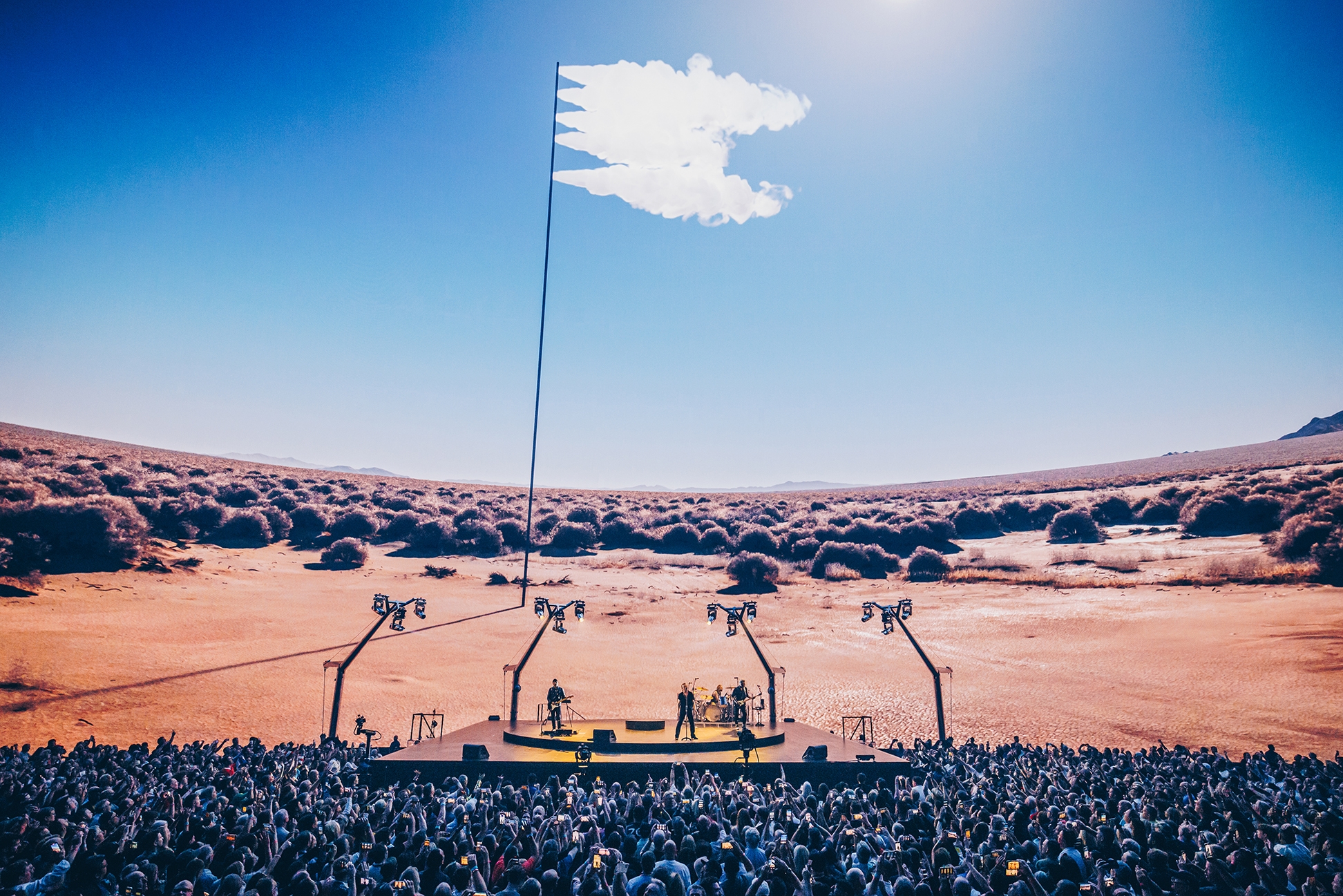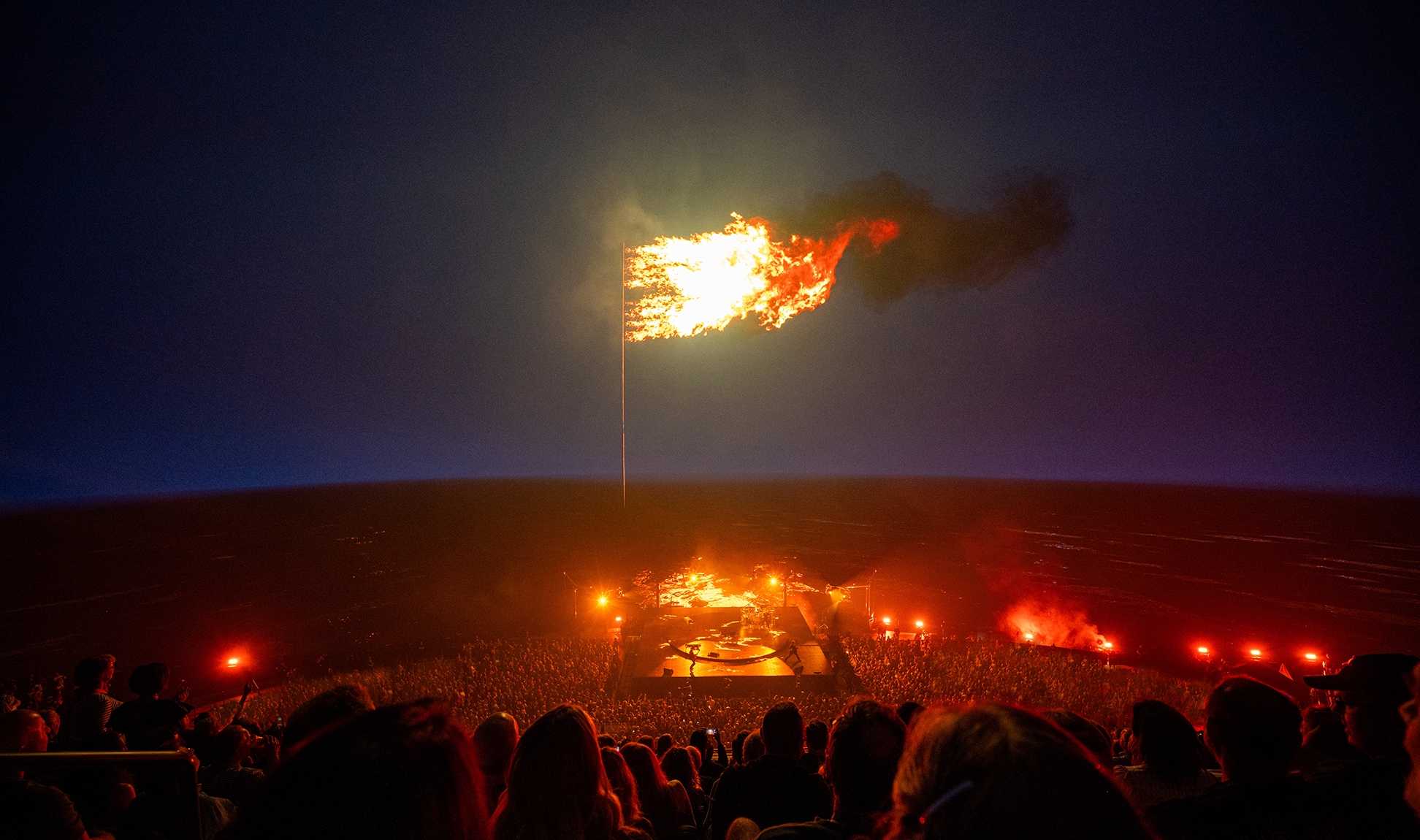 While the haptic system was not active for the U2 concerts (my wife did manage to "activate" our row semi-haptically by dancing in her seat), it was enabled for a pre-premiere preview of Postcard From Earth we attended the following day, along with powerful wind effects and aroma-dispensing technology that's presumably a major upgrade over short-lived, old-school movie gimmicks like Smell-O-Vision and AromaRama.
Sphere's exterior, or "Exosphere," is a show unto itself, as it's also capable of displaying custom-made content. While we were in Vegas, the projections included an infant in a space helmet (dubbed the "Achtung Baby"), as well as an "AI data sculpture" designed by Refik Anadol, who's titled his creation Machine Hallucinations: Sphere. The Exosphere comprises nearly 580,000 square feet of fully programmable LED paneling, making it the largest LED screen on the planet. (Sphere itself is the world's biggest spherical structure.) The paneling is made of approximately 1.2 million LED "pucks," spaced eight inches apart — all of which contain 48 individual LED diodes, each capable of displaying 256 million different colors.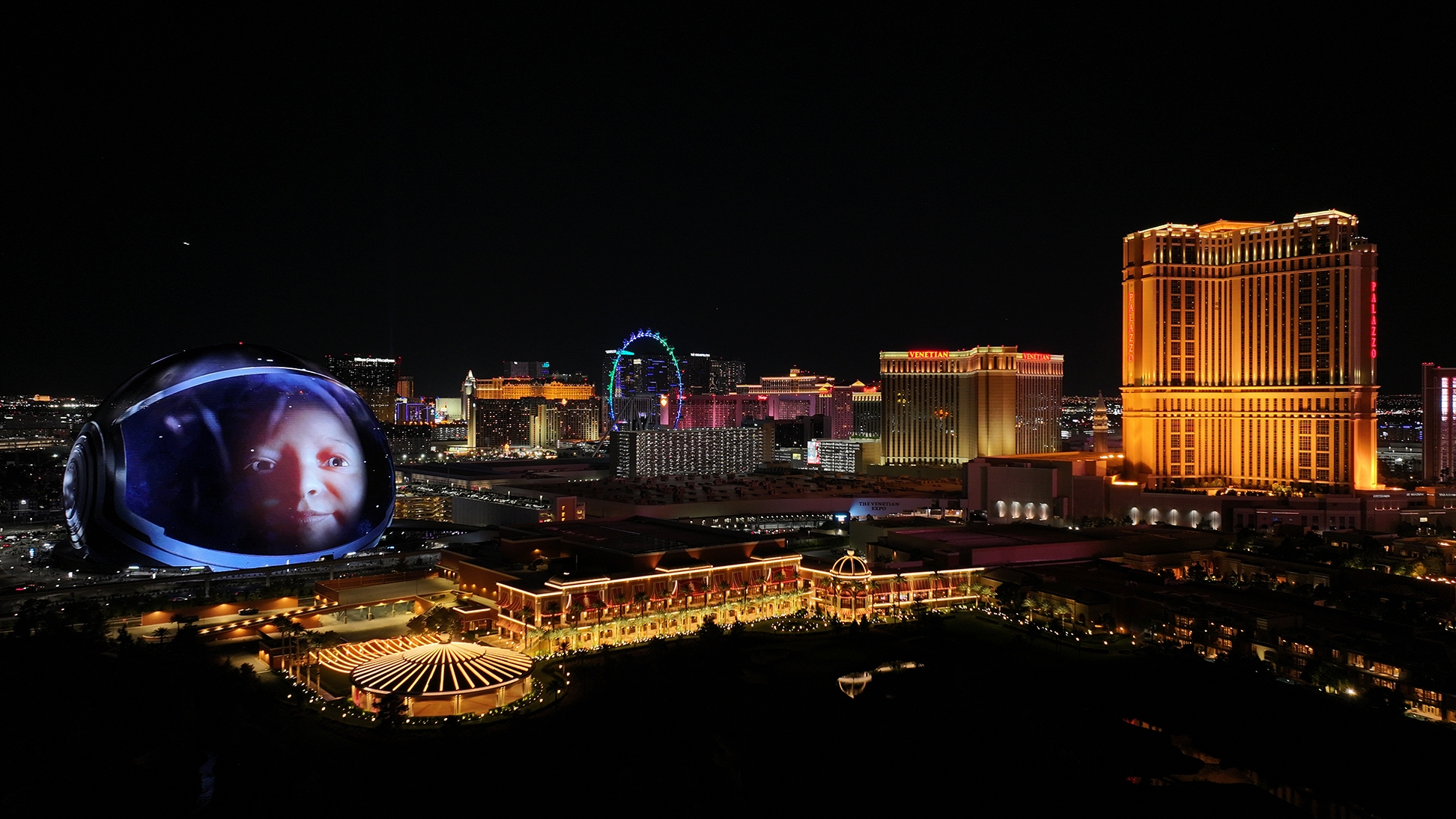 If there's any valid reservation to express about the Sphere concert experience, I might observe that the extreme resolution of the screen may not always be kind to every performer whose image is projected upon it, especially in giant close-ups. The venue may also seem a bit overwhelming to concertgoers who would prefer to focus on the music itself, without their favorite bands competing with a barrage of immersive stimulation. (U2 may also recognize this, because the band did perform two songs — "So Cruel" and "Acrobat" — with the screen shut off entirely.)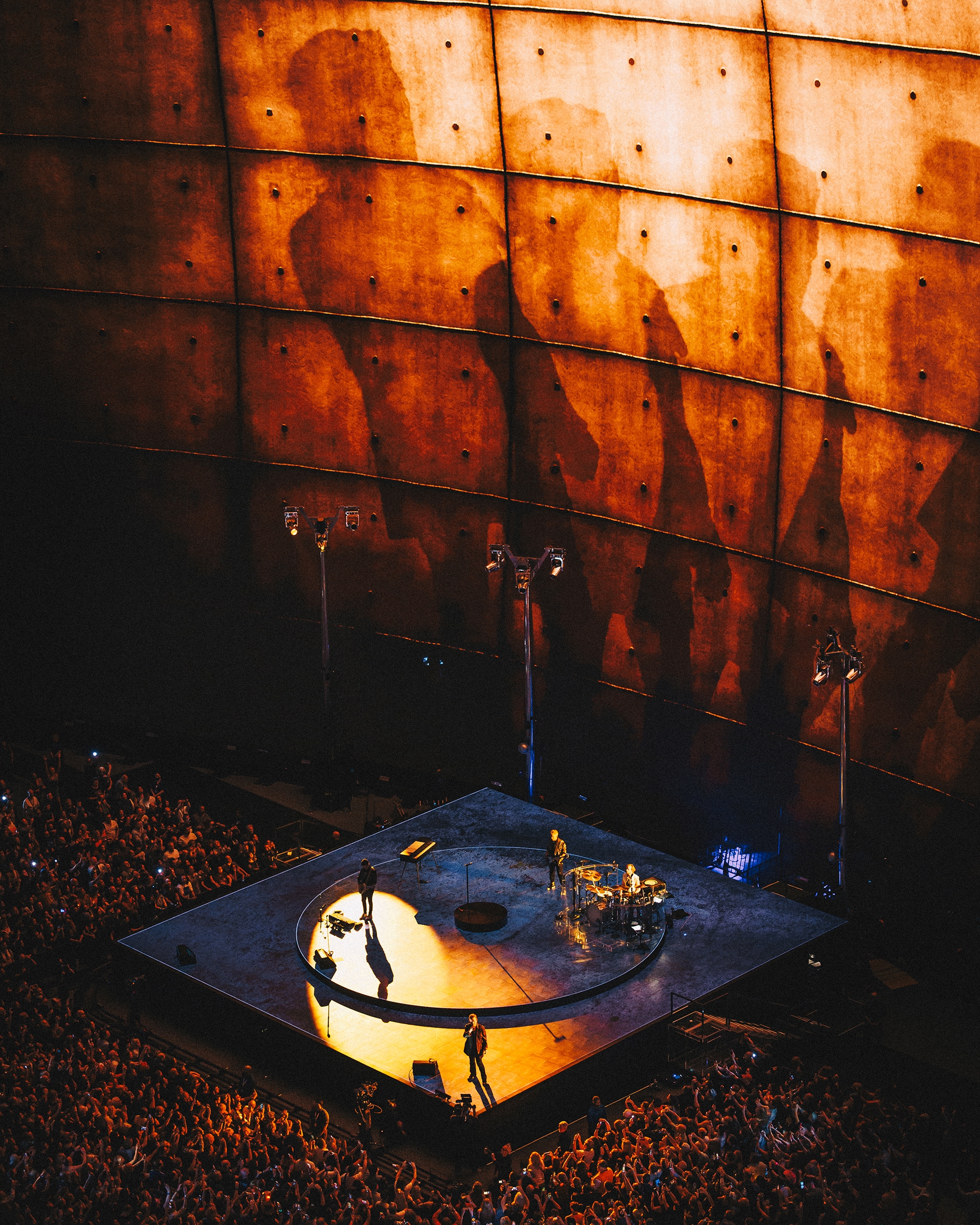 Cautionary quibbles aside, I can state without equivocation that both my wife and I had a blast at Sphere. Speaking as a lifelong aficionado of both rock music and moving images, I would suggest that if you're ready to go all-in for an immersive sound-and-vision experience like no other, the "rattle and hum" offered by this venue will surely give you some epic, supersized thrills.