An Evening of Excellence: 34th Annual ASC Awards
1917, The Lighthouse, Honeyland, The Handmaid's Tale, Project Blue Book and The Terror: Infamy take top honors in this year's ceremonies. 
Samantha Dillard
1917, The Lighthouse, Honeyland, The Handmaid's Tale, Project Blue Book and The Terror: Infamy take top honors in this year's ceremonies.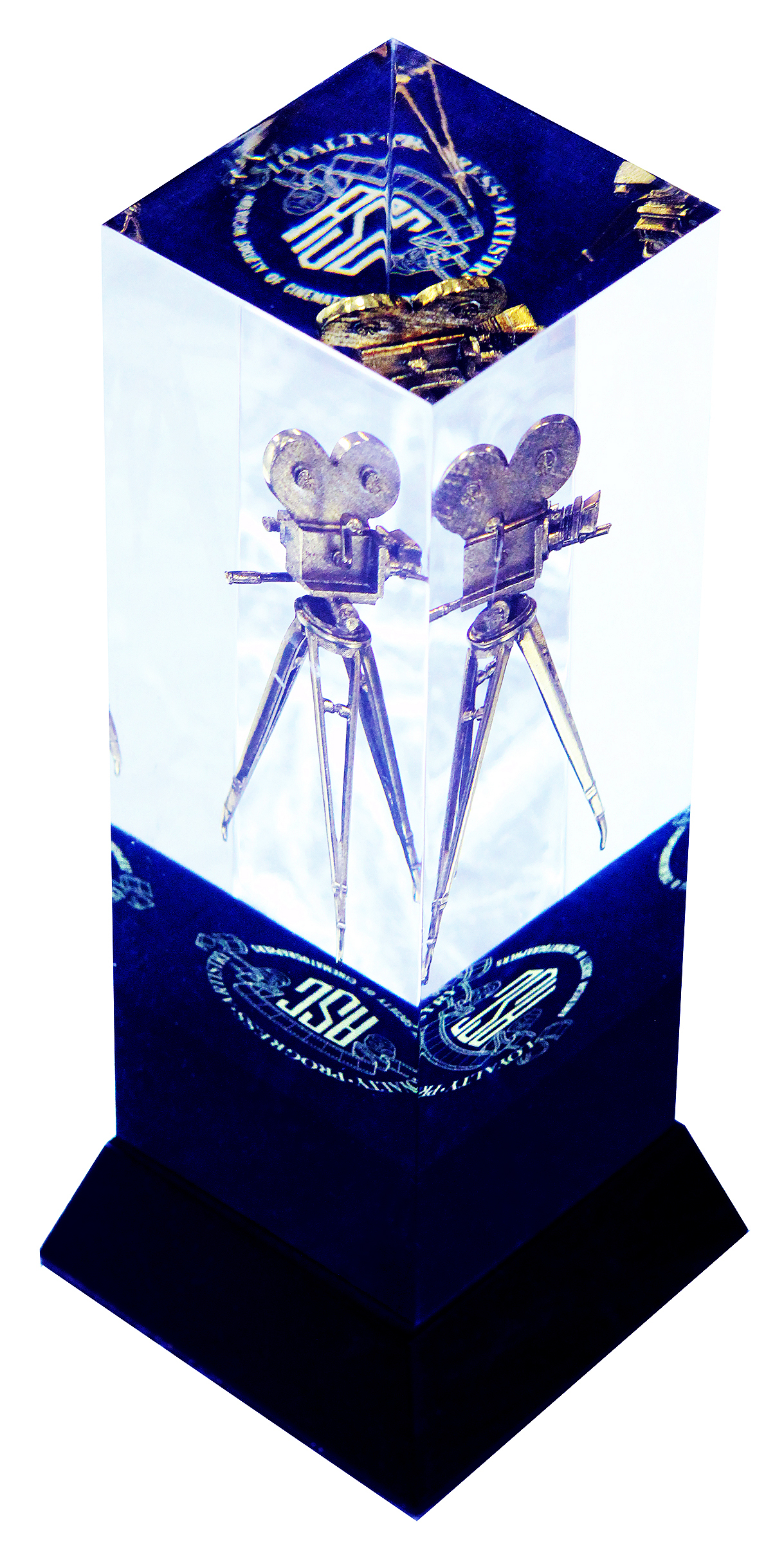 Hosted by Turner Classic Movies' Ben Mankiewicz, this year's ASC Awards for Outstanding Achievement in Cinematography celebrated a diverse array of imagery alongside masters of the craft.
Cinematography's biggest night of the year took place Saturday, January 25, in the Ray Dolby Ballroom at the Hollywood & Highland complex — just blocks away from the historic ASC Clubhouse, where the post-show after party commenced.
(See a complete list of nominees and winners here.)
The event kicked off with a performance of "Funky Cha Cha" by trumpeter Arturo Sandoval, with the backing of the show's live orchestra.
After the lights dimmed, a reel showcasing a historical retrospective of the ASC — as well as some of this year's honorees and nominees — quickly set the mood for the room's more than 1,500 attendees:
The evening's presentations began with the first competitive category, the inaugural ASC Documentary Award. This award was initiated this year to recognize exceptional cinematography in non-fiction filmmaking. Joker director Todd Phillips presented the award to Fejmi Daut and Samir Ljuma for their work on Honeyland.
This was the first ASC Award nomination and win for both the filmmakers. For their work on Honeyland, Daut and Ljuma won the Cinematography Award at the 2019 Sundance Film Festival. Honeyland has also been nominated in the Best Documentary Feature and Best International Feature Film categories of the 2020 Academy Awards.
We caught up with Daut and Ljuma on the red carpet outside the Dolby Ballroom for a brief interview with the ASC's director of technology Mat Newman, which was streamed via Facebook Live:
Actress Jane Lynch presented the award for Episode of a Series for Commercial Television — which was awarded to C. Kim Miles, CSC, MySC for his work in the episode "The Flatwoods Monster" of the History series Project Blue Book.

This was Miles' first ASC Award nomination and win. He began his career as a grip in Kuala Lumpur, Malaysia, then worked his way up through the camera department before getting his first break as a commercial cinematographer for the Vietnamese TV market.
Miles spoke with Newman on the red carpet:
Seasoned cinematographer Donald A. Morgan, ASC was then presented with the Career Achievement in Television Award by longtime collaborator, actor Tim Allen, with whom he worked on Home Improvement and Last Man Standing.

Morgan is a 10-time Primetime Emmy winner, earning an impressive 15 nominations. Among his many credits, he has photographed such hit series as Girlfriends, My Wife and Kids and Moesha. This year, he won the Emmy for Outstanding Cinematography for a Multi-Camera Series for his work on The Ranch.
Morgan later sat down with Newman on the red carpet to discuss this achievement:
In the category of Motion Picture, Miniseries, or Pilot Made for Television, actor Michael McKean presented the award to John Conroy, ISC for the episode "A Sparrow in a Swallow's Nest" of the AMC series The Terror: Infamy.

This is Conroy's second ASC Award nomination and win. He previously won for his work on Penny Dreadful.
Conroy also spoke to Newman on the red carpet:
Recognized for his work behind the camera as well as his contributions to the Society and motion-picture industry, Don McCuaig, ASC was honored with the Presidents Award after an introduction by longtime collaborator, second-unit director and stunt coordinator Mickey Gilbert.

McCuaig shot second unit on features including Ghost in the Machine; City Slickers II: The Legend of Curly's Gold; Forget Paris; Metro; Liar, Liar; Simon Birch; Nutty Professor II: The Klumps; Rat Race; Dragonfly; National Security; Bruce Almighty; Elf and Evan Almighty.
McCuaig has provided extensive service to the Society: He teaches the art of shooting second unit as an ASC Master Class instructor; volunteered to help with the ASC Awards for more than a decade; and now chairs the ASC Awards Committee.
He spoke with Newman about this honor.

Next was the Spotlight Award, which strives to showcase independent film or smaller projects that might otherwise not be recognized. Actor Bartosz Bielenia presented this prize to Jarin Blaschke for his work on The Lighthouse.

This is Blaschke's first ASC Award nomination and win. Prior to his work as a cinematographer, he served as a photojournalist and designed lighting for Vanity Fair and GQ. For his work on The Lighthouse, Blaschke has been nominated for a BAFTA and Academy Award for Best Cinematography.
Blaschke spoke to Newman on the red carpet:
Director Joel Coen then took the stage to present the International Award to frequent collaborator Bruno Delbonnel, ASC, AFC.

Delbonnel won an ASC Award for his work on A Very Long Engagement, for which he also received an Academy Award nomination. He has garnered four other Oscar nominations— for Amélie, Darkest Hour, Inside Llewyn Davis and Harry Potter and the Half-Blood Prince — as well as two Camerimage Frogs and one César. His work also includes Faust, Dark Shadows, Big Eyes, Miss Peregrine's Home for Peculiar Children, The Ballad of Buster Scruggs and the upcoming The Woman in the Window.
He later sat down with Newman to discuss this honor:
ASC president Kees van Oostrum then took to the stage to present the Bud Stone Award for Distinction, which is presented to a key industry figure who has made significant contributions to the motion-picture community. This year, Kimberly Snyder — CEO of Panavision — was the worthy recipient of this unique honor.

Snyder spoke to Newman on the red carpet:

This year's In Memoriam paid tribute to the ASC members, associates and colleagues who passed in 2019 — Roland "Ozzie" Smith, ASC; Jean Pierre-Beauviala; Pierre Lhomme, AFC; Carl B. Porcello; Ed Phillips; and Franz Wieser.
The winners of the ASC Student Heritage Awards and Student Documentary Award were then recognized. These awards are named each year in the memory of ASC members. In 2019, Richard H. Kline and Haskell Wexler were so honored, with student cinematographers Lucas Dziedzic and Oscar Ignacio Jimenez winning in the graduate and undergraduate categories, and Jazleana Jones winning in the documentary category. While also honored at the ASC Awards, their official presentation ceremony took place in October of last year.
The Society then paid tribute to American Cinematographer magazine, which is celebrating its centennial throughout 2020.
For his contributions to the art and craft of cinema, esteemed filmmaker Werner Herzog was presented with the ASC Board of Governors Award, presented by scholar Paul Holdengräber.

Herzog has produced, written and directed more than 60 feature films and documentaries, has published more than a dozen books of prose, and directed as many operas. His many credits include Aguirre, the Wrath of God, Nosferatu the Vampyre, Fitzcarraldo, Lessons of Darkness, Little Dieter Needs to Fly, My Best Fiend, Invincible, Grizzly Man, Encounters at the End of the World, Bad Lieutenant: Port of Call New Orleans and Cave of Forgotten Dreams.
Herzog then headed to the red carpet to discuss this honor with Newman:
The next award for television work — Episode of a Series for Non-Commercial Television, presented by actress Emily Deschanel — was won by Colin Watkinson, ASC, BSC for the Hulu series The Handmaid's Tale and his work on the episode "Night."

This is Watkinson's second ASC Award nomination for The Handmaid's Tale and first win. His work on the series has also earned him an Emmy Award.
Newman caught up with Watkinson on the red carpet:
Lifetime Achievement Award honoree Frederick Elmes, ASC was then brought to the stage by his presenter, writer-director Lisa Cholodenko.

Elmes collaborated with David Lynch on Eraserhead, Blue Velvet and Wild at Heart and John Cassavetes on The Killing of a Chinese Bookie and Opening Night. His feature film work also includes multiple pictures for directors Ang Lee — The Ice Storm, Ride with the Devil and Hulk — and Jim Jarmusch — The Dead Don't Die, Broken Flowers and Paterson.
He won Independent Spirit Awards for Night on Earth and Wild at Heart and earned a third nomination for Blue Velvet. He won an Emmy for The Night Of and nomination for In the Gloaming.
Elmes later spoke to Newman about this honor.
Longtime ASC staff member Patty Armacost was then presented with an Honorary ASC Membership by members Richard Crudo and Amelia Vincent. She was given a plaque by ASC staffer Alex Lopez.

Armacost has served the ASC for 44 years through a number of positions, most recently as the ASC Awards show producer and director of sponsorship and events. With this honor, she joins Thomas A. Edison, George Eastman, and the Apollo 11 astronauts who first filmed the Earth from the surface of the moon.
The final award of the evening — in the Theatrical Release category — was presented by actress Diane Lane to Roger Deakins, ASC, BSC his work on 1917.
This is Deakins' fifth ASC Award win. He previously won for The Shawshank Redemption, The Man Who Wasn't There, Skyfall and Blade Runner 2049. 1917 also marks his 14th ASC Award nomination. He was also nominated for Fargo, Kundun, O Brother, Where Art Thou?, The Assassination of Jesse James by the Coward Robert Ford, No Country for Old Men, The Reader, Revolutionary Road, True Grit, Prisoners, Unbroken and Sicario.
You'll find a complete gallery of images from the 34th Annual ASC Awards below. Photos by Willie T, Fernando Nava, Alessandro Pietri, Hector Sandoval, Danny Moloshok, Phil McCarten, Josh Lefkowitz. and Daniel Woiwode.