Hoyte van Hoytema dollies in on actors Tom Conti, portraying Albert Einstein, and Cillian Murphy, as J. Robert Oppenheimer.
Oppenheimer Examined in October Issue of AC
Hoyte van Hoytema, ASC, FSF, NSC and writer-director Christopher Nolan detail their creative approach.
ASC Staff
Our October 2023 issue — Vol. 104 No. 10 — presents coverage of the period drama Oppenheimer and the ASC Award-winning documentary All That Breathes; a look at generative AI in filmmaking; updates from the ASC Motion Imaging Technology Council; and a special focus on lighting for horror and tension that includes the fright features The Blackening, Talk to Me, The Exorcist: Believer, Saw X and The Nun II.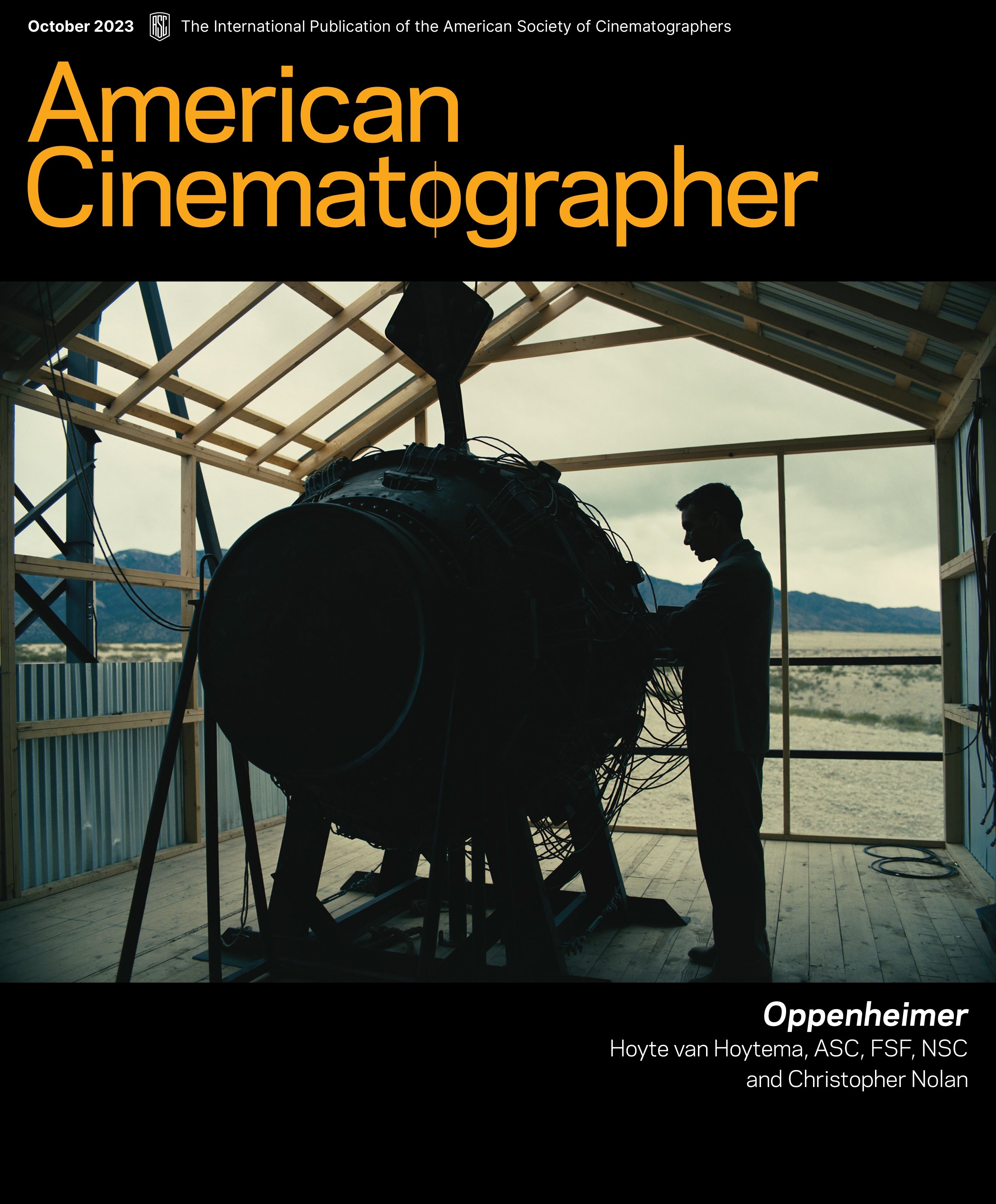 Here's a further breakdown on what's inside the issue:
Hoyte van Hoytema, ASC, FSF, NSC, writer-director Christopher Nolan and key collaborators discuss using custom optics, 65mm film negative, macrophotography visual effects and other tools to create "experiential cinema" for Oppenheimer. (A related story on custom options created by Panavision for the film can be found here.)
Cinematographers and leading technologists — Don Burgess, ASC; Michael Goi, ASC, ISC; ASC associate member Michael Cioni of Strada; Gary Koepke and Pinar Seyhan Demirdag of Cuebric; A.J. Wedding of Orbital Studios; and Felix Jorge of Narwhal Studios — weigh in on artificial intelligence, with a spotlight on generative AI, and its ramifications for filmmaking.
AC presents a 20th-anniversary update from the ASC Motion Imaging Technology Council (MITC), whose ongoing investigations currently include virtual production and in-camera visual effects, HDR for theatrical presentation, workflows, display technologies, optics standards, lighting advances, and AI.
Roy H. Wagner, ASC offers insights into the art of lighting for horror and tension — followed by a series of pieces on the fright-inducing lighting work of cinematographers Todd A. Dos Reis, ASC (The Blackening); Aaron McLisky, ACS (Talk to Me); Michael Simmonds (The Exorcist: Believer); Nick Matthews (Saw X); and Tristan Nyby (The Nun II).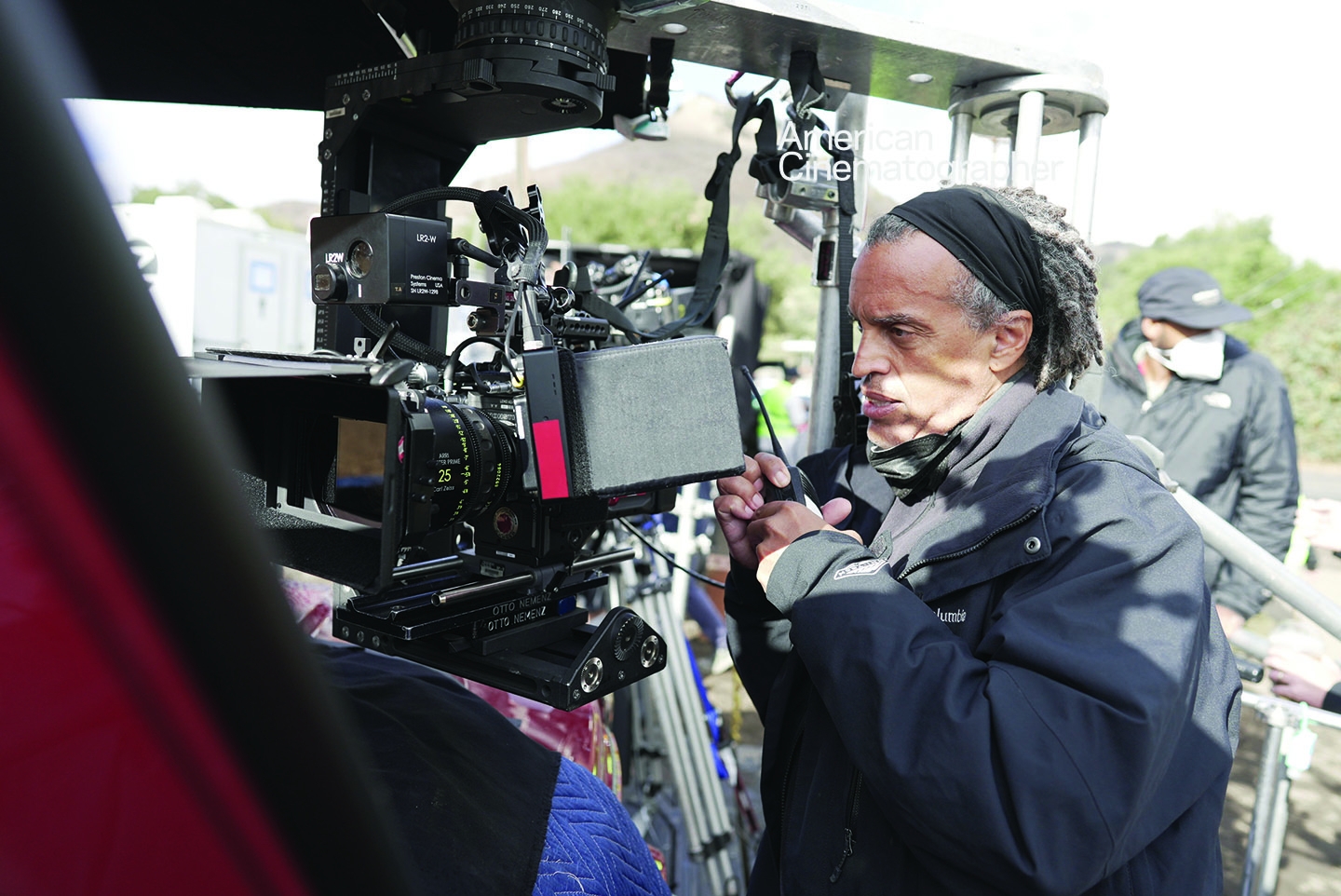 Cinematographers Ben Bernhard, BVK and Riju Das detail their work on the ASC Award-winning documentary All That Breathes, directed by Shaunak Sen.
President's Desk: ASC President Shelly Johnson considers the "filmmaking family" that sets this profession apart from many others.
Shot Craft: How to make the most of practical lights.
Clubhouse News: The latest bulletins from the Society feature new member Simon Dennis, ASC, BSC; nominees for the 2023 ASC Student Heritage Awards; an ASC HDR workshop at Sony; and a wrap-up of the August ASC Master Class.
Wrap Shot: The nuclear test at Yucca Flat, a historic moment filmed by Harry Perry, ASC.
The print edition of this issue will to subscribers arrive soon, and the digital edition will also soon be available. Not an AC subscriber yet? Do it today.