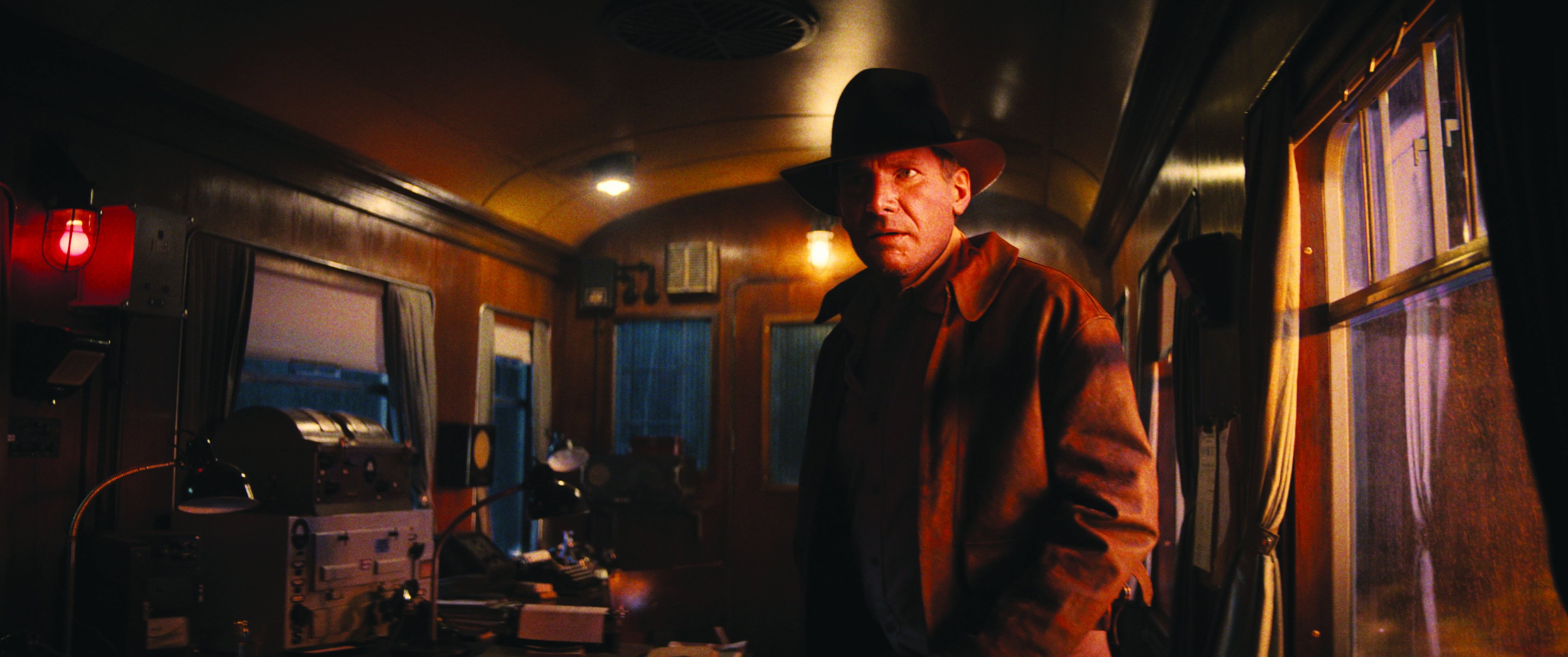 Older but still intrepid archeologist Indiana Jones (Harrison Ford) springs back into action.
An Intuitive Approach to Indy
Shooting Indiana Jones and the Dial of Destiny proved to be an adventure for Phedon Papamichael, ASC, GSC.
Jay Holben
"Indiana Jones and the Dial of Destiny was the most challenging film I've ever done — I had three birthdays working on it!" says Phedon Papamichael, ASC, GSC.
"It's always in motion — on a train, on a boat, underwater, in an airplane — which requires a lot of coverage and bits and pieces. And it's not just action; there are significant character moments and dialogue and plot points integrated into the action. It's these little interactions that make Indy great — the little moments with looks and one-liners, the humor and emotional content — and trying to blend all that together is really challenging.
"Janusz Kamiński is a good friend of mine," Papamichael continues. "He was my gaffer back in the days when I was shooting Roger Corman films, and he told me [Indiana Jones and the Kingdom of the Crystal Skull; AC June '08] was one of the hardest films he's ever done, for all the same reasons!"
Two Traditionalists
Dial of Destiny is Papamichael's sixth collaboration with director James Mangold. "We think of ourselves as Hollywood filmmakers, but traditionalists," the cinematographer says. "We both like the old Hollywood films, and we're keenly aware that this franchise has a deep fanbase that has its own expectations. We want to carefully live up to that."
A Chase Within a Chase
One sequence that illustrates his point depicts Indy (Harrison Ford) and his goddaughter, Helena (Phoebe Waller-Bridge), chasing former Nazi Jürgen Voller (Mads Mikkelsen) while they are, in turn, chased by Rahim (Alaa Safi) — Helena's former fiancé and the son of a vicious crime boss. Indy, Helena, and her sidekick, Teddy (Ethann Isidore), race through the streets of Tangier in a three-wheeled tuk-tuk taxi.
The sequence required extensive 2nd-unit work — led by 2nd-unit director Daniel Bradley and cinematographer/additional director Patrick Loungway — on location in Fez, Morocco, as well as main-unit work onstage at Pinewood Studios and, of course, visual effects.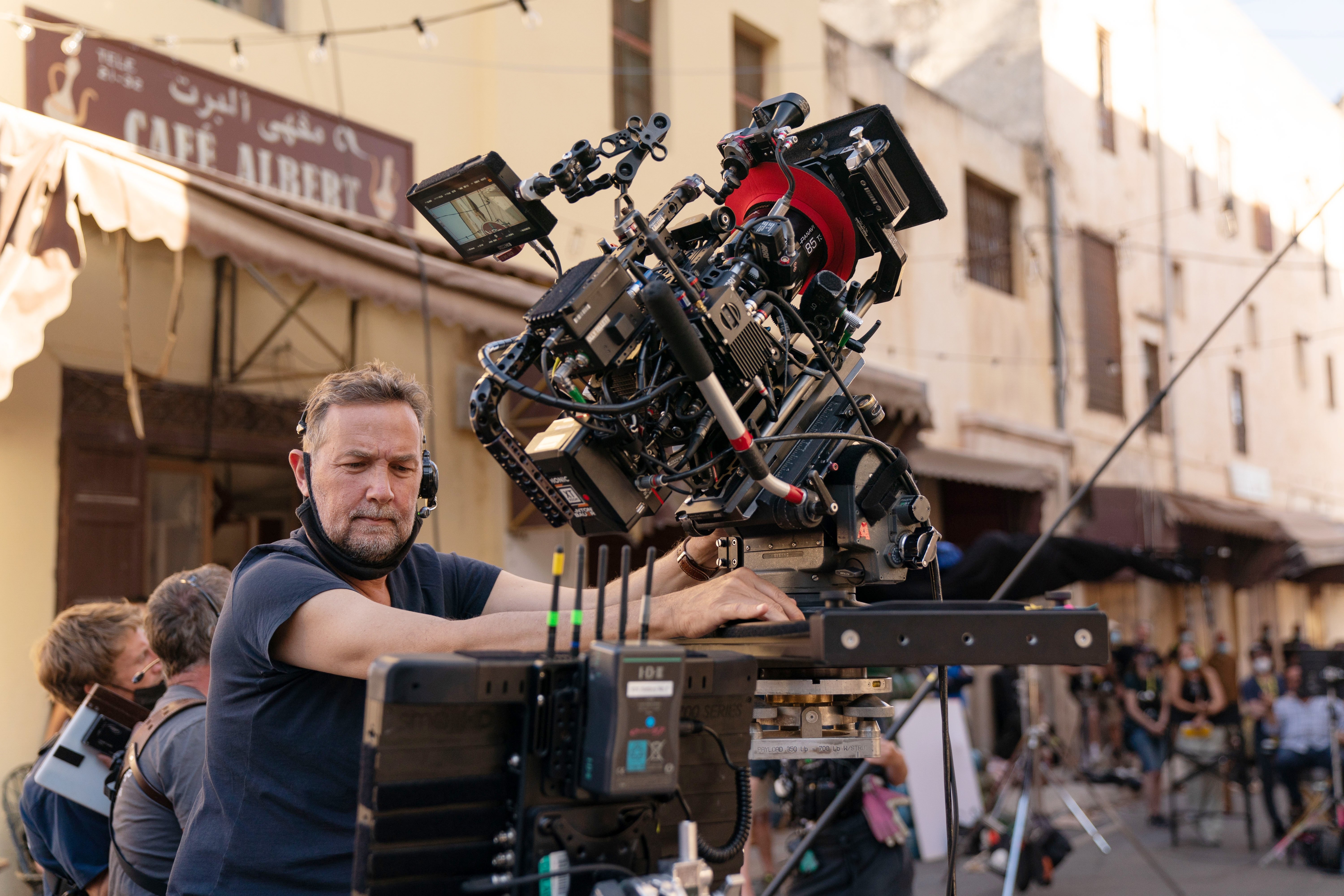 "Generally speaking, Mangold and I are location guys," Papamichael notes. "We're not big fans of bluescreen. Every location in this movie is a real location. Fans can go and stand there, and say, 'Oh, this is where they shot this.' But there are elements of sequences that, for practical reasons, have to be onstage."
Previs Plus Improvisation\
The tuk-tuk sequence was thoroughly pre-visualized, but that didn't mean it was set in stone. "With a movie like this, you have to do a lot of previs just to be able to budget the VFX and schedule the shoot. It dictates an editorial pattern, but Jim is a lot more instinctual," Papamichael says. "We're not 'winging it,' of course, but we're looking to see what the actors are doing and reacting to that. We don't finalize our shot list until after rehearsals, and when shooting, we rarely reference storyboards or previs. We know what's required, but it's so much more important to respond to the actor's performance in the moment, to look at body language, to capture a moment of natural light. All is inspirational. Often, at the end of the day, we'll look at the storyboards or previs and find that we got really close to or even sometimes exactly [in sync with] what had been pre-planned, but we're not necessarily looking at it while we're shooting."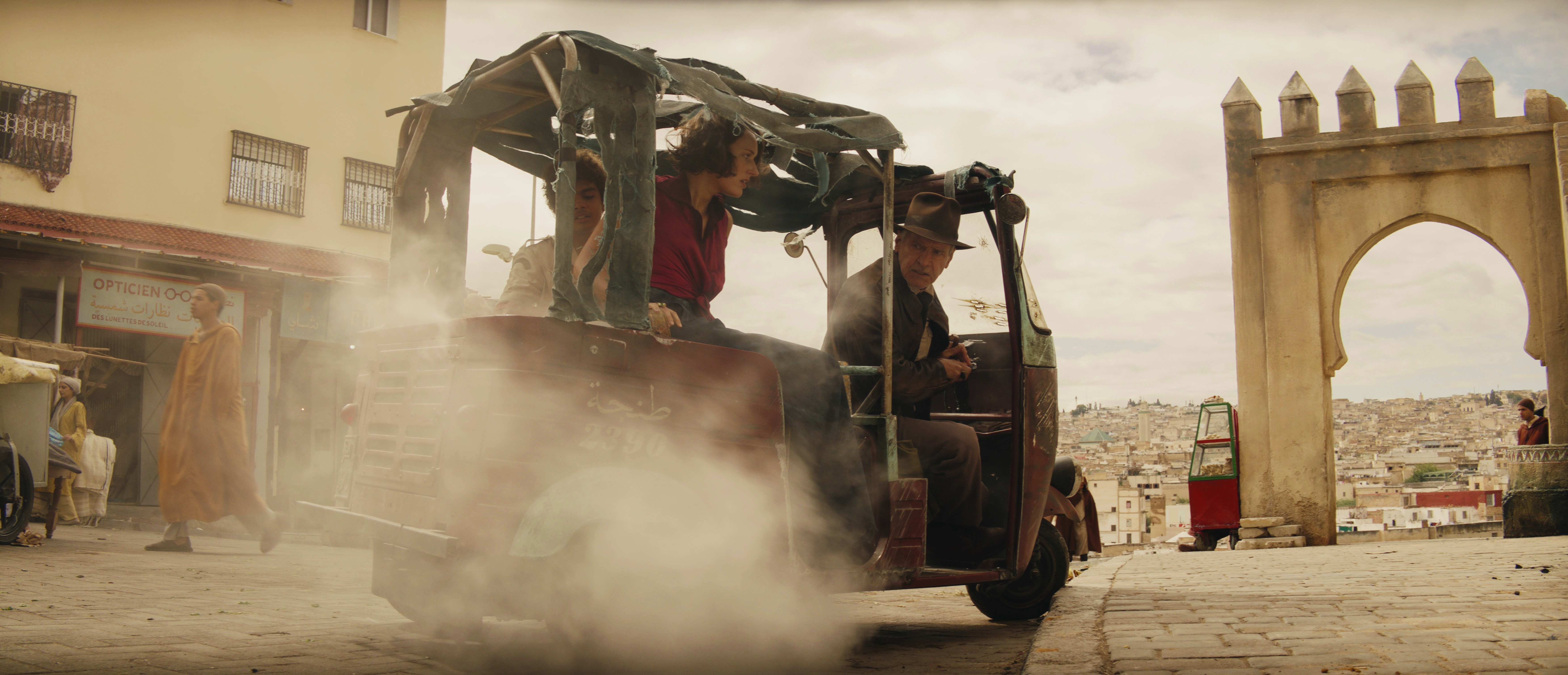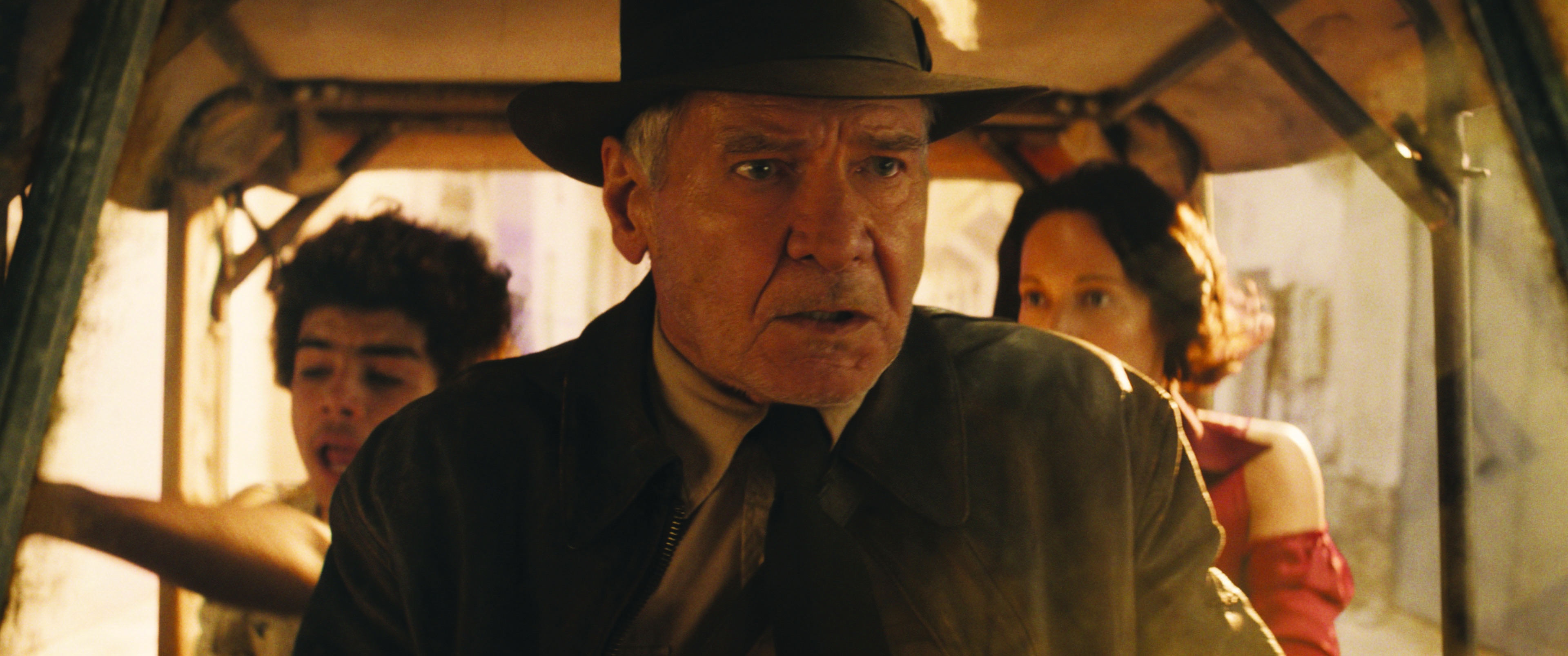 Bradley and Loungway's 2nd-unit work kicked off the filming of the tuk-tuk sequence. "We worked very closely with them and gave a lot of feedback," Papamichael says. "We told Patrick what we wanted, and he did amazing work. That gave us the structure and the glue to fit in pieces that we would shoot with the principal actors. There's a very specific path the tuk-tuk takes through Fez, and it's running in a lot of different light conditions — shadows between buildings, direct sun, frontlight, backlight — so we had to emulate all of that onstage when we shot the actors."

Papamichael adds that he shot Dial of Destiny with an Arri Alexa Mini LF and Panavision expanded T Series anamorphic lenses. "I liked the T Series because they have a great close focus and we wanted to be very physically close with the camera at times."
At Pinewood, Mangold and Papamichael often deviated from the set plan. "If there was a storyboard that showed it was a close-up on Harrison, we would often end up evolving that shot," the cinematographer says. "We would run longer, do a push-in on the fly, or maybe pan over to reveal another character and blend two shots. On the second take, we might do it differently — shift a bit more or push in a bit more, run even longer — and now we've got more choices. If the actors give us a little something extra, we can't be rigid and fixed. We need to be constantly open to discovering something."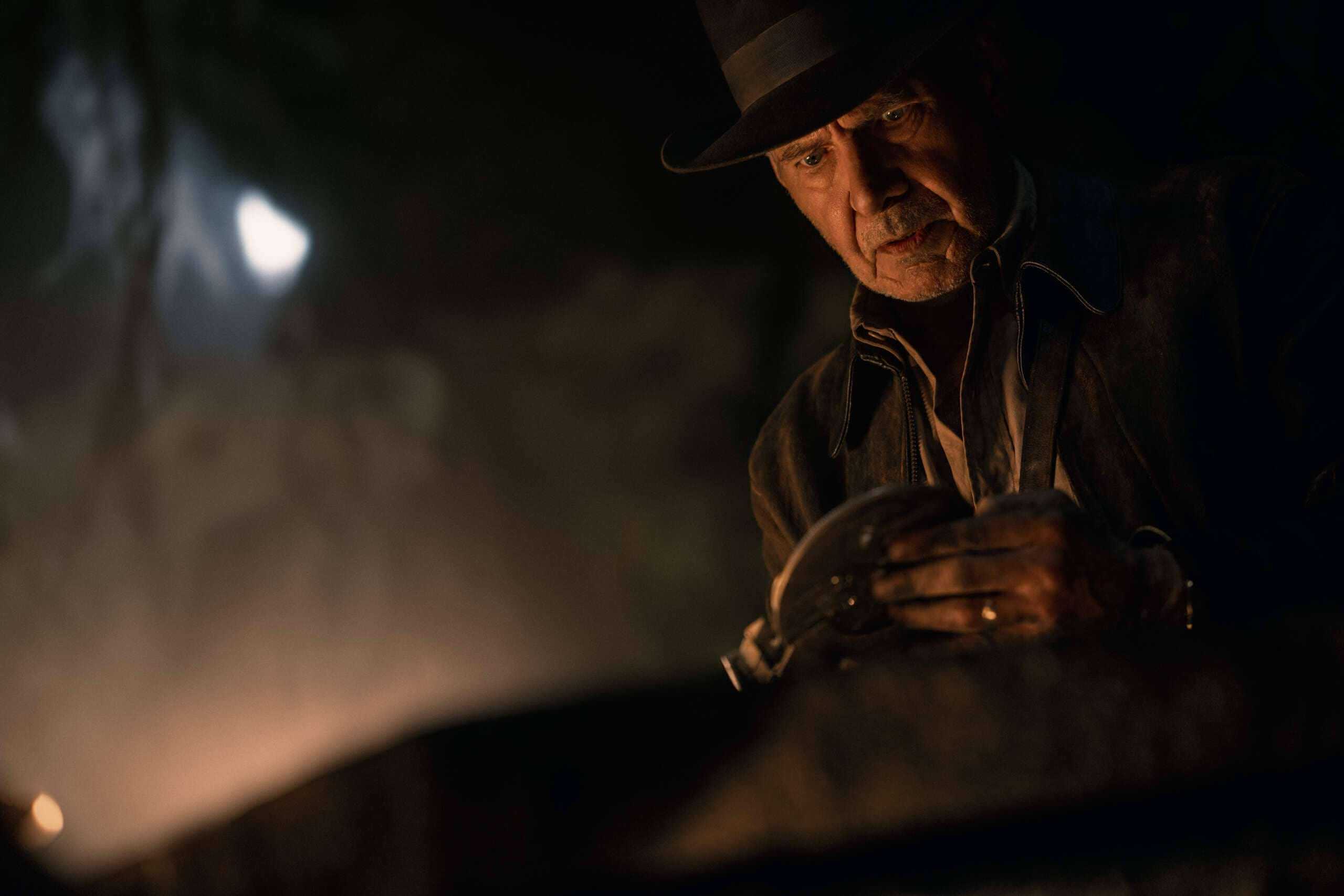 To match the dynamic lighting conditions captured by the 2nd unit in Fez, Papamichael had to create an onstage lighting setup at Pinewood that would mimic any given moment of the practical footage. "I'm watching playback between what the 2nd unit shot and our previs," he continues. "I have my monitor where I'm seeing our setups and watching a pre-edited sequence. The script supervisor is watching the same, and she's calling out to the actors, 'Okay, left turn coming up — and turn!' I'm at the monitor, and as they turn around a corner and go into direct sun, I'm following that with a small 12-channel wireless DMX-iT dimmer board and changing the lighting on the fly to bring up hard sunlight and adjust soft ambience. Then they dip between two buildings, and I'm changing it to more shadowy and following it all live as the actors perform. It's like working as a live sound mixer at a concert!"
---
You'll find our previous Indiana Jones coverage here: Raiders of the Lost Ark, Temple of Doom, Last Crusade, Kingdom of the Crystal Skull.