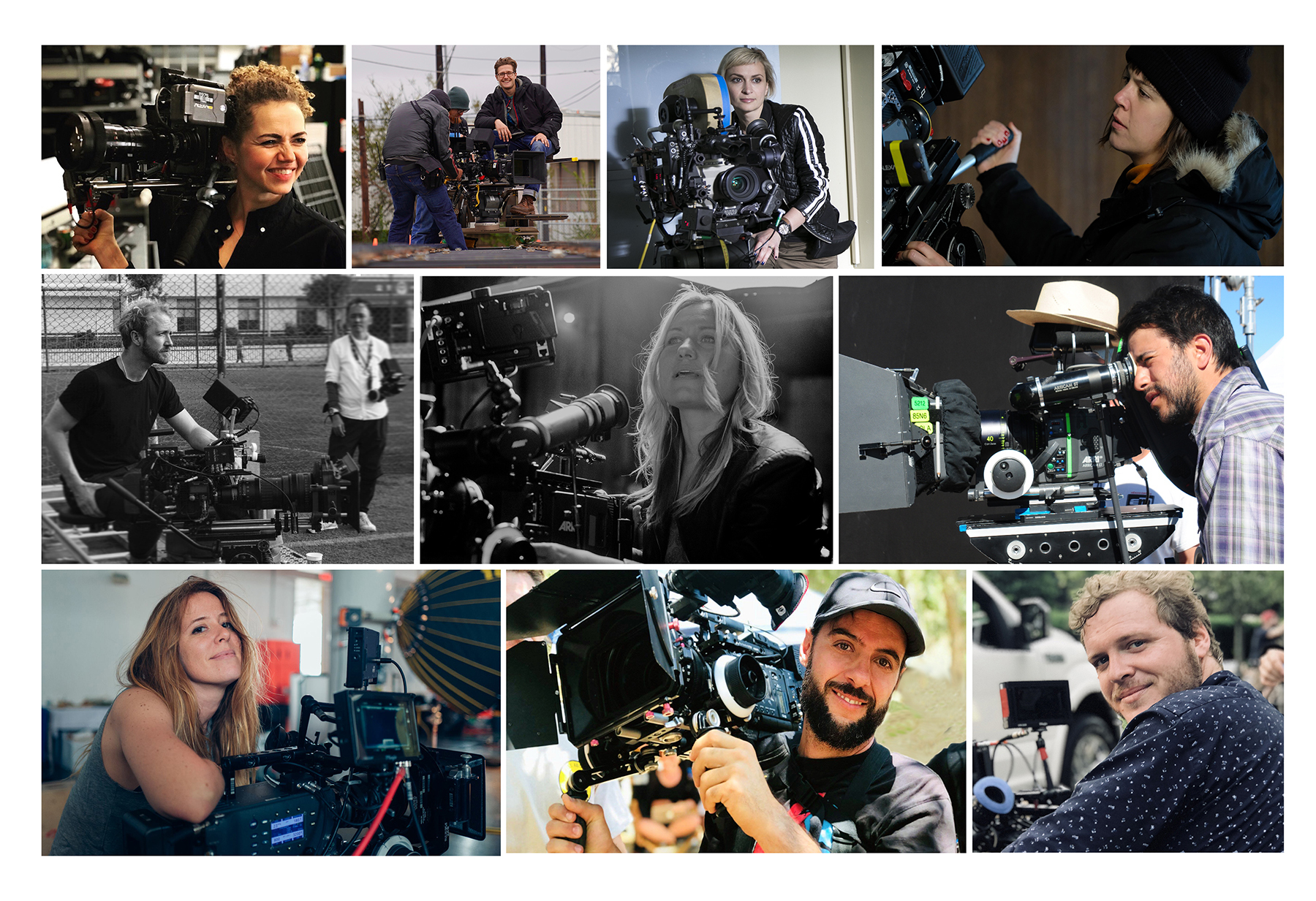 Rising Stars of Cinematography 2019
As part of a special-focus report, American Cinematographer profiles 10 directors of photography who are making their mark.
ASC Staff
In our third-annual report, American Cinematographer profiles 10 up-and-coming directors of photography who are making their mark.
By John Calhoun, Jim Hemphill and Jon Silberg
All images courtesy of the cinematographers.

An essential part of the ASC's history is the long-standing tradition of fostering new talent who will help usher the craft into the future. Our annual feature on AC's Rising Stars of Cinematography thus takes on special meaning this year as the Society celebrates its centennial. Sine Vadstrup Brooker, DFF; Ashley Connor; Boaz Freund; Damián García; Halyna Hutchins; Anka Malatynska; Jordi Ruiz Masó, AEC; Lowell A. Meyer; David Procter; and Zoë White, ACS have all demonstrated impressive skills and visual sensibilities in their projects to date, which include exceptional portfolios of shorts, commercials, music videos, documentaries, features and television work. We caught up with these ascending directors of photography to discuss their personal stories and the stories they help create.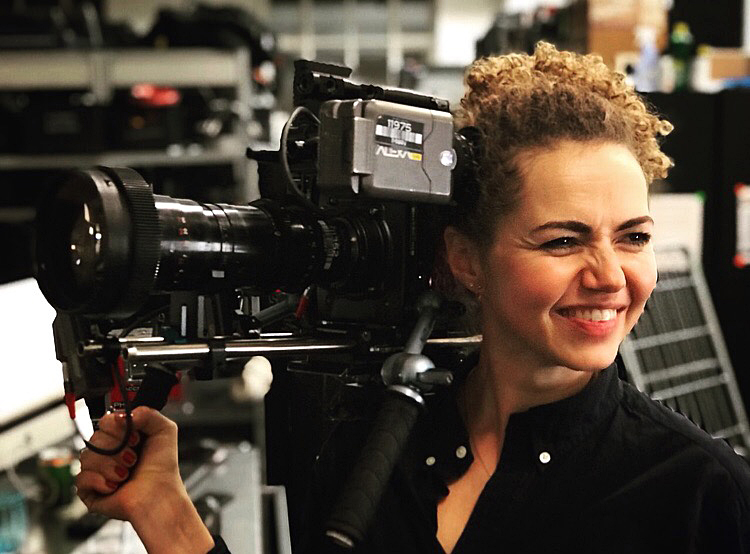 Sine Vadstrup Brooker, DFF
In the barely four years since director of photography Sine Vadstrup Brooker, DFF graduated from the National Film School of Denmark, she has already accumulated a list of credits numbering in the dozens, which include projects that have screened at such festivals as South by Southwest, Telluride, TIFF and Cannes Lions.
Brooker is excited to talk about the production that won high honors at the latter competition, a three-minute passion project titled Period, which she describes as a "commercial for periods made by women for women." The short — directed by Emilie Thalund, who took home gold at the Young Director Awards at Cannes Lions — presents a series of images of women and their bodies, and doesn't shy away from the color red. "We wanted to show the commercial industry that period blood isn't blue or pastel colors," the cinematographer explains.
"The concept was that the project should be as intimate and genuine as possible, and therefore I went with available daylight," adds Brooker, who shot with an Arri Amira camera and Cooke S4 lenses. "It didn't require a lot of equipment or a large crew; it was more about having the courage to let go of a gaffer and sometimes even a focus puller and trust in my creative intuition. Being able to do this, depending on the project, is in my view an essential part of the work of the cinematographer."
As an undergraduate in film studies, Brooker discovered the work of cinematographer Christopher Doyle, HKSC, and "it was like something clicked," she recalls. "When I saw Chungking Express, I was really inspired by his poetic camera movement, the colors of light, and the playful subjectivity he used on that film." Her next stop was the National Film School of Denmark, where she specialized in cinematography — and where her work attracted the attention of ArtOfficial, a Scandinavian agency specializing in representation for behind-the-camera creative talent. Her graduate project, Melon Rainbow, won the Best Cinematography prize at the London Independent Film Awards. She also completed an ASC Master Class in 2015.
Since then, Brooker has shot short features, music videos, commercials and several documentaries — as well as Land of Glass, a low-budget feature captured with Arri's Alexa Mini and Kowa Mirrorscope Anamorphic lenses. "Because the film had some fantasy elements, I chose anamorphic lenses in order to emphasize this universe by creating interesting bokeh backgrounds," she says. "One of the characteristics of the Kowas is that they create these rainbow flares that complemented the story very well."
Brooker has three other Danish features in the pipeline, and "would love to work outside Scandinavia," she says. Having shot part of the 2017 web series Polar in Greenland, and the short Maria in Portugal with a Portuguese cast and crew, she notes, "I find it very inspiring to work abroad, getting out of your comfort zone and seeing different environments, faces, textures, lights and colors."
To Brooker, what's most important is "a good script and a creative, trustworthy collaboration with the director and production company," she offers. "If the trust is mutual, then you become a film family that creates something together that's bigger than yourself."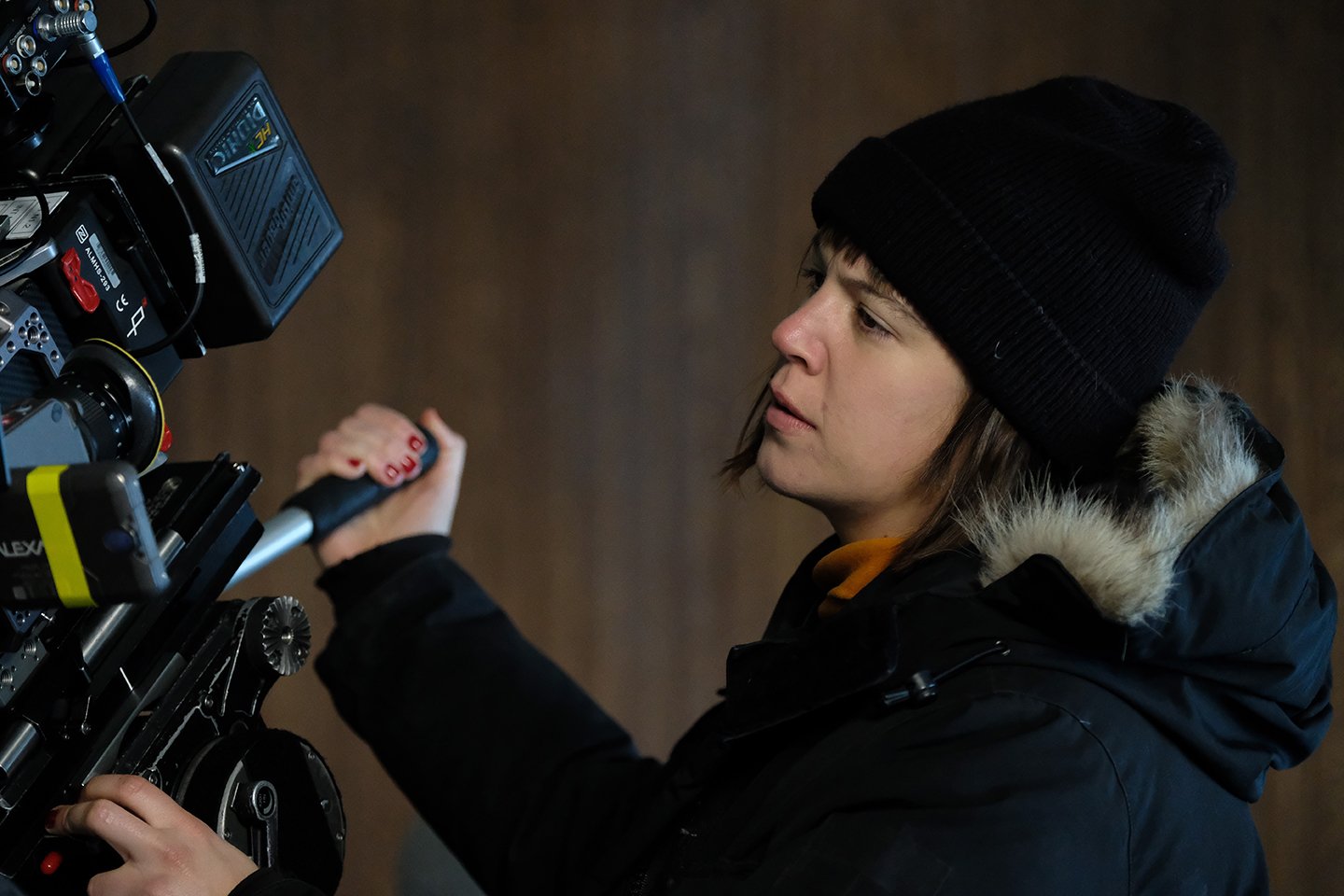 Ashley Connor
Ashley Connor grew up in the Los Angeles suburb of Chatsworth, and fell in love with movies at an early age. Her father was a studio manager for the Universal Studios Backlot, and brought her on many golf-cart trips to various sets. While his position was more business-related, he opened up a new world by showing her a lot of films that she acknowledges might not have been on the favorites lists of other 13-year-old girls — titles like A Clockwork Orange and Apocalypse Now. "I didn't understand the role of a cinematographer until later," she recalls, "but I think the visuals connect with the viewer no matter how you look at it."
Connor majored in film at Ithaca College in upstate New York. She primarily studied experimental cinema with a focus on such luminaries as mid-century avant-garde filmmaker, choreographer and theorist Maya Deren, and filmmaker-photographer-theorist Hollis Frampton. "I had a fascination with images and movement, and I shot anything and everything," she says. "This was right when DSLRs were starting to be used for films, and I found ways to do a lot of low-budget music videos and no-budget features. That's how I found early collaborators."
The cinematographer enjoys a particularly fruitful collaboration with director Josephine Decker, who helmed the first two features Connor shot, Thou Wast Mild and Lovely and Butter on the Latch, which both screened at the 2014 Berlin Film Festival. "That felt like a significant breakthrough," Connor recalls. New Yorker critic Richard Brody seemed to agree, as he wrote that the pair of features "marked one of the most notable debuts in the modern American cinema." Regarding the cinematographer and director's latest collaboration, Madeline's Madeline, Brody effused about Connor's imagery, offering that the movie was shot "in jagged angles and torn edges, with physical energy and piercing clarity."
"I'm an in-camera nut," Connor says. "I love doing practical effects. That comes from studying experimental processes. I'm always looking for ways of distorting and bending images. Josephine is one of the only narrative directors I've worked with who feels comfortable going full force with that kind of effect — not doing something like that in post, but recording it in the actual image. I think that when you're [affecting] the image in camera, there's a sort of magic you get from the exploration of the unknown."
Connor's work has recently been quite visible on the festival circuit. The Miseducation of Cameron Post, directed by Desiree Akhavan, took the Grand Jury Prize at Sundance in 2018 — while Madeline's Madeline also premiered there, and went on to receive multiple Gotham Award nominations, including Best Feature, as well as a Film Independent Spirit Awards Best Cinematography nomination.
On a somewhat more mainstream note, Connor shot the last season of the Comedy Central series Broad City. "I hadn't shot a full season of a TV show," she says. "Broad City involves so many different 'languages,' and goes to a lot of surreal places, so I really enjoyed working on it."
Sundance 2019 saw the premiere of The Death of Dick Long, shot by Connor — and helmed by Daniel Scheinert, half of the directing team responsible for bizarre breakout festival favorite Swiss Army Man — in its Next section.
"I tell young filmmakers, 'Don't be afraid to fail,'" Connor concludes. "My favorite filmmakers sometimes have learned the most from their failures, and that's what's exciting."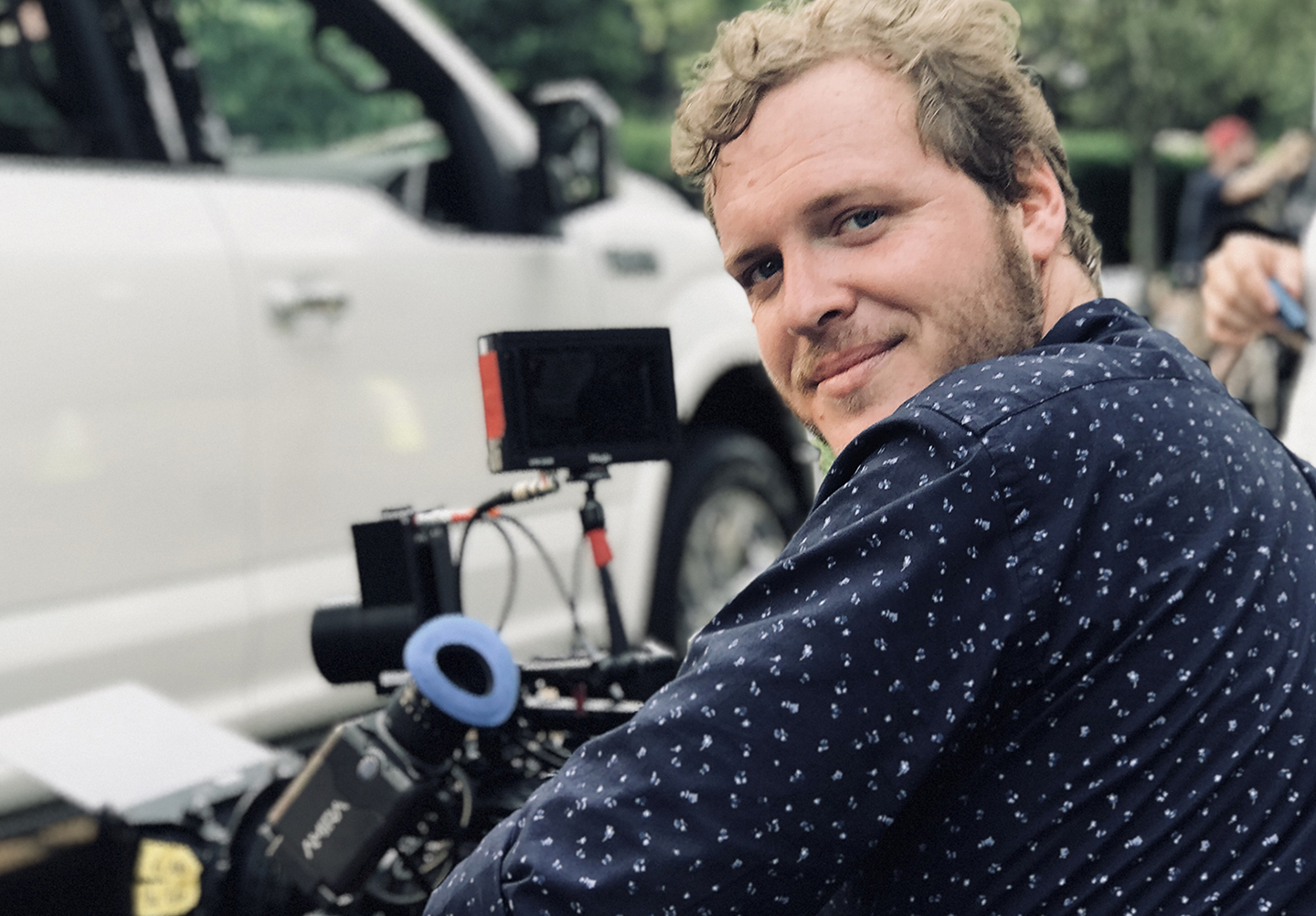 Boaz Freund
As a boy growing up in Israel, Boaz Freund devoured movies he rented from the local video store. "I was just one of those kids who couldn't get enough," he recalls. When he enrolled at a technical high school and had to select a major, film was a logical choice, though he says the decision was due less to his love of movies than a desire to be social. "I wanted to be outside with all the other kids, versus being in a room in front of a computer," he explains.
Studying film in high school gave Freund a foundation in cinema, art history, and various types of production, all of which informed the next stage of his education. "I was a cameraman for the Israeli Defense Forces," he says. "My job was to broadcast news for the army, and I got deployed to Lebanon, the West Bank, Gaza, some pretty sketchy and hairy situations. But that's where I realized, yes, I would like to be a cinematographer."
While in the army, Freund volunteered as a focus puller on student films whenever he had time off — and that led to his entry into the field of filmmaking when he was released from service. Freund learned "from some of the most amazing cinematographers in Israel," he recalls. He singles out director of photography Ofer Inov as a particularly important mentor. "I learned so much just from watching how he thought. He taught me to pay close attention to natural light and what it does."
After moving to New York, he worked as a focus puller and DIT. "This was 2005 and I had been trained on Sony CineAlta HDW-F900 cameras in Israel," Freund says. "That put me in a nice little niche, because cameras like the F900 and the Panasonic VariCam were very popular."
Once again, Freund took advantage of any time off to hone his craft at the next level, serving as cinematographer on smaller projects whenever possible. Eventually, his reel got him a job shooting a documentary series for Barnes and Noble. "We went around the country and shot three-minute documentary vignettes about people who were obsessed with reading," he says. "I won a New York-chapter Emmy Award for my photography on that, and the recognition enabled me to stop assisting."
Among the projects that ensued, Freund is especially happy with the documentary Gored. "The old-school way of shooting documentaries has normally been more observational," he says. "You just let things unfold in front of you and zoom in and out of situations. I really wanted to utilize prime lenses with that movie, to be more proactive with my choices, and give the camera a more subjective point of view."
Other notable credits include What Carter Lost, a film Freund shot for ESPN's 30 for 30 series, in which he mixed digital material with Super 16 footage. The cinematographer also lent his talents to commercial work for Budweiser, which enabled him to be at Wrigley Field when the Chicago Cubs won the World Series — and at Daytona, shooting a tribute to Dale Earnhardt Jr.

In addition to his film and commercial work, Freund devotes a substantial amount of his time to shooting video art installations like Paperweight, a nine-minute production consisting of one unbroken shot. Next up is a music project for director Dana Distortion, which Freund says is "very exciting and thrilling. I can't say more than that since it's in the early stages, but I'll just say I'm very, very fortunate."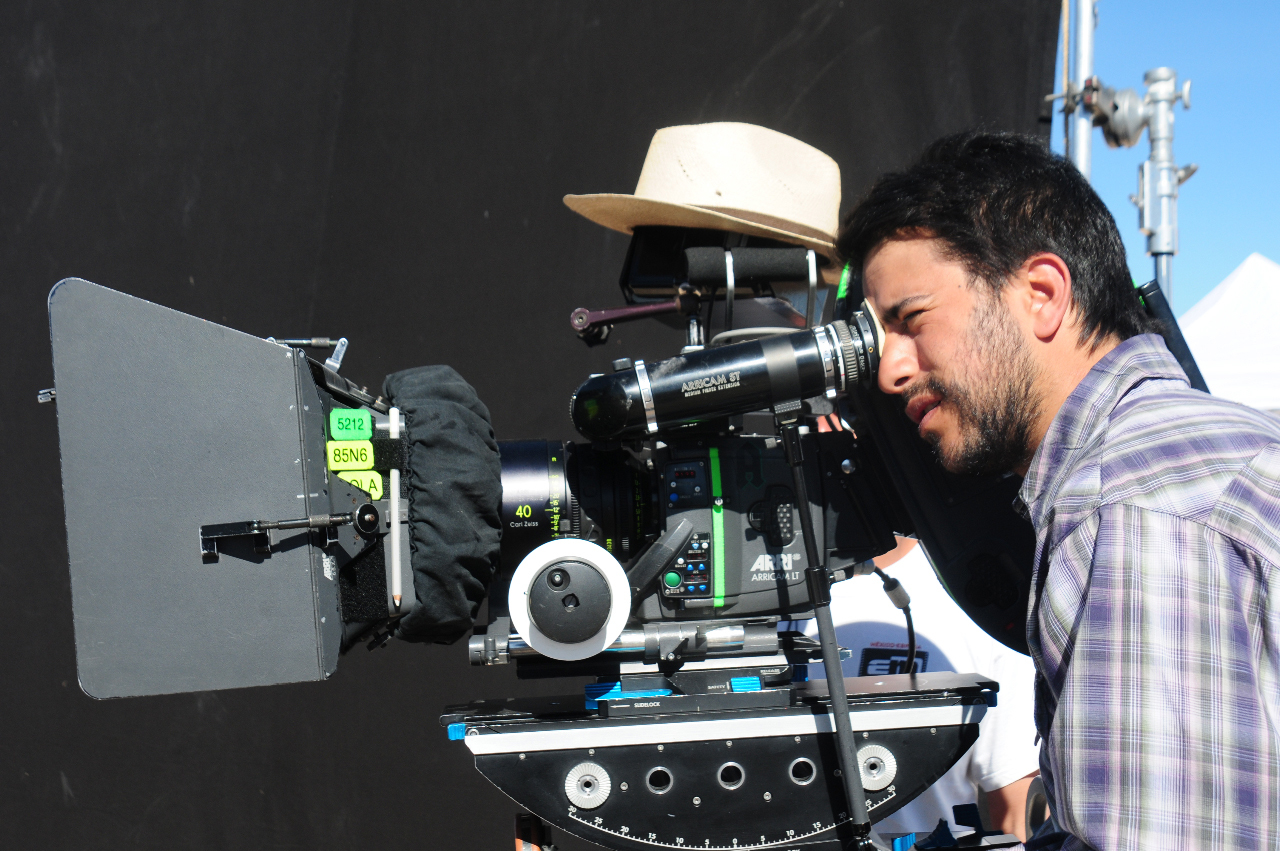 Damián García
Mexico City-born Damián García grew up with relatives who worked in the film industry — and even as a young boy, whenever he visited a set, he knew he wanted to be a cinematographer. Early on, he admired the work of ASC members Sven Nykvist, Nestor Almendros and Gordon Willis, though none was from his own country. "For many years," he notes, "even the Mexican films that were very good still didn't look that good to me. Then the wave of talent came on the scene — Emmanuel Lubezki, Rodrigo Prieto, Guillermo Navarro [all now ASC members], and many others. It was a revelation. These people changed the way Mexican films look! They were creating a new visual language."
García followed in the footsteps of some of these talents, attending the government-sponsored Centro de Capacitación Cinematográfica (CCC). While there, he was able to shoot one of the school's Opera Prima projects — a feature-length piece the school produced annually to provide opportunities for first-timers in every department.
He also studied cinematography in Barcelona, Spain, at the Cinema and Audiovisual School of Catalonia (ESCAC), and shot a considerable number of commercials both in Spain and Mexico. "It's a great opportunity to experiment with ideas [in regard] to cinematography," he says of this work.
A small-scale black-and-white drama called Güeros, which García shot, "was a game changer for me," the cinematographer recalls. The production took quite a few awards, including Best First Feature for director Alonso Ruizpalacios at the Berlin International Film Festival and a Best Cinematography award for García at Tribeca.
García notes that his heart is now primarily in narrative feature filmmaking. "I love to work with a director and become part of their process and vision, and put myself in the service of that. That's why I think it's so important to work with good directors. It doesn't matter if your work is nice — if your director isn't good, you're doomed."
He's thus chosen wisely, shooting for such directors as Luis Mandoki, for La Vida Precoz y Breve de Sabina Rivas; Jonás Cuarón, for Desierto starring Gael García Bernal; and Diego Luna, for Mr. Pig with Danny Glover and Maya Rudolph. These projects have racked up awards and nominations, and expanded Garciá's reputation worldwide.
More recently, Garciá reteamed with Ruizpalacios for Museo — a dramatization of a real-life 1985 museum heist, also starring Bernal — which received stellar notices and significant attention on the international festival circuit. He also shot episodes for the first season of Narcos: Mexico, which premiered on Netflix in November. At the time of this writing, the cinematographer is eagerly awaiting the release of the upcoming boxing drama Jungleland, which he shot for director Max Winkler. It was García's first feature in the United States, "and I'm very pleased with the result," he notes.
Despite the multiple awards and accolades, García insists his work has no distinguishing characteristics that would make someone say, as he describes, "'That must have been shot by Damián García'" — and that's by design. "I don't think I have a style," he submits. "I have things I know I like and things I hate, but the most important thing to me is being involved in projects that take a different perspective on their subjects. I always try not to repeat myself."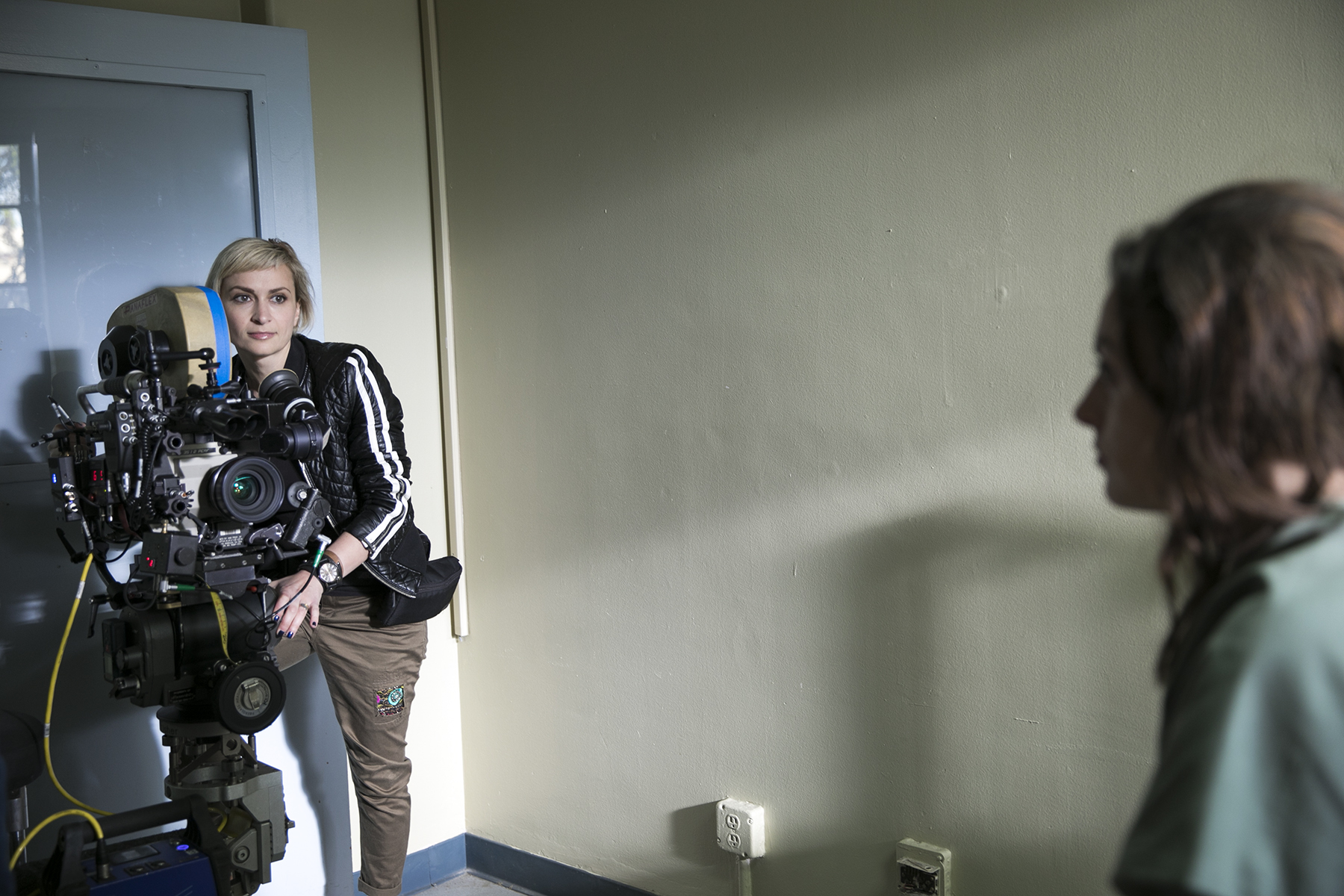 Halyna Hutchins
In her first career as a journalist, Halyna Hutchins always found herself most interested in the individual stories of people she would encounter. "My transition from journalism began when I was working on British film productions in Eastern Europe, traveling with crews to remote locations and seeing how the cinematographer worked," the Ukrainian native notes. "I was fascinated with storytelling based on real characters."
Having grown up as "an army brat" on an Arctic military base, Hutchins was already a movie fan because "there wasn't that much to do outside." She also had some hands-on shooting experience from documenting her forays into such extreme sports as parachuting and cave exploration. But when she decided to dedicate herself to filmmaking, she moved to the United States and took whatever production-assistant jobs she could, working up to grip-electric and shooting small short films. She also dabbled in fashion photography to learn more about the "aesthetics of lighting — how you create the mood, the feeling."
After moving to Los Angeles, Hutchins met Robert Primes, ASC, who encouraged her to apply to the American Film Institute Conservatory, where she studied from 2013 to 2015. "It really made me rethink who I was as an artist and how I wanted to work," she says of her time at AFI, where Stephen Lighthill, ASC became a particularly valuable mentor. "One thing I learned is that cinematography is not something you do by yourself. It's a group [project]. You need to develop your own vision, but the key to a successful film is communication with your director and your team." She is especially proud of her work with director and former classmate Farzad Ostovarzadeh on her thesis project Hidden, which was a finalist for the Vizio + Dolby Vision Filmmaker Challenge. Hidden was also screened at the Camerimage International Film Festival.
Hutchins is grateful to have been given the opportunity to work with various film-negative formats at AFI, and says that while a lot of her work has been on digital formats, her approach is informed by film exposure and film curves. When shooting digitally, she says, "I'm mostly concerned about lenses, more than the sensor and camera." She cites the film approach to exposure, lens choice, and color correction as elements that together provide an equivalent to "contemporary film stock."
Since completing her course of study at AFI, Hutchins has been busy traveling the country while completing two features — Snowbound in Colorado and Darlin' — as well as a pilot titled The Providers that "got me a lot of work," she says, and a digital series called A Luv Tale. At the time of her interview in November, she was working on an untitled 1980s-set feature, shot in Michigan and Germany with the aid of Kowa anamorphic lenses for a "softer period look," she notes. She had also just been named one of eight cinematographers to participate in the inaugural Fox DP Lab, a program launched by 21st Century Fox and AFI to expand opportunities for female cinematographers.
"Right now, I'm just really interested in finding fruitful collaborations," she says. "To me, it's the collaborative effort between creative minds that elevates each other's work." From Russian cinema, she names The Cranes Are Flying cinematographer Sergey Urusevskiy and director Mikhail Kalatozov as an exemplary case. Another, she says, is Christopher Doyle, HKSC and Wong Kar-wai. Hutchins adds, "I'm just hoping to find my Wong Kar-wai."
Anka Malatynska
Anka Malatynska came to cinematography by way of her father, a Himalayan mountain climber who shot stills on his expeditions. "Those photos were so beautiful to me," she remembers. "They brought distant exotic lands and people into our home. From a very young age, it was clear to me that photography was a window into the world." After her dad passed away in a climbing accident, Malatynska's family moved to the United States, where the future director of photography began taking and developing her own photographs at the age of 11.
By high school, she had fallen in love with cinema via the work of directors like Wong Kar-wai, Andrei Tarkovsky and Sydney Pollack, whom she responded to because "they took me on a visual and emotional journey," she says. As she entered film school at NYU, she discovered Eraserhead and Pi, which excited her with their willingness to push the envelope — and inspired her to find new ways of seeing as she shot student films on 16mm Bolex cameras. "I remember a project where I had a lens that didn't mount on the camera properly," she recalls. "It created an interesting visual effect and I shot a whole film like that."
Although Malatynska attended both NYU and AFI, she considers her true training to be working for other directors of photography — like James Chressanthis, ASC, GSC, who's become a lifelong mentor after she apprenticed for him. She eventually shot his directorial debut, No Subtitles Necessary: Laszlo & Vilmos. "I learned more about cinematography and navigating a film career from those two men [ASC members Laszlo Kovacs and Vilmos Zsigmond] than I could have ever imagined when embarking on the project."
The cinematographer notes that her other key mentors include ASC members Stephen Lighthill, Steven Poster and Bill Bennett. "It's one of the more magical aspects of the profession," she says. "The way we encourage, teach and mentor each other, evolving the craft and elevating the art." She adds that she finds inspiration in the "work and style" of Anthony Dod Mantle, ASC, BSC, DFF.
Malatynska also framed a short called Ruth, directed by Rose McGowan, based on Ruth Coker Burks, who cared for hundreds of gay men dying of AIDS during the height of the epidemic. "There is an otherworldly quality to the film," Malatynska says. "We shot with [Panavision] C Series anamorphic lenses with an [Arri] Alexa XT. I used the 60mm anamorphic almost exclusively. It has a close focus that allows for beautiful close-ups, but can still get wide shots without compressing the space too much. I was in awe of these lenses — so absolutely gorgeous. In some ways, that project contributed to my shooting the project I am working on today, which is a gay Muslim love story set in West Hollywood, for director Michael Mosallam. I am very excited about the look we are creating."
Malatynska recently took part in the inaugural Fox DP Lab, a program launched by 21st Century Fox and AFI, designed to expand opportunities for female directors of photography.
Earlier this year, Malatynska photographed director Clare Niederpruem's adaptation of Little Women with Red's Dragon sensor, which she paired with Cooke S4s. "We had huge budget constraints, and I am incredibly proud of how the photography supported the story and elevated the film," the cinematographer says.
Malatynska shot 2nd unit for the HBO series Insecure, where she employed an Alexa Mini with Cooke S5s. "I came into the project to cover the A-camera operator for an episode, and ended up shooting all the second unit [footage] for [director of photography] Ava Berkofsky," she remembers. "It was interesting to replicate a look that was so foreign to me. I was filming dark-skinned actors in night exteriors, using barely any light, while wearing a pola and an ND .3 — it's wild how far technology has come, and what we can do with light these days."
Lowell A. Meyer
Cinematographer Lowell A. Meyer grew up loving movies, but it wasn't until he started skateboarding that he realized filmmaking could become a career. "Jumping down a flight of stairs is hard on a kid's knees, and you're sometimes on private property with guards — so you better be filming when going for it!" he says. "But after a while, you've gained all of these camera skills, and you realize that there's so much to film besides skating."
This epiphany led Meyer to study film and photography at Emerson College in Boston. There, professor and cinematographer Harlan Bosmajian gave him his first lessons in lighting, camerawork, and the care a cinematographer needs to wield as a collaborative filmmaker.

Meyer also counts gaffer Mo Flam and Oscar-nominated cinematographer Rachel Morrison, ASC among his mentors. "Flam gave me incredibly detailed lessons in lighting theory, practice and color that were a culmination of his decades working in the industry," he says. "And Morrison showed me the character and leadership that a serious cinematographer displays each and every day."
As a young filmmaker, Meyer attended screenings at Brooklyn Academy of Music, and was inspired by the films of directors like Martin Scorsese and Alejandro G. Iñárritu. "A lot of my creative decisions and the projects I've chosen to shoot over the years have been informed by my sensibilities as a student of film as well as a skateboarder," Meyer offers. "I love moving oners and not cutting because — just as when filming skateboarding — it means that what was captured was real and not changed by the process of editing."
The feature Thunder Road — which marked Meyer's sixth collaboration with director Jim Cummings, and won the Narrative Feature Grand Jury Award at South by Southwest 2018 — is a case in point. "We utilized oners for a variety of scenes to capture authentic moments and performances, but knowing that we would eventually have to cut, we were very selective about when and where that cut would happen, and what the following coverage would be," he explains.
On Thunder Road, Meyer also made certain the camera was constantly moving, zooming or both. "We always had the Angénieux Optimo 24-290mm T2.8 and the J.L. Fisher 10 Dolly with us at every location, and would lug them up flights of stairs, [mount them] on top of trucks, and even inside of an ambulance for one shot," he recalls. "We made sure to have a zoom small enough to fit inside of a car, as well as a 4-foot 'mini-slider' that could do the same — there are several shots that zoom and slide while inside of a moving vehicle!"
The cinematographer earned some substantial visibility at this year's Sundance Film Festival — where the surreal comedy Greener Grass, directed by Jocelyn DeBoer and Dawn Luebbe, and the short Lockdown, helmed by Logan George and Celine Held, both premiered.
Meyer notes that rather than getting a "big break," he feels he's received the inevitable karma that comes with working for free or next to nothing for years on countless shorts, spec commercials and passion projects. "I also recognize that none of my success would be at all possible without the tremendous support of my crew and generous vendors, both of whom I've often had to ask for substantial sacrifices of their time, labor and gear," he says. "A director of photography is nothing without her or his crew and gear, and I feel very fortunate to have found folks who believe in me and my vision."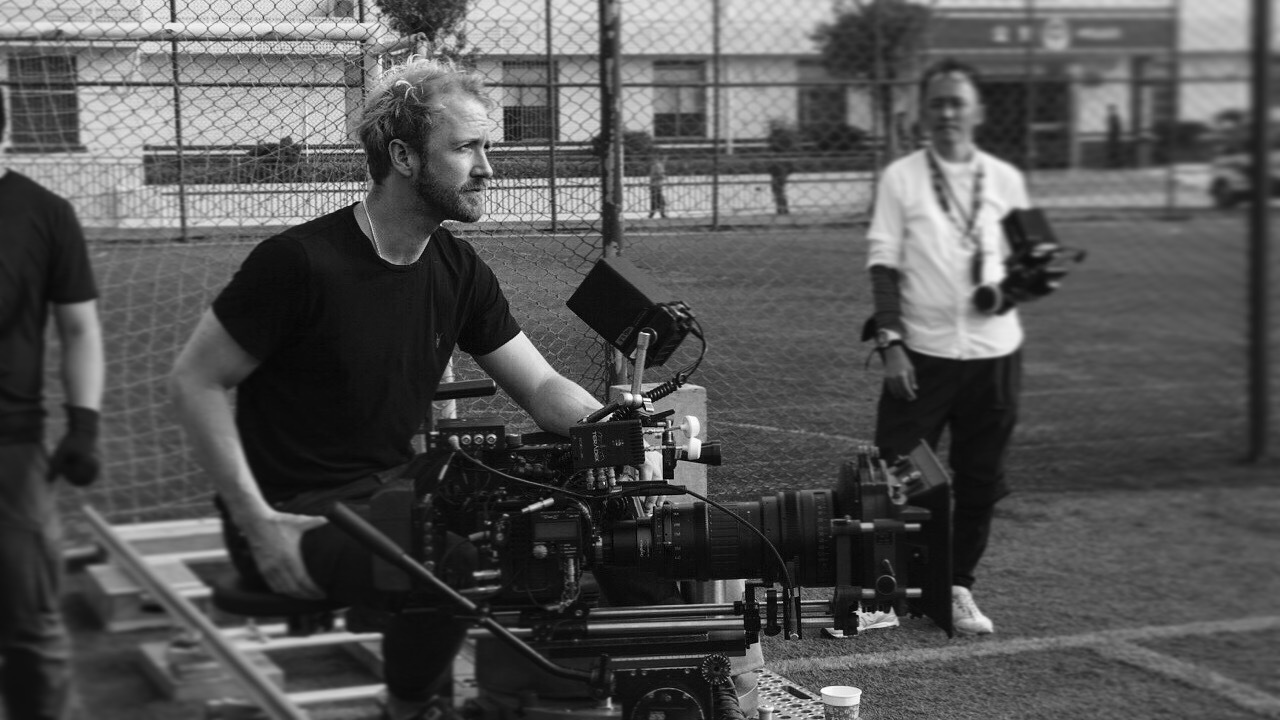 David Procter
It was at Ravensbourne University London where then-19-year-old David Procter first started working with cameras — shooting, developing and printing 35mm stills. He then gravitated toward the moving image, primarily inspired by documentary filmmaking. "I became acutely aware of the power of film as a medium for social and political commentary," he says. "Real human stories that needed to be told."
Procter then studied at Hull School of Art and Design in the U.K., a three-year program in television and film design, where he specialized in cinematography. His studies were followed by a move to London, where he didn't have a single industry connection. He started working part time with a local camera house, and selling coffee machines on the side — all the while "shooting anything and everything I could," he recalls.
Procter found some of his earliest recognition in documentary work with a short he shot and directed called Red Sands — a visceral look at Spain's running of the bulls and bullfighting, which was nominated for a British Independent Film Award and the Camerimage International Film Festival's Golden Frog, and screened at festivals worldwide. The short documentaries The Corridor, which he shot in the Kalahari Desert in Namibia, and Solace, shot in London, landed him further Golden Frog nominations. "The documentary work I did really helped shape me as a cinematographer," he says, "because you're often working in a language you don't understand, trying to read situations, environments and people, without knowing what's actually being said. You develop intuition to read body language and react quickly."
Of that period, he recalls, "I was traveling to film festivals all over Europe to meet as many directors and collaborators as I could." At Camerimage, he met several cinematographers who would make a lasting impression — particularly Phil Méheux, BSC, who became something of a mentor. "I could email, telephone or quiz him over a lunch," Procter says. "He was someone I could check in with as I was moving into larger-scale lighting work and much larger sets. Sometimes, I would have hesitation that I was maybe going too big, and he would be there with advice and reassurance."
Among the many future collaborators/employers Procter met at film festivals, producer Samm Haillay was pivotal in the cinematographer's expansion into feature narrative. Indeed, Haillay produced the first two such features Procter shot — the dramas Bypass, directed by Duane Hopkins, and Blood Cells, from the directing team of Joseph Bull and Luke Seomore — both of which premiered at the 2014 Venice International Film Festival. Bypass was nominated at Camerimage for Best Cinematography Debut — an honor that was, Procter recalls, "overwhelming."
The cinematographer recently completed shooting the eight-part Netflix original science-fiction drama The Innocents, starring Guy Pearce. The large-scale series was shot in remote parts of Norway, with additional locations and studio work in the U.K.
Regarding his work on the Sam Pilling-directed music video for "Nobody Speak" — a track by DJ Shadow featuring Run the Jewels — Procter attests, "I think it transcends entertainment and moves into the area of social commentary. It was a controversial piece of work that became viral almost immediately for its political, provocative nature."
Procter notes that lessons from his early documentary work still infuse his approach today, regardless of genre. One such lesson: "Just because you have two or three trucks full of lights, that doesn't mean you always have to use them."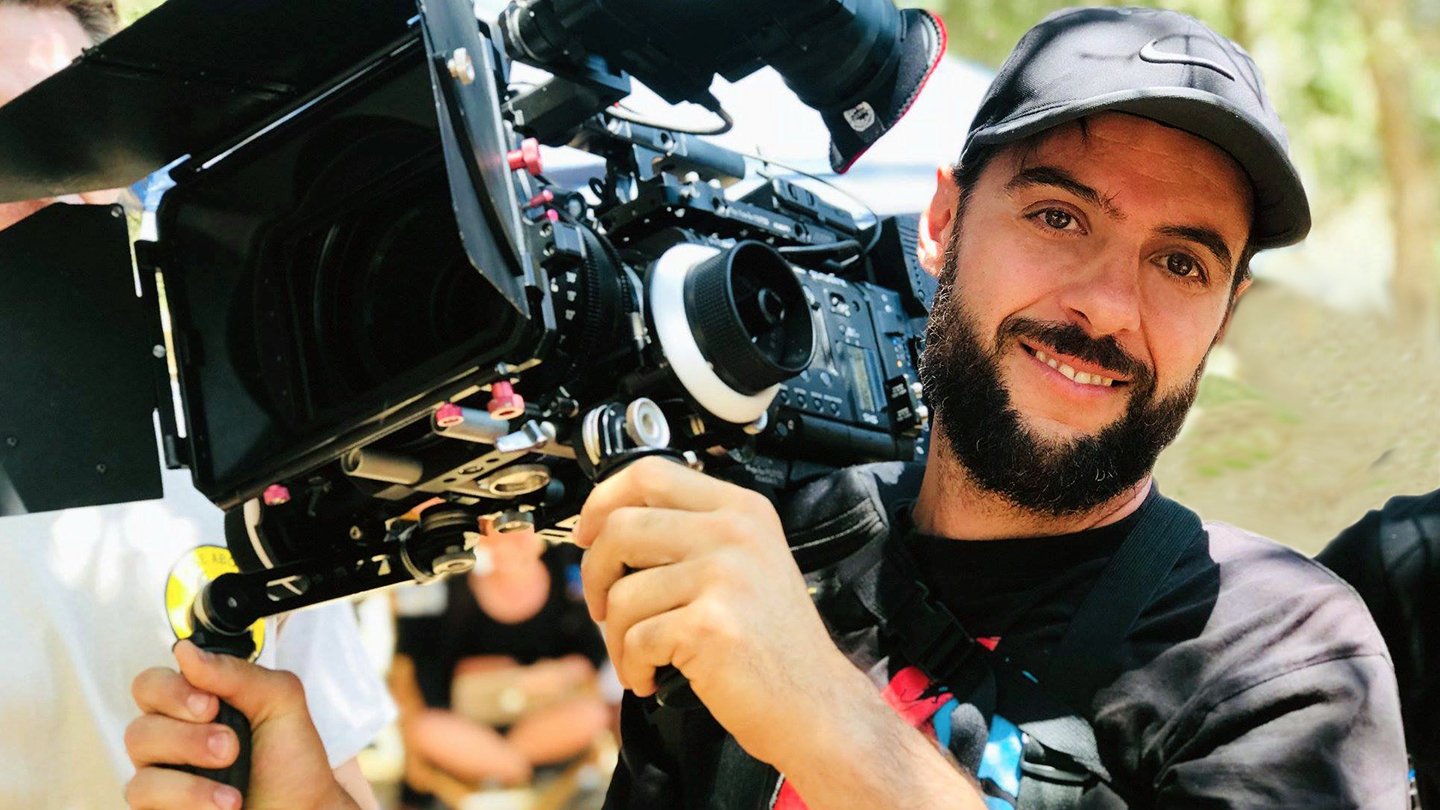 Jordi Ruiz Masó, AEC
Jordi Ruiz Masó, AEC learned the power of light as it relates to storytelling at a very young age. "During my childhood, I read fairytales under my blanket at night," he remembers. "Using my dad's flashlight as a source, the gleam created an environment that captivated me, and allowed me to feel and imagine the story. That's when I began to notice that light affects the narrative."
From there, Ruiz Masó credits horror films like The Exorcist, Psycho, Halloween, Poltergeist and Friday the 13th with introducing him to the art of cinematography. Though he initially entered college with the goal of becoming a still photographer, he realized that he wanted to focus on shooting the moving image. "I decided to enroll in the Pompeu Fabra University in Barcelona, where I received my bachelor's in cinema and media arts," he says.
Ruiz Masó adds that he worked throughout his studies. "I started as a camera operator for major broadcast television networks," he says, "which allowed me to learn a lot about lenses, camera movement, framing, exposure and angles. I also learned how to work in a fast-paced environment. What I learned in that period of my life now allows me to give freedom to actors when they move during the take."
After graduation, Ruiz Masó worked as a camera assistant on various feature productions, commercials and music videos, and received an MFA in cinematography at the Cinema and Audiovisual School of Catalonia (ESCAC) in Barcelona. Persistently honing his craft, he continued to attend Eastman Kodak and Arri workshops, while also immersing himself in movies, books, paintings, and magazines like American Cinematographer.
When he moved to Los Angeles in 2012, however, he found that he had to start from scratch. "I got involved in several [student] thesis films," he recalls. "One of those projects, from USC, got me the Best Operator of the Year award [in the student category] from the Society of Camera Operators." That accolade led to Ruiz Masó's introduction to director Michael Feifer, who hired him as a 2nd-unit cinematographer on two movies before moving him to the main unit on a subsequent feature.
The two continue to work together, and have the new Western Soldier's Heart — starring Val Kilmer, AnnaLynne McCord, and an ensemble of well-known character actors — on the way. "I'm very excited for that release," Ruiz Masó enthuses. "The approach was to combine the use of soft and hard light, allowing the shadows to be part of the frame. We didn't want to put our 'fingerprints' on the picture; instead I just let natural light play."
When discussing a short he framed called Reflections: Mojave Desert — a companion piece to the album of the same name by British electronic musician and music producer Sam Shepherd — Ruiz Masó opines that music is as important an influence on cinematography as the visual arts. "I think cinematography comes from a lot of places," he says. "Photography, painting, architecture, sculpture — and music is also one of them."
Ruiz Masó notes that one of the greatest pleasures of filmmaking is the people one meets and works with. "I love what I do," he adds. "I think I have a dream job."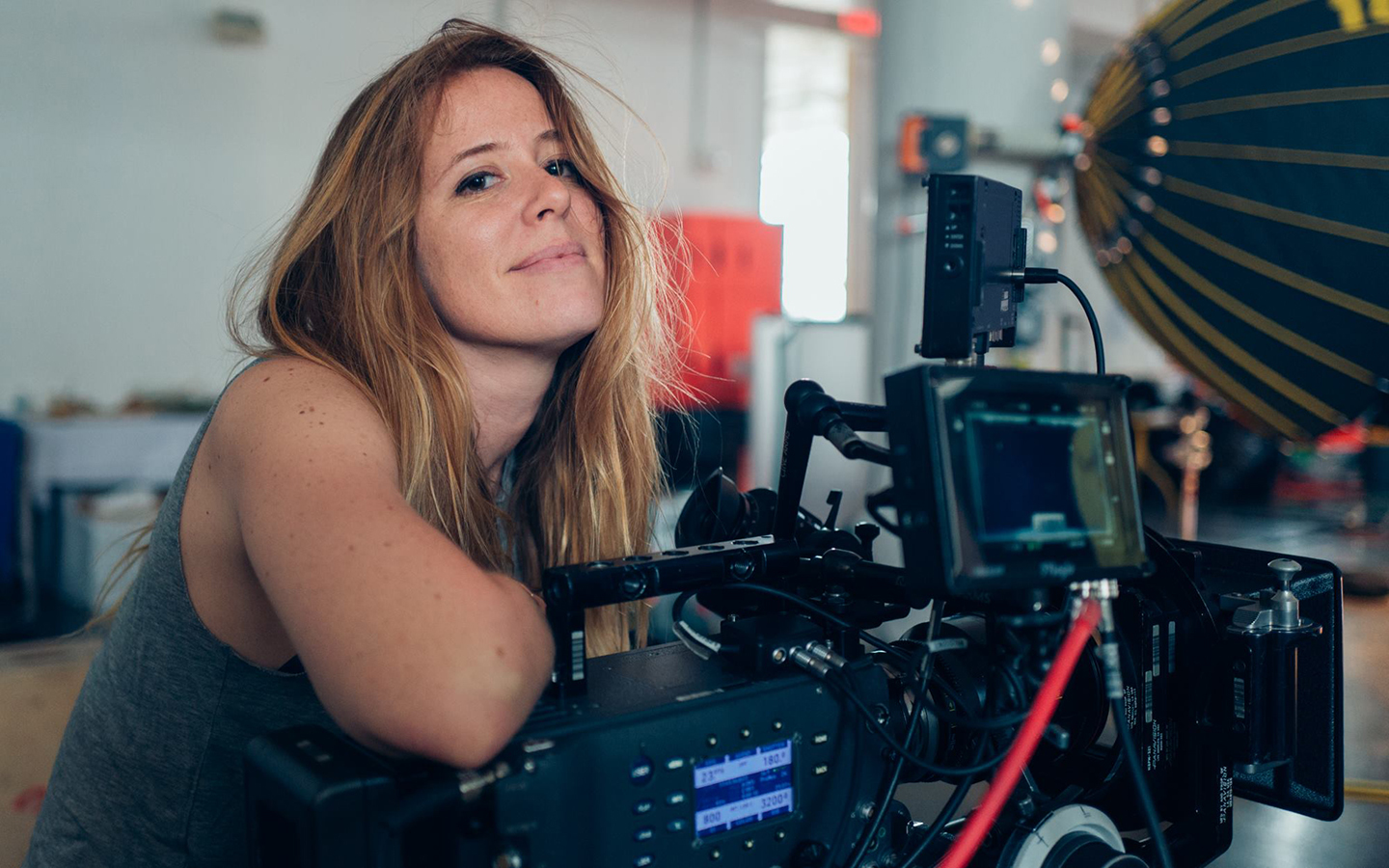 Zoë White, ACS
Director of photography Zoë White, ACS has spent much of the past year immersed in the dystopian world of The Handmaid's Tale, the Hulu series based on Margaret Atwood's novel. It's the job that she says has unquestionably "put me on the map" after years of training and steadily rising in the profession. "It's been amazing," she adds, recalling how she had watched the series' first season — the first three episodes of which were directed by Reed Morano, ASC, who worked alongside full-season cinematographer Colin Watkinson, ASC, both of whom won Emmys for their work — and scarcely imagined her upcoming involvement.
"When they were putting together the second season, Colin wanted to share it," White recounts. She thus alternated blocks of episodes with Watkinson on the second season, and is now alternating in like manner with cinematographer Stuart Biddlecombe on Season 3, "with Colin opening Season 3 and passing the baton," White notes. She adds that though it was challenging coming to a project with an established look, "I think I'm getting to the point now, a whole year in, where I feel I've found my voice as one of the creative collaborators on the show."
White, who grew up in Australia, trained as a classical violist, but was also schooled in classical cinema by her movie-buff mother. After high school, she "made the big leap" and enrolled in the University of North Carolina School of the Arts' film program, soon discovering her affinity for the camera. "I think it goes back to having a connection with music," she says. "There's something abstract in the idea of composition and balance, and in the artistic discipline it takes to make an image — in the same way that there is when making music."
After graduation, she completed a summer internship in Los Angeles with James Chressanthis, ASC, GSC, and then spent a year back in Australia as camera assistant for director of photography Newton Thomas Sigel, ASC on Superman Returns. "Six months out of film school, I was observing a gigantic blockbuster day by day, soaking it all in and understanding what filmmaking is at the very top level," White says. "Tom Sigel to this day has been a really wonderful inspiration and support for me."
White went on to shoot and assist on smaller projects, after which she completed a two-year masters program at the Australian Film, Television and Radio School. Then came the "slow build," as she says, of shorts, music videos and commercials — as well as some work in features, her most notable of which was Rachel Lambert's 2016 family drama In the Radiant City. What she loved about that production, she notes, was the narrative's psychological layering. "Something not necessarily on the page — maybe inferred, but it's the imagery that takes it there," the cinematographer describes.
Following her first season on Handmaid's Tale, she took a sharp visual turn on Dare Me, a Steph Green-directed pilot about competitive cheerleading. "It's popular these days to shoot with vintage glass to offset the sharpness of the digital sensor," White says. "But I felt compelled to shoot it on Master Primes, which are known to be more commercial and sharp. I was seeing this really saturated, contrasty palette. Maybe it'll just be a zigzag from here on — whatever I've tried, I'll be wanting to try something new. That's what's so great about this art form. You never run out of things to explore."
Rising Stars of Cinematography 2017
Rising Stars of Cinematography 2018