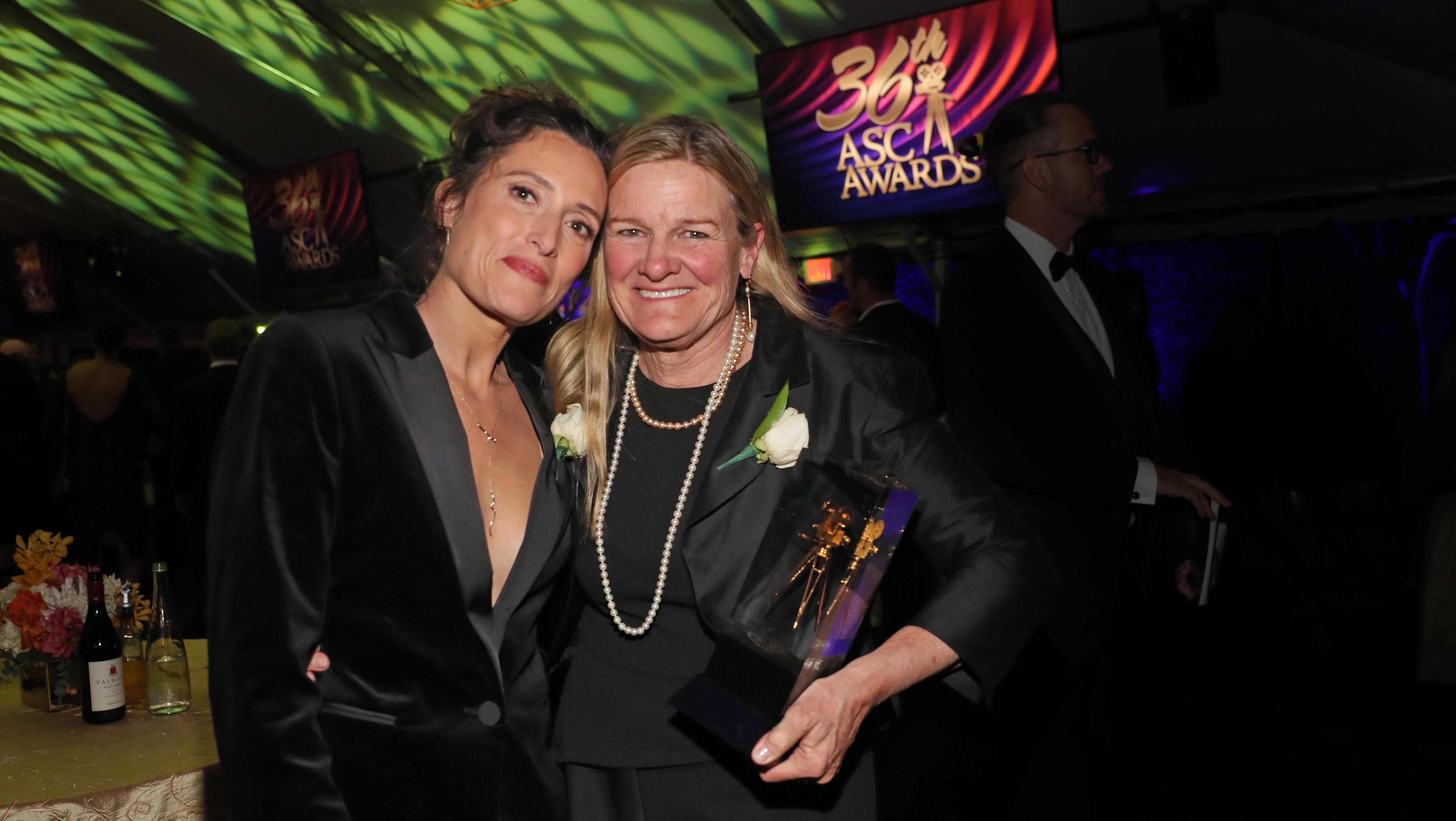 At top, from left, Rachel Morrison, ASC and 2022 Lifetime Achievement Award recipient Ellen Kuras, ASC.
36th Annual ASC Awards: A Triumphant Evening for Cinematography
Dune, The Underground Railroad, Snowfall, Mythic Quest, Pig, Faya Dayi and Titans took top honors in the competitive awards, while Ellen Kuras, ASC accepted the Society's Lifetime Achievement Award.
David E. Williams
Event photography by Phil McCarten, Danny Moloshok and Hector Sandoval
The 2022 ASC Awards for Outstanding Achievement in Cinematography ceremony — clocking in at two hours and 30 minutes — was the first major in-person event held at the ASC Clubhouse in Hollywood for more than two years. It not only celebrated excellence in the art form, but the enduring spirit of all who worked under difficult Covid-19 conditions to tell compelling stories through memorable imagery.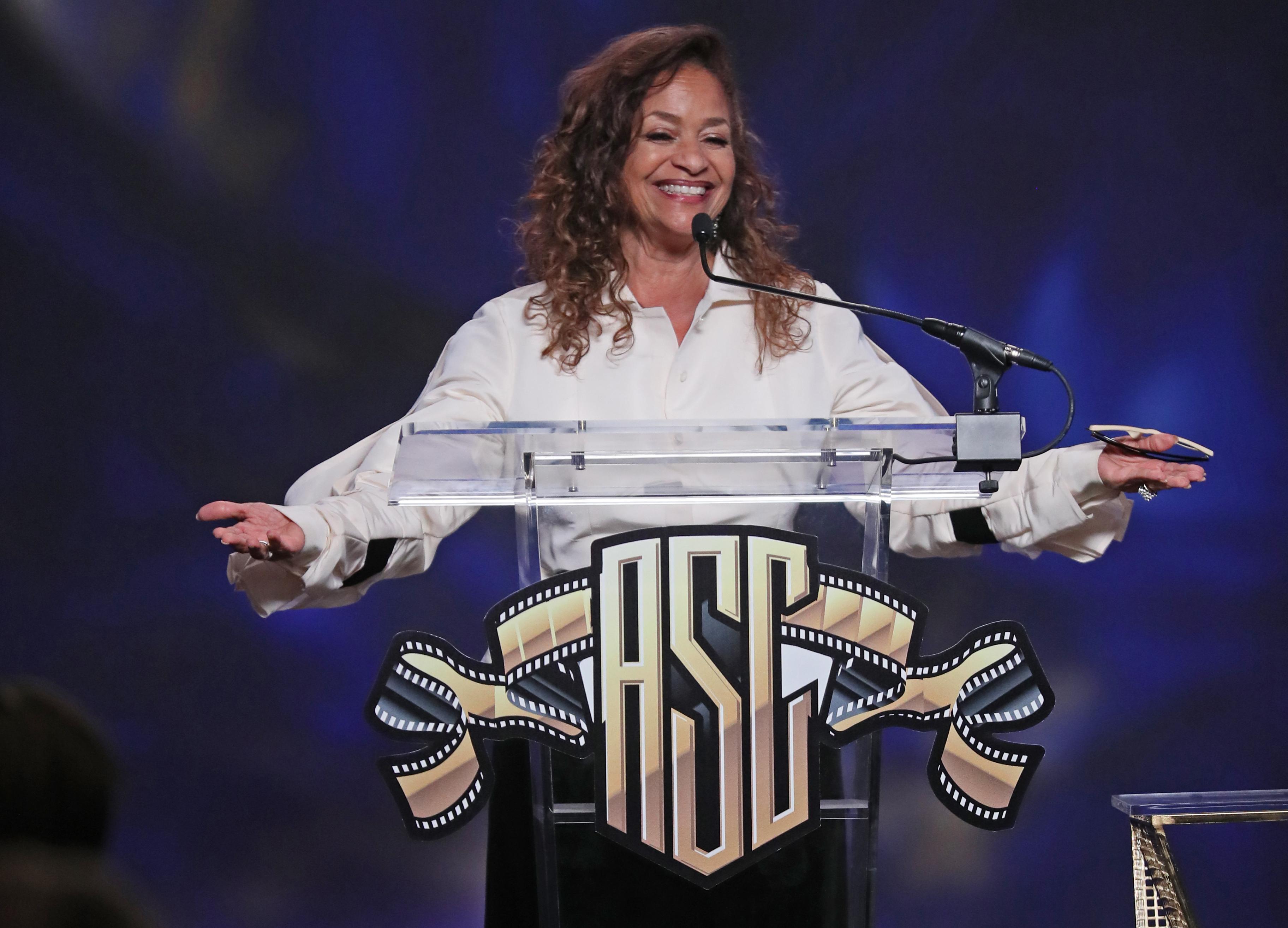 Produced by the ASC Awards Committee and Chair Chuck Minsky and hosted by famed actress, dancer, choreographer, director and producer Debbie Allen, the event largely took place outside under large white tents enveloping the entire ASC campus. More than 600 attendees were able to watch the Awards activity staged within the venerable Clubhouse via an array of strategically positioned 4K monitors. Inside, carefully coordinated announcements and presentations took place after small groups of nominees and honorees were ushered inside, allowing those taking part in each category to sit with their peers while the winner's name was announced. Following the acceptance speeches, the group would exit and the next ushered in. This choreography was part of the ASC's stringent, multi-part, Covid-19 safety protocols.
A series of welcoming video "postcards" from ASC members working on their respective sets around the world personably launched the show, leading into a live introduction (sponsored by MBS) made by Awards Co-Producer Delphine Figueras and Lawrence Sher, ASC.
This kicked off a spectacular opening reel edited by Don McCuaig, ASC — showcasing indelible images created by ASC members over the past 103 years, since the Society's founding in 1919 (seen in this streaming presentation courtesy of sponsor Rosco):
"I was thrilled to be asked to host an award show specifically for cinematographers for a very unique reason," Allen noted in her opening remarks to the audience. "You see, I've been dancing on film and TV my whole career and through every twist and turn some talented cameraperson has come along for the ride. Tonight is a great celebration for all of us."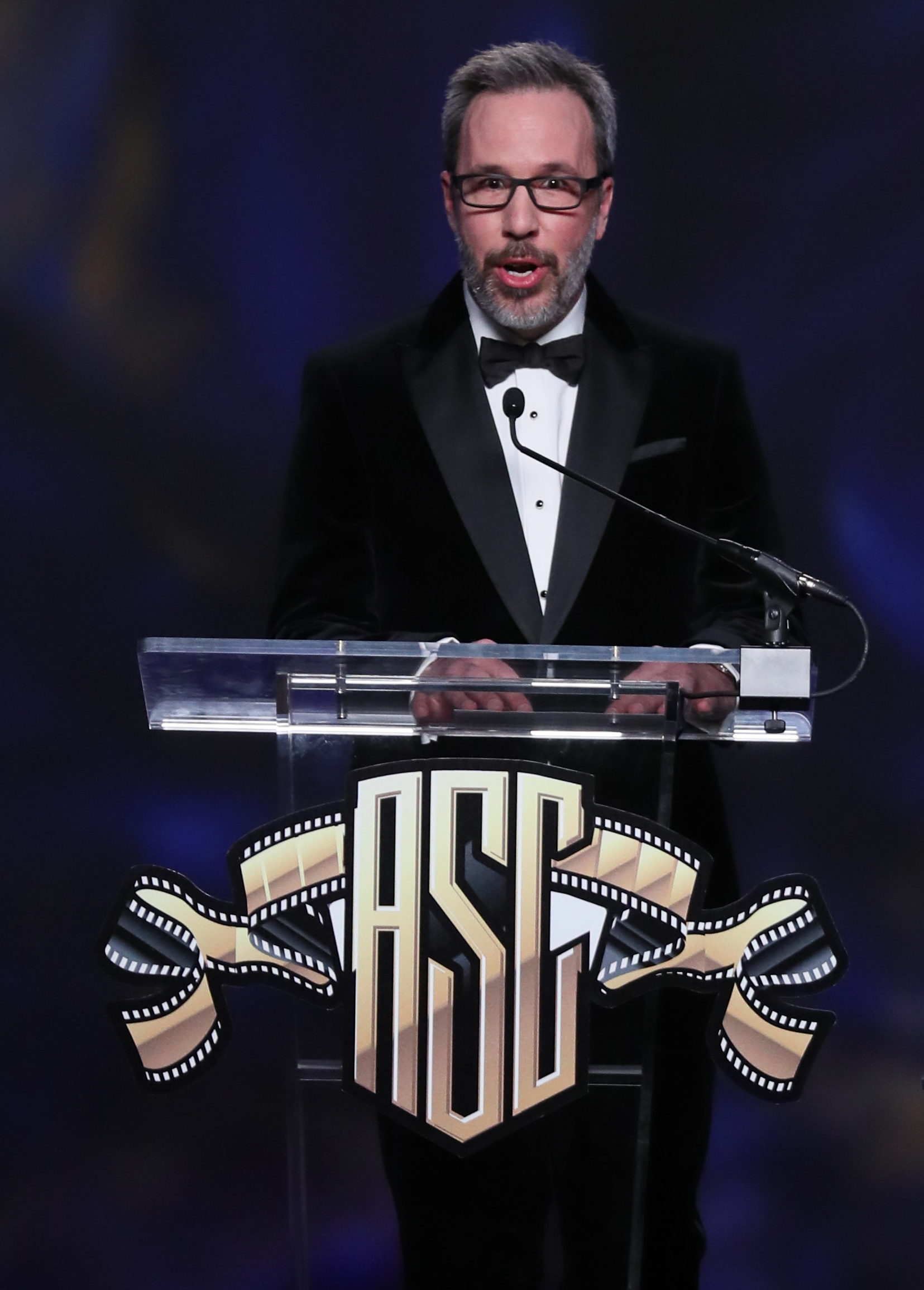 Allen led directly into the night's first competitive category, for Documentary work, sponsored by Sony. (Within the video embedded above, you'll find this starting at 10:24.) The category was presented by Dune director Denis Villeneuve, who noted, "In documentaries, the script is whatever you capture through the lens, and knowing where to be at just the right place and right time is an art form that can't be taught."
The nominees were:
Jessica Beshir for Faya Dayi
Isabel Bethencourt and Parker Hill for Cusp
Daniel Schönauer and Jan Haft for The Hidden Life of Trees
The winner was Jessica Beshir. A Mexican-Ethiopian director, producer and cinematographer, she is based in Brooklyn, and her first short film, He Who Dances on Wood, won Best International Documentary Short at the Edmonton Film Festival and the Jury Award at the Anchorage International Film Festival. Her next documentary short, Hairat, premiered at the Sundance Film Festival, was screened at IFFR and IDFA, and went on to receive several awards.
Shot in black-and-white, Faya Dayi — described as a hypnotic immersion into rural Ethiopia and the complex culture surrounding the use of a locally grown hallucinogenic — is her feature debut, earned Beshir her first ASC Award nomination and win.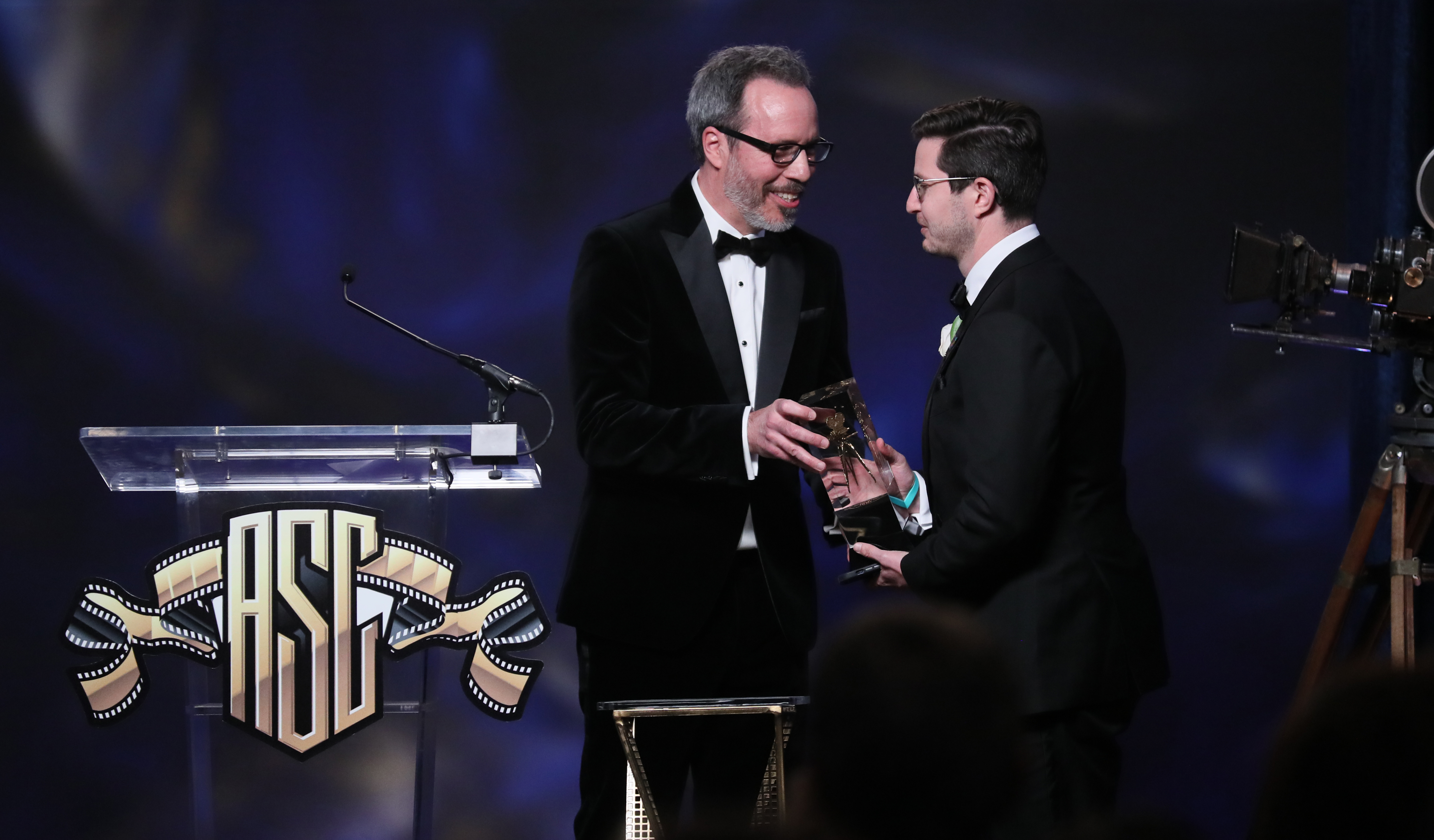 Accepting the award for Beshir was the film's colorist, Alan Gordon, who spoke to AC's Tara Jenkins on the red carpet: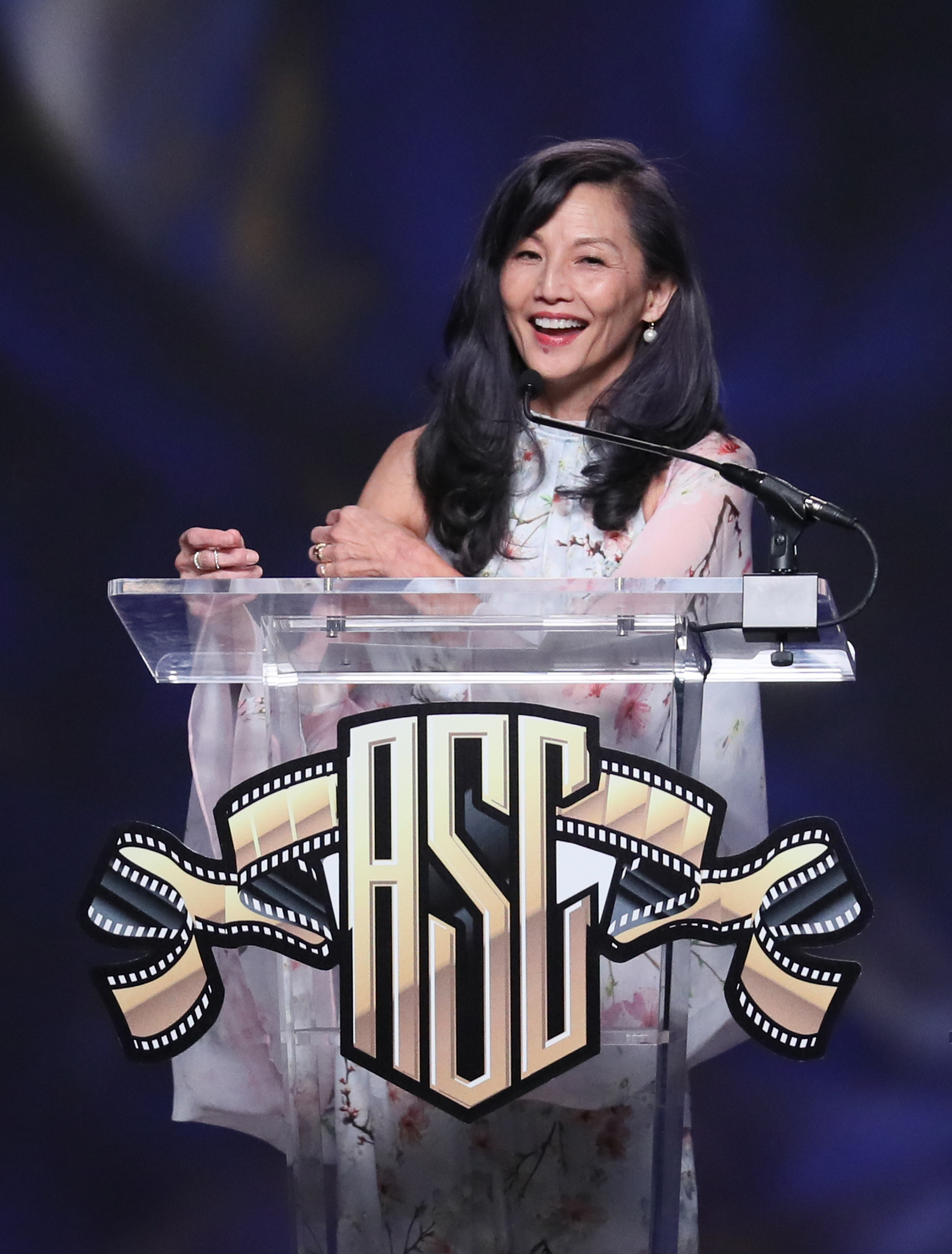 The next category was the Episode of a Half-Hour Series Television Award, which was sponsored by sponsored by Picture Shop. (Within the Ceremony video posted above, you'll find this starting at 16:20.) The presenter was actress Tamlyn Tomita, who noted, "The moving images this group of cinematographers created gave each story a unique look and helped every performer shine, and as someone who has worked in a lot of half-hour TV shows, thank you on behalf of myself and everyone in SAG-AFTRA."
And the nominees were:
Marshall Adams, ASC for Servant, "2:00"
Michael Berlucchi and Marc Carter for Mythic Quest, "Backstory!"
Adam Bricker for Hacks, "There is No Line"
Paula Huidobro, AMC for Physical, "Let's Get Together"
Jaime Reynoso, AMC for The Kominsky Method, "And it's Getting More and More Absurd"
The winners were Michael Berlucchi and Marc Carter for the Mythic Quest episode "Backstory!" — which saw the two cinematographers collaborating on a complex period story after production was suspended due to Covid-19, calling for Carter to complete the shooting months later.
A native of Detroit, Berlucchi learned his craft while working up through the crew, starting on short films as a camera assistant, electrician and operator. After gaining experience as a cinematographer, he shot series including You're the Worst and Teenage Bounty Hunters, later photographing all 10 episodes of the first season of Mythic Quest — skewering the often-absurd world of video game development. He recently shot the first episode of the pirate comedy Our Flag Means Death.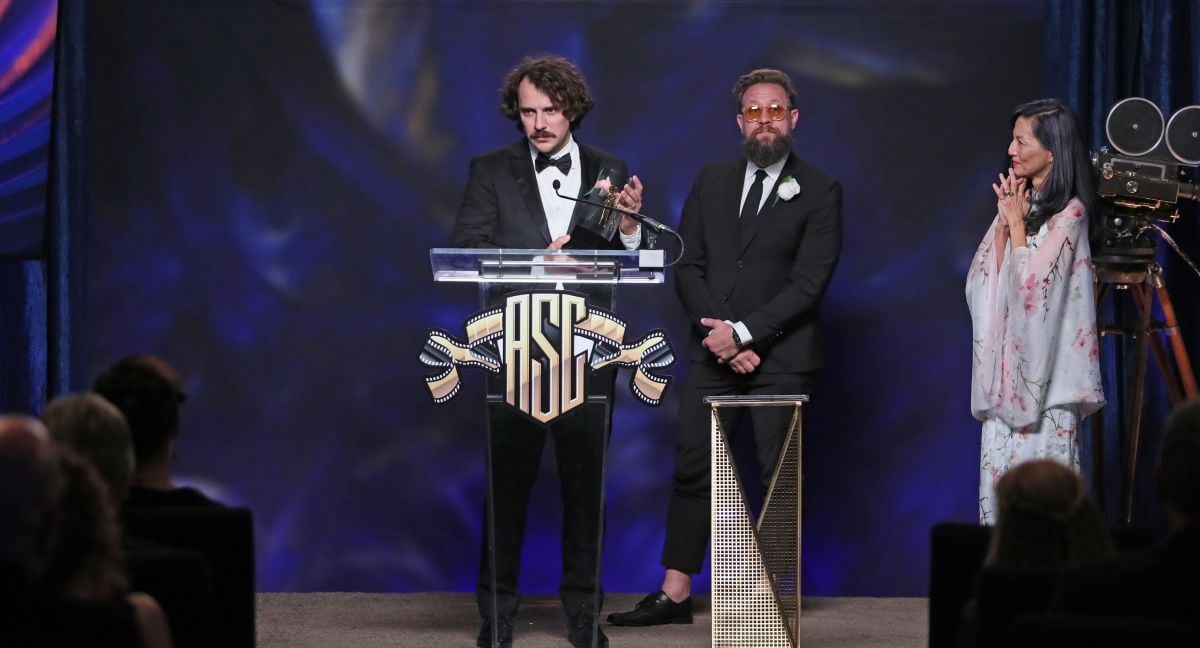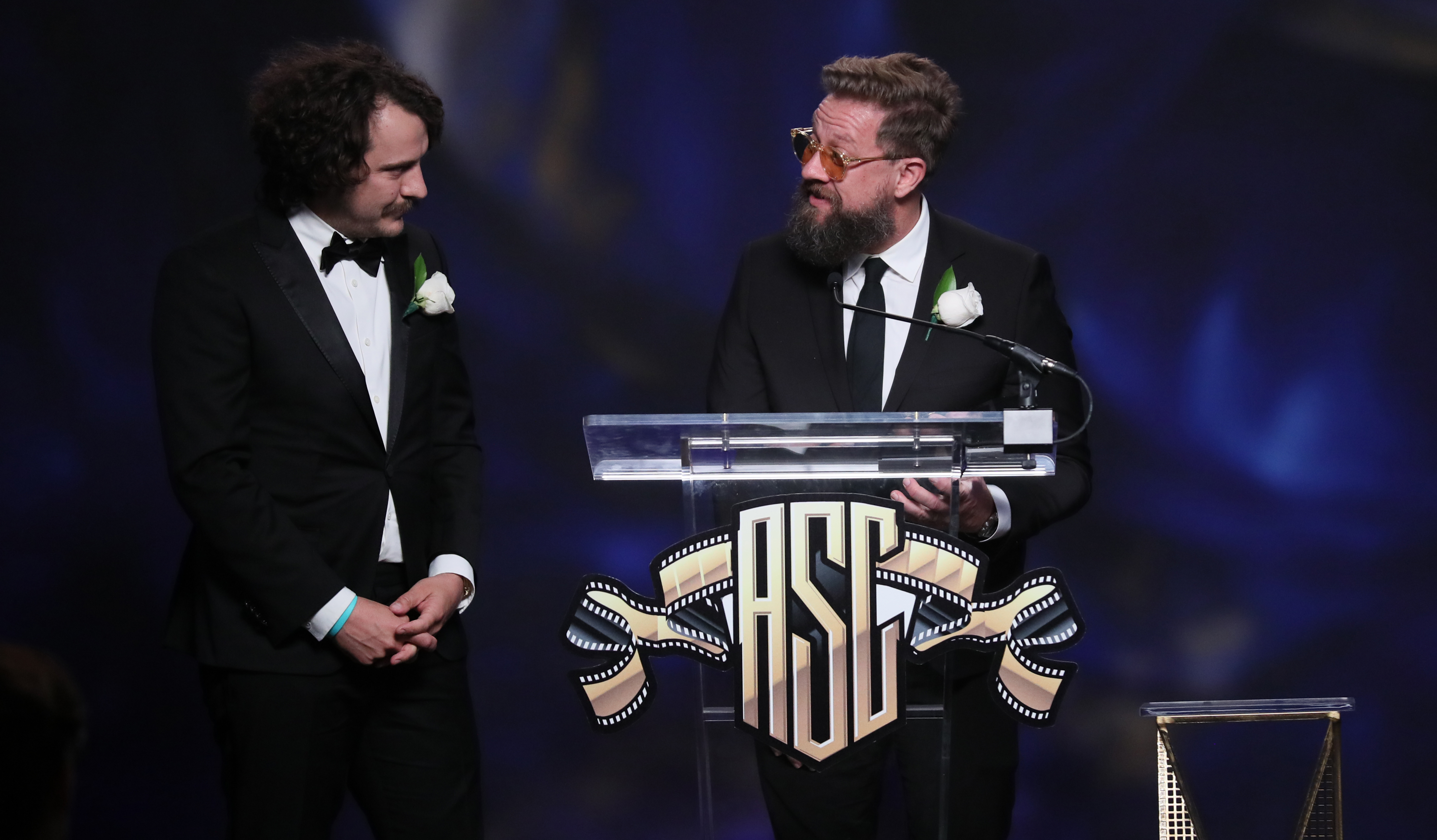 Marc Carter built his career from the ground up, working as a camera assistant and operator on numerous short films, reality shows, TV movies and such series as You're the Worst, Baskets, Stumptown and True Story. As a cinematographer, his credits include the docuseries Destination Truth, Whale Wars, Bering Sea Gold, Deadliest Catch (earning an Emmy nomination) and America's Top Dog. He came aboard Mythic Quest as an operator, and recently worked with Berlucchi on Our Flag Means Death as an operator while also shooting second unit.
Berlucchi and Carter later spoke to Jenkins on the red carpet: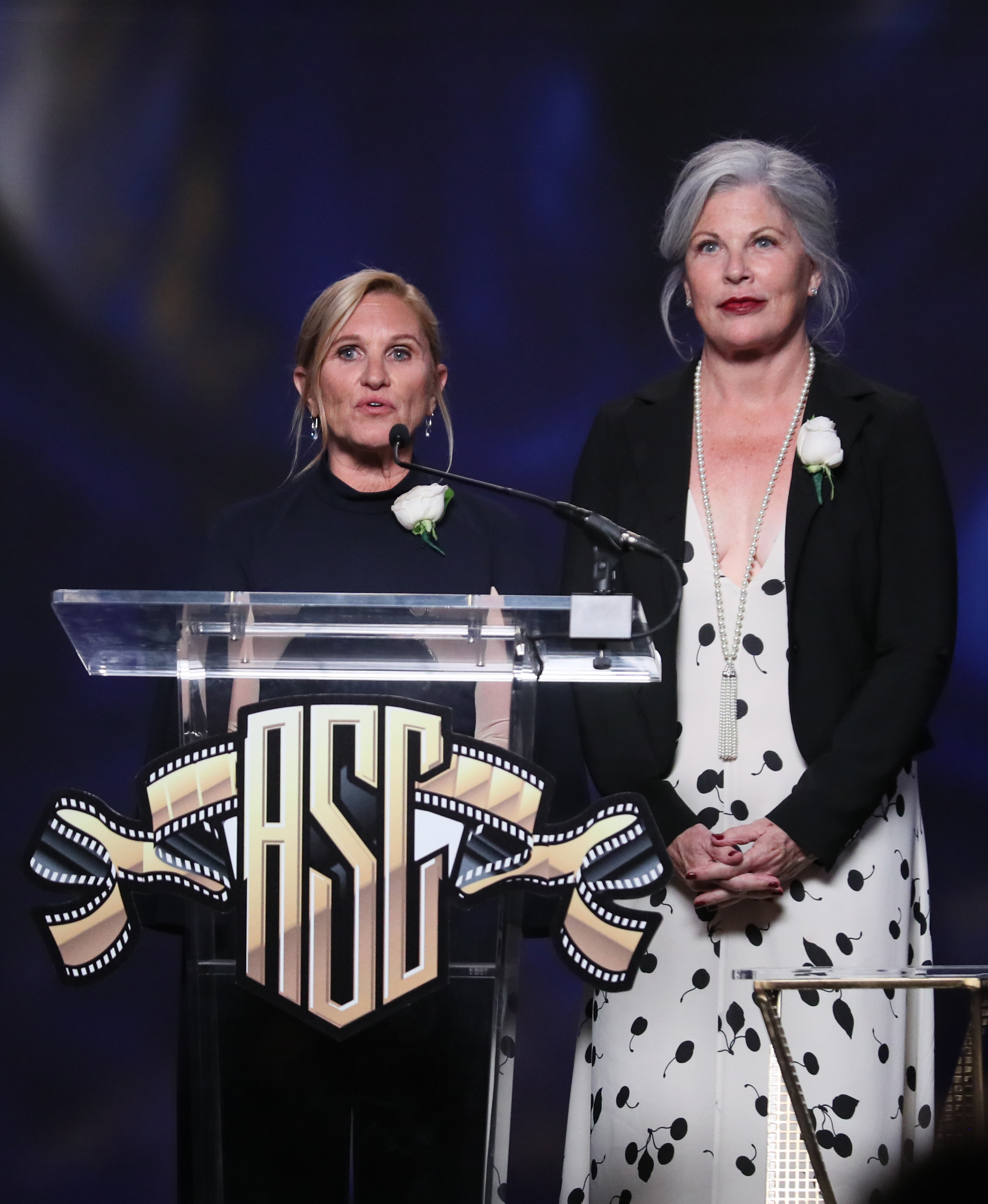 Next up was the ASC's Presidents Award, traditionally given to an ASC member who has demonstrated excellence in their artistry, but dedicated themselves to supporting the Society and cinematographers everywhere. This year's honoree was John Lindley, ASC. (You'll find this starting at 24:55 in the video above.)
Born in New York City, Lindley became fascinated with photography at an early age — inspired by Henri Cartier-Bresson — and later studied film at New York University. His extensive credits as a director of photography include such features as Field of Dreams, Sleeping with the Enemy, Father of the Bride, Sneakers and You've Got Mail, as well as such TV series as Castle Rock, Snowfall, Divorce, Manhattan and Your Honor. He made history in 1998 when he digitally mastered director Gary Ross's period fantasy Pleasantville, the first major Hollywood feature to go through what is known today as the digital intermediate (DI) process. He won an ASC Award for his camerawork on the series Manhattan (2015) and also earned ASC Award and Emmy nominations for the ABC series Pan Am (2011). He currently serves as national president of the International Cinematographers Guild, IATSE Local 600, where he led the union through challenging issues including the pandemic, safety on set, and Basic Agreement contract negotiations.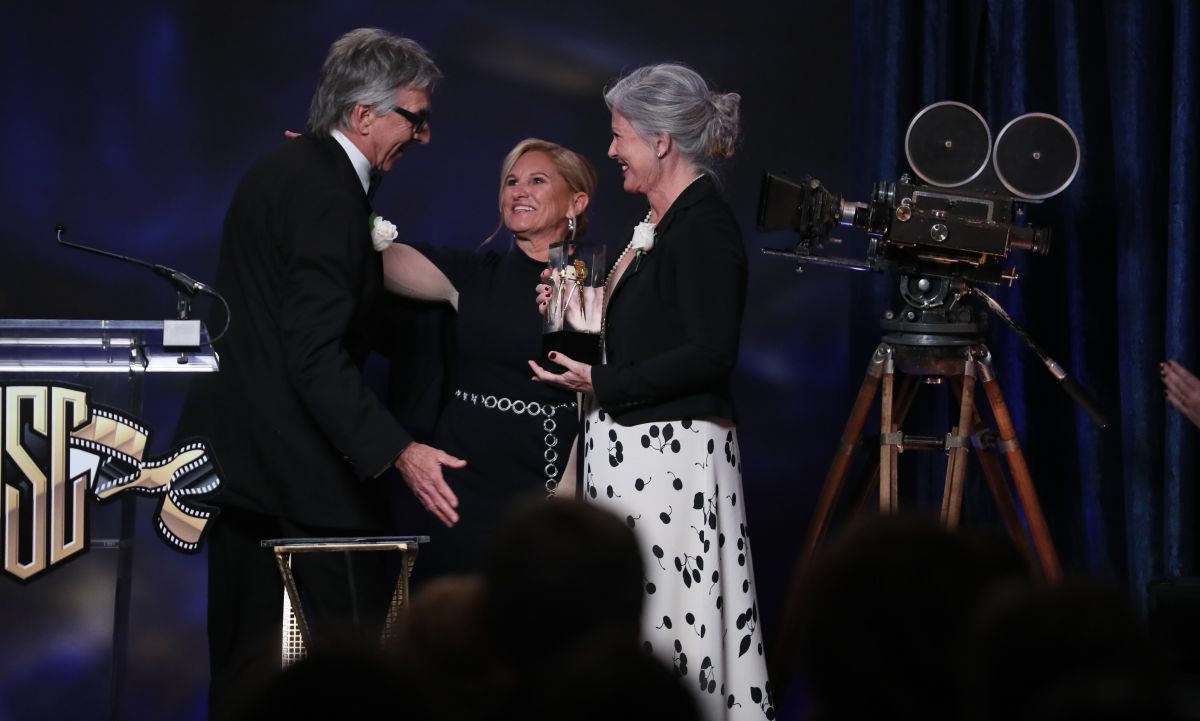 Lindley was welcomed to the stage by National Executive Director of the International Cinematographers Guild Rebecca Rhine and ASC Vice President Amy Vincent.
"[Lindley] has dedicated himself to the fight for safety on our sets, and to creating a more family-friendly industry," Vincent said. "Over 20 years ago, John's 2nd assistant, Brent Hirschman, was killed driving home from a 19-hour workday, and that changed the course of John's life. He felt responsible then and he still does now."
"For John, responsibility requires action," Rhine continued. "Despite the professional cost, he spent the next two decades advocating for safety on sets. He guided the Local through the two-year pandemic, six-month industry shutdown, the basic negotiations, and the tragic loss of [honorary ASC member] Halyna Hutchins. He is now leading the fight for a safety supervisor on every set. John did not choose the last two years; they chose him, and while leadership is hard to define — it is easy to identify."
Accepting the honor, Lindley noted, "When [ASC President] Stephen Lighthill called me to tell me that I would receive this award, I offered him a chance to change his mind. He declined and so I thank Stephen and the Board. I want to thank the sponsors who make the event possible and who support our work every day and in so many ways. And, of course, I thank my family who join me here tonight.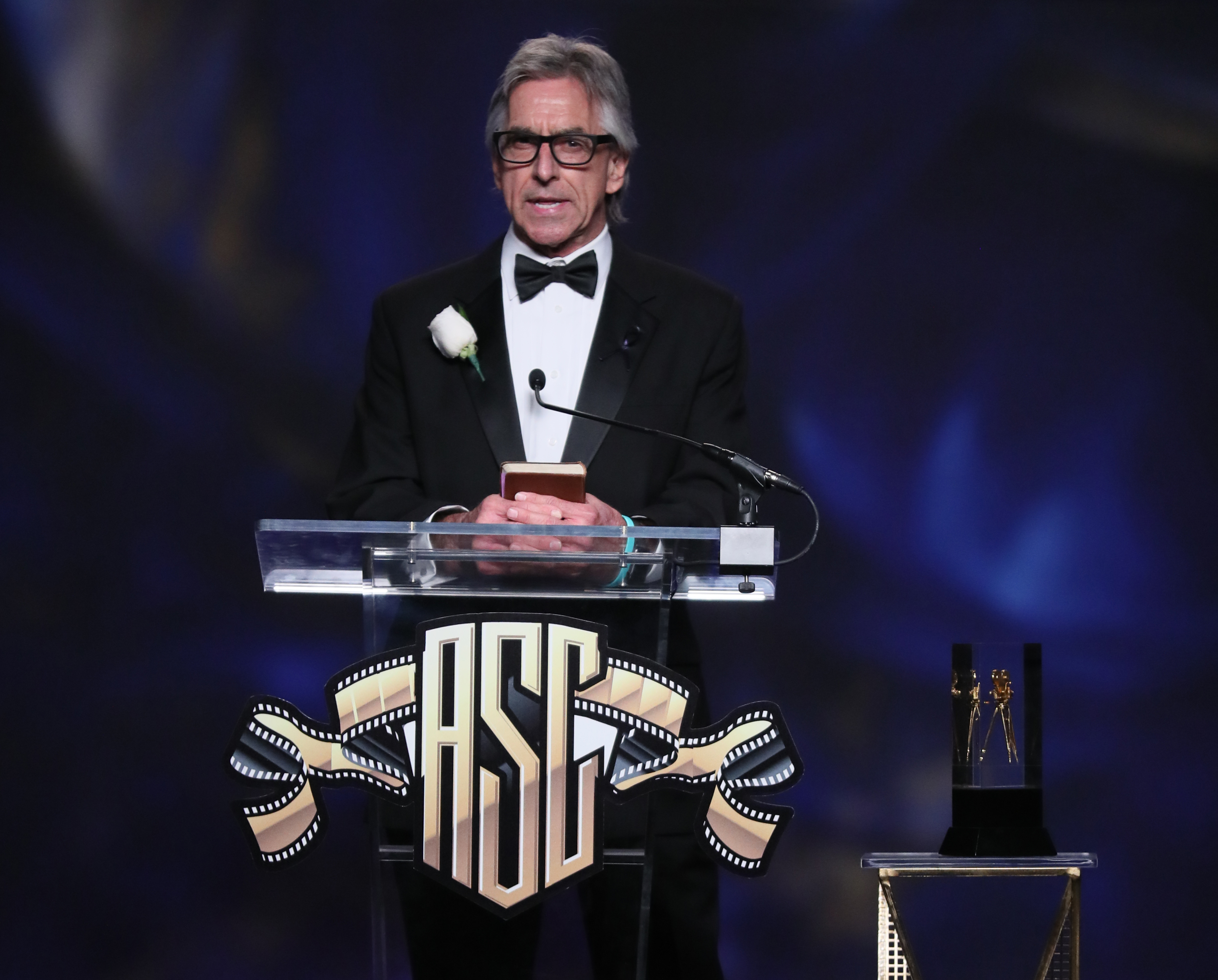 "The ASC isn't a building or prizes — it's a group of artists who for decades have pushed the technical and creative boundaries of the art and craft we are here to celebrate together tonight. As we watch our industry struggle to remain relevant, I am heartened to watch as the ASC expands its outreach and embraces the future.
"And the partnership between the ASC and Local 600 is a welcome evolution that allows us all to focus on art while protecting the health, safety and economic security of the colleagues who support our vision.
"The work of ASC members continues to amaze everyone, especially those of us who do it, and I won't keep you from it. I'm honored to be a member and humbled by this award. It has been a privilege for me to take pictures for a living and to work on behalf of all those who work so hard on my behalf. Thank you."
Lindley spoke to Jenkins on the red carpet: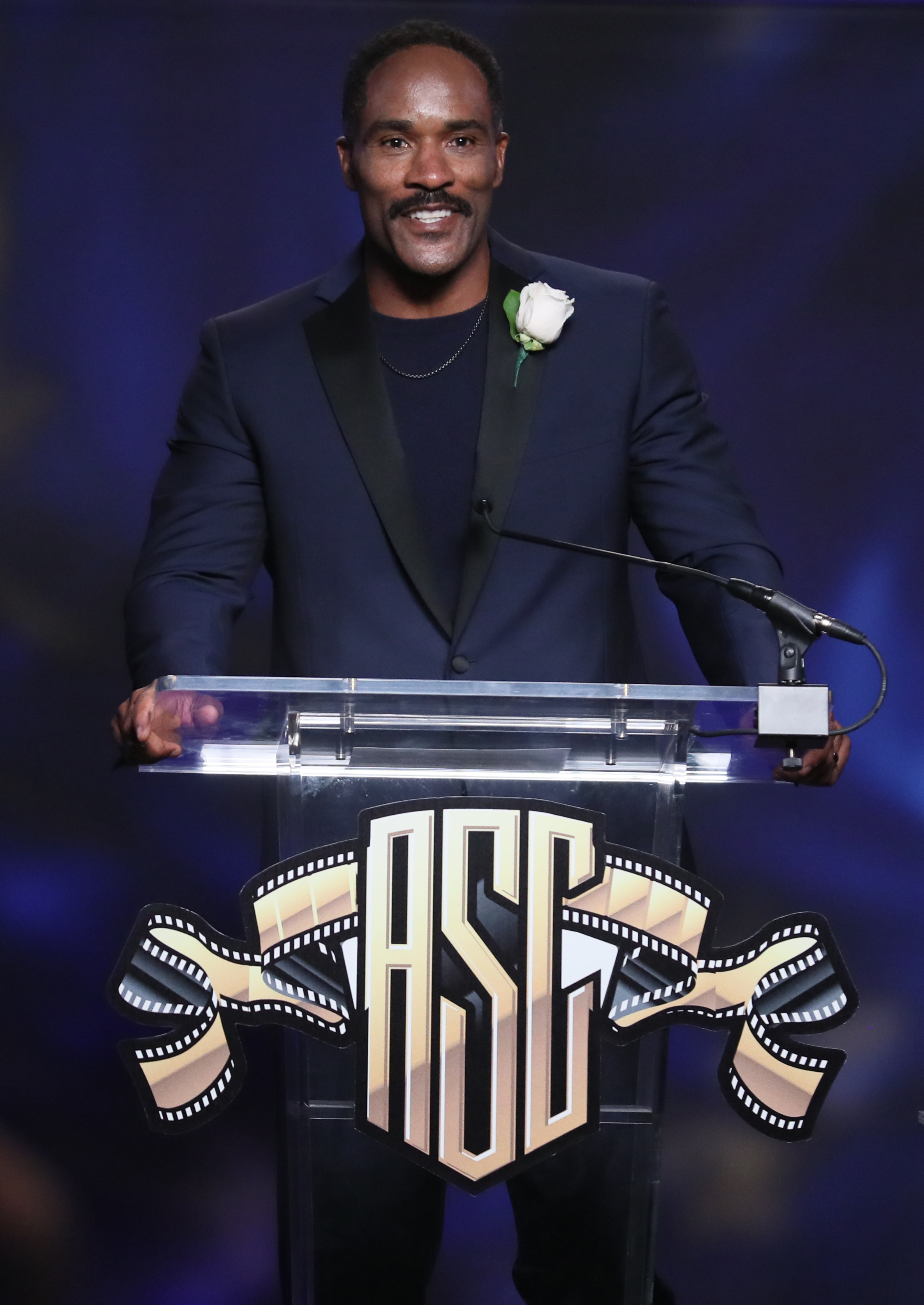 Actor LaMonica Garrett then introduced to present for Episode of a One-Hour Series Commercial Television, sponsored by Red Digital Cinema. (You'll find this starting at 36:23.) He noted, "I'm honored to present this ASC Award to one of these talented cinematographers who raise the bar for all of us."
Thomas Burstyn, CSC, NZSC for Snowpiercer, "Our Answer for Everything"
Tommy Maddox-Upshaw, ASC for Snowfall, "Weight"
Ronald Paul Richard for Riverdale, "Chapter Eighty-Nine: Reservoir Dogs"
Brendan Steacy, CSC for Clarice, "Silence is Purgatory"
David Stockton, ASC for Mayans M.C., "The Orneriness of Kings"
Gavin Struthers, ASC, BSC for Superman & Lois, "Heritage"
And the winner was Tommy Maddox-Upshaw.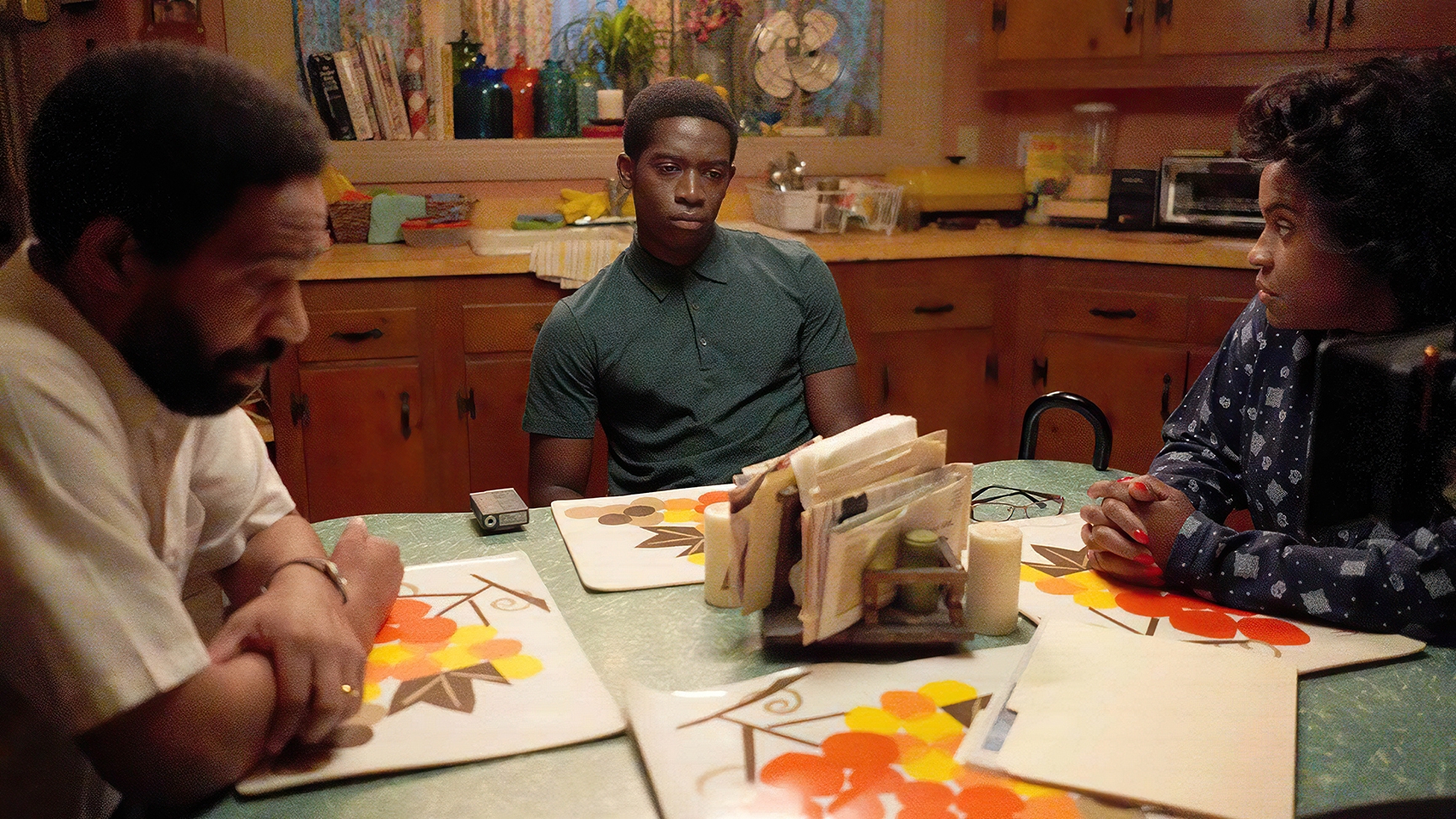 Hailing from Boston, he was schooled in the suburb of Newton. Since there was no film department at the College of the Holy Cross, he shot black-and-white stills and student video projects. At 18, he was hired as a PA and worked on sets in Boston and New York City. After gaining experience, he attended the American Film Institute and earned his MFA in cinematography. He then served as a gaffer, earning opportunities to work as a cinematographer. He shot the L.A. unit of the Michael Jackson documentary Bad 25, directed by Spike Lee, and VFX photography on A Star Is Born and second unit on Straight Outta Compton for Matthew Libatique, ASC.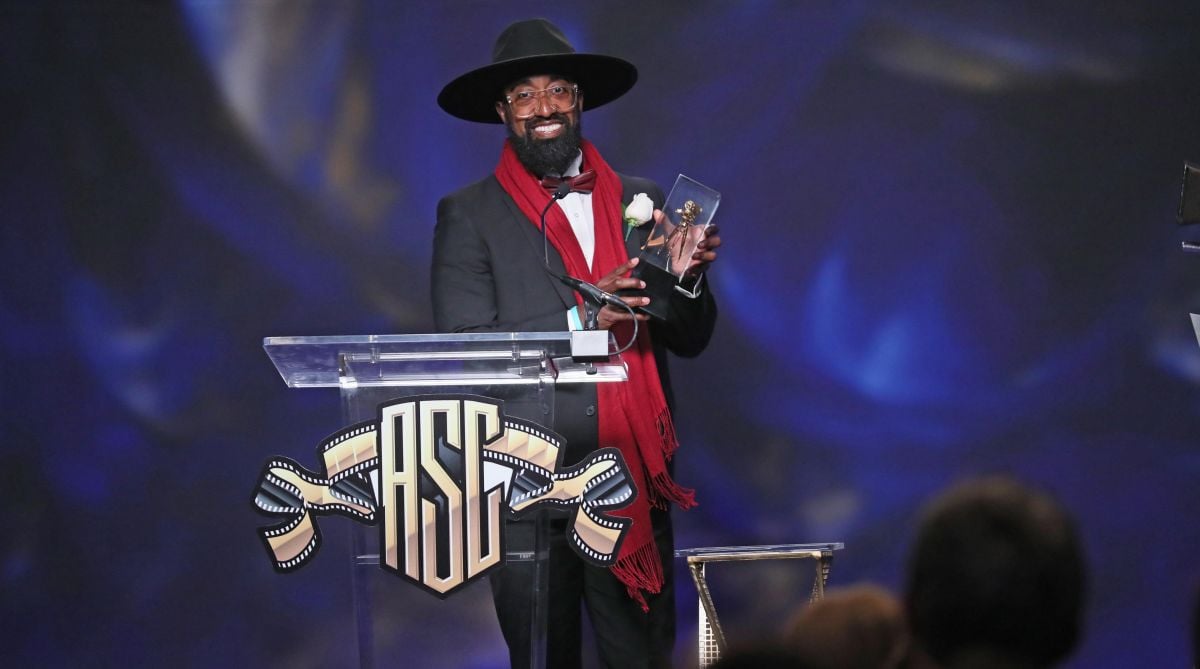 His feature credits include Kalushi: The Story of Solomon Mahlangu, Hello Beautiful: Interludes with John Legend, Hype Nation 3D, 48 Hours to Live and Fixed. His series credits include Empire, On My Block and Huge in France.
This was his first ASC Award nomination, and he spoke to Jenkins on the red carpet: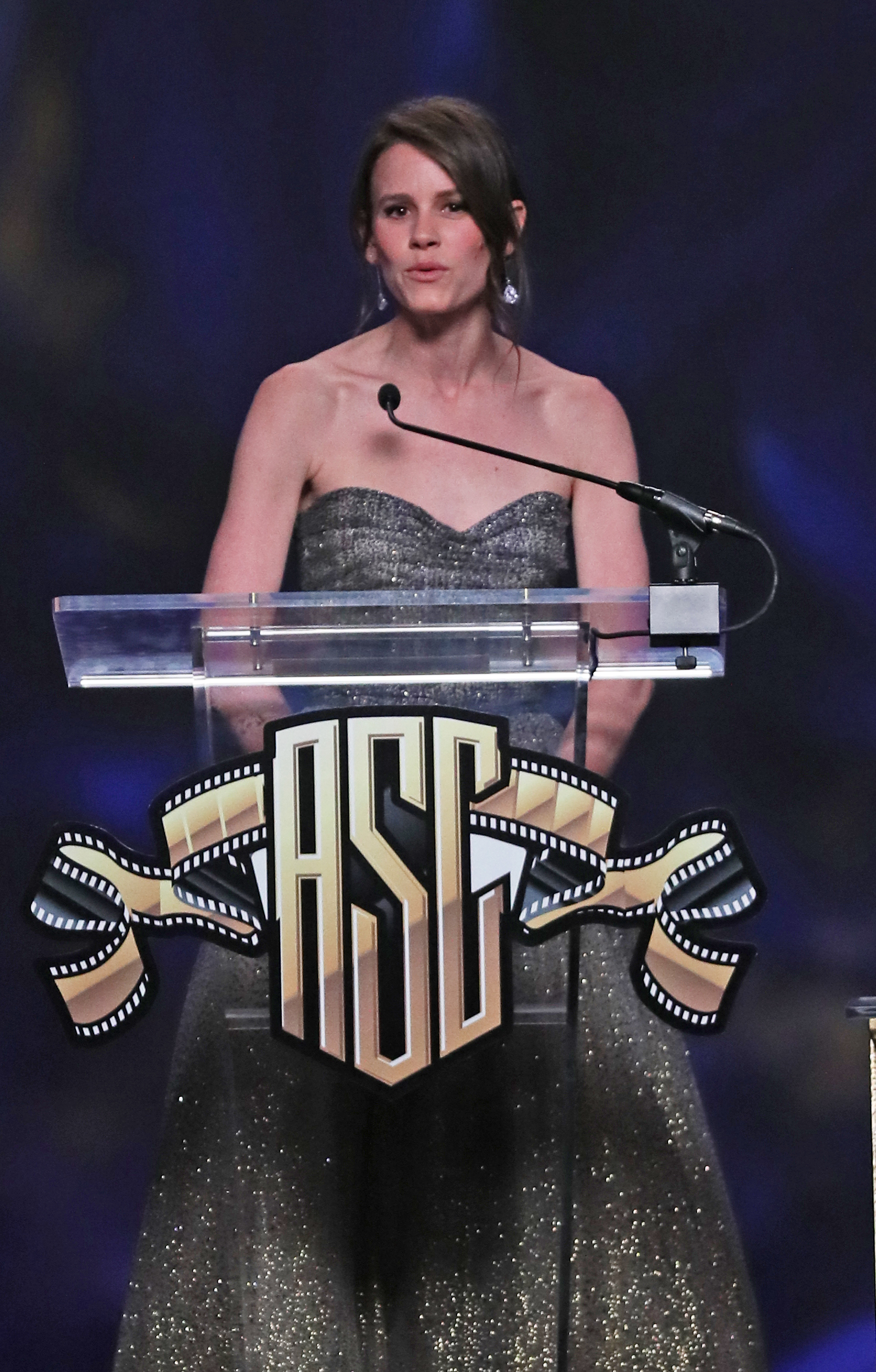 The next competitive category was for the Spotlight Award (starting at 52:46), a prize sponsored by Panavision and dedicated to bringing attention to smaller independent films. Actress Sosie Bacon introduced the category, noting "This year's nominees are an impressive group pushing boundaries while exploring the human condition in three unconventional yet memorable stories. A maddening and unforgiving union between human and car. A veteran jockey looks back on his career as his health deteriorates. And a truffle farmer in the Northwest searches for his beloved pig. Here are the nominees who brought these stories to life through the lens."
Ruben Impens, SBC for Titane
Pat Scola for Pig
Adolpho Veloso, ABC for Jockey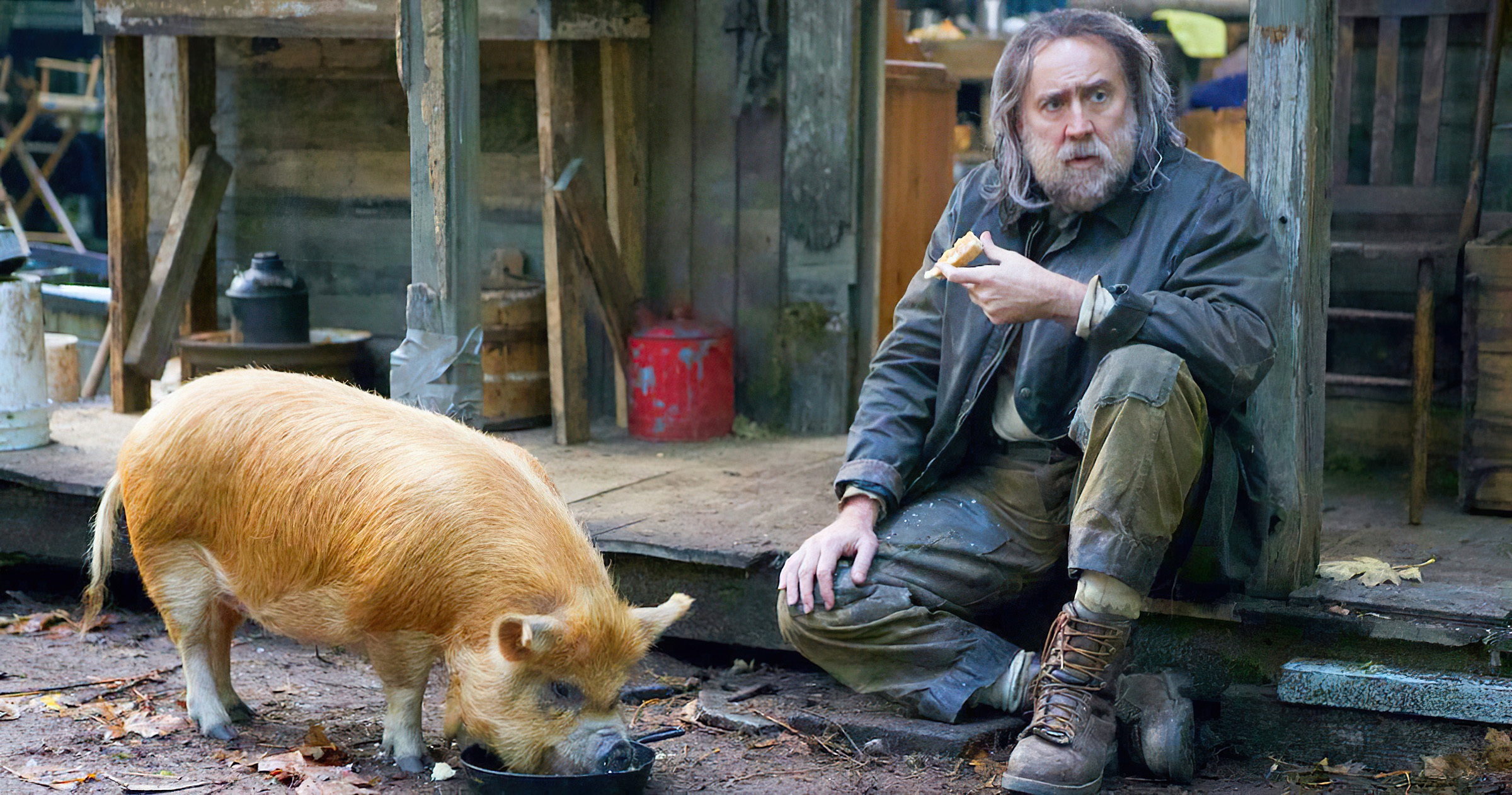 The winner was Pat Scola, who learned still photography in high school, transitioning into motion pictures after shooting his first short. He began his professional career shooting music videos for artists including The Weeknd, Alt J and Flying Lotus, and commercials for brands including Audi, Mercedes, Google and Samsung. His feature credits include Beautiful Now, Maya Dardel, Juggernaut and Monsters and Men. Written and directed by Michael Sarnoski, Pig, starring Nicholas Cage as an eccentric forager whose prize porcine truffle locator is stolen, was shot on location in Portland, Oregon.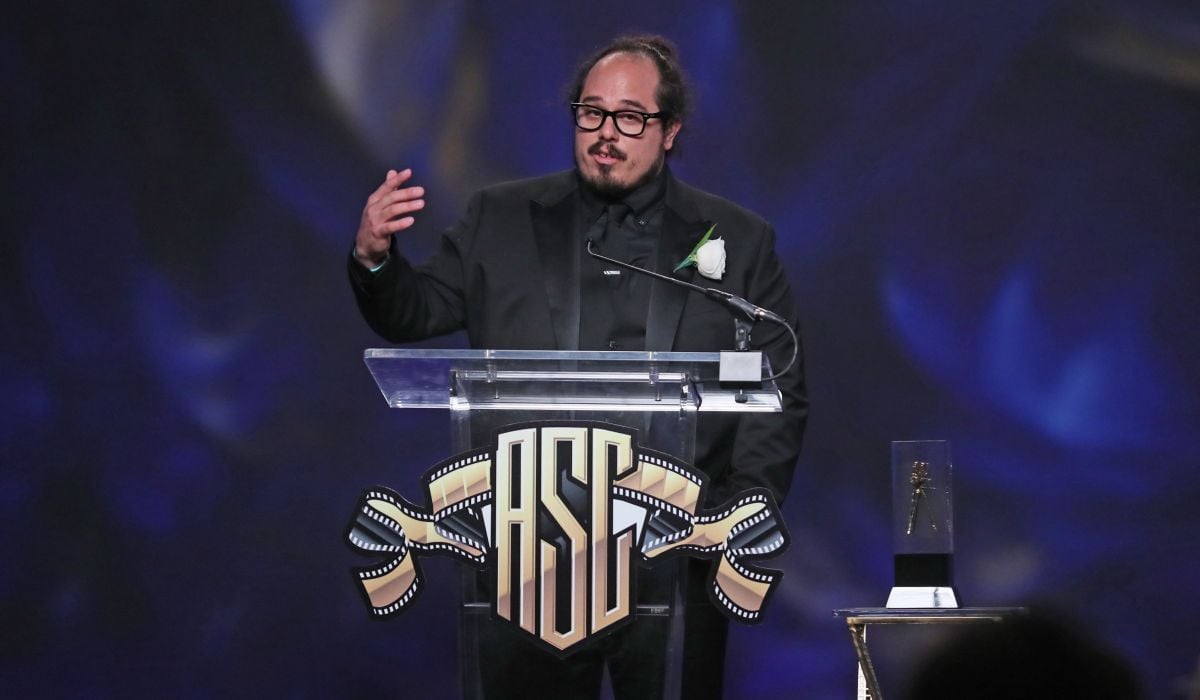 This was Scola's first ASC Award nomination and he spoke to Jenkins on the red carpet:
Next up was the inaugural Curtis Clark ASC Technology Award. Sponsored by Unreal Engine, it was designed to honor the creative professionals who work tirelessly to improve and progress the state of motion-picture technology (starting at 58:10). This new award is named for cinematographer Curtis Clark, ASC — Chair of the Society's Motion Imaging Technology Council (MITC) and himself much-honored for his own technological prowess.
Presenting this honor to Dan Sasaki was ASC associate member Jay Holben, who noted, "Dan joined the staff at Panavision at the age of 19. He was mentored by the legendary Tak Miyagishima and is at the forefront of Panavision's long history of creating custom optics for cinematographers. He is currently the Vice President of Optical Engineering, and during his 36-year tenure, he, more than any single contemporary individual I can think of in the lens world, has had an indelible and unparalleled influence on helping cinematographers realize their creative vision."
In collaboration with some of the most successful cinematographers and artists, Sasaki's groundbreaking work includes the creation of the AWZ2 anamorphic zoom lens, the T Series anamorphic lens system, and the redevelopment of the Ultra Panatar lenses.
Sasaki has spent more than three decades at Panavision evolving the craft and artistry of lens design. His work, which strikes a fine balance between art and science, is fueled by his curiosity and passion for the art of cinematography.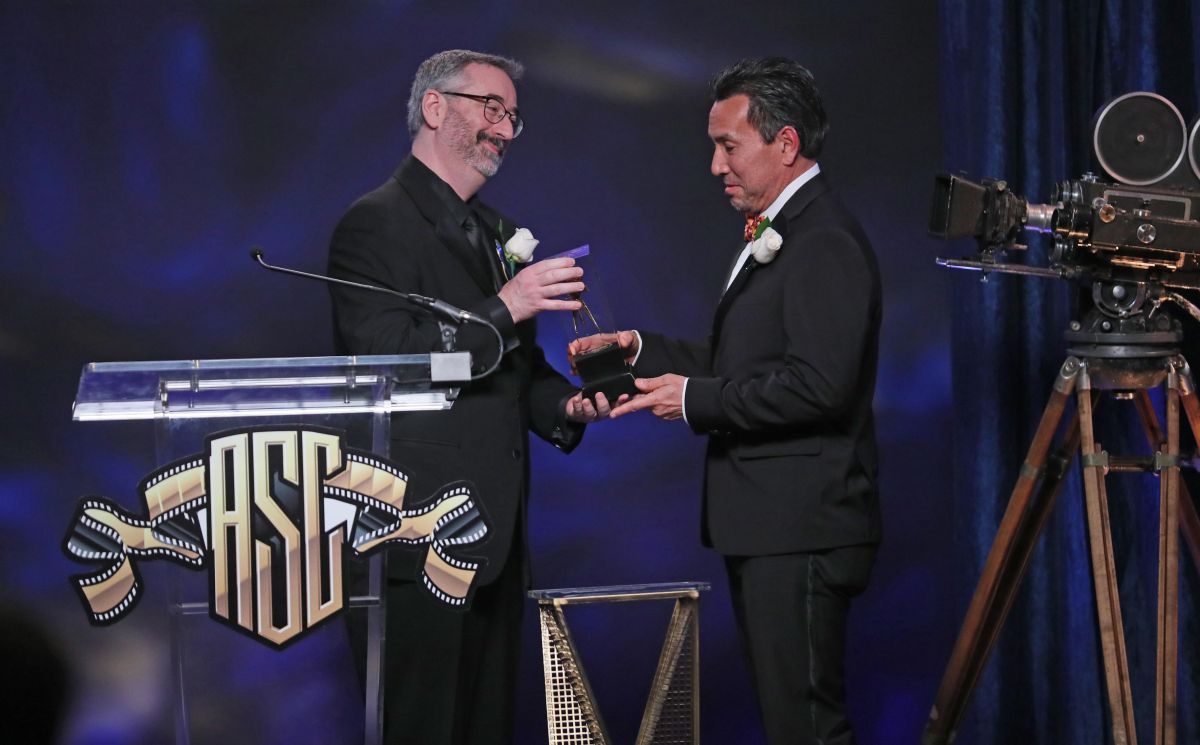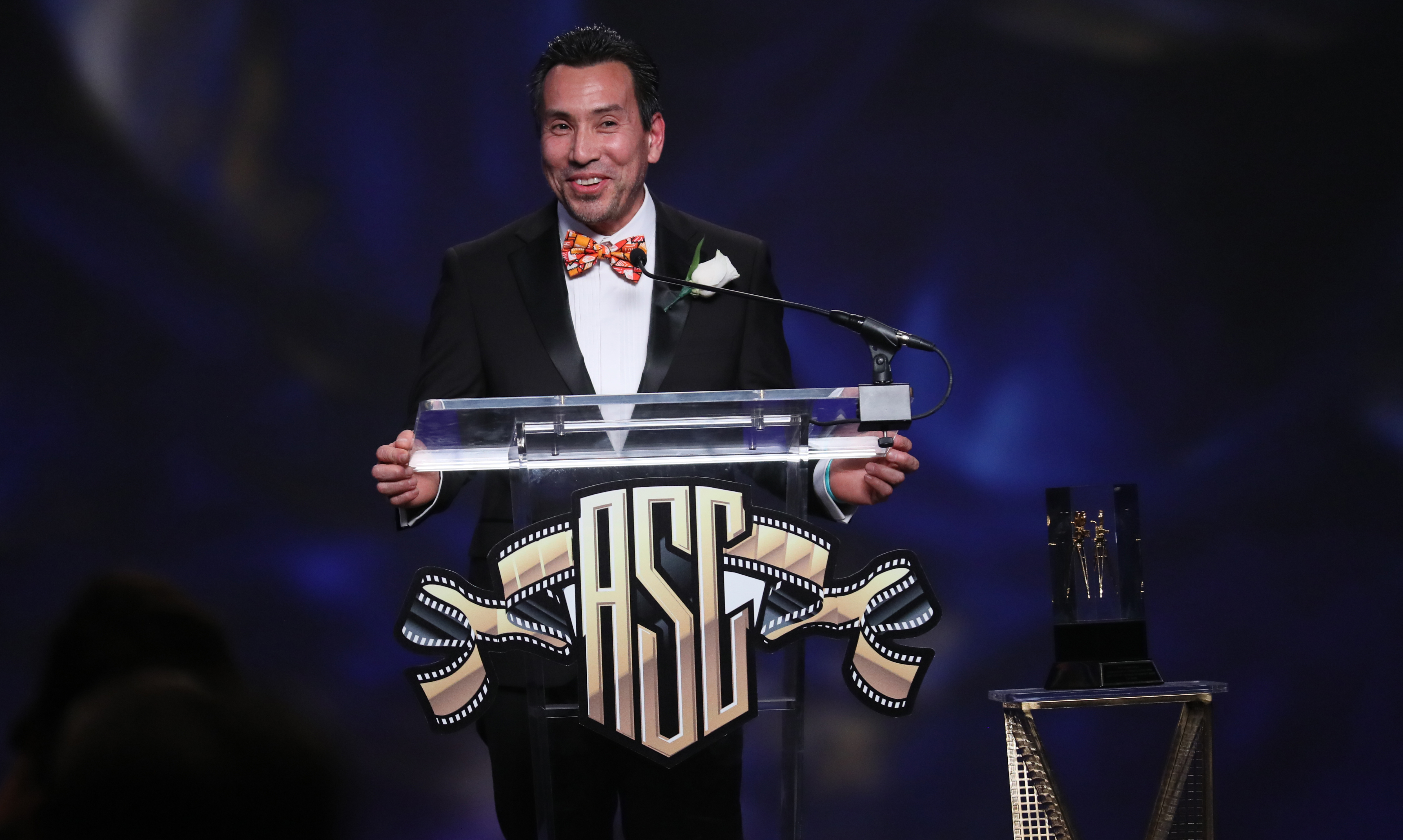 Based at Panavision's world headquarters in Woodland Hills, CA, he continues to evolve his craft to deliver filmmakers the widest available array of advanced motion-picture optics. Sasaki is an associate member of the ASC and received his degree in Applied Physics from California State University Long Beach.
"When [ASC President] Steven [Lighthill] called [to tell him about the award], I was in complete disbelief and to my dismay the gravity of the news brought out my immediate reaction that he had made a huge mistake and called the wrong person," Sasaki said. "Most of all, I must think all the cinematographers and crew members who have allowed me to join their circle of creativity and share their ideas. It is you that I credit my getting this award. As I have said dozens of times, I just create the paint. It is you that applies it to the canvas and creates an image that evokes imagination, draws out memories and emotions, and excites the motion-picture community to expand the art of lens design beyond linear design concepts."
Sasaki spoke to Jenkins on the red carpet:
Actor Morgan Cooper then presented the Episode of a One-Hour Series Non-Commercial Television Award (starting at 1:10:55), recalling, "When I was 18, I stood in a long line at Best Buy and got my first camera with the dream that one day I could become a cinematographer. I bet most of you have a similar moment when you first looked though a lens and realized the possibilities. I even took some ASC Master Classes, so to come full circle and be asked to give out an ASC Award in front of all these cinematographers who inspired me is humbling."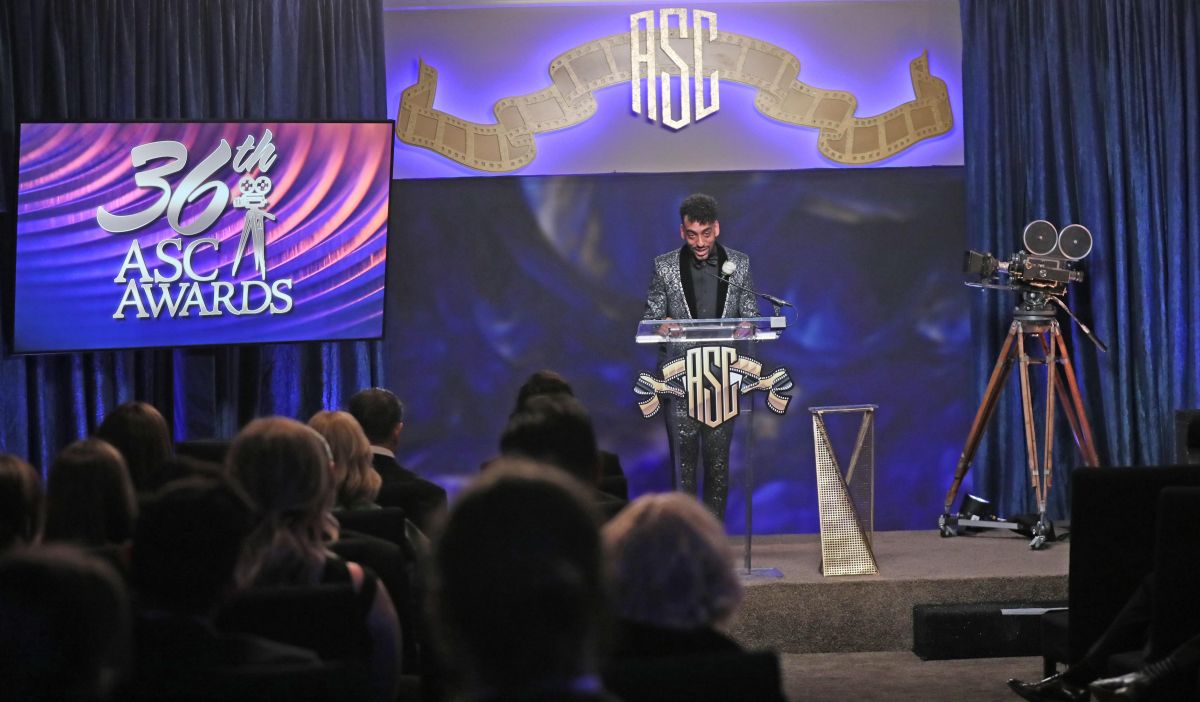 And the nominees in this category, sponsored by Panavision, were:
Stuart Biddlecombe for The Handmaid's Tale, "The Wilderness"
David Garbett for Sweet Tooth, "Big Man"
David Greene, ASC, CSC for Chaplewaite, "The Promised"
Jon Joffin, ASC for Titans, "Souls"
Boris Mojsovski, ASC, CSC for Titans, "Home"
Kate Reid, BSC for The Nevers, "Hanged"
The winner was Jon Joffin, ASC — who earned an ASC Award last year in this category for his work in Motherland: Fort Salem.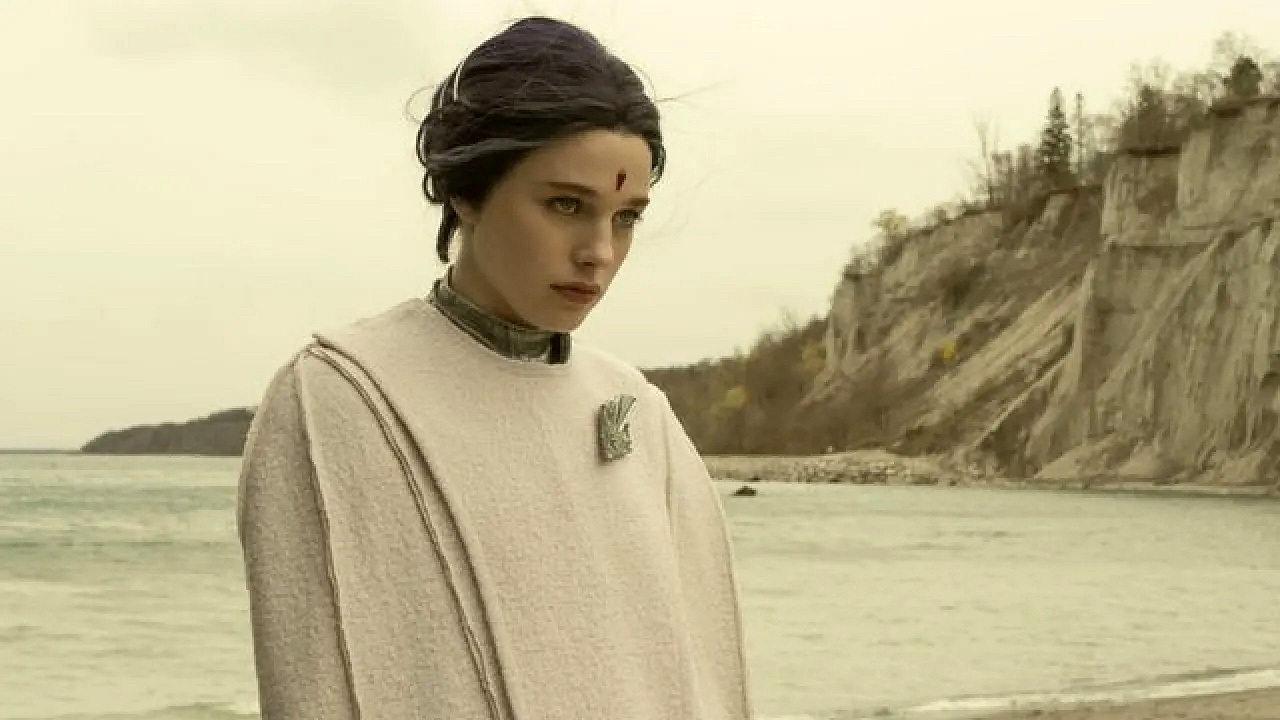 After studies at York University in Toronto, Joffin moved to Vancouver, gaining experience as a camera assistant and operator. After going out on a day call for The X-Files, he ended up shooting on second unit, and would stay on for 24 episodes, then shooting another 11 as director of photography. His longform TV credits include Five Desperate Hours, Aftershock: Earthquake in New York, A Wrinkle in Time, The Andromeda Strain (earning an ASC Award nomination) and Alice (another ASC nomination), as well as the series Masters of Horror, Crusoe, Beyond (winning an ASC Award), Rush and Aftermath.
Joffin later spoke to Jenkins on the red carpet:
The evening's next honoree to take the stage was cinematographer Peter Levy, ASC, ACS, to accept the Career Achievement in Television Award, as presented by his longtime colleague and friend, director Stephen Hopkins — with whom he has collaborated many times over the past four decades (starting at 1:20:50).
Born in Sydney, Australia, and starting out as a still photographer, Levy began his film career in 1969, working in documentaries. He eventually trained at the Australian Commonwealth Film Unit before segueing into the fields of commercials, music videos and narrative television. His music video credits include working with such artists as Michael Jackson, Mick Jagger, Pink Floyd, Little River Band and INXS. In 1983, he was admitted to the Australian Cinematographers Society and was later awarded Australian Cinematographer of the Year 1990/'91.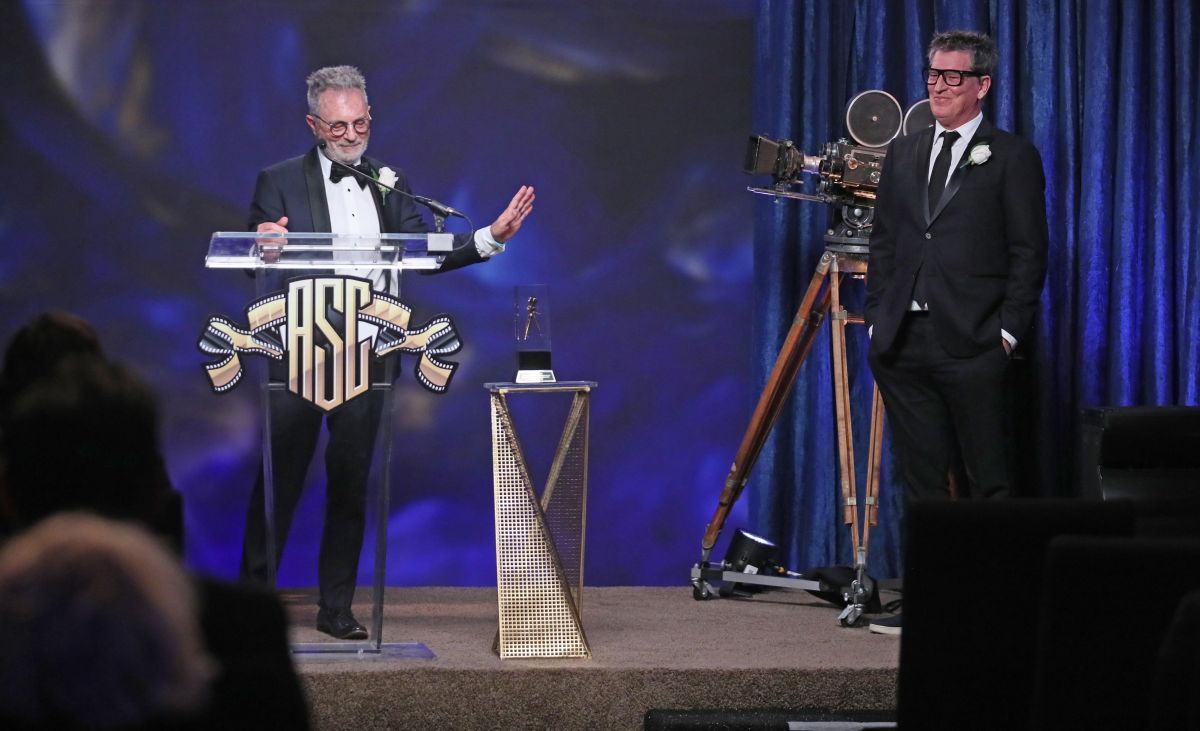 Levy relocated to Hollywood in 1988, where his U.S. career began by shooting the imaginative horror hit A Nightmare on Elm St. 5: The Dream Child, directed by Hopkins. The film was a success, but, more importantly, it extended a lasting creative collaboration between the director and cinematographer, who had worked together back in Australia on projects including the indie horror feature Dangerous Game. The duo would follow with the features Predator 2, Lost in Space, Judgement Night, Under Suspicion, The Reaping, Blown Away and Race.
In addition to scores of music videos and commercials, their significant television together work includes the pilots for 24, Californication (with Levy earning an Emmy for Outstanding Cinematography), The Unusuals, Fugitive, The Dark Tower, four seasons of House of Lies and the bio pic The Life and Death of Peter Sellers (earning Levy a second Emmy).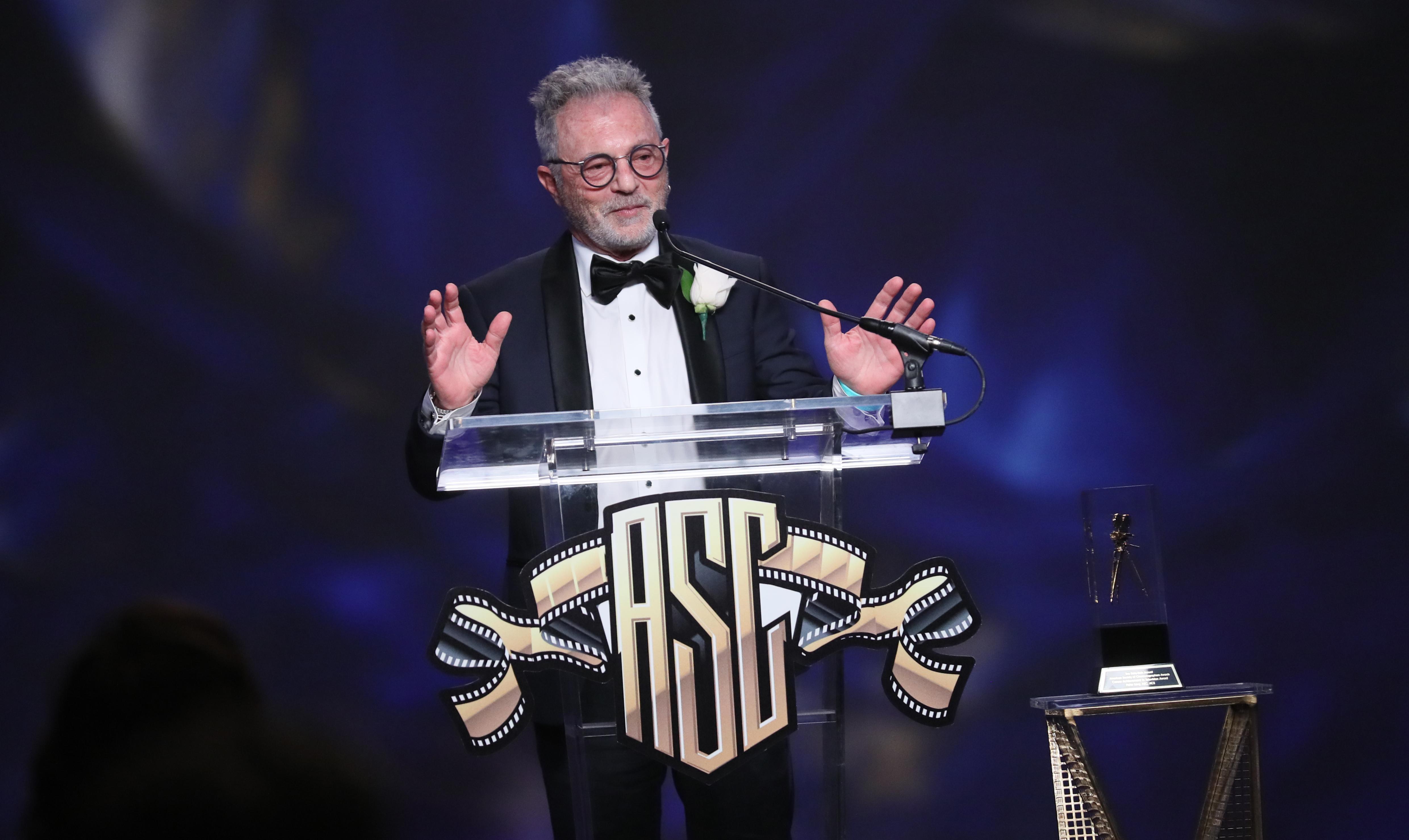 The new series Liaison is the 20th narrative project Hopkins and Levy have undertaken in their 38-year collaboration.
Levy also worked with such feature directors as John Woo (Broken Arrow), Renny Harlin (Cutthroat Island) Russell Mulcahy (Ricochet) Todd Robinson (Lonely Hearts), Emilio Estevez (The War at Home) and Joseph Kahn (Torque). His television career has also included pilots for Without a Trace, Reckless and Clubhouse, as well as episodes of Homeland, McGyver and Justified.
Levy was invited to join the ASC in 1999 and has earned four ASC Award nominations: one for the pilot episode of 24, one for the telefilm The Life and Death of Peter Sellers, and two for the series House of Lies.
"When thinking about my speech tonight," Hopkins began, "I realized that as I've known and been working with Peter for 38 years, I take for granted what a special and passionate artist he is — because as we've evolved together as filmmakers and friends, we very rarely say anything complimentary about one another, at least to each other's faces.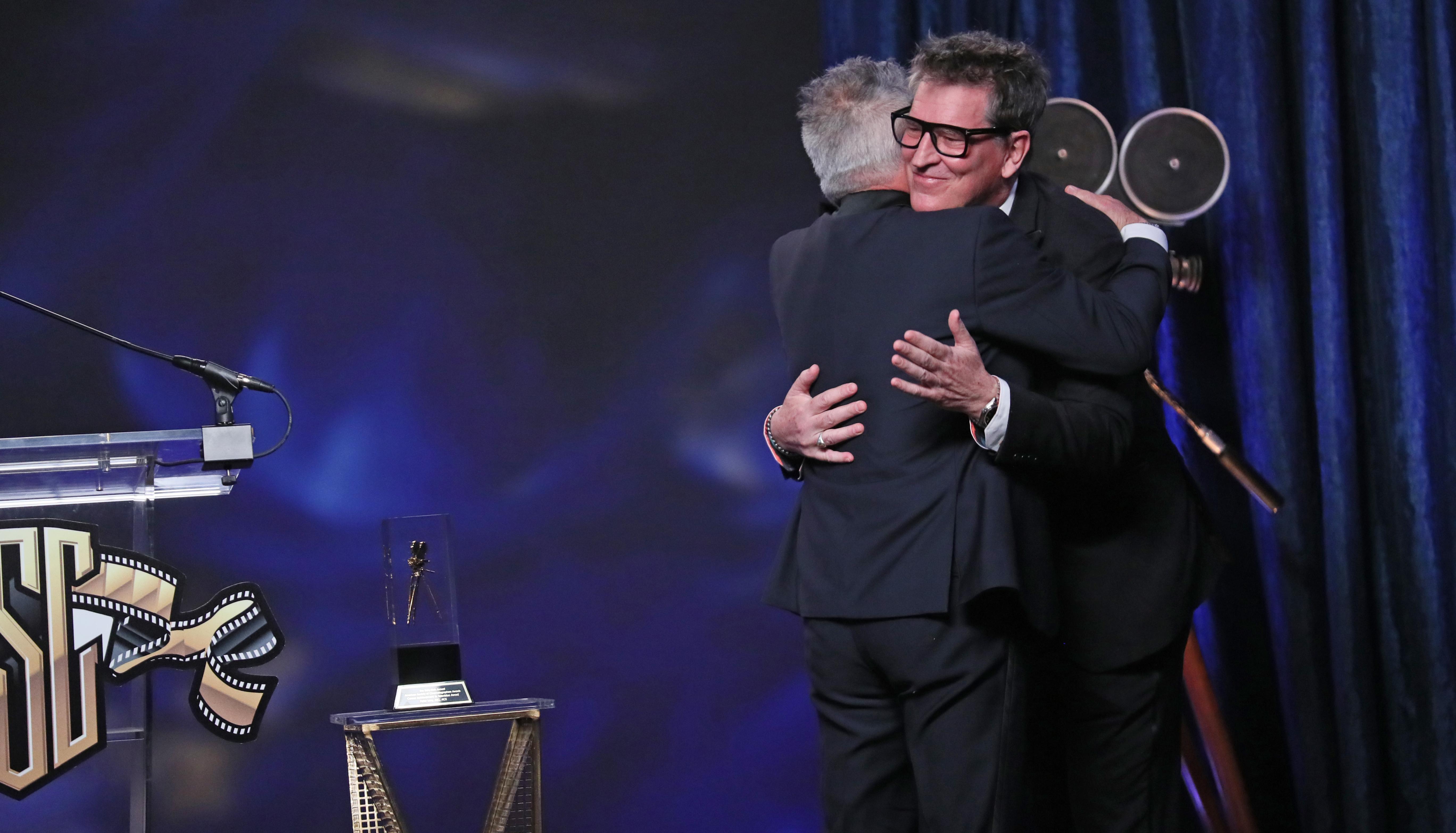 "There's a strange and wonderful mix of historian and scientist beneath Peter's approach to his art, but when I think of all the different genres we've experimented with for the cinema and television, very few of them have been traditional or old-fashioned — in television certainly not."
Levy, clearly moved by the honor, said, "To the ASC, the Board of Governors and my esteemed colleagues — thank you for this remarkable recognition. And thank you Stephen for your kind words. I thought being asked to join the ASC in 1999 was the highlight of my career but this honor exceeds my wildest dreams."
Levy also spoke to Jenkins on the red carpet:
ASC President Stephen Lighthill then took to the stage (see 1:33:16), stating to the audience, "Thank you for being here with us! We are here tonight to honor this past year's great achievements in cinematography. We are also celebrating being together again after a two- year hiatus. Welcome home.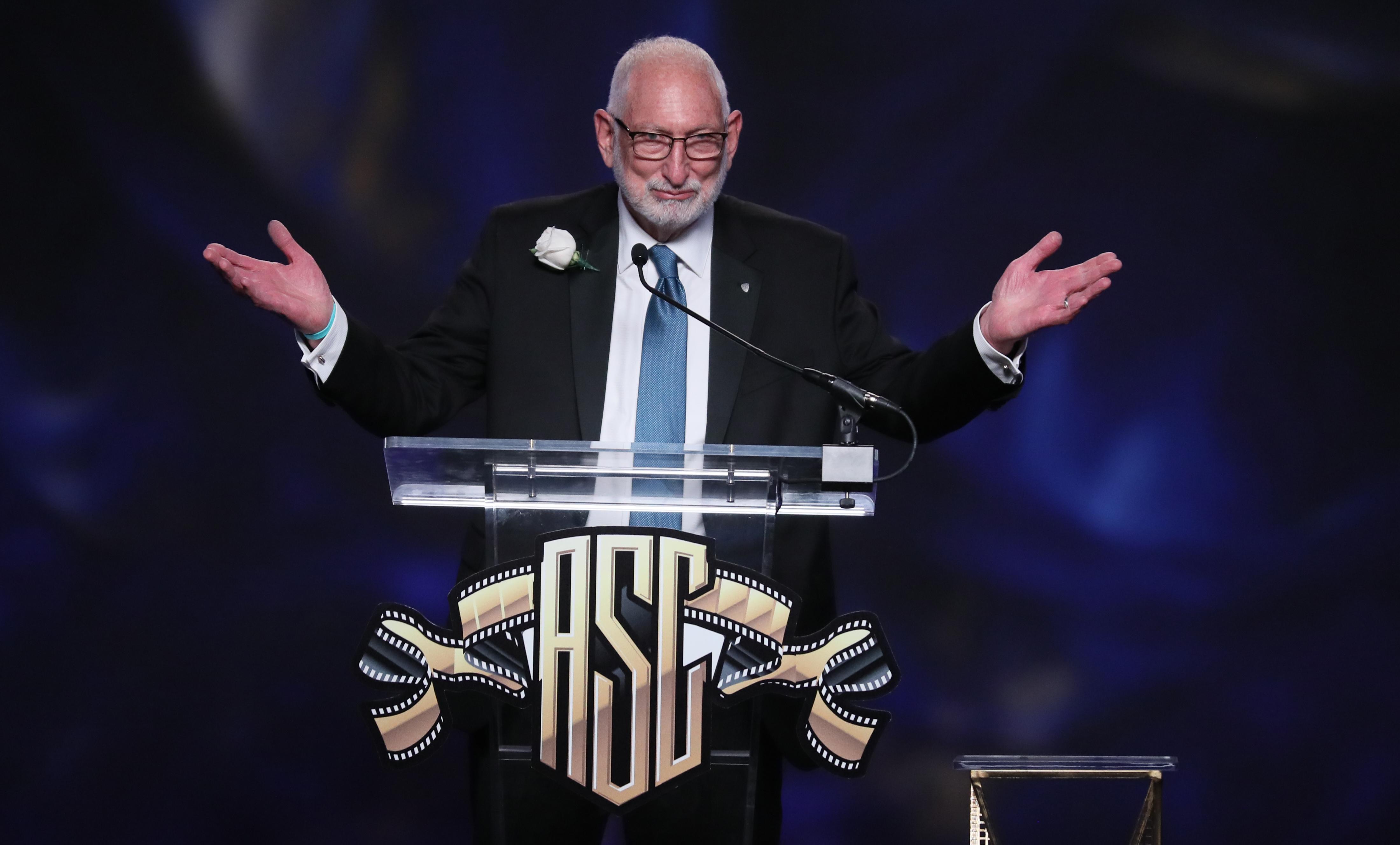 "As President of the Board of Governors, I can report that the ASC is on mission. In the last year, we have revitalized publications, continued the work of the technology committee with StEM2 and other initiatives, and continued our educational events, now moving back from online to in-person. Tonight is our annual community event, and each of you here has contributed to the advancement of visual storytelling as artists, educators, manufacturers, inventors, and rental and facility providers. As our business is changing, you are all participants and explorers, evolving together as the business takes storytelling to new places. The ASC thanks all of you for being partners with us in this moment."
Lighthill then introduced the show's In Memoriam reel, honoring recently departed members of the ASC: Jack C. Couffer, George Spiro Dibie, Willy Kurant and William Taylor, honorary member Halyna Hutchins and associate member Joseph N. Tawil.
Following this, Larry Sher and Delphine Figueras made a surprise presentation of the Bud Stone Award of Distinction to technologist and ASC associate member Rob Hummel (see 1:40:00), who recently completed co-authoring the latest edition of the American Cinematographer Manual with M. David Mullen, ASC. The honor celebrates a Society associate who has performed exemplary services to the motion-picture community and the ASC.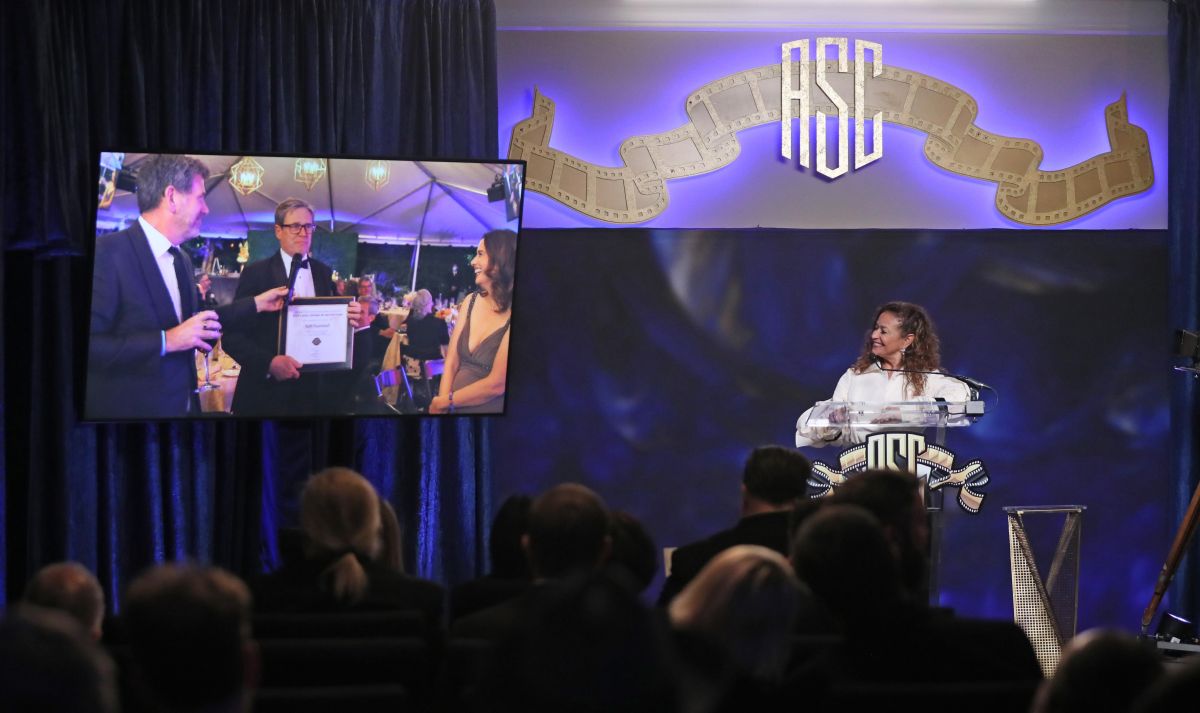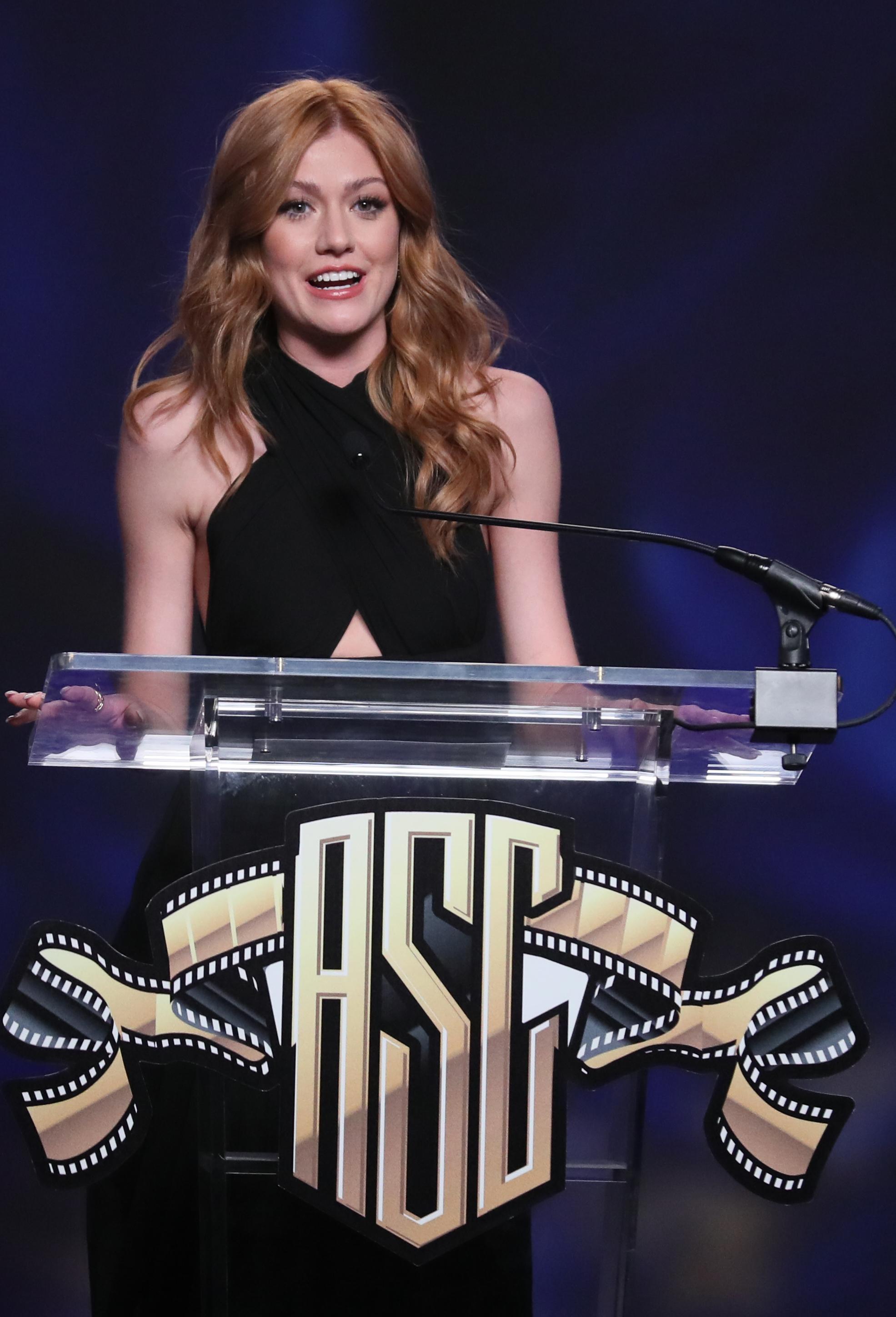 Actress Katherine McNamara then presented the award for Motion Picture, Limited Series, or Pilot Made for Television (starting at 1:44:55), with the category sponsored by ARRI. "Even now looking back it's hard to believe we lived through a time with only one streaming service," she joked. "It was like the Dark Ages. And remember when the only thing you could binge watch was Law & Order on TNT? How did we survive?"
And the nominees were:
Steve Annis for Foundation, "The Emperor's Peace"
Tim Ives, ASC for Halston, "The Party's Over"
James Laxton, ASC for The Underground Railroad, "Chapter 9: Indiana Winter"
Christophe Nuyens, SBC for Lupin, "Chapter 1"
Ben Richardson, ASC for Mare of Easttown, "Illusions"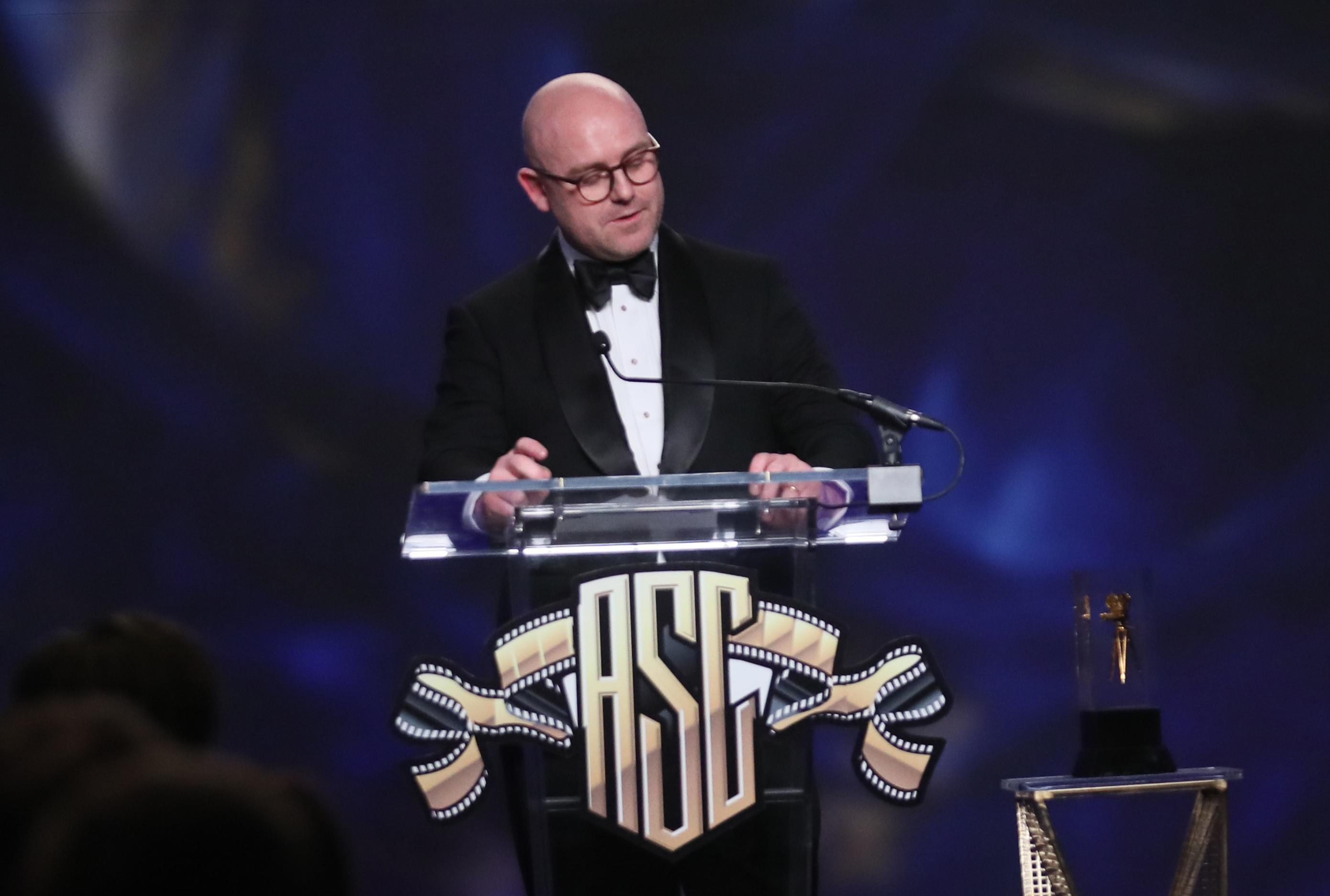 The winner was James Laxton, ASC, who was born in San Francisco and has a BFA from Florida State University. He is best known for his work in director Barry Jenkins' Moonlight, for which he earned an Academy Award nomination. His camerawork in the Best Picture-winning feature also received an ASC Award nomination, among many other honors. Laxton re-teamed with Jenkins for If Beale Street Could Talk, based on the novel by James Baldwin. Laxton's earlier work includes Tusk, Camp X-Ray, Medicine for Melancholy (also directed by Jenkins) and California Solo.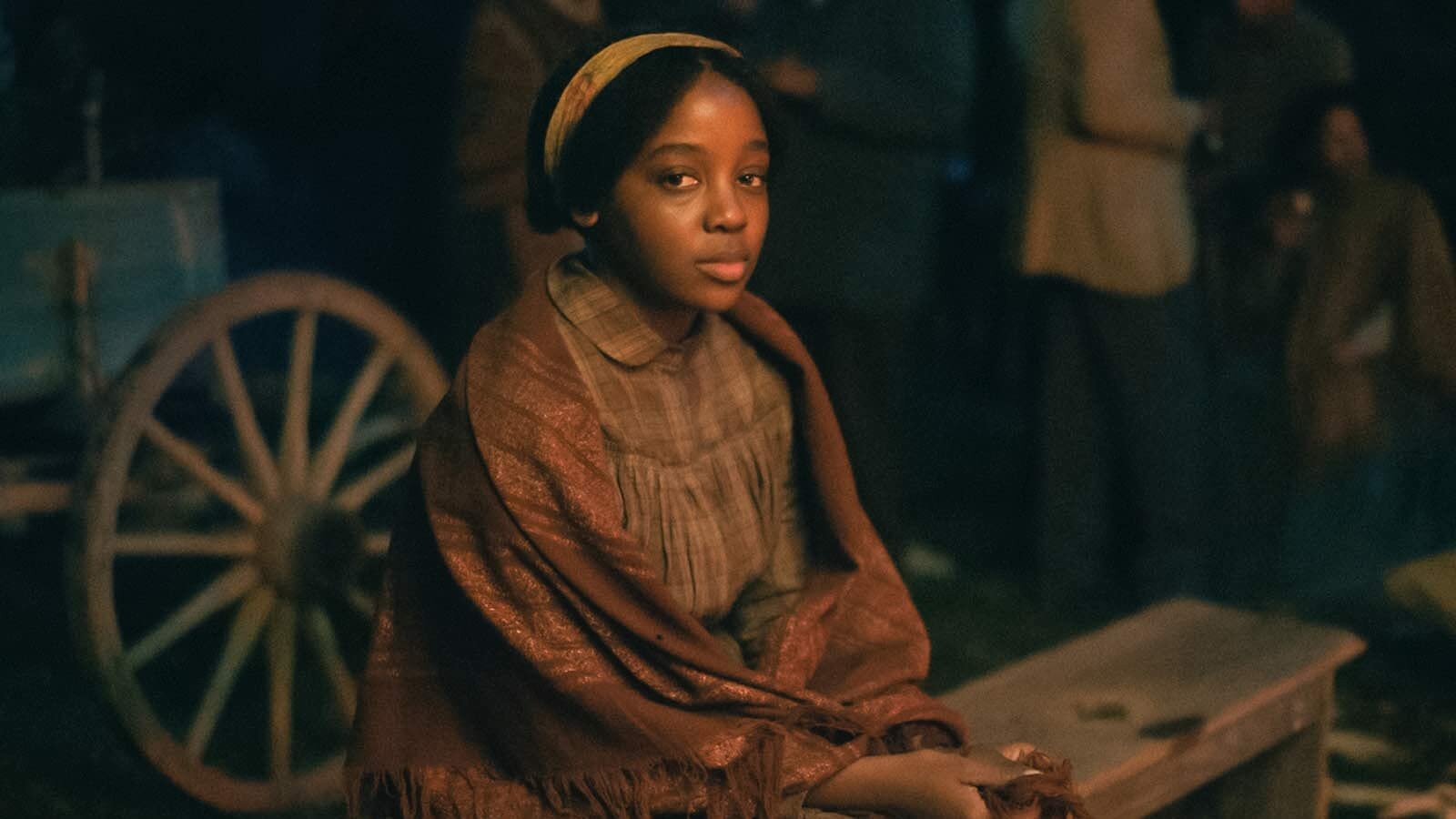 The cinematographer later spoke to Jenkins on the red carpet: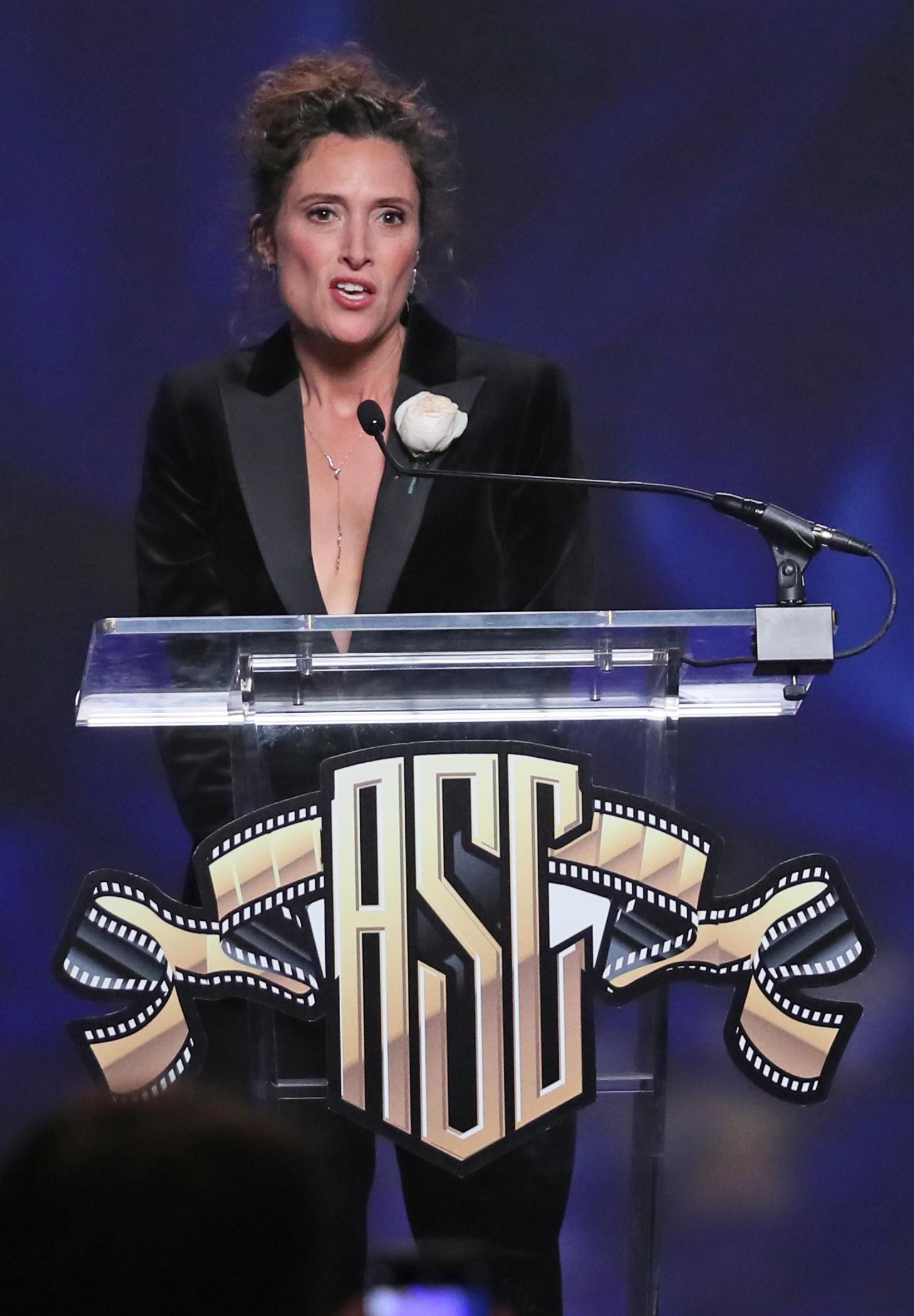 Then came one of the most anticipated presentations of the night, with Rachael Morrison, ASC taking the stage to introduce Lifetime Achievement Award honoree Ellen Kuras, ASC (starting at 1:52:10). But before she began her own speech, Morrison first introduced another participant in the celebration: director Martin Scorsese, appearing in a pre-recorded clip.
The veteran filmmaker spoke with fondness, admiration, and pride about his experience in collaborating with Kuras on a variety of projects, the audience hanging on his every word. Once it was finished, Morrison joked, "Great, now I get to follow Martin fucking Scorsese."
But she was more than up to the task, warmly describing her friend and mentor: "[Ellen] has achieved more than a lifetime's worth of cinematic compositions, unflinching emotion, and unforgettable storytelling. Ever the slacker, Ellen earned a double degree in anthropology and semiotics from Brown University. This might not sound like a path to cinematography but one look at Ellen's work, and it all makes perfect sense. Anthropology is the study of human behavior, or of humanity if you will. Semiotics is the study of signs, symbols and of how meaning is communicated both with and without words. Humanity and the communication of meaning. Sound like a certain art form we all know and love? Seems clear that from the outset, Ellen was destined to excel."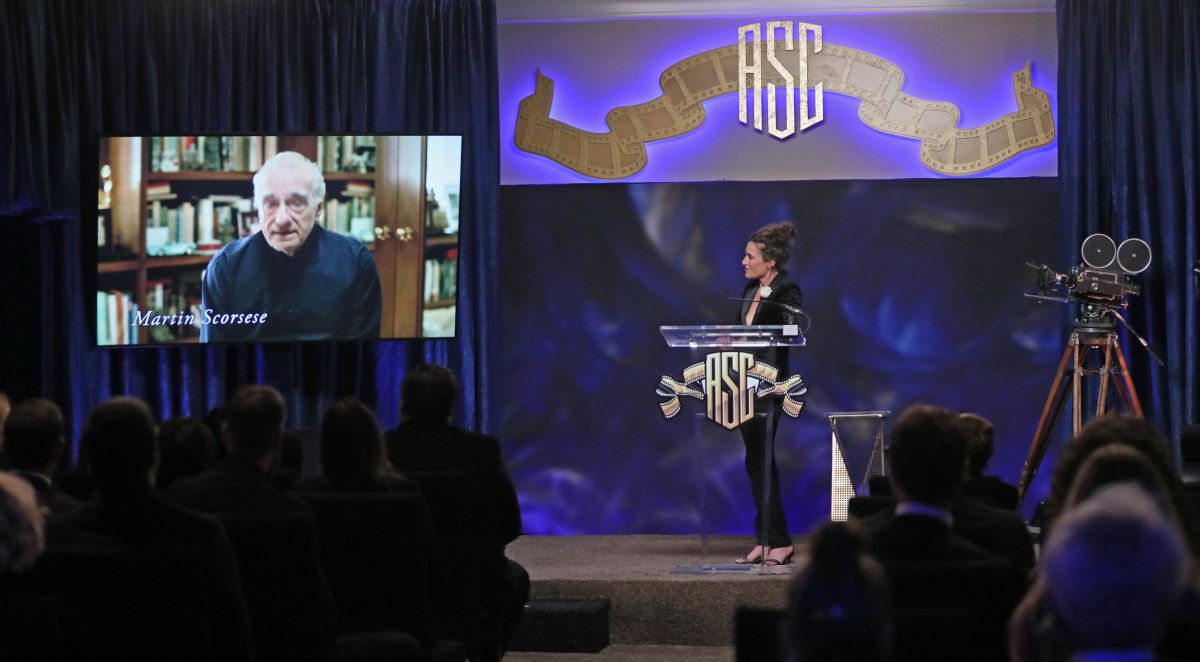 An Academy Award nominee and two-time Primetime Emmy winner, Kuras' eclectic and visionary body of work includes feature narrative, nonfiction films, music films and commercials in both the independent and studio worlds. She is a pioneer best known for her visually stunning work on the features Eternal Sunshine of The Spotless Mind and Blow. On her first film as a cinematographer, the documentary Samsara: Death and Rebirth in Cambodia, she won a Student Academy Award, and on her first dramatic film, Swoon, she won the Best Dramatic Cinematography Award at the Sundance Film Festival. She is still the unprecedented three-time winner of this honor, and has been nominated numerous times for Emmys and Film Independent Spirit Awards for her camerawork.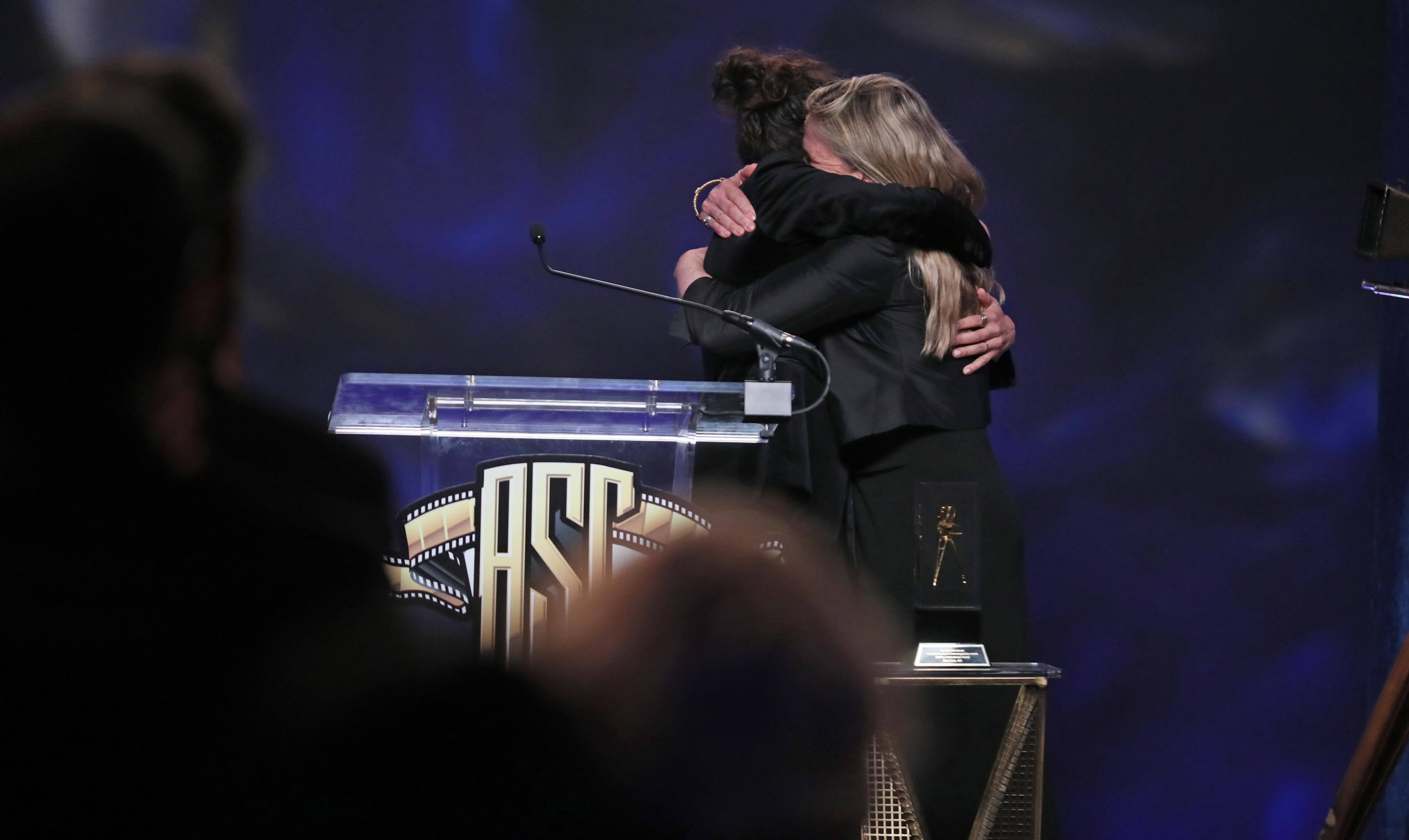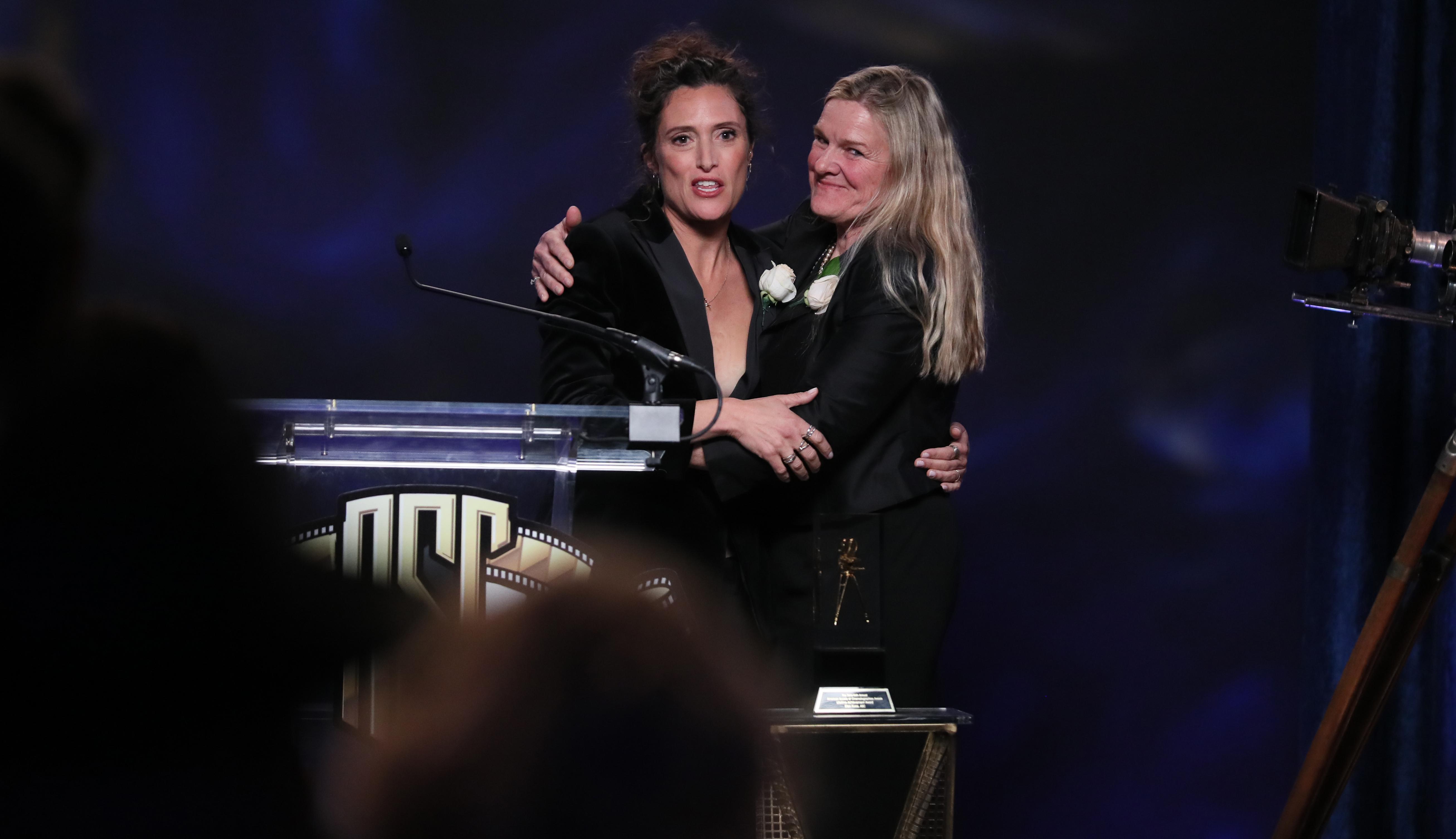 The directors she collaborates with not only includes Scorsese, but Spike Lee, Sam Mendes, Michel Gondry, Jonathan Demme, Rebecca Miller and Jim Jarmusch.
A director herself, Kuras has been nominated for an Academy Award and a Spirit Award, and won a Primetime Emmy on her directorial debut film, The Betrayal - Nerakhoon (2008). She then went on to direct second unit on the HBO series Vinyl and The Night Of, followed by Ozark and Umbrella Academy for Netflix. In 2018, she was invited by George Clooney to direct two of the six episodes on The Anonymous/Paramount limited series Catch-22. Her latest projects include a Shondaland Netflix series, the Amazon series The Terminal List (starring Chris Pratt), and Extrapolations (with Edward Norton).
Finding time to work on passion projects, Kuras worked with Scorsese to shoot Pretend It's a City and then filmed American Utopia with Lee and David Byrne.
Her work is in the permanent collection at MOMA and other museums, and she has also been honored in special artist retrospectives, including shows at the Wexner Center for the Arts and the Walker Art Center. She has served as a grand jury member for various films festivals, including Sundance, and on the international jury of the Berlin Film Festival. A member of the Academy since 1997, Kuras was the fifth woman to be invited into the ASC, in 1999.
She is currently in prep to direct Lee, a film about model-turned-war photographer Lee Miller starring Kate Winslet, Jude Law, Josh O'Connor and Marion Cotillard.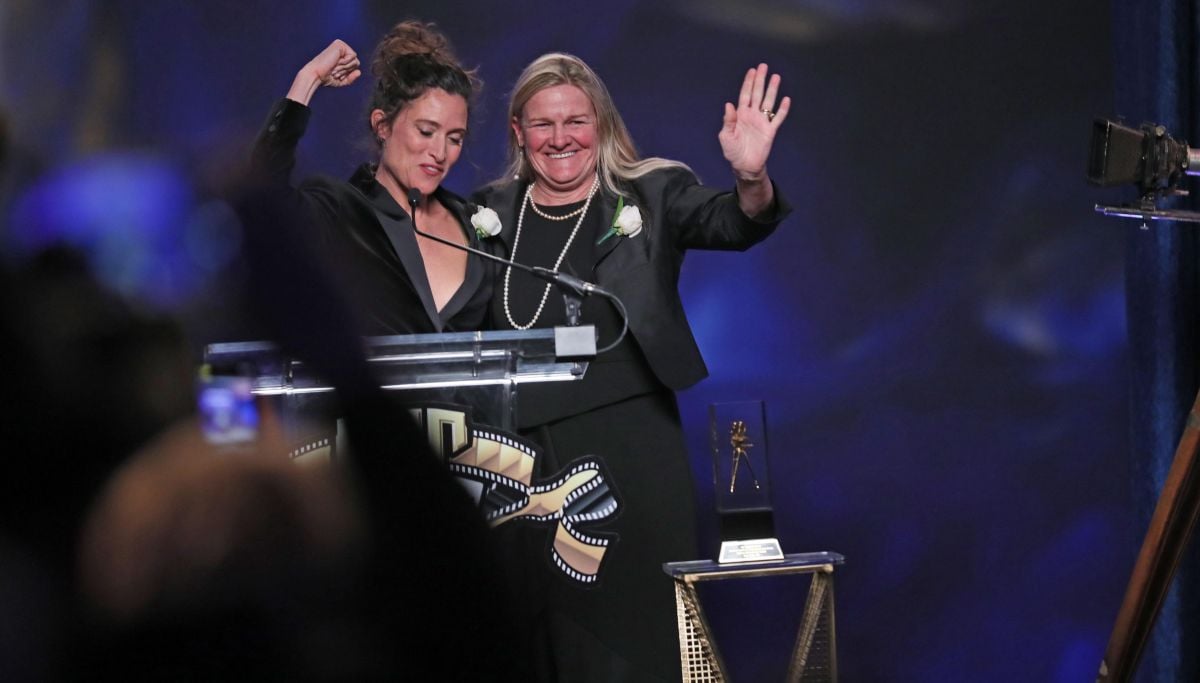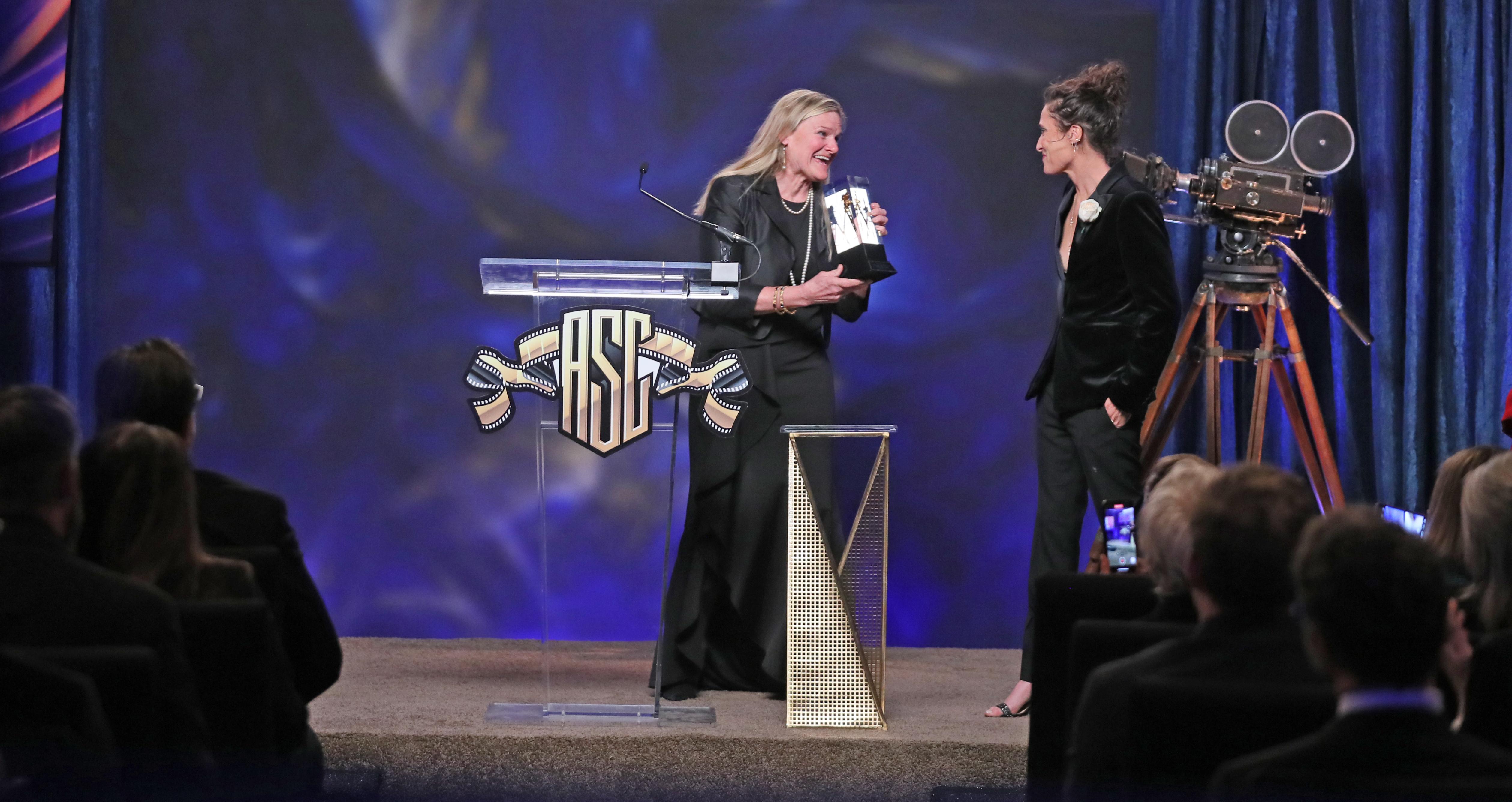 In her acceptance speech, Kuras remembered, "A couple of months ago when I saw Stephen Lighthill — friend and president of the ASC — calling on my cell, I answered, 'Hi Steve...Uh-Oh...are you calling to kick me out? I know that I've been directing the past several years.' 'Nope,' he said, "we want to give you a Lifetime Achievement Award!' I was absolutely floored. An incredible honor. History in the making — this meant that if I was to be the first woman, then the path could be cleared for others — regardless of gender or color — to follow. What a huge honor to part of a massive change — a change in culture.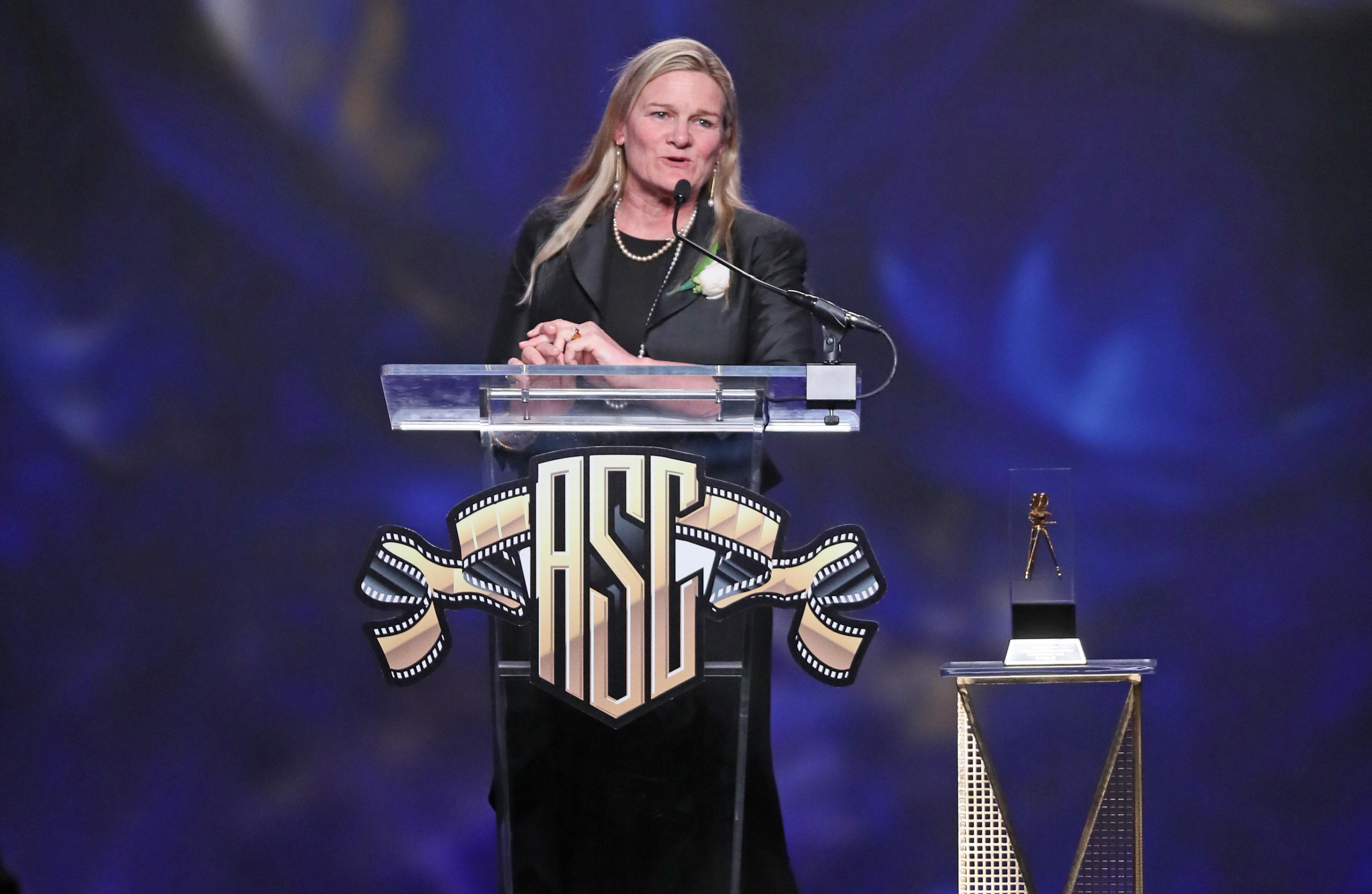 "This is not about me — this is about all of us. The ASC is about family. Leaders on and off set. We are in search of art and beauty and truth as well as fairness and decency. We are about the search for meaning. More than any other group I know, what distinguishes us cinematographers is that we help each other — we tend to be non-competitive; we support each other. Whoever we are, everyone has experienced doubt and insecurity in one's work.
"Part of my thing has been to think out of the box, to go beyond the boundaries and not to limited by the roles or the equipment that can't possibly define us. Having all of you there to exchange ideas, to challenge each other has truly made the difference to me personally and I know to you too, in navigating the unknowns and insecurity that goes with pursuing the creation of any art form.
"If I could impart anything, it would be — trust your inner voice, please don't be an asshole, and go forth with kindness."

Kuras later spoke to Jenkins on the red carpet: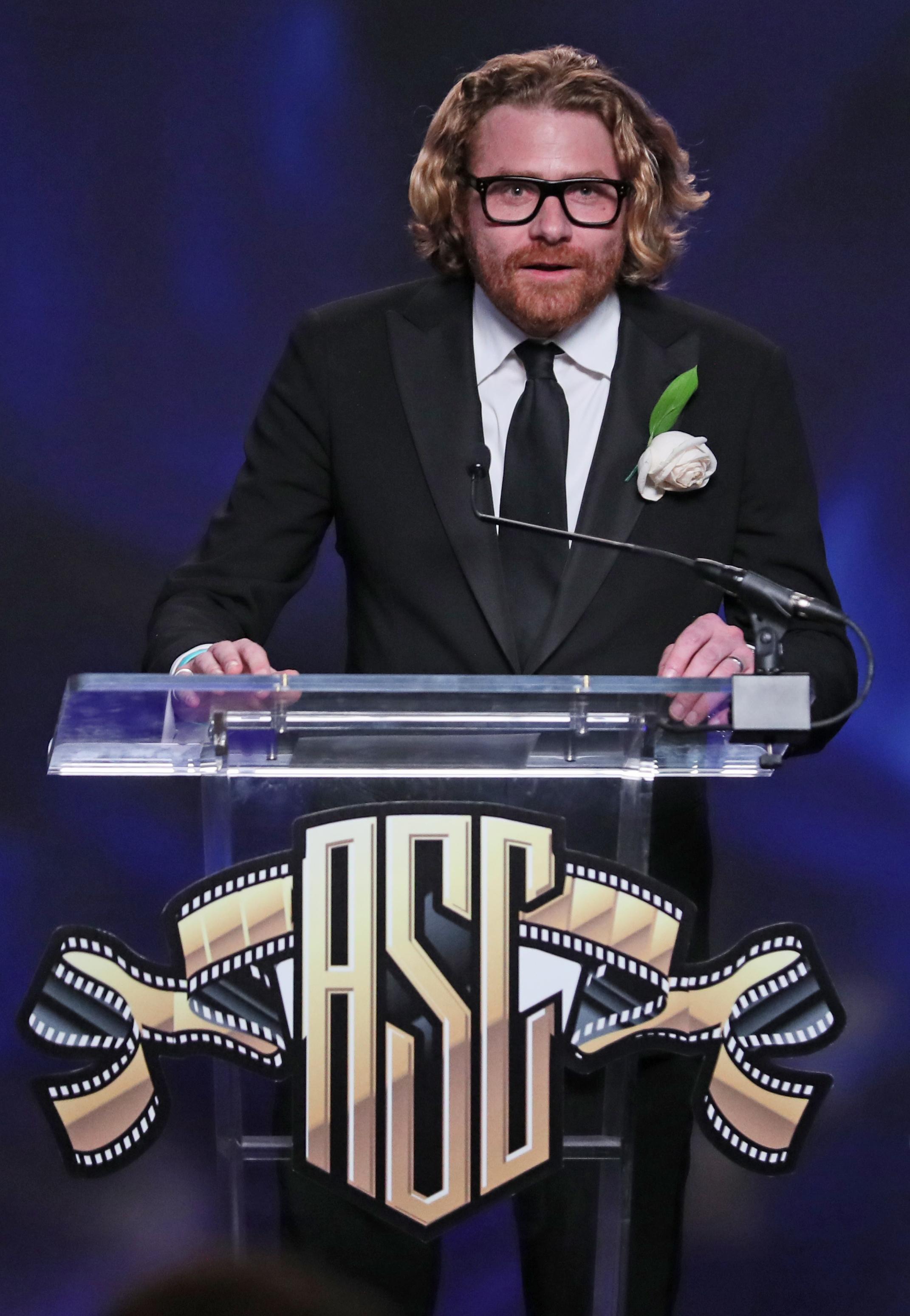 Finally, we came to the last category of the evening, the award for Feature Film (starting at 2:17:10), which was sponsored by Keslow Camera. And there as the presenter was Erik Messerschmidt, ASC, who won in this category last year for his striking black-and-white camerawork in the period Hollywood drama Mank.
And the nominees were:
Bruno Delbonnel, ASC, AFC for The Tragedy of Macbeth
Greig Fraser, ASC, ACS for Dune
Dan Laustsen, ASC, DFF for Nightmare Alley
Ari Wegner, ACS for The Power of the Dog
Haris Zambarloukos, BSC, GSC for Belfast
The winner was Greig Fraser.

Born in Melbourne, Australia, Fraser studied at the Royal Melbourne Institute of Technology (aka RMIT University). His credits include the features Zero Dark Thirty, Rogue One: A Star Wars Story, Snow White and the Huntsman and Vice. For his work on the feature Lion, he won the ASC Award and earned Oscar and BAFTA Award nominations. For his innovative work on the Disney Plus series The Mandalorian, Fraser was honored with the 2020 Emmy for Outstanding Cinematography for a Single-Camera Series (shared with Baz Idoine, ASC) as well as an ASC Award nomination. His camerawork on the science-fiction epic Dune, directed by Denis Villeneuve, also earned Fraser the BAFTA and an Academy Award nomination, among other honors.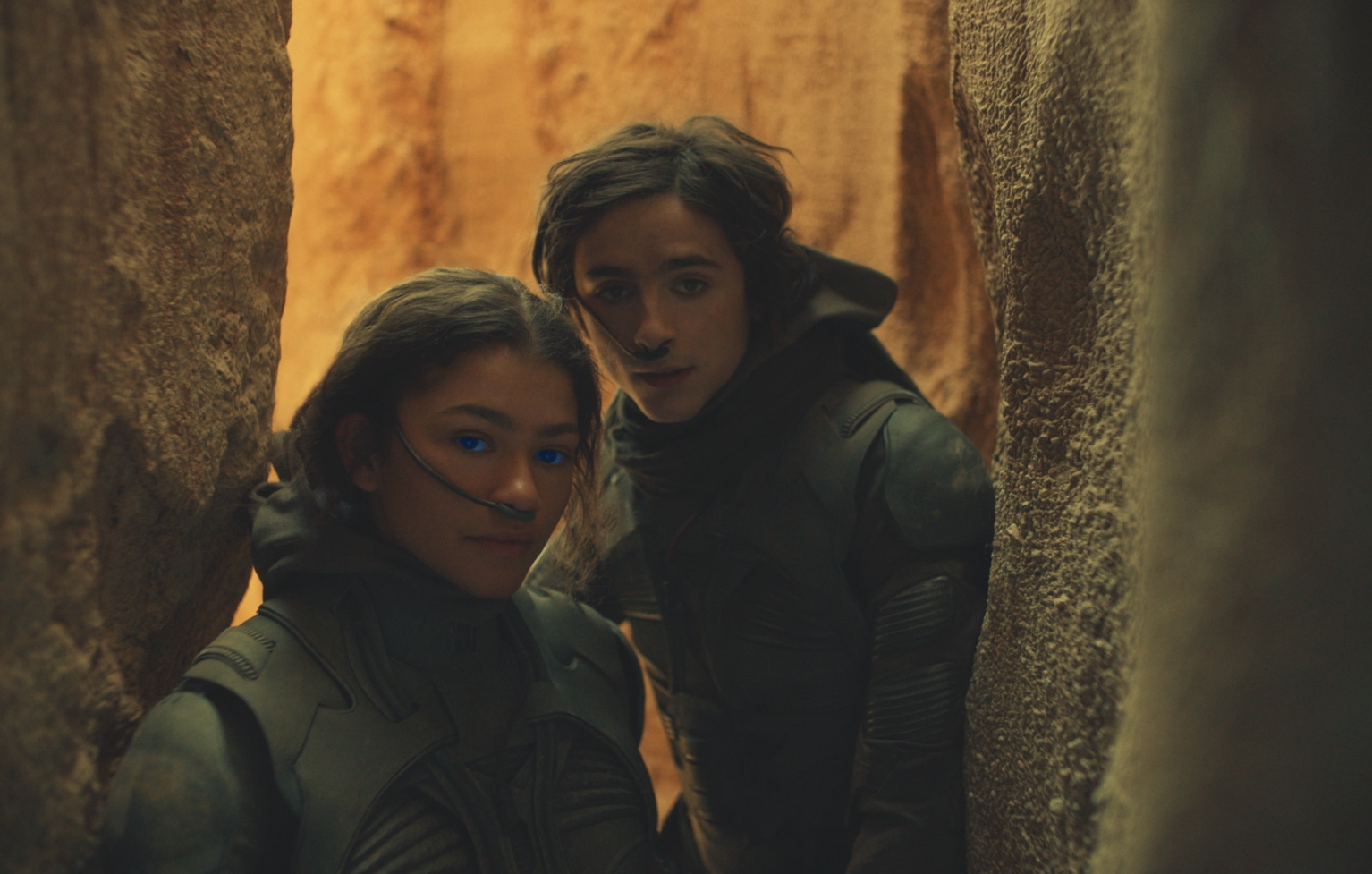 Unfortunately, due to recently testing positive for Covid-19, Fraser was unable to attend the ASC ceremony (as he was previously unable to accept his BAFTA Award at their event).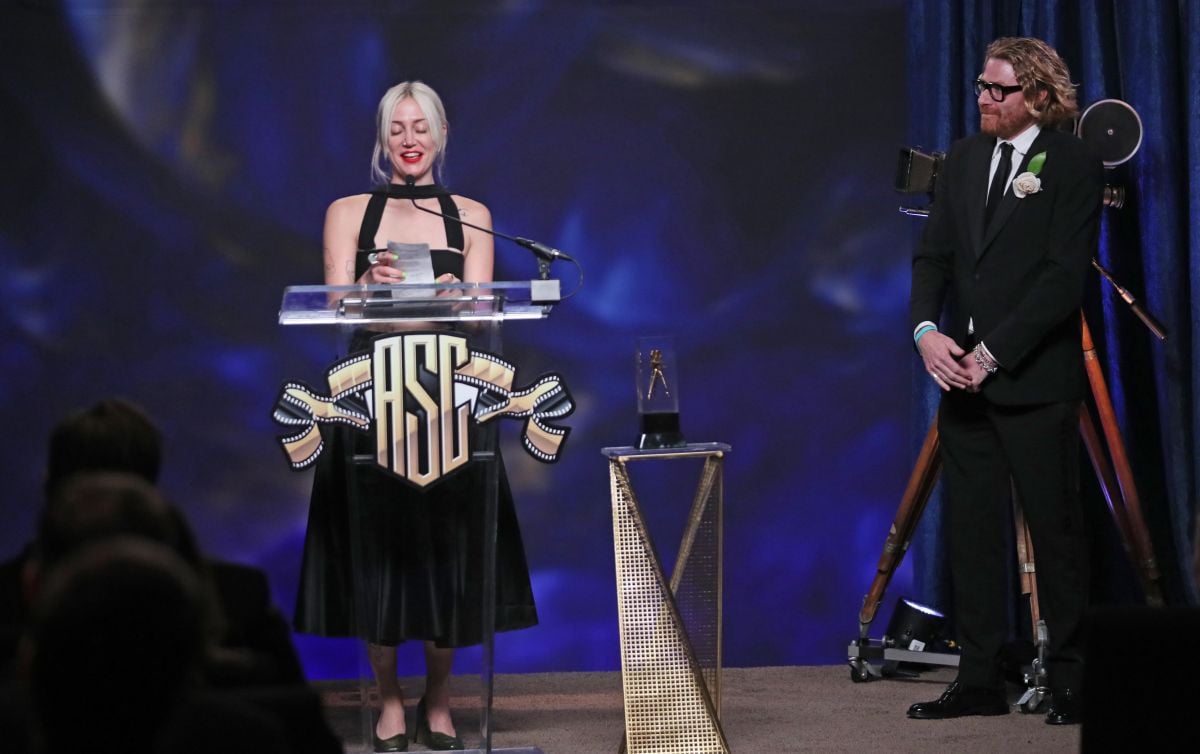 Accepting for Fraser was cinematographer Katelin Arizmendi, who served as his 2nd-unit DoP on Dune and was herself an ASC Award nominee last year for her camerawork in the indie feature Swallow.
Unfolding a speech sent to her by Fraser, Arizmendi paused momentarily, saying, "in order to lose a few extra pounds to fit into his tuxedo, somebody recommended the new diet 'Covid-19.' And he's having mixed results.
"These are his words: 'Thank you to my fellow cinematographers and this incredible Society that builds us all up and supports us. I have asked Kate Arizmendi, our fantastic 2nd-unit DP to accept this award on my behalf and she has promised to read every single word. I couldn't have made Dune without Kate and her incredible skill. Most people don't this, but Kate actually, pretty much framed and lit every single shot in Dune.'"
At this point, the audience began to break as she continued reading: "'If she didn't actually do it, she inspired it. In fact, I think she inspired [author] Frank Herbert to write the book. That's the power of the Arizmendi. If you want to watch an amazing film, go see Swallow, which Kate shot before Dune. It's amazing; it actually inspired Dune.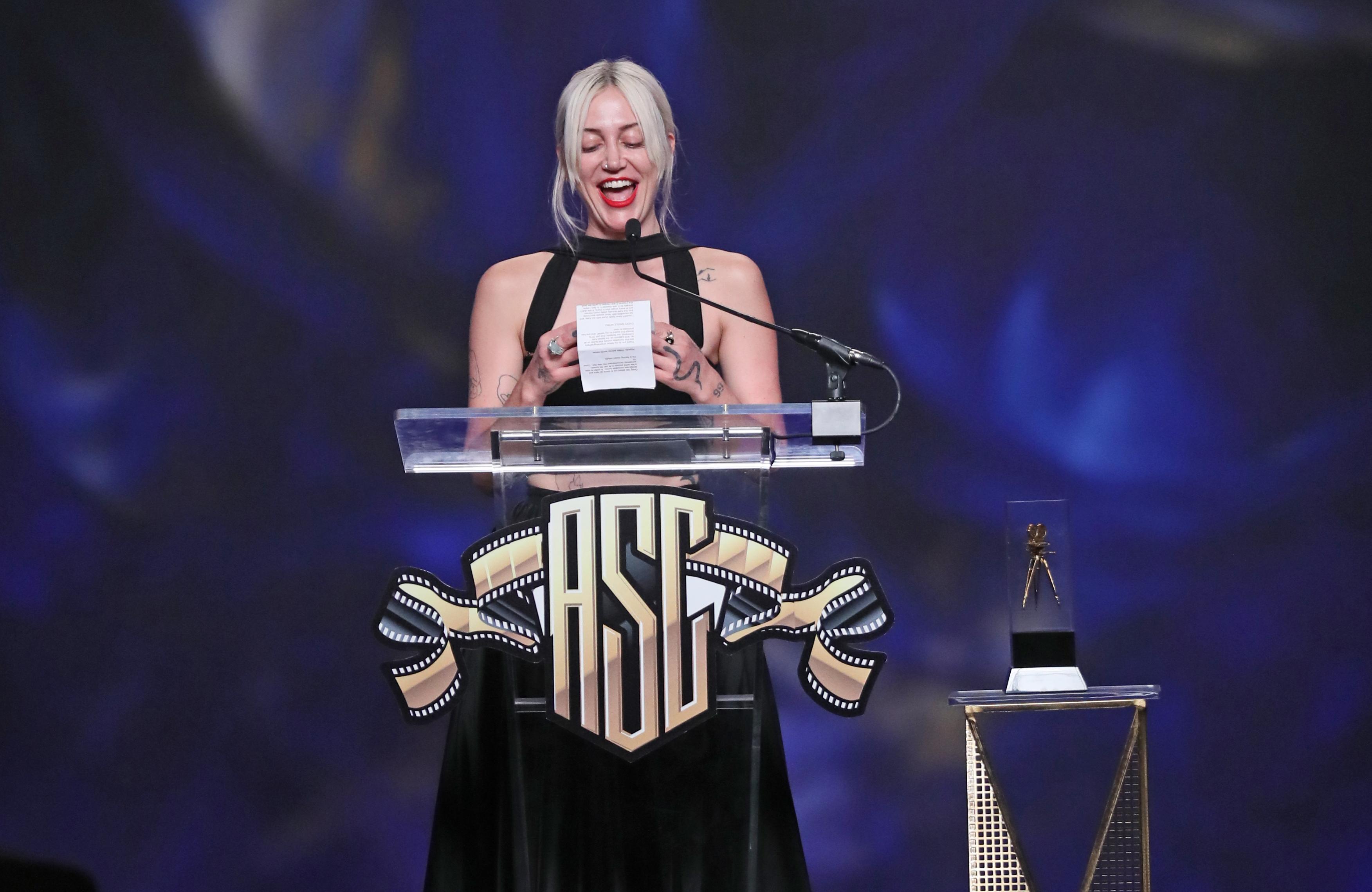 "'Seriously, though, having Kate and her other cinematographers gave so generously of their time and talent was very humbling for me. Along with Kate, Danny Vilar, Pierre Gill, Adam Arkapaw, and Dylan Goss all contributed beautiful work to this film.
"'I'd like to call out to all the nominees for their quality, quality work. But I have to name check Ari Wegner. [I'm] super-proud of what you have become as a cinematographer. As some people know, Ari and I have worked together on a beautiful film 14 years ago called The Last Ride, and I got to witness her dedication and passion for filmmaking. On an extremely low-budget Australian film, I was very impressed with her vision.
"'My crew means the world to me, so I need to thank my team. If anybody in this room gets to work with any of my crew, you should be very grateful. They are incredible technicians and humans who give of themselves, and this film would never exist without them.
"'FotoKem — never a better post partner has existed. You lead the way in both traditional and newer technologies and your support of this film is unmatched. Jose Parra and Dave Cole, you both, along with your team, saw this film through to its completion during a pandemic. I can't thank you enough.
'"The companies that help us need to know their influence on this film also: Arri, Panavision, Creamsource, Digital Sputnik, Hudson Spider, MBS Lighting — we literally can't do anything without these companies supporting us, so it's important to support them back
"'My collaborators in all of the departments, which created incredible sets, characters and costumes to shoot, the teams at UTA and EBCOMS, thank you for your support.
"'My wife and children are the reason I do this. Jody and kids, thank you. I hope I win the Best Partner and Dad Awards tomorrow at breakfast. Fingers crossed you vote for me. Livestream details to follow.
"'Also, need to be clear, Denis Villeneuve is a master. Full stop. That makes me and Kate insanely fortunate to be in the world of a master. He and his vision and his team are what makes this film the beauty that it is. Merci, Denis.
"'Lastly, I would like to thank Kate Arizmendi. Full stop.'"
With a smile, Arizmendi re-folded Fraser's note and offered a comment of her own to the night's final winner: "When I heard you would be here, my whole plan was to follow you around and embarrass you all night. And clearly, you have flipped the table. I'm learning from the best, constantly. I hope I made you proud."
Arizmendi spoke to Jenkins on the red carpet:

In all, the 36th Annual ASC Awards was a distinct success, judging from the enthusiasm from the large number of attendees who remained for the traditional afterparty held at the Clubhouse — home to the ASC since 1936 and perhaps the most unique venue for any live Hollywood awards ceremony held this year.